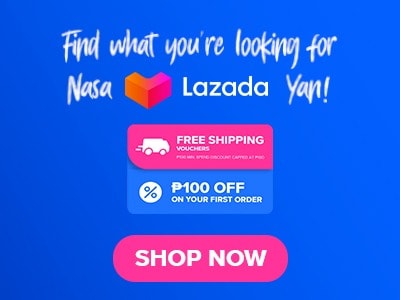 The Lugaw Republic menu focuses on lugaw, a type of rice porridge that is a popular comfort food in the Philippines. However, as time passed, they began to serve side dishes to enhance the flavors of their lugaw or simply to provide their diners with another dish to simultaneously enjoy with their specialty, which is lugaw. Overall, their menu is simple but offers a good variety of options, and the lugaw dishes are especially satisfying, making it a great place to go for a filling and affordable meal.
Below, you'll find the updated list of Lugaw Republic menu prices.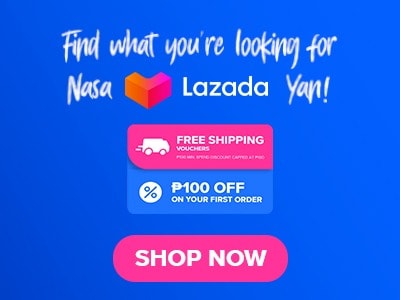 Menu Items
Price (PHP)

Main Dishes

Plain Lugaw
20
Lugaw Overload
50
Mix Lugaw
50
Goto Espesyal
35
Arroz Caldo
35
Egg Caldo
35
Lugaw Tokwa at Baboy
50

Side Dishes

Tokwa at Baboy
30
Tokwa
15
Kwek-kwek
15
Plain Egg
15
Lumpiang Shanghai
15
About Lugaw Republic
Lugaw Republic is a Filipino fast-food chain that specializes in serving various varieties of lugaw, a type of rice porridge popular in the Philippines as a comfort food. Other Filipino favorites include goto, arroz caldo, and tokwa't baboy, as well as street food snacks like kwek-kwek and lumpiang shanghai.
The menu at Lugaw Republic focuses on comforting and affordable Filipino dishes, with prices ranging from 50 to 100 Philippine pesos per meal. The restaurant's relaxed and cozy atmosphere makes it a popular choice for quick meals or late-night snacks.
Main Menu
As their name suggests, Lugaw Republic offers different varieties of lugaw as their main menu. The lugaw they serve, from the plain ones to the special ones, are carefully prepared by Lugaw Republic, adhering to each step in their recipe. Depending on how special you want your lugaw experience to be will affect how much these dishes cost.
Plain Lugaw – This is a basic version of rice porridge that is flavored with ginger and garlic. It is usually served with garnishes like spring onions, toasted garlic, and Philippine lime or calamansi. Plain lugaw is ideal for those who are looking for a simple main dish that has a plain and subtle flavor.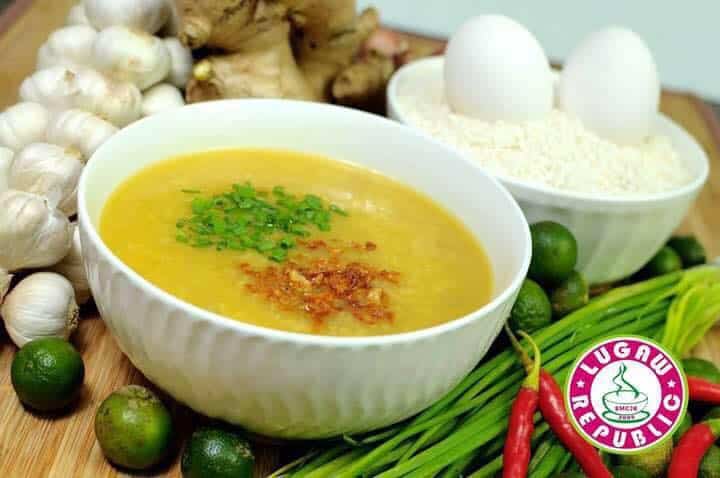 Lugaw Overload – This version of plain lugaw is topped with chicken, pork, a hard-boiled egg, crispy pork skin, which is also known as chicharron in the Philippines, and mushrooms. It's a heartier and more filling version of the plain lugaw because of the additional toppings. And of course, it would also have a deeper flavor than the plain one.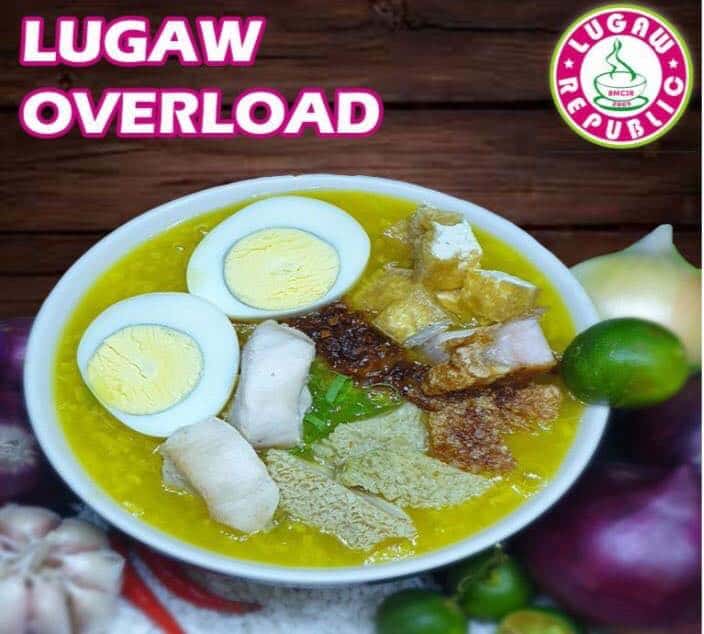 Goto Espesyal – Goto is a type of lugaw made from beef tripe. Goto Espesyal from Lugaw Republic comes with extra toppings like boiled eggs, fried garlic, and spring onions. It's a flavorful and filling dish. It is much fancier than the plain and lugaw overload, which results in the exquisite flavor that this dish offers.
Mix Lugaw – As the name implies, this Lugaw Republic menu combines various types of rice, including brown rice, red rice, and black rice, with traditional white rice. It is also prepared with a variety of vegetables and meat toppings. This one is a combination of the plain lugaw and goto, which is why it is more special than the other lugaw dishes that are served at Lugaw Republic.
Arroz Caldo – This is a popular Filipino comfort food made with chicken and seasoned with ginger, garlic, and onions, similar to lugaw. Toppings such as toasted garlic, chopped scallions, and calamansi are common. The chicken makes this dish meatier, while the toppings and other ingredients are responsible for its creamy texture.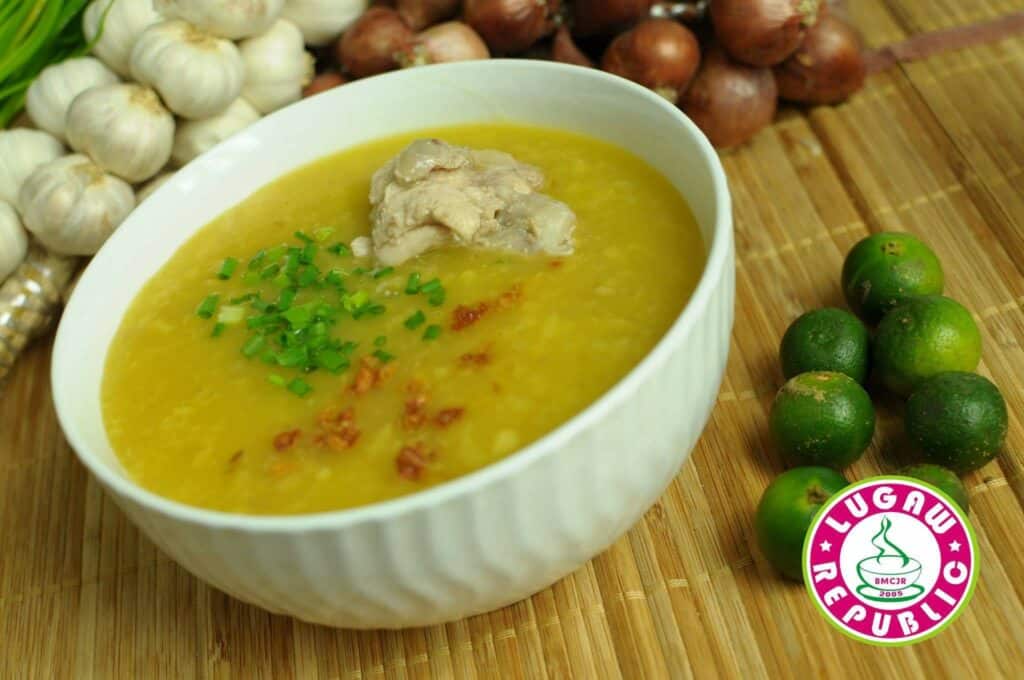 Egg Caldo – This is a simple and straightforward version of arroz caldo made with eggs and rice. It's an excellent breakfast option or when you're feeling under the weather. For those seeking something straightforward and new, this variation of arroz caldo is perfect.
Lugaw Tokwa't Baboy – This dish is a mash-up of lugaw, tokwa, and pork and is usually accompanied by toasted garlic, scallions, and calamansi juice.
Side Dishes
This menu was made to improve Lugaw Republic's customers' lugaw experience. Each of the items that are part of this menu greatly enhances not only the flavor but also the texture of the lugaw they've ordered. It is imperative that you order at least one of these side dishes to complete your Lugaw Republic's lugaw experience.
Tokwa't Baboy – It is a popular Filipino dish that consists of fried tofu and pork belly cubes that are fried until crispy on the outside. The combination of the pork belly and tofu produces a crispy and savory flavor, in addition to the tangy and salty dipping sauce that is served with it.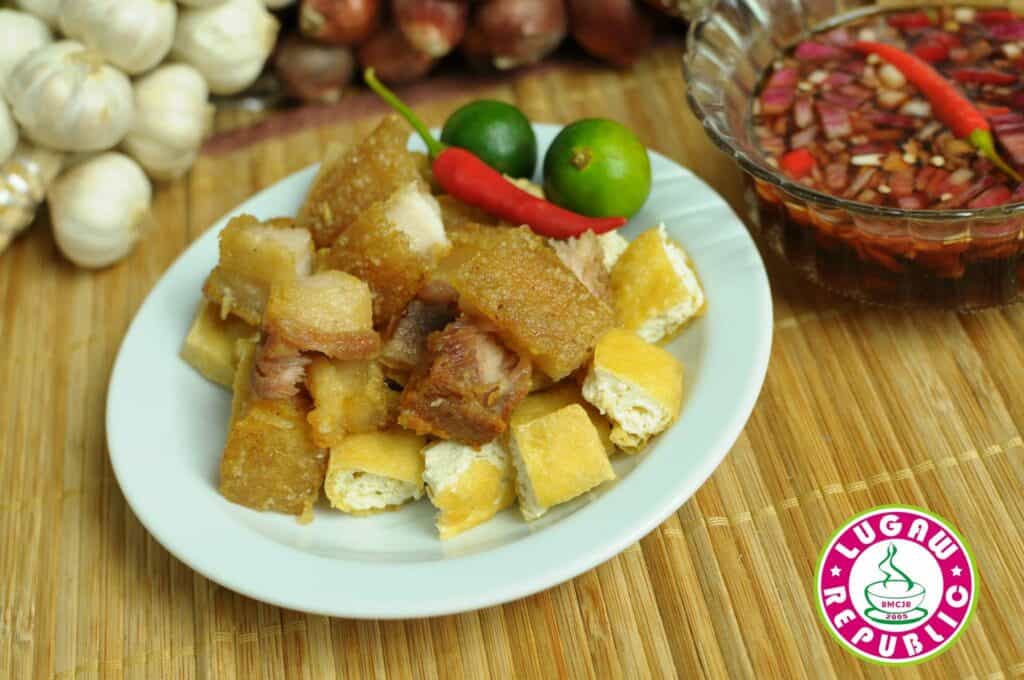 Tokwa – This is the Filipino word for tofu, which is made from soybeans and is high in protein. The tofu menu from Lugaw Republic is marinated in a mixture of soy sauce, vinegar, and other seasonings to enhance its flavors, resulting in a mild and nutty flavor, as well as a soft and slightly spongy texture.
Kwek-kwek – This is a popular Filipino street food made from battered and deep-fried quail eggs. While the interior is soft, the exterior of this dish is crunchy. It has a savory and slightly sweet flavor that comes from the batter and sauce, and a slightly gamey flavor from the quail eggs.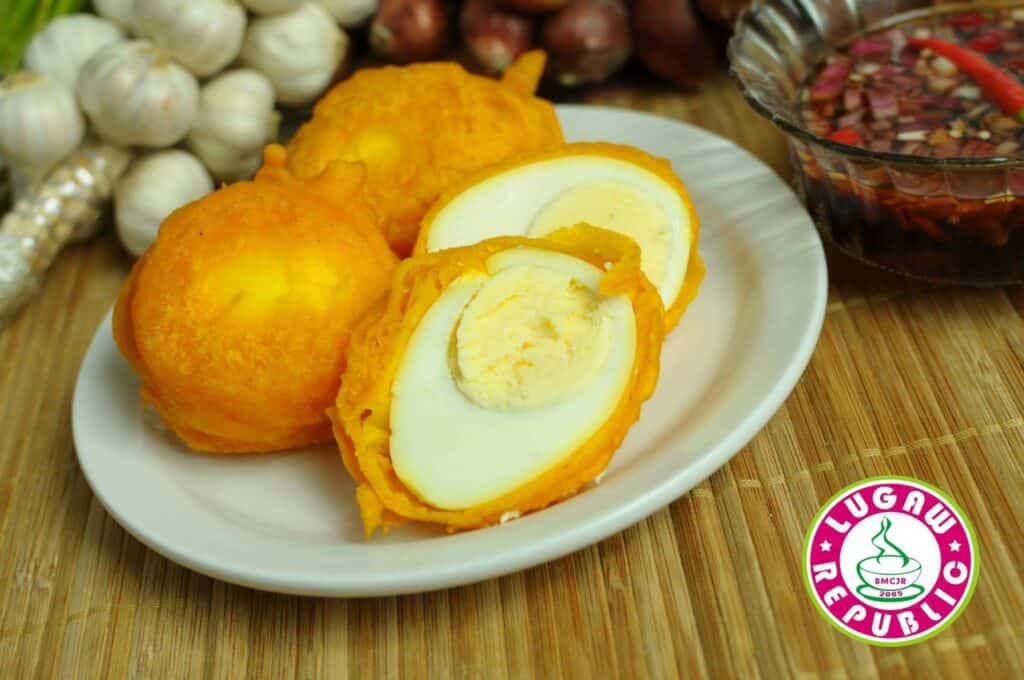 Plain Egg – It is a boiled egg than can be consumed by itself or can be mixed with the lugaw to improve its flavor and make it more substantial. This is ideal for people who want to enjoy a quick snack or those who want to make their lugaw more special.
Lumpiang Shanghai – This is a Filipino version of Chinese spring rolls that are filled with ground pork and vegetables before being deep-fried until crispy. As a result, a savory and crunchy appetizer or snack is created, which is frequently served with a sweet and sour dipping sauce.
Lugaw Republic Menu Delivery
If you are craving something simple and easy to eat at home, then lugaw is your best choice. It is very simple to order your favorite lugaw from the most delicious lugaw shop, the Lugaw Republic. You can use the GrabFood or FoodPanda apps to find Lugaw Republic's online store, browse their menu, and place an order.
Social Media Pages
In addition to reaching out to them for answers to your inquiries, you can also boost Lugaw Republic's business by engaging with them on their social media platforms. Consider following and sharing their pages to help spread the word about their products or services. Don't hesitate to connect with them online to show your support and stay up-to-date with their latest news and promotions.
Facebook: https://www.facebook.com/lugawrepublic
Instagram: https://www.instagram.com/bmcjrlugawrepublic
Email: [email protected]
Youtube: https://www.youtube.com/@lugawrepublic333
Conclusion
The menu at Lugaw Republic focuses on lugaw, goto, and other Filipino comfort foods. The chain serves lugaw and goto dishes, as well as other Filipino favorites like lumpiang shanghai and kwek-kwek. Prices at Lugaw Republic are fair, and the staff always provides prompt, courteous service. The restaurant's relaxed and casual atmosphere makes it ideal for a quick meal or a casual get-together with friends. It is a great place to satisfy your cravings for Filipino comfort food, with delicious dishes and affordable prices.