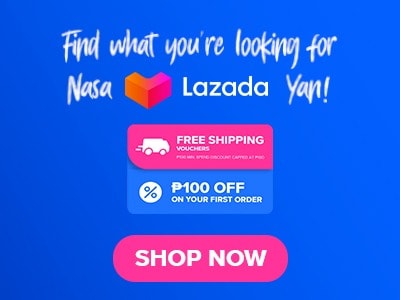 Llaollao menu offers frozen yogurt that is served with various toppings. It offers tubs, sanum, smoothies, llaollao glasses, takeaway apples, take-home snacks, and do-it-yourself sanum. Its toppings include sauce, fruits, and crunches that make it more delicious and its nutritional value makes it a healthy dessert. Customers can make various combinations as it offers a wide selection of toppings. 
Below, you'll find the updated list of Llaollao menu prices.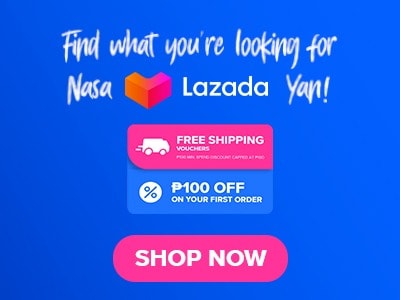 Menu Items
Price (PHP)

Tubs

Petitllao
50
Small (No Topping)
99
Small (1 Topping)
129
Medium (3 Toppings)
199
Large (3 Toppings)
219
Extra Topping
40

Sanum

Petit
199
Regular
219

Llaoglass

Llaoglass Frozen yogurt 2 toppings
119
Refill
129
Extra Topping
40

Smoothie

Regular
199
Premium
229
Add frozen yogurt on top
40

Sensations

Small
89
Tall
109
Premium
189

take away

1/2 Liter (Frozen yogurt 3 toppings)
719
1/2 Liter (Refill)
420
1 Liter (Frozen yogurt 3 toppings)
879
1 Liter (Refill)
570
About Llaollao
In 2009, Llaollao started selling frozen yogurts in Spain. It gained popularity because people love the various toppings that they can combine with yogurt. After a year, its management decided to adopt a franchise business model to serve more areas and customers from different parts of the world. Today, it has multiple branches worldwide and is one of the most popular frozen yogurt brands in Asia and Europe.
Tubs
Llaotubs are available in small, medium, and large servings. A small serving is available in plain and in one topping. The recommended topping for a small serving is passion fruit sauce. A medium serving consists of three toppings and llaollao suggests topping it with kiwi, muesli, and dulce de leche sauce. Large size has more servings of yogurt and three toppings can be added. Kiwi, watermelon, and wild strawberry sauce are the best toppings for this yogurt.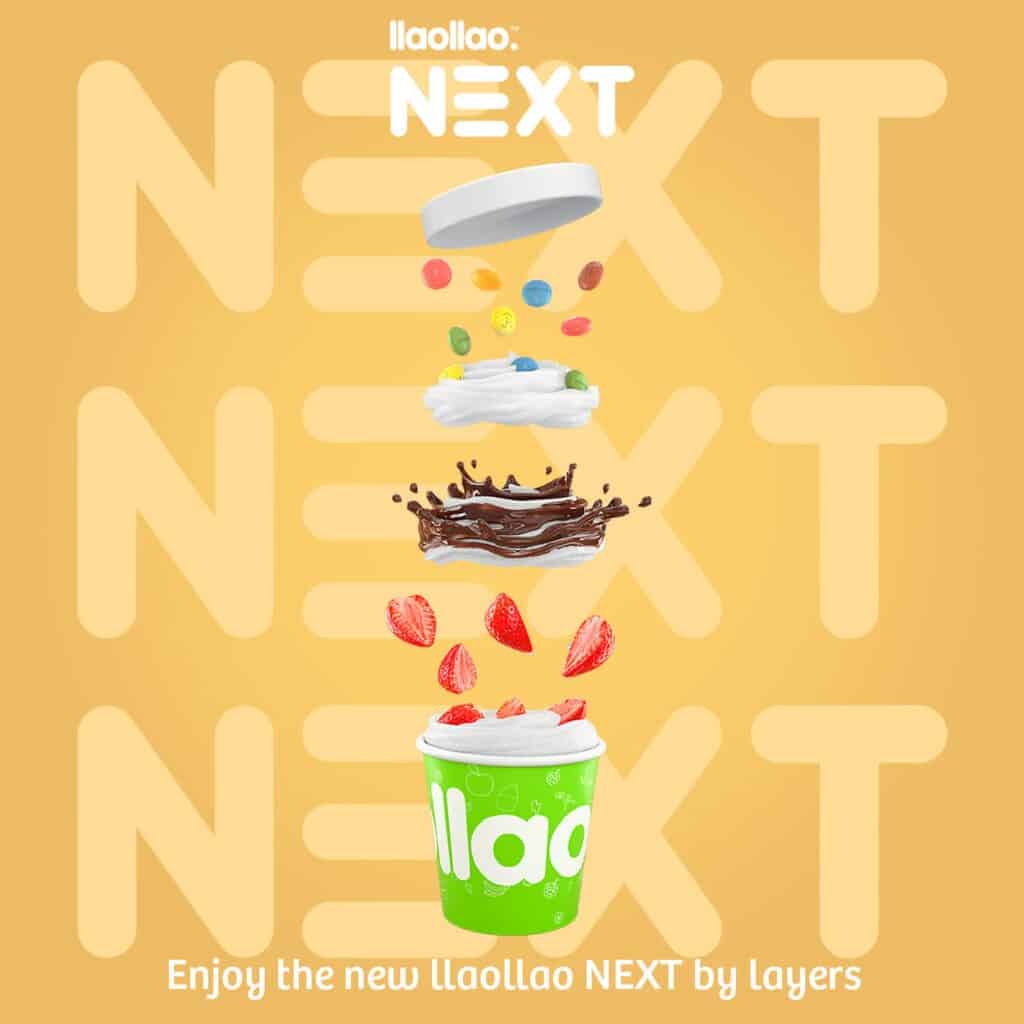 Llaollao Menu Smoothies 
Smoothies are available in regular and premium. Regular smoothies are prepared using a milkshake that is made from natural yogurt. This is a delicious treat that contains a lot of nutrients. Create your preferred combination that will satisfy your cravings by choosing your favorite sauce, crunchy toppings, and fruits.
Premium smoothies are for those who want to indulge themselves with something extra. It is made up of frozen yogurt, fruit or crunchy topping, two milkshake toppings, and sauce. This is the best treat that you can give yourself after a long day.
Here are some of the smoothie variants menu from the Llaollao: 
Bariloche Smoothie (yogurt, banana, and strawberry)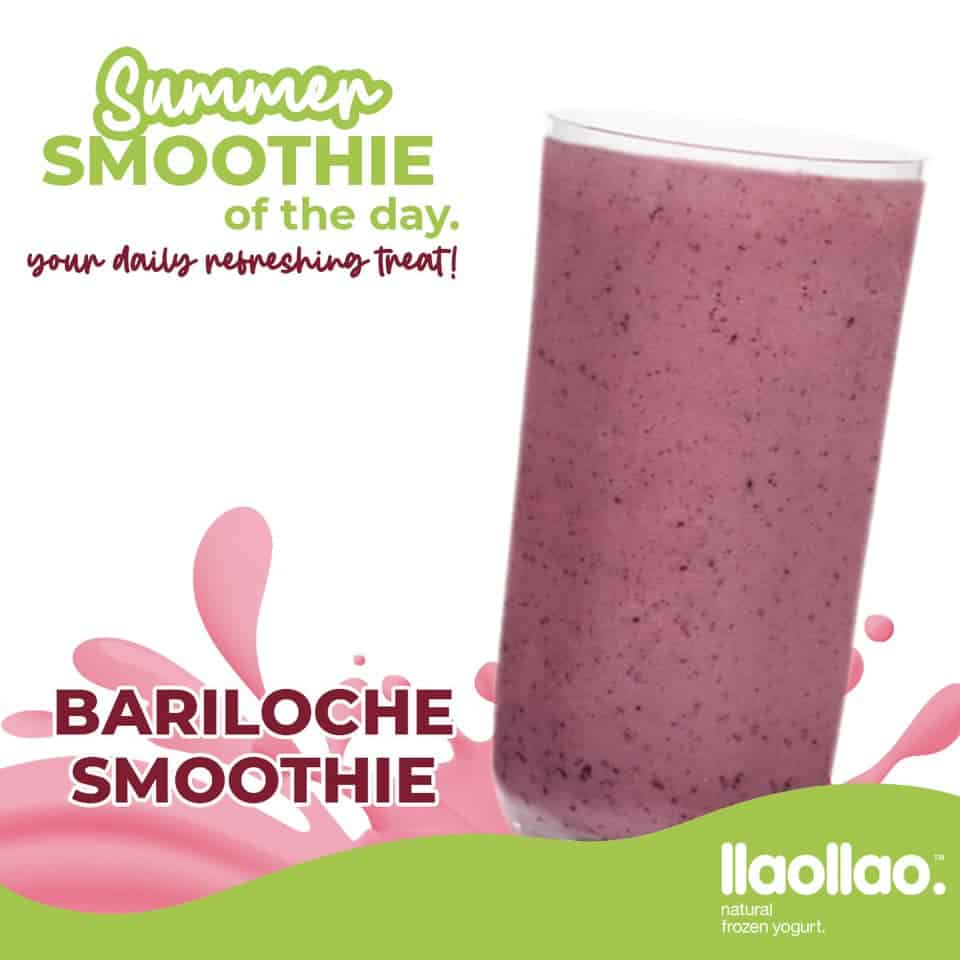 Red Queen Smoothie (yogurt and fruits of forest)
Banana Split Smoothie (yogurt, banana, and caramel)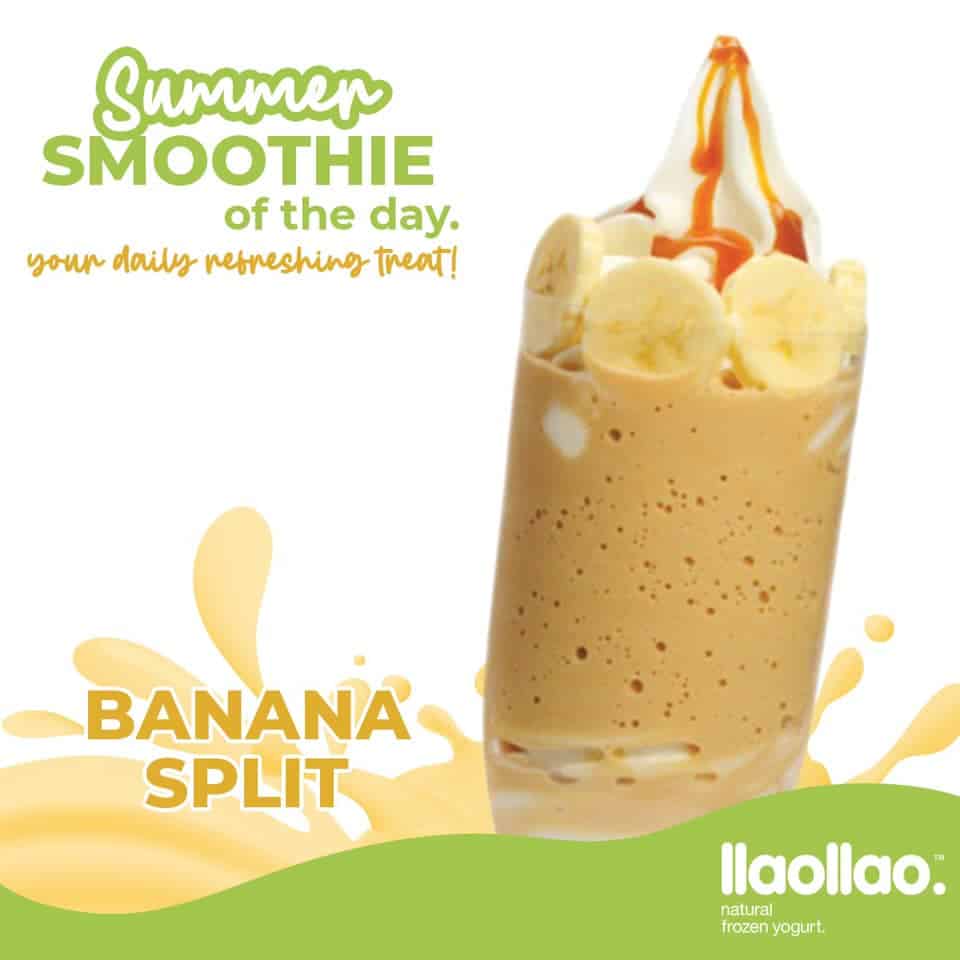 Golden Smoothie (yogurt, mango fruit, and mango sauce)
Oreo Smoothie (yogurt, nocilla, and crushed oreo)
Crunch Smoothie (yogurt, nocilla, crunchball)
There are also strawberry cheesecake and blueberry cheesecake flavors. You can also add toppings and swirl on top to make it more delectable.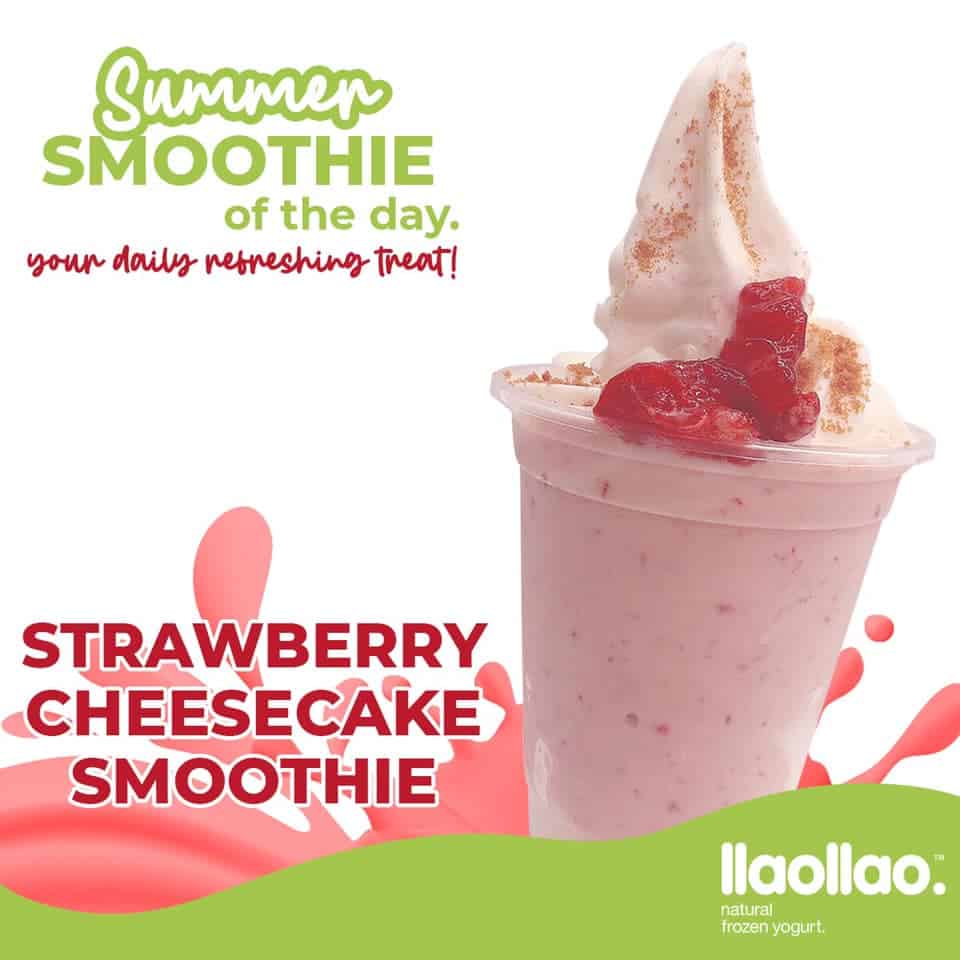 Llaollao Sanum Menu
This sanum will prove to you that healthy snacks can also be delicious. Petit and regular sanum are the two varieties that you can choose from. Petit sanum consists of frozen yogurt, 1 crunch, 1 sauce, and 2 fruits. It is ideal for those who prefer a small serving size. Regular sanum includes frozen yogurt, 1 sauce, 2 cruches, and 3 fruits. This serving is great if you want to indulge yourself with more fruits and crunches.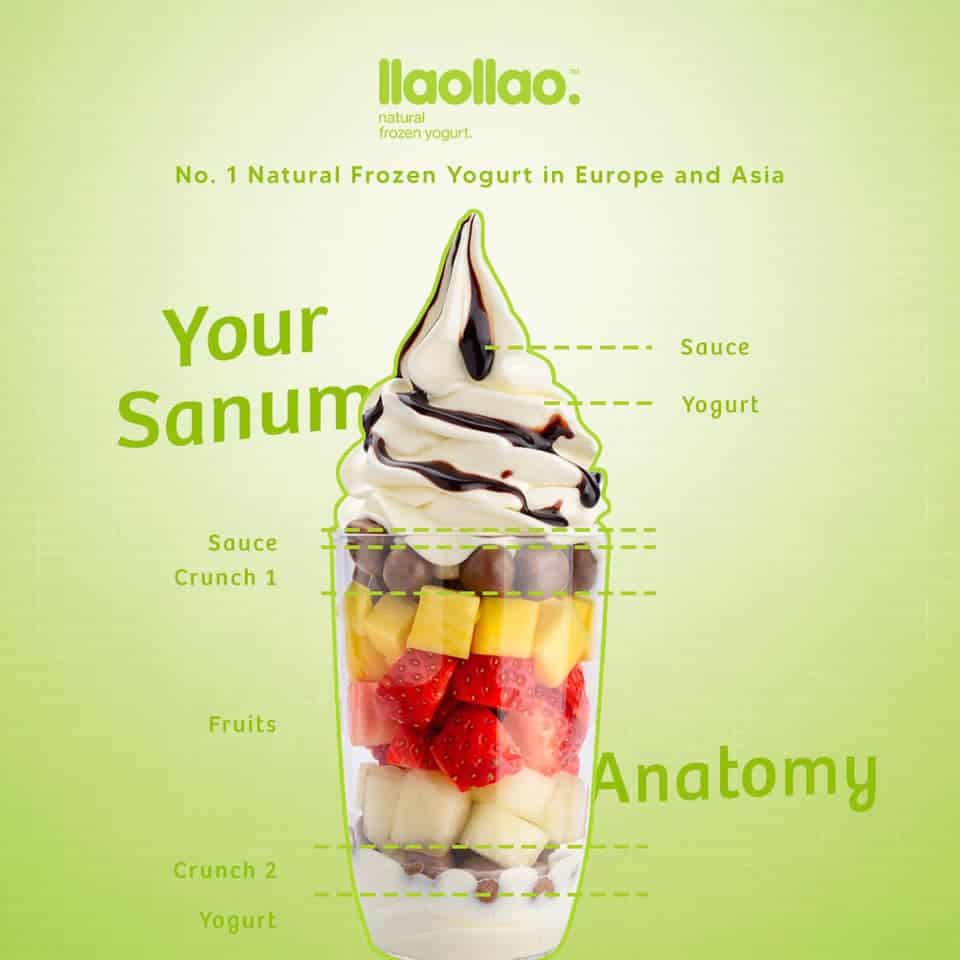 For those who will try it for the first time, the suggested combination of llaollao is yogurt, pineapple, kiwi, muesli, watermelon, and honey. You can always create your preferred combination or ask your friends for their recommendations.
Llaoglass
This is a classic yogurt menu of Llaollao is served on a transparent pot. It is a layer of yogurt, fruit sauce, yogurt, and your choice of toppings. Refill and frozen yogurt with two toppings are the two varieties of llaollao glass.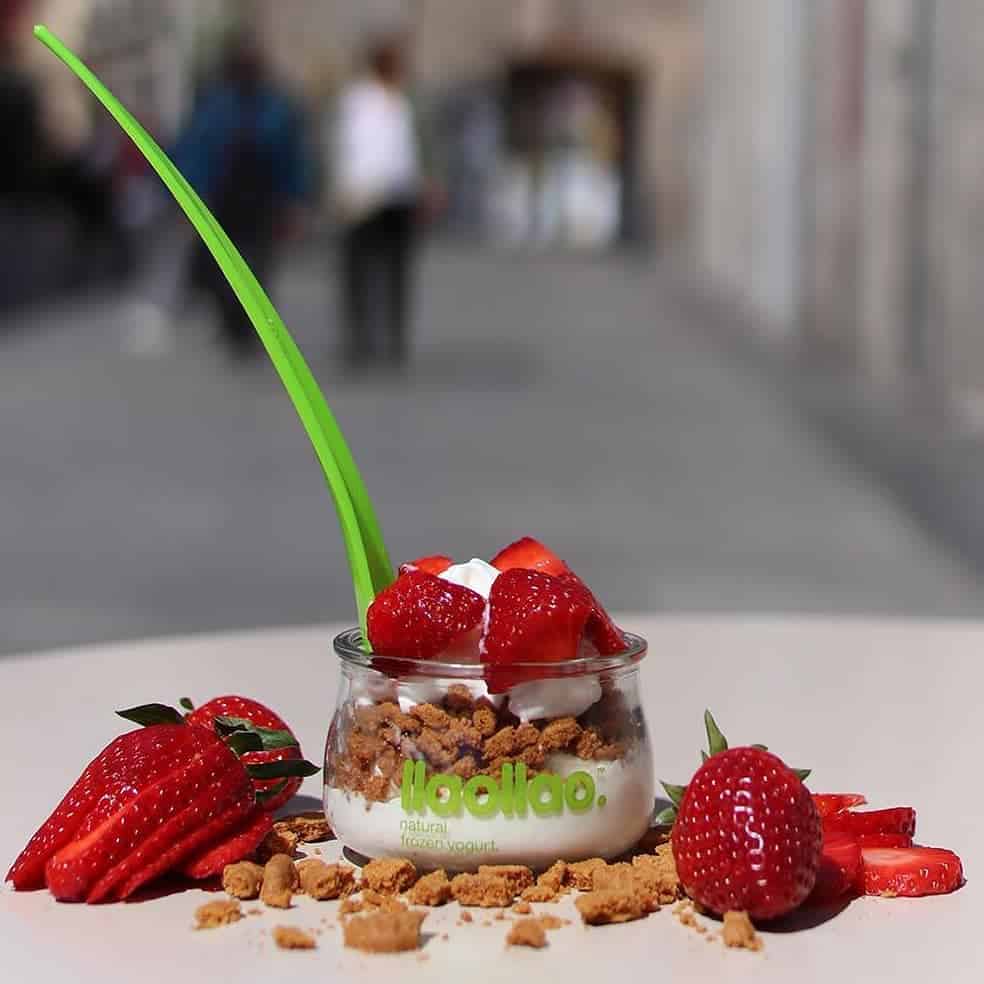 It is economical because you can reuse the transparent pot at home. In this way, you will not only treat yourself, but you can also help the environment by reducing waste. You can use this pot in different ways that can unleash your creativity.
Toppings
Fruits, crunch, and sauces are the available toppings that Llaollao offers. The fruits that you can choose from are mango, strawberry, banana, and kiwi.
Lotus biscoff crunch, crushed oreo, crunchball, koko krunch, corn cereal, lacasitos, dried cranberry, chips ahoy, mochi in strawberry, plain, or mango flavor, wafer bites in chocolate or matcha flavors, and popping bobba in strawberry, orange, and lychee are the available crunches that you can top in your yogurt.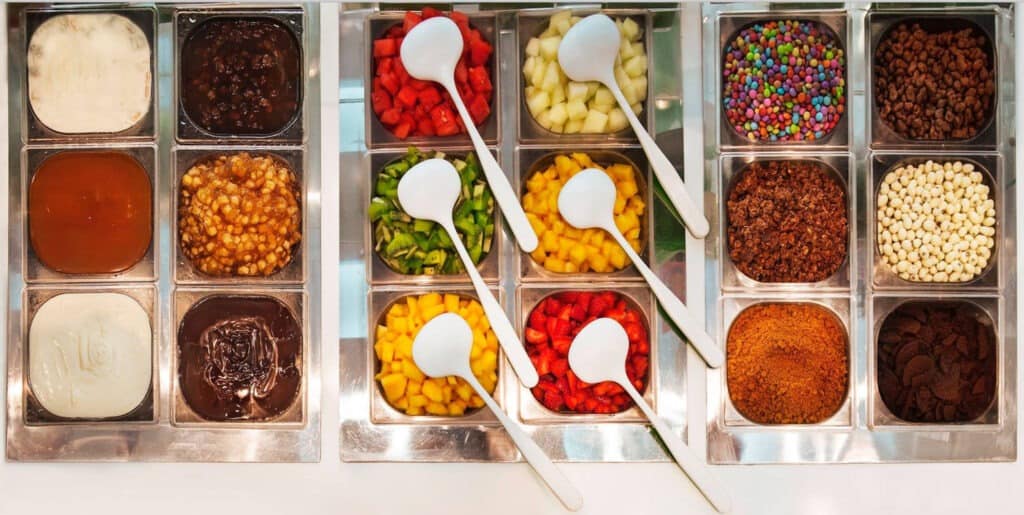 It has a wide selection of sauces such as white chocolate sauce, black chocolate sauce, mango sauce, fruits of the forest, pistachio sauce, cookie sauce, nocilla, Nutella, and milk candy sauce in caramel flavor.
These toppings allow you to try more than one hundred different combinations so you will always have something new to try every time you visit the store or order for delivery.
Llaollao Sensations Menu
Sensations are available in small and tall ice drinks. The fruit slushes that you can choose from are watermelon, orange, lemon, and yogurt. The llaollao suggested combination for orange is orange slush, yogurt, watermelon, and mango sauce; for watermelon is watermelon slush, yogurt, kiwi, and berries sauce; for lemon is lemon slush, yogurt, pineapple, and berries sauce; and for yogurt is yogurt slush, yogurt, KitKat pop chocolate, and dark chocolate sauce.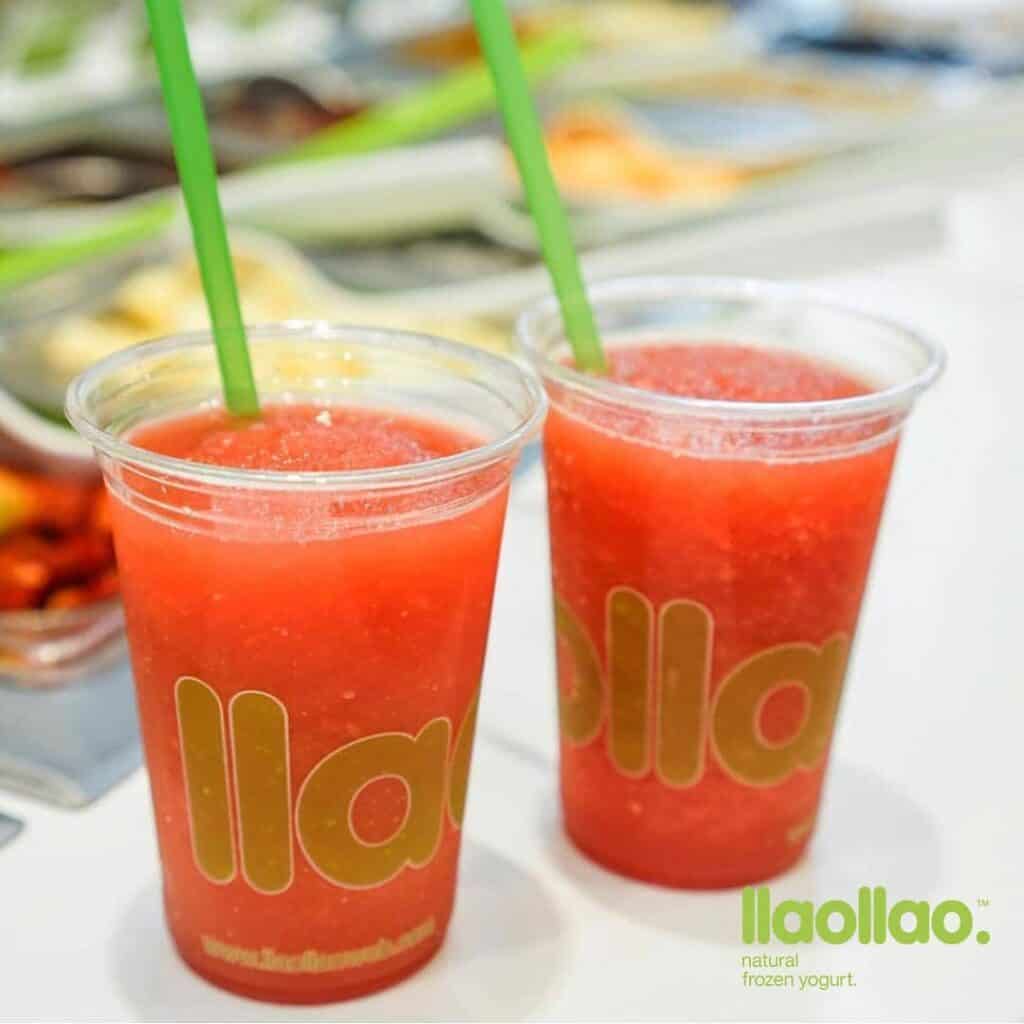 You can upgrade to a premium drink if you want to top it with frozen yogurt, fruit, and sauces. It is called a "cocktail sensation" because this refreshing, delicious, and healthy dessert will truly delight your senses.
Do It Yourself Sanum Kit
The do-it-yourself sanum kit makes break time more fun and creative. It allows you to create a perfect combination that suits your taste. This kit consists of three fruits, two crunches, and one sauce.
Aside from the do-it-yourself sanum kit, the Llaollao menu also offers a take-home pack and takeaway apples that are good for sharing and can be given as a gift. Take home pack is a is available in medium and large sizes while takeaway apple is available in ½-liter and one-liter pack. Both come with three toppings of your choice. You can also buy cones to make it more delicious and more visually appealing especially to the kids.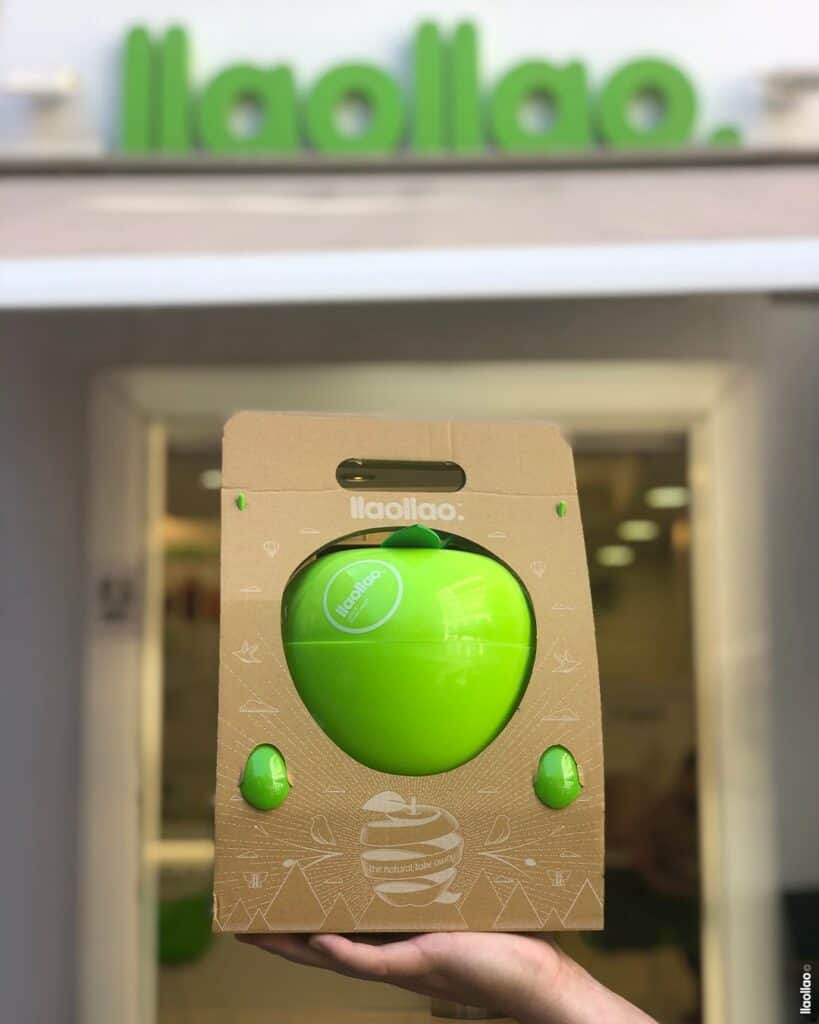 Llaollao Menu delivery
Llaollao delivery is available through its Froyo Freezer on Wheels which makes delivery more convenient. It offers faster service and cash on delivery payment option. You can order in three easy steps: (1) call to place an order and provide your details, (2) settle payment, and (3) wait for the delivery. Just check the official mobile number of the branch nearest to your location to arrange your orders.
It also delivers orders through popular online platforms such as Foodpanda, Grabfood, Booky, and Pikaroo. The other way to order is via WhatsApp, you must have this app to complete the order.
Social Media Pages
Get to know more about the latest news of Llao Llao once you follow them through their social media platforms. You can refer to the links below for their pages and who knows you can get a discount code or promos just by scrolling through their posts!
Facebook: https://www.facebook.com/llaollaoPhilippines/
Instagram: https://www.instagram.com/llaollaophilippines
Twitter: https://twitter.com/llaollao
Website: https://www.llaollaoweb.com/en/contact/
Conclusion
The Llaollao menu is perfect for those who are fanatics of frozen yogurt. It is one of the most popular desserts in Asia and Europe because of its delicious taste and nutritional value. You can create your own combination of yogurts, fruits, sauces, and crunch to satisfy your cravings. Visit its website to check the allergen information, suggested combinations, nutritional value, and other details about its product.