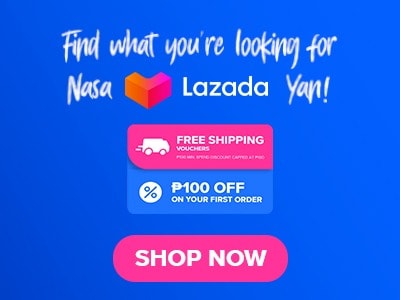 Are you curious about how Japanese bread tastes? Did you know that you can try Japanese bread here in our country without going to japan? Yes, I found a place where you could get Japanese bread that is delicious and affordable. Interesting right? The Kumori menu has a lot of Japanese bread to offer and the great news is for everyone to enjoy and taste the goodness of their bread they make it affordable. Let's get to know them, the bread that they serve, and of course their price. Let's start!
Below, you'll find the updated list of Kumori menu prices.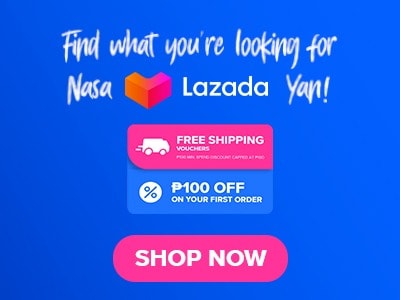 Menu Items
Price (PHP)

Breads

Apple cheese danish
65
Red bean bun
43
Almond danish
54
Blueberry brioche
59
Peach brioche
53
Ohayo sunrise
55
Custard butter bun
48
Crab stick bun
65
Cheesy ham and mushroom bun
57
Melon pan
40
Coffee pan
45
Aloha king
78
Mad sausage
52
Matcha butter bun
53
Pumpkin bun
43
Cheese stick
33
Maguro tuna pan
55
Sausage roll
38
Cranberry cheese roll
51
Green apple bun
58
Pain au chocolat
65
Kadawari cream bun
45
Ciabatta
50
Kadawari choco bun
45
Soft tuna bun
57
Parmesan cheese bun
46
Soft milk bun
33
Mozzu chizu pan
62
Croissant
56
Apple raisin bun
60
Almond custard bun
69
PB bun
36
Cinnamon roll
60
Bacon and bonito
50
Cranberry cream cheese
53
Blueberry cream cheese
55
Premium cheese loaf
160
Egg loaf
79
Penguini
45
Lion prince
58
Chee chee
38
Teddy yums
38
Tiger bun
50
Sukiyaki bun
88

Cakes

Banana oreo yakigashi
450
Marshmallow choco yakigashi
492
Salted cheese yakigashi
510
Nama choco sand chocolate
265
Light double cheesecake
550
Caramel crunch
780
Saku saku chocolate
1100
Banana charlotte
550

Best Sellers

Signature hanjuku cheese
294
Signature cheese tart
620
Fuwari cheese cup
355
Krone
55
Cottage cheese
88
Toyohashi pudding
98

Refreshments

Lemon peach tea
115
House iced tea
85
Passion fruit coco
115
Blueberry lemonade
125

Lattes

Earl grey
110
Chocolate
145
Mocha choco
155
Matcha choco
155

Hot Drinks

Cafe mocha
125
Cafe amerikano
110
Cafe latte
115
Cafe cappuccino
125
Green tea
85
Camomile
85
Pepper mint
85
Lychee
85
Wild berry
85
About Kumori
Started in 2015 Kumori is a Japanese bakery and cafe. Kumori the name of their establishment is a Japanese word that means cloudy. Instead of gloom, it represents positivity that comes after rain, as people say there's a rainbow after the rain. Just like that Kumori creates pieces of bread that bring calm and comfort by serving authentic Japanese pastries and bread. Francisco Paez together with his business partners Fernando and Eduardo Paez are the owners of Kumori.
At first, everything was a challenge due to cultural differences but the great thing is they have loyal customers and that's the reason why their budget succeeds. Kumori is actually popular in Japan already and now they are here in our country to serve delicious Japanese bread. Kumori also gives importance to their quality as they only use the finest ingredients straight from japan, giving their bread a unique texture and flavor that you can only find in Kumori. They are also open to franchising to expand their branches nationwide.
Kumori Menu Best Seller
Here is the list of their best sellers according to their website. They have 10 products and everything is definitely delicious.
Hanjuku Cheese – This is actually a Japanese-style cheesecake. It has delicious and creamy cream cheese in the center. This moist and fluffy but not too much Japanese-styled cheesecake is very delicious and can make you full easily. It tastes buttery creamy and sweet at the same time it literally tastes like custard cake, to be honest just way better because it is not too airy. This Kumori menu is a top-selling item and is also perfect for coffee.
Signature Cheese Tart – This is my personal favorite since their signature cheese tart is really good, especially with a hot drink. This is made with a sweet-tart shell that is already delicious on its own, and creamy and delicious combinations of cheese. The taste is really delicious it has the sweetness from the tart shell and creaminess and a bit of saltiness from the combinations of cheese, just perfect.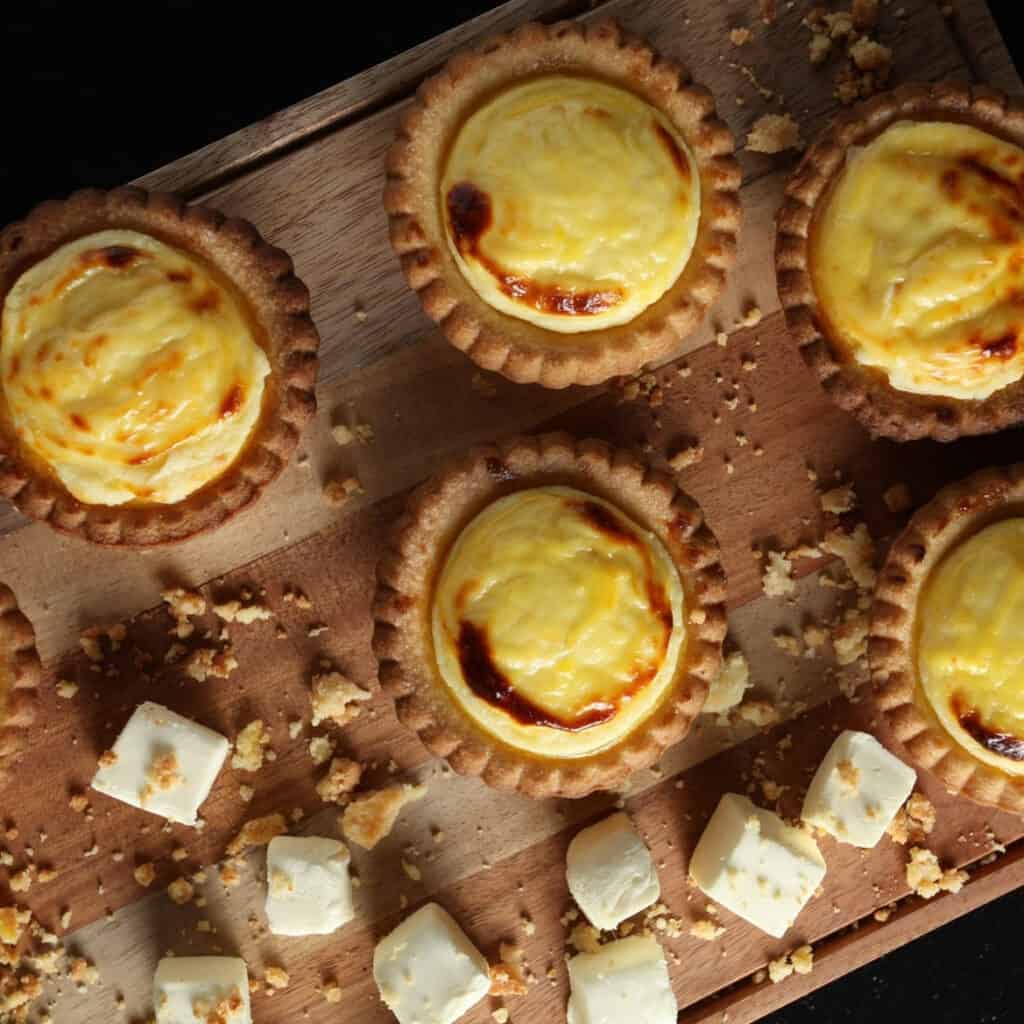 Hanjuku New York Cheesecake – This is a classic American cheesecake the only difference is it is made the Japanese way. This is one of their most popular food items as well, this half baked Japanese style cheesecake has a graham base which is crumbly but just right for the cheesecake, the base, and the cheesecake taste are just perfect its not too sweet as well, just right and perfect for their picky customers.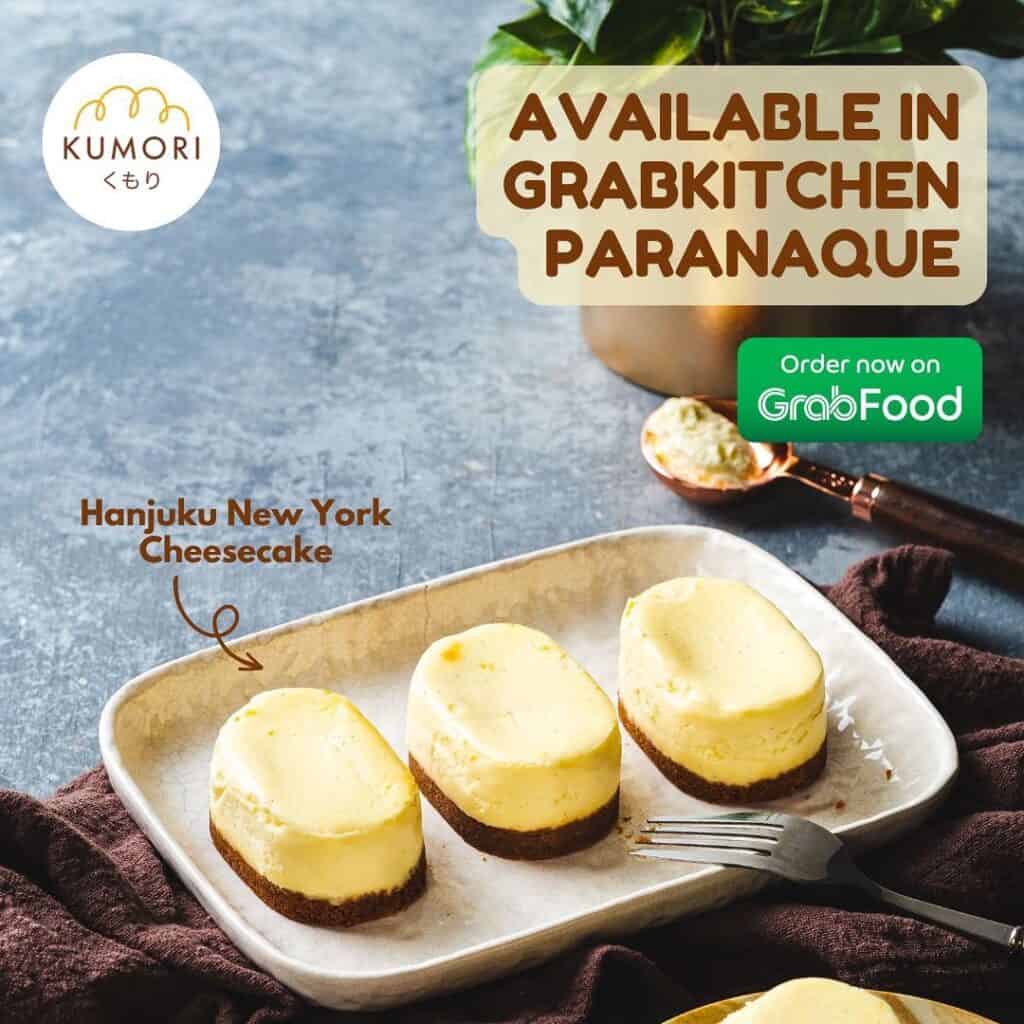 Light Double Cheesecake – This is basically a combination of white chiffon and cream cheese mousse in a sponge cake. This delicious light double cheesecake is topped with Japanese cake crumbs and creamy white chocolate for a more delightful flavor. This is a bit airy but thick and heavy. I like how intact their light double cheesecake is and when it comes to the taste it is pleasant and delicious.
Premium Cheese Loaf – This Kumori menu is a classic Japanese milk bread that is soft and fluffy but not too airy. It is also infused with cheese bits on top. Perfect for any spread that you have or as it is. Their premium cheese loaf is a bit heavy as well. 
Milky Cheese Roll – This is a soft bread coated in milk with cheddar cheese filling. This delicious milky cheese roll is not too sweet it has a combination of saltiness and creaminess because of the cheddar cheese and a bit of sweetness coming from the bread. This milky cheese roll is perfect as well for any hot drinks.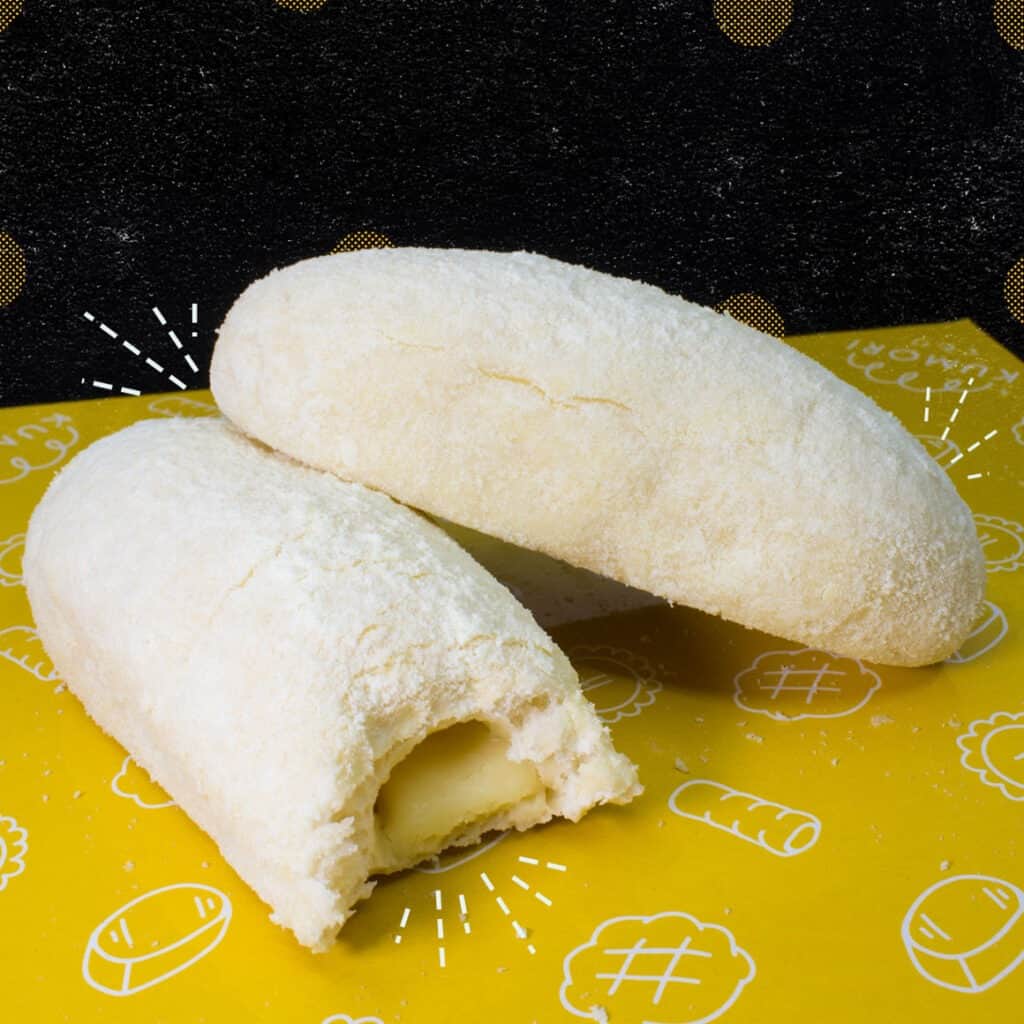 Melon Pan – Though it was named melon it doesn't have the flavor of melon, am I making a point? This is actually a soft round bun with a thick layer of cookie dough on top. It is quite big as well and also perfect for any hot drinks. You will never go wrong with this one, their melon pan is delicious.
Assorted Yakigashi – This is actually a toasted pound cake. The Kumori Assorted Yakigashi menu includes 5 flavors they have 1 banana oreo yakigashi, 1 salted cheese yakigashi, 1 carrot nut yakigashi, 1 butter rum yakigashi, and lastly 1 sweet date yakigashi. Everything in this assorted box of yakigashi is delicious. 
Summer Strawberry Cake Cup – Their summer strawberry cake cup has 4 layers, it has a soft sponge cake as a base, followed by strawberry jam then strawberry mousse and whipped cream, and topped with sliced fresh strawberry. They serve this in a box of four, and for sure this would be your new favorite. Delicious and great presentation as well.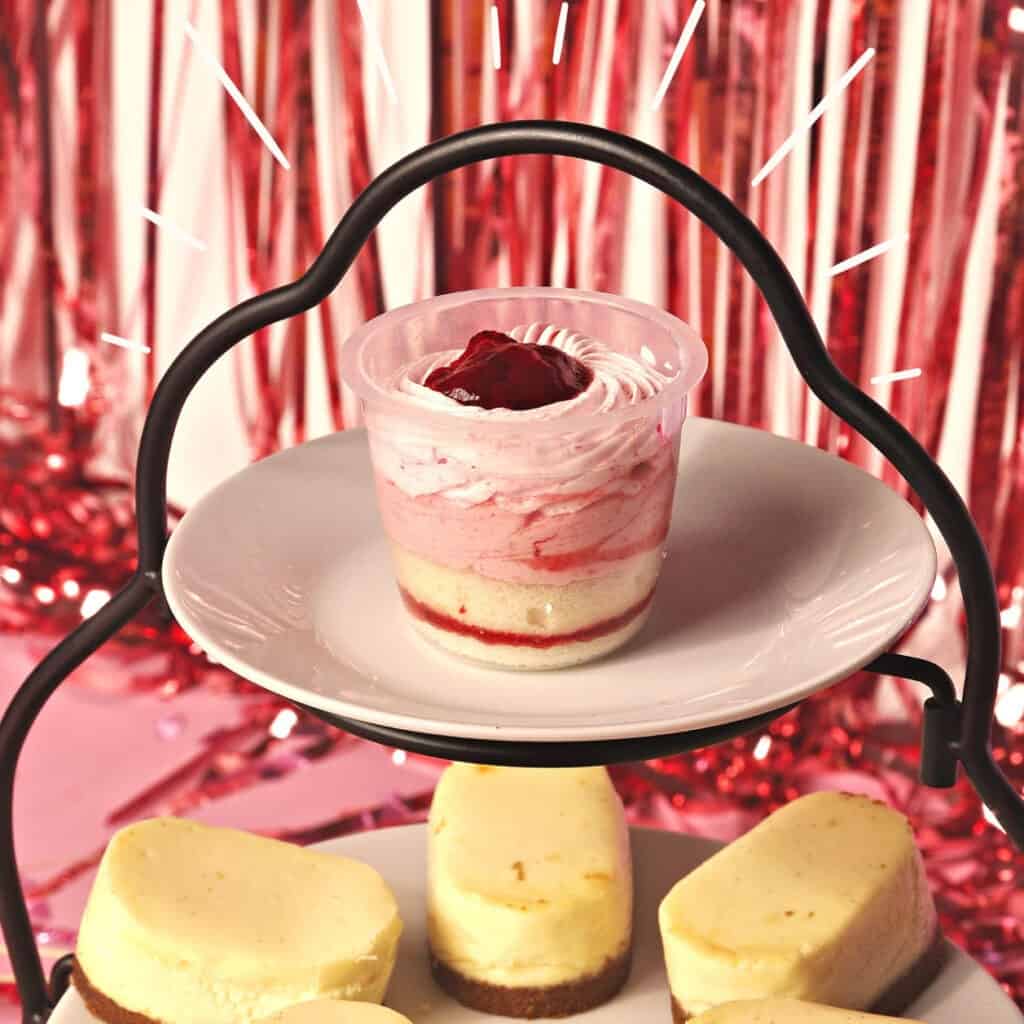 Bestseller Bundle – If you can't decide which one to order maybe you should try their bestseller bundle. A box includes 1 pc melon pan, 1 pc Christmas cinnamon loaf, 1 summer strawberry cake cup, 1 pc milky cheese roll, and lastly 1 salted cheese yakigashi.
Breads
Kumori offers a variety of choices when it comes to their bread. They actually have 32 items to choose from and everything on their menu of bread ate truly delicious, it's not surprising that Kumori became quite popular with their customers because of their bread. They always make sure that their bread is freshly baked and only use premium ingredients straight from japan to maintain the quality of their products. From cinnamon loaf to Japanese rolls, buns, and brioche they have it.
Kumori Menu Cakes
Since Kumori is a Japanese bakery they also include cakes on their menu. Their Japanese cakes are really good and not too sweet. They have coffee caramel chiffon, carrot cheesecake, light double cheesecake, mini mocha torte, big and mini banana charlotte, choco velvet cake, and simply the zest cheesecake. All cakes' prices range from 595 PHP for the cheapest and 1125 PHP for the most expensive one which is the big banana charlotte cake.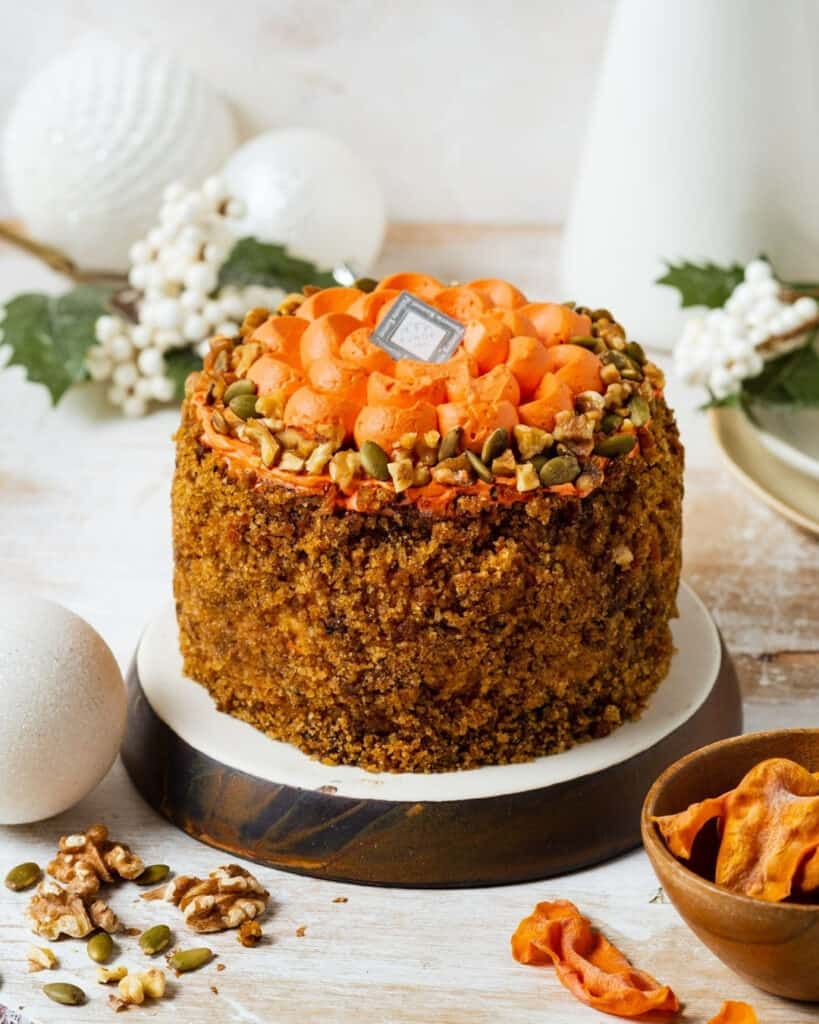 Hanjuku Cheese Menu
This is already included on our list of their best sellers. This half-baked Japanese-style cheesecake has rich and moist cream cheese as a filling. You can buy this in a box of 6 for only 348 PHP. Their Hanjuku cheese has the right texture and flavor that everyone will surely enjoy.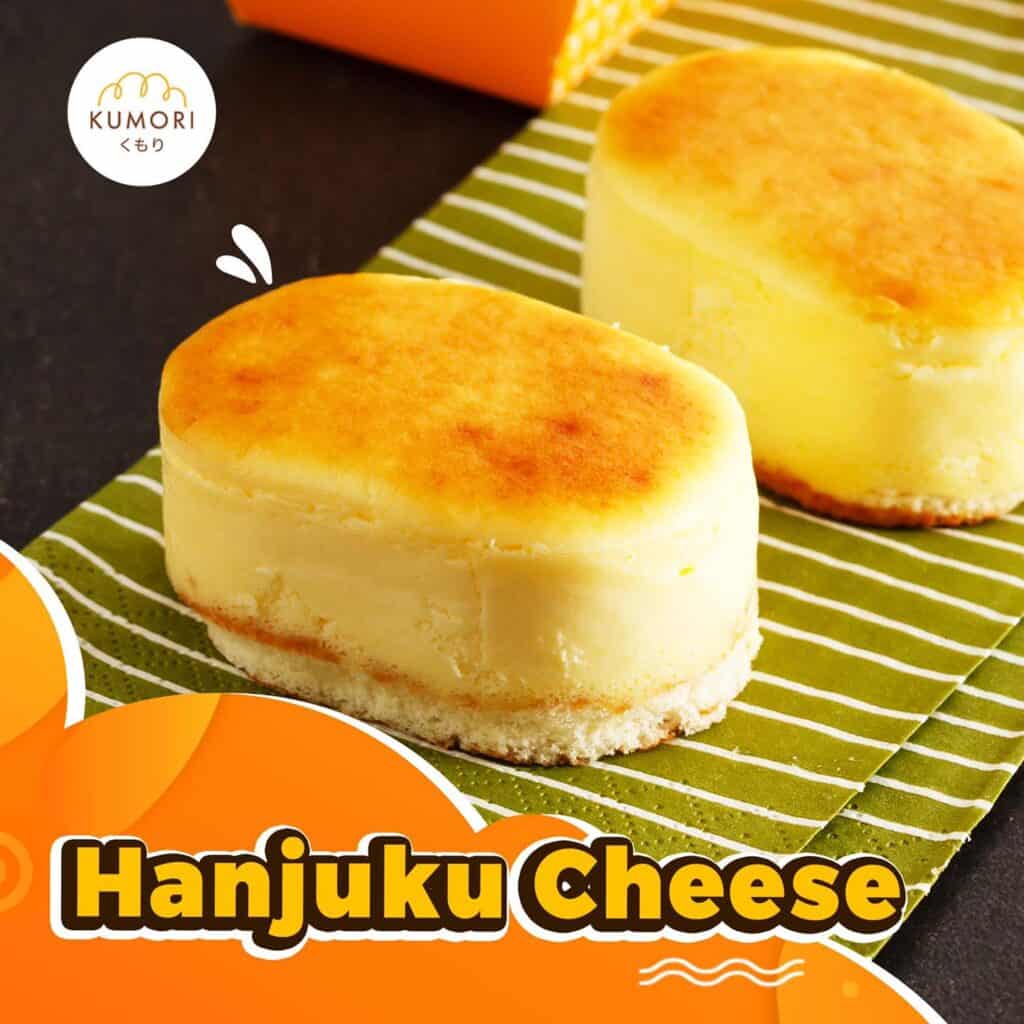 Kumori Menu Delivery
If you want to order your favorite Kumori Japanese bakery food items no worries you can order in the comfort of your home by simply visiting their website. They have a cut-off time which is 1 PM onwards and if you ordered during that time, it will be delivered on the next day. Delivery would be from 12 NN until 6 PM from Mondays to Saturdays. 
Social Media Pages
Kumori is now active in posting news on food items, promos, and discounts that you will surely enjoy. Follow them through their social media accounts to get you notified.
Facebook: https://www.facebook.com/kumoriph
Instagram: https://www.instagram.com/kumoriph/
TikTok: https://www.tiktok.com/@kumoriph
Website: https://www.kumori.com.ph/pages/contact-us
Conclusion
The Kumori menu offers a lot of choices but I always go for their Hanjuku cheese since I am a cheese lover. Most of their bread is firm and not airy which is good. When it comes to the taste it is not too sweet, creamy, and heavy is the right word to describe their products. This Japanese bakery makes delicious bread. Service is also great, with polite crews and fast. I highly recommend this Japanese bakery for those who want to try different kinds of bread.