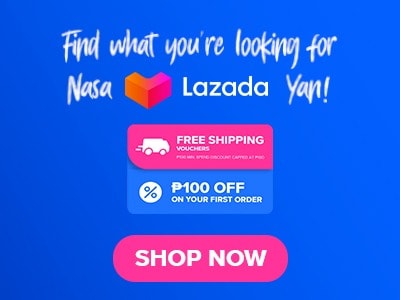 There are a lot of Japanese restaurants that are expanding in our country these days offering authentic Japanese cuisine however almost every Japanese restaurant is claiming that they are serving authentic Japanese dishes making the authenticity decline. I found a place for you if you're looking for a good Japanese restaurant and that's Izakaya Sensu. Have you heard about this restaurant before? They have a lot of Japanese dishes both popular and classic. In this article, we are going to get to know Izakaya Sensu more and we are going to check their best sellers and other items on their menu. Ready? If yes let's start. 
Below, you'll find the updated list of this Japanese restaurant's menu prices.
Menu Items
Price (PHP)

Salad, Tofu & Egg

Daikon Salad
195
Potato Salad
195
Ton Shabu Salad
250
Kaisou Salad
375
Wagyu Harami Salad
595
Ninniku Butter Edamame
195
Wasabi Edamame
220
Aonori Dashimaki
175
Mentaiko Dashimaki
250
Shiokara Jaga Butter
220
Chawan Mushi (New!)
220
Sensu Agedashi Tofu
250

Sashimi - Tampin

Maguro
250
Aji
220
Hirame
295
Ika
175
Hata
395
Uni
450
Iwasi
190
Tako
250
Hamachi
550
Shake
295
Botan Ebi
295
Hokki Gai
850
Ama Ebi
475
Toro
1300

Sashimi Platters

Omakase 3
495
Omakase 5
675
Omakase 7
1200
Sensu Omakase Special
2995

Signature Seafood Plates

Aji Nikogori
220
Shake Yukhoe (New!)
295
Ikageso Nuta
120
Uni Ika ?Ruibe?
375
Shiromi Usu-Dukuri
495
Maguro Aotou Tataki
295
Aji Namerou
220
Lka Meshi
295
Asari Butter
375
Sawara Saikyou-Yaki
475
Shake Saikyou-Yaki
450

Tempura

Sensu Tempura Moriawase
495
Uni Isobe-Age
550
Yasai Tempura Moriawase
250
Shitake Ebi Shinio
495
Ika Isobe-Age
495
Iwashi Namerou Age
395
Ko-Ebi Kakiage
175
Hanjuku Tamago
195
Kisu
250
Kuruma Ebi
375

Sakana

Cream Cheese Ama-Jyouyu Zuke
175
Shiokara
220
Uni Ika ?Ruibe?
375
Aburi Mentaiko
575
Kani Miso Aburi
450
Tori Kawa Ponzu
150
Ebiashi Kara-Age
120

Agemono / Fried Dishes

Stick Ton-Katsu
220
Sichimi Age
150
Ebi Kaori Age
295
Spicy Teba Age
275
Salmon Katsu
375
Age Gyoza (New!)
150
Sensu Kara-Age
195
Hirame ?Sugata-Age?
695

Nabe Yowri - Sensu's Hot Pot

Wagyu Miso Tetsu-Nabe Yaki (Good For 2-3 Persons)
2200
Hakata Mitzutaki
1395
Buta Goma Syou-Ga Sio Shabu Shabu Set (New!)
695
Authentic Wagyu Suki-Yaki Set (New!)
1499
Ebi Shabu Shabu Set (New!)
1550
"Chan Chan" Butter Nabe Set - Shake Miso Butter Shabu Shabu (New)
1100

Shime - Main Dish

Goma Chazuke
395
Uni Chazuke
250
Tomato Ae-Soba
295
Curry Udon
375
Tori Nira Udon
375
Tempura Soba
595
Zaru Soba
250
Uni Yaki-Onigiri
150
Ika Meshi
295
Yaki-Meshi
195
Kani-Miso Yaki-Meshi
475
Dry Curry Rice Onsen-Tamago Soe
350

Yakitori - Bbq Skewers

Yakitori Omakase 7
295
Waygu Yakitori Special 7
795
Sensu Kawari Kusi 5
195

Yakitori - Buta/Pork

Butabara Daikon
45
Butabara Uzura
60
Butabara Negi
50
Butabara Tomato
40
Butabara Enoki
70
Butabara Aotougarashi
45
Butabara Okra
45
Butabara Aspara
60
Ton Tama
60

Yakitori - Yasai/Vegetable

Shishito
30
Naganegi
25
Baby Corn
20
Okra
20

Yakitori - Special Sig. Bbq

Wagyu
275
Kamo Negi
275

Yakitori - Tori/Chicken

Tori Liver
45
Tori Okura
35
Torikawa Ninniku
35
Tori Tsukune
80
Mune Cheese
45
Mune Mentaiko
75
Mune Wasabi
55
Mune Ume Shiso
75
Mune Sichimi Mayo
55

Niku Ryouri - Meat

Wagyu Harami Steak
1295
Wagyu Tataki
1195
Teriyaki Tori Tsukune Burger Tamago No Kimi Soe (New)
175
Niku Maki Hanjuku Tamago 2pcs (New!)
175
Teriyaki Niku Maki Onigiri (New!)
175
Beef Katsu
450
Kamo Rosu
650
Chicken Teriyaki
195
Buta Saikyo-Yaki
250
Chicken Nanban
220

Authentic Sushi

Sushi Omakase 10
1350
Sushi Omakase 6
450

Masu

Uni & Ikura
395
Kani & Ikura
350
Uni & Maguro
195
Maguro & Ikura
350

Nigiri (Molded Sushi Rice)

Aji
100
Iwashi
100
Maguro
120
Hirame
110
Shake
150
Unagi
295
Boiled Ebi
195
Ama Ebi
250
Botan Ebi
595
Toro
650
Sensu Tamago
100
Wagyu Tataki
295
Hamachi
220
Hata
160
Ika Shiso
100
Hirame Bekkou
195
Zuke Maguro
150
Hata Bekkou
220
Hotate-Gai
375
Tako
175
Hokki-Gai
395
Bara Chirashi Zushi Don (New!)
450

Gunkan (Wrapped In Nori)

Ikura
595
Uni
175
Aotou Maguro
295
Kani Miso
450
Tobiko
150
Mentaiko
250

Yasai Sushi (Vegetable Sushi)

Yasai Sushi Omakase
195
Edamame
120
Ume & Okra
75
Zuke Paprika
95
Mango
75
Gomoku Inari-Sushi
195
Avocado Wasabi
75

Makimono (Rolled Sushi)

The Sensu Roll
595
California Roll
175
Spicy Tuna Roll
175
White Fish Hosomaki (New!)
220
Tuna & Lato Hosomaki (New!)
195
Kappa Maki
100
Tekka Maki
175

Kammi/Dessert

Miso Chocolate Cake
250
Matcha Belgian White Chocolate Cheesecake
295
Coffee Jelly Tiramisu
250
Matcha Ice Cream
95
Fluffy Matcha Chiffon Cake
195
Fruit Jelly
95
Anmitsu
350

Drinks/Refreshing

Sensu Iced Tea
175
Calpis Soda
195
Grapefruit & Ginger Soda
150
Yuzu Citrus Mint Spritz
195
Four In Season
120
Wasabi Watermelon Smoothie
195
Matcha Latte Shake
195
Mango Orange Yakult Smoothie
195

Drinks - Tea

House Green Tea
110
Matcha Latte
125
Matcha Chocolate Latte
130

Drinks - Softdrinks

Coke, Coke Zero, Coke Light, Sprite
95
Soda Water
125
Tonic
120
Ginger Ale
185

Drinks - Water

Badoit
430
Evian
470

Drinks - Liquor

Touyou Bijin (Our Exclusive Small Batch House Sake)
375
The Classic Suntory ?Kakubin? Highball
250
Sapporo Beer
295
About Izakaya Sensu
Traditional Japanese menu is what Izakaya Sensu offers. They also have modern cuisine is for sure everyone will like and enjoy. Their menus are perfect for everyone's craving especially those who love Japanese food. Raintree made a collaboration with Piglet from Tokyo to make this restaurant possible.
They are providing non traditional Izakaya experience since they are serving modern twists in their Japanese dishes while still maintaining the authenticity of Japanese cuisine. Izakaya is designed to make their serving just the way it is in Japan however their dishes are still available in a la carte, aside from that everything on their menu is shareable so it is better to visit with your friends or family.
Izakaya Sensu Menu Best Sellers
Listed below are samples of their best sellers and must-try dishes on their menu.
Chan Chan Nabe – Chan chan nabe is a kind of shabu shabu that uses Norweigian salmon. The addition of fresh vegetables helps enhance the flavor of the broth in this dish. The broth is also a bit salty which really goes well with the noodles that are also included in this dish. This one is delicious you will surely enjoy the broth on this dish the salmon is still firm and the vegetables are fresh. One of the best dishes that I tried on their menu, truly enjoyable and comforting.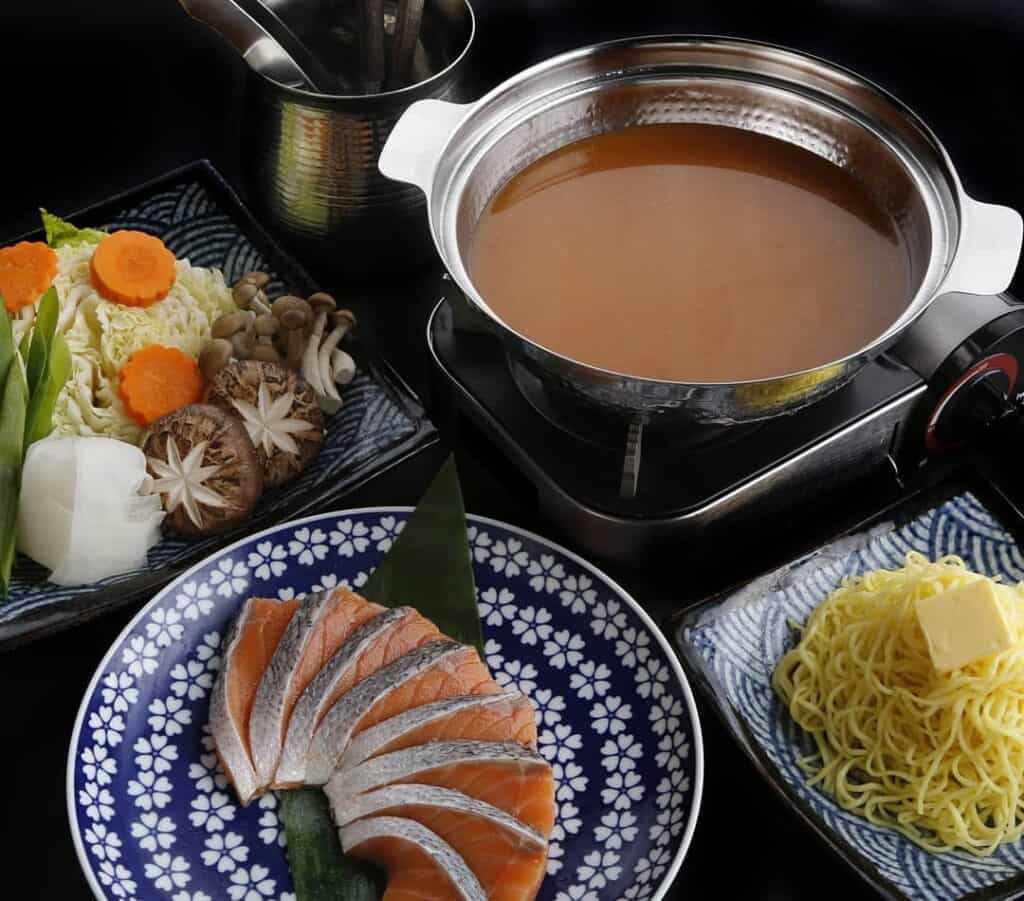 Wagyu Sukiyaki – Izakaya Sensu's version of wagyu sukiyaki would be perfect if you love meats. This dish has delicately sliced wagyu beef and other ingredients in a broth that is Japanese sweet soy sauce. You will see a great marbling on the meat which means a great quality and can be cooked in less than a minute. Adviceable to dip it after cooking in a fresh cracked egg to bring the best flavor of the meat. This one is really good I love it with white rice or even just by itself.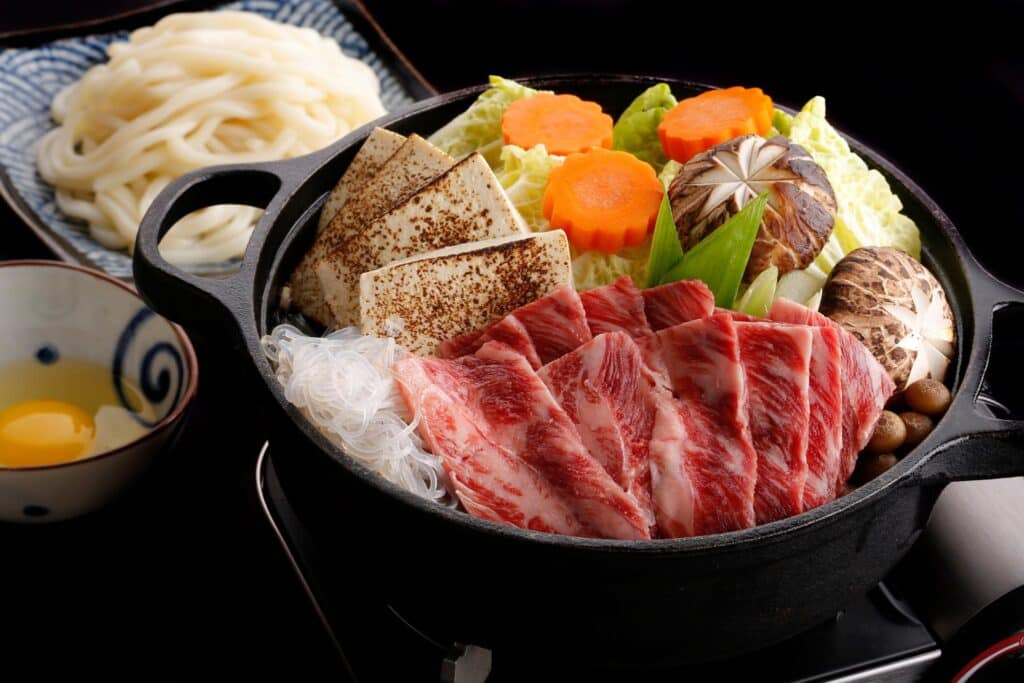 Omakase – Omakase is made with Bluefin tuna, squid, Norwegian salmon, flounder, horse mackerel, chef's daily selection, and hamachi. Different kinds of sashimi will surely blow your mind especially if you're a fan of sashimi. Sashimi is fresh and has a great taste. This one is also a must-try.
Sensu Roll – Sensu roll is basically two rolls in one. The first one is spicy mayonnaise and asparagus then topped with some spicy tuna. The second roll is yuzu skin and cucumber and crabmeat mayonnaise topped with flying fish roe, mango, and unagi sauce. Sensu roll is a great choice if you want to try 2 different items in one. This is also included in their top-selling item and also a must-try.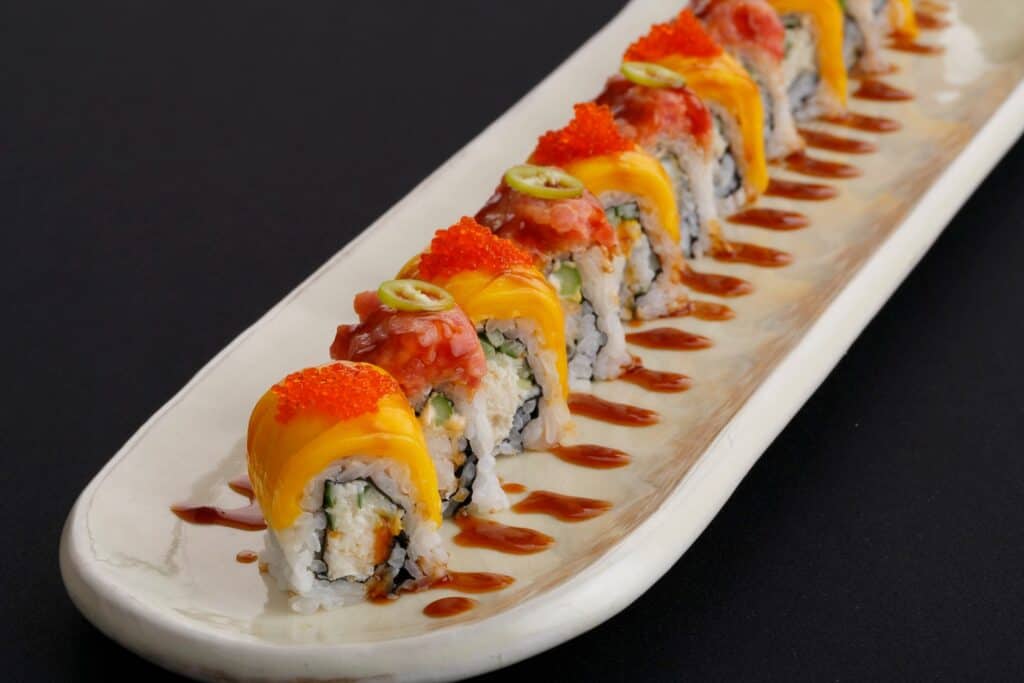 Sashimi Platters
Izakaya Sensu also offers sashimi platters, they have 4 different items on this menu. The first one is their Omakase 3, this one is made with Norwegian salmon, Bluefin tuna, and squid. They also have Omakase 5, which is made of squid, Bluefin tuna, horse mackerel, Norwegian salmon, and flounder.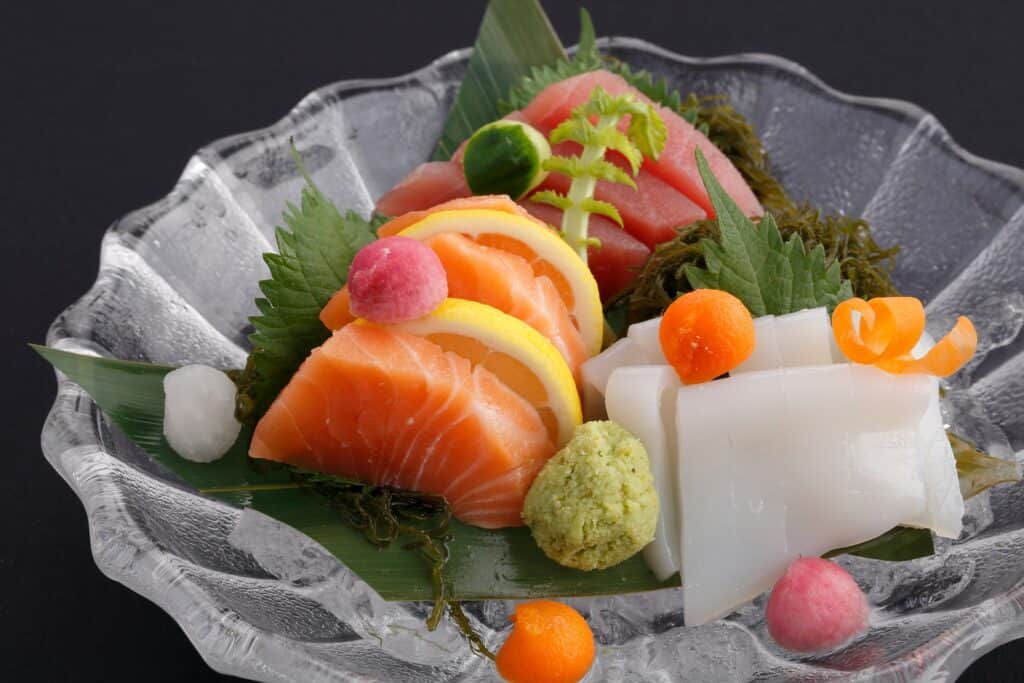 Another option is their Omakase 7, this one is made with Norwegian salmon, bluefin tuna, horse mackerel, squid, flounder, hamachi, and their daily chef's selection. Lastly is their Sensu Omakase Special which is their daily chef's selection and is actually 11 kinds.
Agemono/Fried Dishes
Agemono or fried dishes of Izakaya Sensu have 8 delicious menu options. The first one is their Stick Ton-Katsu which is a Fried thin sliced spicy curry tonkatsu with Japanese mustard and mayo dip, this one tastes so good. Sichimi Age is another great option this is made from Lightly fried chicken hearts and chicken gizzard with 7 Japanese spices.
They also have Ebi Kaori Age which is a deep-fried baby shrimp with spicy herb salt to taste. Another item that is my favorite is their Spicy Teba Age, this one is sweet soy and black pepper fried chicken wings. Other options are Salmon Katsu, Age Gyoza, Sensu Kara-age, and Hirame Sugata age.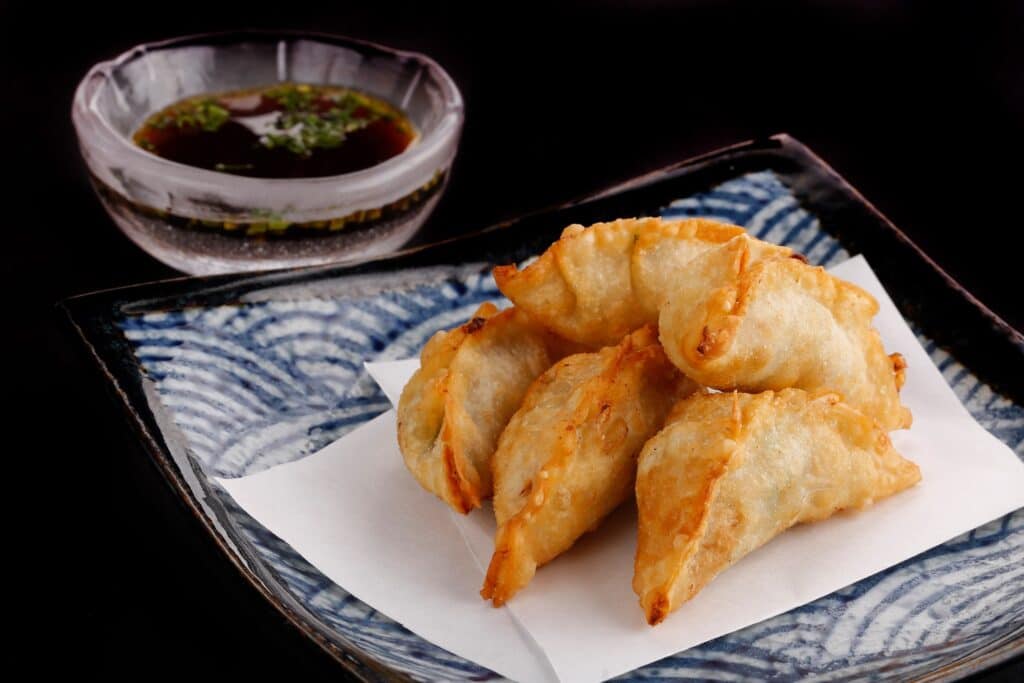 Izakaya Sensu Delivery
If you want to order your favorite Izakaya Sensu food items no worries since their branch at Taguig is offering delivery all you have to do is to call (02)82832979 or you can also use other third-party delivery services like Foodpanda, Pickaroo, and other delivery services that is available in your area.
Social Media Pages
Be prepared for surprise giveaways and contests where you can win free dining experiences and signature dishes. Your voice matters; you'll even have a say in crafting their limited-time menu items. Get all these privileges by starting to follow and like their pages.
Facebook: https://www.facebook.com/RaintreeSensu
Instagram: https://www.instagram.com/izakayasensuph
Twitter: https://twitter.com/raintreesensu
Website: https://www.raintreehospitality.net/izakayasensu
Frequently Asked Questions (FAQs)
What are Izakaya Sensu's business hours?
Izakaya Sensu's business hours are from 11:00 in the morning until 10:00 at night.
What are Izakaya Sensu payment options available? Does Izakaya Sensu accept credit cards?
Payment options available at Izakaya Sensu are through cash or major credit cards.
What does izakaya mean?
Izakaya means stay drink place which is actually applicable for Izakaya Sensu since this place offers great quality food and drinks.
Does Izakaya Sensu accept reservations?
Yes, you may call them at 09673498437 or 09774659825 for reservations.
Izakaya Sensu: Is this place a halal certified restaurant?
No. Izakaya Sensu is a non-halal-certified restaurant that offers alcoholic beverages.
Conclusion
Great place to go and enjoy different Japanese cuisine which are all delicious. Izakaya Sensu menu has a lot to offer especially if you're looking for an authentic taste of Japanese foods. This place has a warm and cozy atmosphere that is also customer-friendly and very welcoming. The interior is relaxing too, staffs are amazing, nice, and friendly. A highly recommendable place for you and your loved ones to go. Prices are not that expensive just right. Good experience with this restaurant and will come back again soon.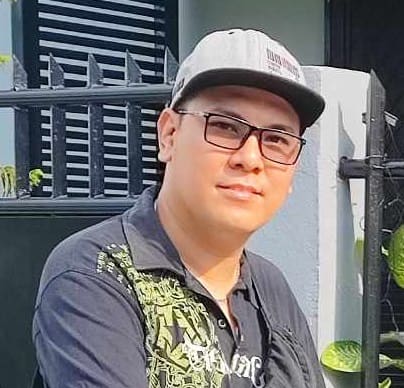 Hi! I'm Nivek Strife, the person who made MenuPH. I'm the one who added most of the popular menus you see on this website, and I really hope you enjoy them! Feel free to check them all out.
Growing up, I was surrounded by lots of tasty foods, like the classic Adobo and the sweet Leche Flan. That love for the many flavors of the Philippines is what got me excited about adding to MenuPH. When I learned how to make websites, I saw the need for a place to show off all the amazing Filipino dishes, and that's how MenuPH started.
MenuPH isn't just a website; it's like a fun journey into food. I've teamed up with famous chefs and found great places all over the Philippines to bring you a bunch of menus that show off the best of Filipino cuisine. Whether you're into the usual dishes or new twists, MenuPH is here to guide you through the rich world of Filipino flavors.
With MenuPH, my aim is to help local businesses, talk about good food choices, and make a group of friends who love food. No matter if you like fancy restaurants or street food, MenuPH has something for you. Come join me on this food adventure as we find great places, taste real flavors, and enjoy the unique food traditions that make the Philippines awesome.