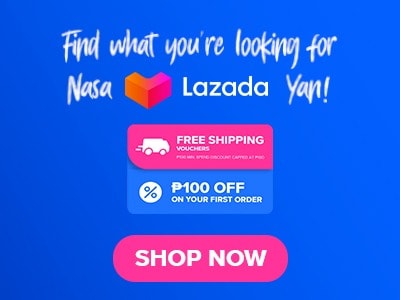 We cannot deny that we Filipinos have an unwavering love for Chinese cuisine, that is why Chinese restaurants are all over the city we walk in. But with all of the Chinese restaurants popping out everywhere, it is sometimes hard to choose what type of restaurant knows the right spot to hit our hearts with their authentic collections. Introducing Chuan Kee, I have been meaning to share my experience with you and I am sure you will know more about this beloved restaurant and its specialties, starting with its menu collection.
Below, you'll find the updated list of this fast food's menu prices.
Menu Items
Price (PHP)

Breakfast

Congee
130
Siomai
65
Ube Siopao
58
Misua
55
Fried Egg
35
Luncheon Meat
30
Corned Beef
48
Pandesal
7
Coffee
58
Hot Milk
45
Hot Soya
52

Special Soup

Soup No. 5
300
Chinese Bulalo Soup
280
Ama Soup
240
Black Chicken Soup
240

Soup / Noodles

Gokong Soup
190
Fishball Soup
130
Fishball Mami
150
Pork Maki
140
Pork Maki Mi
160
Kamto Soup
150
Kamto Mi
170
Chopchay Soup
150
Chopchay Mi
170
Pata Soup
150
Pata Mi
170
Siomai Mami
140
Asado Mami
170
Chicken Mami
170
Meatball Soup
150
Meatball Mami
170
Beef Mami
170
Wanton Mami
160
Beef Tendon Mami
200
Beef-Wanton Mami
190
Beef Maki
160
Beef Maki Mi
175

Dimsum Special

Xiao Long Bao
180
Shrimp Hakaw
125
Pork Dumpling
130

Rice Toppings

Beef Tendon
190
Steamed Spareribs
180
Braised Beef
190
Steamed Chicken
180

Best Seller

Patatim
600
Oyster Cake
200
Chicken Chinoy
198

Short Order - Stir Fry

Kung Pao Chicken
198
Cha-Mi
180
Cha-Canton
180
Cha-Bihon
180
Cha-Sotanghon
180
Miki-Bihon
180
Cha-Misua
180

Short Order - Soup

Lo-Canton
180
Lo-Tanghon
180
Lo-Misua
180
Lo-Mi
180
Lo-Bihon
180

Main Dish

Pork Asado Lechon
140
Asado with Egg
130
Pork Asado
120
Lechon Kawali
120
Kiam Pong
60
Machang
90
Plain Rice
45
Adobo Egg
40
Camaron Relleno
90
Kikiam
85
Honey Pork Kikiam
85
Goyong
80
Adobo Tainga ng Baboy
75
Asado Tainga
75
Tokwa't Baboy
75
Fried Meatball
75
Sweet & Sour Meatball
90
Adobo Tofu
52
About Chuan Kee
Chuan Kee specializes in various Chinese cuisines highlighting its savory delight and artistic flair with their famous Dimsum Specials and Best Sellers along with their Main Dishes which feature classic Filipino dishes and are one of the main highlights of the restaurant. They also offer a flavorful and brothy soup that will surely bring the warmth you need for your day.
Chuan Kee Menu Best Seller
Let us make that Chuan Kee experience into something you won't forget with this Best-seller dish that is perfect for your taste and mood.
Patatim – Starting this list with this famous Filipino-Chinese cuisine that highlights very tender braised pork legs that are carefully simmered with flavors and savory soy-based sauce. It offers a melt-in-your-mouth texture that you will surely love.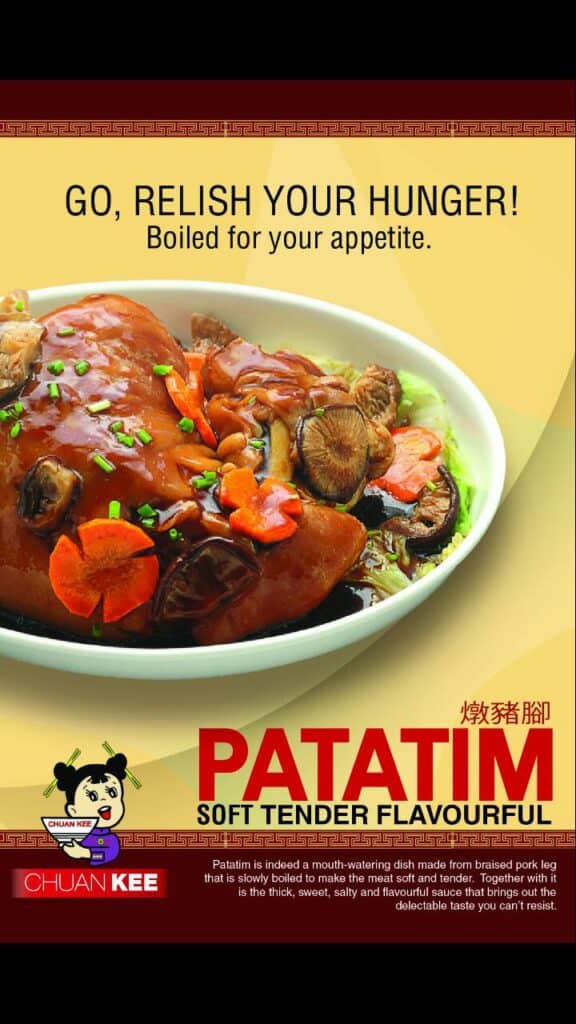 Chicken Chinoy – This iconic fusion of Chinese and Filipino chicken dishes offers you a juicy chicken on a savory Chinese-style sauce. It features Filipino seasonings and spices such as soy sauce, garlic, giber, and oyster sauce.
Xiao Long Bao – A famous dumpling soup that features a very delicate bite of flavorful dumpling giving you a meaty bite of pork and flavors. It is savory with the mingling sensation of meats and the thin wraps enveloping it.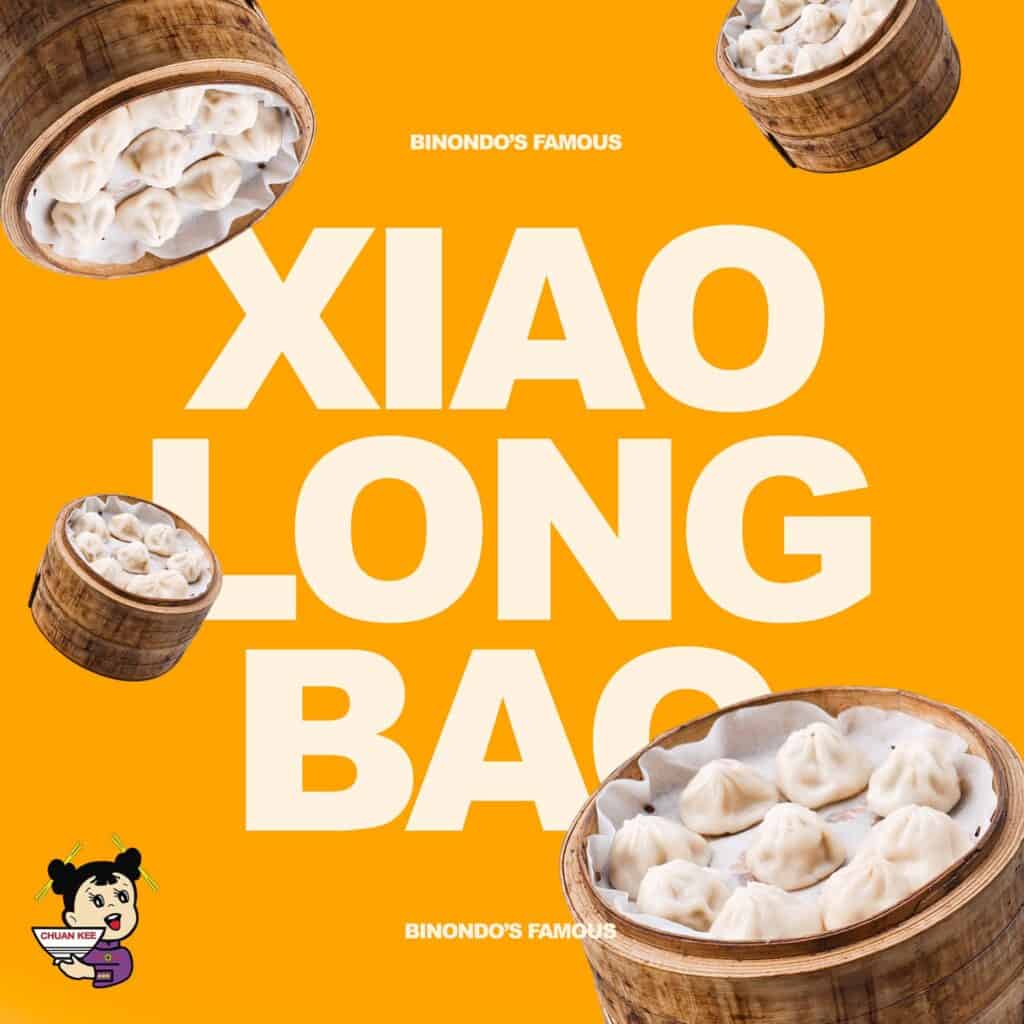 Pork Asado Lechon – Let us take your pork asado lechon to a whole new level with this dish that highlights the three slices of pork asado that are carefully marinated to perfection giving you a special hint of Chinese flavor.
Beef Tendon – Another star for the Filipinos! This beef tendon menu of Chuan Kee is well-loved because of its slow-cooked to absolute perfection beef tendon giving you the level of rich flavors you need.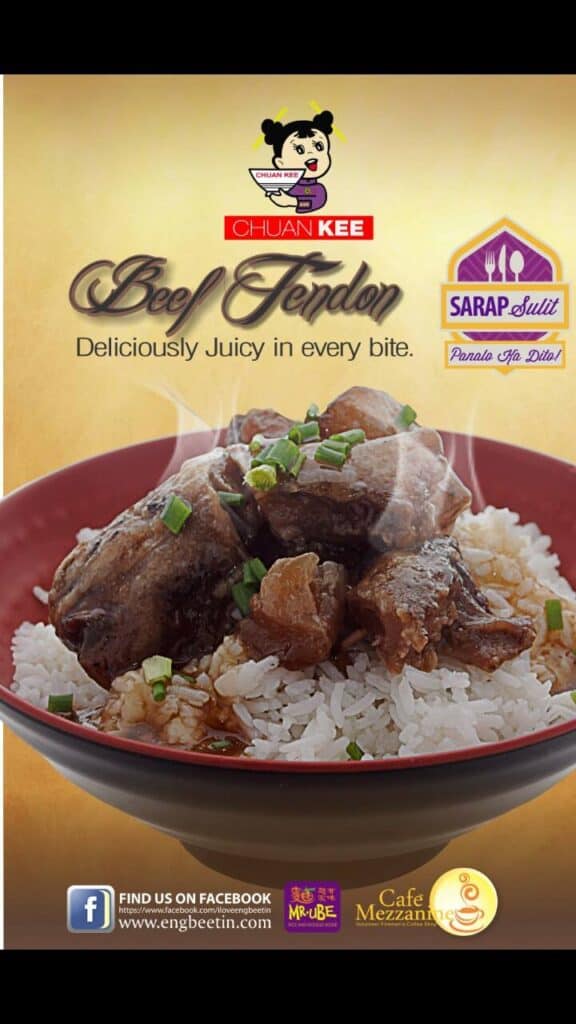 Main Dish
A perfect collection for an empty stomach! This menu collection will never leave you unsatisfied and an empty wallet. They are very affordable but come with quality taste.
Asado with Egg – This asado with egg is an iconic fusion of Chinese and Filipino cuisine highlighting a tender piece of meat that is marinated to absolute perfection. it gives you a special hint of its savory and sweet tangy sauce.
Pork Asado – Another well-loved dish on Chuan Kee menu that features slow-cooked and marinated to-perfection pork in a savory sauce. it embarks you on a flavorful and rich journey from its aroma to its succulent meat.
Lechon Kawali – Now for the lechon lovers! You can't say no to the irresistible crunch of this lechon kawali that offers you a hic slices of pork belly that are perfectly deep fried until it reaches the golden perfect texture.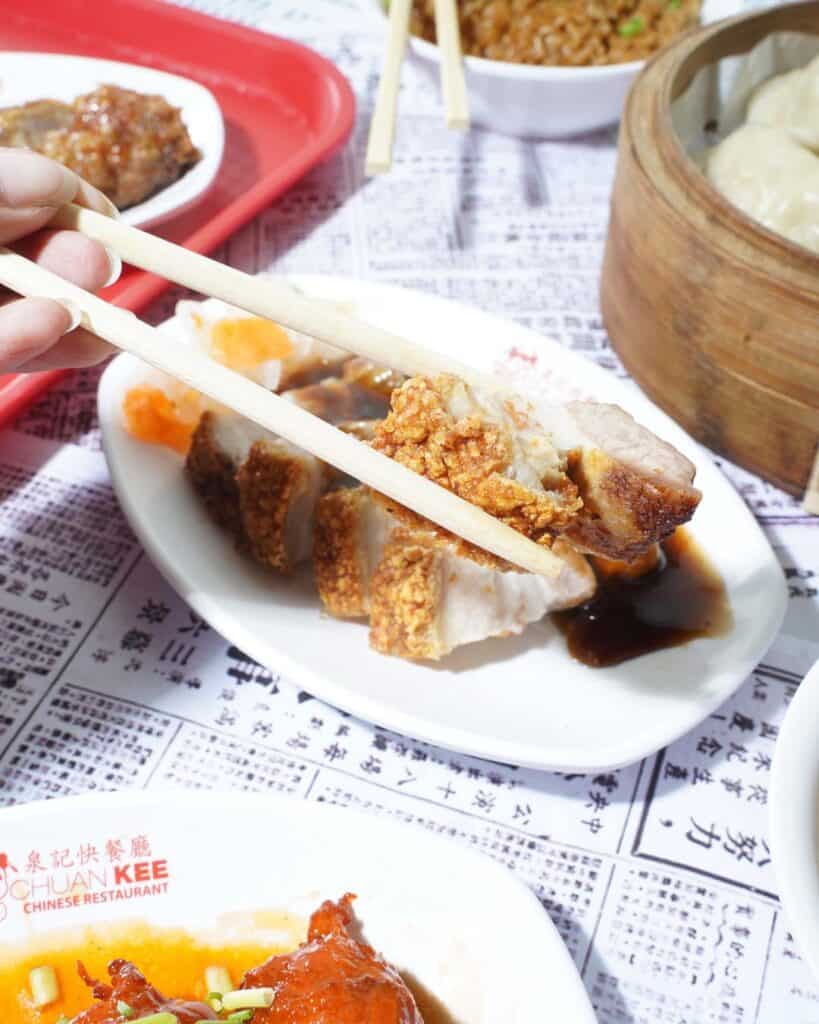 Sweet & Sour Meatball – This dish features savory and sweet and sour hints of meatballs that are bathed in a tangy sauce sauce that offers a sweet sensation. It is made out of ground meat and seasoned with various special ingredients.
Other Menu
Still, looking for a perfect dish for your mood? Check out this other menu collection of Chuan Kee that I curated for an extra spice and level for your dine-in experience.
Shrimp Hakaw – Prepare to be dazzled with this delicate and translucent Shrimp Hakaw that is filled with shrimp that highlights its succulent texture and freshness. This is one of their famous Dim Sum specials that are well-loved especially for seafood lovers.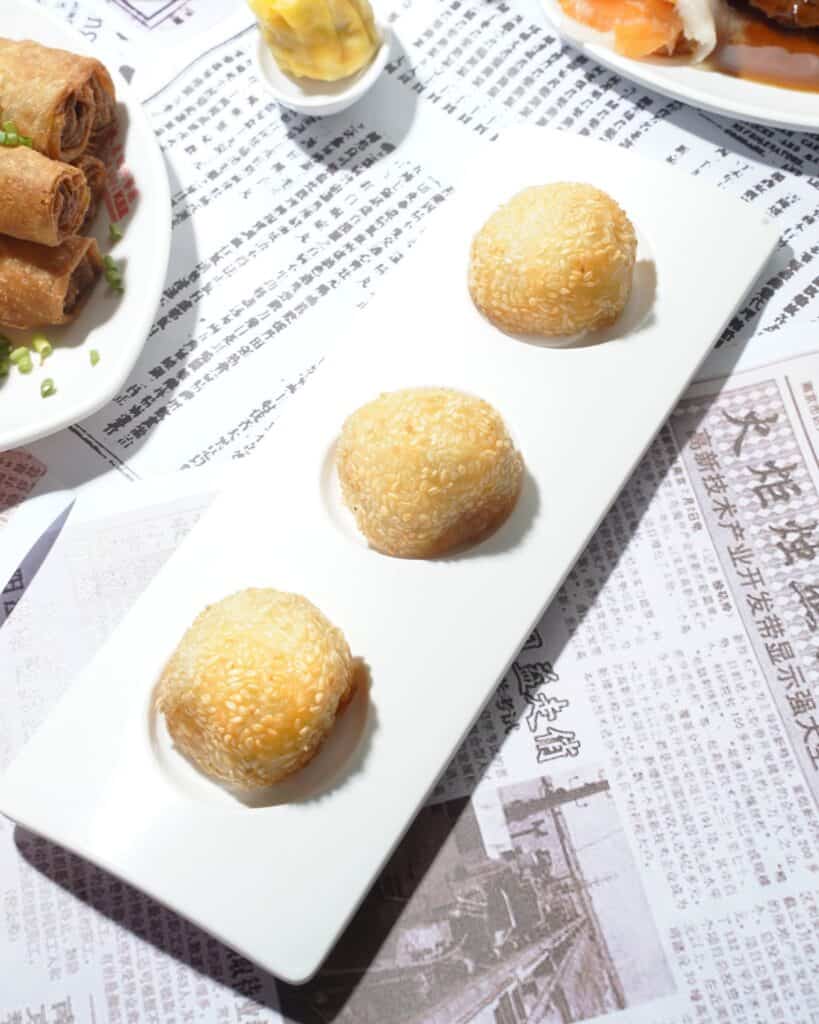 Pork Dumpling – If you are not a fan of Shrimp Hakaw, then this one is perfect for you. it offers you a flavorful mixture of ground pork that is topped and garnished for added visual and flavor.
Steamed Spareribs -This dish offers you a very tender texture of specially marinated pork spareribs that are undoubtedly juicy and flavorful. It is perfectly seasoned with savory sauce and marinated to absolute perfection.
Braised Beef – Now for the last spot! This braised beef hits the right spot for your love of beef. It showcases an undeniable richness of beef that offers you aromatic sauce and tenderness you will surely love.
Chuan Kee Delivery
Are you craving for a flavorful fusion of Chinese and Filipino cuisines? Chuan Kee has got you for those cravings! You will surely be satisfied with their various collections that are available for Food Delivery. You can order through FoodPanda, GrabFood, and Pick A Roo! Enjoy and savor the absolute goodness that Chuan Kee offers in the utmost comfort of your home.
Social Media Page Link
Here's the twist: tag them in your own homemade Chinese dishes, and get ready to level up your spice game and explore the bold flavors of its cuisine. Join them on social media today, where every post is a flavorful journey!
Facebook: https://www.facebook.com/chuankeefastfood
Frequently Asked Questions
What type of cuisine does Chuan Kee offer?
Chuan Kee offers an adventure filled with meaty goodness in their Chinese-Filipino cuisines from Dim Sum to Main Dishes.
What is Chuan Kee known for?
Chuan Kee is famous for their Dim Sum specials such as Xiao Long Bao and their Patatim.
What are the operating hours of Chuan Kee?
This fast food operates as early as 7 AM until 9 PM every day.
Where is Chuan Kee located in the Philippines?
Chuan Kee is located at 650 Ongpin St, Binondo, Manila, 1006 Metro Manila.
Conclusion
To conclude my experience, I find this restaurant a very recommended place that everyone will enjoy. The Chuan Kee offers a well-curated menu collection that features a flavorful fusion of Chinese and Filipino cuisines that offers a very safe option that even first-time diners will enjoy. I love the emphasis on Filipino cuisine in their menu collection and the Chinese Dim Sum Specials that exude premium quality bite. I cannot believe how affordable the menu prices are which never compromises the quality of the food they serve. I will surely come back again for another Chuan Kee dining experience.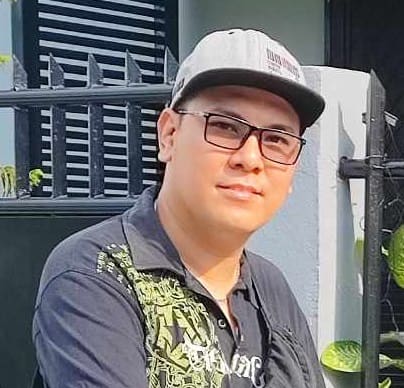 Hi! I'm Nivek Strife, the person who made MenuPH. I'm the one who added most of the popular menus you see on this website, and I really hope you enjoy them! Feel free to check them all out.
Growing up, I was surrounded by lots of tasty foods, like the classic Adobo and the sweet Leche Flan. That love for the many flavors of the Philippines is what got me excited about adding to MenuPH. When I learned how to make websites, I saw the need for a place to show off all the amazing Filipino dishes, and that's how MenuPH started.
MenuPH isn't just a website; it's like a fun journey into food. I've teamed up with famous chefs and found great places all over the Philippines to bring you a bunch of menus that show off the best of Filipino cuisine. Whether you're into the usual dishes or new twists, MenuPH is here to guide you through the rich world of Filipino flavors.
With MenuPH, my aim is to help local businesses, talk about good food choices, and make a group of friends who love food. No matter if you like fancy restaurants or street food, MenuPH has something for you. Come join me on this food adventure as we find great places, taste real flavors, and enjoy the unique food traditions that make the Philippines awesome.