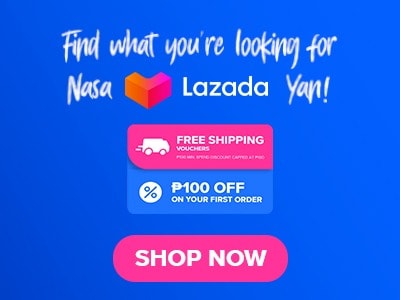 One of the most popular places to go and relax is Tagaytay City, this place is quite popular with those living in the Metro and in the South like Laguna, Batangas, and Cavite. Are you planning to go to Tagaytay City for some relaxation? If yes you have a place to go to eat? If you are looking for a good place to go and explore foods while on vacation look no further I have a great recommendation for you. Napa at Crosswinds menu has a lot of great dishes to offer and aside from great dishes they also have delicious beverages to choose from especially coffee.
They also have alcoholic beverages like wine so everything that you'll be looking for in a restaurant is already offered at Napa at Crosswinds. In this article we are going to know Napa at Crosswinds, their best sellers, and of course their price. If you're interested and you're ready then let's go!
Below, you'll find the updated list of Napa at Crosswinds menu prices.
Menu Items
Price (PHP)

Breakfast

Long Drive Breakfast
515
Smokey Ben
445
Waffle & Fruits
395
Pancetta & Eggs
525
Quiche Of Your Choice
345

Appetizers

Spin Art Dip
345
Chili Tots
375
Fried Cheese
395
Shrimp Poppers
325
Truffle Tots
335

Soup

Clam Chowder
275
Pumpkin Soup
245

Salad

Rustic Salad
365
Prosciutto Cashew Salad
365

Pizza (10"/14")

Rustic Classic
650/850
Beef & Onions
600/800
Rustic Margherita
550/750
White Clam Pizza
550/750

Sandwich

Grilled 4 Cheese Sandwich
295
Beef Pastrami Sandwich
355

Large Plates

Downtown Chicken Bbq
370
Chicken Truffle Melt
395
Flounder & Chips
370
Sausage Duo
695
Maple Glazed Brisket
475
Southern Pork Belly
485

Burgers

Truffle Burger
395
Chili Burger
395

Wings

Garlic Parmesan Wings
445
Teriyaki Wings
445
Chili Wings
465

Pasta

Fried Chicken Alfredo
395
Seafood Linguini
475
Parma Truffle Pasta
430
Smokey Bbq Cheese
475
Black Smoke Pasta
495

Paella (Solo/Group)

Seafood Paella
950/1700
Chicken Paella
750/1500

Deli & Cheese

Cheese Platter
600
Deli Platter
650
Deli & Cheese Platter
850

Soda

Sprite
80
Coke/Coke Light/Coke Zero
80
Mug Root Beer
80

Juice

Berry And Company Acai Berry
145
Berry And Company Goji Berry
150
Berry And Company Pomegranate Berry
150
Berry And Company Green Tea Blueberry
150

Bottled Water

Crystal Clear 500ml
40

Caffeinated Drinks (Hot/Cold)

Cafe Americano Hot (12oz/16oz)
210/225
Cafe Americano Iced (16oz/20oz)
225/240
Cappuccino Hot (12oz/16oz)
240/255
Cappuccino Iced (16oz/20oz)
255/270
Cafe Latte Hot (12oz/16oz)
240/255
Cafe Latte Iced (16oz/20oz)
255/270
Caramel Latte Hot (12oz/16oz)
275/290
Caramel Latte Iced (16oz/20oz)
290/305
Marble Mocha Hot (12oz/16oz)
295/310
Marble Mocha Iced (16oz/20oz)
275/290
Premium Chocolate Hot (12oz/16oz)
275/290
Premium Chocolate Iced (16oz/20oz)
290/305
Matcha Latte Hot (12oz/16oz)
235/250
Matcha Latte Iced (16oz/20oz)
275/290
Vietnamese Latte Hot (12oz/16oz)
265/280
Espresso Machiato Hot (12oz)
220
Iced Tea (16oz/20oz)
210/225
White Cold Brew (16oz/20oz)
260/275
Espresso (Solo/Dopio)
200/220
Special Brew Of The Day (12oz/16oz)
200/215

Blended Beverages (16oz/20oz)

Cappuccino Frappe
260/275
Mocha Frappe
295/310
Chocolate Frappe
240/255
Vanilla Frappe
230/245
Caramel Frappe
250/265
Strawberry Frappe
250/265
Matcha Frappe
245/260
Cookies And Cream Frappe
250/265

Signature Drinks

Cafe Breve
325
Cafe Vienna
295
Cafe Amaretto
395
Cafe Borgia
375
Iced Breve
340
Iced Vienna
310
Iced Amaretto
410
Iced Borgia
390

Special Espresso

Sunrise
295
Sunset
355

Kombucha

Lemon Ginger
495
Lychee
475
Peach
475
Pineapple Kiwi
495
Mixed Berries
475
Red Grapes
475

Signature Cocktails

Don Sebastiani & Sons Chardonnay
375
Soalheiro Allo 2019
375
Don Sebastiani & Sons
425
Don Sebastiani & Sons Cabernet Sauvignon
375
Sta. Anna "Rincon Del Sole" Mendoza
345
Vina Zorzal Graciano 2018
475
Vina Zorzal Rosado
395

White Wine

Josmeyer Pinot Blanc Mise Du Pritemps 2017
3100
Louis Cheze Ni Vu Mais Connu
3300
Mosel Riesling Kabinett 2016
3100
Domaine Mittnacht Freres Riesling Les Fossiles 2017
4550
J. Lohr "Flume Crossing", Sauvignon Blanc
2600
Don Sebastiani & Sons Chardonnay
1750/375
Beaumont Cheni Blanc
2350
Domaine Drouhin Oregon Arthur Chardonnay
6200
Rinaldi Moscato D'asti
2550
Glenelly Estate Reserve Chardonnay
3400
Soalheiro Allo 2019, Alvarinho
1750/375
Rinaldi Moscato D'asti
2550
Villard Jcv Semillon
3400
Don Sebastiani & Sons, Smoking Loon Sauvignon Blanc
2150/425

Red Wine

Au Bon Climat "Bien Nacido Vineyard" Pinot Noir 2013
9000
Two Vines 2013 Cabernet Sauvignon
1900
Ridge Vineyards "East Bench" Zinfandel 2016
7200
Ramsay Merlot
2950
Don Sebastiani & Sons Cabernet Sauvignon
1750/375
Antica Mountain Select, Cabernet Sauvignon
8000
Merlot Ticino
3950
Clos De Luz Carmenere
2600
Valdehermoso Valderiz De Chiripa 2017
2950
Pandolfi Price Syrah
2600
Chateau La Gurgue, Margaux 2014
5350
Louis Cheze Syrahvissante 2017
2750
Joseph Drouhin Bourgogne Pinot Noir 2017
4750
Ronan By Clinet Bordeaux 2015
2150
Vina Zorzal Graciano 2018
2275/475
Katherine Hill "Langhorne Creek" Shiraz 2018
1450
Glenelly Estate Reserve Red Blend, Stellenbosch
3500
Valdehermoso Valderiz Joven, Tempranillo
1700
Vina Zorzal Malayeto Grenache
3500
Villard Expression Reserve, Pinot Noir
2950
Sta. Ana "Rincon Del Sole" Mendoza
1650/345

Rose Wine

Vina Zorzal Rosado
1875/395

Brut

Bohigas Cava Brut Reserva
2500
Livio Sassetti, Pertimalli Prosecco Brut Doc
4000
Champagne Billecart-Salmon Brut Reserve
9900
Champagne Drappier Premier Cru
9900
Piper Heidseick Brut Nv
8000
Charles Heidsick Brut Reserve Nv
10500
About Napa at Crosswinds
Napa at Crosswinds is located at Villar's real estate property. Napa at Crosswinds is owned by none other than Manuel Villar, a real estate tycoon and a former politician here in our country. Napa at Crosswinds is the fulfillment of the owner's dream to create and build a world-class destination for every Filipino people. Napa at Crosswinds though pretty new has a cabin-themed look that is inspired by houses in Napa Valley California.
While the Crosswinds Tagaytay is a Switzerland-inspired place Napa at Crosswinds seems like another side of the world. When you first visit Napa at Crosswinds it seems like you just visited a vineyard or you traveled abroad because of the ambience and interior of the restaurant. The restaurant inside has a very good view and actually Instagramable.
They also have an al fresco dining area if you want to eat your food while enjoying their beautiful and picturesque al fresco area. Though inside it seems like you're at their al fresco as well since the windows and doors are open giving you a full view of the outdoor side of the place. Customers are usually amazed by their wooden tables and tents with garden lights and trees that add ambiance to this cabin-themed restaurant. If you're looking for a great food and coffee experience you must drop by Napa at Crosswinds.
Napa at Crosswinds Menu Best Sellers
Here are samples of Napa at Crosswinds' best-selling items that are offered on their menu.
Long Drive Breakfast
Long drive breakfast is the best breakfast item that you can get on their menu as its name suggests long drive breakfast is the best item to get breakfast after some time of driving. This has eggs, pancetta, sausages, and waffles. You can actually request if you want your waffles to be toasted or not based upon your preference.
This is a heavy breakfast since there are a lot of items included on this menu but if you're going to ask me about how this one tastes then let's make it simple yet understandable, delicious! One of their best sellers and a must-try item on their menu.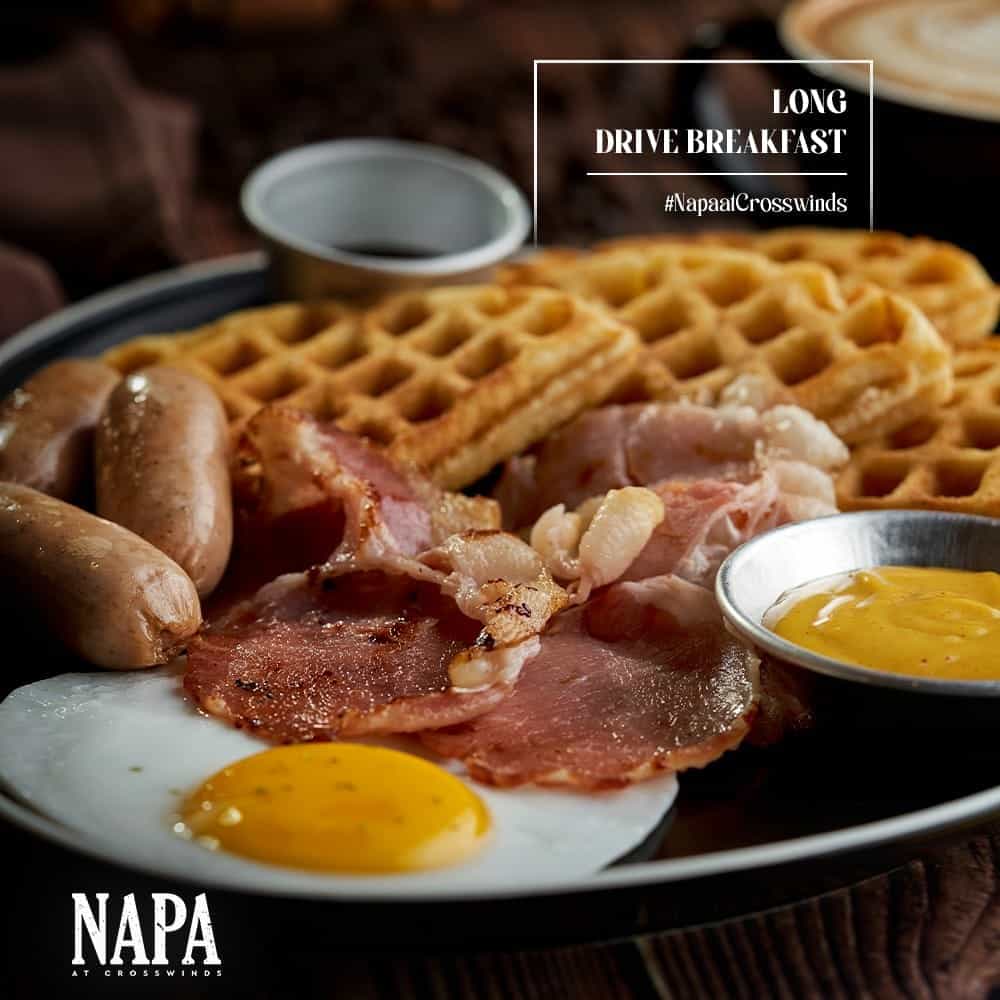 Pancetta & Egg
Pancetta & egg is the one that you should order if you're looking for a light breakfast. This has eggs & pancetta, doesn't have anything aside from those so that only means that the carbs are lower on this dish however this is really good so still a fulfilling item for breakfast. The crispy meat of pancetta is then topped with spices and some herbs then partnered with some potato slices. It's a healthier alternative for breakfast. Great for those who are trying to eat healthier and nicer.
Cafe Borgia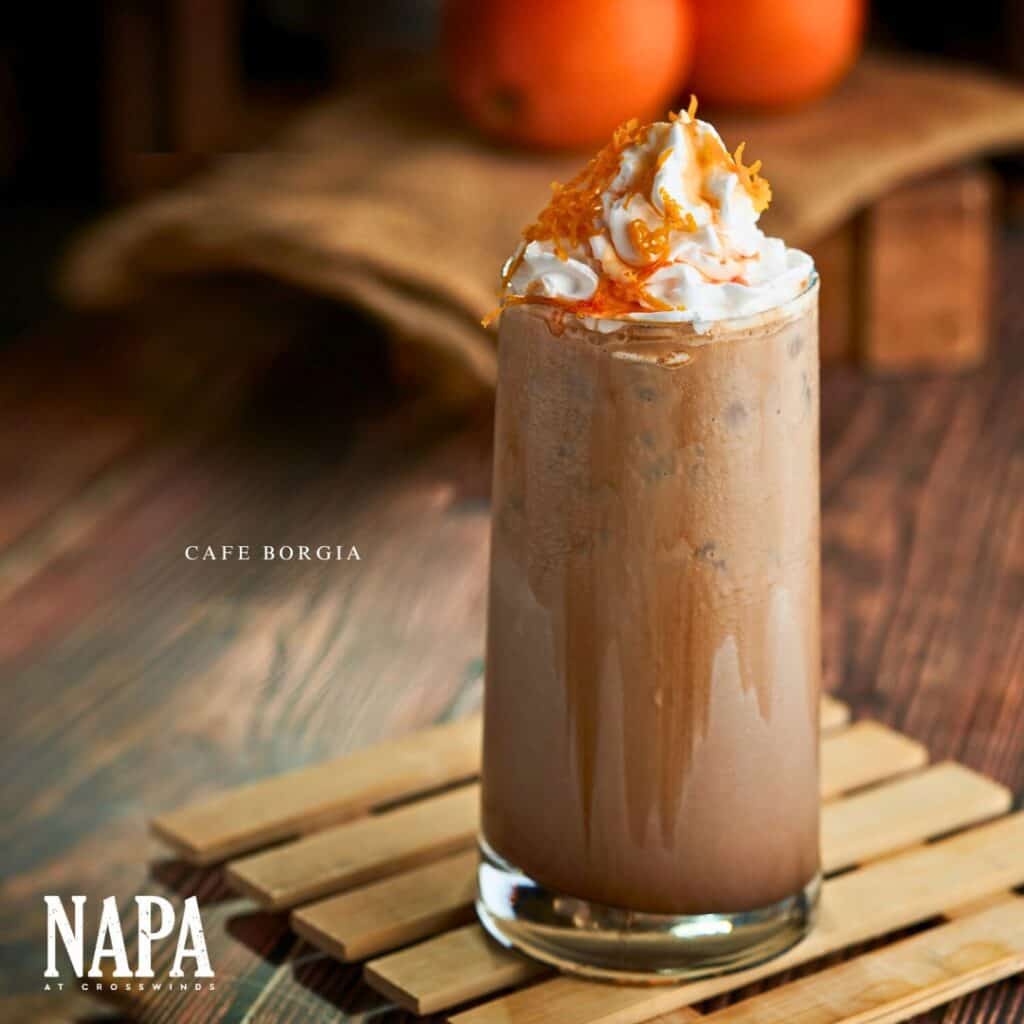 Cafe Borgia might be the best choice if you're looking for something to jump-start your day. Cafe Borgia can be served cold or hot depending upon your preference. This delicious beverage is topped with grated orange which makes this a better choice and experience than regular coffees. It also has some chocolate syrup for added energy and extra greatness to the drink. This drink is actually one of their top-selling drinks and also a must-try item if you don't want to miss out on something good.
Sunrise Drink
The sunrise drink is a delicious drink that you should try if you're looking for something different. This unique drink is made from the combination of orange juice and espresso which means it's like a caffeine drink with a twist of vitamin C. This drink is a great way to start your day. Though it might sound unusual the combination of orange juice and espresso is really good and satisfying.
Chili Burger
The Chili burger version of Napa at Crosswinds is just the perfect combination of ingredients to create a great-tasting burger to give their customers a satisfying meal. This one also comes with fries. This is by far one of the best dishes that their customers recommend because of how delicious their burgers are. Also one of the top-selling items on their menu.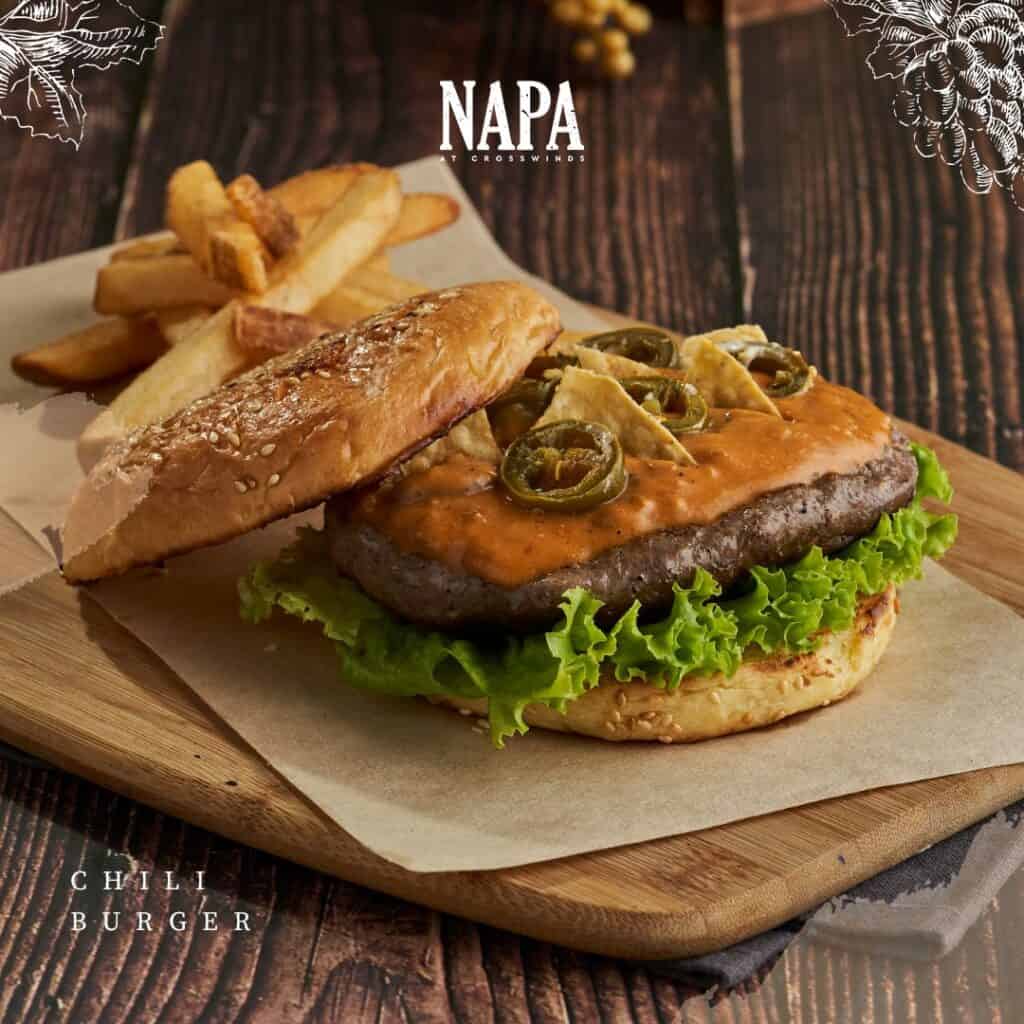 Breakfast
Napa at Crosswinds specializes in breakfast items. On their breakfast menu, they have 5 items to choose from which are Pancetta & Eggs and Quiche of your choice. They also have waffles and fruits and smokey ben. Aside from those long drive breakfast which is a popular item can also be found on this menu.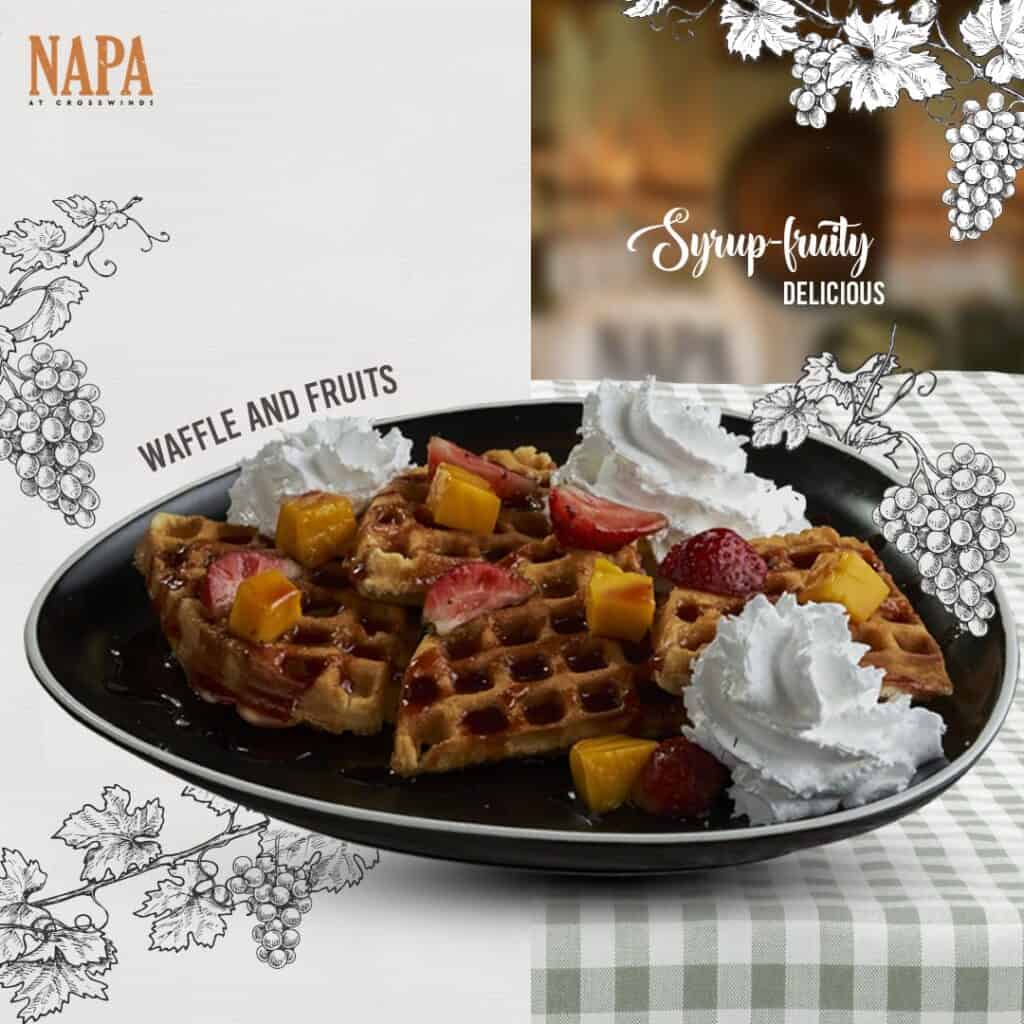 Appetizers
Appetizers are must try from this restaurant. As of now, the Napa at Crosswinds has 5 delicious items on their appetizer menu. Spin art dip is on top of the list followed by chili tots. Fried cheese for cheese lovers and also shrimp poppers for those who love seafood. Last but not the least is their truffle tots which I personally recommend for you guys.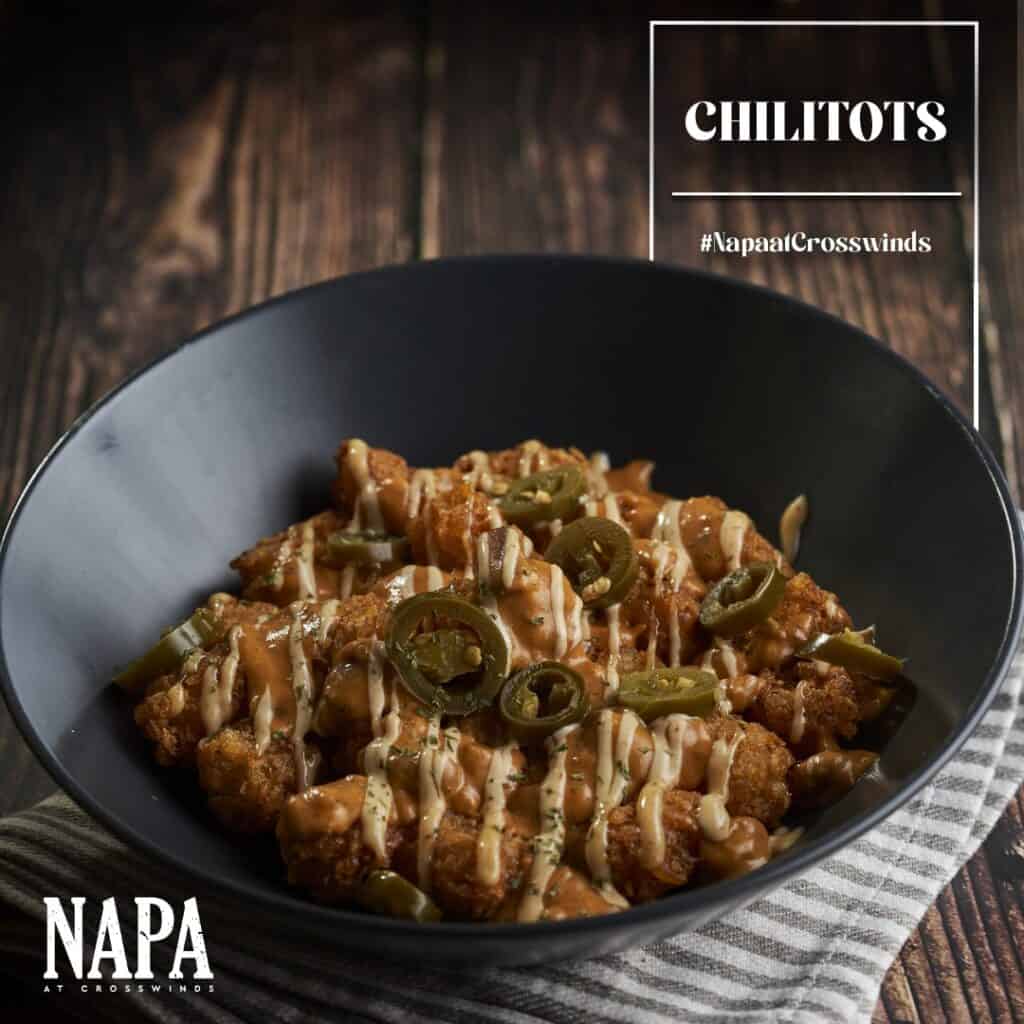 Napa at Crosswinds Menu Delivery
Ordering your favorite breakfast or light meal item at Napa at Crosswinds is made easier simply by using delivery services that are available in your location. Just take note that there will be a delivery charge for every transaction. The usual services that you can use are FoodPanda, GrabFoods, and LalaFoods. Be sure to check if the delivery is available to your place.
Social Media Pages
Let's explore the world of fine dining together, where every bite tells a story. Follow and engage with Napa at Crosswinds social media pages for a taste of exclusivity – from mouthwatering sneak peeks to delectable offers.
Facebook: https://www.facebook.com/napaatcrosswinds
Instagram: https://www.instagram.com/napaatcrosswindsph
TikTok: https://www.tiktok.com/@napaatcrosswinds
FAQs
Napa at Crosswinds: Are they halal certified?
Napa at Crosswinds serves and uses ingredients that can be considered as haram so Napa at Crosswinds is a non-halal certified restaurant.
What are the business hours of Napa at Crosswinds restaurant?
Napa at Crosswinds is open from 7:00 in the morning until 9:00 in the evening.
Who owns Napa at Crosswinds?
Manuel B. Villar Jr. is the owner of Napa at Crosswinds Tagaytay. He is also the owner of Crosswinds Tagaytay where this restaurant is located.
What are the payment options that are acceptable in Napa at Crosswinds?
Napa at Crosswinds Tagaytay is accepting major credit cards for payments however just bring some cash just to be sure since their terminal is always having an issue.
Conclusion
I love that this place can accommodate a lot of visitors at once and you can also choose where to sit but this depends on the time of your visit. Al fresco dining experience at Napa at Crosswinds is superb and when it comes to food I cannot imagine how to complain because everything is so good including their coffee. Napa at Crosswinds menu showcases a lot of delicious dishes and breakfast items to fully satisfy your cravings and hunger, their place is Instagram-worthy as well as the food. A lot of items are great for sharing too. Staff are nice and always smiling, clean and properly maintained place. Highly recommended for everyone who's looking for a nice place to go when visiting Tagaytay City.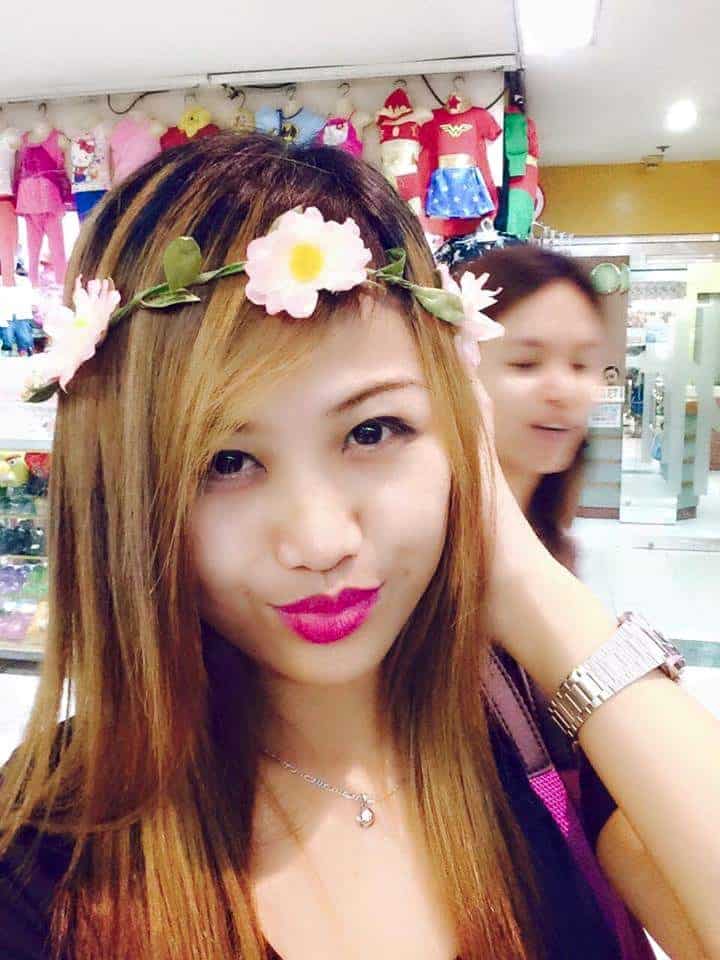 Hello! I'm Shaoyeu Cassandra, a mom who spends most of my time at home, and when I'm not busy, I enjoy writing blogs. I live in Cavite, and I really love talking about the menus of different restaurants.
So, I decided to share my thoughts on the menus of some fast-food places. I'm hoping my take on them can be like a helpful guide for you to decide what tasty treat to go for next. I hope you discover something you really enjoy! Thanks for stopping by!