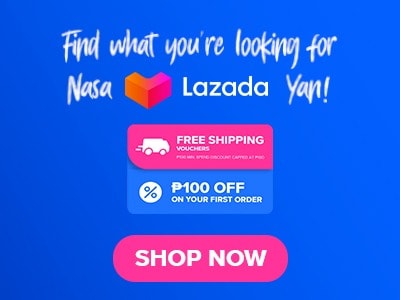 Brace yourselves for another oceanic adventure as we take a flavorful voyage in the world of culinary excellence here at Hai Shin Lou Seafood King Restaurant! This restaurant is dedicated to serving you delicious and fresh seafood right at your table. It is an experience you won't forget from the fun and engaging atmosphere up to the various textures and styles of dishes that will be served right at your table. Now without further ado, let's head over to Hain Shin Lou's finest menu collection.
Below, you'll find the updated list of Hai Shin Lou Seafood King Restaurant menu prices.
Menu Items
Price (PHP)

Soup

Sweet Corn with Crabmeat Soup
408
Sweet Corn with Chicken Soup
408
Winter Melon Soup with Dried Scallop
408
Hot and Sour Soup
438
Fish Fillet with Water Cress Soup
438
Seafood with Bamboo Pith Soup
438
Shrimp Ball Soup with Bamboo Pith
478
Chicken Asparagus Soup
438
Sea Clam Soup
408
Fish Lip Soup with Chicken
488

Bird's Nest Soup

Bird's Nest Soup with Chicken
2,288
Bird's Nest Soup with Crabmeat
2,288

Noodle Soup

Wanton Noodle Soup
228
Ravioli Noodle Soup
248
Beef Brisket with Radish Noodle Soup
228
Plain Noodle Soup
118

Dimsum

Steamed Spinach Dumpling
148
Steamed Shrimp Dumpling
148
Pork Siomai
138
Star Siomai
138
Taro Puff
138
Spring Roll
128
Radish Cake
128
Chicken Feet with Tausi
128
Spareribs with Tausi
148
Mini Machang
148
Asado Siopao
138
Bola Bola Siopao
138
Pan Fried Kuchay Dumpling
148
Squid with Shrimp Paste
148
Chicken Siopao
138
St Vegetable Dumpling
138
Deep Fried Lucky Dumpling
268
Pork Puff
138
Shao Lung Pao
148
Pan Fried Shrimp Roll
148
Deep Fried Seafood Puff
148

Roasting

Pork Asado
388
White Chicken
388
Soyed Chicken
388
Roasted Pork Brisket
408
Seaweed with Century Egg
368
2 Kinds of Combination
438
3 Kinds of Combination
618

Chef's Suggestion

U.S. Peking Duck (Whole)
2580
U.S. Roasted Duck (Whole)
2580
Golden Crispy Chicken
818
Live Lobster
(Market Price)
Prawn and Taro Rice
498

Congee

Fish Fillet Congee
248
Hai Shin Lou Congee
268
Prawn Congee
268
Hongkong Style Chicken Congee
228
Sliced Beef Congee
228
Chicken Straw Mushroom Congee
228
Black Mushroom with Pork Bola Congee
228
Pork Century Egg Congee
228
Halo Halo Congee
228

Finger Food

Peppercorn Squid
378
Deep Fried Shrimp Ball
438
Camaron Rebosado
648
Deep Fried Chicken Roll with Mango
428
Deep Fried Seafood Roll with Mayonnaise
458
Deep Fried Bean Curd w/ Minced Pork
388
Stuffed Crispy Eggplant
388
Chicken Curry Puff
388
Stir Fried Boneless Chicken (Taiwan style)
438

Sea Cucumber & Abalone

Braised Sea Cucumber with Vegetable
728
Black Mush w/ Sea Cucumber
768
Sliced Abalone w/ Vegetable
2288
Sliced Abalone with Black Mush
2688
Sliced Abalone with Sea Cucumber
2688

Live Seafood

Peppercorn Sea Mantis
(Market Price)
Lapu Lapu
(Servings 1800/kl)
Male Crab
(Servings 1600/kl)
Steamed Suahe
(Servings 1500/kl)
Clams with Tausi or Ginger & Onion
378
Steamed Geoduck with Garlic & Sota
130
Female Crab
(Market Price)

Seafood

Hot Prawn Salad
808
Shrimps with Cashew Nuts & Green Peas
558
Sichuan Shrimps
588
Peking Prawns
688
Crystal Shrimps
588
Peppercorn Shrimps
618
Fried Fish Fillet with Sweet & Sour Sauce
558
Fried Fish Fillet with Lemon Sauce
558
Stir Fried Fish Fillet with Vegetable
588
Steamed Fish Fillet with Bean curd & Tausi
588
Peppercorn Boneless Eel
648
Fresh Scallop with Broccoli
1008
Stir Fried Cuttlefish with Broccoli X.O Sauce
518
Kangkong with Squid & Bagoong
428
Stir Fried Squid with Celery
438

Chicken/Pigeon

Boneless Chicken with Golden Mushroom
458
Chiu Chow Chicken
438
Sweet and Sour Chicken
438
Hongkong Fried Pigeon
600

Beef and Pork

Sliced Beef with Sotanghon
428
Beef Tenderloin Chinese Style
618
Sliced Beef with Oyster Sauce
428
Sliced Beef with Vegetable
428
Sliced Beef with Green pepper & Tausi
428
Sliced Beef with Black Pepper & Honey
428
Sweet and Sour Pork
418
Peppercorn Spareribs
438
Spareribs King Dao Style
438
Spareribs with Honey Sauce
438
Stm. Minced Pork w/ Salted Fish
458
Tong Po Pork (Servings 348/piece)
348/piece

Hot Casserole

Seafood Bean curd in Hot Pot
658
Shrimp with Sotanghon in Hot Pot
668
Chicken & Pork Liver in Hot Pot
488
Minced Pork w/ eggplant & Salted Fish
508
Spareribs with Taro in Hot Pot
488
Minced Pork with Bean curd & Chili in Hot Pot
438
Assorted Fresh Mushroom w/ Seafood in Hot Pot
658
Fish Fillet with Bean curd in Hot Pot
618
Spicy Seafood with Eggplant in Hot Pot
658

Vegetable

Lohon Vegetable with Bamboo Pith
398
Black Mushroom with Bamboo Shoots
428
Braised Bean curd with Mushroom & Vegetable
378
Broccoli with Garlic
338
Taiwan Pechay with Garlic or Oyster Sauce
308
Black Mushroom with Kailan
408
Spinach with Garlic
308
Water Cress with Crabmeat Sauce
458
Kangkong with Bagoong
288
Kangkong with Chili Bean curd Sauce
288
Tien Tsin Cabbage Spinach Sauce
408

Fried Noodles

Fried Noodles with Seafood
388
Fried Noodles with Sliced Beef
318
Fried Noodles with Shredded Chicken
318
Fried Noodles with Assorted Meat
318
Fried Noodles with Lohan Vegetable
308
Dry Fried Hofan with Seafood
408
Dry Fried Hofan with Beef
368
Fried Beef with Hofan & Black Bean
368
Braised Efu Noodles with Seafood
438
Braised Efu Noodles
318

Fried Rice

Superior Fried Rice with Pork Brisket
408
Yang Chow Fried Rice
328
Salted Fish & Chicken Fried Rice
388
Fried Rice with Beef & Vegetable
318
Sweet Corn & Chicken Fried Rice
318
Shrimp and Scramble Egg Fried Rice
408
Diced Seafood Fried Rice
408
Fookien Fried Rice
348
Fried Rice with Seafood & Dried Olive Leaf
408

Dessert

Snow Ball
88
Sesame Ball
88
Almond Jelly with Lychee
88
Herb Jelly with Fruit Cocktail
88
Mango Sago
98
Honey Taro
88
Tauho
88
Fresh Almond Tea (Hot)
98
Mango Sago with Pomelo
108
About Hai Shin Lou
Hai Shin Lou has been one of the most popular seafood restaurants that have been serving their flavorful and authentic Cantonese cuisine for 20 years. They are known to be serving the freshest and most creative dishes that are well-curated and of high quality. They offer a wide range of seafood delicacies featuring Bird's Nest soup and their iconic dim sum and roasting collections. There is definitely so much to love in this restaurant and I am giving you more reasons to love it with their menu best sellers coming right up.
Hai Shin Lou Menu Best Seller
Here is their best-selling collection at Hai Shin Lou and also the safest option if it is your first time trying Cantonese seafood dishes.
Wanton Noodle Soup – A classic take on flavourful noodles of wanton is here to serve you the flavorful broth you need to be made from meat stock that is fully enhanced with soy sauce and other aromatic ingredients.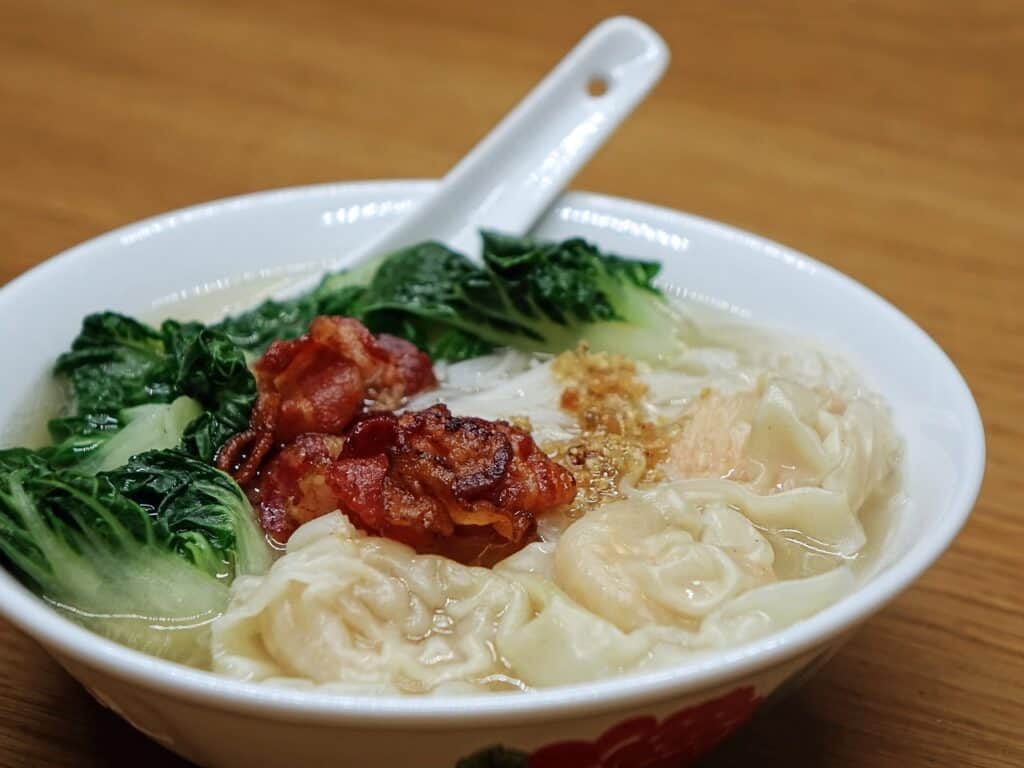 Beef Brisket with Radish Noodle Soup – This flavorful soup features a savory bite of beef brisket that is prepared in the slow-cooked process to get its tenderness and flavor right to the spot.
Pork Asado – This pork asado is also a classic dish that is well-loved by Filipinos. The savory sauce offers you the hint of sweetness and savory sauce of pork that is cut and stripped into cubes.
Steamed Shrimp Dumpling -The thin wrapper that is fully enclosed in this steamed dumpling offers you the special crunch you need for your day. It features shrimp that is filled with mixed vegetables and cooked until it reaches the desired color and texture. It is perfect for soy sauce as a dipping sauce for it.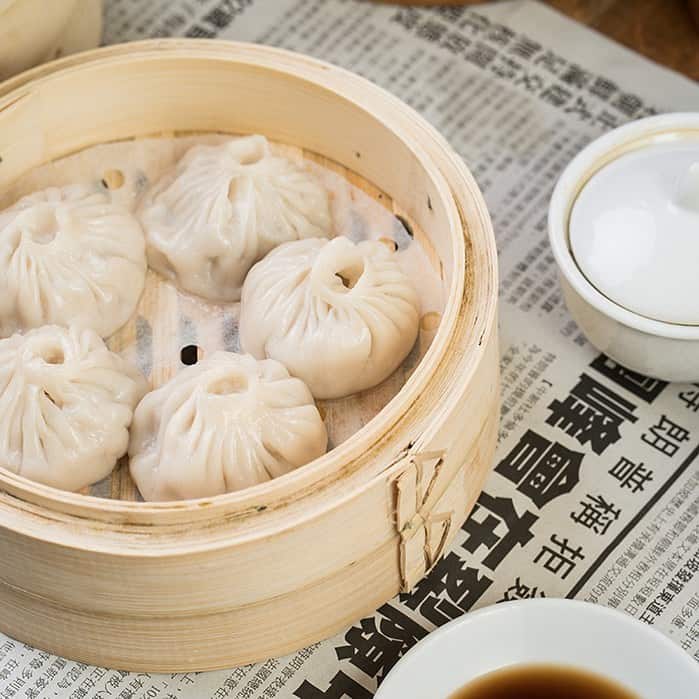 Braised Sea Cucumber with Vegetable – A savory and healthy sip is waiting for you in this Braised Sea Cucumber with Vegetable. It gives you an oceanic texture with its rubbery and delicate taste which is a popular derivative when it comes to Cantonese cuisines.
Roasting
Of course, Hai Shin Lou has also perfected a recipe that not only revolves around seafood but also various meats such as Chicken and Pork in this Roasting Collection.
White Chicken – A robust flavor will meet you in this dish that offers you a magnifying flavor of this white chicken that is poached in water until it gets fully cooked and is served with a sauce that is flavored with ginger, garlic, and soy sauce.
Soyed Chicken – It is a dish that features a juicy chicken that is intricately marinated in seasonings such as soy sauce, spices, and sugar. It has a very rich taste and tender bites offering you its deep brown color that adds a great character to the dish.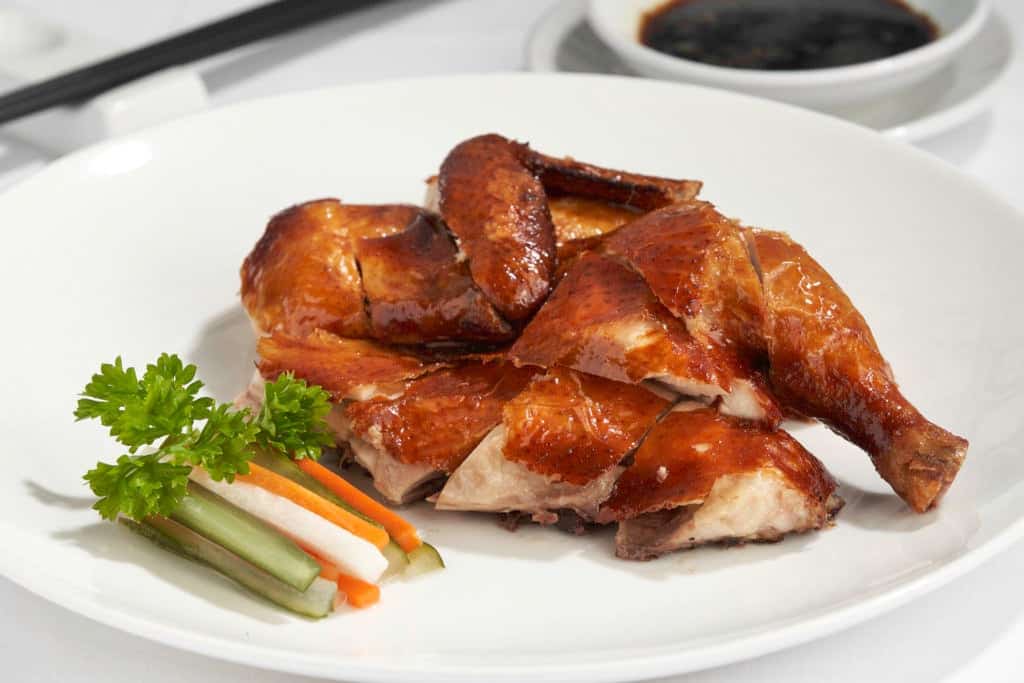 Roasted Pork Brisket – The subtle crispness of this dish is definitely to love especially when you have a bite on how tender this roasted pork brisket is. It is typically seasoned with salt and pepper to naturally release its original flavor you will surely love.
Seaweed with Century Egg – This seaweed is cooked in a stir-fried process with a century egg that is preserved to give you an awesome flavor. It has a strong and special kick of flavor and the main reason why it is not perfect for everyone.
Sea Cucumber & Abalone
Speaking of seafood, this collection is something you need to check out upon entering their store. It features various unique flavors and textures that are perfect for your adventurous heart.
Braised Sea Cucumber with Vegetable – This dish features a delectable sea cucumber which is a famous ingredient in Cantonese delicacies. It has a flavorful sauce that features vegetables such as carrots and bamboo shoots giving you sweetness and crunch in every richness of bites of this dish.
Blk Mush w/ Sea Cucumber – An enticing experience is served in this dish that features black mushroom that is perfectly stir-fried giving you an earthy and chewy flavor with the sea cucumber on it.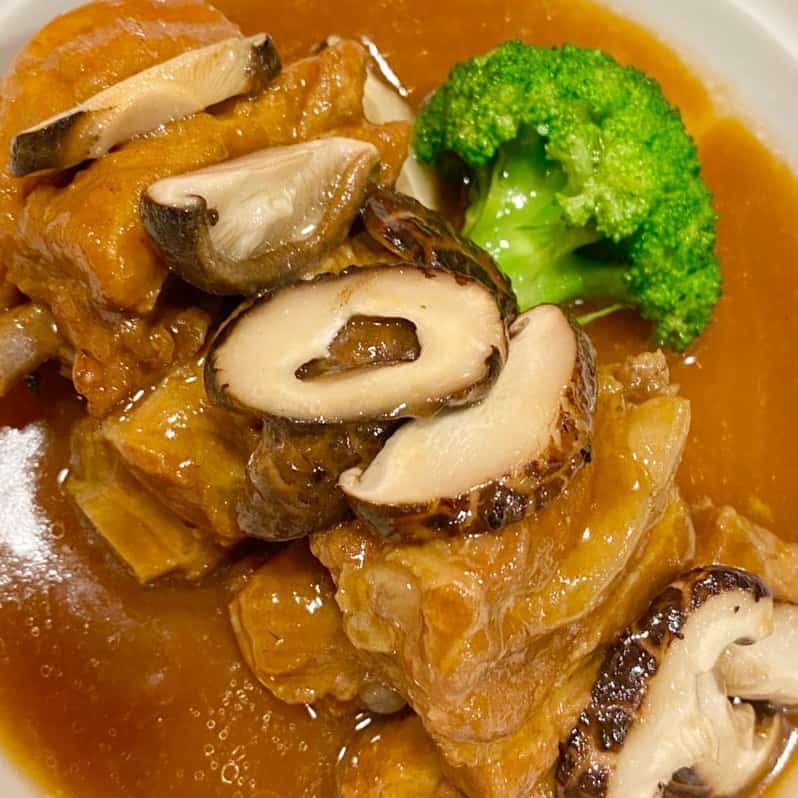 Sliced Abalone with Black Mush – This sliced abalone gives you a delicate flavor and a chewy bite with the stir-fried black mushrooms that add great depth to the dish. It is typically seasoned with soy sauce to fully unleash all of its flavors.
Sliced Abalone with Sea Cucumber – Another innovative fusion as we combine their famous abalone and sea cucumber in one refreshing bowl. It has delicate flavors and subtle textures that are also well-loved in their collection.
Hai Shin Lou Menu Delivery
Hai Shin Lou offers Dine In and Delivery which is a perfect option if you want to savor the best of the world's Cantonese cuisines. You can reach them through this Viber number at 09228982848 to order your favorite Cantonese seafood cuisine and have it delivered right to your doorstep.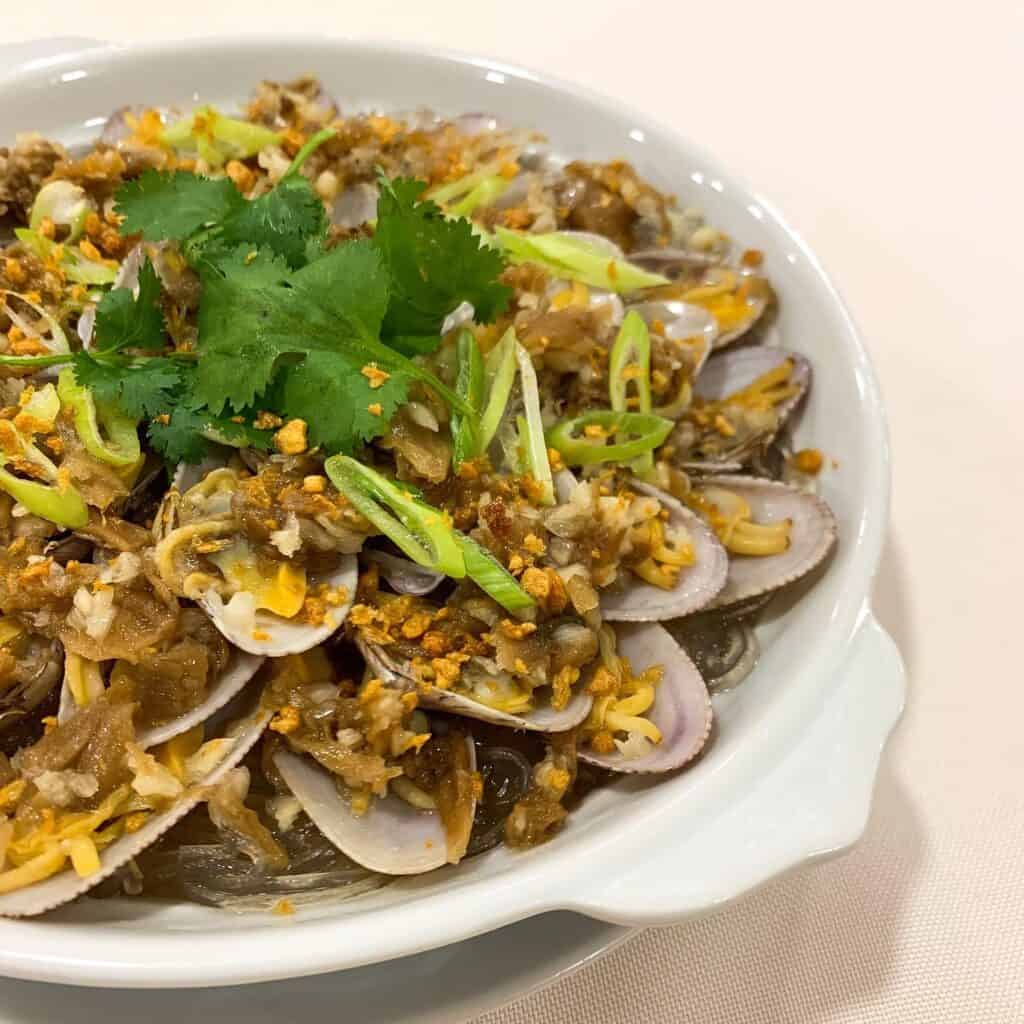 Social Media Pages
Check out their social media pages today, and you'll set sail into a world of oceanic flavors, tantalizing creations, and exclusive offers that will redefine your culinary adventures.
Facebook: https://www.facebook.com/haishinlou.mnl
Instagram: https://www.instagram.com/haishinlou
Twitter: https://twitter.com/haishinloucebu
Frequently Asked Questions (FAQs)
What type of cuisine does Hai Shin Lou offer?
Hai Shin Lou offers you the finest and freshest bite of their famous seafood collection which is undoubtedly the best flavor of Cantonese cuisine. Aside from seafood they also filled their menu with pork and chicken dishes for you to savor.
What is Hai Shin Lou known for?
Hai Shin Lou is famous for their sea cucumber and Sea Abalone dishes along with other savory roasted dishes that are top-tier classics. They also offer Chef's suggestions which add a great experience to the meal you want in their house.
What are the operating hours of Hai Shin Lou?
Hai Shin Lou is operating from 10 AM until 6 PM from Monday to Sunday at Makati's Branch. However, in Cebu, their operating hours are according to the meal they serve on the table which varies either for Lunch or Dinner.
Can I order for take out or delivery?
Yes, they offer dine-in, take-out, and even delivery services for heavy meals. Experience and celebrate the Cantonese cuisines and their amazing flavors at Hai Shin Lou.
Conclusion
Hai Shin Lou Seafood King is a restaurant that is definitely the heart of Cantonese Cuisine, from their various touches of seafood menu that are well curated and of high quality. Another point to add to this conclusion is their wide range of creatively curated dishes that scream sophistication from their Roastings up to their live seafood menu. Their Chef's suggestions menu is something to be recognized in this restaurant, especially with the fact that it is a safe option for everyone who wants to take a first bite in these Cantonese cuisines.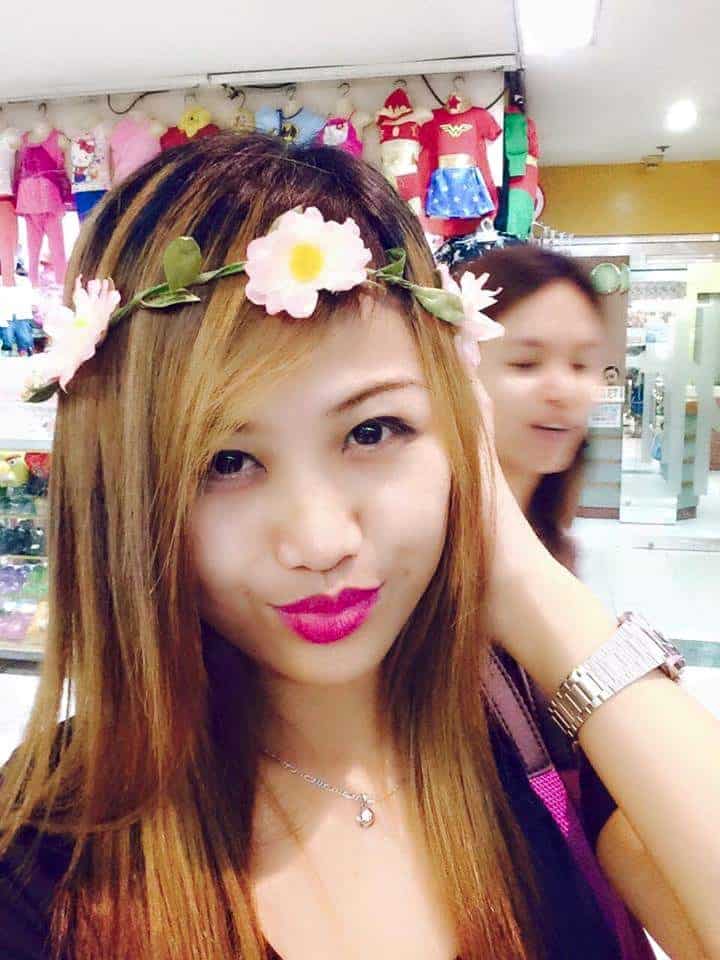 Hello! I'm Shaoyeu Cassandra, a mom who spends most of my time at home, and when I'm not busy, I enjoy writing blogs. I live in Cavite, and I really love talking about the menus of different restaurants.
So, I decided to share my thoughts on the menus of some fast-food places. I'm hoping my take on them can be like a helpful guide for you to decide what tasty treat to go for next. I hope you discover something you really enjoy! Thanks for stopping by!