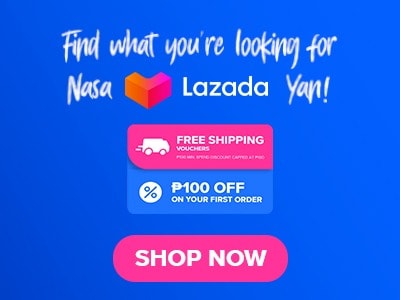 Are you going to Tagaytay soon and looking for a place to go for your Tagaytay eat-out experience? Look no more I have a recommendation here for you. This place offers delicious food items that I'm pretty sure you and your family or friends will surely enjoy. The Hillbarn Cafe & Restaurant menu has a lot to choose from and for sure you'll get what you want once you look at their menu. And more importantly, the place is also affordable.
Interested in Hillbarn Cafe & Restaurant? If yes please stay with me in this write-up since we are going to get to know them a little bit more, we are going to take a look at their menu and prices and of course their best-selling products. This is taking too long, won't delay things, let's start!
Below, you'll find the updated list of Hillbarn Cafe & Restaurant menu prices.
Menu Items
Price (PHP)

All Day Breakfast

Healthy Creamed Spinach
330
French Toast W/ Peaches
350
Braised Beef Bowl
525
Hillbarn Big Breakfast
550

Starters

Pumpkin Soup
270
Caesar Salad
290
Hillbarn Salad
350
Onion Rings
220
Salmon Croquettes
220
Chicken Skin
150
Ultimate Chicken Fingers
350

Sandwiches

Fish Sandwich
400
Blt Sandwich
410
Classic Cheeseburger
430
Hb Bacon-Infused Burger
460
Hb Mushroom Swiss Burger
460
Lamb Burger
500
Steak Sandwich
550

Pasta

Honey Chili Garlic Pasta
400
Pesto Penne
450
Hillbarn Spaghettini
480

Main Entree

Chicken And Waffles
530
Pork Chop
550
Roasted Herbed Clq
550
Blue Marlin W/ Tropical Salsa
560
Pan Seared Salmon
630
Steak & Fries
1200
Ribeye
3200

Dessert

Custard Pudding
280

Classics

Americano
150
Cappuccino
160
Cafe Latte
170
Spanish Latte
210
Dark Mocha Creme Latte
210
Matcha Green Tea Latte
200
Matcha Strawberry Latte
200
Hazelnut Macchiato
210
Caramel Macchiato
220

Tea & Chocolate

Genmaicha Tea
120
Fresh Tarragon Tea
130
Chamomile Tea
130
Earl Grey Tea
140
English Breakfast Tea
150
Hot Double Chocolate
160

Smoothies

Banana Blueberry
220
Pineapple
190
Cucumber
190
Mango
190

Specialty Over Iced Drinks

Affogato Latte
220
Orange Cinnamon Americano
220
Dirty Matcha W/ Sweet Foam
240
Hillbarn Sky Latte W/ Salted Cream
250
Nutella Double Macchiato
260

Frappuccino - Coffee Based

Extreme Double Chocolate Chip
250
Coffee Jelly
260
Oreo Mint Chip
270
Caramel Coffee Crumble
270
Double Chocolate Strawberry
270

Frappuccino - Non Coffee Based

Matcha Frappe
220
Chocolate Mint W/ Espresso Jelly
250
Hersheys Cookies & Cream
250
S'mores
250
Blueberry Cheesecake
270
Strawberries & Cream
270
About Hillbarn Cafe & Restaurant
Hillbarn Cafe & restaurant is located in Tagaytay City Philippines. Their restaurant looks like a Dutch windmill but the shed is made bigger of course to accommodate more customers. The turbine design on top of the place is not working and is only there for aesthetic purposes only, with Scandinavian interiors inside. For those who still saving their money for a trip to the Netherlands no worries, Hillbarn Cafe & Restaurant can give you a European country vibe without going too far away and only in Tagaytay.
This cafe is just new to the business. The place is expensive looking too but actually not plus this place is designed with minimalist interiors, a combination of the aesthetic style of the restaurant and the chilly climate of Tagaytay City makes you feel that you are going on an out-of-the-country adventure. Visiting this place will make you take a lot of pictures because of how beautiful is their place whether you go morning or at night.
Hillbarn Cafe & Restaurant Menu Best Sellers
Here are some samples of Hillbarn cafe & restaurant best selling products.
The Hillbarn Burger – The Hillbarn burger is, to be honest, my favorite since I am a burger person and I can eat burgers every day for a month without any complaint. This burger is made with a juicy Angus beef patty, some slices of tomato, lettuce, pickles, onion, and cheddar cheese. This burger is overloaded with flavors and is pretty good, huge actually and if you're not a big eater you can actually share this one. This is a must-try and also one of their best sellers.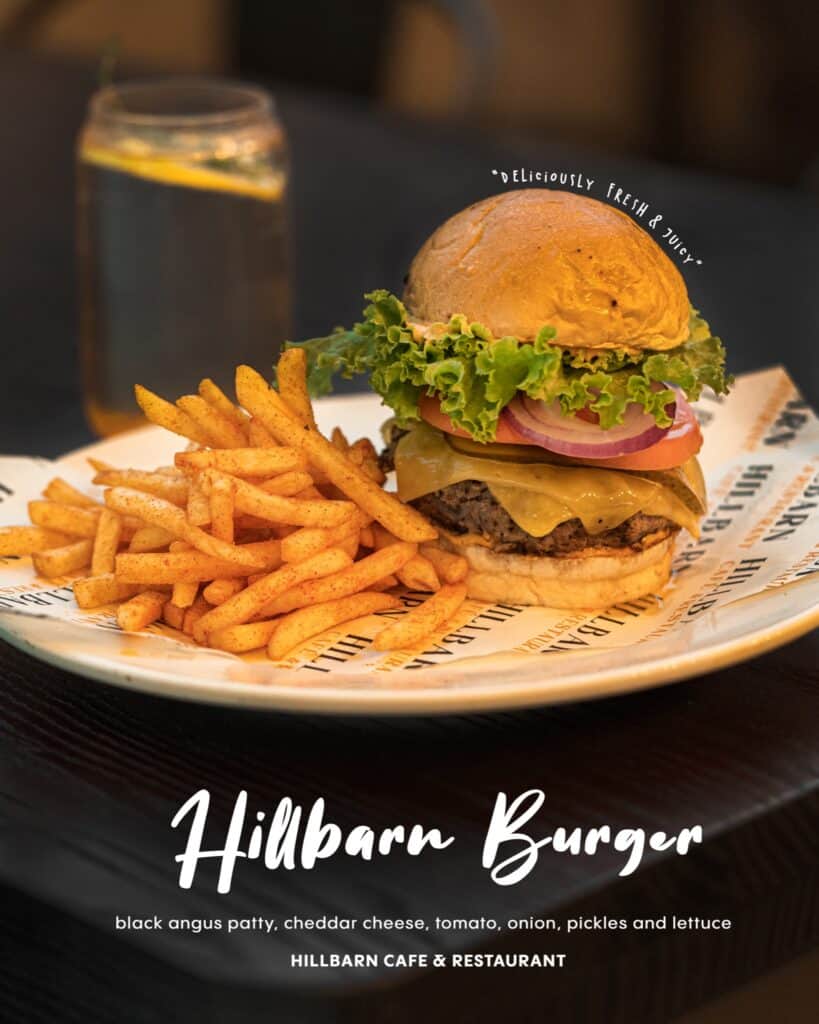 Pesto Penne – Pesto Penne is also one of the good choices on their menu. This one is made with penne pasta and pesto made with sweet basil then topped with grated Parmesan cheese and grilled chicken thigh fillet. This pasta dish is also served with garlic bread. The pasta is al dente and not overcooked plus the right amount of pesto sauce and Parmesan cheese made this one really delicious.
Chicken and Waffles – If you're looking for a light meal then Hillbarn's chicken and waffles is the best item for you. This is made with Pan roasted chicken thigh fillet, then partnered with waffles, plus chicken sauce and maple syrup for added flavors. Chicken and waffles of Hillbarn is one of the must-try items on their menu, I honestly enjoyed this one it's just I'm really a burger lover but if not I'm pretty sure that this is my new favorite already.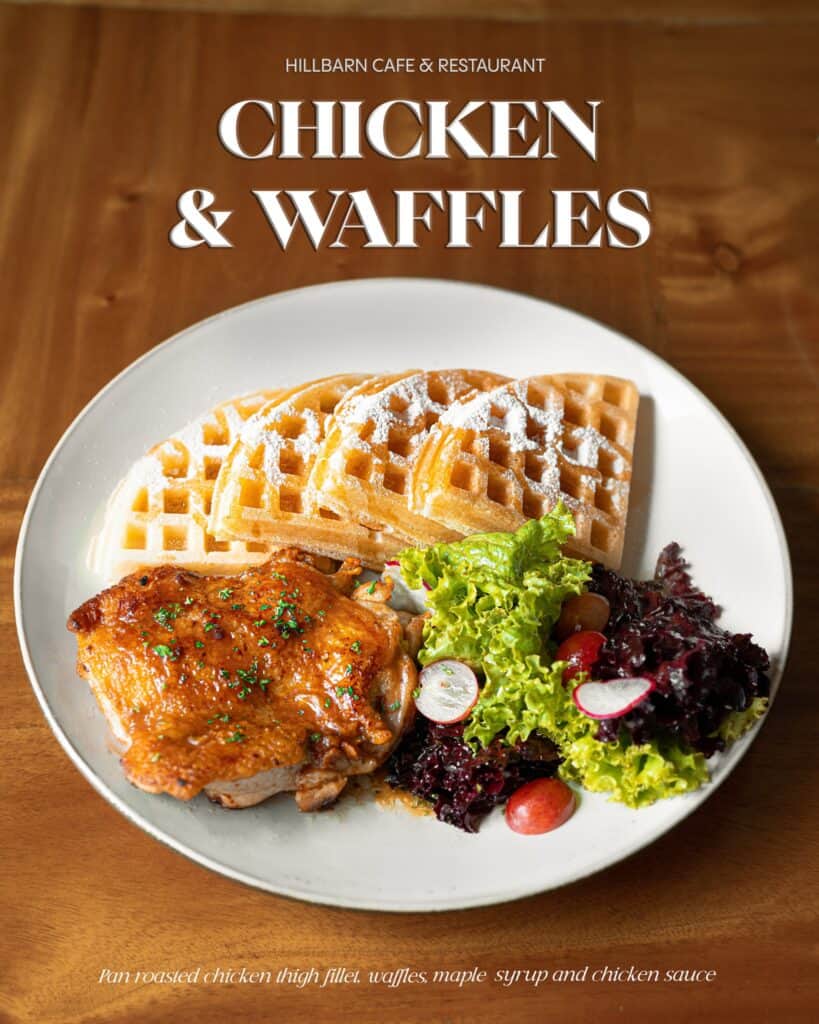 Porkchop – Porkchop version of Hillbarn is an Imported pork chop that they served with garlic mashed potato and their delicious apple sauce. Meat is tender and really good one of the best items to order at Hillbarn.
Pasta
The pasta menu of Hillbarn has 3 choices of their delicious pasta dishes. The first one is their Honey Chili Garlic Pasta. This one is made with Linguine pasta some sliced chili, honey, toasted garlic and peanuts, and pan-seared chicken thigh fillet.
They also have Pesto Penne which is also included on their best sellers list. This is made with Penne pasta and basil pesto then topped with freshly grated parmesan cheese with grilled chicken thigh fillet and served with garlic bread.
Last but not least is their Hillbarn Spaghettini. this one tastes so good as well, made with Spaghettini, Hillbarn meatballs, melted cheddar cheese, roasted tomato sauce, and fresh parsley then served with garlic bread.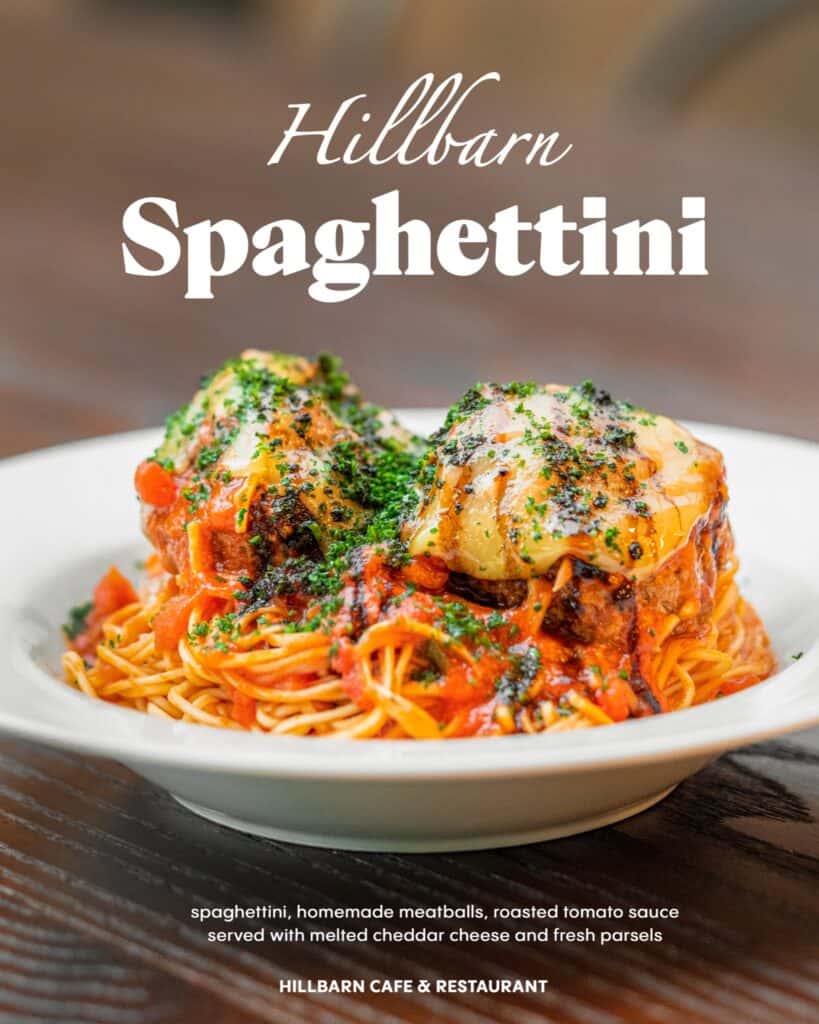 All Day Breakfast
The day breakfast menu of Hillbarn is composed of 4 breakfast items. The first one is their Healthy Creamed Spinach, which is actually an Omelette with creamed spinach. They also have French Toast with Peaches. This delicious breakfast item is made with sliced peaches, French toast, and crushed walnuts with whipped cream.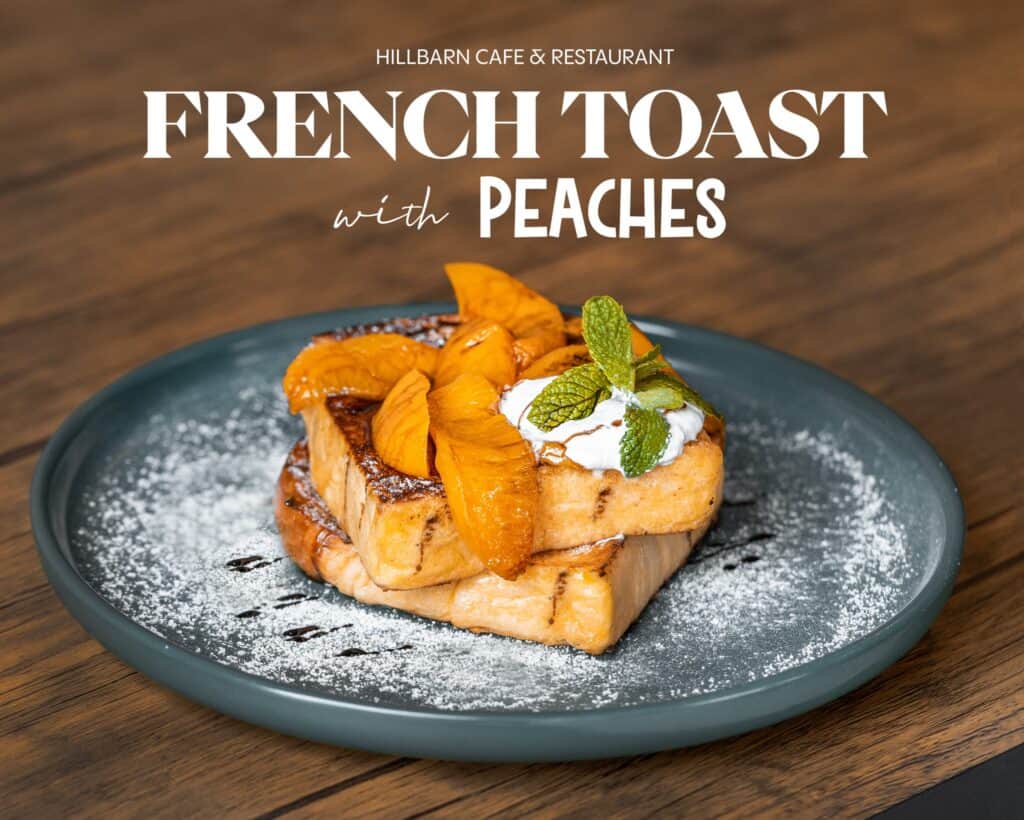 They also have a Braised Beef Bowl, this one is a bit heavy. Made with poached egg, Braised beef chunk, red cabbage, sauteed cherry tomatoes, and Hillbarn atsara on garlic java rice. The last item on this menu is their Hillbarn Big Breakfast, which is bacon, Sausage, egg, toast croissants, tomatoes, and served with beef jus and Hillbarn syrup.
Hillbarn Cafe & Restaurant Menu Delivery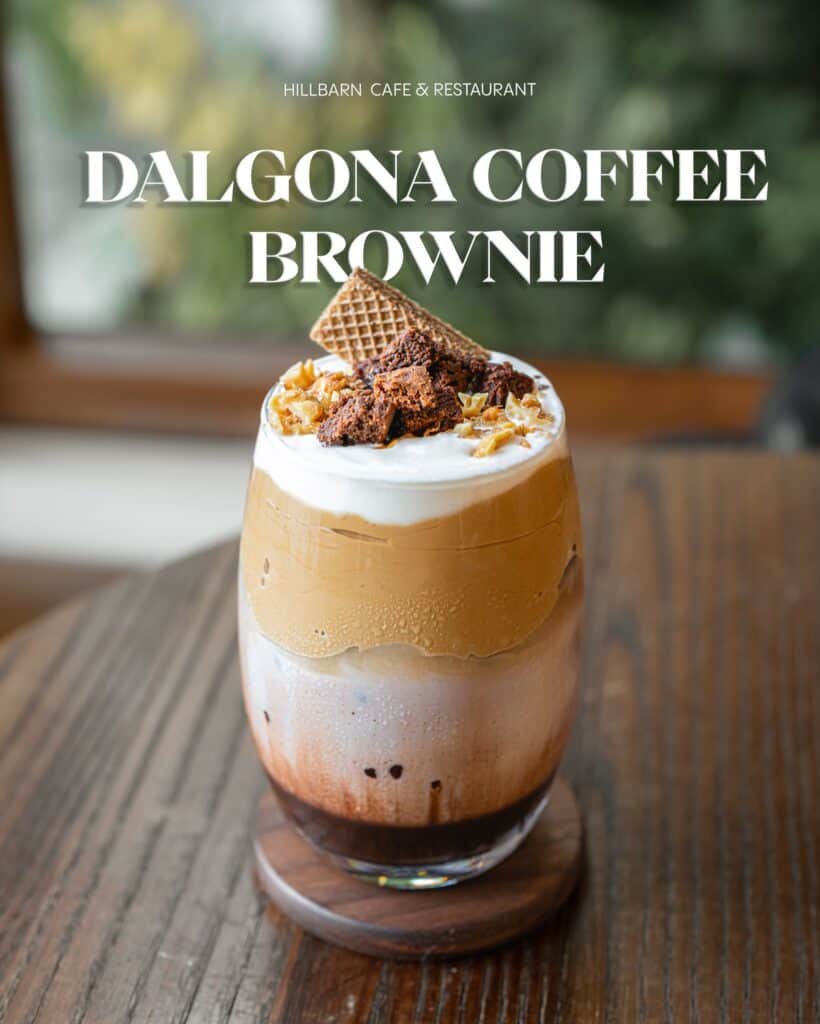 Upon checking the restaurant only offers dine-in and take-out but don't worry, if you want to order your favorite Hillbarn food items you can always use those third-party delivery services that are available in your area especially if you're in Tagaytay.
Social Media Pages
Follow their social media pages to stay up-to-date on their latest menu offerings, promotions, and events. Don't miss out on the chance to indulge in their rich and creamy s'mores or other delicious dishes that are sure to satisfy your cravings.
Facebook: https://www.facebook.com/hillbarncaferestaurant
Instagram: https://www.instagram.com/hillbarncaferestaurant
TikTok: https://www.tiktok.com/@hillbarncaferestaurant
Frequently Asked Questions (FAQs)
Where is Hillbarn Cafe & Restaurant located?
Hillbarn Cafe & Restaurant is located in Kaybagap North, Tagaytay City Cavite Philippines.
What are Hillbarn Cafe & Restaurant's business hours?
Hillbarn Cafe & Restaurant is open on Mondays to Fridays from 10:00 in the morning until 10:00 in the evening and on Saturday to Sunday from 8:00 in the morning until 10:00 at night.
Does Hillbarn Cafe & Restaurant have social media accounts?
Yes, Hillbarn Cafe & Restaurant has social media accounts. You can click the links provided in the social media pages section.
What is the payment option at Hillbarn Cafe & Restaurant?
This establishment accepts cash and major credit cards for cashless payment. 
Conclusion
Hillbarn Cafe & Restaurant is the best place to go especially if you're in Tagaytay and looking for a nice place to hang out with your friends or family. The Hillbarn Cafe & Restaurant menu offers a wide variety of delicious dishes from breakfast to dinner that will surely captivate your appetite. Staff at this place including the guard are nice, approachable, and knowledgeable about the products that they offer, clean and Instagramable places as well. Cozy and customer friendly too. This place is really nice with great food items and affordable meals. Highly recommended for everyone.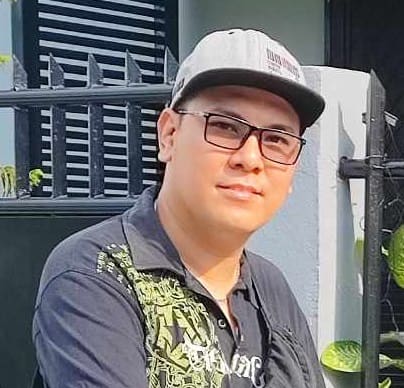 Hi! I'm Nivek Strife, the person who made MenuPH. I'm the one who added most of the popular menus you see on this website, and I really hope you enjoy them! Feel free to check them all out.
Growing up, I was surrounded by lots of tasty foods, like the classic Adobo and the sweet Leche Flan. That love for the many flavors of the Philippines is what got me excited about adding to MenuPH. When I learned how to make websites, I saw the need for a place to show off all the amazing Filipino dishes, and that's how MenuPH started.
MenuPH isn't just a website; it's like a fun journey into food. I've teamed up with famous chefs and found great places all over the Philippines to bring you a bunch of menus that show off the best of Filipino cuisine. Whether you're into the usual dishes or new twists, MenuPH is here to guide you through the rich world of Filipino flavors.
With MenuPH, my aim is to help local businesses, talk about good food choices, and make a group of friends who love food. No matter if you like fancy restaurants or street food, MenuPH has something for you. Come join me on this food adventure as we find great places, taste real flavors, and enjoy the unique food traditions that make the Philippines awesome.