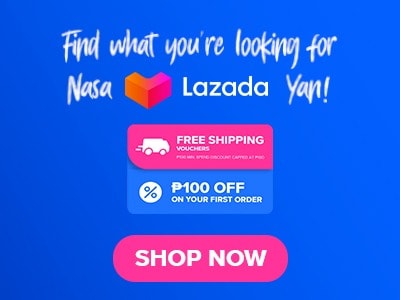 Geonbae's menu consists of Korean cuisine that will surely make the diner fall in love. They offer different varieties of Korean dishes, ranging from appetizers, side dishes, entrees, desserts, and even a set of meals. All of the people who have dined at Geonbae will be able to vouch for the exquisite taste that each of these dishes offers. Each of their meals was carefully prepared, from the ingredients until serving. Geonbae does not settle for less and ensures that its customers only receive the food of the highest quality. This is achieved by simply acquiring ingredients that are fresh and by keeping the workplace sanitary.
Below, you'll find the updated list of Geonbae menu prices.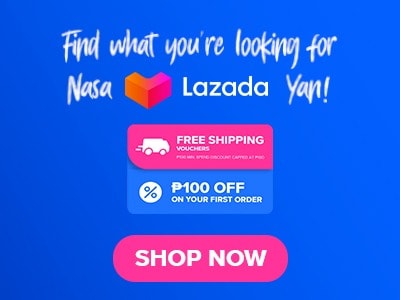 Menu Items
Price (PHP)

Meat

Samgyeopsal
599
Spicy Yakiniku
599
Ginger Samgyeopsal
599
Gochujang Samgyeopsal
599
Smoked pork Belly
599
Spicy Yakiniku Pork Ribs
599
Spicy Yakiniku Moksal
599
Heb Pork Jowl
599
Pork Bulgogi
599
Sausage
599
Woo Samgyeop
599
Oyster Woo
599
Ginger Chicken Fillet
599
Assorted Odeng
599

Appetizers

Fried Mandu
499
Steamed Mandu
499
Japchae
499
Kimchi Takoyaki
499
Soup and Stew
499
Doenjang Jigae
499
Tteokboki
649
Yeon Eo
649
Chamchi
649
Buldak Kimbap
649
Kimchi Jigae
499

Side Dish

Odeng
499
Hobak Jeon
499
Pajeon
499
Gyeran JJim
499
Myulchu Bokkeum
499
Napa Kimchi
499
Lettuce
499
Gamja Jurim
499

entrees

Saewoo Twigim
649
Galbi Jjim
649
Ramyeon
649
Bibimpap
649
Chicken bibimbap
649
Salmon Bibimpap
649
Spicy Salmon Ramyeon
649
Korean Wings
649

Samgyup Sets

Set A
599
Set B
999
About Geonbae
Geonbae is a Korean-styled bar and grill that is located in Tomas Morato, Quezon City. The name of the bar was named after the Korean word for "cheers" or "bottoms up," and it embodies the fun and unique approach that Korean cuisine brings. While Filipinos have already fallen in love with Korean culture, Geonbae aims to further introduce Korean culture to Filipinos by using their cuisine. Geonbae is popular for a reason: they offer a full meal course, including appetizers, side dishes, entrees, and desserts. Guests wouldn't have a boring time while dining in Geonbae.
Geonbae Menu Meats
Geonbae is a Korean barbecue restaurant first and foremost, so it naturally has a lot of meat dishes on its menu. They serve different varieties of meat dishes that are cooked using traditional Korean methods. They serve meat dishes that are not only flavorful but also tender from the inside out. This is due to the high-quality ingredients that they use for each of the meat items that they serve.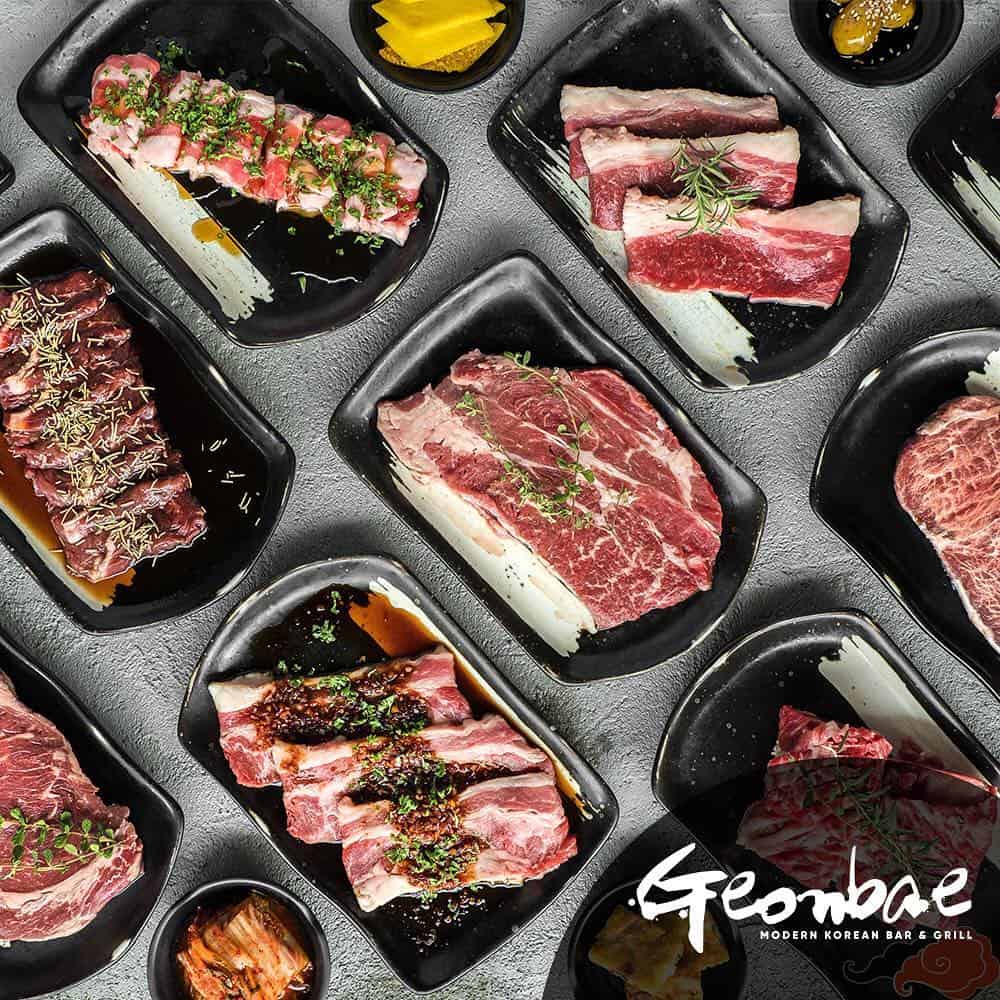 These meat dishes are not only delicious and filling, but they are also very affordable, so any average person can enjoy them without fear of overspending. Each of these dishes contains generous portions that will not only give the diner a tasty flavor but also make them full.
Geonbae Menu Appetizers
Being a grill and bar restaurant, Geonbae is also famous for its appetizers. They offer different varieties of appetizers that are cooked in the traditional Korean style. Their appetizers complement their entrees really well and generally increase your appetite and interest for the next course of your meal.
Geonbae serves the most delicious appetizers menu that will make you more excited and curious as to what the next course of your meal will taste like. They are light and were just made exactly for the sake of getting your palate and digestive system ready for a heavier meal.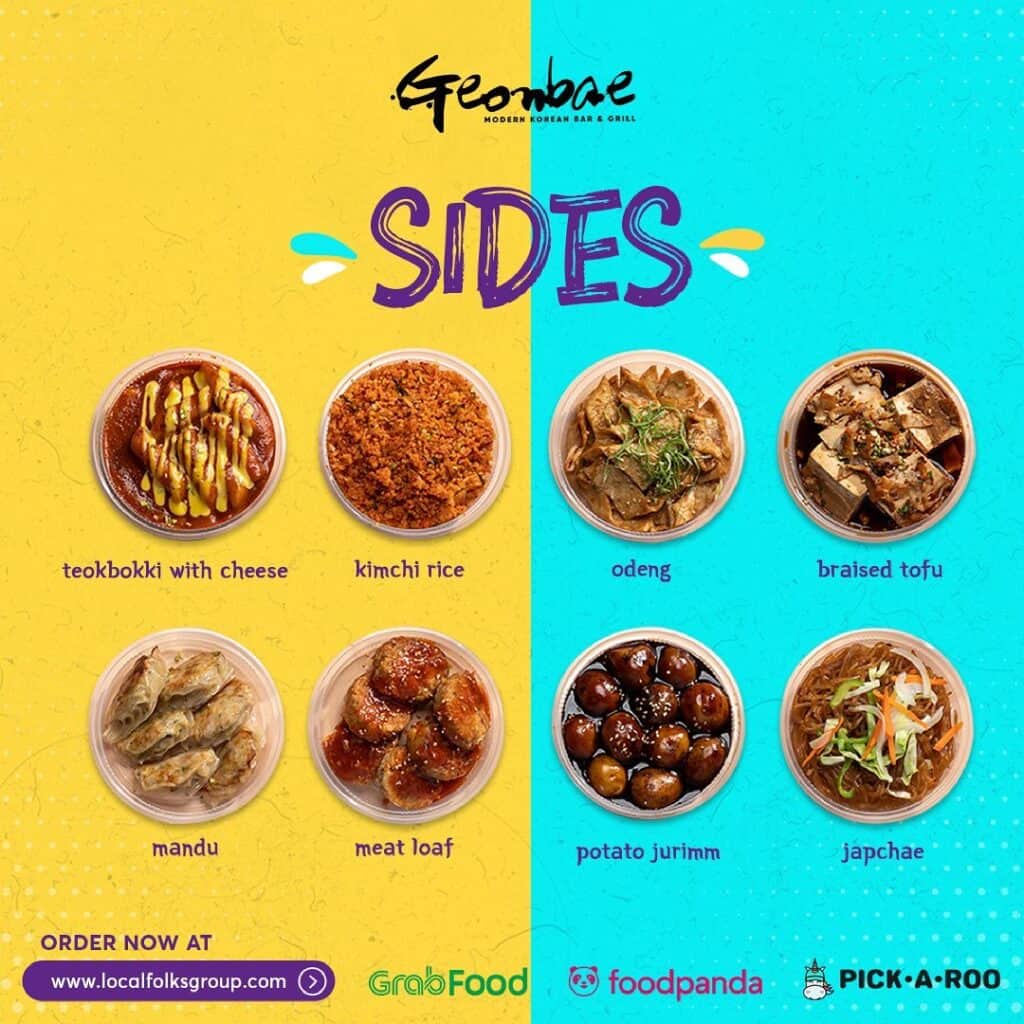 Entrees
Geonba's main course is to be expected, also composed of Korean dishes that were cooked the traditional way. These are not only delicious, but they will also fill you up to round off your experience while dining at Geonbae.
Their entrees all have high reviews from their customers. These positive reviews are based on the taste of the dish, the serving, and the portion that each dish contains. The best part of the Geonbae menu entrees is that they are served generously with a big portion that certainly gives you your money's worth. Aside from these, all of the items on this menu are budget friendly and affordable so that even average locals can experience the tasty and delicious Korean dishes that Geonbae offers.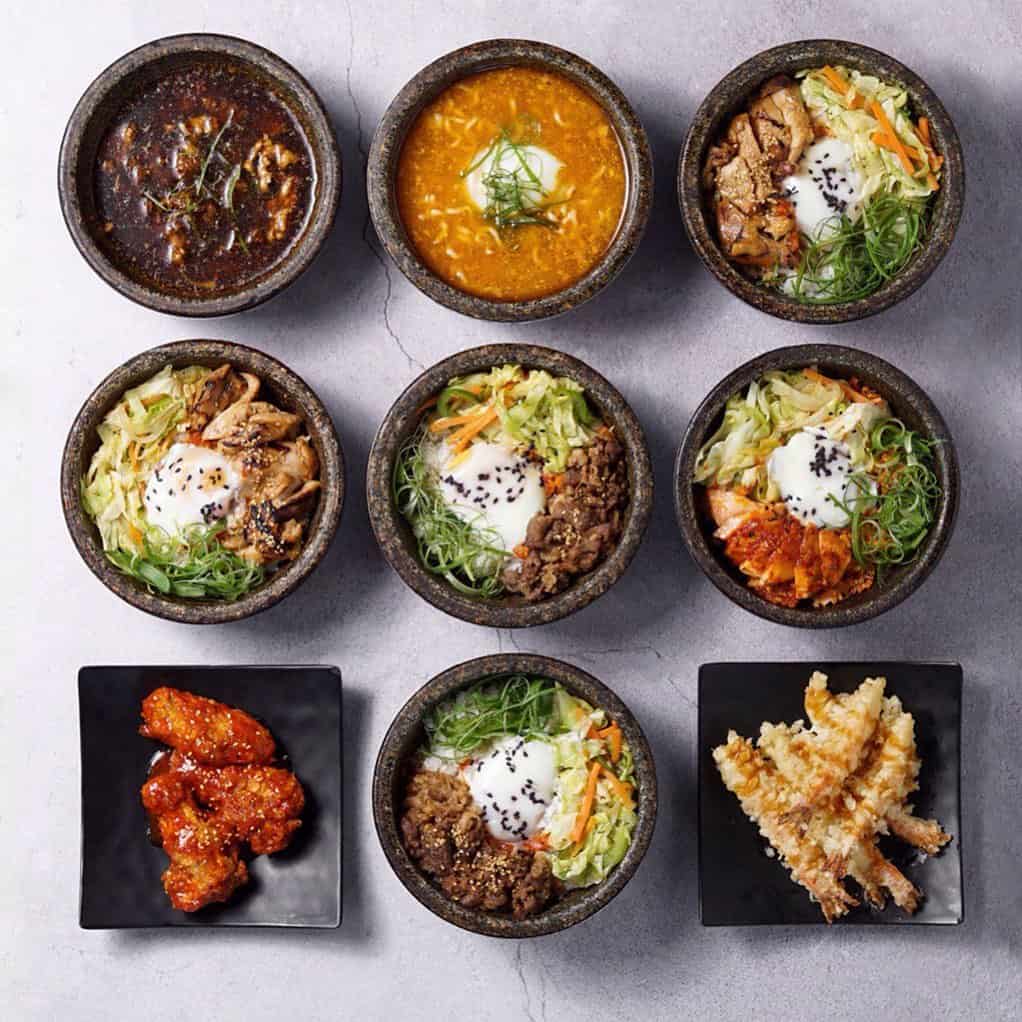 This menu is definitely the highlight of Geonba Bar and Grill. The appetizer raised the customer's expectations and excitement, their entrees really deliver when it comes to taste and satisfying their customers. These entrees are what complete the customers' Geonbae dining experience.
Samgyup sets
Geonbae offers two different samgyup sets, Set A and Set B. The first set is only good for two people and consists of 200 grams of Angus Beef Belly and 200 grams of U.S. Pork Belly. It is paired with two cups of rice, 100 grams of Korean fish cake, 100 grams of japchae, 100 grams of kimchi, 60 grams of lettuce, cheese dip, marble potatoes, and sauces.
Set B is good for 4 people, and all of what made up the first set is in the second, with the addition of 200 grams of marinated Angus Beef Belly and another 200 grams of marinated U.S. Thin Pork Belly.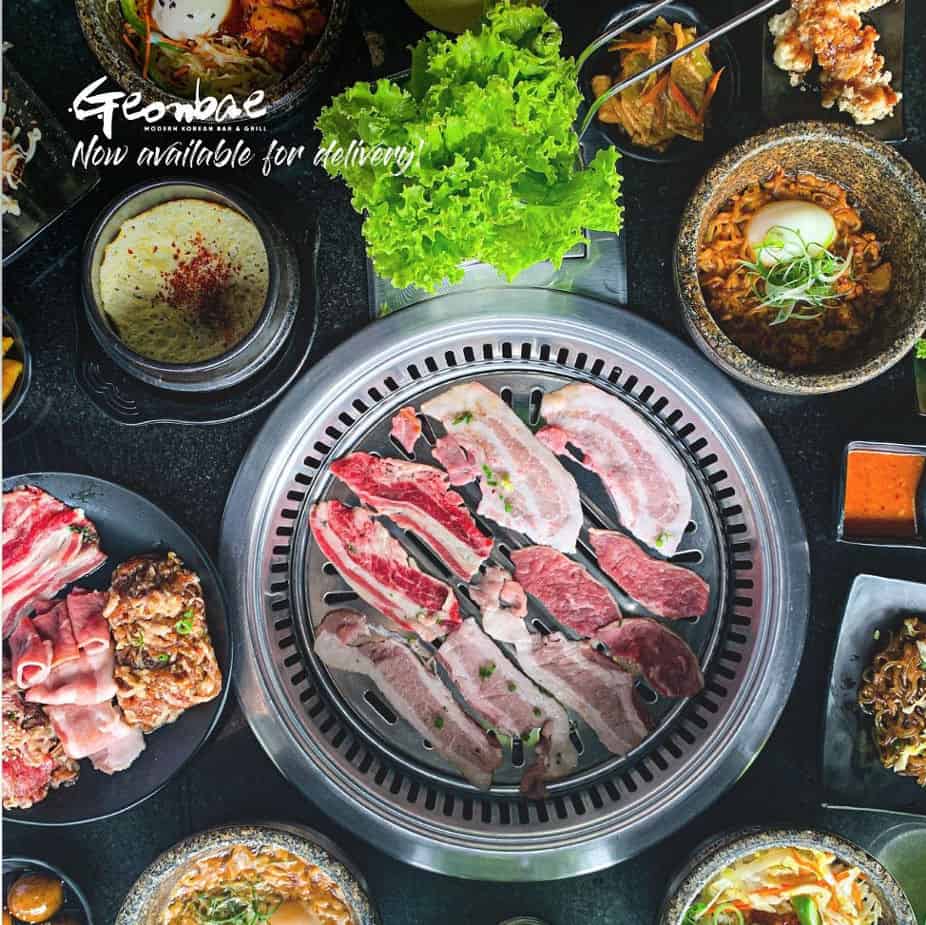 Geonbae Menu Delivery
Geonbae now offers delivery to their loyal customers. This way, their customers can now enjoy their favorite Korean dishes at home while watching their favorite K-dramas. Satisfying your cravings has never been easier thanks to Geonbae's menu delivery.
To order your favorite Korean dishes, download the FoodPanda or GrabFood food delivery applications and find the Geonbae store. Browse their delivery menu, and once you've found the food that you've been craving, just press the "Order" button to proceed to the payment page. Download links for the mobile applications are provided below. To begin the download, simply click the link.
GrabFood: https://play.google.com/store/apps/details?id=com.grab.food.pax
FoodPanda: https://play.google.com/store/apps/details?id=com.global.foodpanda.android
For more information about Geonbae's menu delivery or any question regarding how to order and track the delivery. Just send a message directly to their website or social media pages.
Geonbae Social Media Pages
Geonbae created social media pages on different platforms for their customers' convenience to know more about their latest updates. They are actively posting sales, promotions, and even their new food items. Visit their social media pages or website links below:
Facebook: https://www.facebook.com/geonbaeph/
Instagram: https://www.instagram.com/geonbaeph/
Conclusion
Every item that is on the Geonbae menu is absolutely perfect in terms of serving and taste! The meat dishes that they serve are undeniably good! And the other options for their entrees, side dishes, and beverages weren't any less tasty when compared. If you pair it with their very accommodating and fast-serving staff, any dining experience would be the definition of perfect. Top it off with their delivery service, and Geonbae rightfully deserves to be the first one to be mentioned when it comes to Korean restaurants. Undeniably, this is one of the best Korean barbecue restaurants that have been established in the Philippines.