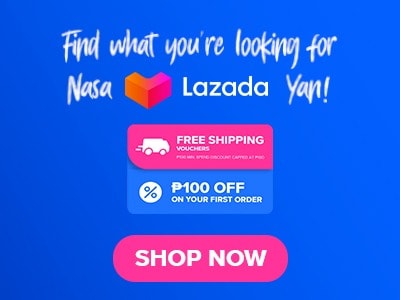 Looking for a nice cafe that offers coffee and other beverages plus mouth-watering waffles, buns, sandwiches, breakfast items, and more? We'll actually I recently discovered a good place for you guys so look no more I got you with this one. Have you ever seen or heard about Coffee Bay? The Coffee Bay menu offers a lot of delicious food items specifically drinks. They have coffee, franobes, smoothies, light meals, and everything that you've wanted in a cafeteria and for sure just like me, you'll be amazed at how good their products are plus the ambiance of the place. Pretty interesting right? So if you're ready to know more about them let's start! 
Below, you'll find the updated list of Coffee Bay menu prices.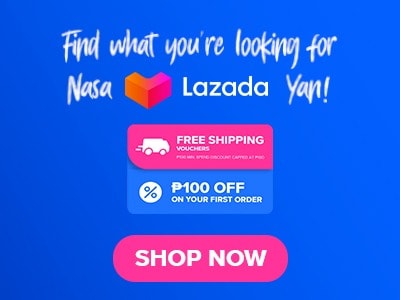 Menu Items
Price (PHP)

Espresso

Café Latte
181
Cappucino
181
Café Mocha
198
Vanilla Latte
203
White Chocolate Mocha
209
Salted Caramel
209

Basic latte

Pure Vanilla
192
Milk Tea
192
Dark Chocolate
198
White Chocolate Greentea
209
Steamed Milk (Hot)
175

Franobe

Java Chip Franobe
215
Dark Chocolate Franobe
226
Salted Caramel Franobe
209
Espresso Franobe
203
Caramel Franobe
203
White Chocolate Mocha Franobe
215
Mocha Franobe
203
Cookies N' Cream Franobe
209
Pure Vanilla Franobe
203
White Chocolate Green Tea Franobe
226
Dark Chocolate Cheese Franobe
237
Strawberry Cheese Franobe (Regular)
237

Sparkling ade

Blue Lemonade (Large)
220
Pink Lemonadde
220
Grapefruit Ade (Large)
220
Lime Ade (Large)
220
Mango Ade (Large)
220
Strawberry Ade (Large)
220
Peach Lemon Iced Tea (Large)
220

Strawberry series

Strawberry Custard Cream Delight
249
Strawberry Yogurt Delight
249
Double Strawberry Latte (Large)
237
Double Strawberry Sparkling (Large)
237
Real Strawberry Juice (Large)
237

Dalgona & Bittersweet

Cinnamon Spanish Sugar Latte(Large)
220
Dalgona Dolce Latte with Pearls (Large)
232
Dalgona Crunch Franobe with Pearls (large)
243
Brown Sugar Milktea with Pearls (Large)
209
Brown Sugar Ristretto Latte with Pearls (large)
209
Brown Sugar Dolce Latte with Pearls (large)
209

Lovely sweets

Pastel Custard Cream Latte
220
Creamy Soda with Crystals
237

Fizzy ChaCha

Blueberry Chacha (Regular)
209
Lemon Chacha (Regular)
209
Strawberry Chacha (Regular)
209

Smoothie

Plain Yogurt
215
Strawberry Yogurt
226
Mango Yogurt
226

Protein Smoothie

Protein Strawberry
249
Protein Chocolate
249
Protein Banana
249

Smoobella

Berry Berry (Regular)
237
Mango (Regular)
237
Strawberry (Regular)
237
Kiwi (Regular)
237

Tea

Honey Grapefruit Black Tea
226
Yuza Hibiscus
226
European Fruit Tea
164
Earl Grey French Blue
164
Chamomile Tea
164
Cinnamon Ginger Tea
164
Muscat
164
Organic Green Tea
164
Peppermint Tea
164
Rooibos Sugar Plum
164
Assam Orange Tea
164

Waffle

Hawaiian Pizza Waffle
265
Pepperoni Pizza Waffle
230
Chocolate Banana Waffle
265

Buns

Egg Bun
187
Ham Egg Bun
209
Strawberry Bun
209
Meat Bun
253
Egg Banh Mi
220

Toast

Croque Monsier
220
Croque Monsier with Fries
270
Triple Cheese Kaya Toast
200
Triple Cheese Kaya Set (Americano)
320

Sandwich

Egg Mayo Sandwich
245
BLT Sandwich
245
Ham and Cheese Sandwich
245
Chicken Sandwich
292

All day brunch

Special Brunch
425
Chicken Brunch
380
Ham & Egg Pandesal
270
Triple Cheese Kaya
270

Healthy menu

Caezar Salad (Single)
240
Caezar Salad (Platter)
360
Chicken Salad
370
Diet Salad
215

Side menu

Nachos
297
Tacos
220
Tteokbokki
325

Cakes and pastries

Japanese Cheesecake (slice)
248
Blueberry Cheesecake (slice)
220
Mini Chocolate Cake
325
Mini Red Velvet Cake
325
Mini Mango Fab Cake
325
Big Macaroons
179
Egg Tart
110
Banana Rolls
60
Big Macaroons
179
Egg Tart
110
Banana Rolls
60
Almond Carrot Cake (slice)
260
About Coffee Bay 
A franchise cafe brand straight from Korea is Coffee Bay, "Roasting one dream at a time" is their value. This place is where the bakery meets the coffee and it's perfect. Visiting them means you will enjoy a great cup of coffee or other beverages while enjoying their relaxing ambiance paired with any of their sweets and it's perfect. Their coffees are not just their products it is simply perfect since all of their stores have trained personnel to create great quality drinks for their customers. Coffee Bay was first launched in South Korea in the year 2009 and since then it already expanded to different countries.
This brand's first branch in our country opened in 2017 and as of today they have 2 locations, those are in Cebu IT Park and another one at SM Seaside also located in Cebu City. Coffee Bay also perfectly offers fruit drinks aside from coffee sandwiches and different pastries. They even have a stick version of their coffee and that is for customers who live far from Cebu so they can also enjoy how good their coffee is or if they want to bring it to their homes. This place has a modern design which is also great for those working and have to do laptop tasks. 
Coffee Bay Menu Best Sellers 
Upon researching and trying it myself, here are some samples of Coffee Bay best selling products that you must try when you visit them.
Strawberry Custard Cream Delight – Coffee Bay's strawberry custard cream delight is an ice-blended drink mixed with their delicious sweetened strawberry. Their strawberry custard cream delight is a refreshing cold drink that has a strong strawberry flavor perfect for the hot weather that we used to have in the country.
This is my personal favorite Coffee Bay menu since I am a strawberry lover, very creamy because of the custard. The strawberry and custard go really well this is a dessert drink, to be honest. One thing that I like about this is that their strawberry custard cream delight is not too sweet it's more fruity and creamy. This one is their best seller and also a must-try. 
Strawberry Yogurt Delight – If you want another strawberry-flavored drink then their strawberry yogurt delight is the perfect item for you. Made with ice-blended flavored yogurt plus mixed with strawberry bits of sweetened strawberry. This one is also creamy but not as creamy as the Strawberry Custard Cream Delight, however, when it comes to the taste this one is really good. I can't choose between this and their Strawberry Custard Cream Delight. This one is also not too sweet and the taste of the sweetened strawberry that they mix with this drink will be bursting in your mouth in a good way.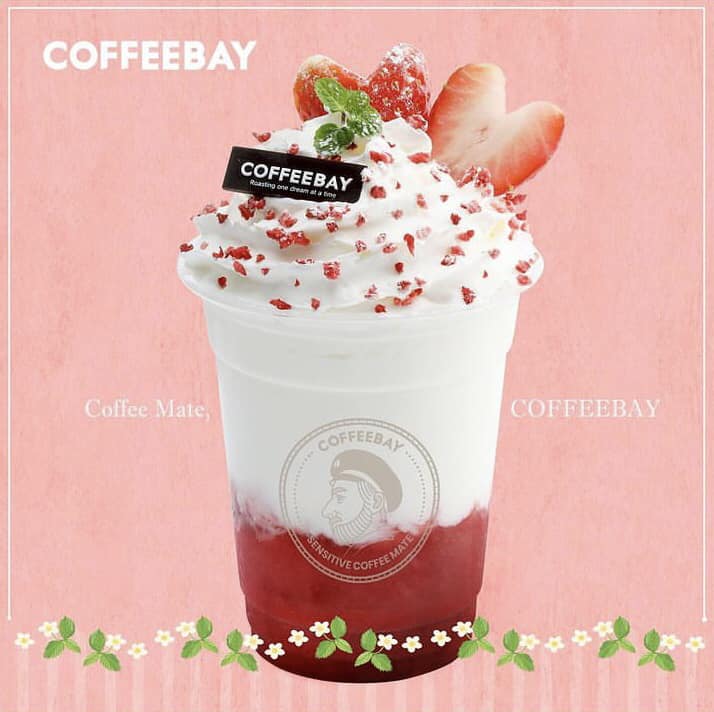 Cinnamon Spanish Sugar Latte – Their cinnamon Spanish sugar latte is their specialty drink made from their signature espresso then combined with cinnamon powder and creamy milk. I honestly have a mixed reaction about their Cinnamon Spanish Sugar Latte since I am not a fan of cinnamon but of course, I will still try it.
The taste of the cinnamon is not overpowering this drink, creamy and really good plus not that sweet which is good. This is also included on their best sellers and also a must-have item especially if you love cinnamon flavor on your drink. Maybe I can give this drink a rate of 8.7 despite the fact that I don't like cinnamon.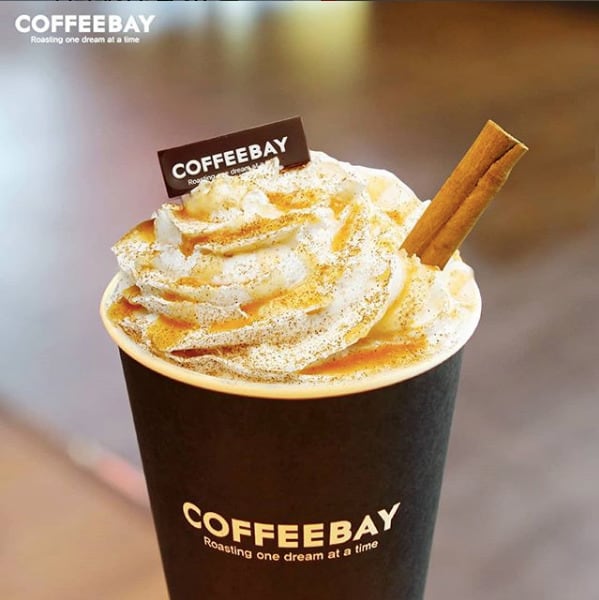 Caramel Macchiato – This is my favorite menu of Coffee Bay and I am glad that their caramel macchiato is included in their best-selling drinks. Their caramel macchiato is made with their signature espresso then combined with milk and caramel sauce that they actually drizzled over this drink.
When it comes to the taste I'll be obviously biased since this is my favorite. The taste is really nice and honestly, their version of caramel macchiato is tastier than other places. This is the perfect drink for you if you love the taste of caramel on your drink also a must-try.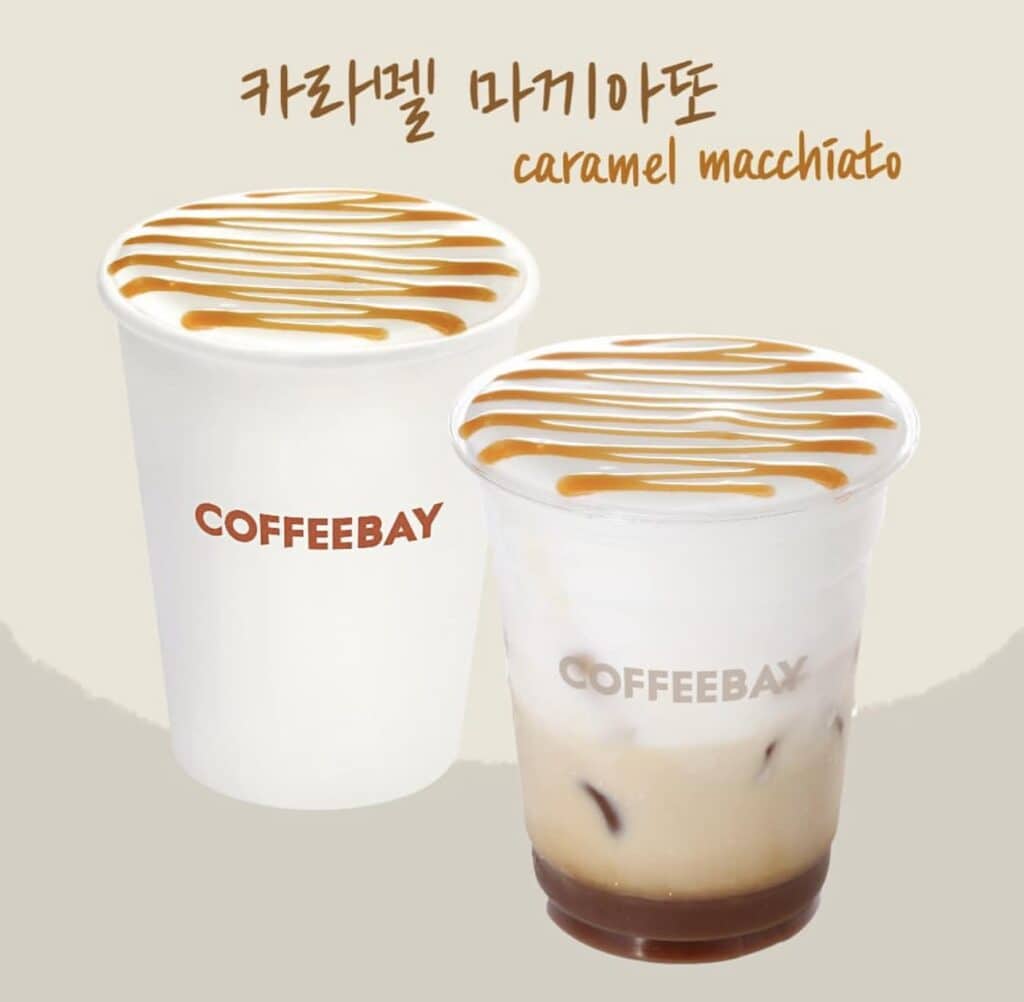 Franobe
Coffee Bay has 5 drinks options for their franobe menu. The first one is their java chip franobe followed by dark chocolate franobe. They also have salted caramel franobe and espresso franobe. If you want a sweeter drink you can also try their caramel franobe or White Chocolate Mocha Franobe.
Mocha franobe can also be seen on this menu as well as cookies and cream franobe, Pure Vanilla Franobe, and White Chocolate Green Tea Franobe. If you want to try something different their Dark Chocolate Cheese Franobe is also a great choice while their Strawberry Cheese Franobe is for the strawberry lovers out there.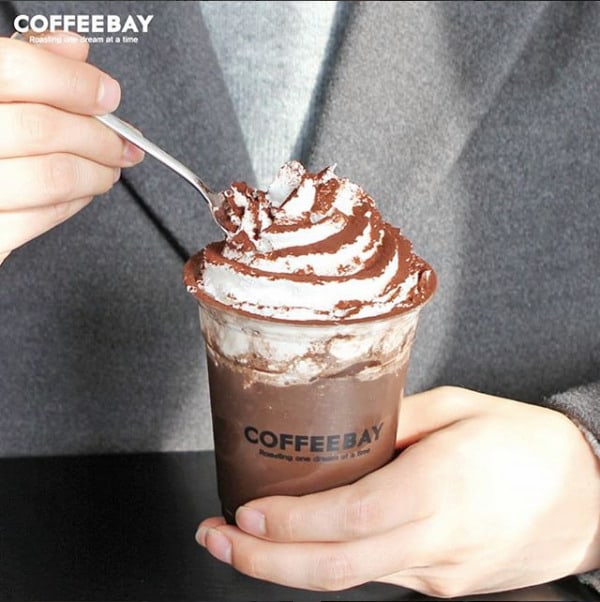 Basic Latte
The basic latte of Coffee Bay has five simple drinks to choose from pure vanilla, milk tea, and dark chocolate are present on this menu while White Chocolate Greentea and steamed milk are the most basic drinks that they have. 
Coffee Bay Menu Delivery 
You can order your favorite Coffee Bay drinks and other items simply by contacting them through their Facebook account at https://www.facebook.com/coffeebayph/ or you can also try booking your favorite food courier services like Foodpanda and Grab.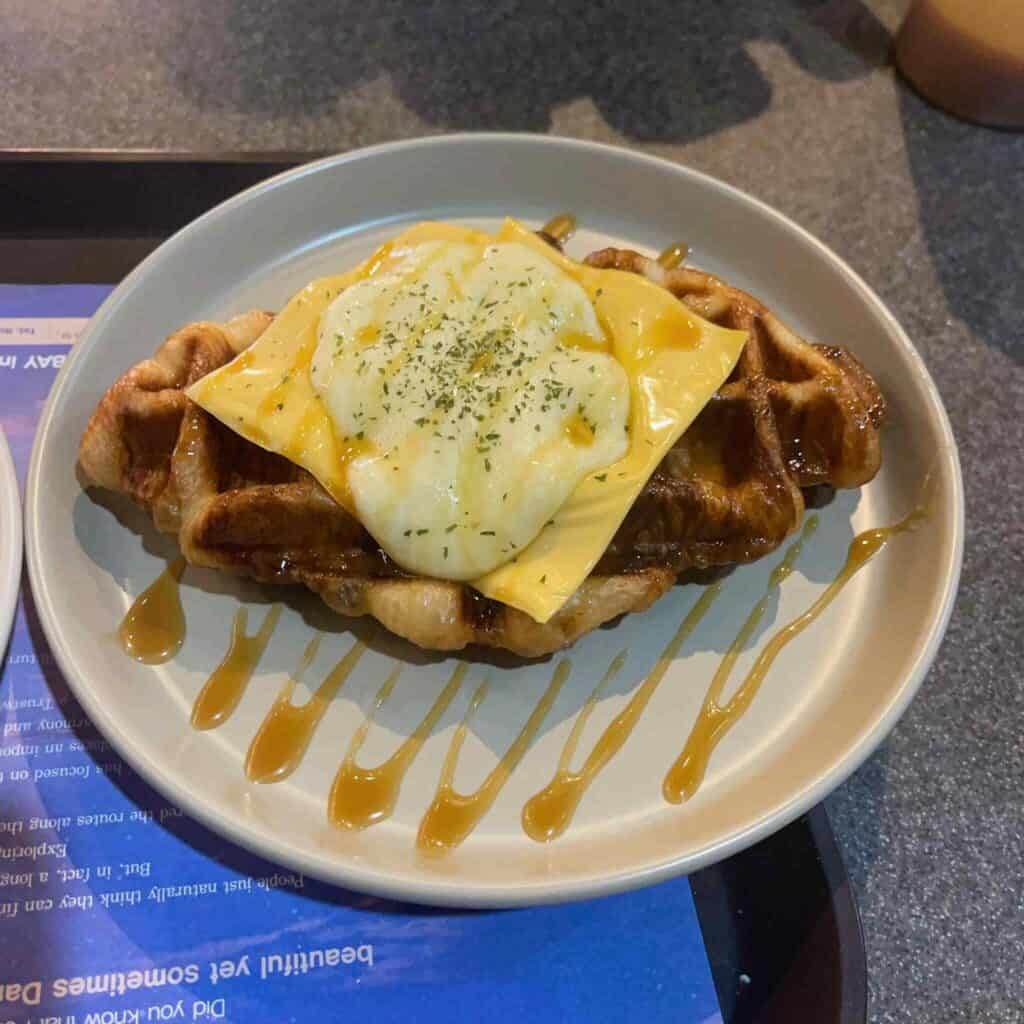 Social Media Pages
Stay updated on their coffee offerings, explore their delicious food menu, learn about their commitment to sustainability, and connect with a community of coffee enthusiasts by following their social media pages.
Facebook: https://www.facebook.com/coffeebayph
Instagram: https://www.instagram.com/coffeebay.ph
FAQs
What are Coffee Bay business hours?
Coffee Bay's IT park branch is open 24 hours a day while their SM seaside branch is open from 10 AM until 9 PM. 
Where does Coffee Bay originate?
Coffee Bay is a franchise business straight from Korea they started their business back in 2009. 
What is Coffee Bay's telephone number? 
You can reach them via this number – +63 32 328 2172 
Is Coffee Bay popular?
Yes and aside from their delicious drinks, they become a location of a famous Korean drama named Healer
Conclusion
Coffee Bay is a great place to relax and unwind while enjoying a good cup of drinks partnered with their desserts. Coffee Bay menu not only offers great choices but also quality products. Their place is spotless and clean with a very spacious and relaxing vibe great for Barkada meet-ups or even while working and wanting to try to work at a very nice place. Their drinks are also delicious and I can't forget to mention their blueberry cheesecake which I actually fell in love with. Overall experience is great and highly recommended for everyone.