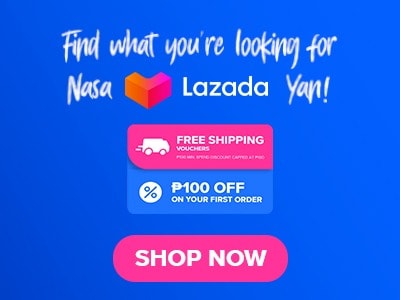 At Cafe Blooming Days, you'll find a menu with delicious Korean meals and comforting coffees. They have a wide range of food options, such as appetizers, salads, sandwiches, pasta, rice meals, Korean ramyeon, k-soon dubu jjigae, and wine dishes. So, there's plenty to choose from for your meal.
And don't forget about their coffee and drinks! They serve various types like coffee, latte, frappe, smoothie, hot tea, ade, and soft drinks. You can pick your favorite beverage to go with your meal or enjoy it on its own.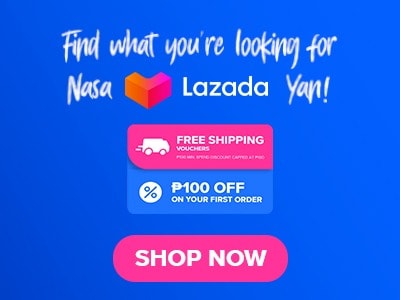 One special thing about this cafe is that they use freshly roasted single-origin coffee beans from different parts of the world. This means they take the time to roast the coffee beans in a way that brings out the unique flavors from each region. So, if you love coffee, you'll get to taste some amazing and special blends at Cafe Blooming Days!
Below, you'll find the updated list of Cafe Blooming Days menu prices.
Menu Items
Price (PHP)

Appetizers

Bruschetta
240
Buffalo Wings
265
Chicken Finger with Fries
240
Fish Fillet with Fries
280
Kimchi Jeon
240
Nacho's Supreme
215

Salad

Chicken Breast Salad (Small)
220
Chicken Breast Salad (Medium)
420
Garden Salad (Medium)
145
Grilled Shrimp Salad (Small)
260
Grilled Shrimp Salad (Medium)
420
Honey Mustrad Chicken Salad (Small)
235
Honey Mustrad Chicken Salad (Medium)
390
Add On
Boiled Egg
20
Bacon
20

Sandwiches

Beef Cheese Burger
255
Club Sandwiches with Fries
320
Ham & Cheese Sandwich
125
K-Omelet Toast
115
Tuna Sandwiches
215

Pasta

Chicken Alfredo
320
Lasagna Pasta
365
Pasta Pescatore
335
Pasta Pesto
295
Pasta Tuna
260
Spaghetti Bolognese
320
Toowomba Pasta
340

Rice Meal

Ala King Fish or Chicken
270
Baby Back Ribs with Rice
360
Dolsot Bibimbab
350
Garlic Buttered Chicken
260
K-Bibimbap
330
K-Bulgogi
365
Kimchi Fried Rice with Bacon
285
Ossobucco (per 100 g)
170
Samgyup Pork Adobo
330
Spam Mayo
260
Ttukbaegi-Bulgogi
365
Tuna Mayo
260

K-Soondubu Jjigae (with rice & kimchi)

Soondubu Jjigae with Beef (spicy)
350
Soondubu Jjigae with Pork & Kimchi (spicy)
350
Soondubu Jjigae with Pork (spicy)
335
Soondubu Jjigae with Seafood (spicy)
360
Soondubu Jjigae with Pork (Non-spicy)
310
Soondubu Jjigae with Seafood (Non-spicy)
330

Korean Ramyeon

Bomb Spicy Ramyeon with Egg
235
Jjam-bbong Ramyeon with Seafood
260
Ramyeon with Egg
195
Add On: Cheese
30

Wine Dishes

Assorted Sausage (Large)
750
Assorted Sausage (Small)
390
Bruschetta
240
Canape
280
Caprese Salad
550
Cheese Plate (Large)
1250
Cheese Plate (Small)
650
Cheese Potato Pancake
420
Gambas al Ajilo
400
Garlic Buttered Chicken
460
Sizzled Bulgogi
670

Add On

Extra Cheese
30
Extra Egg
20
French Fries
60
Garlic Rice
60
Plain Rice
40

Korean Kimchi

Kimchi (120g)
40
Kimchi (500g)
150
Kimchi (1kg)
295

Beer

Heineken
120
Jack Daniel's Cola
180
San Miguel Lemon/Apple
85
San Miguel Light
90
San Miguel Pilsen
85
San Miguel Red Horse
95

Drinks

Coke
70
Iced Tea
90
Iced Tea pitcher (1 liter)
180
Sprite
70

Soju

Cham yi seul
230

Coffee

Americano (2 shot/16oz) (Hot)
145
Americano (2 shot/16oz) (Iced)
155
Café Latte (2 shot/16oz) (Hot)
175
Café Latte (2 shot/16oz) (Iced)
185
Café Mocha (Hot)
195
Café Mocha (Iced)
210
Cappuccino (Hot)
175
Cappuccino (Iced)
185
Caramel Macchiato (Hot)
195
Caramel Macchiato (Iced)
210
Double Espresso (Hot)
130
Hazelnut / Vanilla Latte (Hot)
195
Hazelnut / Vanilla Latte (Iced)
210
Spanish Latte (Hot)
185
Spanish Latte (Iced)
200
White Café Mocha (Hot)
195
White Café Mocha (Iced)
210

Latte

Choco Banana Latte (Hot)
180
Choco Banana Latte (Iced)
195
Earl Grey Tea (Hot)
160
Earl Grey Tea (Iced)
170
Ginger Latte (Hot)
195
Ginger Latte (Iced)
210
Green Tea Latte (Hot)
165
Green Tea Latte (Iced)
175
Hot Chocolate (HoT)
190
Vanilla / Hazelnut Milk (Hot)
180
Vanilla / Hazelnut Milk (Iced)
195
Add On: Shot or Cream
40

Frappe

Choco Banana
215
Choco Chip
215
Cookies & Cream
215
Vanilla Caramel
215
White Choco Caramel
215
White Choco Hazelnut
215

Smoothie

Berry Mix
200
Choco Chip
190
Cookies & Cream
190
Kiwi
195
Mango
195
Strawberry/Blueberry
185
Vanilla Caramel
190
White Choco Caramel
190
White Choco Hazelnut
190

Hot Tea

Herb Tea (Traditional Medicinal)
140
Lemon Ginger Tea
185
Lemon Tea / Ginger Tea
180
Yu-za (Korean Citron) Tea
180

Ade

Kombucha
170
Lemon Ade
195
Lemon Ginger Ade
200
Yu-za (Korean Citron) Ade
195

Soft Drinks

Mineral Water
30
Summit Sparkling Water
60
About Cafe Blooming Days
Cafe Blooming Days offers traditional Korean cuisines, comfort foods, coffees, and single-origin beans. It also provides venue rental, food packages, catering service, and various amenities that you can use for different kinds of events or celebrations. This cafe has a cozy and comforting ambiance that perfectly complements its dishes and beverages.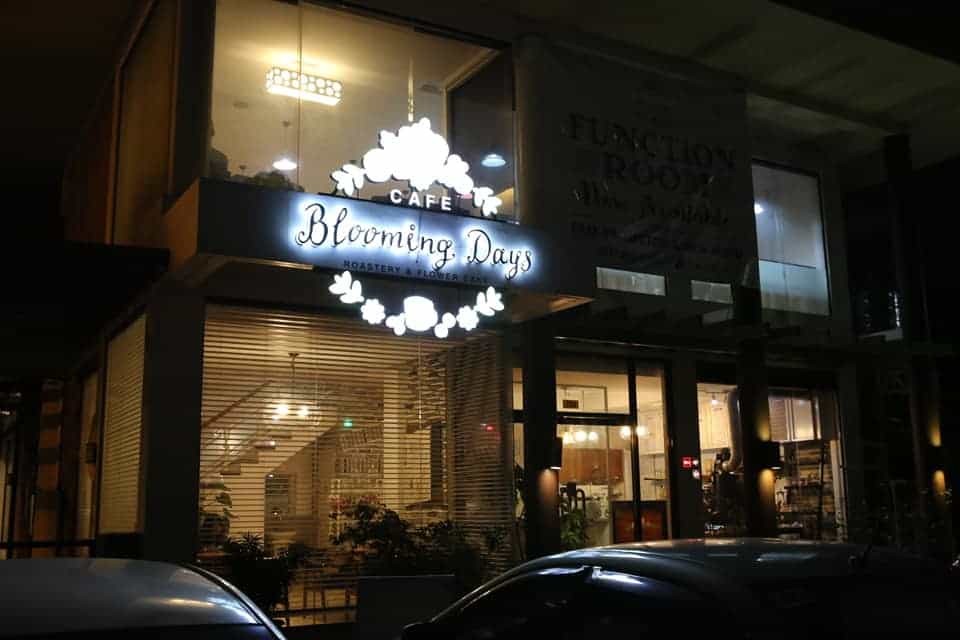 Cafe Blooming Days Menu Best Seller
Cafe Blooming Days is well-loved for its aromatic coffee and authentic Korean dishes. These are some of the best sellers of Cafe Blooming Days that consistently satiate their customers' palates.
Chicken Finger with Fries – It is a delicious appetizer where chicken is battered and deep-fried. The meat's tenderness, the batter's crunchiness, and its yummy taste make it a hit among all ages. This cafe served it with homemade garlic soy sauce and French fries to make it more flavorsome and filling.
Honey Mustard Chicken Salad – A wholesome meal consisting of fresh iceberg lettuce, tomato, cucumber, carrot, bell pepper, boiled eggs, black olives, and onion. It is topped with fried chicken fillet and dressed with honey mustard dressing.
Club Sandwiches with Fries – This is one of the favorite sandwiches of Cafe Blooming Days' patrons. These club sandwiches are filled with chicken breast, egg, bacon, cucumber, tomato, lettuce, and cheese. The highly palatable fries are paired with it, giving diners a satisfying meal.
K-Bibimbab – Bibimbab, or Bibimbap, is a popular rice meal in Korea with a different variation. The bibimbab version of this cafe consists of rice topped with assorted fresh vegetables and a sunny-side-up egg. This rice meal is served with gochujang sauce or Korean red-hot chili paste sauce to spice up your meal.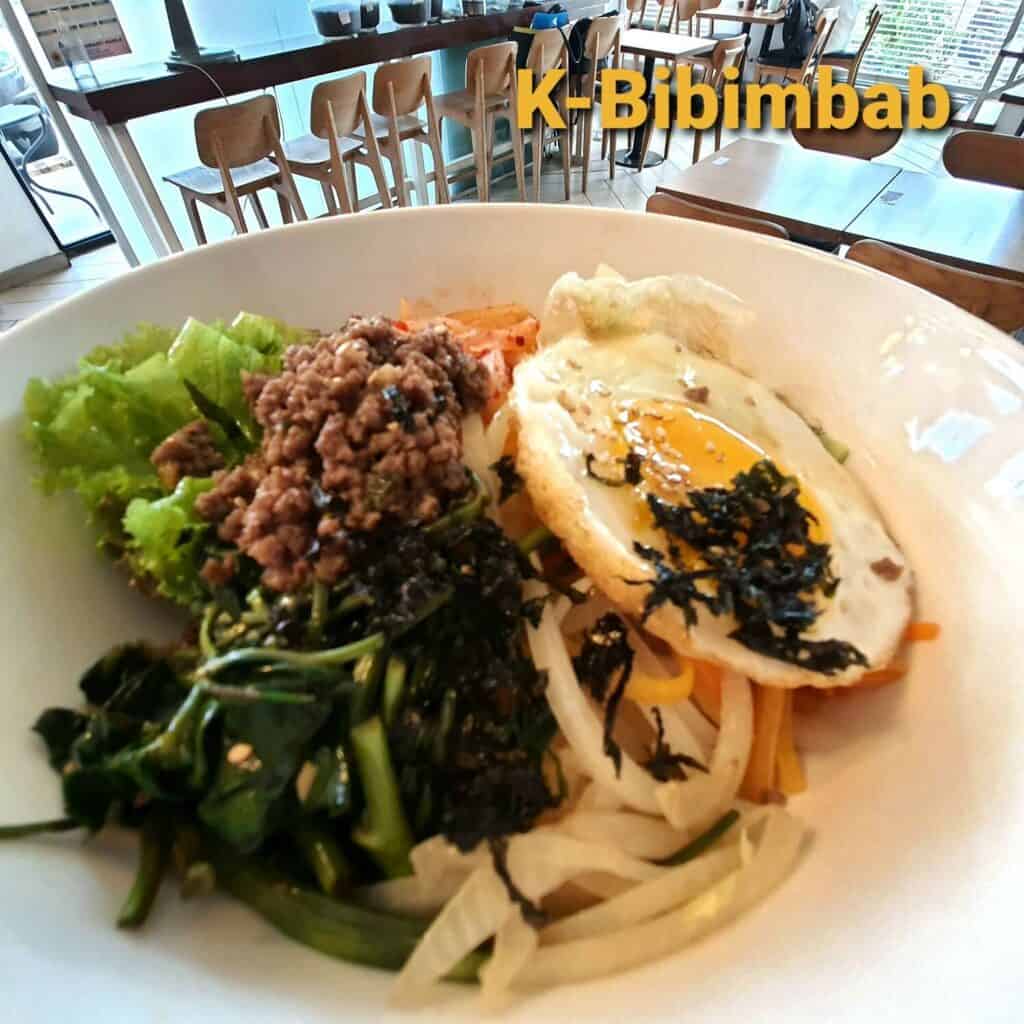 Spaghetti Bolognese – For pasta lovers, this spaghetti Bolognese from café Blooming Days is the perfect choice. This spaghetti Bolognese is made by cooking spaghetti in homemade Italian beef sauce and garnishing it with special spices and seasonings. A piece of baguette on its side makes it more appealing.
Cafe Blooming Days Menu Appetizers
The appetizers served by Cafe Blooming Days includes bruschetta, buffalo wings, chicken fingers, fries, nachos, pancake, and fish fillet. These light cuisines have a savory taste that will surely whet your appetite.
Buffalo Wings – Buffalo wings are one of the popular appetizers loved for their surprising goodness. These chicken wings are deep-fried and battered with hot chili sauce that enhances its taste. To complete this meal and satisfy the cravings of its diners, it is served with French fries and sauce.
Kimchi Jeon (K-Pancake) – This tasty Korean pancake is made up of kimchi, bacon, and cheese. It is garnished with special sauce and spices that boost its flavor, making it more enjoyable. This pancake is served freshly cooked, and the cooking time or preparation takes twenty minutes.
Nacho's Supreme – One of the well-known appetizers where nachos are topped with cheese sauce, Bolognese sauce, salsa, and black olives. The crispiness of nachos complements well with its toppings, satisfying each bite.
Sandwiches
Cafe Blooming Days offers traditional and Korean sandwiches perfect for those who want a convenient and appetizing meal. The flavors and textures of the fillings of these sandwiches are well-combined, resulting in a flavorful treat.
Beef Cheese Burger – The burger buns are filled with a homemade beef patty that is tender, flavorful, and aromatic. It is bursting with yummy flavor as it is also stuffed with lettuce, pickle, tomato, onion, bacon, egg, and cheese.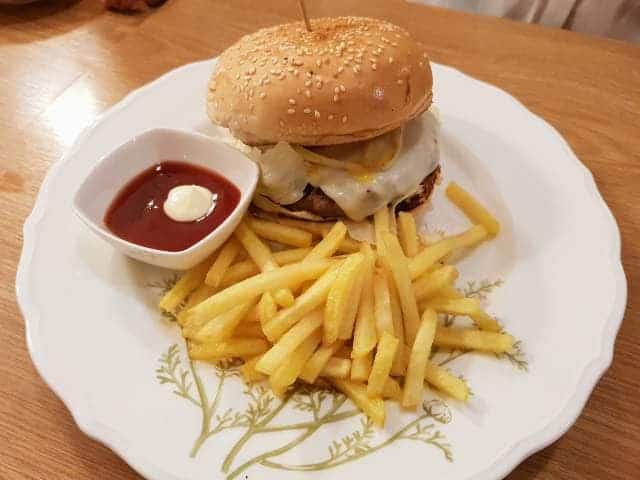 Ham & Cheese Sandwich – This is a classic sandwich menu of Cafe Blooming Days that is known by many as it consists of ham and cheese, the two ingredients commonly used as fillings. It also comes with egg and mayo sauce that gives an umami flavor profile.
K-Omelet Toast – It is a famous Korean street food where bread is filled with egg omelets and cabbage. Each bite of this toast is gratifying as it is cooked masterfully and has a distinctive and savory taste.
Pasta
Pasta lovers, you'll be happy to know that Cafe Blooming Days has a special menu with delicious pasta dishes! They have a variety of options like lasagna, pasta pesto, Toowoomba, spaghetti Bolognese, chicken alfredo, pasta pescatore, and pasta tuna.
People really love these pasta meals because they are full of rich flavors and smell amazing. Each dish is made with love, and they will leave you feeling happy and satisfied. So, if you're craving a hearty and tasty pasta meal, head to Cafe Blooming Days and enjoy their wonderful selection!
Chicken Alfredo – Chicken Alfredo is a mouthwatering dish prepared by cooking linguine pasta in chicken and mushroom cream. This pasta is drizzled with special spices that add flavor and texture.
Pasta Pescatore – If you are a pasta and seafood lover, this pasta pescatore is an excellent option. The spaghetti pasta is cooked with rich, flavorsome tomato sauce and topped with assorted seafood.
Lasagna Pasta – Lasagna is the ultimate comfort food that always warms the hearts and satisfies the diners. It has a pleasing taste as the layers of lasagna are stuffed with cheese, ragu, and bechamel sauce.
Korean Rice Meals
Café Blooming Days offers a wide variety of Korean rice menu that will give you a great Korean dining experience. If you are a first-time customer, the best dishes you should try are Baby Back Ribs, Ala King Fish or Chicken, and Ttukbaegi-Bulgogi. Its other scrumptious meals are Ossobucco, Garlic Buttered Chicken, Kimchi Fried Rice with bacon, Spam Mayo or Tuna Mayo, K-Bulgogi, and Dolsot Bibimbap.
For those who want to try a Korean dish with a Filipino twist, the Samgyup Pork Adobo is the one you should not miss out on, as the pork is cooked with sweet and savory soy sauce, which is available in mild and spicy flavors. These rice meals are served with kimchi and soup to give customers a filling and enjoyable meal.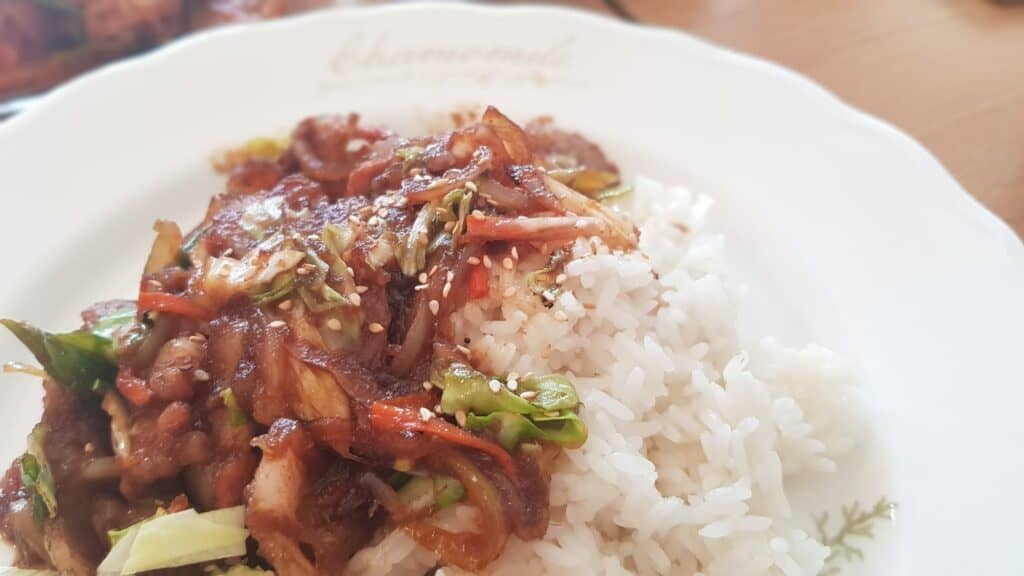 Coffee & Latte
The coffee and latte menu served by Cafe Blooming Days are well-loved for their comforting goodness and delicious taste. Its coffees are Café Latte, Cappuccino, Café Mocha, White Café Mocha, Hazelnut/Vanilla Latte, and Spanish Latte. Its best-selling coffees are Americano and Caramel Macchiato. These beverages are available in hot and iced variations, so they can be enjoyed anytime. It also provides double espresso, a great drink for those who want a coffee with robust flavor and can wake up the senses.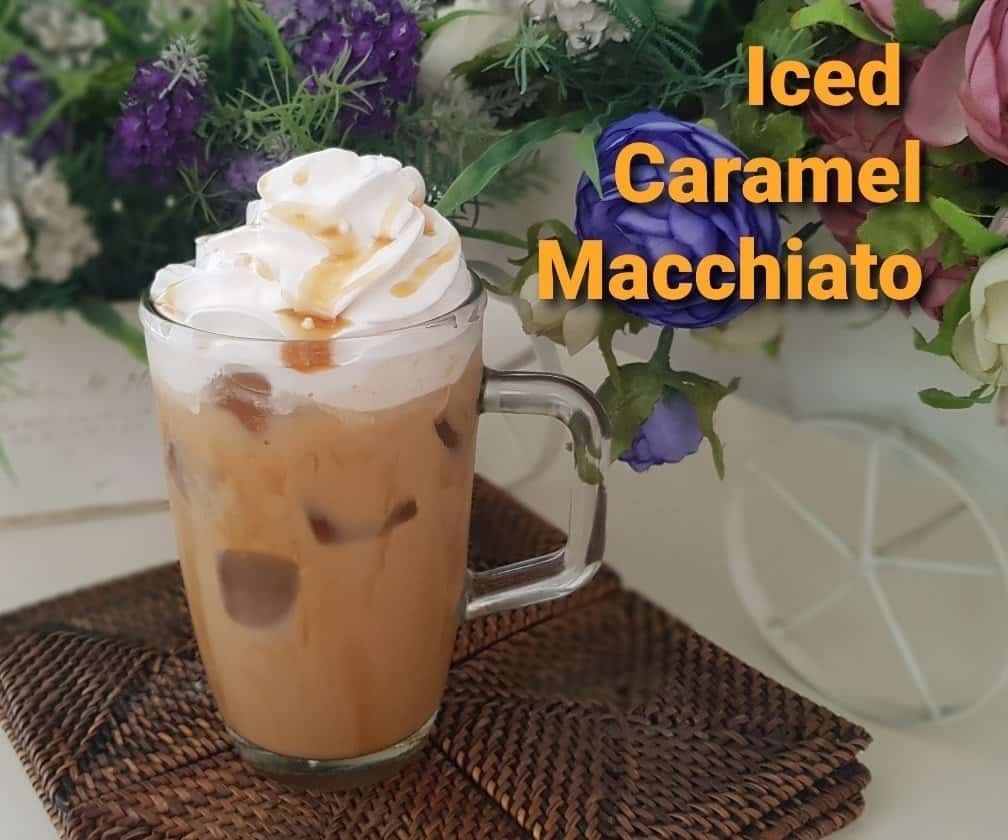 Regarding Latte or non-coffee beverages, it serves Green Tea, Earl Grey, Hazelnut, Vanilla, Choco Banana, and Ginger latte that can be enjoyed hot or cold. It also offers a luscious hot chocolate, perfect for those dining with kids. You can also add a shot or cream to these beverages to enhance the taste of your favorite latte.
Cafe Blooming Days Menu Delivery
Place your order on GrabFood (Blooming Days Bistro – Obrero) or Foodpanda (Cafe Blooming Days – Loyola) to satisfy your cravings at your own convenience. For inquiries, you can message them at their official Facebook account or contact them at 09564286973 or 0822277026.
Social Media Pages
Share your own moments with them and tag them in your posts to be featured. Stay tuned for special events, seasonal menu additions, and limited-time promotions that will make your cafe experience even more delightful.
Facebook: https://www.facebook.com/cafebloomingdays/
Website: https://cafe-blooming-days.business.site/#details
FAQs
What is Cafe Blooming Days?
Cafe Blooming Days is a cafe in Davao City that offers comfort foods, delicious meals, coffees, beans, and other beverages.
Where is Cafe Blooming Days located?
Cafe Blooming Days is located in JJs Commune in Davao City (8000 Davao del Sur, Davao City, Poblacion District, PH Door1 JJ's commune Loyola Street Obrero).
What are the operating hours of Cafe Blooming Days?
Monday to Saturday (8:30 AM to 10:00 PM)
Sunday (1:00 PM to 8:00 PM)
Does Cafe Blooming Days host events or special promotions?
Yes, Cafe Blooming Days host events and offers special/limited-time promotions.
Conclusion
The food and beverages on the Cafe Blooming Days menu are meticulously and creatively prepared using the best ingredients. If you are a coffee enthusiast and a Korean food lover, this is one of the best cafes in Davao that you must visit. In this cafe, you will find a piece of your home as it has a comforting atmosphere, friendly staff, and delicious cuisines and drinks.