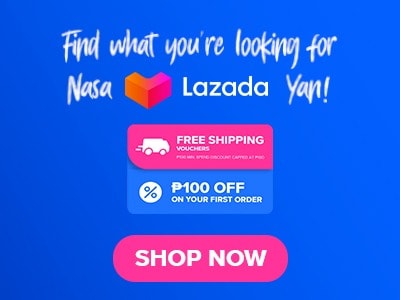 An enchanting experience featuring the timeless goodness of authentic Japanese cuisine is what you can have today in this recommended restaurant we are going to talk about. I introduce to you, Yurakuen, a haven for everyone who is looking for the true essence of Japanese cuisine. They offer a meticulously curated collection highlighting the original techniques and celebrating the artistic flair of Japan. Come on and Join me to escape into the timeless flavor of Japan with the Yurakuen menu price collection.
Menu Items
Price (PHP)

Eat-All-You-Can

Eat-All-You-Can Teppanyaki (Monday to Thursday)
2,980
Eat-All-You-Can Teppanyaki (Friday to Sunday)
3,300
Eat-All-You-Can Yakiniku
2,700

Lunch Set Menu

Wasyoku Set
1,550
Unagi Kabayaki Set
1,450
Yurakuen Bento Box
1,350
Tokujo Yurakuen Bento Box
1,950
Tempura Set
1,180
Sashimi Set
1,550
US Beef Yakiniku Set
1,700
Yakizakana Set Mackerel / Salmon
950
Yakizakana Set Gindara
1,350

Appetizer

Edamame
280
Agedashi Tofu
300
Dilis Tsukadani
280
Chikuwa Cheese Age
380
Tori Karaage
380
Ebi Gyoza
380

Salad

Mango Vegetable Salad
580
Sashimi Salad
980
Crabmeat Stick and Seaweed Salad
680

Sashimi

Maguro
570
Chutoro
720
Hamachi
890
Lapu-lapu Usuzukuri
780
Shimesaba
580
Salmon
720
Nama Uni
580
Hotate Kaibashira
880
Amaebi
840
Ika Sashimi
550
5 Kinds of Sashimi
1,680
9 Kinds of Sashimi
2,980

Sushi

Sushi Moriawase
1,500
Tokujo Nigiri Zushi Moriawase
2,600
Inari Sushi
580
Chirashi Sushi
1,500
Tokujo Chirashi Zushi
2,000

Temaki Sushi/Hosomaki Sushi

California Maki
430
Dragon Roll
920
Futomaki Sushi
780
Volcano Maki
1,100
Yurakuen Maki
1,100

Nimono (Simmered Dish)

Buta Kakuni
560
Lapu-lapu Tsuyani
680
Lobster Gusokuni
1,800
Yasai Takiawase
480

Charcoal Grilled Dish

Gindara Teriyaki
950
Saba Shioyaki
580
Tori Teriyaki
580
Unagi Kabayaki
980
US Beef Karubi Yakiniku
1,300
US Black Angus Beef Teriyaki
1,800

Yakimono (Pan Grilled Dish)

Hamburger Steak
780
Tofu Steak
820
Gyuniku Shogayaki
980
US Prime Beef Steak
2,200
US Black Angus Tenderloin Steak
2,700
Wagyu Steak
5,500

Agemono (Fried Dish)

Ebi Tempura
520
Yasai Tempura
480
Tokujo Tempura Moriawase
1,450
Buta Rosu Tonkatsu
720
Kaki Fry
980
Scallop Kushiage Tempura
880

OSHOKUJI/DONBURI/RICE DISH/SOUP

Unajyu
1,100
Tempura Donburi
720
Gyudon
720
Katsudon
720
Beef Teriyaki Donburi
1,200
Tori Teriyaki Donburi
720
Nameko Misoshiru
280
Gohan Set
285

Menrui (Noodle Dish)

Tempura Soba/Udon
580
Curry Udon
580
Chasoba
460
Nabeyaki Udon
780
Chasyumen
680
Kaisen Ramen
840
Gyuniku Ramen
750
Miso Ramen
720

Japanese Curry

Hamburger Curry
780
Pork Cutlet Curry
780

Set Menu

Shinju Set
1,450
Guresu Set
1,880
Kaisen Teppanyaki Set
1,680

Japanese Full Course

Sakura Course
7,800
Kaiseki Course
5,800
Wagyu Kaiseki
9,800

Nabemono (Hot Pot)

Chiri Nabe - Seafood Hot Pot
2,800
Yurakuen Nabe - Seafood and Beef Hot Pot
3,200
US Beef Shabu-Shabu
2,400
Japanese Premium Beef Shabu-Shabu
4,800
US Beef Sukiyaki
2,400
Japanese Premium Beef Sukiyaki
4,800
About Yurakuen
Yurakuen is a restaurant where authenticity collides with artistry giving you the finest crafted collection of authentic Japanese cuisine that is perfect for everyone who is seeking an authentic and elevated Japanese dining experience. They offer an Eat-All-You-Can Teppanyaki and Yakiniku which features a long list of various rolls and other Japanese dishes that will surely bring a flavorful day perfect for an entire week boost.
If you're not in the mood for free you can also order various collections that are served per platter perfect to share with your family or your date. Those are just a few of the reasons to love this restaurant and we have more to show you in the next lineup!
Yurakuen Menu Best Seller
Savor the finest flavors of Japan in this best-selling collection of Yurakuen. These lines up are their best-selling meals that are beloved among their Filipino customers.
Curry Udon – Starting with this very comforting dish is known to be one of the best-selling dishes on their menu. This ramen features udon noodles that are delightfully immersed in a rich and flavorful curry broth.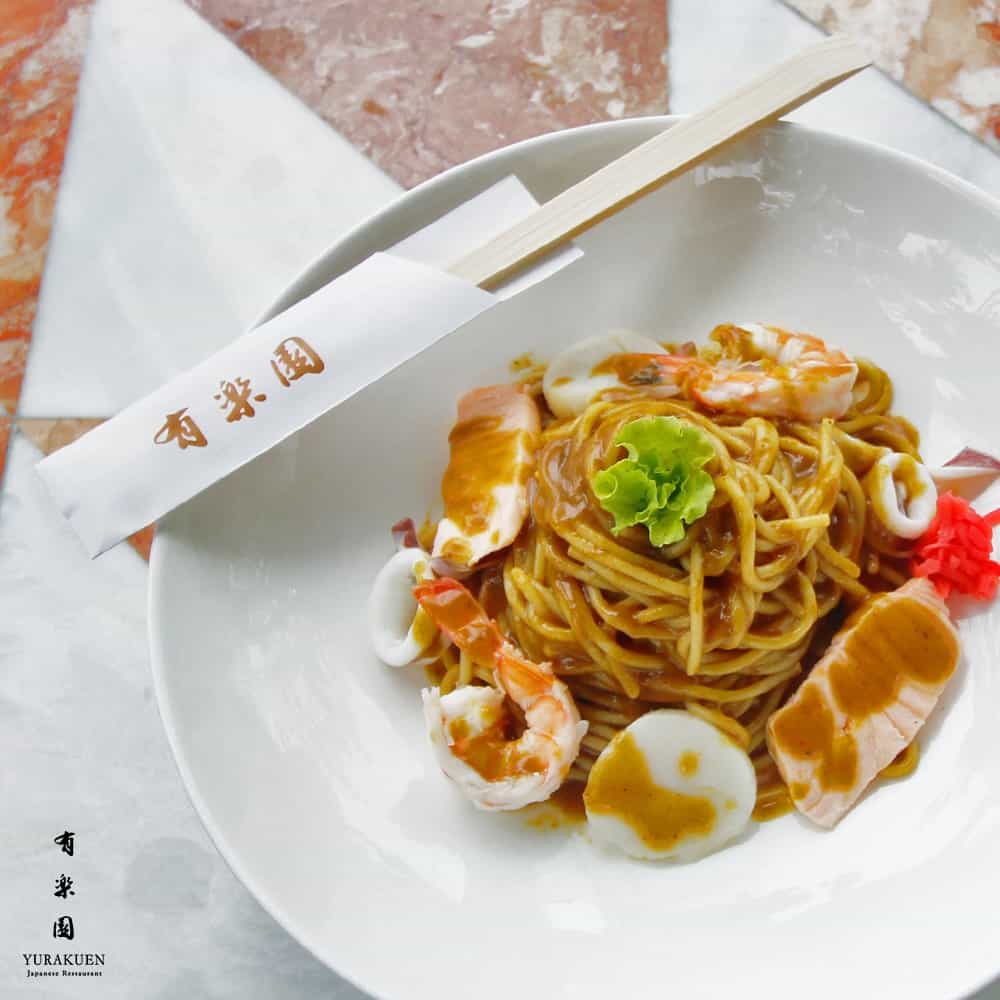 Nabeyaki Udon – This hearty and satisfying dish features udon noodles that are perfectly served in a steaming broth. It allows you to be immersed in a flavorful assortment of its toppings that includes veggies, and other delightful medleys.
California Maki – Enticing and classic taste is what we have here in this timeless California maki. It highlights the flavor of crab meat and fresh vegetables that are carefully crapped in a sheet of nori enhanced with soy sauce and wasabi.
Crabmeat Stick and Seaweed Salad – Take a refreshing bit of this Crabstick and Seaweed that's both refreshing and healthy. It features crab sticks with a delicate seaweed salad that offers a harmonious blend of authentic Japanese flavors.
Tori Karaage – Juicy and beloved is what is all about this chicken. It features a delightfully marinated deep-fried chicken that takes pride in its tenderness and crisp texture highlighting the authentic Japanese flavors.
Sashimi
Take a deep dive at the finest flavors of the ocean here in the sashimi menu collections of Yurakuen. It highlights the variety of sashimi from hamachi to Salmon giving you both a delicate and refreshing taste of the ocean.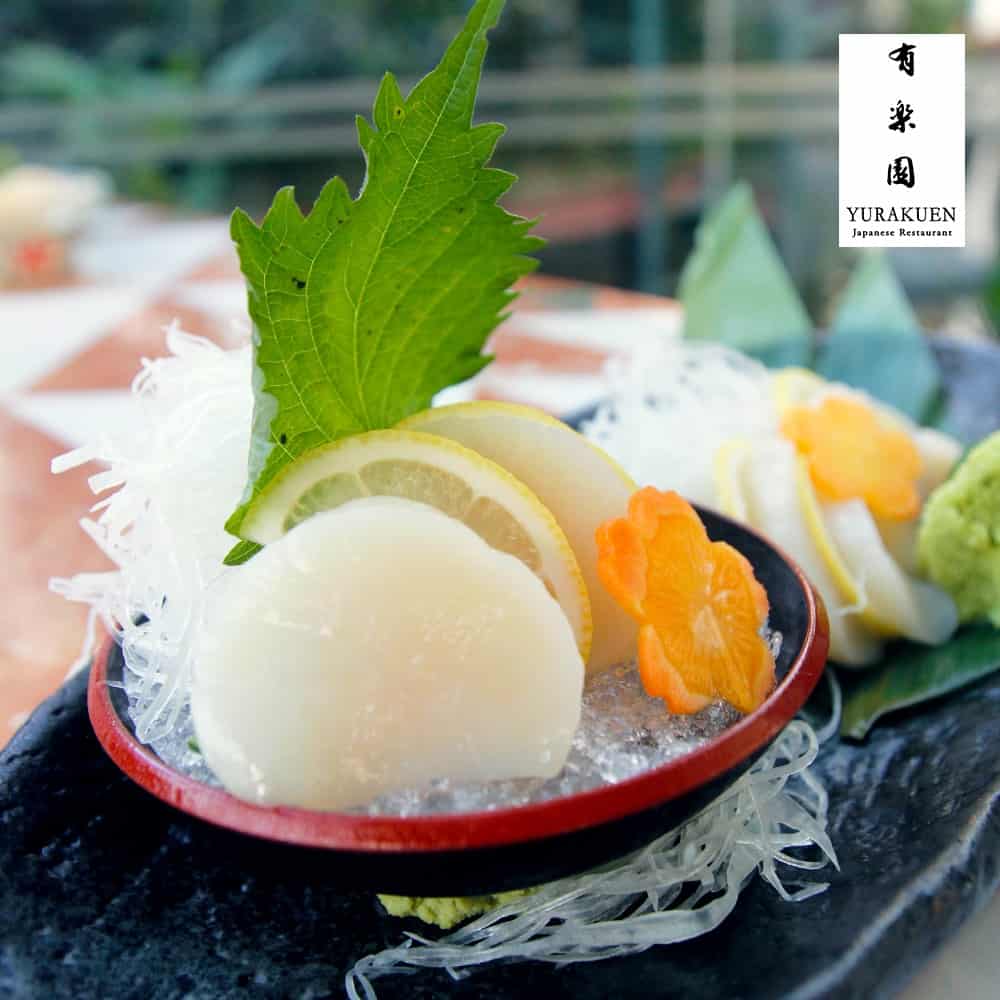 Hamachi – This Hamachi highlights a succulent slice of yellow-tailed tuna. It takes great pride in the buttery texture it gives and the richness of every bite that you don't want to miss.
Lapu-lapu Usuzukuri – Next on the list is this Lapu Lapu Usuzukuri which highlights an intricate preparation of Lapu Lapu sashimi that offers a tender and perfectly marinated fish served in delicate slices.
Shimesaba – For the mackerel lovers! This Shimesaba is made out of mackerel that is perfectly marinated in certain mixtures giving you a well-balanced flavor of sweet and tangy.
Salmon – Now for the Salmon enthusiast! Enjoy a delightful bite of this salmon that offers a vibrant orange texture perfect for its buttery texture that is served with soy sauce.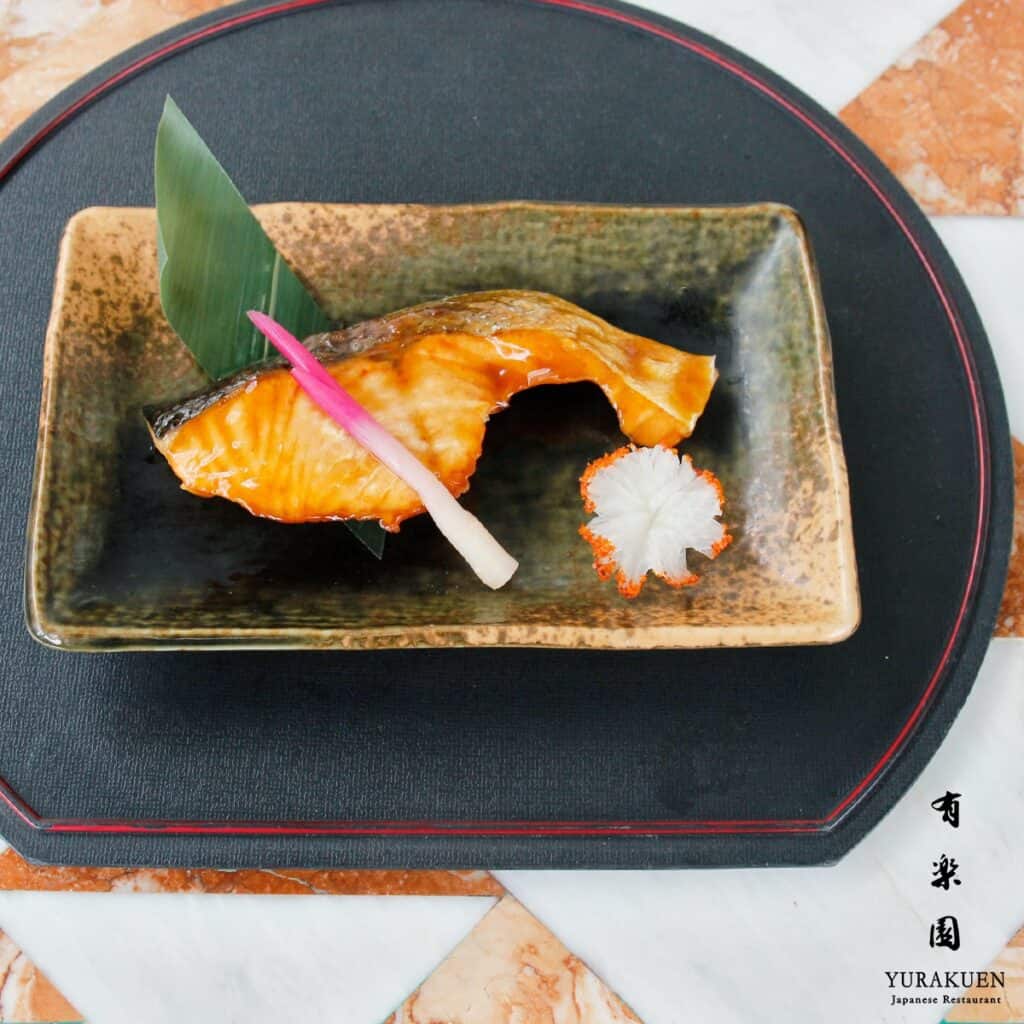 Lunch Set Menu
Prepare your tummy for another fulfilling adventure as we take a closer look at their Lunch Set Menu which offers a medley of timeless classics that highlights various textures.
Wasyoku Set – A Japanese flavor symphony. Starting with a vegetable appetizer in Japanese sauce, followed by a sashimi duet. Taste the exquisite Shrimp Tempura and Codfish Teriyaki. It comes with steamed rice, pickles, miso soup, and homemade ice cream for dessert.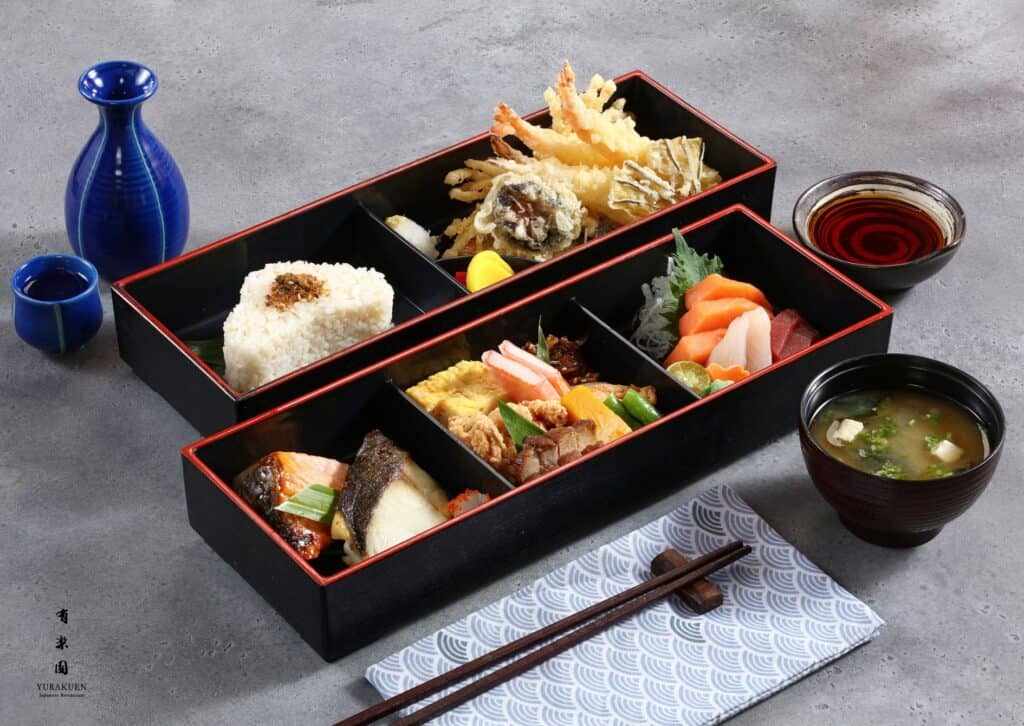 Unagi Kabayaki Set – Embark on a gastronomic adventure with vegetables in Japanese sauce and two types of sashimi. The highlight is the delectable Grilled Eel. Serve with steaming rice, pickles, miso soup, and, for a sweet ending, homemade ice cream.
Tempura Set – Crispy treats await you with this Set. It immerses you in this vegetable appetizer and then enjoy two types of sashimi. Then, indulge in a variety of tempura. Served with steamed rice, pickles, miso soup, and handmade ice cream for dessert.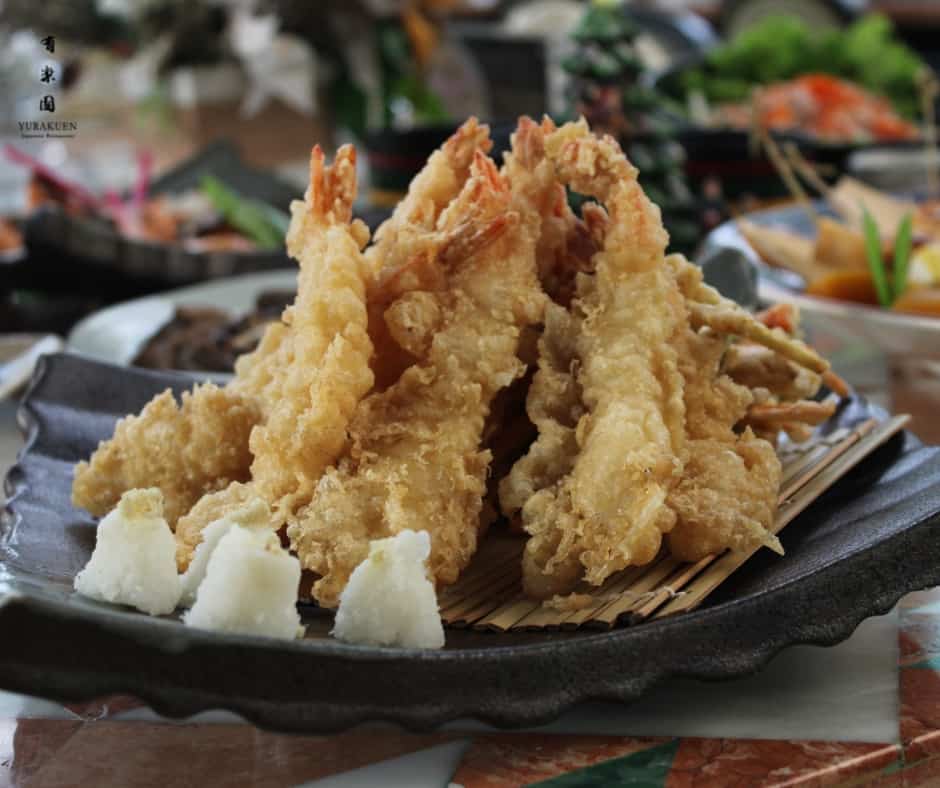 US Beef Yakiniku Set (120g) – This set starts with Japanese-style vegetables and a sashimi duet. You can choose from Beef Karubi Yakiniku and charcoal-grilled US Beef Teriyaki. It comes with steamed rice, pickles, miso soup, and handmade ice cream for dessert.
Yurakuen Menu Delivery
As of the moment, Yurakuen does not offer any food delivery service to cater door-to-door delivery service, I think it is a sign for us to enjoy their Eat All You Can collections and their Lunch Set Menu in the most flavorful way inside their restaurant. I am sure a fulfilling and pleasurable experience is what Ayo can have once you take this delightful opportunity into your weekend!
Social Media Pages
Stay up-to-date on their latest menu items, special promotions, and events. And show your support for this award-winning restaurant by following Yurakuen on social media today!
Facebook: https://www.facebook.com/diamondhotelph
Website: https://www.diamondhotel.com/dining/yurakuen
FAQs
What type of cuisine does Yurakuen offer?
Yurakuen offers an exciting collection of authentic Japanese dishes and their Eat All You Can Yakiniku and Teppanyaki which allows you to immerse in varieties of Japanese delights.
What is Yurakuen known for?
Yurakuen is famous for its Eat-All-You-Can options for Teppanyaki and Yakiniku. Aside from that, they are also known for their Lunch Set which is an enticing assortment of varieties of collections that are waiting for you to be adorned.
What are the operating hours of Yurakuen?
Yurakuen operates from Mondays to Sundays. Operation starts from 11 a.m. until 10 p.m.
Where is the Yurakuen located in the Philippines?
If you want to check out this fine dining restaurant, you can check it out at the Diamond Hotel on Roxas Boulevard.
Conclusion
In conclusion, Yurakuen is a gem that needs to be recognized by more people. I love how everything will surely remind the Japanese' artistic flair of their culinary tradition. Every visit is definitely a journey filled with rich and delicious memories highlighting the diverse flavors of Japan. I love their Wasyoku Set which highlights a perfect blend of Japanese delighted with great contrast and diverse flavors.
Their Unagi Kabayaki Set is a great set for me along with their various collections that are delightfully complemented with their collections. Their commitment to authenticity is what I think is their main asset in how they continuously enchant people by continuing to love this restaurant.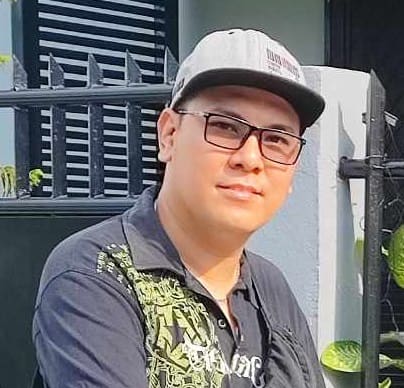 Hi! I'm Nivek Strife, the person who made MenuPH. I'm the one who added most of the popular menus you see on this website, and I really hope you enjoy them! Feel free to check them all out.
Growing up, I was surrounded by lots of tasty foods, like the classic Adobo and the sweet Leche Flan. That love for the many flavors of the Philippines is what got me excited about adding to MenuPH. When I learned how to make websites, I saw the need for a place to show off all the amazing Filipino dishes, and that's how MenuPH started.
MenuPH isn't just a website; it's like a fun journey into food. I've teamed up with famous chefs and found great places all over the Philippines to bring you a bunch of menus that show off the best of Filipino cuisine. Whether you're into the usual dishes or new twists, MenuPH is here to guide you through the rich world of Filipino flavors.
With MenuPH, my aim is to help local businesses, talk about good food choices, and make a group of friends who love food. No matter if you like fancy restaurants or street food, MenuPH has something for you. Come join me on this food adventure as we find great places, taste real flavors, and enjoy the unique food traditions that make the Philippines awesome.