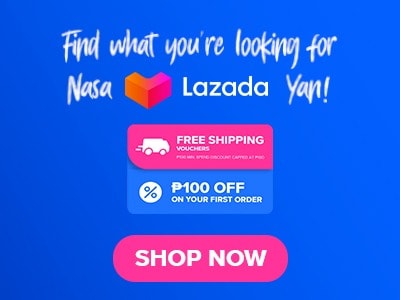 Pizza is a dish that originates in Italy usually round and flat with a wheat dough base topped with tomato and different toppings, in our country pizza has always been the favorite light meal especially on eat outs and nowadays even on online delivery and that gave me an idea to write this article. I found a perfect place for you to go get your favorite pizza at a much more affordable price. Have you heard about Calda Pizza? If not and you're interested stay with me. Calda pizza menu offers delicious and mouthwatering pizza handcrafted with incredible quality, this place offers very reasonable prices compared with the leading signature brands but when it comes to the taste this one is fantastic. Now we are going to get to know them and of course, their prices and products so without further ado let's start! 
Below, you'll find the updated list of Calda Pizza menu prices.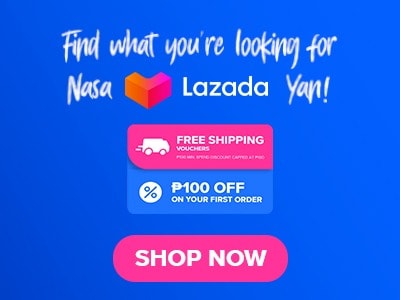 Menu Items
Price (PHP)

Pizza (R/F/Xl/S/Xs/Monster)

Margherita
210/325/585/1035/1280/1580
Palma
210/325/585/1035/1280/1580
Etna
235/355/640/1120/1490/1770
Quattro Formagi
240/390/650/1125/1495/1775
Torinese
240/390/650/1150/1510/1800
Funghi
240/390/690/1185/1530/1850
Hawaiian
240/390/690/1185/1600/1880
Capricciosa
250/400/710/1210/1600/1880
Baria
260/420/740/1270/1700/2000
35 (Sweet,Spicy And Salty)
260/420/740/1270/1700/2000
Formaggi Bacon
275/430/750/1300/1710/2000
Bianca
275/430/750/1300/1710/2020
Vegetariani
275/430/750/1300/1710/2000
Pepperoni
285/460/800/1350/1740/2150
Bolognese
285/480/850/1420/1900/2200
Granchi
310/500/860/1420/1900/2200
Calda
310/500/860/1450/1920/2300
Milanese
310/500/860/1450/1920/2300
Napoletana
310/500/860/1450/1920/2300
Modena
315/525/905/1450/1920/2285
Carousela
325/540/920/1460/1950/2350
Asti
300/480/850/1420/1900/2250
Quattro Stagione
340/560/970/1580/2000/2400
Roma
340/560/970/1580/2000/2400
Pisa
275/410/730/1200/1530/2000
Calda Specialle
360/580/1000/1600/2200/2600
Bacon Onion & Mushroom
285/460/820/1400/1750/2200
Green Garden
275/430/750/1300/1710/2020
Fano
275/450/800/1350/1750/2050

Extra Toppings (R/F/Xl/S/Xs/Monster)

Pepperoni / Italian Sausage / Ham / Salami/Bacon /
70/90/115/140/150/170
Ground Beef/Chicken Fillet/Pork Sausage
Mozzarella Cheese Cheddar Cheese/Parmesan Cheese
50/70/85/100/125/170
Capers / Green Bell Pepper / Black Olives / Anchovies
50/70/85/100/125/150
Jalapeno Pepper / Mushroom / Pineapple / Tomato Sauce
White Onion / Caramelized / Corn Kernel/Garlic/Tomato
45/55/70/80/90/125
Oregano/ Pesto Sauce/Barbecue Sauce

Nachos

Nachos And Cheese
150
Nachos With Everything On It
225

Beverages

Pepsi / 7-Up / Mountain Dew (1.5) L
90
Pepsi 80z. / 7-Up 702.
16
Mountain Dew 1207.
21
Tropicana
25
Bottled Water 500
25
About Calda Pizza
In the last quarter of 2007, the owner of Calda Pizza Bernard G. Palang, and his wife made some preparations for their concept of Italian inspired that is approved with Filipino taste pizza. The idea is to create giant sizes of pizza with different flavors to enjoy by groups. In January 2008, the couple opened their first pizza parlor Mandaue Cebu, it is actually a convenience store, and their pizza parlor operates side by side. The increase in their business popularity started when people started to notice how good their products are, with the quality of their products rapidly increasing in demand from locals.
The management started to open more branches and as of now, they are also open for franchise opportunities all over the country. Caldo Pizza is still aiming to expand throughout the country to give customers a new pizza experience. As per checking they already have a total of 169 branches inside SM Branches nationwide plus those independent franchises. Opening hours are mostly from 11:00 AM until 10:00 PM however other branches specifically those located in the Metro start from 8:00 AM until 1:00 AM.
Calda Pizza Menu Best Seller
Here are some samples of Calda Pizza best-selling items on their menu list. 
Calda Specialle – This pizza is a sure delicious item. Their Calda especially is made with thin-crust dough and then topped with tomato sauce, pepperoni, black olives, and mozzarella cheese. Calda Specialle is the top-selling pizza on their menu. The pepperoni, cheese, and black olives are a perfect combination plus the crust is good as well. Usually, I don't eat pizza edges but with them, there's nothing going to waste. Delicious and definitely a must-try.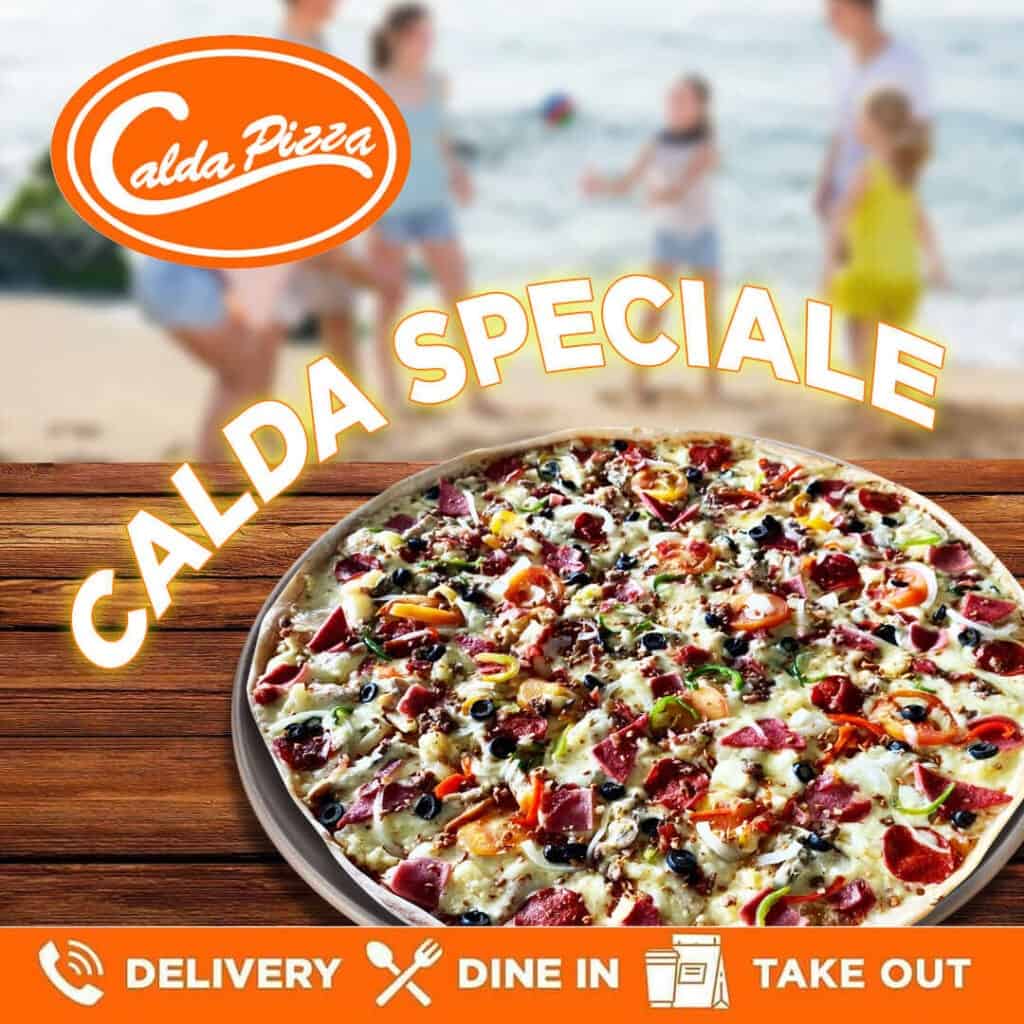 Hawaiian – I am not surprised about this one since I already expected this pizza flavor to be on the list simply because Filipino people love sweet anything but not all. Don't get me wrong I know some of you might raise their eyebrows but the majority of Pinoys especially those raised in the Philippines love sweet anything. Their Hawaiian pizza is made with mozzarella cheese, chicken ham, and pineapple bits. One of their most ordered item and amazingly delicious.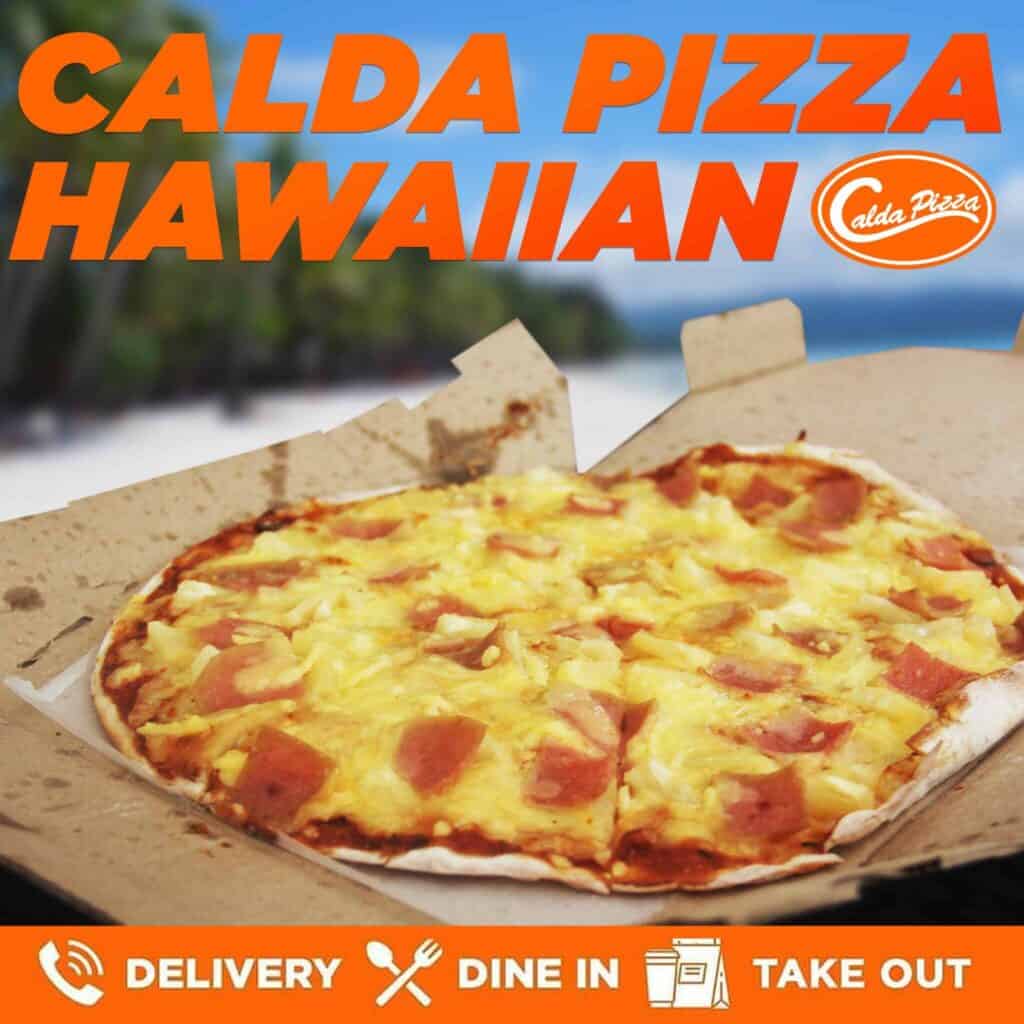 Granchi Pizza – Granchi is one of the best pizza menu of Calda Pizza in my opinion and based on research because who doesn't like mushroom, bacon, and pepperoni together right? This pizza is for those who love meaty pizza. Also one of their best-selling pizza and a must-try.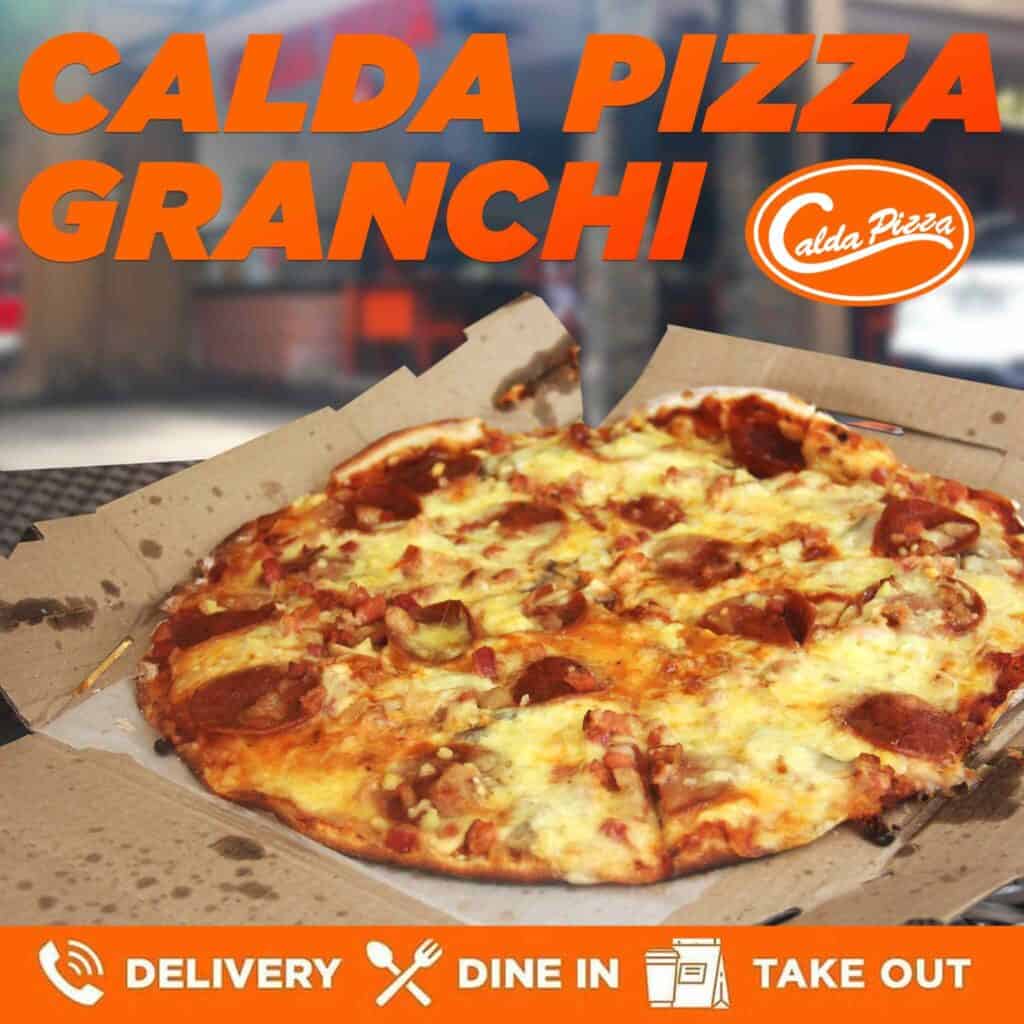 Quatro Stagione – Quatro stagione is the right pizza for those who can't decide which one to order or for those who want to have the best of both worlds. It has 4 flavors in one pizza isn't it brilliant? Flavors included are etna, calda, Hawaiian, and bolognese. This is also one of their best sellers since a lot of customers want to try different flavors in one single order.
Calda Pizza Menu Nachos 
Aside from their delicious pizzas Calda also offers other items such as nachos. On their nachos menu, they have 2 options, the first one is their nachos & cheese, which is actually crispy nachos with cheese sauce. The second option is their nachos with everything on it, this one has baked nachos, salsa, mozzarella, ground beef, and cheddar cheese.
Beverages
On their beverages menu, they serve non-alcoholic drinks such as soft drinks like Pepsi, 7Up, and mountain dew. This is already 1.5L and is great for sharing. They also have 7oz Pepsi or 7Up for solo orders. They also have 12oz mountain dew. Tropicana is also present on this menu if you want something fruity and of course bottled water.
Calda Pizza Menu Delivery
Calda Pizza offers delivery all you have to do is to call their branch for your order or you can also use a food courier, just book your favorite, and it's good to go. Samples are Foodpanda and grab food.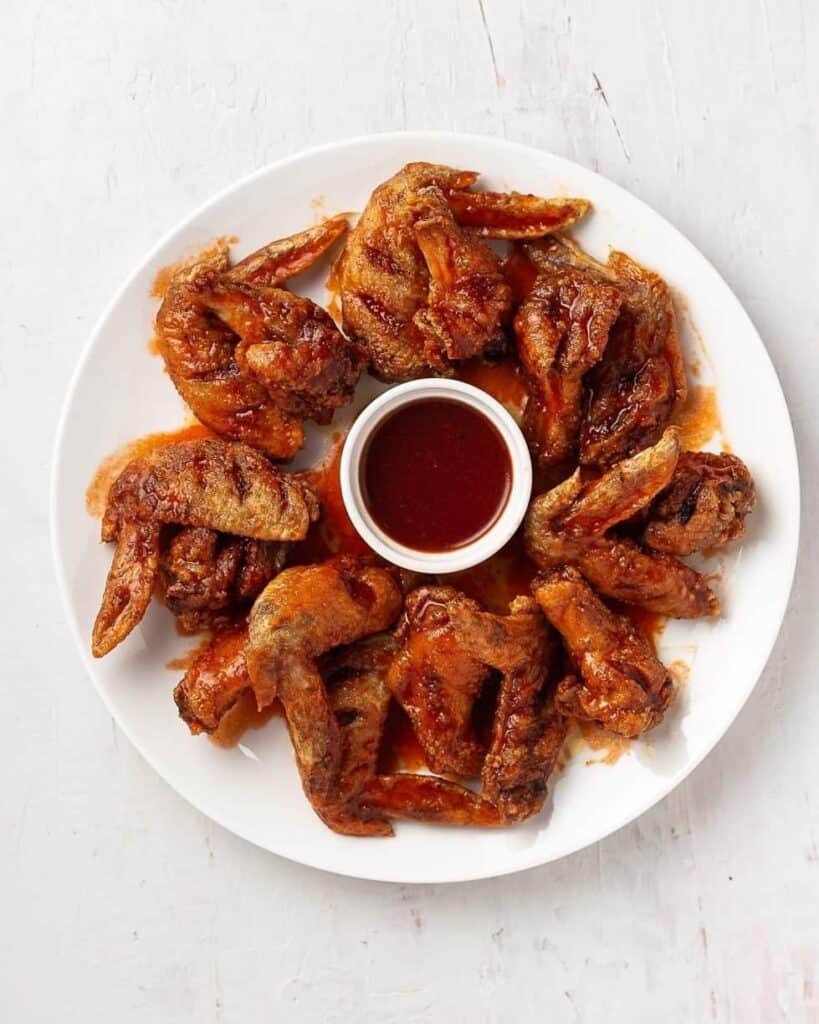 Social Media Pages
Follow them on social media, and you'll see amazing pizza photos, sneak peeks behind-the-scenes, and customer reviews that will make you crave their pizza. You can also share your own pizza experiences with them and tag them in your posts. If you do, you might get a chance to be featured on their page! Plus, when you follow them, you'll always be in the know about their latest updates and new posts. So, join their social media community and stay connected for all things pizza!
Facebook: https://www.facebook.com/caldapizzaphilippines/
Instagram: https://www.instagram.com/caldapizzaph
Twitter: https://twitter.com/CaldaPizzaCDO
FAQs
Where is Calda Pizza's main branch located in the Philippines?
Calda Pizza is established in Mandaue Cebu making their Mandaue branch the main branch of Calda Pizza.
What types of cuisine does Calda Pizza specialize in?
They offer Italian-inspired pizza.
What is the signature pizza of Calda Pizza?
The signature pizza of Calda is their famous Calda Specialle, Quatro Stagione, and their Hawaiian pizza.
Does Calda Pizza provide delivery services?
Yes, though they don't have their own delivery website you can call them directly for your orders, all you have to do is to wait for the delivery.
Conclusion
Calda pizza is decent when it comes to the taste I am actually surprised by how good their pizzas are, the crust is not too thin for me but that's okay, and the toppings are loaded big time. Affordable products and reasonable prices. The Calda Pizza menu has a lot of variety to choose from and the quality of their products are great. The ambiance inside their place is good as well, comfortable place and most important is clean. Service personnel are nice and easy to approach. Overall I had a very pleasant experience with this restaurant and all I can say is that Calda Pizza is a place that will surely satisfy your pizza cravings.