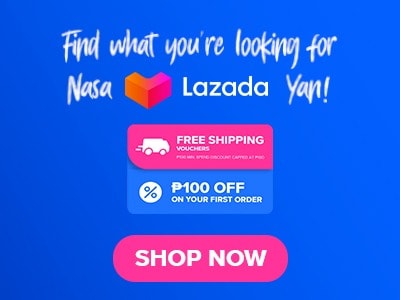 Fried fish, clam soups, and other seafood dishes are very common in the Philippines. So there are times when you would crave some seafood dishes but at the same time, have grown tired of them. Well, Crustasia maybe is the place for you! Crustasia is a seafood restaurant in the Philippines known for its flavorful and fresh crustacean dishes. The restaurant focuses on highlighting the natural flavors of seafood by providing a diverse menu featuring a variety of seafood options like crabs, prawns, lobsters, and shellfish. The restaurant combines traditional cooking techniques with innovative flavors to create delicious and satisfying seafood dishes.
Below, you'll find the updated list of Crustasia menu prices.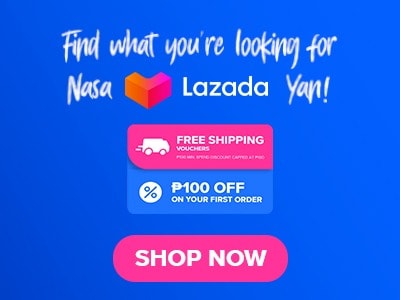 Menu Items
Price (PHP)

Starters

Fried Spring Rolls
189
Thai Shrimp Lemongrass Lollipops
199
Thai Shrimp Pancakes
315
Chilled Crystal Bay Oysters
349
Sesame Miso Scallops and Prawn
375
Char Siu Pork Buns
295
Squid and Fried Anchovy Sotong
235

Soups

Crispy Pork Tom Yum
399
Vietnamese Prawn Sinigang
445
Mixed Seafood Tom Yum
498
Short Ribs Bak Kut Teh
395
Seafood Laksa
425

Salads

Shrimp and Green Papaya Salad
365
Gado Gado Salad
275
Crispy Catfish Salad
275

Rice Specials

Bamboo Vietnamese Paella
465
Nasi Goreng
349
Yang Chow Fried Rice
245
Crab Fried Rice
349
Bagoong Rice
298
Salted Fish Fried Rice
245

Vegetables

Lohan Vegetable Hot Pot
315
Broccoli Leaves with Crispy Pork Belly
299
Szechuan Fried Eggplant
269
Green Beans and Crispy Ground Pork Stir Fry
275
Vegetable Curry with Crispy Egg and Roti Priatha
349

Meats

Javanese Beef Rendang
399
Fiery Beijing Beef
415
Crispy Soy Chicken
345
Thai Chicken Pandan Wrap
349
Slow Cooked Pata Tim
888
Chicken Satay
349
Taiwanese Pork Belly
345
Angus Pepper Beef and Broccoli
458
Bangkok Chargrilled Chicken
365
Crispy Pork Belly
365

Crab Selections

Steamed
265
Butter Chili Garlic
265
Roasted Garlic
265
Massaman Red Curry
265
Black Pepper
265
Sweet Sambal Butter
265
Singaporean Chili
265
Butter Ginger
265
Sotanghon
265
Pad Thai Crab
265
Tom Yum Crab Pot
265
Laksa
265

Lapu Lapu Specials

Fried Grouper with Fruit Cocktail and Toasted Walnuts
195
Fried Grouper with Mapo Tofu
195
Crispy Grouper with Thai Chili Tamarind Sauce
195
Steamed Grouper Superior Soy Sauce
195
Crispy Fried Grouper in Dynasty Sweet and Sour Sauce
195

Seafood Specials

Salted Egg Prawns
560
Manila Clams with Black Bean Tausi
349
Cereal Prawns
545
Crab & Shrimp Egg Foo Yong
399
Chargrilled Thai BBQ Squid
599
Lobster Laksa
1799
Coconut Green Curry Mussels
399
Tamarind Sambal Butterfly Tilapia
80

Noodles

Pad Thai
385
Calamansi Char Kway Teow
389
Crispy Noodles and Mixed Seafood
455
Crab and Garlic Mie Goreng
359

Waterway Hawker Favorites

Thai Bagoong Rice
128
Lobster Laksa Balls
128
Vegetable Lohan Rice
128
Vegetable and Mushroom Mie Goreng
135
Crispy Fried Pork Belly and Fried Rice
135
Nasi Lemak Chicken
178
Mixed Seafood Laksa
178
Nasi Lemak Fish
178
Thai Porkchop
178
Chicken Satay and Nasi Goreng
198
Thai Pandan Chicken Rice
198
Crispy Fried Porkchop
198
Charsiu Pork Rice
198
Nasi Lemak Combo
215
Pad Thai Omelette
215
Supreme Seafood Fried Rice
215
Asian Meatballs and Egg Rice
235
Soy Chicken Rice Plate
235
Char Kwey Teow with Grilled Squid
235

Asian Crab Feast

Laksa Crab
265
Massaman Red Curry Crab
265
Black Pepper Crab
265
Singaporean Chili Crab
265

Desserts

Mango Sticky Rice
195
Guyabano Tropical Ais Kacang
199
Mango Tapioca
165
Coco Mango Ais Kacang
199
Fried Buchi Balls
195
Crustasia's Ais Kacang
148
Pisang Goreng
148

Crustasia's Signature Drinks

Thai Iced Tea
95
Wintermelon Iced Tea
95
House Blend Iced Tea
95
Kaffir Lemonade
118
Cucumber Lime
118
Watermelon Mint
118
About Crustasia
Crustasia is a restaurant in the Philippines that specializes in seafood and Asian-inspired cuisine, with a focus on crustacean dishes. The restaurant aims to provide a dining experience that showcases the rich flavors and freshness of seafood by featuring unique dishes and cooking techniques that you will never get tired of. Crustasia also provides its customers with a wide variety of Asian dishes, appetizers, soups, and even desserts that complements its seafood offerings perfectly. And with its inviting ambiance and dedication to quality ingredients, Crustasia aims to satisfy seafood lovers and those seeking a taste of Asian cuisine in a vibrant and enjoyable setting.
Crustasia Menu Best Seller
This menu is made up of the most popular main dishes from Crustasia's menu, which can always be found at each diner's table.
Javanese Beef Rendang – This beef rendang dish is a flavorful and aromatic dish featuring tender beef cooked in a rich blend of Indonesian spices and coconut milk. The beef is slowly cooked perfectly which results in a texture that melts in your mouth and is enhanced by the bold and fragrant spices.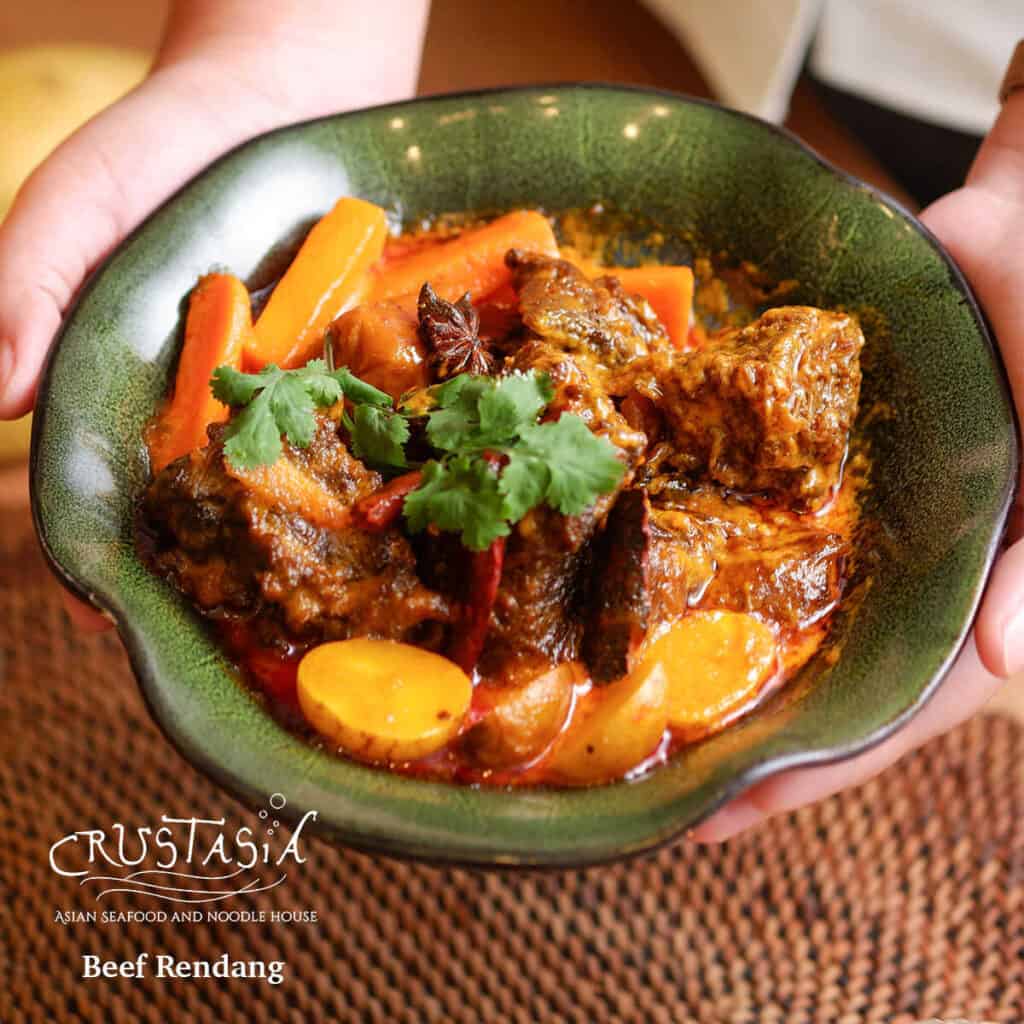 Fiery Beijing Beef – It is a tantalizing menu of Crustasia that combines crispy beef with a bold and spicy sauce. The beef is coated in a light batter and fried to crispy perfection, while the sauce adds a kick of heat and depth of flavor. This dish is an enjoyable and exciting fusion of Chinese and Western influences that offers a satisfying balance of flavors and texture.
Crispy Soy Chicken – This chicken dish is a crowd-pleasing dish featuring chicken pieces marinated in a savory soy-based sauce and then deep-fried to achieve a crispy and golden exterior that pairs well with rice or noodles.
Thai Chicken Pandan Wrap – This is a delightful appetizer that showcases the vibrant flavors of Thai cuisine. It is made with tender chicken marinated in a mixture of Thai herbs and spices, wrapped in fragrant pandan leaves, and then steamed or grilled to perfection.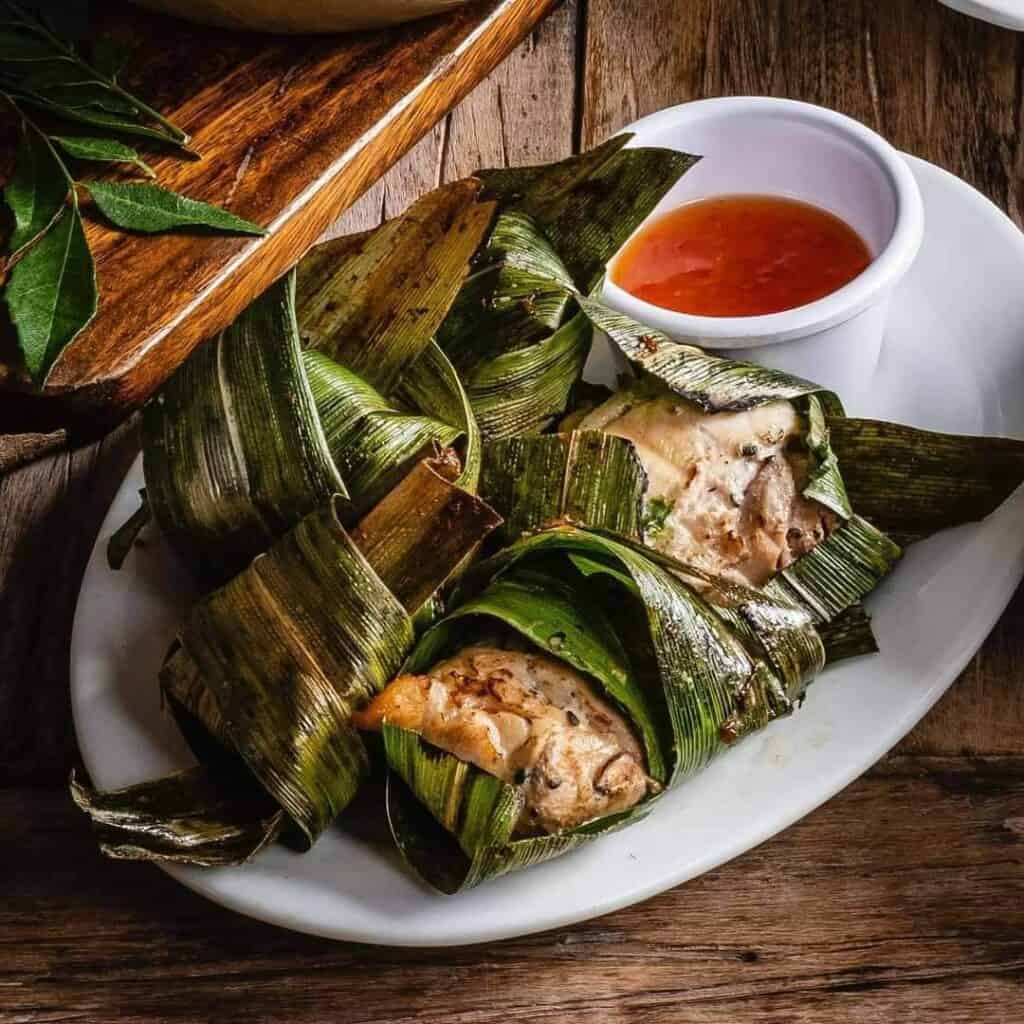 Slow Cooked Pata Tim – The pata tim is a classic Filipino dish that features braised pork leg simmered in a flavorful sauce until it becomes tender. The dish is cooked slowly to allow the flavors to meld together, resulting in a rich and comforting dish that is often enjoyed on special occasions.
Crustasia Menu Starters
This menu is made up of a wide variety of appetizers, each of which is ideal for starting up your meal at Crustasia.
Fried Spring Rolls – These rolls are filled with a combination of vegetables, herbs, and meat or seafood, and then deep-fried until golden brown and served with a dipping sauce. The crunchy exterior contrasts beautifully with the savory filling, making it a popular choice among diners.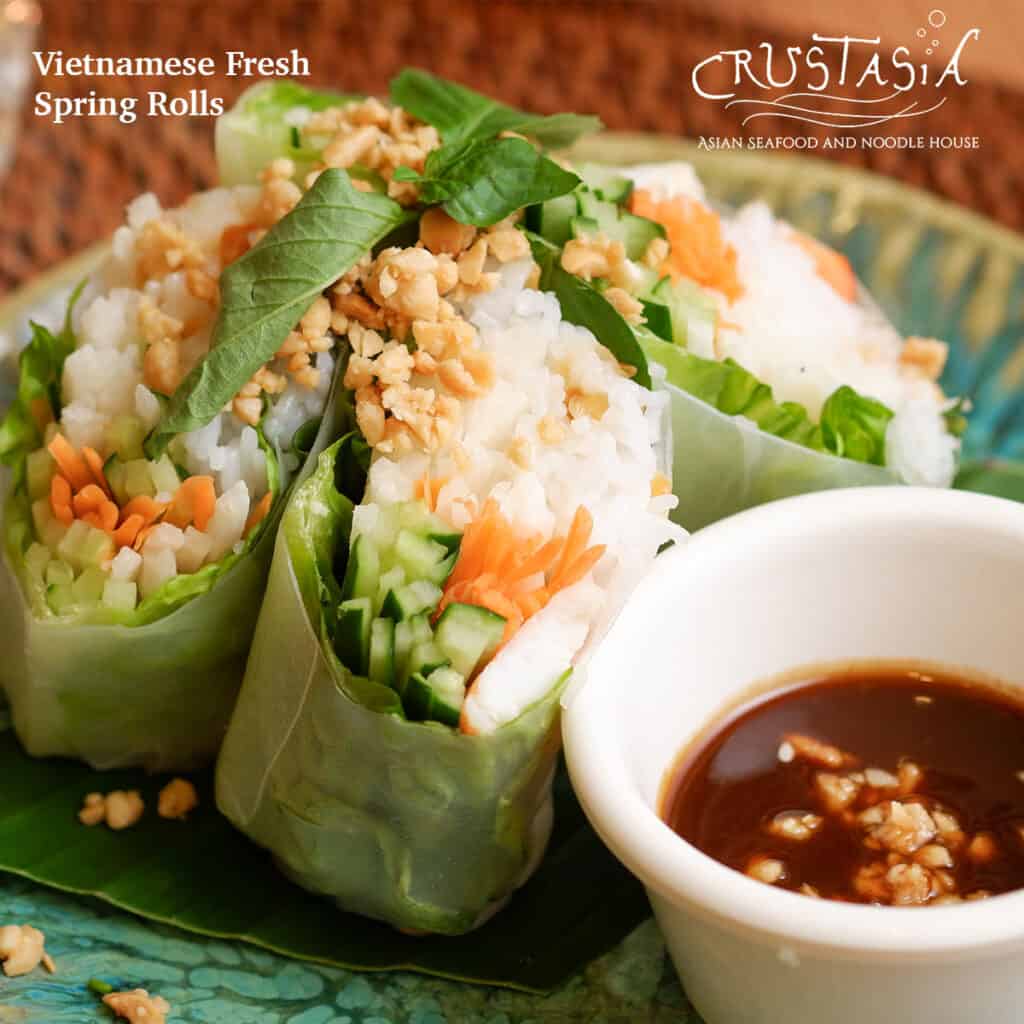 Thai Shrimp Lemongrass Lollipops – This dish features a large shrimp marinated in a mixture of lemongrass, herbs, and spices, skewered onto lemongrass stalks, and then grilled to perfection resulting in an aromatic appetizer that is bursting with Thai flavors.
Chilled Crystal Bay Oysters – These fresh and briny oysters are shucked and presented in their shell and then served on a bed of rice with condiments such as lemon wedges and mignonette sauce to enhance their natural flavors.
Rice Specials
This menu is popular for many locals due to the simple reason that Filipinos aren't satisfied with a meal without rice in it.
Bamboo Vietnamese Paella – This unique and flavorful Crustasia menu is a fusion dish that combines the flavors of Vietnamese and Spanish cuisines and features fragrant rice cooked with various ingredients such as shrimp, chicken, sausages, vegetables, and aromatic spices. 
Nasi Goreng – This version of Nasi Goreng is a delightful combination of fried rice, shrimp, chicken, vegetables, and a blend of Indonesian spices and seasonings. It is served with a fried egg on top and accompanied by pickles or condiments for added taste and texture.
Yang Chow Fried Rice – This is Crustasia's own version of fried rice that features a flavorful combination of stir-fried rice, shrimp, Chinese sausages, vegetables, and scrambled eggs. The dish is seasoned with soy sauce and other spices, resulting in satisfying and savory fried rice that is perfect as a main course or as a side dish.
Crab Selection
Seafood restaurant like Crustasia serves up an exciting variety of crab dishes that make you drool. Imagine this – crabs prepared in different tasty ways like being gently Steamed, or cooked with Butter Chili Garlic and Roasted Garlic for rich flavors. You can even enjoy the crab in a Massaman Red Curry for a special taste. Some dishes make the crab spicy with Black Pepper, while others like Sweet Sambal Butter and Singaporean Chili add a sweet and tangy twist. They even mix crab with Butter Ginger and use it in dishes like Sotanghon and Pad Thai Crab where noodles make it extra yummy. And don't forget about Tom Yum Crab Pot and Laksa, where crab takes center stage in delicious soups. With these choices, it's a crab lover's dream come true!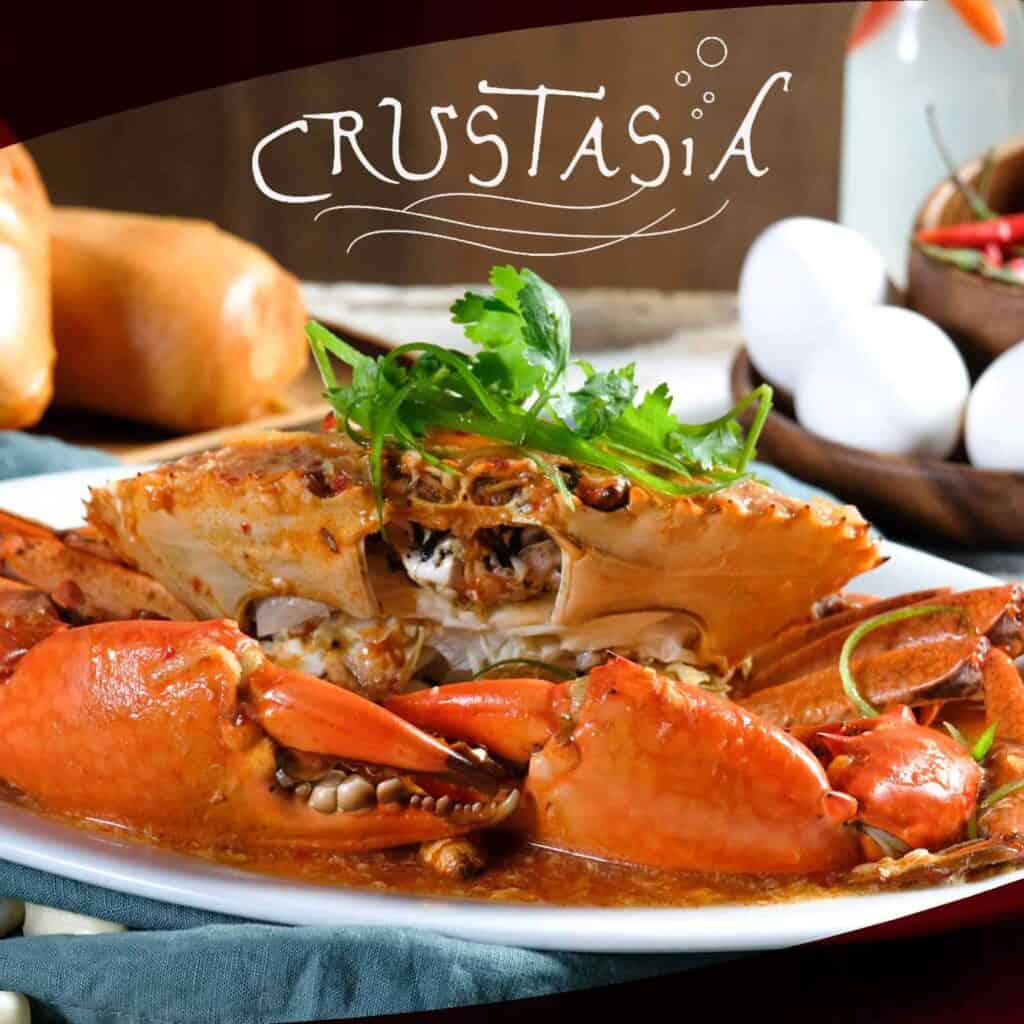 Lapu Lapu Specials
This menu of Crustasia is filled with tasty dishes made from a special fish called Lapu Lapu. The chefs cook the fish in different ways to make it delicious. For example, they fry the fish until it's crispy and put fruits and crunchy walnuts on top. Another option is to have the fish fried and served with a spicy sauce called Mapo Tofu. They also make the fish crispy and serve it with a sauce that's a bit spicy and tangy, called Thai Chili Tamarind Sauce. Another choice is to steam the fish and add a special soy sauce to make it really tasty. Lastly, they can fry the fish until it's crispy and cover it with a sauce that's both sweet and sour. So, when you come to eat here, you can choose one of these delicious Lapu Lapu dishes and enjoy its yummy flavors!
Crustasia Menu Delivery
Crustasia's menu delivery lets you order your favorite foods whenever you want, no matter where you are. To do this, you can use special apps like FoodPanda and Grabfood. These apps help you look at Crustasia's menu and order what you like, making it really convenient.
Social Media Pages
Join them on a gastronomic adventure where you'll uncover secret recipes, cooking tips, and behind-the-scenes glimpses into our seafood sanctuary. Follow and like them for your daily dose of seafood inspiration, and be the first to know about their exclusive promotions, limited-time catches, and mesmerizing seafood feasts.
Facebook: https://www.facebook.com/crustasiaph/
Instagram: https://www.instagram.com/crustasia.ph/
TikTok: https://www.tiktok.com/@crustasia.dvo
Website: https://trcdelivery.com/pages/crustasia-asian-seafood-market
FAQs
What is Crustasia, and what type of cuisine does it specialize in?
Crustasia is a restaurant in the Philippines that specializes in seafood, particularly crustaceans like crabs, prawns, and lobsters.
What are some signature dishes or recommended items on the menu?
These are some of the most popular dishes in Crustasia, which also makes them the most recommended items on their menu: Javanese Beef Rendang, Fiery Beijing Beef, Crispy Soy Chicken, Thai Chicken Pandan Wrap, and Slow Cooked Pata Tim.
Are there any vegetarian or vegan options available at Crustasia?
They do have a menu filled with vegan options to cater to those that have dietary restrictions.
Can I customize the spiciness level of the dishes?
Crustasia gives its customers the freedom to customize their orders that would best suit their preferences.
Are there any promotions or discounts available for customers?
Crustasia oftentimes offers promotions and discounts to entice new customers and make the old ones come back.
Conclusion
Crustasia is a seafood restaurant in the Philippines that offers a delicious selection of crustacean dishes and Asian-inspired cuisine. The restaurant provides a delightful dining experience for seafood lovers and those that are looking forward to indulging in dishes with Asian flavors. The restaurant's commitment to excellent service and a warm ambiance ensures that guests enjoy a memorable and satisfying dining experience. So if you are a seafood lover that is craving something delicious and unique, Crustasia is definitely worth a visit.