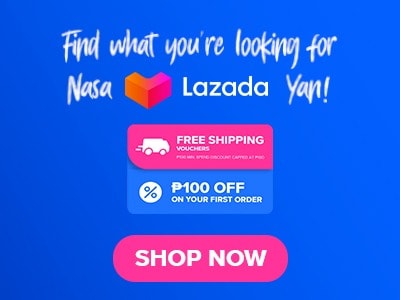 Japanese cuisine has been widely known all over the world because of how delicious it tastes, there are a lot of Japanese restaurants that have been mushrooming our country since many years ago offering authentic Japanese cuisine but are you looking for an authentic Japanese restaurant that serves delicious Japanese foods without spending too much? Look no more, I got you on this. I recently discovered a place that has everything that you are looking for. Have you heard about Ginza Japanese Restaurant? If not and you're interested then stay with me here. The Ginza Japanese Restaurant menu offers a variety of delicious dishes that you and your friends and family will surely enjoy, in this article we are going to get to know Ginza Japanese Restaurant and of course their best sellers and prices. I'm pretty excited about this so if you're ready let go! 
Below, you'll find the updated list of Ginza Japanese Restaurant menu prices.
Menu Items
Price (PHP)

Appetizer

Agedashi Tofu
350
Chawanmushi
350
Edamame
250
Gyoza
260
Tontoro
300

Soup

Miso Shiru Soup
180
Miso Clam Soup
220
Dobinmushi
270
Japanese Mushroom Consomme
260
Ryoshi
380

Salad

Toyosu Salad
880
Ginza Sunomono
600
Kani Kureson Salad
450

Robata - Beef

Gyuniku Aspara Maki
180
Arabiki Sausage
145
Sukiyaki
280
Gyukushiyaki
220

Robata - Chicken

Negima
100
Tebasaki
120
Tsukune
100
Yakitori
100
Sunagimo
100
Hatsu
100

Robata - Seafood

Salmon Belly
280

Robata - Pork

Enoki Bacon
110
Butabara
110
Buta Ringo
110

Robata - Vegetable

3 Kinds Mushroom
180
Assorted Vegetables
200

Sashimi - Local

Maguro
400
Tai
300
Uni
450
Ika
220
Ebi
250
Tamago
210
Geso
250
Negi Toro
420
Spicy Tuna
420
Spicy Salmon
480
Aji Tataki
320
Tai Usuzukuri
880

Sashimi - Imported

Tako
280
Hamachi
700
Shime Saba
380
Shake
450
Scallop
1100
Amaebi
550
Ikura
1100
Chu Toro
3000
Otoro
3500

Sashimi Combination

Regular Sashimi Platter
1900
Premium Sashimi Platter
7000

Nigiri Sushi Imported

Tako
110
Shake
150
Shime Saba
110
Ikura
280
Scallop
250
Amaebi
180
Hamachi
200
Unagi
250
Inari Age
150
Chu Toro
550
Otoro
650

Nigiri Sushi Local

Maguro
120
Tai
120
Uni
120
Ikaw
120
Ebi
120
Tamago
80
Aji
120

Nigiri Sushi Combination

7 Kinds
800
15 Kinds
2000

Aburi

Unagi
480
Maguro
250
Shake
280
Tai
250
Scallop
450
Hamachi
380
A5 Wagyu Aburi
1500
Salmon Uni
450

Aburi Combination

5 Kinds 5
880

Maki

Kappa
280
Tekka
350
Shake
380
Uni
400
Negi Toro
370
Spicy Salmon
420
Spicy Tuna
400
California
380

Temaki

Kappa
180
Maguro
250
Shake
270
Ikura
800
Uni
300
Hamachi
420
Negi Toro
280
Spicy Salmon
290
Spicy Tuna
280
California
250

Sashimi Donburi

Chirashidon (Regular)
1100
Chirashidon (Special)
2000
Tekkadon
500
Negitorodon
550
Uni Ikuradon
1500
Shakedon
800

Futomaki

Futomaki
750
Ginza Futomaki
1300
Omotesando
880
Marunouchi Futomaki
880
Roppongi Futomaki
880
Shinjuku Futomaki
880

Beef

Sukiyaki
3800
Shabu Shabu
3800
Grilled Wagyu Yakiniku
3000
Beef Teppanyaki
3000
Steak Wrapped Tofu
520
Beef Curry
550

Chicken

Chicken Teriyaki
380
Wakadori Kuwayaki
380
Tori Karaage
320
Karaage Teriyaki
350
Tori Katsu
380
Chicken Teppanyaki
380
Tori Katsu Curry
480

Pork

Tonkatsu Iberico
800
Katsu Curry
500

Seafood - Oysters

Nihon Kaki Motoyaki
480
Nihon Kaki Furai
680

Seafood

Fresh Sanriku Oysters (3pcs)
880
Sanriku Kaki Motoyaki
880
Trio Of Sanriku Oysters
880

Seafood - Gindara

Japanese Black Cod
820
Saba Shioyaki
480
Hokke Shioyaki
950
Maguro Teppanyaki
650

Seafood - Shake

Norwegian Salmon
650
Unagi Kabayaki
1400

Seafood - Shellfish

Japanese Scallops
1600

Seafood - Prawns

Ebi Teppanyaki
750

Seafood - Hamachi

Japanese Yellow Tail 100g
600

Tempura - Seafood

Ebi Tempura
750
Tempura Moriawase
650
Kisu Tempura
520
Gindara Tempura
850
Suzuki Tempura
1800

Tempura - Vegetables

Yasai Tempura
400
Ebi Yasai Kakiage
420
Assorted Mushroom Tempura
650

Vegetables

Yasai Itame
350
Mushroom Foilyaki
280
Tofu Teppanyaki
320

Noodles - Soba

Hiyashi Cha Soba
380
Hiyashi Ten Zaru Soba
450
Tempura Soba
550
Minatoya Soba
600

Noodles - Udon

Nabeyaki Udon
500
Ginza Sumiyaki Udon
850
Gyuniku Inaniwa Udon
550
Yakiudon
500

Noodles - Nabemono

Yosenabe
520
Yudofu
400
Oden
450

Rice

Gohan
120
Yakimeshi
250
Stone Pot Garlic Rice (With Shrimp)
400

Rice - Onigiri

Shake Onigiri
180
Ume Onigiri
140
Mentaiko Onigiri
140
Ikura Onigiri
300
3 Kinds Onigiri
450

Rice - Kamemashi

Gomoku Kamameshi
530
Yakiniku Kamameshi
638
Tori Kamameshi
473
Kaisen Kamameshi
585
Shake Kamameshi
610

Donburi - Seafood

Tendon
650
Unadon
1500

Donburi - Beef

Gyudon
720
Gyunikudon
650

Donburi - Chicken

Oyakodon
420
Torikatsudon
450

Donburi - Pork

Katsudon
550
Butadon
550

Soda

Coke Regular
100
Coke Light
100
Coke Zero
100
Sprite
100

Juices

Calamansi
100
Yuzuaid
210
Orange
195
Avocado
195
Mango
195
Watermelon
195
Lychee
195
Coconut
195

Water Or Tea

Bottled Water
80
Sparkling Water
250
Soda Water
150
Tonic Water
150
Iced Tea
120
About Ginza Japanese Restaurant
Japan has a lot of offerings, Japanese Restaurants food culture, and different locations Japan has been a favorite place to go by travelers and adventurers. However, due to the recent pandemic that took place a lot of travelers in our country can't go outside anymore. Fortunately, there's a new izakaya that will surely satisfy your Japanese food cravings, and by just trying their foods it's like you travel back to Japan. Ginza Japanese Restaurant is a Japanese Bar and Restaurant that they named after a famous shopping district in Tokyo.
Their location is actually hidden inside a furniture shop somewhere. There's an alleyway that you need to pass and plush interiors that you might notice as you go to their place. Ginza Japanese Restaurant is new to the industry, they just recently opened and are currently on a dry run. According to their General Manager Ginza's partnership with the furniture store is actually perfect since they are looking for walk-in customers which Ginza customers are.
It's like going around the showroom and we will call if you're food is done and ready to be served or the other way around like if you're visiting to go get furniture you can also visit Ginza to grab a beer or any refreshments or actually dine in as well. It's actually a synergy between the two businesses. This place has slowly but surely gained popularity because of the foods that they are serving and actually taking care of the quality of the goods that they serve for their customer's satisfaction.
Ginza Japanese Restaurant Menu Best Sellers
Here are samples of Ginza's must-try items that you should try on their menu.
Ginza Sunomono – Ginza Sunomono is a kind of salad that is made from a thinly sliced cucumber and then topped with some slices of tako which are translated to be an octopus and shime saba or mackerel. If you're thinking that's enough it also has shredded kani or crabmeat on top before it is drizzled with their vinaigrette.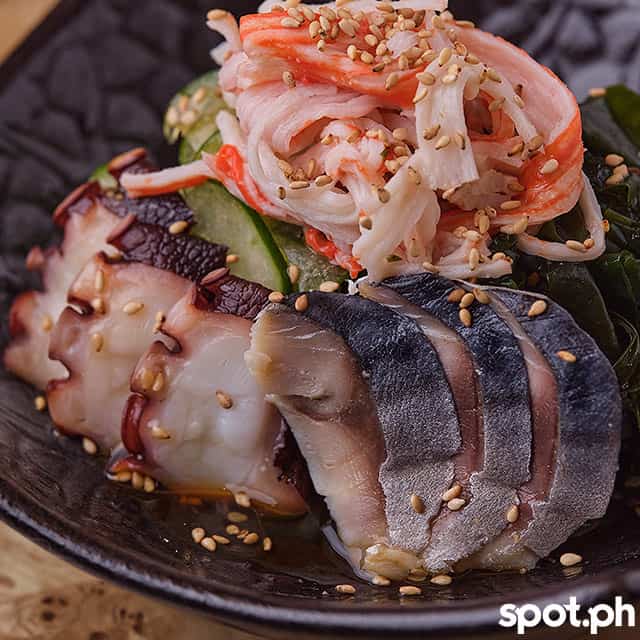 The vinaigrette is citrusy but not too sour just perfect with all the seafood in this dish. Ginza sunomono is a refreshing appetizer on their menu before starting your Japanese food journey on the list of delicious items that they offer. It's fresh and light perfect with anything, this one is a must-try as well.
Nihon Kaki Motoyaki – The Nihon kaki motoyaki version of Ginza Japanese Restaurant menu is basically a torched Japanese oyster that they topped with a mixture of miso mayo. The oyster is perfectly cooked and not all rubbery texture or chewy plus the mayo adds more creaminess and richness to this dish.
They also offer other preparation for this dish because aside from having the oyster torched you can also request it to be deep fried as well or freshly eaten on the half shell. Their Nihon Kaki Motoyaki taste really delicious plus the freshness of the oyster made this so clean to the taste without any odd flavors or aftertaste. Creamy, light, and also a must-try item on their menu.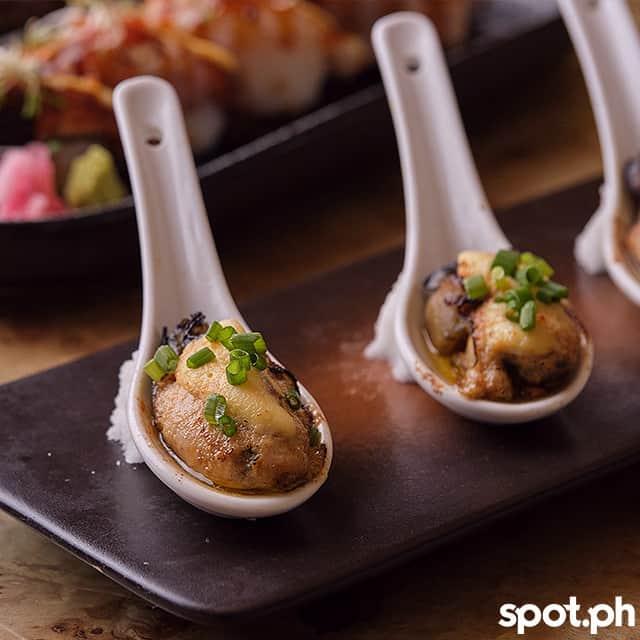 5 Kinds Aburi – Ginza offers 5 kinds of aburi. This item has tuna, flame-seared salmon, hamachi or yellowtail, lapu-lapu, and unagi which is eel. This sampler has 5 items that let you get a little taste of their specialty sushis so you can determine which of these items is your favorite. Aside from that Ginza also uses vinegar from Japan for their sushi rice which is high quality and will surely give you a satisfying taste. If you can't decide which one to order then you should try their 5 kinds aburi.
Shinjuku Futomaki – The Shinjuku futomaki version of Ginza is great for sharing, the serving size is quite huge so you and your companion can enjoy this specific kind of item on their menu. This item has a combination of ripe mango, prawn tempura, egg, and crunchy kani salad topping. It's quite similar to California maki the only difference is that this has added egg and shrimp. And if you're not into raw foods no worries there is nothing raw in this dish so it's recommended for everyone. I truly enjoyed this item, to be honest, this tastes delicious.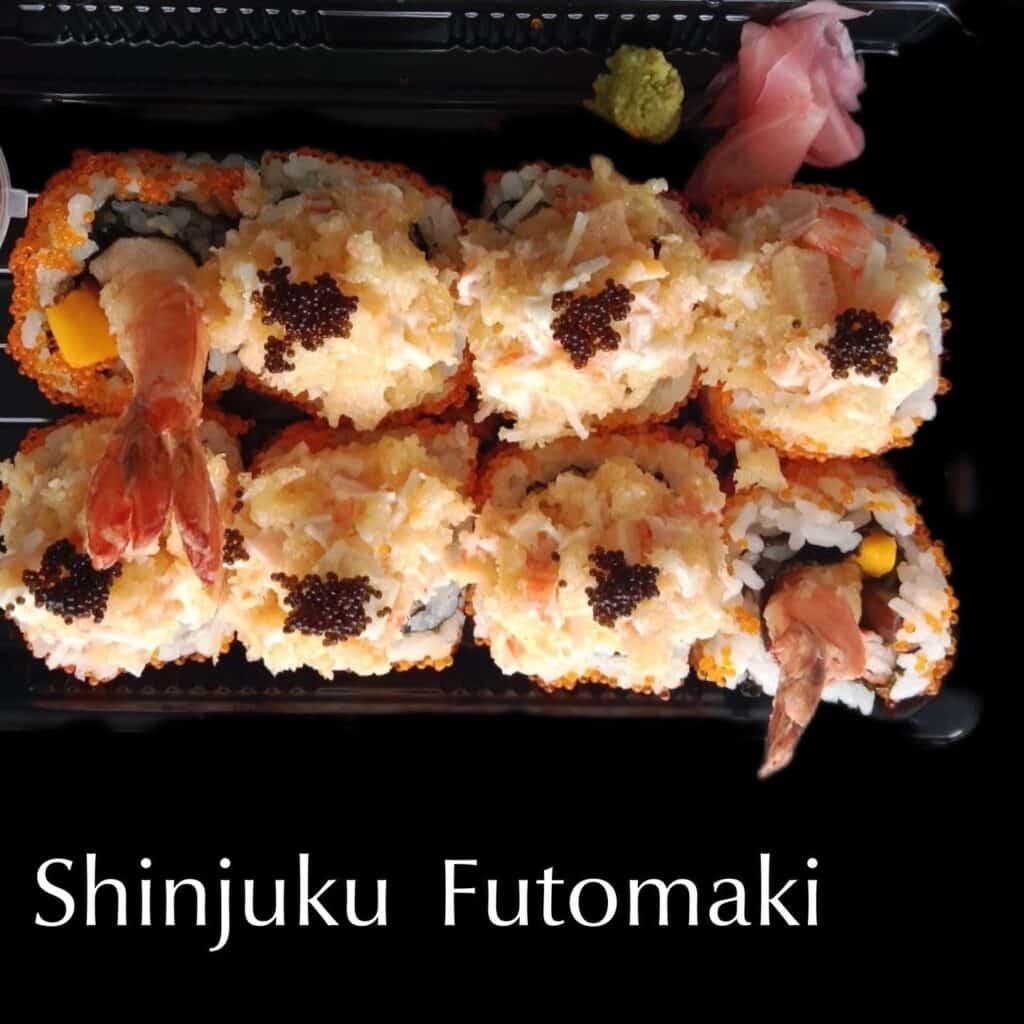 Appetizer
The Appetizer menu of Ginza Japanese Restaurant has 5 delicious options to choose from. First, they have their Agedashi Tofu which is a Deep-fried tofu with bonito flakes, this also has a light sweet soy broth. They also have Chawanmushi which is a steamed egg custard that is really silky with chicken, shrimp plus ginko nut. Aside from those they also have Edamame which is a Steamed whole green soybeans. Gyoza which is quite popular can also be found on this menu and tontoro which is a thinly sliced pork nape.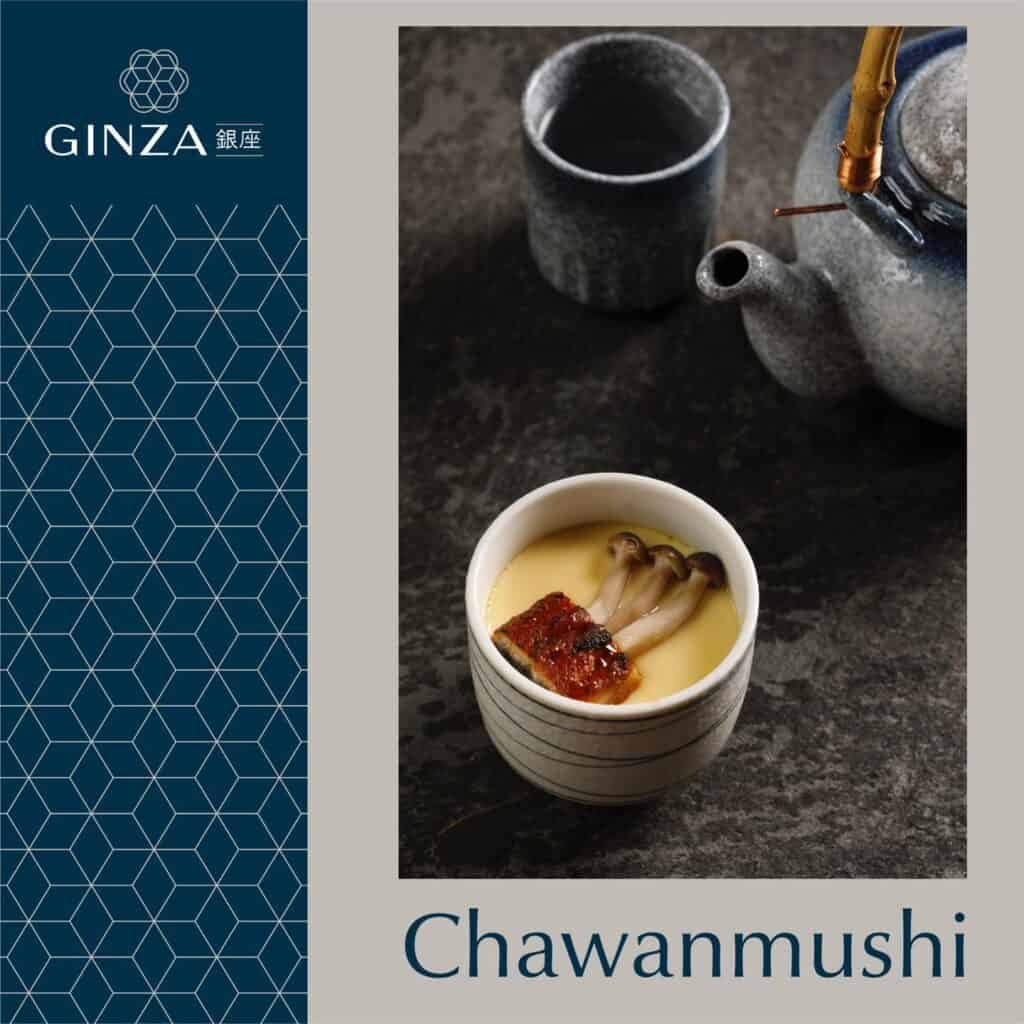 Salad
Ginza has 3 salad options to choose from, The first is their Toyosu Salad which is made with Assorted sashimi slices on top of a bed of greens then it is also served with a wasabi and soy vinaigrette. They also have Ginza Sunomono, which is actually a cucumber salad that is tossed in a vinaigrette and then topped with tako, ika, saba, kani, and ebi. Last but not least is their Kani Kureson Salad, this one is a fresh watercress topped with shredded crabstick. They also serve this with Japanese mayo.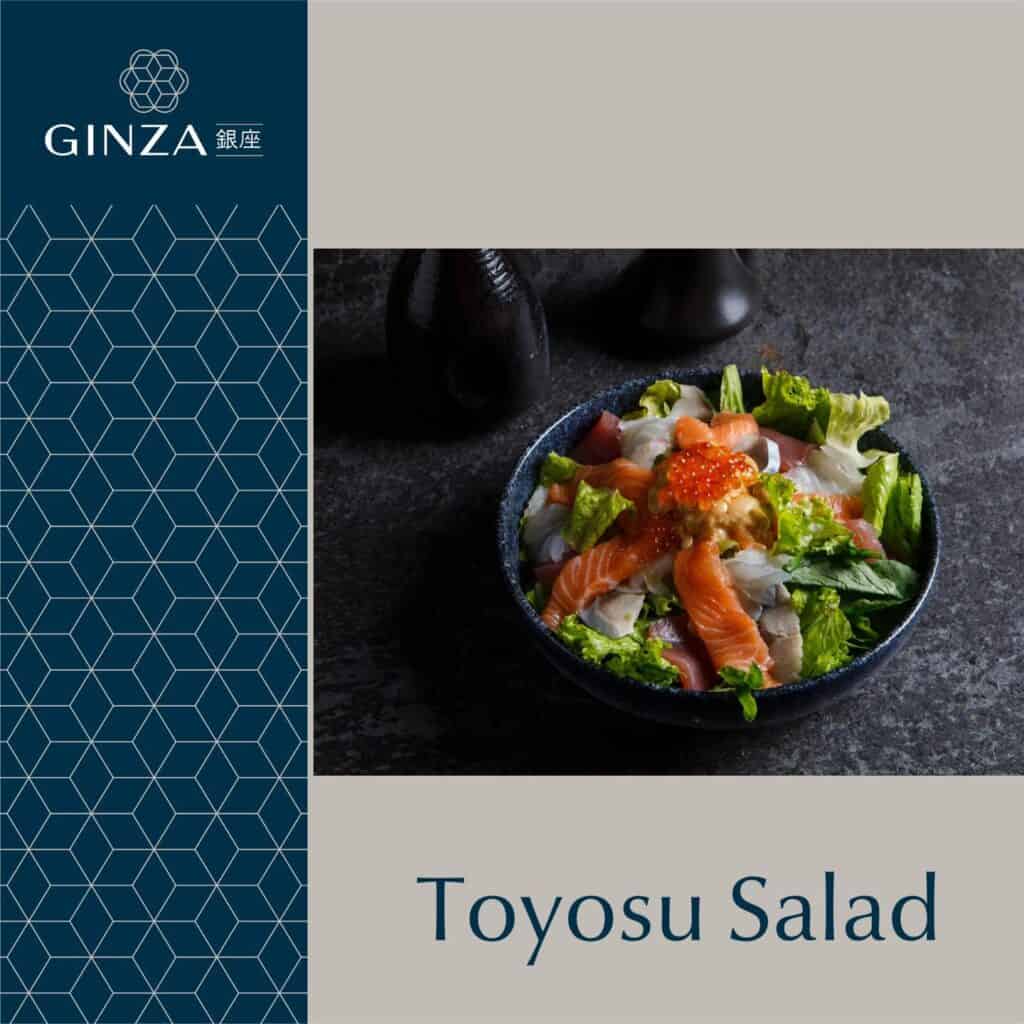 Ginza Japanese Restaurant Menu Delivery
Ordering your food Ginza items makes it easier to order your favorite Ginza food item or you can also use other platforms just as Foodpanda and Grab or any available delivery service in your area.
Social Media Pages
By supporting Ginza, you unlock exclusive updates, tempting offers, and a backstage pass to our culinary artistry. Your support ignites our passion to bring you the most authentic Japanese dining experience around!
Facebook: https://www.facebook.com/ginzajapanese
Instagram: https://www.instagram.com/ginza_ph
FAQs
Where is Ginza's located?
Ginza Japanese Restaurant is located at 2307 Chino Roces Ave. in Makati City.
What is Ginza's contact number?
You can contact Ginza at 09175744692 or 09176212171.
Does Ginza Japanese Restaurant have a Facebook page?
Yes. Ginza Japanese Restaurant actually has a Facebook page, if you want to be updated on their latest promotions.
What are Ginza's business hours?
Ginza Japanese Restaurant is open on Sundays to Thursdays from 11:00 in the morning until 10:30 p.m. and on Fridays to Saturdays from 11:00 a.m. until 12:00 a.m.
Is this place halal-certified?
No. Ginza Japanese Restaurant is a non-halal-certified restaurant that offers pork dishes and alcoholic beverages.
Conclusion
Great place good food and nice atmosphere is what Ginza Japanese Restaurant has to offer. This place is a definition of calmness or maybe just that day that we visited their place. The Ginza Japanese Restaurant menu offers a wide variety of Japanese favorites from classic to innovative and newly created dishes. The place is really good and clean I like how comfortable and cozy their place is. Their crews are polite and nice I don't have any complaints about them they are quite friendly too. This place offers great quality food that is really hard to resist and miss out on. Nice place to go if you're seeking a good Japanese restaurant. Highly recommended.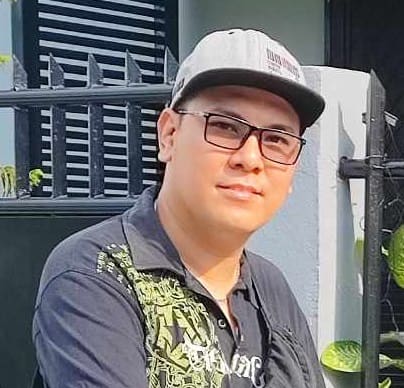 Hi! I'm Nivek Strife, the person who made MenuPH. I'm the one who added most of the popular menus you see on this website, and I really hope you enjoy them! Feel free to check them all out.
Growing up, I was surrounded by lots of tasty foods, like the classic Adobo and the sweet Leche Flan. That love for the many flavors of the Philippines is what got me excited about adding to MenuPH. When I learned how to make websites, I saw the need for a place to show off all the amazing Filipino dishes, and that's how MenuPH started.
MenuPH isn't just a website; it's like a fun journey into food. I've teamed up with famous chefs and found great places all over the Philippines to bring you a bunch of menus that show off the best of Filipino cuisine. Whether you're into the usual dishes or new twists, MenuPH is here to guide you through the rich world of Filipino flavors.
With MenuPH, my aim is to help local businesses, talk about good food choices, and make a group of friends who love food. No matter if you like fancy restaurants or street food, MenuPH has something for you. Come join me on this food adventure as we find great places, taste real flavors, and enjoy the unique food traditions that make the Philippines awesome.