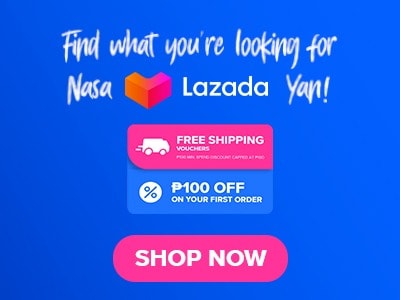 Looking for a genuine Japanese restaurant that serves top-notch dishes without breaking the bank? Look no further – I've got the perfect spot to recommend. It's none other than Umi Matsu! Their menu is a treasure trove of authentic Japanese cuisine that's sure to win everyone over. They even throw in some Korean fusion delights.
Today, we're delving into the world of Umi Matsu, exploring their best-sellers, and checking out their prices for your convenience. Who knows, by the end of this article, you might just be tempted to pay them a visit. Ready to dive into our topic for today? I'm pretty pumped, so if you are too, let's get started! And, just below, you'll find the latest Umi Matsu menu prices.
Menu Items
Price (PHP)

Tempura

Shrimp Tempura
490
Shrimp Chip
150
Sweet Potato Chip
190
Tempura Moriawase
550

Small Rolls (6pcs)

Beef Roll
330
Shrimp Roll
330
Furikake Roll
299
Fish Roe Roll
299
Salmon Roll
330

Don Rice Bowl

Pork Rice Bowl
350
Ebi Rice Bowl
350
Tofu Rice Bowl
350
Tonkatsu Rice Bowl
350
Bulgogi Rice Bowl
350
Butadon Rice Bowl
290

Large Inari Sushi

Egg Inari Sushi
160
Scallop Inari Sushi
160
Japchae Inari Sushi
160
Crab Stick Inari Sushi
160
Bulgogi Inari Sushi
160
Shrimp Inari Sushi
180
Salmon Inari Sushi
190

Gunkan Sushi (1pc)

Inari Sushi
90
Tako Wasabi Sushi
160
Bulgogi Gunkan Sushi
100
Scallop Gunkan Sushi
100
Shrimp Gunkan Sushi
100
Japchae Gunkan Sushi
80

Small Yaki

Seafood Yaki Udon
290
Seafood Yaki Ramen
290
Seafood Yaki Soba
290

Dessert

Banana Sarada
180
Mango Sarada
220

Special Set

Beef Chop Steak Special Set
680
Pork Chop Steak Special Set
580
Sashimi Special Set
650
Sushi Special Set
600
Roll Special Set
580
Donkatsu Special Set
600
Shrimp Special Set A
620
Shrimp Special Set B
600

Shake And Softdrinks

Strawberry
180
Watermelon
180
Green Mango
180
Yellow Mango
180
Coke
100
Coke Zero
100
Sprite
100
Royal
100

Regular Set Meal

Sukiyaki Set
550
Hamburger Steak Set
550
Fried Shrimp Set
550
Yaki Udon Set
499
Yaki Soba Set
499
Tonkatsu Set
499
Japchae Set
399

Side Menu (Small Size)

Umi Tonkatsu
350
Umi Tonkatsu Curry
380
Umi Ebi Tendo
350
Umi Ebi Curry
380
Gyoza
250
Umi Udon
200
Umi Beef Udon
250
Umi Pork Udon
230
Umi Soba
250
Cold Noodle
300
Miso Soup
120
Oshingko
90
Pumpkin Salad
80
Japchae
150
Kimchi
90

Yakitori

Japanese Assorted Yakitori
780
Prime Beef Rib Finger
145
Seasoned Beef Rib Finger
145
Prime Beef Abomasum
145
Japanese Sausage
145
Pork Intestines
145
Seasoned Pork Intestines
145
Grilled Enoki Mushroom Samgyupsal
135
Grilled Tomato Samgyupsal
135
Grilled Ricecake Samgyupsal
115
Grilled Quail Eggs Samgyupsal
135
Grilled Samgyupsal
145
Grilled Enoki Mushroom Beef Plate
145
Grilled Tomato Beef Plate
145
Grilled Asparagus Beef Plate
145
Grilled Quail's Egg Beef Plate
145
Grilled Chicken
135
Grilled Chicken Wing
115
Grilled Chicken Gizzard
85
Grilled Chicken Skin
85
Grilled Chicken Heart
85
Grilled Shrimp
145
Grilled Gingko Nuts
80
Grilled Garlic
60

Special Menu

Awabi Abalone
900
Manako Sea Cucumber
1400
Suna Zuri Sashimi Bluefin Tuna Belly
970
Otoro Sashimi Bluefin Tuna Otoro
900
Otoro Sushi Bluefin Tuna Otoro
600
Mirugai Elephant Shell
390
Hoya Squirt
1400
Chutoro Sashimi Bluefin Tuna Chutoro
750
Chutoro Sushi Bluefin Tuna Judoro
530
Awabibata Buttered Abalone
950
Pyura Squirt
1400
Kaki Oyster
500
Awabi Sushi Abalone
900
Mekadoro Sushi
390

Beer

San Miguel Light
130
San Miguel Pilsen
130
Asahi
350
Kirin
350

Japanese Sake

Kubota Manju
9800
Kubota Jumai
3800
Dassai 23
12000
Dassai 39
6000
Dasdai 45 (720ml)
3800
Dassai 45 (300ml)
1100
Karatamba
3600
Sharaku Junmai
6300
Kubota Senju
5800
Takashimizu Daiginjo
3900
Karatamba (300ml)
760
Hakkaisan
1100
Nihon Sakari Nama
650
Nihon Sakari Ginjo
680
Ozeki Nama Chozu
1100

Japanese Sochu

Mitake
2600
Itchiko
2000
Kinmiya
1600
Kurokirishima
1800
Takara Sochukubal
1950

Korean Soju

Chamisul Fresh
350
Chamisul Green Grapes
350
Chamisul Grapefruit
350
Jinro Is Back
380
Chum Churum
350
About Umi Matsu
Umi Matsu is a Japanese restaurant that serves authentic Japanese dishes and some Korean fusion food items. They are located at 1st Floor, Chungdam building, 560 Remedios Circle, Malate Manila. Indulge in a beautiful and luxurious Experience at Umi Matsu, this place also serves sake and other alcoholic beverages that go really well with their food items.
This place accepts reservations and doesn't offer delivery service. The owner of this establishment is a Korean business man which is surprising since this is a Japanese restaurant. Umi Matsu offers a very affordable price on their every product. This place is loved by their avid customers because of how cheap but quality their foods are.
Umi Matsu Menu Best Sellers
Listed below are Umi Matsu sample best sellers.
Nagasaki Ramen – The Nagasaki ramen version of Umi Matsu is a delicious noodle dish that will comfort you. This one is made with a noodle that is traditionally cooked in a broth with some seafood and vegetables. This one has thick noodles that absorb the flavor of the broth really well it also has a variety of ingredients making this noodle variation hearty and has all the umami flavors that you are craving. The noodles are al dente, this one is included on their top selling item on their menu that everyone should try. If you love ramen then this one is for you.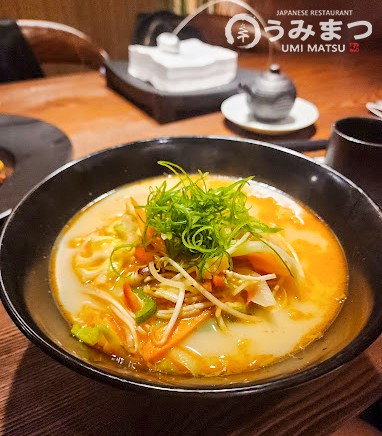 Shrimp Tempura – Shrimp tempura is one of the most common Japanese dishes in our country and even in other places outside Japan. The shrimp tempura version of Umi Matsu is made from shrimp that is dipped in a batter and then deep fried until golden in color. This one taste amazing and really goes well with rice or noodle dish.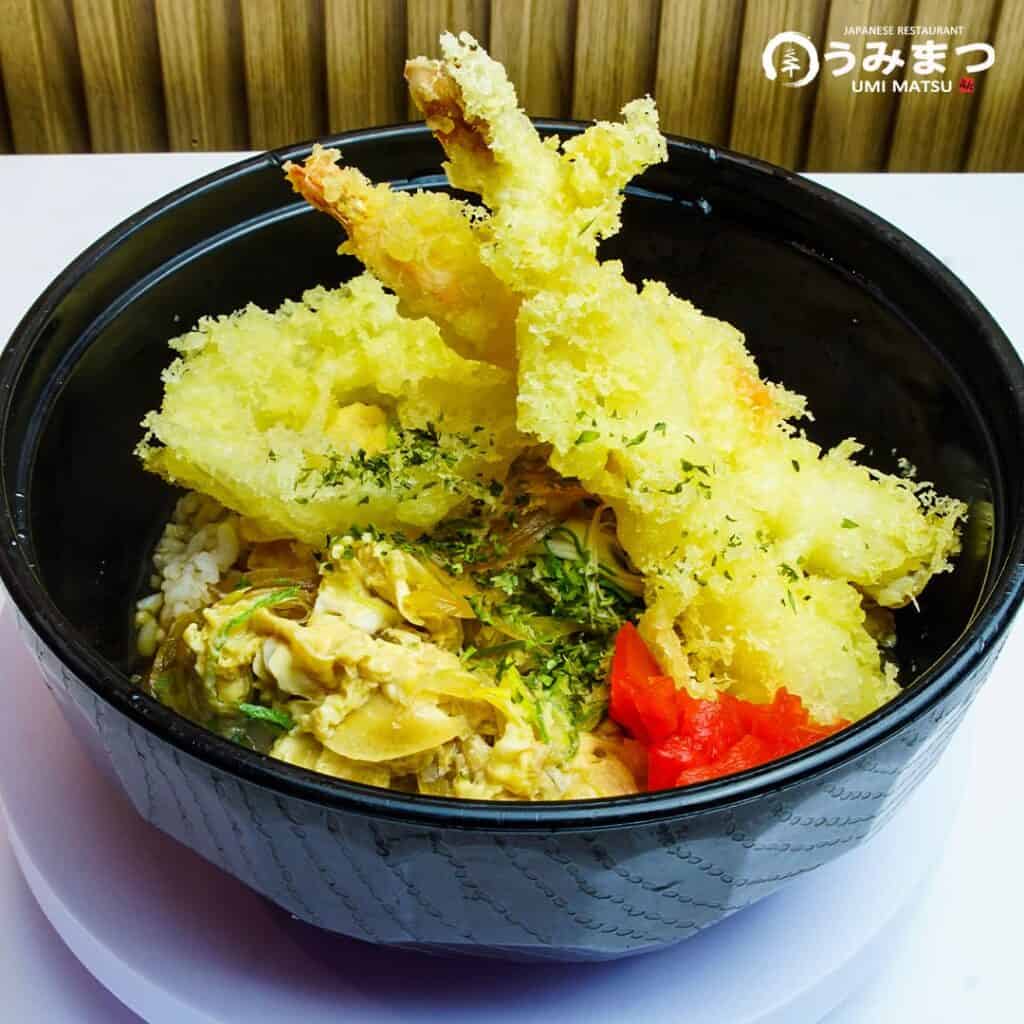 Seafood Yaki Udon – Seafood yakiudon is a stir-fried seafood, vegetables, and udon noodles with savory, umami, and sweet sauce. Yakiudon is a variation of another Japanese popular dish called yaki soba the only difference is that yakisoba uses soba noodles. Yaki udon has the perfect balance of flavor. This one also paired great with any meat dish or tempura. Seafood yakiudon is also included in Umi Matsu's best sellers. One of the best yakiudon that I tried so far is Umi Matsu's version so try it yourself this tastes amazing.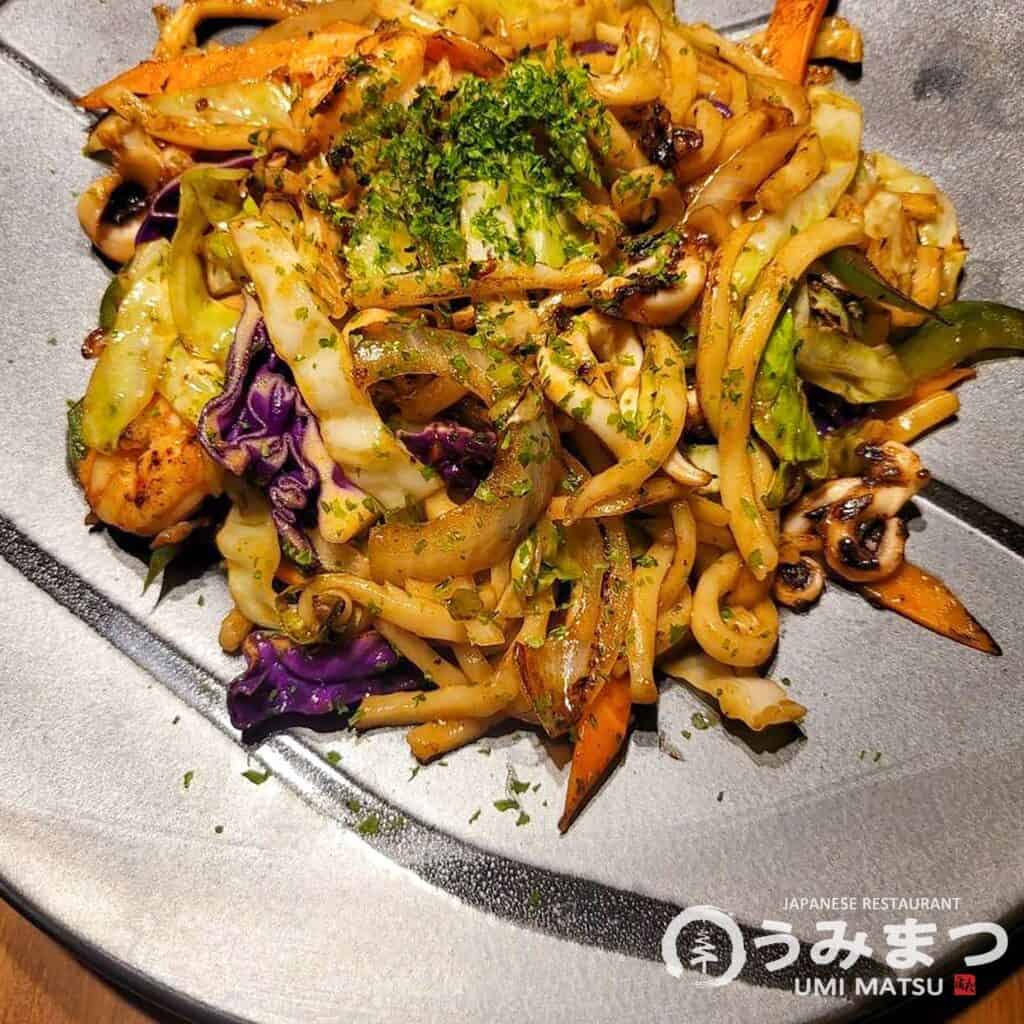 Pork Rice Bowl – Pork rice bowl is a dish that is packed with umami flavors. This one is also comforting and filling as well. Made with pork belly marinated in a sweet and salty sauce that tastes really good making the pork very tasty, this is served on top of rice. Pork and rice really go well and complement each other that's why it's comforting. Perfect any time of the day and any weather. A pork rice bowl is also a must-try.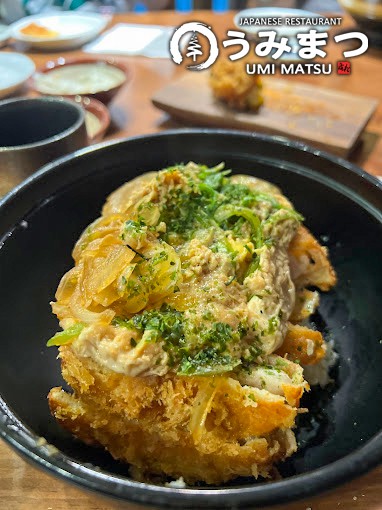 Tempura
The Tempura menu of Umi Matsu has 4 items to choose from. The first on the list is their shrimp tempura which is also quite popular on their menu. They also have shrimp chips, this one is white-colored chips with a shrimp taste, actually, this one is made with real shrimp. They also have sweet potato chips which is my personal favorite, these sweet potato chips taste amazingly delicious and have that sweetness that you can't resist but the sweetness is naturally coming from the sweet potato. They also have tempura moriawase on this menu.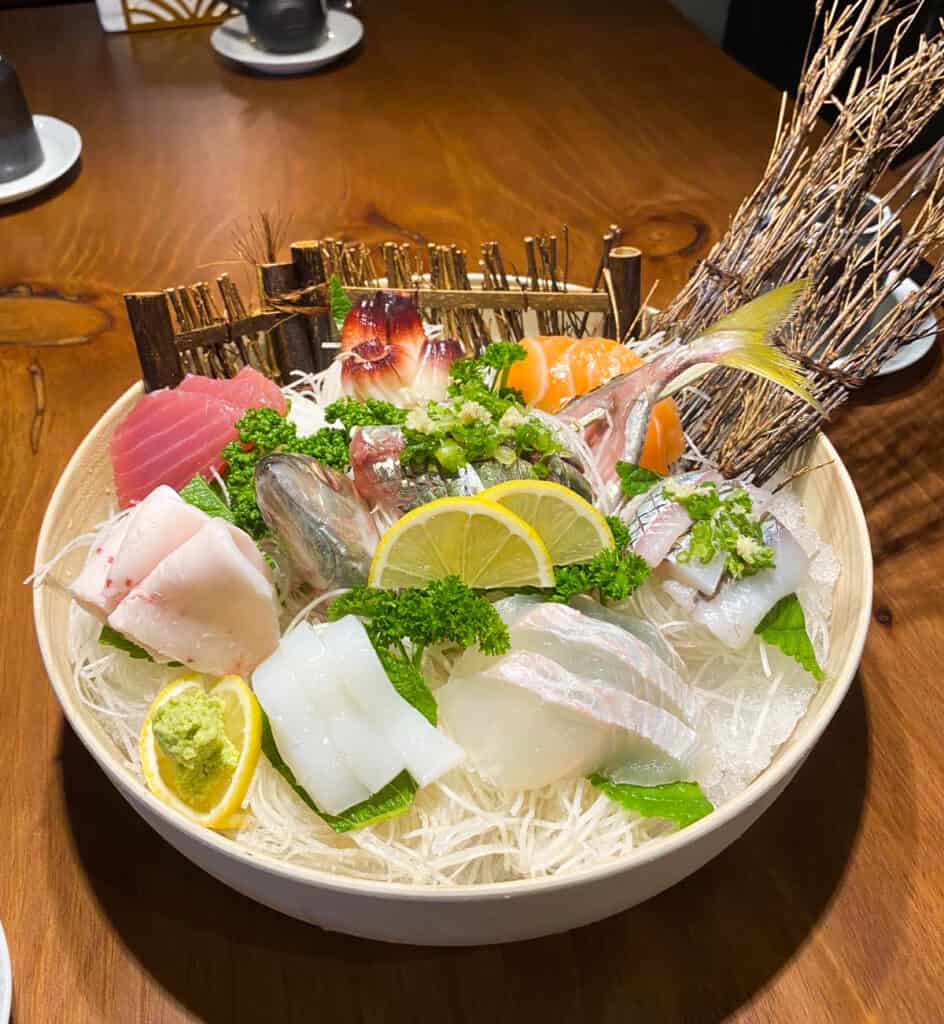 Gunkan Sushi
The gunkan sushi menu of Umi Matsu has 6 items to choose from. They have inari sushi this one tastes great and is perfect with the sauce included in every order. They also have tako wasabi sushi. Aside from those items they also have bulgogi gunkan sushi this one is a Korean fusion on their menu and this tastes really impressive. Other items on this menu are scallop gunkan sushi, shrimp gunkan sushi, and japchae gunkan sushi another Korean fusion on their menu.
Umi Matsu Menu Delivery
Umi Matsu unfortunately doesn't offer delivery however if you are craving some Japanese dishes you can also use other ordering platforms such as your favorite food delivery service provider that is available in your area.
Social Media Page
Follow them on social media today for a culinary journey to Japan! Indulge in mouthwatering images of their delectable dishes, get notified about exclusive promotions, and discover new ways to savor the flavors of Japan.
Facebook: https://www.facebook.com/umimatsurestaurant
FAQs
Where is the location of Umi Matsu Japanese restaurant?
Umi Matsu is located on the 1st Floor, Chungdam Building, 560 Remedios Street, Malate, Manila.
What time are the business hours and days of Umi Matsu?
Umi Matsu is open from 10 in the morning until early 6:00 am from Monday to Sunday.
What is the contact number of Umi Matsu Japanese restaurant?
You can contact Umi Matsu simply by calling them directly on their mobile number at 09957862319
Umi Matsu, is this a halal-certified restaurant?
No. Umi Matsu is a non-halal certified Japanese restaurant that serves pork dishes and alcoholic beverages which is haram with people with Islamic beliefs.
Conclusion
Great place to go if you're looking for a good Japanese restaurant that offers authentic Japanese cuisine at a very affordable price. The Umi Matsu menu has a wide selection of Japanese meals that for sure you will definitely enjoy. Umi Matsu also uses only the freshest ingredients to ensure the freshness and quality of the food that they serve. Their place is cozy and has a warm and customer-friendly atmosphere it is also elegant and very comfortable. The staff is nice and polite too. Overall experience was great and highly recommended.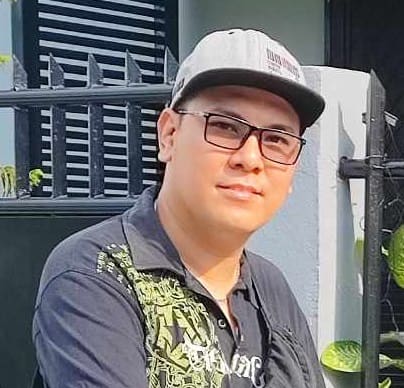 Hi! I'm Nivek Strife, the person who made MenuPH. I'm the one who added most of the popular menus you see on this website, and I really hope you enjoy them! Feel free to check them all out.
Growing up, I was surrounded by lots of tasty foods, like the classic Adobo and the sweet Leche Flan. That love for the many flavors of the Philippines is what got me excited about adding to MenuPH. When I learned how to make websites, I saw the need for a place to show off all the amazing Filipino dishes, and that's how MenuPH started.
MenuPH isn't just a website; it's like a fun journey into food. I've teamed up with famous chefs and found great places all over the Philippines to bring you a bunch of menus that show off the best of Filipino cuisine. Whether you're into the usual dishes or new twists, MenuPH is here to guide you through the rich world of Filipino flavors.
With MenuPH, my aim is to help local businesses, talk about good food choices, and make a group of friends who love food. No matter if you like fancy restaurants or street food, MenuPH has something for you. Come join me on this food adventure as we find great places, taste real flavors, and enjoy the unique food traditions that make the Philippines awesome.