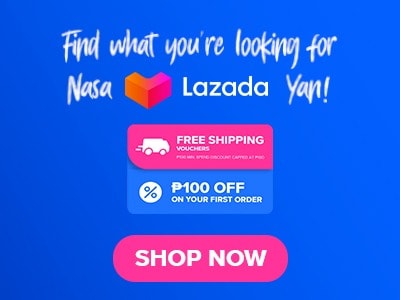 Great news for sushi and Japanese food lovers! I've discovered a gem for you – Rarjap Sushi House. If you're on the lookout for an affordable Japanese restaurant, this might just be the perfect spot. The menu at Rarjap Sushi House offers a wide range, including ramen, sushi, sashimi, and more. In today's discussion, we'll cover everything you need to know about this restaurant, exploring their menu, food prices, and a bit about them.
Below, you'll find the updated list of this restaurant's menu prices.
Menu Items
Price (PHP)

Popular

Salmon Sashimi
550
Mixed Sashimi
575
Baked Salmon Roll
495
Tonkatsu Ramen
390
Ebi Tempura
365
Mixed Maki And Sushi
870

Party Platter

Mixed Nigiri And Sashimi
2185
Ebi Furai Tempura
2700
Rariab Sushi And Sashimi Mix
3660
Salmon Sashimi
3220
Mixed Sashimi
2660
Ebi Tempura
2700
Pork Gyoza
945
Yakisoba
840
Beef Gyoza
1070

Combo Meals

Salmon Set
750
Tuna Set
750

Maki Platter

Tako Maki
1260
Gyoza Maki
1165
Pure California Maki
1008
Mixed Maki And Sushi
870
Mixed Cali & Dynamite Maki
1095
Mixed Cali And Salmon Sashimi
1765
Mixed Maki Rolls
2590
Mixed Cali And Sashimi
1596
Mixed Cali Maki And Tuna Sashimi
1765
Rarjab Combo Maki
1855
Rarjab Chef Special Mixed
2885

Ramen

Rarjap Spicy Ramen
420
Tantanmen Ramen
420
Beef Yakiniku Ramen
390
Tonkatsu Ramen
390
Seafood Tonkotsu Ramen
420
Chashu Pork Ramen Miso
325
Seafood Ramen Miso
420
Tempura Ramen Miso
390
Gyoza Ramen Miso
280

Maki

California Maki
275
Dynamite Maki
325
Beef Yakiniku Roll
495
Salmon Maki
275
Tuna Maki
275
Kani Haru Maki
300
Salmon Haru Maki
300
Baked Salmon Roll
495
Ebi Tempura Maki
285
Spicy Salmon Maki
455
Volcano Maki
420
Special Tempura Maki
365
Special California Maki
365
Sweet Dragon Maki
365
Crab Roll Maki
416
Rarjab Crazy Maki
455
Salmon Teriyaki Maki
455
Spicy Tuna Maki
455
Alaskan Maki
455
Maguro Unagi Roll
495
Unagi Ocean Roll
495
Crispy Kani Roll
495
California Cheese Roll
390
Philadelphia Salmon Roll
455
Philadelphia Tuna Roll
455

Ala Carte

Wagyu Steak
495
Tofu Steak
235
Takoyaki
210
Kakiage Tempura
235
Beef Gyoza
235
Pork Gyoza
245
Salmon Head Teriyaki
260
Fried Tofu
160
Chicken Karaage
325
Chicken Teriyaki
300
Okonomiyaki
280
Crispy Salmon Skin
210
Grilled Saba Shio
365
Ebi Tempura
365
Yasai Itame
195
Ebi Furai Tempura
365

Sashimi

Salmon Sashimi
550
Tuna Sashimi
550
Kani Sashimi
350
Mixed Sashimi
575
Tamago Sashimi
325
Una Sashimi
550
Tuna Tataki
585

Bento Meals

Tonkatsu Bento
375
Beef Yakiniku Bento
365
Tonkatsu Yakisoba Bento
420
Beef Teriyaki Bento
375
Chicken Karaage Bento
375
Salmon Sashimi Bento
495
Chicken Karaage Yakisoba Bento
420
Tuna Sashimi Bento
495
Ebi Tempura Bento
495
Saba Bento
495
Ebi Furai Bento
495
Wagyu Steak Bento
585
Chicken Teriyaki Bento
365
Salmon Lovers Set
450
Tuna Lovers Set
450
Seafood Set Bento
495

Donburi

Katsudon
285
Chicken Teriyaki
235
Gyudon
315
Crispy Pork Tonkatsu
235
Ebitendon
325
Karaage Don
195
Oyakodon
260
Beef Yakiniku
275
Ebi Tamago Don
325
Crispy Chicken Katsu
235
Salmon Teriyaki
350
Ebi Furai Donburi
325
Beef Teriyaki
250

Sushi

Salmon Sushi
180
Tuna Sushi
180
Ebi Sushi
180
Tamago Sushi
180
Unagi Sushi
285
Kani Sushi
180

Salad

Kani Salad
295
Cucumber Salad
325
Spicy Tuna Salad
325
Rarjab Spicy Salad
325

Noodles

Yakisoba Regular
325
Yakisoba Special
390
Seafood Yakisoba Regular
390
Seafood Yakisoba Special
495
About Rarjap Sushi House
Rarjap Sushi House is a go-to restaurant in Santa Ana Manila that serves delicious Japanese dishes. Rarjap Sushi House is managed by Chef Rowena Babao, this is also a family business. This place got its name from the combination of its owner's name. This place not only serves Japanese cuisine but also gives memorable and great experiences to its customers. This place only uses the freshest ingredients to ensure the quality of its products.
Chef Rowena Babao and her husband started this business only as a home-based online selling sushi business for customers who are craving authentic Japanese foods without spending too much. After the success of their business, they started to open to the public making their place a known Japanese restaurant in Sta. Ana area and other locations in the metro.
Rarjap Sushi House Menu Best Sellers
Listed below are samples of Rarjap Sushi House's best sellers for your reference.
Tantanmen Ramen – Tantanmen ramen version of Rarjap Sushi House is a spicy Japanese ramen that is made with fresh ramen noodles, some minced pork, sliced meat, fish flakes, vegetables, and soft boiled egg. The broth of their tantanmen ramen is creamy and spicy at the same time, it also has sesame and peanut to flavor the broth. If you're looking for a great-tasting ramen with a little kick of spicyness then this one is the perfect option for you. Tantanmen ramen is also one of the best sellers at Rarjap Sushi House. This is really good and best paired with any dumplings or even anything, to be honest.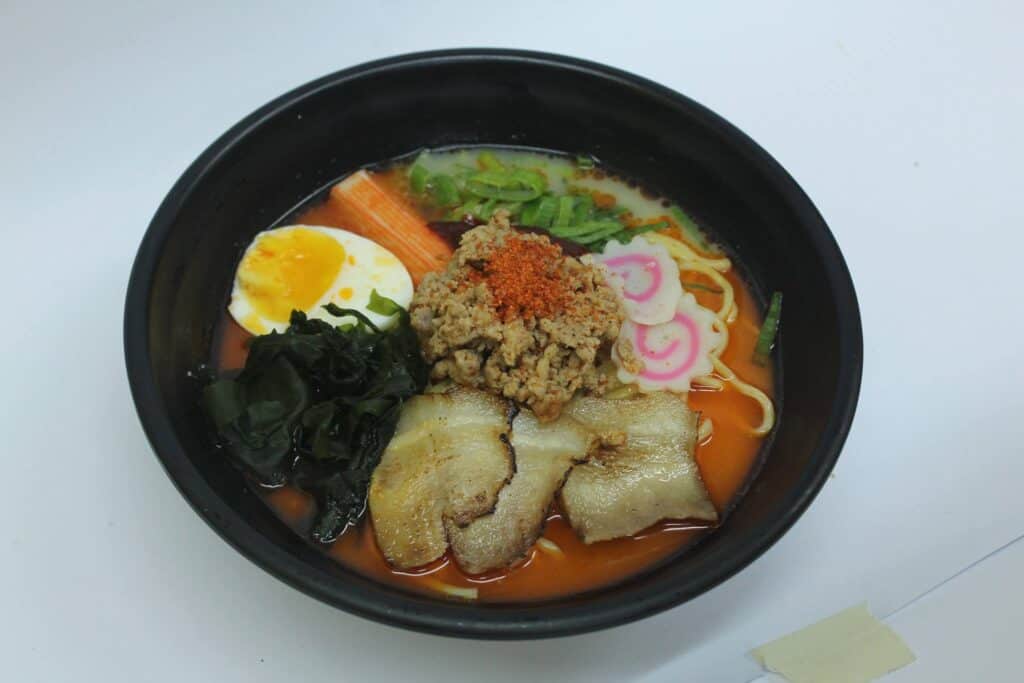 Pork Katsudon – This is one of my favorites. The pork cutlets are dipped into a batter and then covered with panko breadcrumbs before deep frying them until golden. Also, it was played really well. Pork katsudon is one of the best items at Rarjap Sushi House, this one tastes amazingly delicious plus the pork cutlets are soft and easy to enjoy. Pork katsudon is perfect with rice plus the sauce also gives a whole new flavor to this dish. If you're looking for a great meal you should check this out.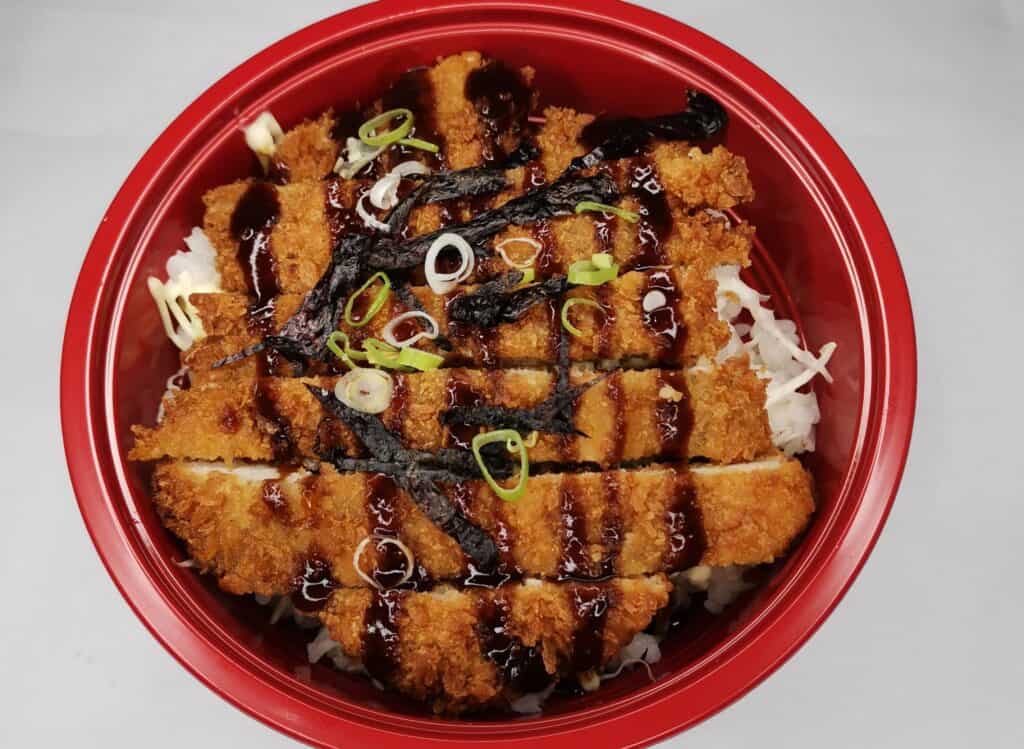 California Maki Platter (60 pcs California Maki) – A lot of customers enjoyed Rarjap Sushi House's California maki that's why their California maki platter is also one of their best sellers. This has 60 pieces of California maki that are great for occasions or if you're going with a lot of company. This is made with avocado, crab meat, cucumber and sushi rice with vinegar then rolled into a seaweed sheet inside out before coated with masago, the orange one. California maki version of Rarjap Sushi House is delicious and really flavorful, it has the perfect balance of flavors and texture that you will surely love.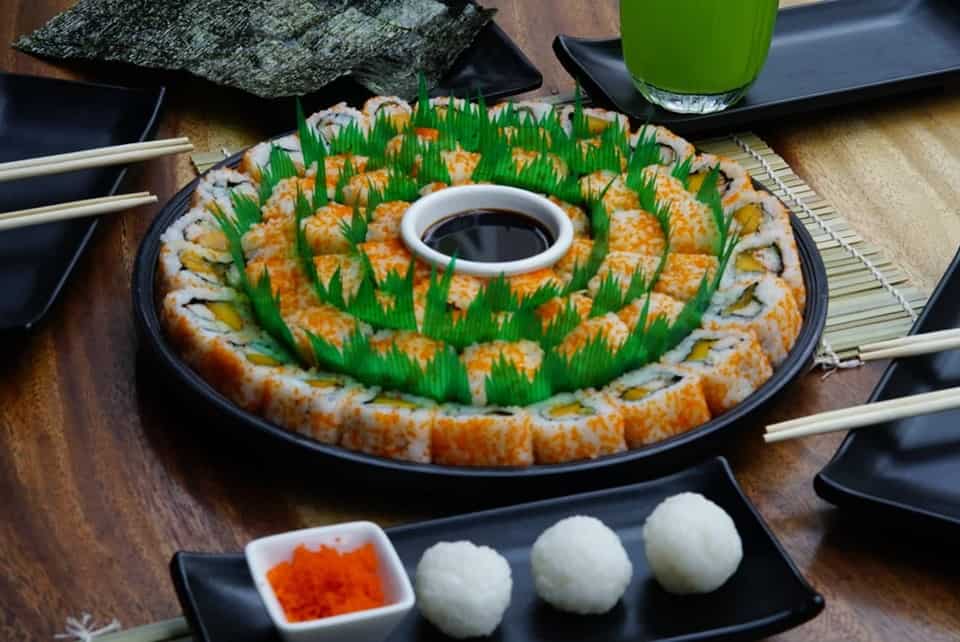 Combo Meals
The combo meals menu of Rarjap Sushi House has two options the first one is their salmon set which includes salmon sashimi, miso soup, Philadelphia maki, and salmon sushi. If you're a fan of salmon this is the right item to order. If you love tuna no worries since they also have tuna set. This has tuna sushi, Tuna Sashimi, Tuna sushi, miso soup, and Philadelphia maki. A combo set is also great for sharing so if you're planning to visit their restaurant with friends and looking for affordable sets of tuna and salmon that you can share with your friends or loved ones combo meals menu is the one for you.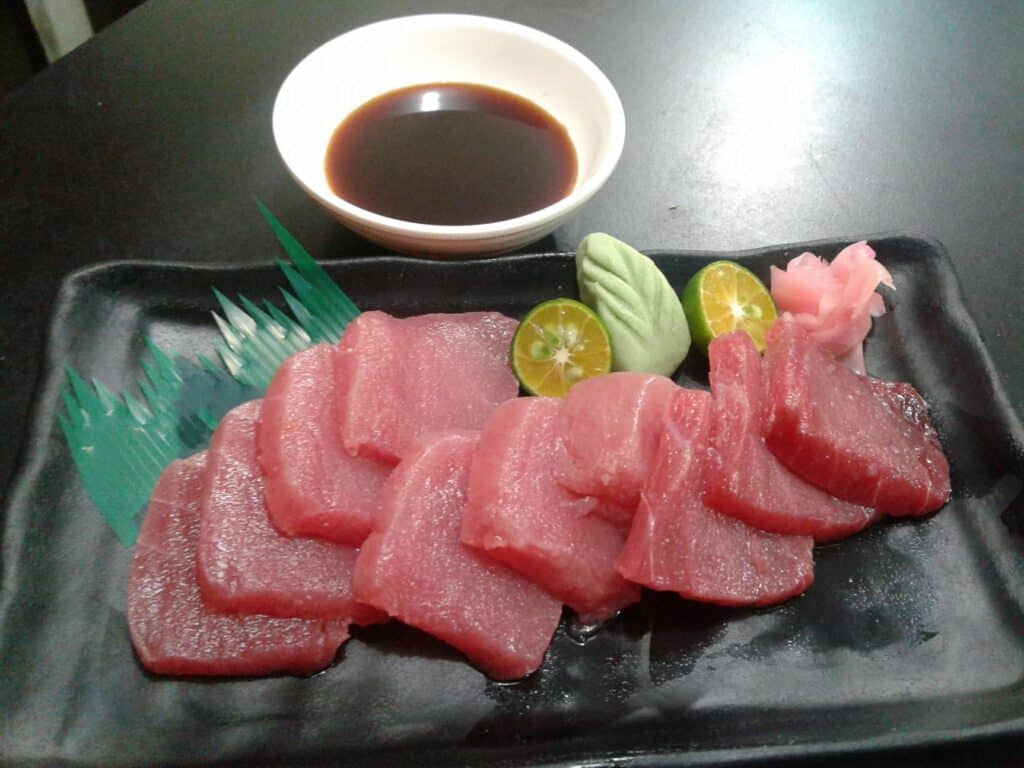 Salad
Rarjap Sushi House also offers salads menu. They have 4 variations of salads. The first one is their kani salad which is a refreshing mix of greens, crab sticks, and some diced ripe mango. They also have cucumber salad if you want more greens, and spicy tuna salad for spicy food lovers out there, but take note that this is not too spicy and rarjab spicy salad.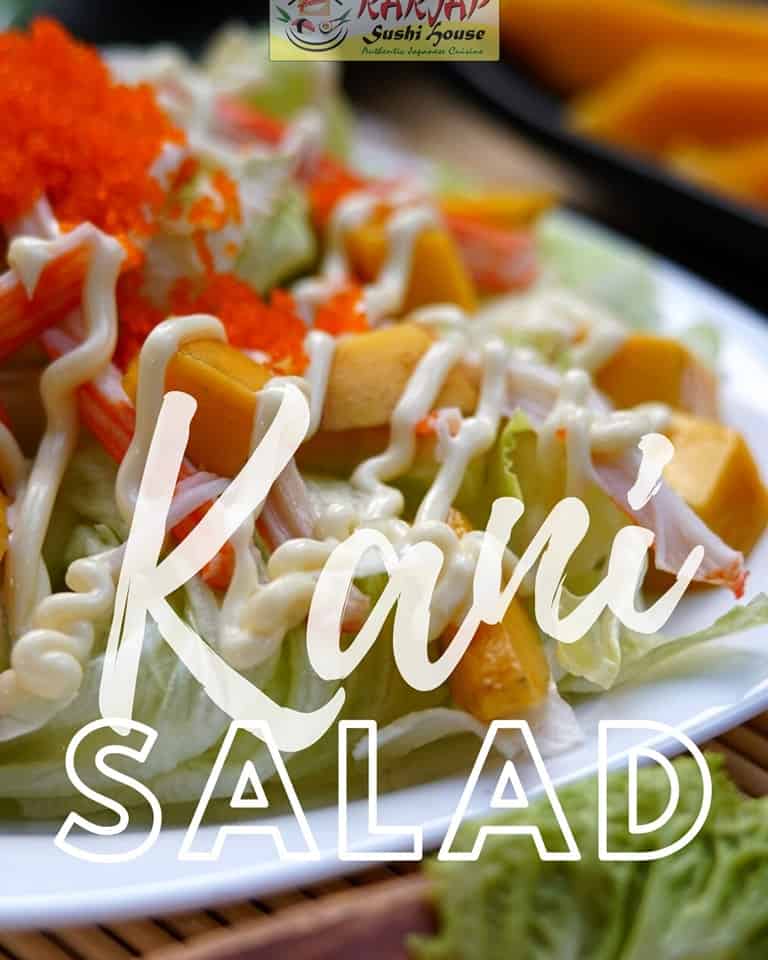 Rarjap Sushi House Delivery 
Ordering your favorite Japanese food at Rarjap Sushi House is easy simply by calling them directly at 09156454351 or you can also message them on their Facebook page. Aside from those options you can also use third-party apps like Foodpanda for a hassle-free transaction.
Social Media Pages
Indulge in mouthwatering images of their delectable dishes, get notified about exclusive promotions, and discover new ways to savor the flavors of Japan. Follow Rarjap Sushi House's social media pages today and embark on a gastronomic adventure that will transport you to the heart of Japan!
Facebook: https://www.facebook.com/RarjapStaAna
Instagram: https://www.instagram.com/rarjapsushihouse
TikTok: https://www.tiktok.com/@rarjapsizzlinghouse
FAQs
What are Rarjap Sushi House's business hours?
Rarjap Sushi House is open from Monday to Saturday from 10:00 am until 11:00 pm and on Sundays from 3:00 pm until 11:00 pm.
What is the payment method of Rarjap Sushi House?
Based upon my research Rarjap Sushi House only accepts cash as a payment method for now but who knows maybe in the future they will have different payment options.
Where is Rarjap Sushi House located?
Rarjap Sushi House is located at 2431 Suter, Santa Ana, Manila. They also have Pasig, San Juan, Congressional Avenue, and Sampaloc branches.
What does Rarjap Sushi House offer for its customers?
Rarjap Sushi House offers Dine-in, take-out, and delivery orders.
How to contact Rarjap Sushi House? What is their phone number?
You can reach Rarjap Sushi House on their Telephone Number at (02) 242-1869 and Mobile Number at 0915-645-4351.
Conclusion
Rarjap Sushi House is a great place to go whenever you have sudden cravings for Japanese foods. Rarjap Sushi House's menu offers a variety of Japanese foods to try and aside from that their foods are delicious and affordable. Also noticed that they have great customer service since their crews are nice, attentive, and fast. Their place is easy to find, not that spacious but it's okay, most of the time their place is crowded so it's advisable not to go on busy hours like lunch time or dinner time. The place looks good as well and well well-maintained, clean, and comfortable despite that the place is crowded most of the time. Highly recommended for Japanese food lovers.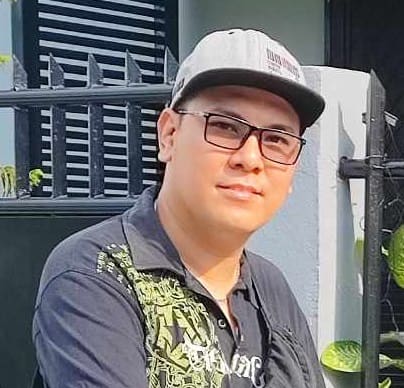 Hi! I'm Nivek Strife, the person who made MenuPH. I'm the one who added most of the popular menus you see on this website, and I really hope you enjoy them! Feel free to check them all out.
Growing up, I was surrounded by lots of tasty foods, like the classic Adobo and the sweet Leche Flan. That love for the many flavors of the Philippines is what got me excited about adding to MenuPH. When I learned how to make websites, I saw the need for a place to show off all the amazing Filipino dishes, and that's how MenuPH started.
MenuPH isn't just a website; it's like a fun journey into food. I've teamed up with famous chefs and found great places all over the Philippines to bring you a bunch of menus that show off the best of Filipino cuisine. Whether you're into the usual dishes or new twists, MenuPH is here to guide you through the rich world of Filipino flavors.
With MenuPH, my aim is to help local businesses, talk about good food choices, and make a group of friends who love food. No matter if you like fancy restaurants or street food, MenuPH has something for you. Come join me on this food adventure as we find great places, taste real flavors, and enjoy the unique food traditions that make the Philippines awesome.