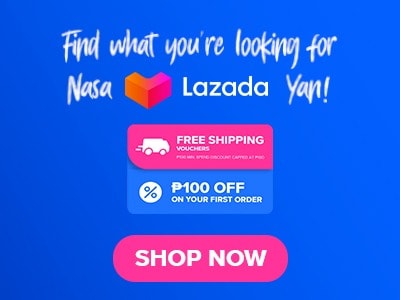 We Filipinos have a distinctive taste when it comes to our favorite Japanese food. We want something refreshing, aromatic, and satisfying to bite. That is why I am here today to talk about that specific restaurant that offers well-curated Japanese cuisines that are not refreshing but heavenly. Introducing Katsu Sora, a restaurant that offers top-of-line quality food from their varieties of Katsu up to their enticing collections of sides and desserts. Let's not wait any longer and savor their finest menu collection!
Below, you'll find the updated list of Katsu Sora menu prices.
Menu Items
Price (PHP)

SOUP

Soup of the Day
90

SALAD

Asian Salad
120
- Caesar Salad
120
- Garden Salad
120

Top Hits Ala Carte Special

T-bone Steak
390
Roast Beef w/ mushroom sauce
390
Playlist Baked Beef Stew
390
Baked Pork Belly
550
Lechon Kawali
550
Shanghai Rolls
280
Signature Fried Chicken
580
Hainanese Chicken
380
Binagoongang Pork Belly
550
Crispy Pata
750

DESSERT

Tempura Ice Cream
120
Coffee Jelly
90
Halo-Halo Delight
90

EXTRAS

White Rice
25
Fried Rice
25
Mashed Potato
45
Garlic Bread
25

On The Wings Of Love

1/2 DOZEN
180
1 DOZEN
350
1 BUCKET
680

APPETIZER RADIO

Playlist Burger & Fries
190
Fil-Mex Nachos
180
Box-Office Cheese Fries
280
Garlic Parmesan Fries
180
Just Fries
160
Corn Dog 1pc
70
Corn Dog 3pcs
200
Corn Dog 5pcs
300

ALL DAY BREAKFAST

S. Fried Chicken
140
Beef Tapa
130
Pulled Pork Adobo
130
Chicken Pork Tocino
110

CONTINENTAL

Chicken Caesar
110
Ham and Cheese
110
Tuna Madness
110

PASTA

Creamy Carbonara
150
Pesto
150
Spaghetti Bolognese
150
Oriental Spaghetti
150
Baked Lasagna
150
Baked Penne Pasta
150

COFFEE

Americano Hot
90
Cafe Mocha Hot
100
Cafe Latte Hot
100
Cappuccino Hot
100
Spanish Latte Hot
110
Caramel Macchiato Hot
110
French Latte Hot
110
Americano Iced
120
Cafe Mocha Iced
130
Cafe Latte Iced
130
Cappuccino Iced
130
Spanish Latte Iced
140
Caramel Macchiato Iced
140
French Latte Iced
140

MILKSHAKES

Strawberry Shortcake
130
Blueberry Cheesecake
130
Kiwi Madness
130

MILKTEA

Red Velvet
130
Okinawa
130
Hokkaido
130
About
Katsu Sora is home to the finest Japanese cuisines that exude sophistication and class. They are famous for their authentic Japanese cuisine as well as a welcoming atmosphere that is welcoming and provides you with a cozy feel while enjoying your favorite Japanese food. From the varieties of Katsu Set, they offer surprisingly reasonable prices up to the quality of dining they offer, this restaurant will never disappoint to satisfy your day.
Katsu Sora Menu Best Seller
Take your experience to the highest satisfying level by giving you the best-selling dishes on their menu that highlight a wonderful and flavorful experience with their safe-to-order option for your first-time Katsu Sora dine-in.
Tonkatsu Set – A classic and an all-star in their collection that offers a refreshing crunch of deep-fried pork cutlet that exudes the crispiness of the outside and succulent textures inside. It is perfect with tonkatsu sauce that enhances all of the flavors in a bowl.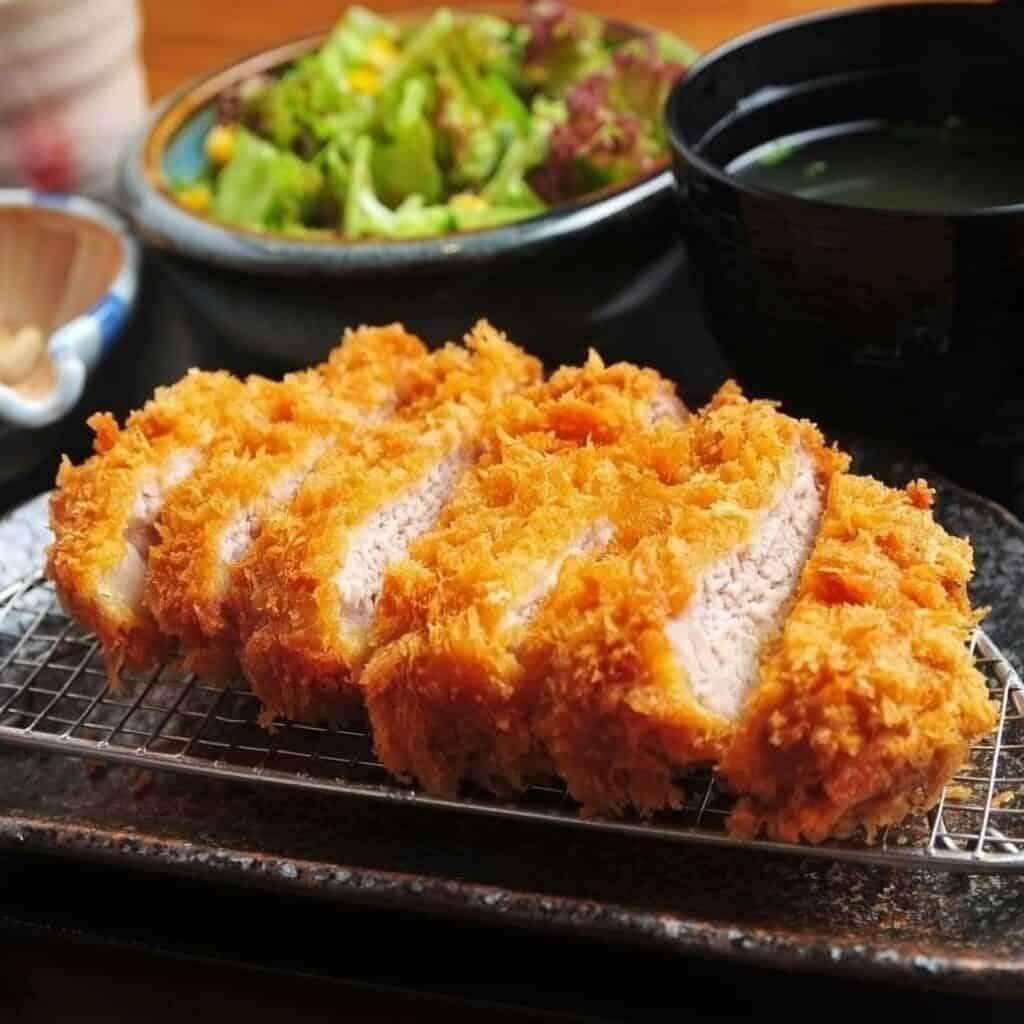 Chicken Katsu Set – This Chicken Katsu set offers you a perfect way to take a lighter meal without compromising the savory flavor you need. It features a chicken cutlet that is perfectly coated in crispy breading and served with sides.
Mixed Seafood Set – Take a deep dive into the best flavors of the sea in this Mixed Seafood Set. It features a delightful fusion of perfectly fried seafood that is packed with freshness and visual appeal giving you a very unforgettable moment to share with your family.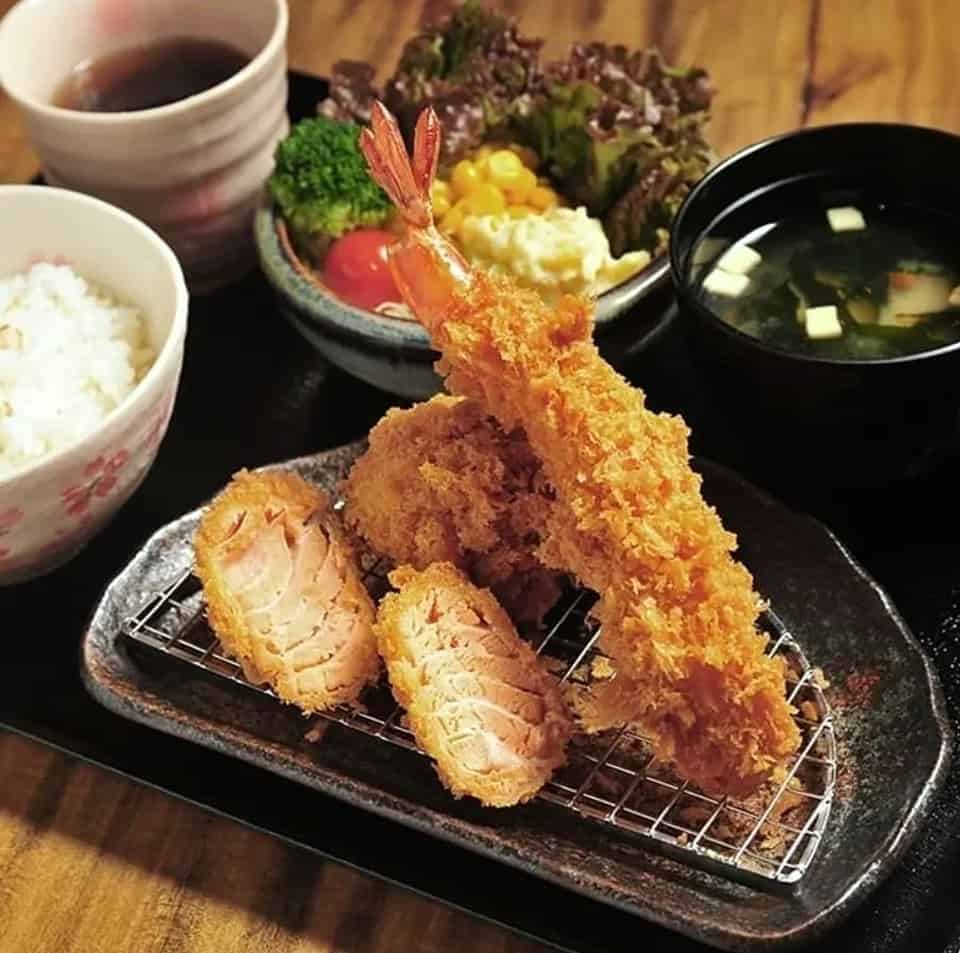 Salmon Furai Set – For the salmon lovers! This Salmon Furai Set offers you a very flavorful and flaky texture of a dish that features a salmon fillet that is perfectly coated and fried to perfection. It is perfect to pair with rice or your favorite miso soup to create a very satisfying experience here at Katsu Sora.
Katsu Curry Set – Satisfy your cravings with this flavorful fusion of Katsu Curry set that combines your favorite katsu with an aromatic richness of Japanese curry sauce. The katsu fully embraces the curry flavors giving you a very comforting bite you need for your day.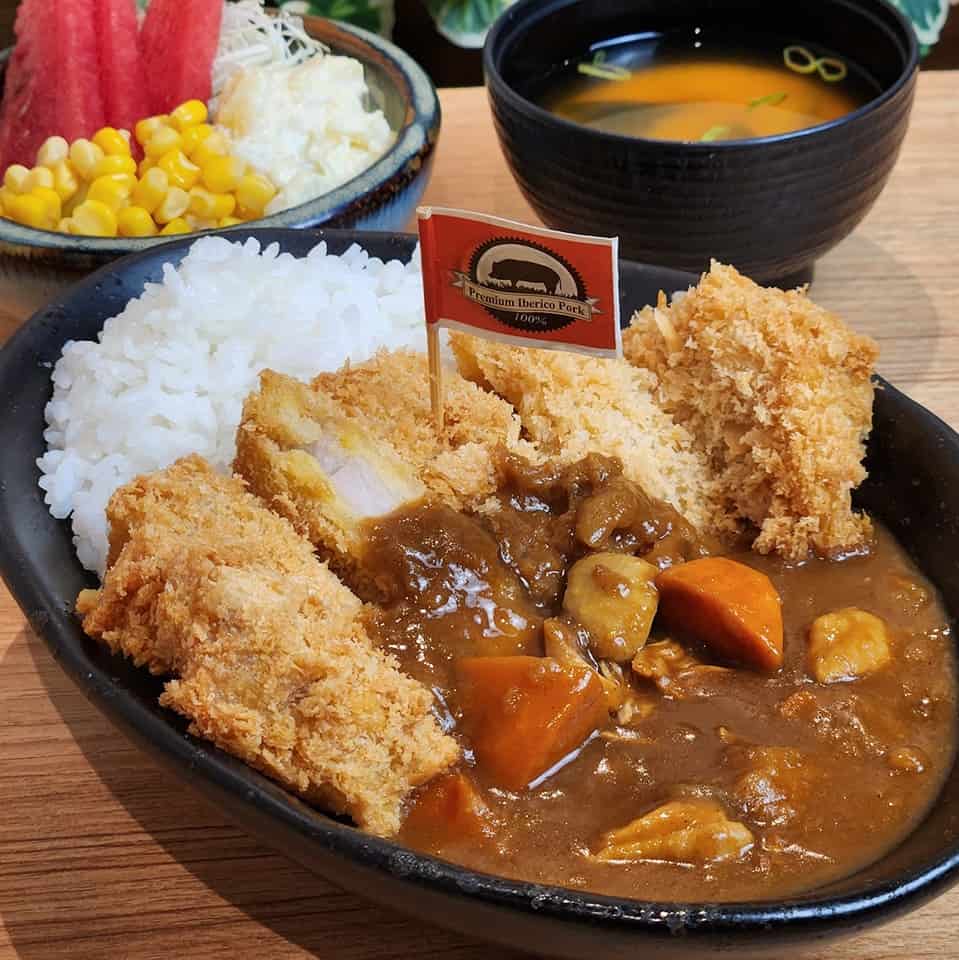 Other Menu Set
Here is a list of their menus that offers a set of tantalizing goodness that is also a must-try for extra flavorful dining.
Katsudon Set – This well-loved dish in Japan is now here for you to savor. It features a bowl filled with fluffy rice and very crispy and juicy pork that is generously coated and fried to golden perfection breaded with crumbs.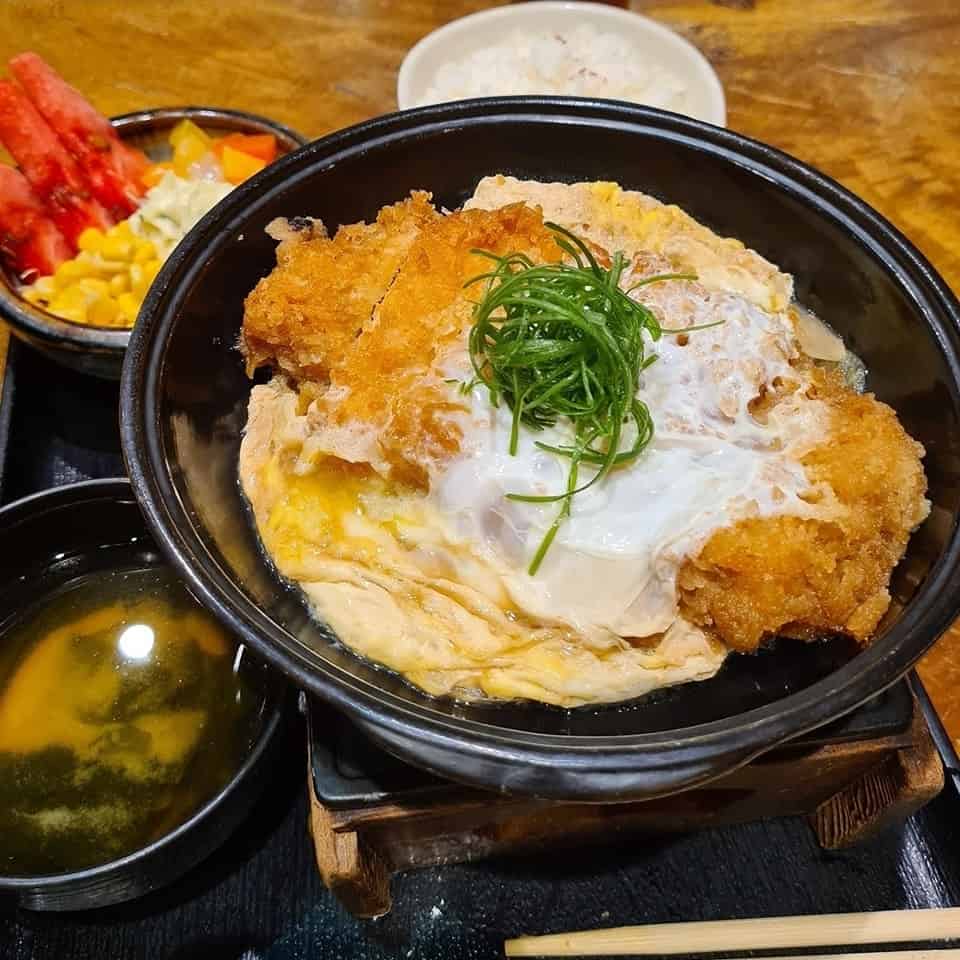 Crab Cream Croquette Set – A luxurious delight that does not come to break your wallet. It features a picturesque bowl filled with golden brown croquet and a burst of creamy crab filling offering you a satisfying seafood goodness.
Mixed Katsu Set – Haven't been able to decide what to order? Guess what, this set offers you a fusion of Katsu sets that highlight a delightful assortment and variations in just one bowl. A unique blend of flavors is served in this satisfying set perfect for that decision.
Menchi Katsu Set – A comforting gem that offers a flavorful blend of savory ground meat that is perfectly seasoned and light-breaded. It has a mouth-watering texture and crispness that you don't want to miss.
Tatsutaage Set – Feeling extra adventurous? Well, this set will never disappoint you for that mood. It offers you a bite-sized marinated chicken that is carefully battered and coated to unleash all of its flavor in every bite.
Mille Feuille Set – This is a must-try if you are looking for an extra flavorful experience as it features delicate layers of a perfectly crispy pastry infused with richness and creaminess that is filled inside offering you various textures and flavors in a set.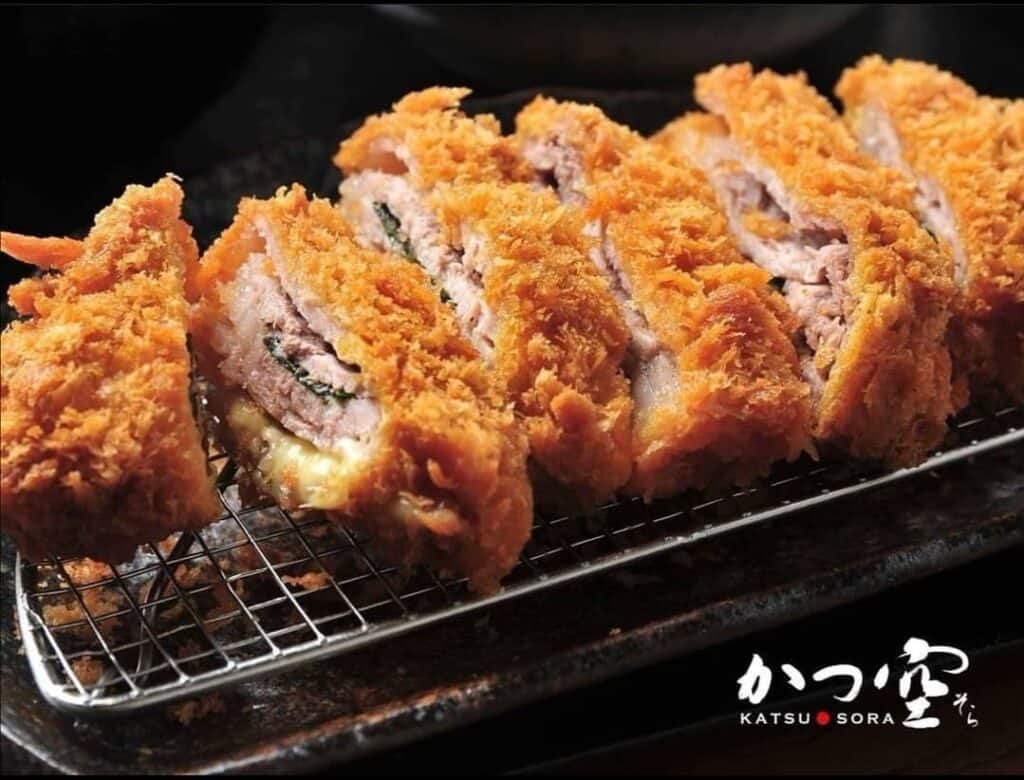 Crab Cream Croquette Set – This must be one of the best things they offer along with their best-selling set. It features a creamy seafood goodness and offers you a delicious fusion of crispy croquette in a luscious crab filling.
Katsu Sora Menu Delivery
Katsu Sora provides a delivery option for their customers to enjoy the finest collection of Katsu meals in the comfort of their homes. You can visit their website at link: katsurasora.com. They provide an easy-to-navigate interface so you can easily understand how to order through their official page. Order now online and have it delivered to your doorsteps!
Social Media Pages
Get ready for a culinary adventure like no other! Katsu Sora is your ticket to the exquisite world of Japanese cuisine. But wait, the journey gets even better when you follow their social media pages!
Facebook: https://www.facebook.com/katsusora
Instagram: https://www.instagram.com/katsusoraph
Website: http://katsusora.com/#SHOP
Frequently Asked Questions
What type of cuisine does Katsu Sora offer?
Katsu Sora offers you a flavorful delight of Japanese cuisine highlighting various sets in their menu for you to savor while enjoying a great bonding with your friends and family.
What is Katsu Sora known for?
Katsu Sora is known for its Katsu Set and takes great pride in its best-selling Tonkatsu Set and Katsu Curry Set.
What are the operating hours of Katsu Sora?
This restaurant has subject operating hours per store location but they typically operate from 9 AM until 11 PM.
Where is Katsu Sora located in the Philippines?
Katsu Sora has selected branches nationwide that are located inside the various malls in the Philippines which are listed below:
Ayala Cloverleaf
Solenad Nuvali
SM BF Paranaque
Trinoma
Eastwood
Ayala Feliz
Conclusion
In conclusion, Katsu Sora is a great restaurant when it comes to Katsu dishes that highlight various textures such as crispy, succulent, juicy and so much more. It is definitely a satisfying experience with their well-curated set collections of Katsu. It is perfectly cooked and well prepared at the table. However, it would be excellent if they could expand their menu collection more and focus on various Japanese food that can perfectly pair with your Katsu Sets, although I know that these sets are their trademark I just think that they will never lose their trademark expanding their menu because it is evident that their katsu set is the main highlight in this restaurant.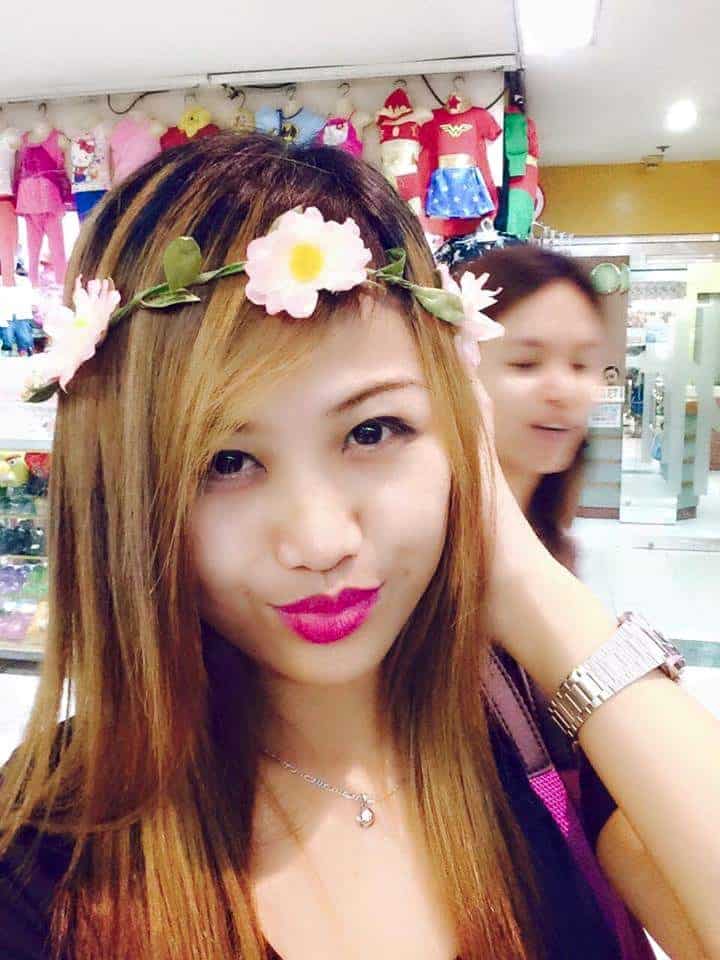 Hello! I'm Shaoyeu Cassandra, a mom who spends most of my time at home, and when I'm not busy, I enjoy writing blogs. I live in Cavite, and I really love talking about the menus of different restaurants.
So, I decided to share my thoughts on the menus of some fast-food places. I'm hoping my take on them can be like a helpful guide for you to decide what tasty treat to go for next. I hope you discover something you really enjoy! Thanks for stopping by!