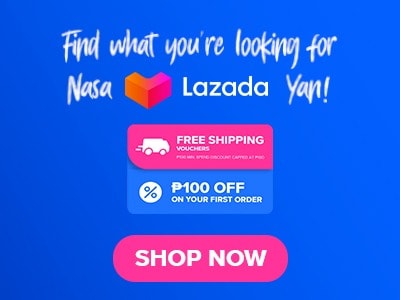 Craving for delicious fried chicken and other meat dishes? If you're a meat lover who's willing to try different places to find the most delicious include what I am going to recommend on the restaurants that you are going to visit. Have you heard about the Bad Bird? If not and you're interested then this is the perfect article for you. Bad Bird's menu has a lot of different choices that will surely satisfy your meat cravings. This place offers delicious meat dishes at a not-so-expensive price. Let's take a look at their menu and prices and of course the other products that they offer along with their best sellers. Let's talk about the things that you should know if you're planning to visit them soon. Interested in our topic? If yes then let's start! 
Below, you'll find the updated list of this restaurant's menu prices.
Menu Items
Price (PHP)

Popular

Umami Fried Chicken Rice Plate
469
Us Hanger Steak
799
Prime Cut Pork Belly
409
Chicken Crispers (White)
409
Umami Fried Chicken (6pcs)
1009
Kimchi Bacon Rice (To Share)
339

Desserts

Fresh Mango Misu
269

Small Plates & Salad

Bb Fresh Corn
160
Torched Corn & Cream Cheese
149
Honey Butter Sweet Potato
129
Eggplant Agedashi
149
Coleslaw
99
Sweet Potato Chips With Citrus Mayo
119
Kimchi
99
Mac Salad
139
Hush Puppies
129
Eggplant Takoyaki
189
Mozzarella Kimchi Tots
189
Crispy Shrimp & Mango Salad
509
Chicken Sesame Caesar Salad
379
Enoki Beef Rolls
199
Chicken Skin
199

Crispy & Meaty To Share

Yakiniku Beef Curry
409
Prime Cut Pork Belly
409
Crispy Squid
409
Umami Fried Chicken (6pcs)
1009
Chicken Crispers (White)
409
Chicken Crispers (Dark)
409
Crispy River Shrimp (6pcs)
709
Us Hanger Steak
799

Bad Bird Rice Platter

Umami Fried Chicken Rice Plate
469
Bb Chicken Crispers (White) Rice Plate
469
Bb Chicken Crispers (Dark) Rice Plate
469
Crispy River Shrimp Rice Plate
609
Prime Cut Pork Belly Rice Plate
509
Yakiniku Beef Curry Rice Plate
509
Us Hanger Steak Rice Plate
909

Noodles

Braised Pork Noodles
449
Tantanmen (Dry)
449
Kimcheese Noodles
469
Tonkotsu Ramen
509
Tantanmen Ramen
509

Rice

Kimchi Bacon Rice (To Share)
339
Dirty Rice (To Share)
299
Dirty Rice
159
Steamed Rice
45
Kimchi Bacon Rice
149

Drinks

Penguin Iced Tea Yuzu 500ml
199
Penguin Iced Tea 1l Bottle
369
Iced Rice Milk 500ml
169
Iced Coconut Water 500ml
149
About Bad Bird
Bad Bird has 4 restaurants across the metro, this great place is owned by Charles Paw a businessman who also runs 2 restaurant groups. Bad Bird specializes in fried chicken and other meat dishes cooked in different ways. You can actually request the crews for the spicy level of your dish, they have safe, spicy, and chemical plus they also have a wide selection of side dishes that are inspired by Japanese or Korean. Utilizing Korean and Japanese flavors to make their dishes the way they should be, Bad Bird is not just your ordinary chicken place, they mastered the art of preparing their dishes to be extra delicious.
Their newest place is their branch at Mega Fashion Hall, the place had a great interior and artwork highlighting their mascot for it to be popular among people who visit their restaurant. This place is still doing its best to give its customers the best customer service and the best chicken and meat dishes that they ever had. Bad Bird is continuously learning and improving for the better.
Bad Bird Menu Best Sellers
A sample of best-selling items of Bad Bird are listed below.
Lamb Skewers – Bad Bird's version of lamb skewers is really good it's not surprising that this has become a customer favorite. The lamb is tender and has a mix of flavors in each bite. I am honestly not a fan of lamb, to be honest, but their lamb skewers don't have that mango taste that's why I was surprised at first and it became my instant favorite just like their other customers. This one is also included in their best-selling item on their menu and is also a must-try item.
Pork Belly – Pork belly has become one of the most famous items on their menu because of how delicious it tastes and how soft the meat is. It has a melts-in-your-mouth feel and has that distinctive flavor that you can usually taste when meat is fresh from the grill. Their pork belly is even better if paired with their available sauces and I highly recommend their chimichuri sauce.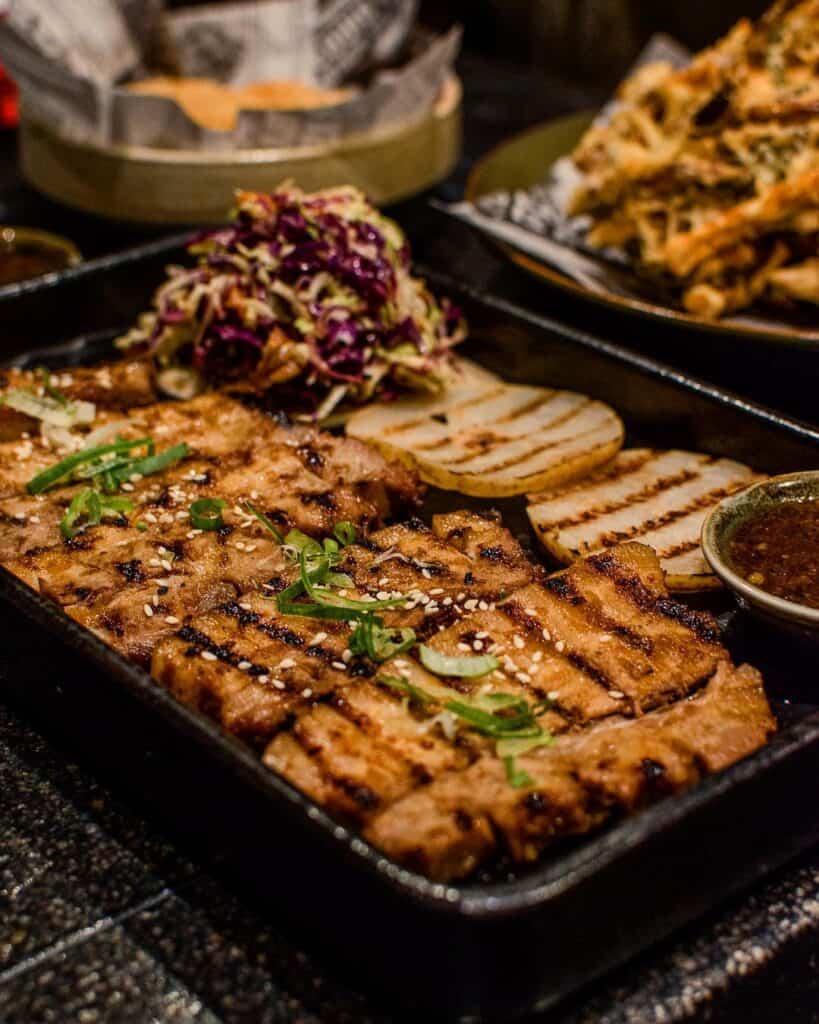 Pork belly along with their chimichuri sauce tastes excellent and has all the right flavors that you will expect on a great grilled dish. This is also included on their best sellers and also a must-try if you don't want to miss out on something good.
Peppered Beef – This peppered beef is delicious and actually my personal favorite, just like the lamb skewers this one also comes in skewers, it has an addictive and umami taste that's why one skewer is not enough even two, to be honest. The beef is tender and easy to enjoy it is not dry and really tastes good. It also has a strong peppery taste but not too strong that the beef becomes spicy because of it. Also, this dish is one of the most ordered items on their menu.
The Dirty Rice – This one tastes delicious by itself but of course, this is better with any meat, especially the peppered beef or the lamb skewers. This is also one of their bestsellers. The dirty rice is made with some bacon and bits of chicken liver. This one is also topped with bonito flakes before serving.
Noodles
Bad Bird also offers noodles dishes, if you're a fan of dry noodle dishes then you should try their Braised Pork Noodles and tantanmen (dry). They also have Kimcheese Noodles in this selection while Tonkotsu Ramen and Tantanmen Ramen are different stories since they are noodle dishes with soups. The noodles menu of Bad Bird uses their own house-made noodles so the quality and freshness are great.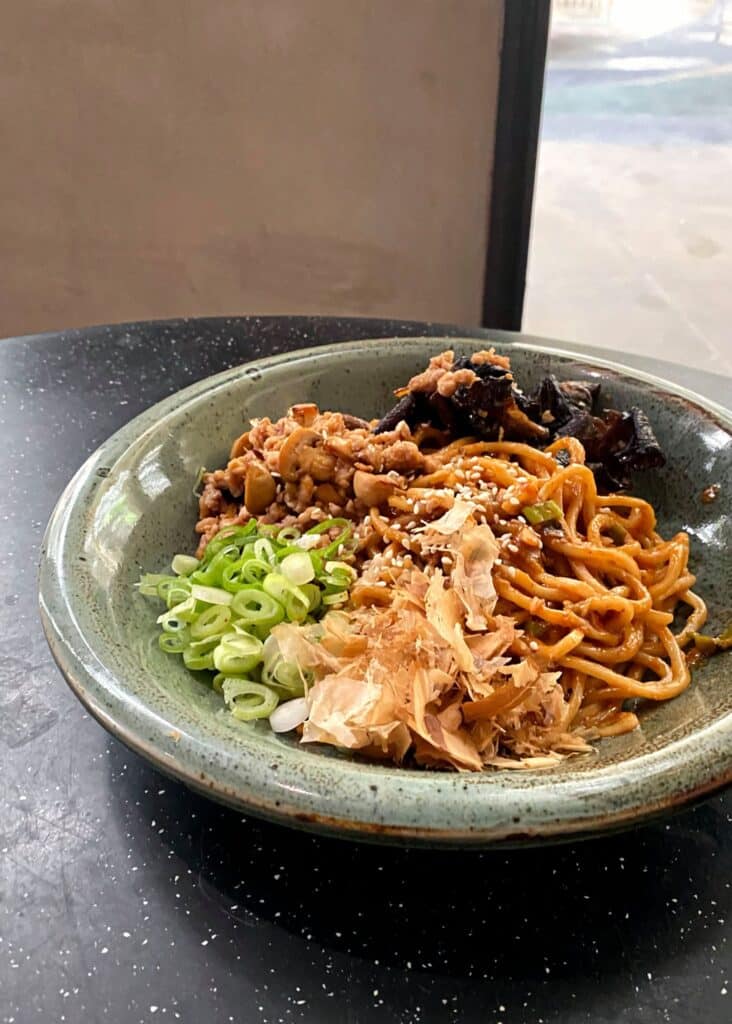 Rice
The rice menu of Bad Bird has 5 items to choose from. The first one on the list is their Kimchi Bacon Rice (To Share) this one is good for 2-3 persons already. Made from rice, some kimchi, gochujang, bacon fat, some spices, and sunny-side-up eggs.
They also have Dirty Rice and this one is also great for sharing, this one has been a classic item on their menu since the day that they opened. Made from spiced rice with aromatics of chicken liver and topped with bonito flakes, perfect with any meat, this is also good for 2-3 persons.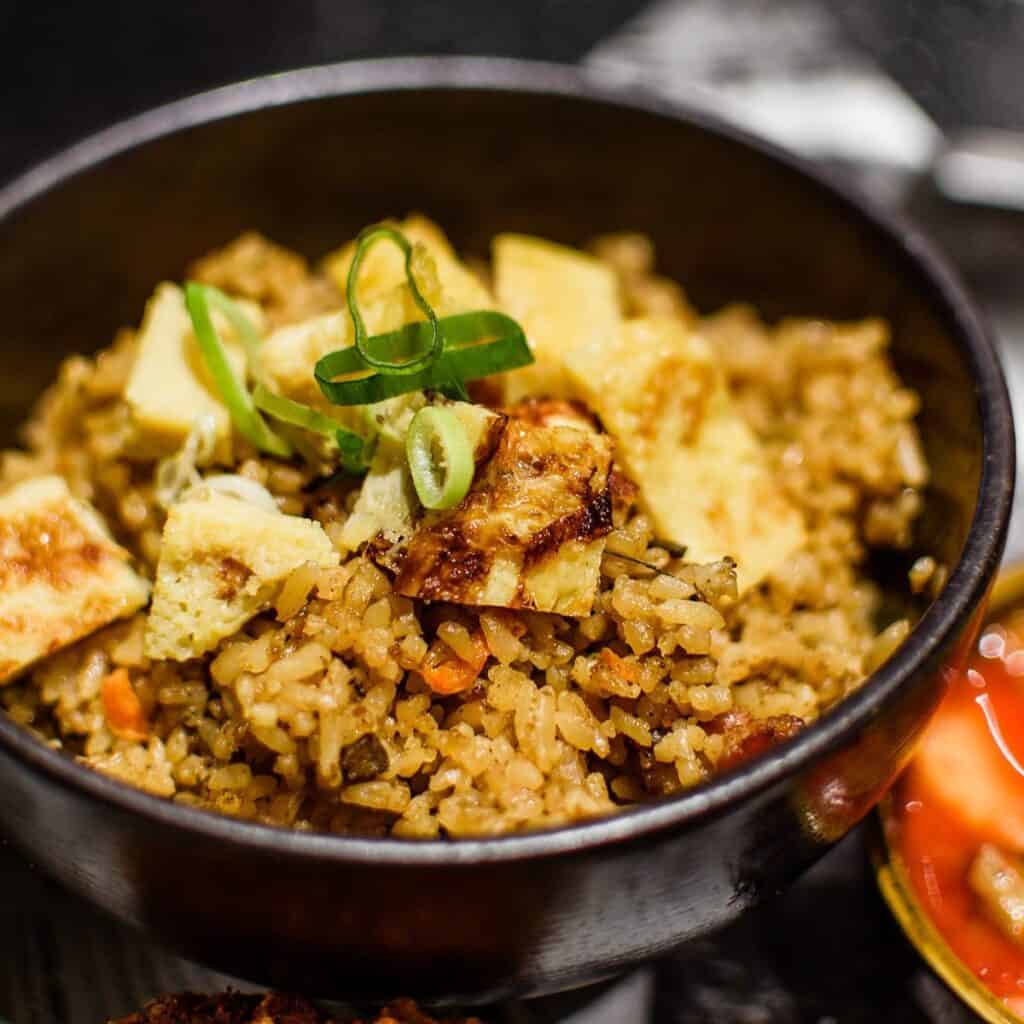 You can also find a simple steamed rice on their rice menu, this one is a bowl of plain white rice. Other items are Dirty Rice and Kimchi Bacon Rice solo orders.
Bad Bird Menu Delivery
Ordering your favorite Bad Bird food items is made easier simply by using third-party delivery services such as Lalamove, Foodpanda, grab, or any other delivery service that is available in your location. Just please take note that delivery services might charge for delivery fee.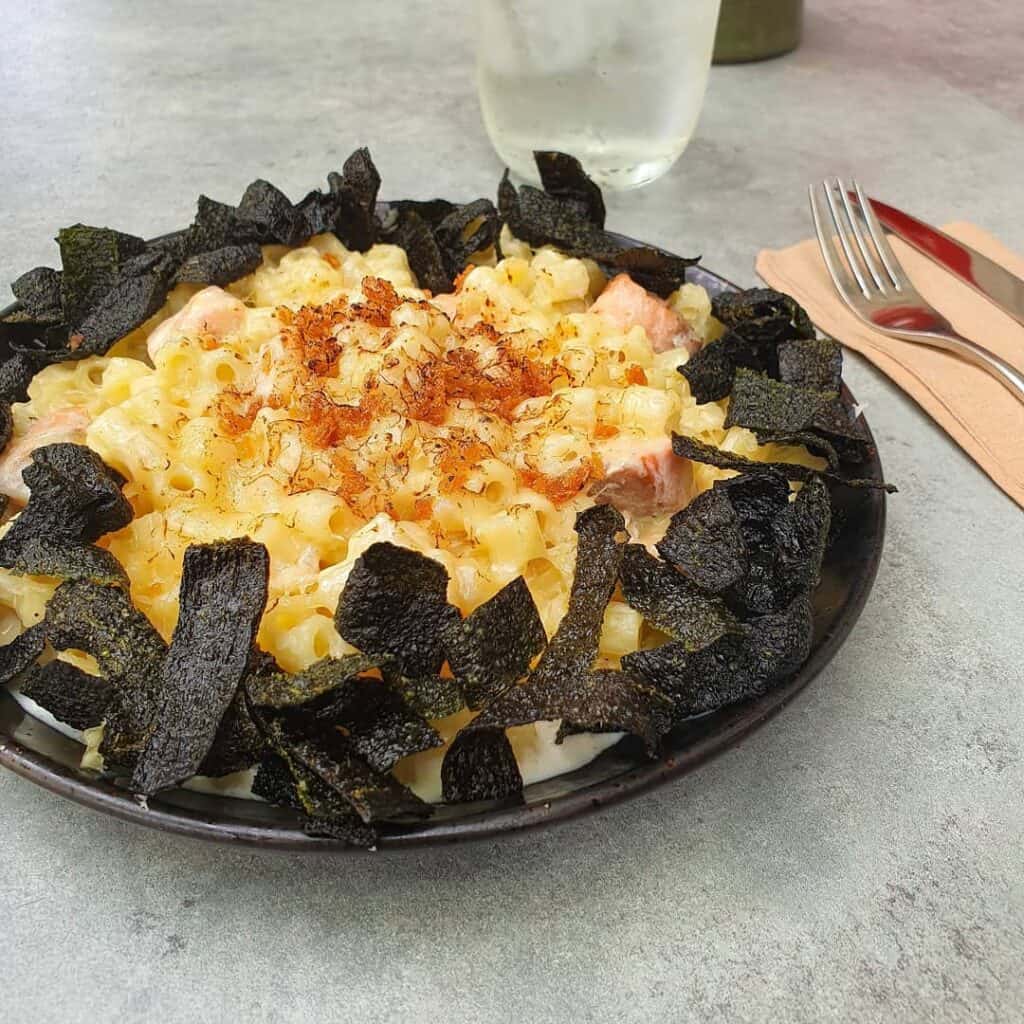 Bad Bird Social Media Pages
Are you ready to experience fried chicken like never before? Bad Bird is here to redefine your fried chicken expectations and take your taste buds on an unforgettable adventure! Craving a crispy, juicy, and flavor-packed fried chicken experience? Look no further! Follow Bad Bird on social media to stay ahead of the fried chicken game and unlock a world of delicious surprises.
Facebook: https://www.facebook.com/bitebadbird
Instagram: https://www.instagram.com/bitebadbird
Twitter: https://twitter.com/badbirdermita
Website: https://eatlowbrow.com/collections/bad-bird
Frequently Asked Questions
Where is Bad Bird located?
Bad Bird is located on the 3rd floor of SM Megamall Fashion Hall, Mandaluyong City. 
What is the Bad Bird's contact number?
You can contact Bad Bird at 799-2571.
What are Bad Bird's business hours?
Bad Bird is open daily from 10:00 in the morning until 10:00 in the evening from Mondays to Sundays.
Does Bad Bird have a Facebook account?
Yes, Bad Bird's Facebook and other social media accounts can be seen in the social media pages section.
Are they halal-certified?
No. Bad Bird is a non-halal-certified place that offers a variety of pork meat dishes.
Conclusion
Great place to go if you're looking for a place that offers American and Western cuisine, if you love meats you'll definitely love visiting their place. The Bad Bird menu offers a variety of meat dishes from pork, beef, and chicken plus other delicious items like desserts, salads, and many more. They also have a nice and clean place perfect if you just want to relax while eating. Not too crowded and spacious. Their service crews are nice and polite it's easy to talk with them or you can also ask for their opinion on what to order especially if it's your first time going to their place. Reasonable prices as well not too expensive just right. Overall experience is great and highly recommended.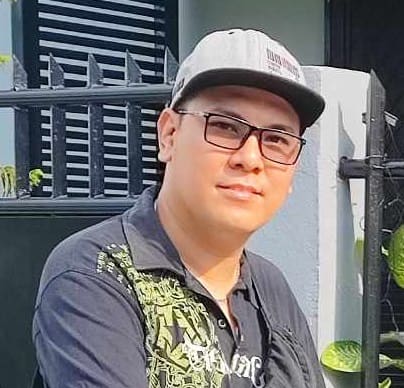 Hi! I'm Nivek Strife, the person who made MenuPH. I'm the one who added most of the popular menus you see on this website, and I really hope you enjoy them! Feel free to check them all out.
Growing up, I was surrounded by lots of tasty foods, like the classic Adobo and the sweet Leche Flan. That love for the many flavors of the Philippines is what got me excited about adding to MenuPH. When I learned how to make websites, I saw the need for a place to show off all the amazing Filipino dishes, and that's how MenuPH started.
MenuPH isn't just a website; it's like a fun journey into food. I've teamed up with famous chefs and found great places all over the Philippines to bring you a bunch of menus that show off the best of Filipino cuisine. Whether you're into the usual dishes or new twists, MenuPH is here to guide you through the rich world of Filipino flavors.
With MenuPH, my aim is to help local businesses, talk about good food choices, and make a group of friends who love food. No matter if you like fancy restaurants or street food, MenuPH has something for you. Come join me on this food adventure as we find great places, taste real flavors, and enjoy the unique food traditions that make the Philippines awesome.