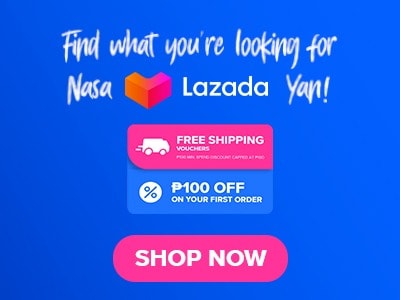 Le Sucre Lab is one of the must-visit places in the Philippines for people that are looking for sweet and delicious chocolate treats. It offers a menu full of handcrafted chocolates that many people from the Philippines love. Their menu showcases a diverse range of chocolate creations, each thoughtfully crafted to provide a unique experience for chocolate lovers that ranges from classic milk chocolates to more innovative and adventurous flavors. Le Sucre Lab's menu promises to satisfy every chocolate lover with its focus on using high-quality.
Below, you'll find the updated list of Le Sucre Lab menu prices.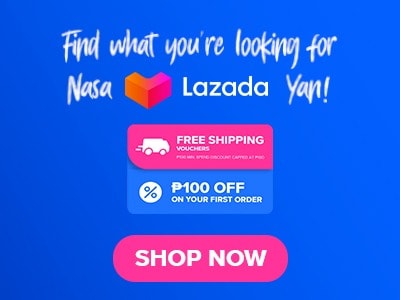 Menu Items
Price (PHP)

Dreamcakes

Chocolate Dreamcake
580
Mango Dreamcake
710
Strawberry Dreamcake
820
Guiltless Chocolate Dreamcake
855
Red Velvet Dreamcake
690
Ube Dreamcake
730
Chocolate Dreamcake Made With KITKAT
745

Mini Dreamcakes

Mini Chocolate Dreamcake
205
Mini Mango Dreamcake
260
Mini Strawberry Dreamcake
280
Mini Guiltless Chocolate Dreamcake
305
Mini Red Velvet Dreamcake
250
Mini Ube Dreamcake
270

Premium Truffles Collection

Klasik Dark Premium Truffles
250
Dark Mocha Premium Truffles
250
Karamel Premium Truffles
250

Fudge Bites

Manggies
435

Boxes

The Dreambox
2725
About Le Sucre Lab
Le Sucre Lab is a candy company in the Philippines located in Metro Manila known for its handcrafted and homemade chocolates. It has multiple branches across the Philippines and has become a well-known go-to place for both locals and tourists alike. The Le Sucre Lab provides customers with a variety of treats that highlights the flavors of the chocolate. Their chocolates are carefully crafted to showcase the finest cacao and unique flavor combinations, resulting in a perfect blend of taste and texture that chocolate lovers can't get enough of.
Le Sucre Lab Menu Best Seller
This menu is filled with a wide variety of sweet treats that are mostly ordered by most visiting customers that visit Le Sucre Lab.
Chocolate Dreamcake – It features layers of moist chocolate cake with a chocolate ganache center, all dressed in a smooth and decadent chocolate coating. It is the ideal treat for all chocolate lovers that are looking for something whose chocolatey flavors can be felt in every bite.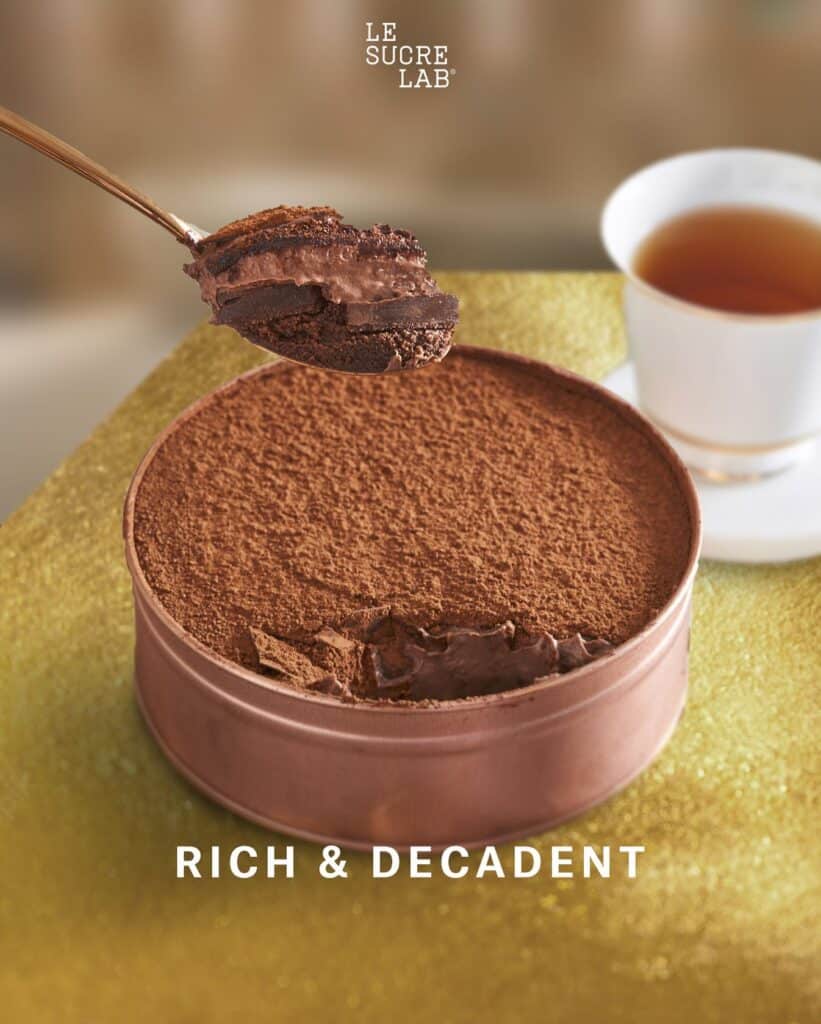 Strawberry Dreamcake – It offers layers of light and fluffy strawberry-infused cake with a delectable strawberry cream filling, all enveloped in a delicate strawberry-flavored coating. The sweetness of strawberries shines through to this dish which makes it one of the most refreshing and delightful treats at Le Sucre Lab.
Red Velvet Dreamcake – The layers of this cake boasts the signature red velvet flavor, and between them lies a creamy and velvety center. The rich and smooth cream cheese coating adds the perfect touch of tangy sweetness making it a combination that is irresistible.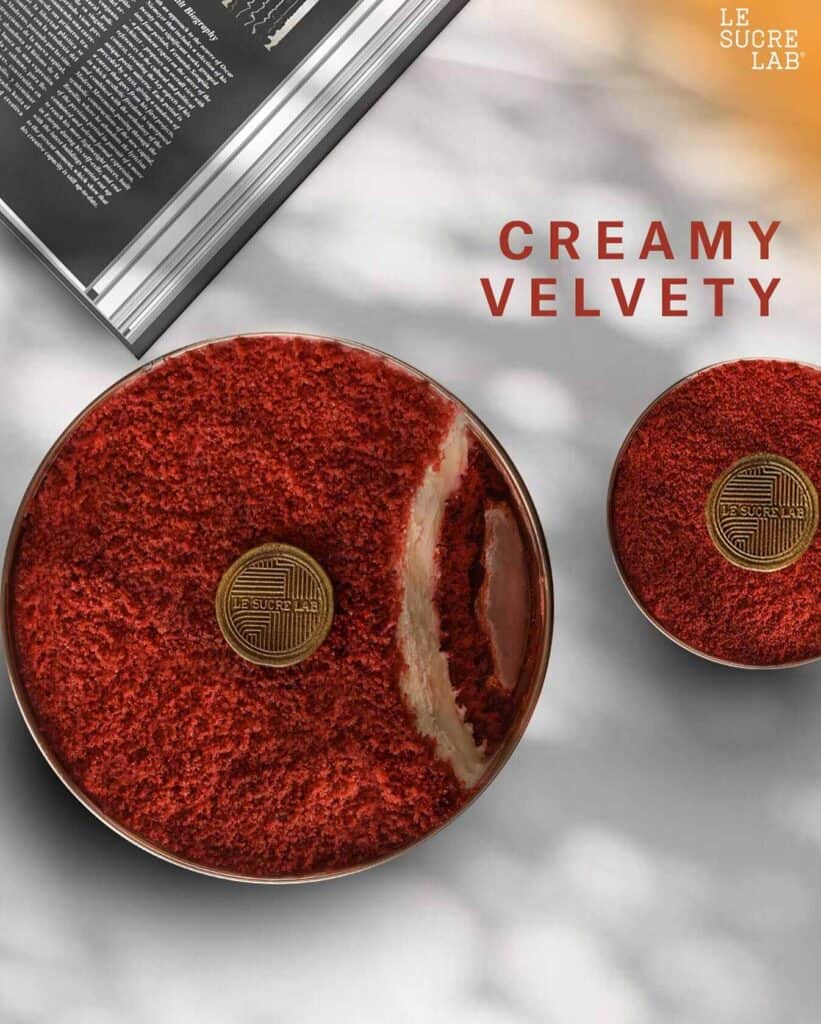 Mini Chocolate Dreamcake – This cake is a small version of the classic Chocolate Dreamcake. Despite its size, it still has the same intense chocolate flavor and luscious texture, making it a perfect treat that is perfect for a quick pick-me-up or a sweet treat on the go.
Mini Red Velvet Dreamcake – Like its larger counterpart, the Mini Red Velvet Dreamcake offers Le Sucre Lab's customers all the textures and flavors that the Red Velvet Dreamcake provides. This dream cake will surely leave you satisfied and makes you want more.
Dreamcakes
This menu is filled with a wide range of dream cakes, each one of them comes in different flavors and sizes.
Mango Dreamcake – A tropical twist on the classic Dreamcake menu of Le Sucre Lab that provides customers with a great combination of smooth mango flavors and rich cake layers. Highlighting the refreshing taste of ripe mangoes, it makes for a perfect treat for those who enjoy fruity and creamy desserts.
Guiltless Chocolate Dreamcake – This treat is perfect for those that are looking for a healthy and delicious treat for a guilt-free indulgence. It offers chocolatey goodness but with a healthier twist so that customers can enjoy a healthy treat without compromising on taste.
Ube Dreamcake – This dream cake highlights the vibrant flavor of purple yam, perfect for those that are looking for something unique. The luscious layers of ube-infused cake and frosting create a colorful and delicious dessert that pays homage to local tastes.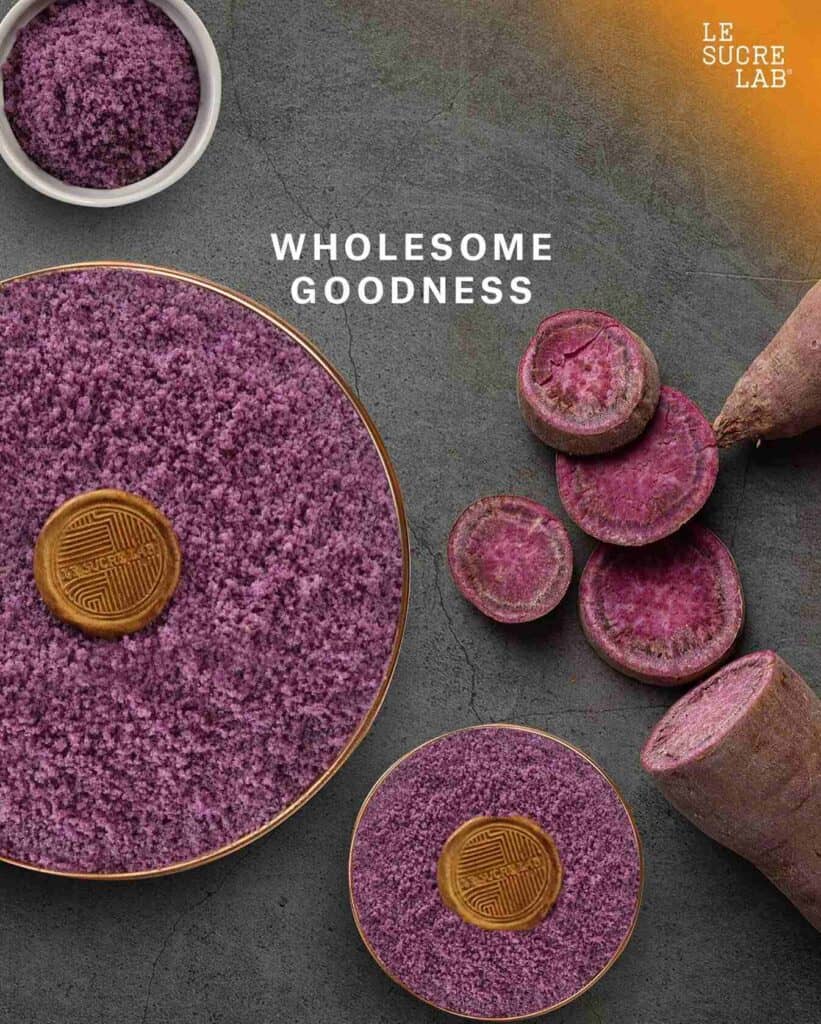 Mini Dream Cakes
This menu is filled with a wide variety of mini versions of Le Sucre Lab's specialty, the dreamcakes.
Mini Chocolate Dreamcake – The Mini Chocolate Dreamcake is a small version of Le Sucre Lab's classic dreamcake. Each bite offers the same chocolatey taste as its larger counterpart, making it perfect for those who want to savor the rich flavors in small servings.
Mini Mango Dreamcake – It is a delicious and satisfying menu of Le Sucre Lab that captures the essence of the tropical flavors of the mango. Customers can experience the refreshing taste of ripe mangoes infused into this small cake.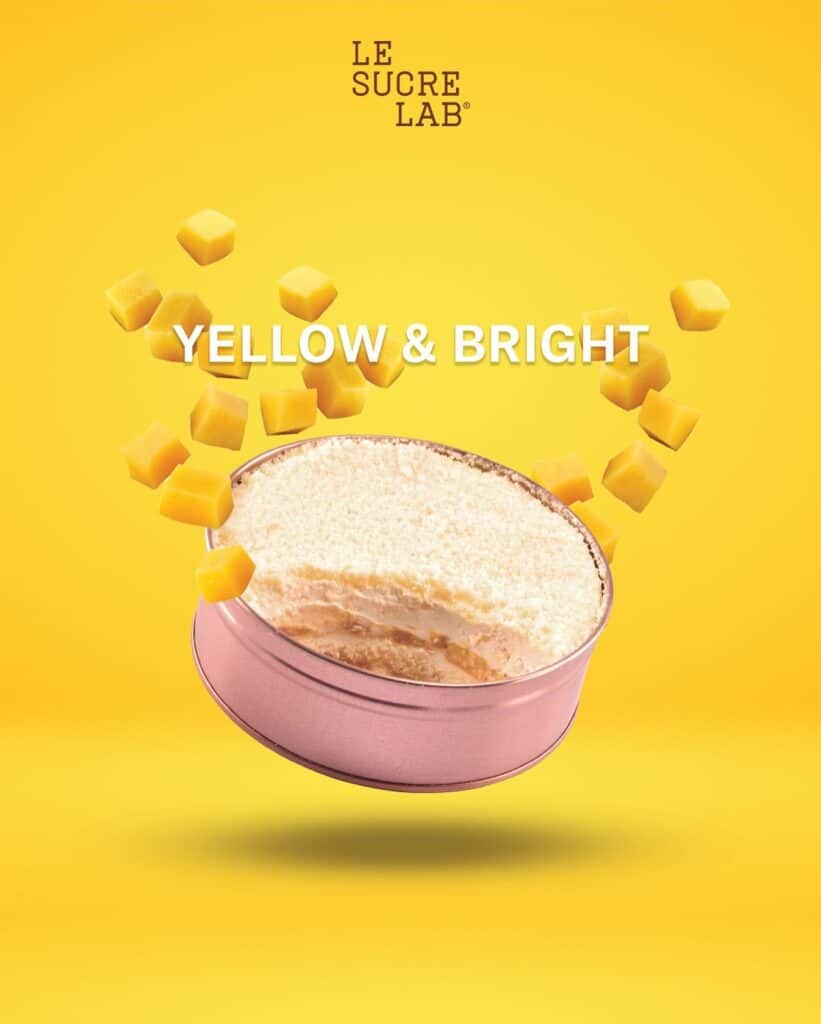 Mini Strawberry Dreamcake – It features the luscious flavors of strawberries, delicately blended with layers of cake and frosting. These mini cakes are bursting with fruity goodness in every mouthful.
Premium Truffles Collection
Each truffle menu of Le Sucre Lab is made with a lot of care and hard work, so when you take a bite, it's like a special journey into chocolate bliss that you won't forget. Here are some of the truffles they have:
Klasik Dark Premium Truffles – These are truffles made from rich and dark chocolate, perfect if you like deep chocolate flavors.
Dark Mocha Premium Truffles – It tastes like a bit of coffee mixed with chocolate, which can be super tasty. Highly recommended for people who love coffee like me.
Karamel Premium Truffles – It is filled with caramel, so they have a sweet and gooey surprise inside the chocolate.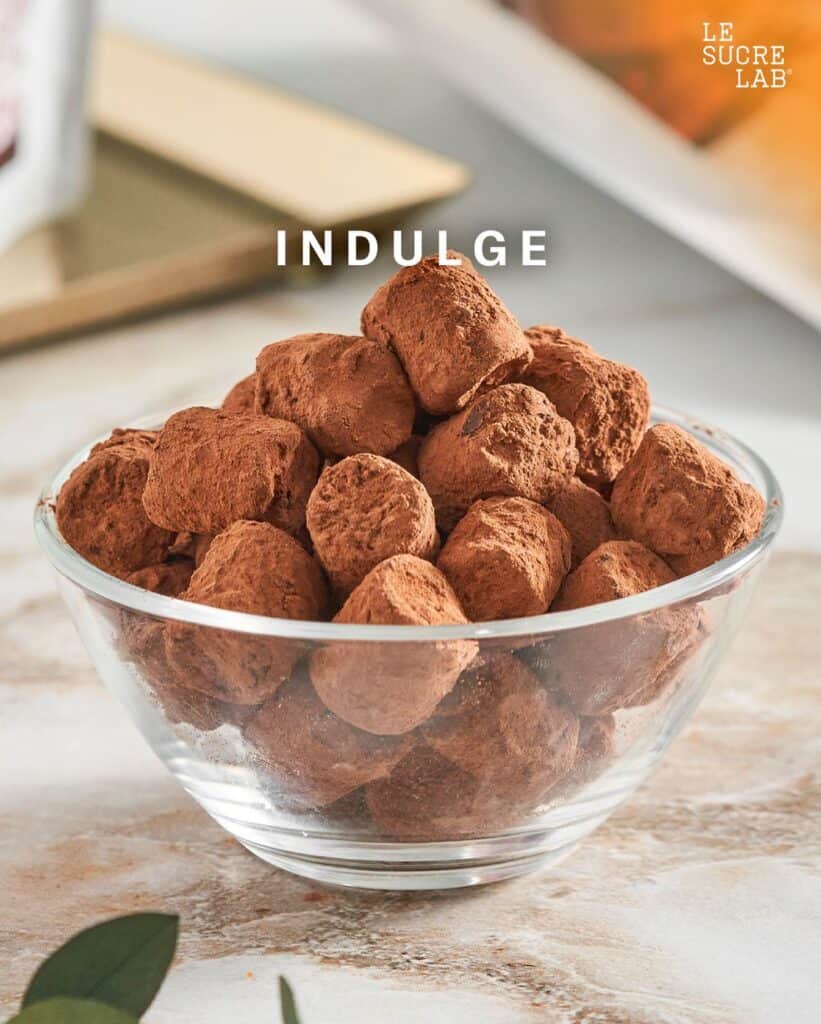 Fudge Bites
Fudge Bites from Le Sucre Lab is currently offering a special treat on their menu called "Manggies." In fact, right now, it is the only menu item available under the Fudge Bites category. Manggies is a delightful combination of brownies and blondies, giving you the goodness of both rich chocolatey and vanilla or butterscotch flavors in every bite. It's a unique and delicious dessert experience that you can enjoy all on its own, without needing to pair it with milk like you would with cookies.
Le Sucre Lab Menu Delivery
Le Sucre Lab's menu delivery gives its customers an option to be able to order their favorite chocolate treats even in the comfort of their own homes. This convenient option allows its customers to be able to browse and order through delivery servers like FoodPanda or GrabFood.
Social Media Pages
Their social media pages are like a magical doorway to a world filled with sweet dreams and delicious treats. You can see special sneak peeks of things before anyone else, find out exciting new flavors, and learn about cool sales that will make your taste buds super happy and excited. So, keep an eye on their social media to join in the fun!
Facebook: https://www.facebook.com/lesucrelabofficial/
Instagram: https://www.instagram.com/lesucrelabph
Twitter: https://twitter.com/lab_sucre
Website: https://lesucrelab.pickup.ph/menu
FAQs
Where is Le Sucre Lab located?
You can visit Le Sucre Lab at 2451 Tejeron St, San Andres Bukid, Manila, Metro Manila.
What types of desserts does Le Sucre Lab offer?
Le Sucre Lab is famously known for their chocolate desserts.
Does Le Sucre Lab take custom orders for special occasions?
Yes, Le Sucre Lab does accept custom orders for any occasion.
Does Le Sucre Lab offer catering services for events?
Yes, they also accepts catering services for multiple events.
Does Le Sucre Lab accommodate allergy concerns?
Yes, Le Sucre Lab is mindful of the health of its customers.
Conclusion
Le Sucre Lab has become the go-to place for chocolate lovers in the Philippines. It offers a mouthwatering menu of homemade and handcrafted chocolates that anyone will surely love. At Le Sucre Lab, customers can indulge in a wide variety of sweet treats for a delightful and unforgettable experience, making them a go-to destination for those that are looking for premium and delicious chocolate creations in the Philippines.