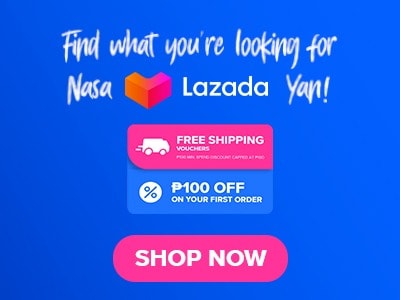 Siglo Cafe's menu is created with passion that comes together with creativity and innovation that results in dishes that create a captivating dining experience for the customers. The menu bursts with flavors that celebrate the art of cooking and highlight Siglo Cafe's chef's cooking skills and expertise, offering customers a diverse range of delicious dishes that cater to a variety of palates and preferences. At Siglo Cafe, they believe that each dish is a work of art, hence, each dish is meticulously crafted to satisfy the senses and ignite the palate.
Below, you'll find the updated list of Siglo Cafe menu prices.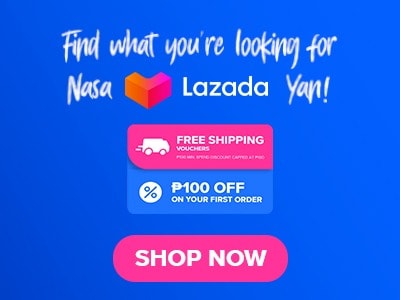 Menu Items
Price (PHP)

Coffee Based Drinks

Cafe Americano
120
Cappucino
140
Flat White
130
Cafe Mocha
145
Caramel Machiatto
155
Spanish Latte
150

Refreshers

Iced Matcha latte
180
Classic Lemonade
120
Yakult Lemonade
138
Strawberry Basil Lemonade
158
Houseblend Iced Tea
128

Breads & Pastries

Cinnamon Roll
130
Ube Cheese Pandesal
320
Spanish Bread
225
Cheese Ensaymada
150
Ube Ensaymada
145
Sausage Bun
90
Ham and Cheese Bun
147
Brokies
195
Spicy Portugese Pandesal
135
Dinner Roll
85
Chocolate Chip Cookies
205
Cheese Roll
55
Tuna Pugg
88
Brownie Blueberry Cheesecake
125
Strawberry Ruby Cheesecake
135
STrawberry Berliner
105
Bavarian Berliner
105
Chocolate Beriliner
150

All Day Breakfast

Adobong antigo
345
Hungarian Sausage
358
Hungarian Sausage with Scrambled Egg and a Slice of Sourdough Bread
365
Beef Tapa
328
Spinach and Msuhroom Omelette w Side Salad and a Slice of Sourdough Bread
255

Pasta

Bacon Pesto Pasta
330
Vegan Bolognese
320
Gourmet Tuyo w Sundried Tomato
295
Baked Cheesy Bacon Spaghetti
285

Sandwich

Tuna Melt in Sourdough Bread
365
Siglo's Sugnature Brioche Burger
505
Wagyu Pastrami Sandwich
575
Croissant Chicken Sandwich
395

Signature Specials

Slow Cooked Beef Belly with Mashed Potato
565
Salmon Teriyaki
680
Boneless Fried chicken
395
Beef Mechado
585
Chicken Cordon Bleu
640

Soup

Truffle Nushroom Soup
295
Bacon Potato Soup in Sourdough bread
355

Salad

#colspan
Caesar Salad
285
Raspberry Vinaigrette
420
About Siglo Cafe
Siglo Cafe is a one-of-a-kind cafe located in Cavite that offers a variety of dishes that have taken inspiration from various cuisines globally. Every dish that this cafe offers pairs well with the refreshing beverages on its menu, making for a complete and satisfying dining experience. Delicious foods and refreshing drinks paired with a cozy and inviting ambiance is the main reason why this cafe still stands as one of the best in Cavite, making customers satisfied and eager to come back.
Siglo Cafe Menu Best Sellers
Each dish that is part of Siglo Cafe's best-sellers reflects a commitment to quality ingredients, skilled preparation, and a passion for creating memorable dining experiences for customers.
Wagyu Pastrami Sandwich – A dish that is bursting with flavors made with a marbled Wagyu beef pastrami that is sandwiched between slices of artisanal bread. The pastrami's rich umami notes are complemented by layers of fresh vegetables, tangy mustard, and a touch of melted cheese.
Salmon Teriyaki – The Salmon Teriyaki from Siglo Cafe is made with a perfectly seared fillet of salmon glazed with a teriyaki sauce that balances sweet and savory flavors. The dish's tender and flaky texture is a delight to the senses, offering a symphony of umami-rich notes with a hint of caramelized sweetness.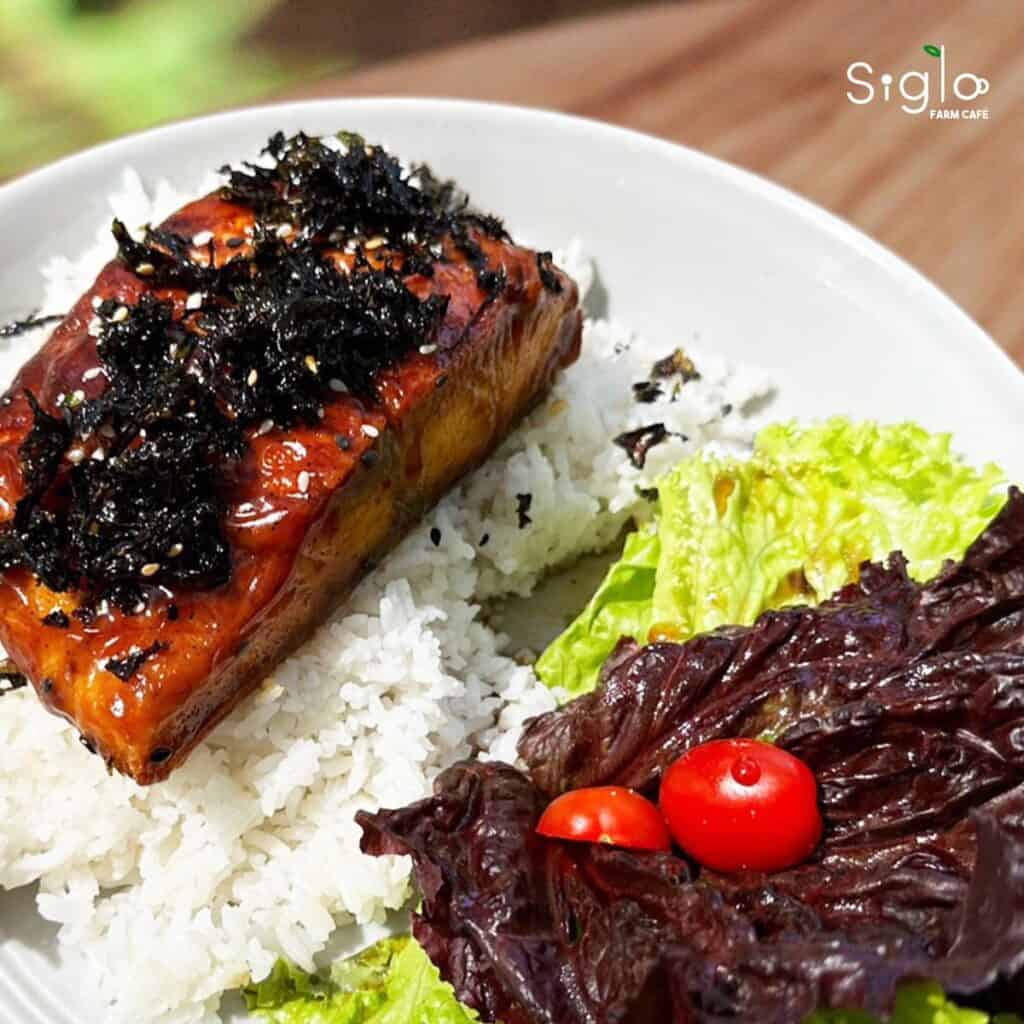 Boneless Fried Chicken – The dish's seasoning includes an array of aromatic herbs and spices, infusing each bite with a burst of flavor making for a crispy, golden-brown coating that envelops tender boneless chicken pieces which results in a satisfying contrast of textures.
Beef Mechado – Made with tender beef chunks are stewed to perfection in a rich and savory tomato-based sauce. This comforting dish is elevated by the addition of a wide variety of vegetables, creating a balance between meaty indulgence and wholesome freshness.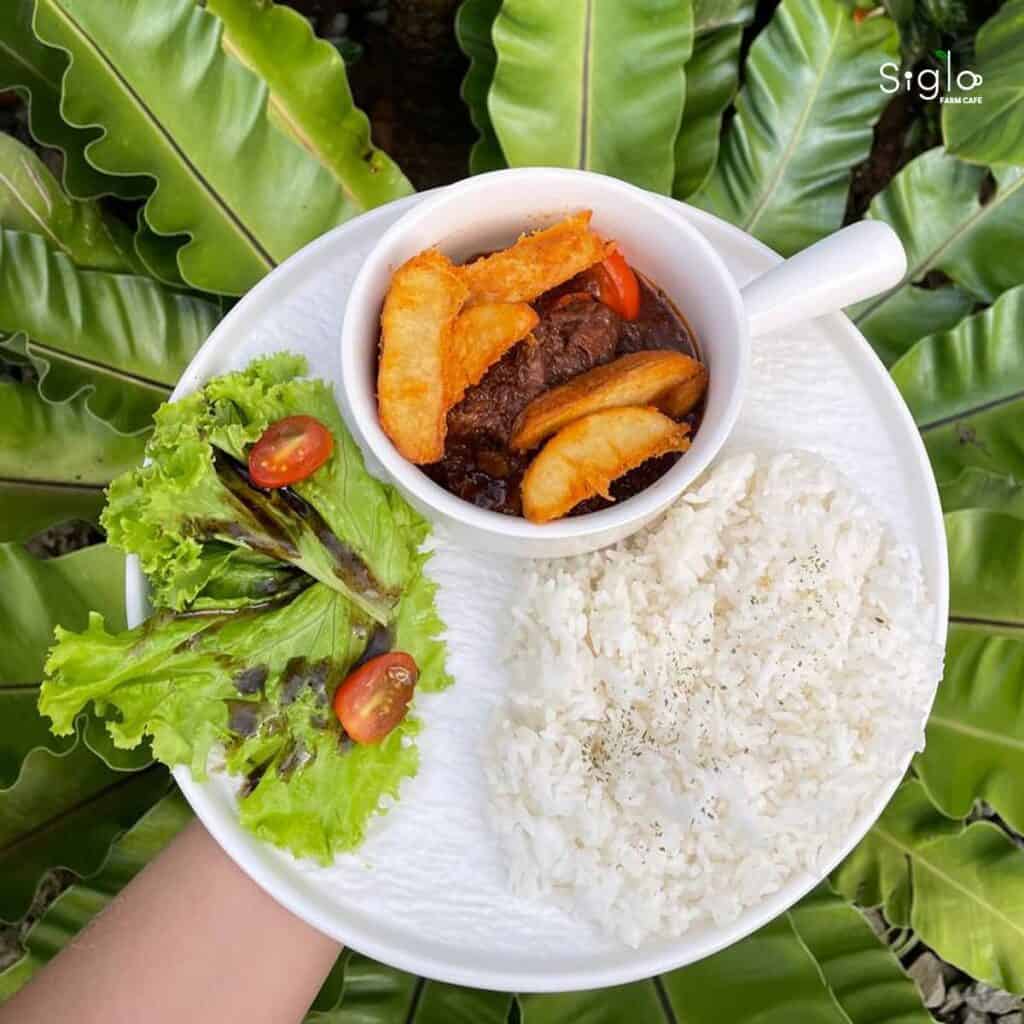 Chicken Cordon Bleu – Siglo Cafe's Chicken Cordon Bleu is a juicy chicken breast thaw stuffed with ham and cheese, creating a delightful contrast of savory and creamy elements. The dish's exterior is crisply breaded and expertly cooked, yielding a satisfying crunch that gives way to its soft interior.
Siglo Cafe All Day Breakfast Menu
These offerings reflect the restaurant's commitment to delivering a satisfying and energizing set of breakfast items that are sure to help start each customer's day.
Adobong Antigo – A dish that features an adobo dish that has been enjoyed by generations of Filipinos up to the present. It is made with tender cuts of meat, that are marinated and slow-cooked in a rich blend of vinegar, soy sauce, garlic, and other aromatic spices.
Hungarian Sausage – An expertly crafted sausage that highlights the robust and savory profile that Hungarian cuisine is known for. Whether enjoyed on its own as an appetizer or paired with complementary sides, the sausage is sure to be satisfying and filling.
Beef Tapa – Those who are looking for a comfortable breakfast meal, can indulge in the familiar comforts of Filipino breakfast with Siglo Cafe's Beef Tapa made with tender slices of beef marinated perfectly resulting in a blend of sweet, savory, and umami flavors.
Pasta
Siglo Cafe continues to demonstrate its dedication to delivering unique and memorable dining experiences through its pasta menu that were made with its chef's expertise and passion for cooking.
Bacon Pesto Pasta – The addition of savory bacon elevates the flavors of this pasta, adding a smoky and salty dimension that perfectly complements the herbaceous pesto. Each bite offers textures and tastes, that create a balance between indulgence and freshness.
Vegan Bolognese – This unique variation of bolognese replaces traditional meat with a hearty blend of vegetables, legumes, and possibly textured plant protein, creating a flavorful and nutrient-rich sauce that is perfect for vegans that visit Siglo Cafe.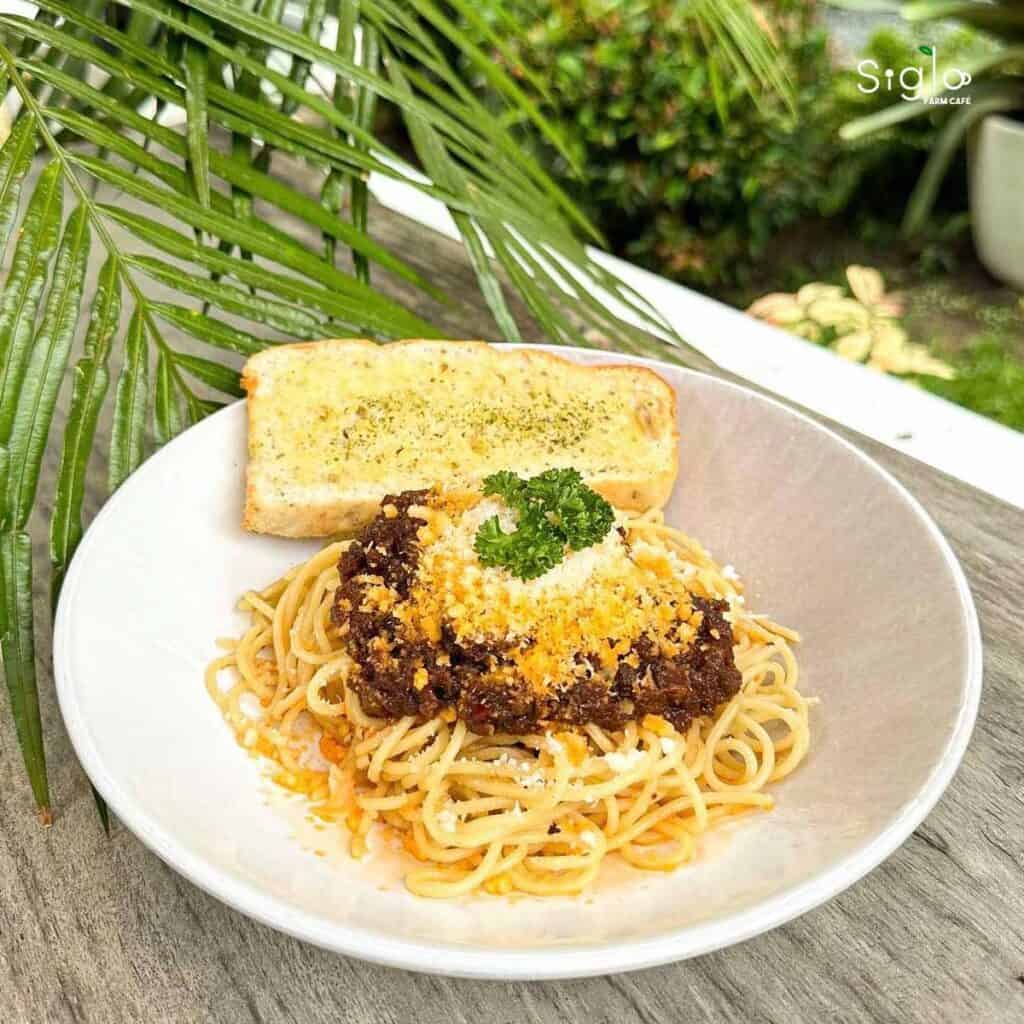 Gourmet Tuyo w/ Sundried Tomato – Siglo Cafe tuyo is transformed into an exquisite dish through a meticulous process of preparation. Enhanced with the addition of sundried tomatoes, aromatic herbs, and possibly a drizzle of olive oil, this dish showcases the restaurant's ability to elevate traditional ingredients into a gourmet experience.
Coffee Based Drinks
Siglo Cafe's Coffee Based Drinks menu is a paradise for coffee lovers seeking both the familiar and the extraordinary. With options ranging from beloved classics to inventive innovations, this menu is a sensory delight. Dive into choices like the straightforward yet bold Cafe Americano, the harmonious blend of espresso and velvety milk in a Cappuccino, or the creamy and rich Flat White that's sure to captivate your taste buds. For those who crave a touch of indulgence, the Cafe Mocha offers a perfect fusion of chocolate and coffee. Experience the delightful interplay of caramel and coffee in the Caramel Macchiato, or indulge in the captivating Spanish Latte, where condensed milk adds a sweet twist to your coffee.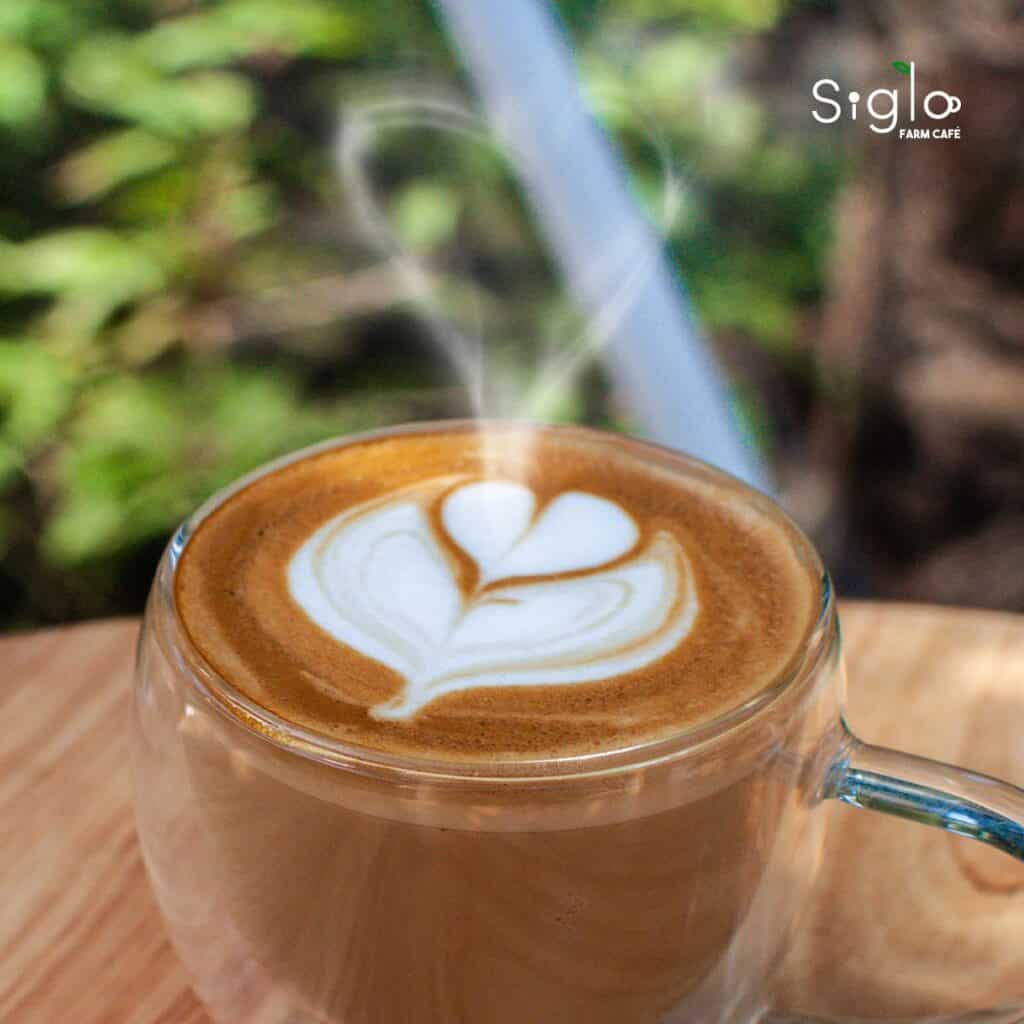 Sandwich
The Sandwich menu is a testament to culinary excellence at Siglo Cafe, where every sandwich is a work of art, meticulously crafted with a harmonious blend of textures and flavors. This medley of premium ingredients is thoughtfully paired and expertly layered, resulting in a collection of sandwiches that are not only satisfying but also incredibly fulfilling. Delight in options like the Tuna Melt in Sourdough Bread, a fusion of flavors that combines the richness of tuna with the comforting embrace of sourdough. Experience the indulgence of Siglo's Signature Brioche Burger, a masterpiece that elevates the classic burger to a new level of deliciousness. For a truly elevated sandwich experience, savor the Wagyu Pastrami Sandwich, a symphony of flavors that showcases the delectable quality of Wagyu beef. And if you're seeking a lighter yet equally satisfying option, the Croissant Chicken Sandwich offers a delightful blend of tender chicken enveloped in the buttery perfection of a croissant.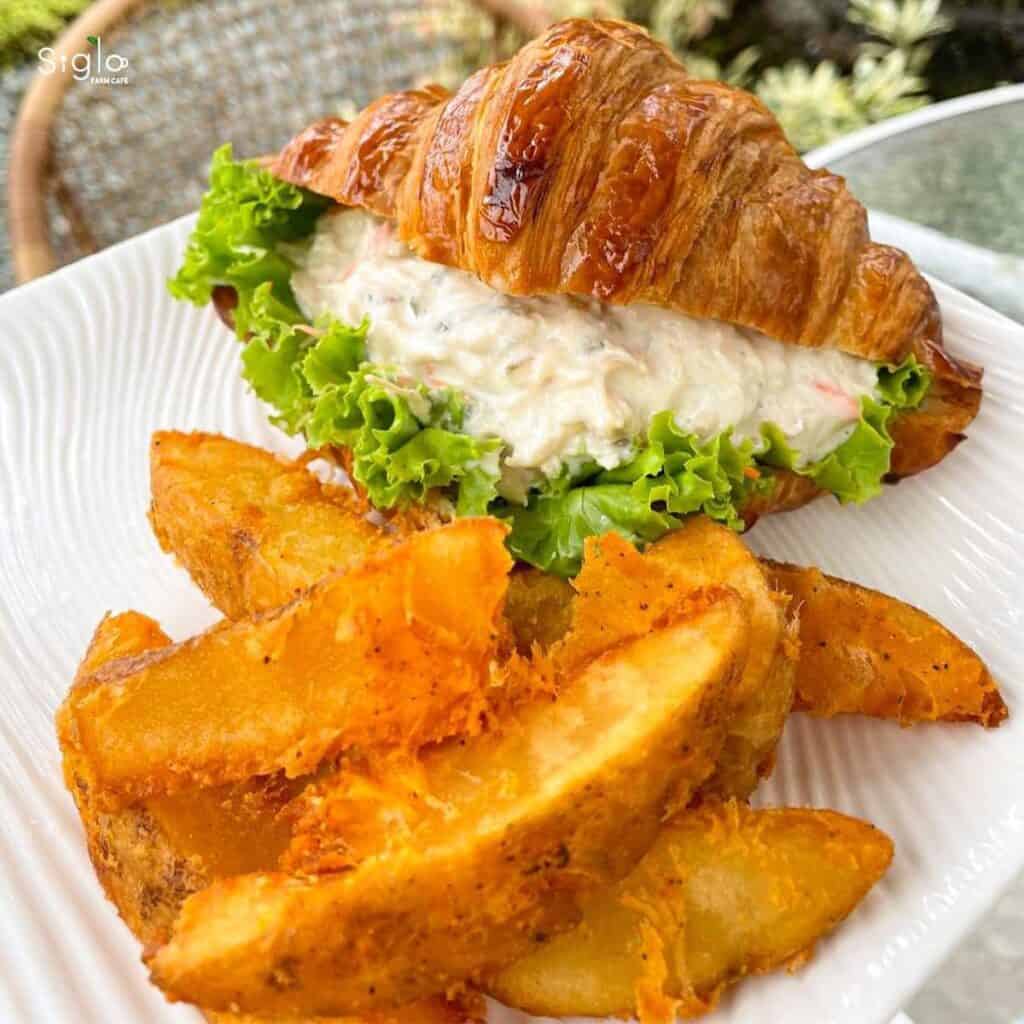 Soup
As of now, there are two options of Soups menu at the Siglo Cafe. The menu takes you on a journey through the finest seasonal ingredients, fragrant spices, and well-crafted flavor profiles. Whether your desire is for a luscious, smooth soup or a heartier option, this menu is designed to cater to your cravings. Indulge in the exquisite Truffle Mushroom Soup, a symphony of earthy truffle notes and the wholesome richness of mushrooms. Alternatively, savor the comforting Bacon Potato Soup, nestled within the warmth of sourdough bread, intertwining layers of taste and satisfaction in each spoonful.
Siglo Cafe Menu Delivery
Siglo Cafe's convenient delivery service brings the delights of their menu directly to customers' homes, ensuring that the comfort of their cafe experience can be enjoyed without stepping outside. This seamless service is available through both their dedicated in-house delivery and popular third-party platforms like FoodPanda or GrabFood, granting customers the flexibility to savor their favorite cafe treats wherever they choose.
Social Media Pages
Following their social media pages isn't just a click – it's your ticket to discovering the flavors that have stood the test of time and continue to evolve. Join their community to stay in the loop and become part of the story!
Facebook: https://www.facebook.com/SigloCafe
Instagram: https://www.instagram.com/siglofarmcafe
FAQs
What is Siglo Cafe, and what type of cuisine does it offer?
Siglo Cafe is a place where locals and tourists visit for a satisfying meal filled with dishes that have been inspired by numerous cuisines.
Does Siglo Cafe have a delivery service for its food orders?
Siglo Cafe does have a delivery service for customers to use if they are too tired or too busy to visit the cafe themselves.
What are some of the most popular dishes on Siglo Cafe's menu?
Wagyu Pastrami Sandwich, Salmon Teriyaki, and Boneless Fried Chicken are some of the most popular items at Siglo Cafe.
Can I make reservations for dining at Siglo Cafe in advance?
Siglo Cafe operates on a walk-in basis but also accepts reservations.
Is Siglo Cafe family-friendly and suitable for large groups?
Siglo Cafe is one of the best places to visit when you are planning to dine in with family and friends.
Conclusion
Siglo Cafe is a cafe in Cavity with a menu that focuses more on creativity, innovation, and a deep appreciation for flavors to provide customers with dishes that captivate the senses and leave them with a memorable experience. The attention to detail, quality ingredients, and dedication to delivering an exceptional dining experience make Siglo Cafe a go-to for both locals and tourists that are eager to have an enjoyable, relaxing, and satisfying place visit.