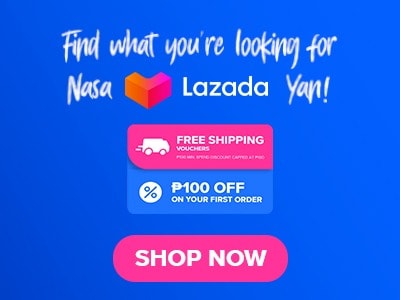 Having a delicious-tasting and refreshing drink in the middle when it is the hottest time of the day is the most refreshing thing that you can do. If you are unsure where in the Philippines can you find a place comfortable place to enjoy a delicious and refreshing drink, then you should try visiting Tea Talk. Tea Talk's menu is all about offering a wide range of refreshing and delicious tea-based beverages that ranges from classic milk teas to fruity infusions and unique cheese teas. The shop's focus on using premium ingredients and providing excellent customer service makes it the favorite destination for tea lovers that are looking for a satisfying and refreshing drink experience.
Below, you'll find the updated list of Tea Talk menu prices.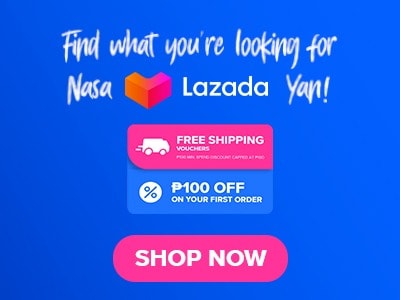 Menu Items
Price (PHP)

Food

Creamy Carbonara
264
Buffalo Wings
269
Tea Talk Fries
205
Tea Talk Burger
269
Chili Cheese Fries
360
Chicken Sandwich
178
Tuna Sandwich
178
Sausage & Waffle
340

Milk Tea And Fruit Juice

Tea Talk Milk Tea
120
Oolong Special Milk Tea
189
Okinawa Milk Tea
176
Strawberry Milk
195
Choco Boba Milk
163
Taro Bubble Milk
163
Matcha Milk
200
Wintermelon Milktea
176
Wintermelon Lemon Fruit Tea
163
Passion Fruit Juice Special
169
Lemon Fruit Juice
163
Brown Sugar Boba Milk
169
Brown Sugar Boba Milk Tea
169
Hokkaido
176
Caramel Milktea
189
Lemon Black Tea
169
Thai Milk Tea
176
Brown Sugar Black Tea Latte
189

Hot Drinks

Hot Tea Talk Milk Tea
169
Hot Oolong Regular Milk Tea
169
Hot Oolong Special Milk Tea
182
Hot Choco Strawberry
182

Add-Ons

Crystal Original
45
Grass Jelly
45
Egg Pudding
45
Cream Cheese
45
Black Pearl
22
Colorful Jelly
36
Basil Seeds
36
About Tea Talk
Tea Talk is a popular tea shop that originated in the Philippines that is known for offering a wide variety of refreshing and flavorful tea-based beverages. The shop aims to provide customers with high-quality and delicious tea drinks that cater to different tastes and preferences so it offers a menu that features an extensive selection of beverages, including milk teas, fruit teas, cheese teas, and more. Customers are allowed to customize their drinks by choosing the sweetness level and ice preferences. The shop also offers various toppings and add-ons, allowing customers to create their own unique tea concoctions.
Tea Talk Menu Best Seller
This menu is filled with various food items ranging from beverages to food items that would make an excellent pairing for a satisfying visit at Tea Talk.
Thai Milk Tea – It features a perfectly balanced combination of strong black tea, creamy milk, and a touch of sweetness from condensed milk or sugar. The tea has a beautiful amber color and a rich, aromatic flavor that is both soothing and refreshing.
Buffalo Wings – These wings are cooked to perfection, with a crispy and golden exterior and tender, juicy meat inside, and paired with a sauce with just the right amount of heat that will make you want for more.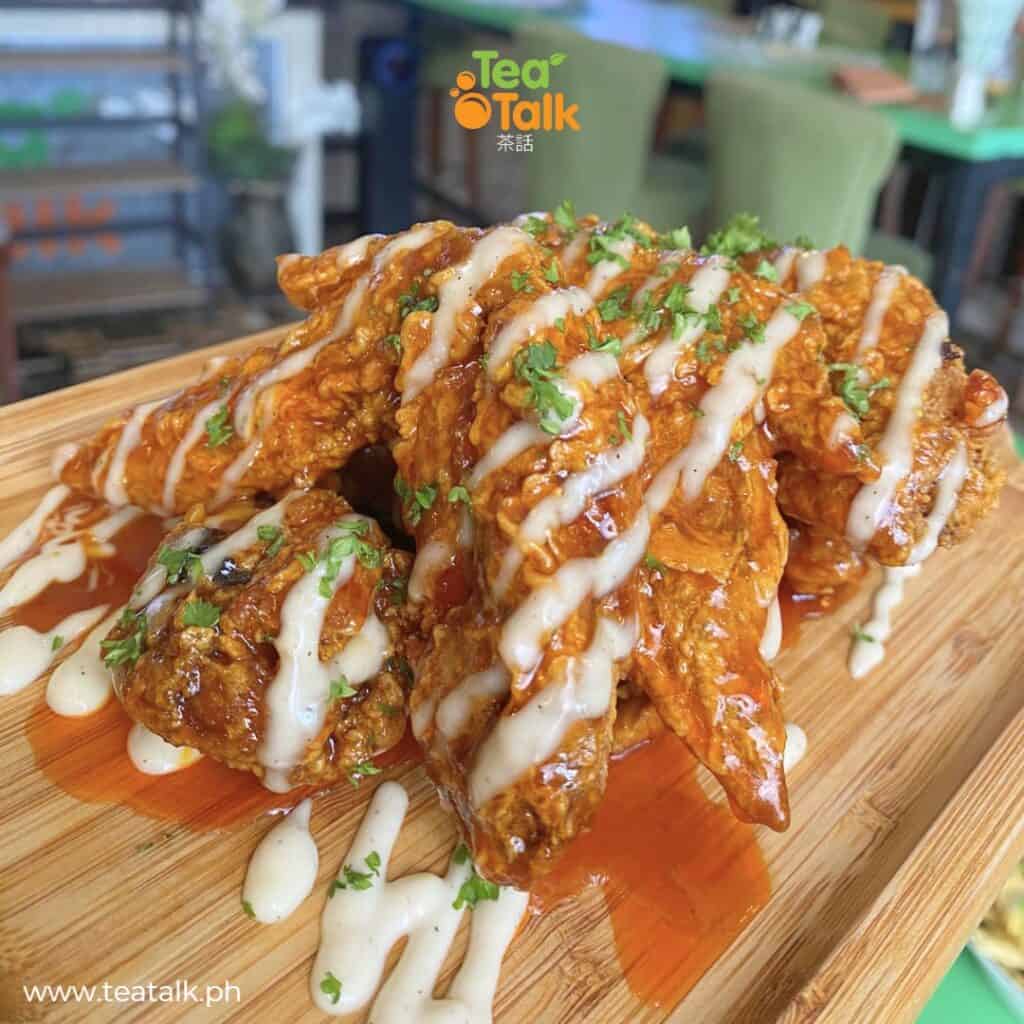 Chicken Sandwich – The sandwich features tender and well-seasoned grilled chicken, accompanied by fresh lettuce, tomatoes, and mayo, all sandwiched between soft and toasted bread. The combination of flavors and textures in the sandwich makes it a perfect choice for a light lunch or a satisfying snack on the go.
Okinawa Milk Tea – This tea is brewed to perfection, creating a strong and robust base, then mixed with creamy milk and sweetened with Okinawa brown sugar, giving it a distinct caramel-like flavor. The tea has a comforting and soothing taste, making it a perfect companion for any time of the day.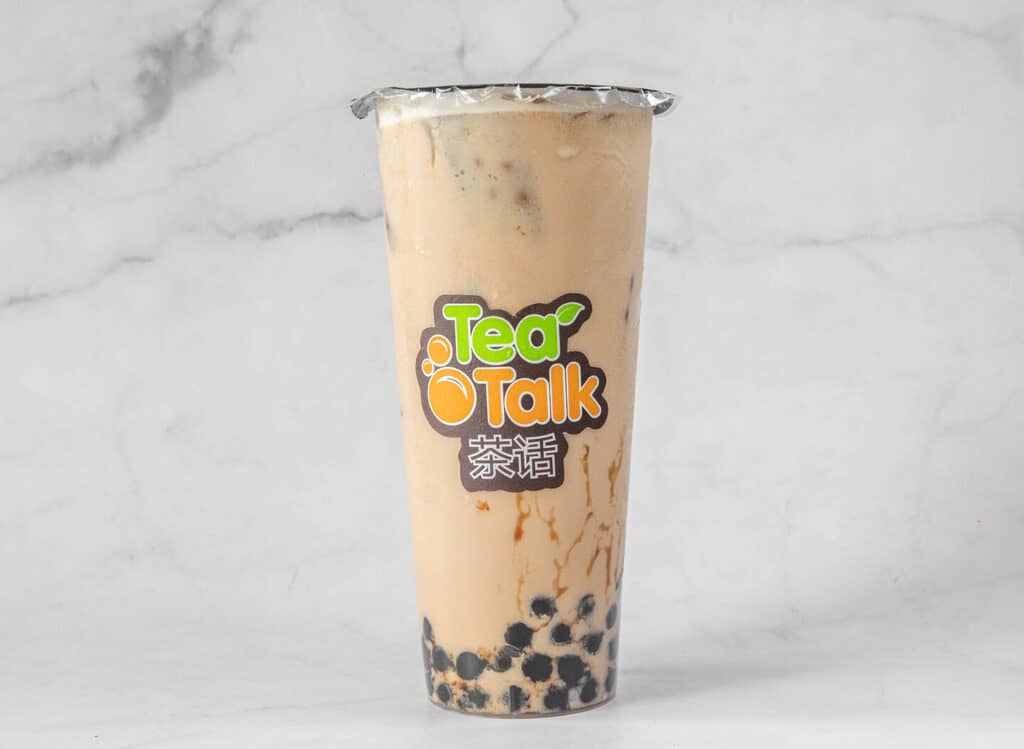 Wintermelon Milktea – This milky and slightly sweetened tea is infused with the unique flavor of winter melon, creating a delightful combination of taste and aroma. The drink is served with ice, making it a refreshing and thirst-quenching beverage, perfect for hot weather or any time you crave a delightful milk tea experience.
Tea Talk Food Menu
This menu is made up of different food items that would pair really well with Tea Talk's beverage items.
Creamy Carbonara – It is a delightful pasta dish that features perfectly cooked spaghetti coated in a rich and creamy white sauce that is well-balanced, with a luscious texture that complements the pasta perfectly. The addition of crispy bacon and grated cheese on top adds a savory and indulgent touch to the dish.
Tuna Sandwich – This sandwich is made with freshly prepared tuna salad, featuring chunks of tuna mixed with mayonnaise, onions, and other seasonings. It is then layered between two slices of soft bread, creating a delightful balance of flavors and textures making it a great choice for those that are looking for a light yet flavorful option.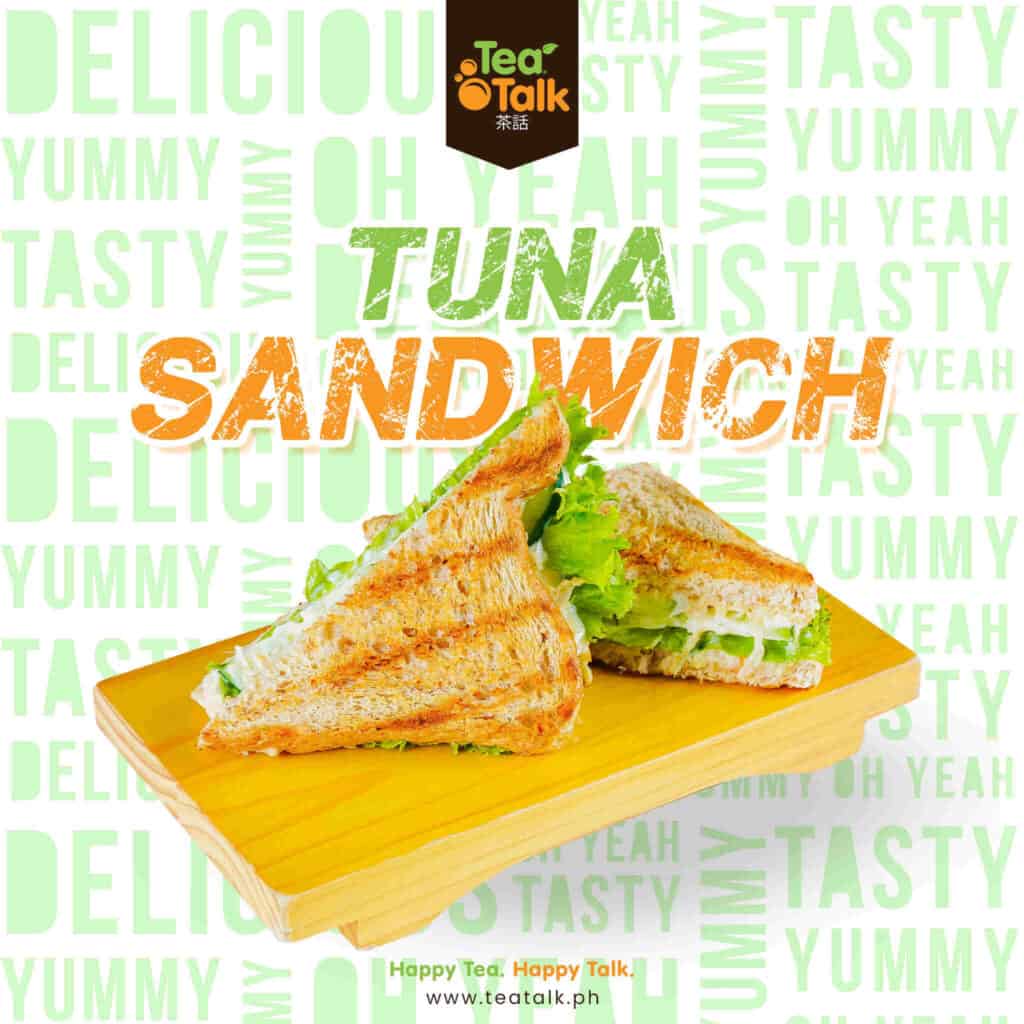 Sausage & Waffle – This waffle is light and fluffy with a slightly crisp exterior, making it a delightful base for savory sausages. The pairing of sweet and savory in this dish makes it a perfect choice for those who enjoy the combination of flavors.
Milk Tea and Fruit Juice
This menu is filled with different selections of drinks that made Tea Talk a popular place for milk tea lovers in the Philippines.
Tea Talk Milk Tea – This milk tea is created with a blend of high-quality black tea, mixed with a creamy milk base, and sweetened to perfection resulting ins a smooth and satisfying drink with a harmonious balance of flavors. Whether you prefer this beverage hot or iced, it will always be a comforting choice for milk tea lovers.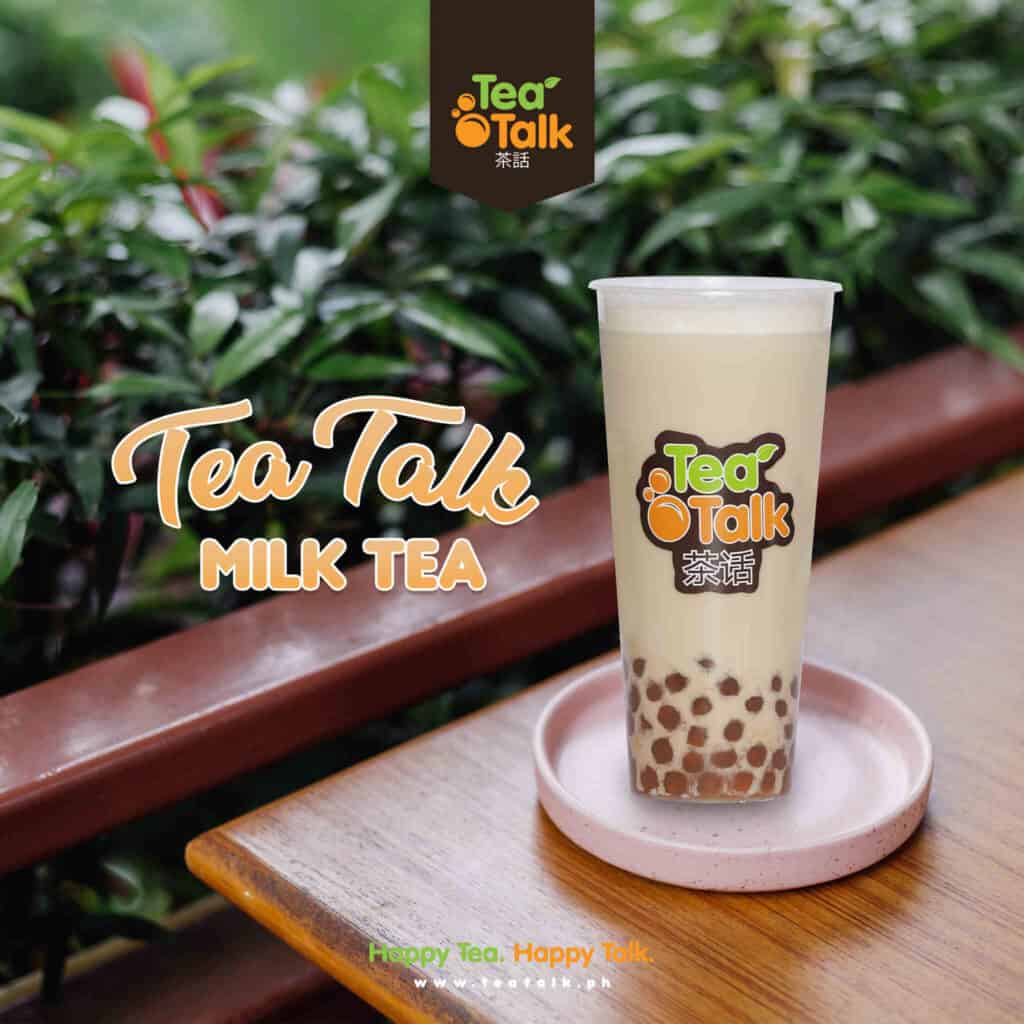 Oolong Special Milk Tea – This drink features the aromatic and robust flavor of oolong tea, combined with the creaminess of milk and a touch of sweetness. The result is a smooth and sophisticated milk tea with a unique oolong twist that sets it apart from traditional milk teas making it perfect for those who enjoy a slightly different twist on their milk tea.
Choco Boba Milk – This milk tea is infused with the rich and indulgent flavor of chocolate, giving it a sweet and decadent taste. The addition of chewy boba pearls to it adds a delightful texture to the drink, making it even more enjoyable.
Add-Ons
At Tea Talk, get ready to take your milk tea adventure to the next level! Here's the fun part: you can jazz up your favorite drinks with amazing add-ons that make them even more awesome. These special add-ons bring a whole new world of flavors and textures to your sips, letting you mix and match to create your very own, super unique drink. Try the Crystal Original, a delightful choice that adds a touch of fancy. Or how about the Grass Jelly? It's like a little surprise waiting at the bottom of your cup. Don't miss the Egg Pudding – a sweet, smooth treat that makes every sip so satisfying. And let's not forget the Cream Cheese that adds a creamy twist to your sips. For those who love a chewy surprise, the Black Pearl is a must-try. If you're all about colors and fun, the Colorful Jelly is your go-to. And last but not least, there are the Basil Seeds that add a tiny burst of coolness to your sips.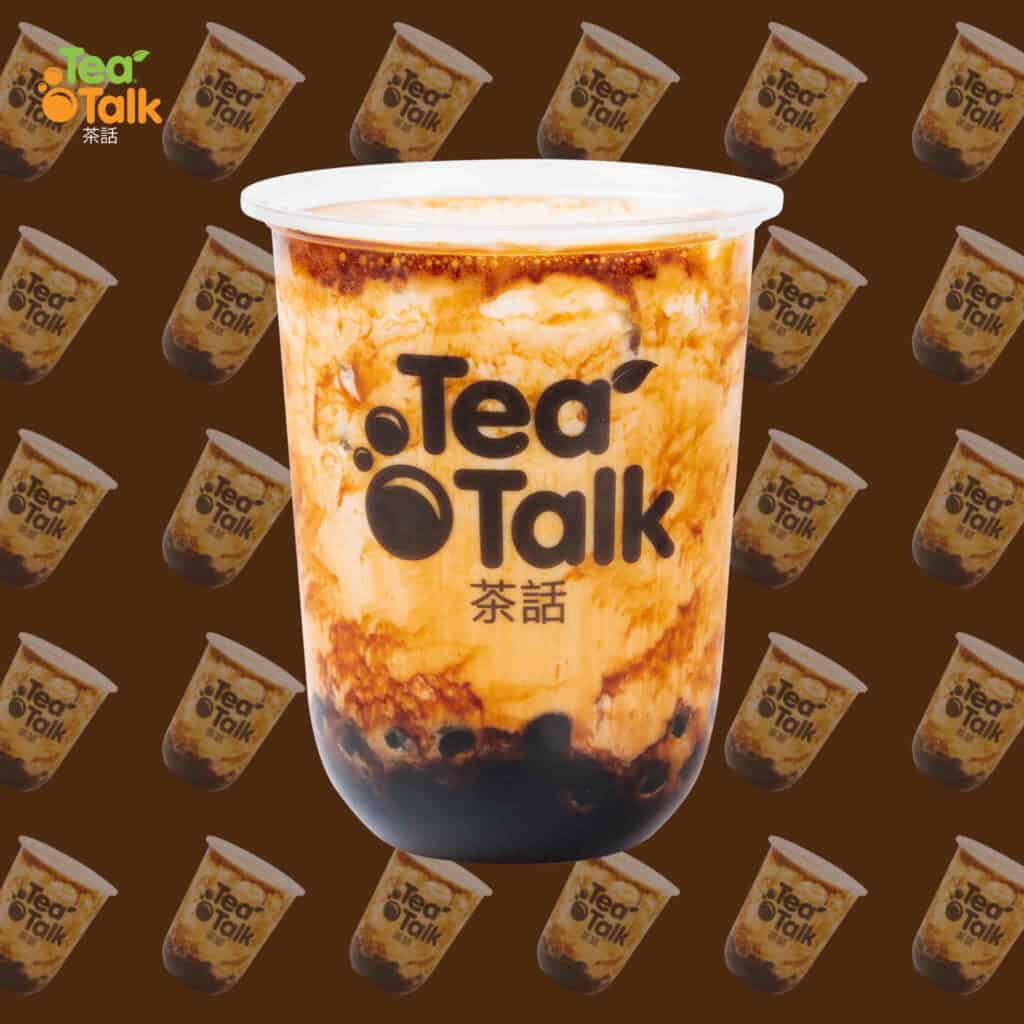 Tea Talk Menu Delivery
Step into the world of Tea Talk, where their menu delivery brings delicious choices right to you, just like if you were walking into their shop. It's like having the whole Tea Talk experience, but without leaving your comfy spot! How cool is that? All you need is your mobile device, and you can even get their app, like FoodPanda, to make it even easier. So, whether you're out and about or chilling at home, Tea Talk's got your back, ready to satisfy your tea cravings wherever you are.
ocial Media Pages
Join the conversation and immerse yourself in the world of delightful conversations over a cup of tea by following their social media pages at Tea Talk. Discover the art of tea culture, the latest tea trends, and tips for brewing the perfect cup.
Facebook: https://www.facebook.com/teatalkmain
Instagram: https://www.instagram.com/teatalk.official
TikTok: https://www.tiktok.com/@teatalk.main
YouTube: https://www.youtube.com/@teatalkofficial
FAQs
Where can I find Tea Talk stores?
Tea Talk's branches can be mainly found in the Visayan region of the Philippines, in places such as Cebu and Cagayan de Oro.
Are there options for customizing the sweetness level in Tea Talk drinks?
Yes, customers have the freedom to customize their drinks at Tea Talk.
Does Tea Talk serve other beverages besides tea?
Yes, Tea Talk also provides customers with a variety of food offerings to complement their drinks.
Can I add toppings to my Tea Talk drinks?
Customers can further customize their drinks at Tea Talk by adding any topping available in the said shop.
Does Tea Talk have a loyalty program or rewards system?
Tea Talk does provide their regular system points in every purchase that can be redeemed for rewards.
Conclusion
Tea Talk is one of the many popular tea brands in the Philippines with an extensive menu that features flavorful and refreshing tea-based beverages. With its wide range of options to choose from, including classic milk teas, fruity infusions, and unique cheese teas, this beverage shop is able to cater to the diverse tastes and preferences of its customers. Overall, Tea Talk is a go-to destination for tea lovers in the Philippines that are looking for a delightful and refreshing treat.