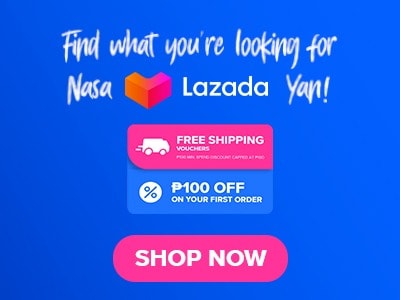 Craving some waffles? Have you heard about Waffle Time? I bet you already bumped into one of their branches since they're all over our country. Waffle Time menu offers delicious waffles with different flavors, you'll find what you like on their list of menus for sure.
So in this article, we are going to talk about Waffle Time. We will get to know them, their history, the products that they are offering, and of course, the prices per food that they sell. Interested in this topic if yes I won't make this introduction too long anymore and let's start,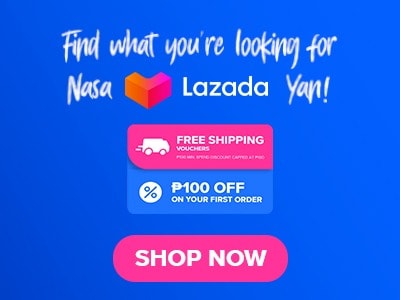 Below, you'll find the updated list of Waffle Time menu prices.
Menu Items
Price (PHP)

Combo Snacks

Buy 6 Tender Juicy Hotdog
259
Buy 4 Cheese Delight + 3 Tender Juicy hotdog
251
Buy 3 Belgian Choco Waffle + 3 Tender juicy hotdog
243
Buy 3 Belgian Choco Waffle + 3 German franks
243
Buy 8 Cheese Delight
243

Waffles

American Hotdog Waffle
43
German Cheese Franks Waffle
45
Tender Juicy Cheesedog Waffle
45
Belgian Choco Waffle
40
Tuna Salad Waffle
43
Cheese Delite Waffle
32
Bavarian Cream Waffle
35
Ham N Cheese Waffle
43
Tuna Cheesedog Waffle
41
Bacon N Cheese Waffle
47

Drinks

Bottled Water 500ml
27
About Waffle Time
Johnny Que is the one behind the success of Waffle Time. He started this business with the goal of reinventing and making a simple waffle affordable but nutritious and delicious snack. They are offering their customers freshly made waffles with different flavors to choose from. In the year 2002 Waffle Time started selling delicious and affordable waffles in the market, (metro) after his unexpected success in the metro he decided to open other outlets in Davao, Cebu, Dagupan, and Cagayan de Oro.
During their expansion, his personnel are being trained professionally and even the owner studied locations to target where to put his stalls. After 2 years Waffle Time started to open its door to franchising and after that Waffle Time mushroomed in the country and was recognized as one of our country's fastest-growing businesses. The management of Waffle Time believes that their success comes from the quality standard that they strictly follow and of course, their price which is really affordable.
As of today Waffle Time already has 400 outlets nationwide from its very humble beginning as a single outlet at the Atrium Mall located in Iloilo City by the year 1998. Aside from their success in our country Waffle Time now also has 8 branches in Indonesia which is also part of their plan to enter the region of Asia Pacific.
Waffle Time Menu Best Sellers
Here are samples of Waffle Time's best-selling items on their menu.
American Hotdog Waffle
American hotdog waffle version of Waffle Time is made with a waffle mixture and American hotdog. The hotdog that they use in this type of waffle is big enough to satisfy your hunger. The waffle is soft but cooked very well I like the edges actually I don't know why lol. The hotdog is tasty and juicy as well. The waffle has that mild sweetness from the waffle mixture but it really goes well with the hotdog that they use. One of their best-selling item that everyone must try.
Tender Juicy Cheesedog Waffle
We are all familiar with the Tender Juicy brand which is the maker of the most popular hotdog here in our country, this type of hotdog is surely delicious that's why trying waffle times tender juicy cheese dog waffle is a safe choice. Made with waffle mixture and tender juicy cheese dog as filling, you will surely like this waffle flavor of Waffle Time. With a strong cheesy flavor coming from the hotdog plus a very mild sweetness from the waffle, you have a delicious treat! This one is also included in the best-selling Waffle Time menu and I also highly recommend it.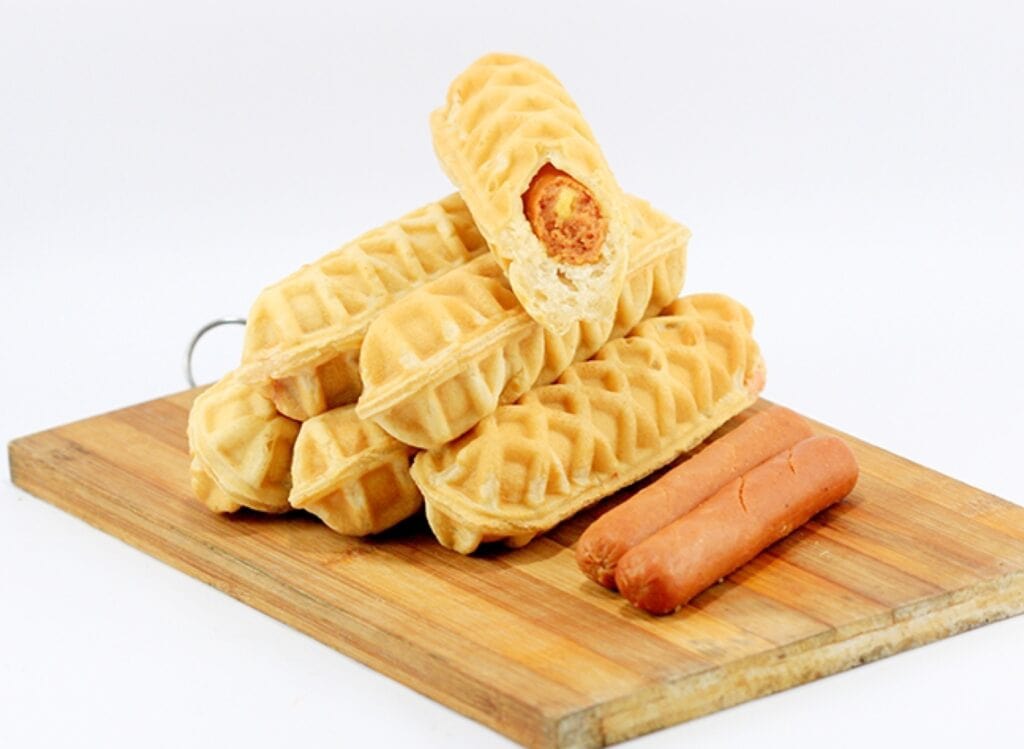 Belgian Choco Waffle
If you have a sweet tooth then Waffle Time's version of Belgian waffle is just the right waffle for you. Made with a waffle mixture plus Belgian chocolate as filings this is one good treat! The chocolate that they used to make their Belgian chocolate waffle taste so good then add the great flavor of their waffle to satisfy your sweet cravings. This is my personal favorite among all of their waffle flavors available since I love sweet treats, you'll surely love this whether you have a sweet tooth or not.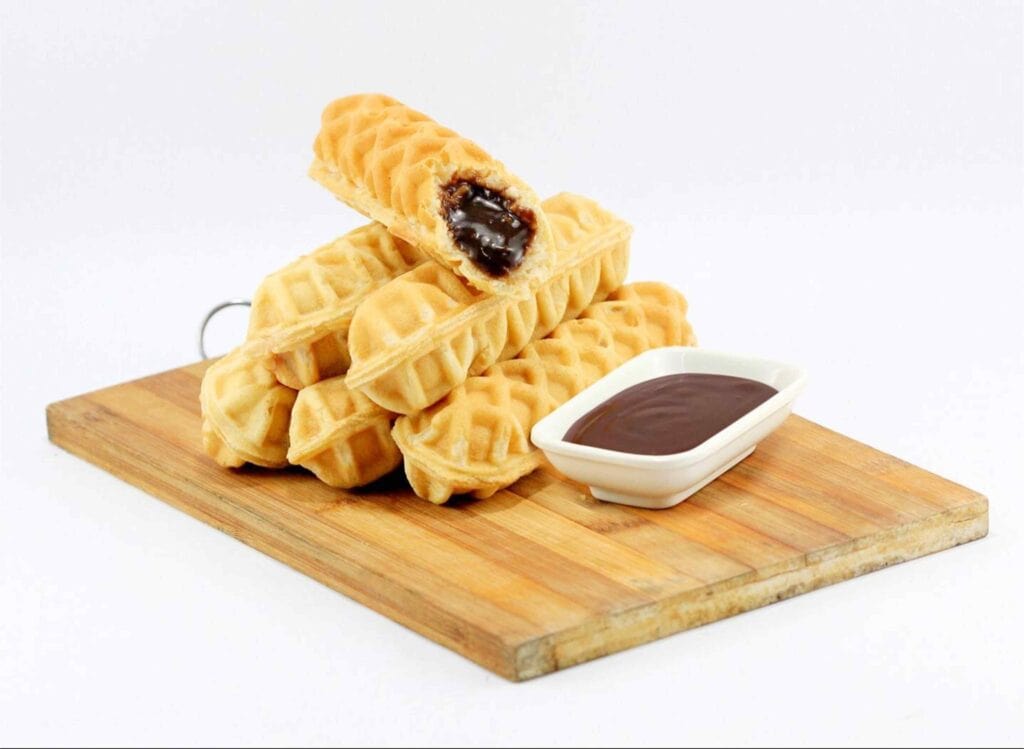 Bacon N Cheese Waffle
The bacon and cheese waffle from the Waffle Time menu is also delicious. This is also included in their best-selling item. The combination of cheese and bacon tastes really good plus the bacon and cheese filling are generous so the taste is great and definitely delicious. Made with their signature waffle batter and high-quality bacon and cheese this will surely satisfy your cravings especially if you're not a fan of sweets. 
Cheese Delite Waffle
Cheese Delite waffle is made for cheese lovers who love their waffle cheesy. Generous amounts of cheese are stuffed inside their soft waffle delicious and great especially when still hot. Their cheese delite waffle is one great treat if you're looking for a waffle that can satisfy your cheese cravings. Strong cheese flavor as well. A must-try on their menu.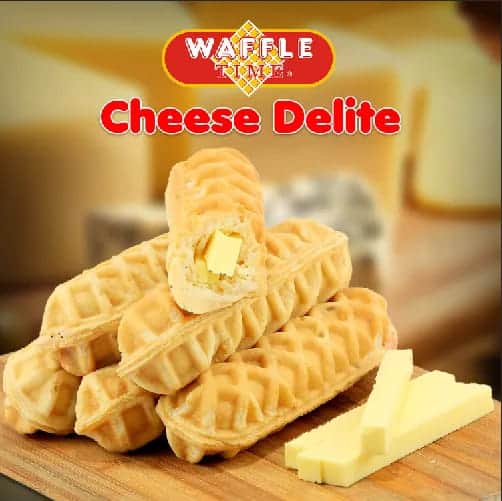 Waffle Time Menu Delivery
Don't have the time to order food, or don't want to wait in long lines just to get your favorite waffles? Good news because they are available on GrabFood and FoodPanda. All you need to do is open one of these apps and place your order. Within a few minutes, your delicious waffle treats will be delivered right to your doorstep!
Social Media Pages
Get ready to sweeten your feed and indulge in waffle wonderland! Follow and like Waffle Time's social media pages today for a daily dose of waffle goodness, mouthwatering treats, and exclusive offers that will satisfy your cravings and elevate your snacking game.
Facebook: https://www.facebook.com/WaffleTimeInc
Instagram: https://www.instagram.com/waffletime.ph
Twitter: https://twitter.com/waffletime_ph
Website: https://www.waffletime.com/contact
YouTube: https://www.youtube.com/@waffletime
Frequently Asked Question (FAQs)
Why Waffle Time is special?
Waffle Time uses only the finest ingredients to conserve the quality of their products. They're being consistent to be the pambansang waffle ng Pilipinas.
Where did Waffle Time originate?
Waffle Time started its humble beginnings in Iloilo City in a small stall at the Atrium Mall.
When did Waffle Time open for a franchise?
They started opening their doors for franchises in March of 2004 and since then a lot of entrepreneurs have franchised their businesses and started mushrooming the country with hundreds of outlets nationwide.
What are Waffle Time opening hours?
Depends on the branch that they have. According to my research, some branches open at 9 am and close at 10 pm, and some open at 10 am and close at 9 pm.
Are they halal-certified?
Based on their menu, Waffle Time is offering pork products as ingredients for some of their waffles making them a non-halal certified store. 
Conclusion
A great place to go if you're just craving for waffles, quality products but affordable. The Waffle Time menu has a lot of flavors that you can try. Their products are delicious plus the service that they provide is great, nice and smiling crew by the way, clean working area too. A place that I can recommend to everyone where you can enjoy a delicious treat without spending too much money.