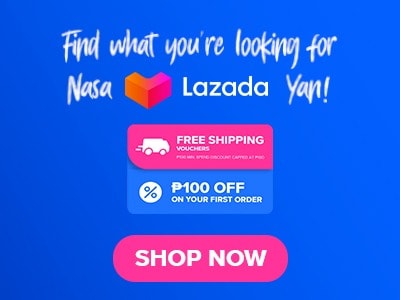 Korean restaurants have grown popular not only in Asian countries but in the whole world due to the popularity of their culture, including the Philippines. If you are fond of Korean restaurants, or someone who is curious about how Korean dishes taste, then Nara Kimbob is the first place that you should visit. Nara Kimbob offers a diverse and flavorful menu of Korean cuisine, showcasing a wide array of delicious dishes that focus on rice-based meals and traditional Korean flavors.
Below, you'll find the updated list of Nara Kimbob menu prices.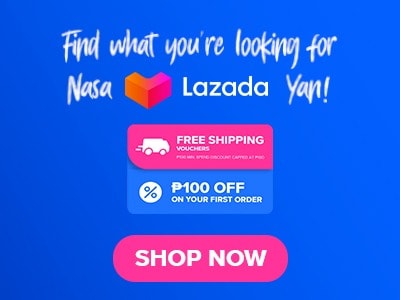 Menu Items
Price (PHP)

Maki & Kimbob

Cheese Maki
128
Beef Kimbob
74
Californian Maki
138
Dragon Maki
128
Seoul Kimbob
65
Tuna Kimbob
69
Spicy Tuna Maki
128
Pork Kimbob
69
Kimchi-Cheese Maki
138
Fire Odeng Maki
134

Main

Beef Bibimbob
185
Samgyupsal Full Set
225
Tonkatsu Bibimbob
199
Giant Katsu
189
Bulgogi Dupbap
189
Katsu Curry
198
Cordon Bleu
225
Tonkatsu Combo
235
Kimchi Nabe Katsu
225
Soon-Dak
175
Tteokbokki
99
Kimchi Jjigae
175
Bacon Bibimbob
175
Spicy Pork Dupbap
179
Cheese Bibimbob
175
Bossam Full Set
235
Katsudon
189
Curry Rice
155
Spam & Egg
95
Cheese Tteokbokki
235
Jjajang Rice
145

Noodle

Japchae
89
Cheese Ramyun
119
Nara-Myun
59
Seafood Ramyun
169
Japanese Premium Ramyun
139
Smoky Pork Ramyun
129
Rice Cake Ramyun
119

Add Ons

Jar Of Kimchi
100
Plain Rice Platters
40
About Nara Kimbob
Nara Kimbob is a Korean fast-food restaurant located in the Philippines, known for its delicious and affordable Korean rice meals. Nara Kimbob specializes in serving Kimbap, a popular Korean dish made of steamed rice rolled in seaweed with various fillings. They offer a variety of Kimbap options, including classic choices like beef, tuna, and vegetable, as well as unique variations such as spicy chicken and cheese. Nara Kimbob takes pride in using fresh ingredients and providing generous portions to satisfy its customers.
Nara Kimbob Menu Best Seller
Samgyupsal Full Set – This dish features a thinly sliced pork belly that you can grill at your table, accompanied by various side dishes like kimchi, pickled radish, and lettuce wraps. It's a popular choice for locals and tourists who are a fan of Korean barbecue.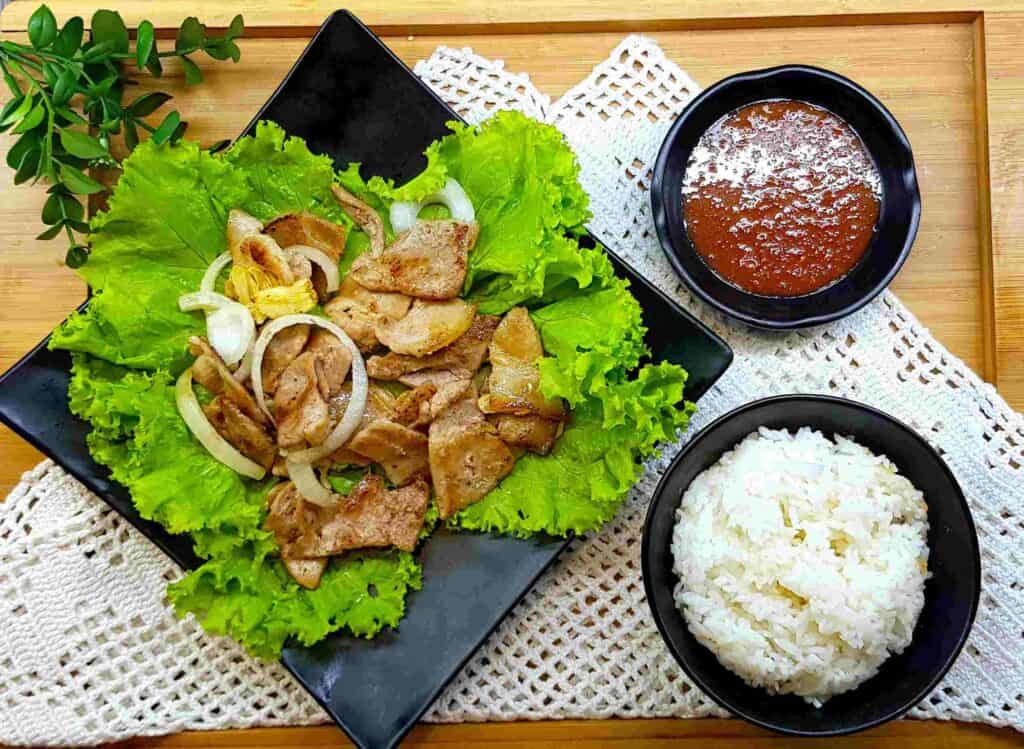 Katsu Curry – This dish is made from the delightful combination of breaded and fried meat cutlets and served with a rich and flavorful Japanese-style curry sauce. The crispy texture of the katsu paired with the aromatic curry creates a comforting and delicious meal.
Kimchi Jjigae – It is a classic Korean stew made with fermented kimchi, and vegetables, and accompanied by meat or seafood. Nara Kimbob's Kimchi Jjigae is known for its bold and tangy flavors, offering a hearty and spicy dish that is perfect for those who enjoy Korean cuisine.
Cordon Bleu – This is a breaded and fried dish made with chicken or pork stuffed with ham and cheese. It's a satisfying and flavorful option, combining the savory elements of the meat, the smokiness of the ham, and the gooeyness of the melted cheese.
Californian Maki – This sushi roll is a fusion creation that combines elements of Japanese and Western cuisine. It features crab sticks, avocados, and cucumbers, rolled in sushi rice and seaweed.
Maki & Kimbob
This menu of Nara Kimbob is composed of a wide range of maki and kimbob dishes that are very popular with both locals and tourists alike.
Cheese Maki – This maki dish is a unique twist on the classic sushi roll. It consists of sushi rice, seaweed, and a filling of crab sticks or other ingredients, topped with a generous layer of melted cheese. The combination of flavors and textures creates a delightful taste experience, with the creamy cheese complementing the fresh ingredients inside.
Signature Kimbob – This is Nara Kimbob's signature dish, which is a larger-sized kimbap filled with a variety of ingredients such as bulgogi (marinated beef), vegetables, and pickles that is both a satisfying and flavorful option and is loved by many.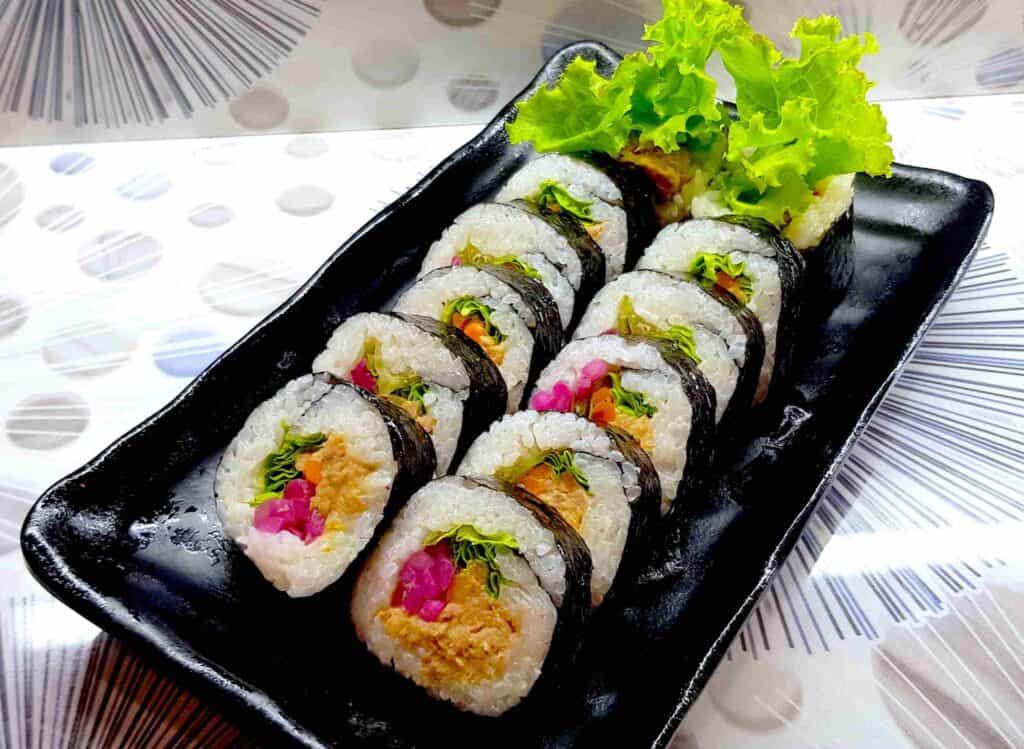 Pork Kimbob – Nara Kimbob's Pork Kimbob is a popular choice among meat lovers as it features marinated and grilled pork served with rice and a variety of side dishes. The pork is tender and flavorful, infused with a sweet and savory marinade that enhances its taste.
Nara Kimbob Main Menu
This menu is composed of a wide range of main dishes that are sure to satisfy and fill anyone due to their delicious tastes and generous serving sizes.
Beef Bibimbob – It is a classic Korean dish that is made up of a bowl filled with rice that was topped with different variety of seasoned vegetables, marinated beef, and a fried egg. The ingredients are carefully arranged in the bowl and mixed together before eating, allowing the flavors to blend harmoniously.
Tonkatsu Bibimbob – It features a bed of rice topped with breaded and deep-fried pork cutlet (tonkatsu), along with vegetables, and a flavorful sauce. The crispy texture of the tonkatsu, paired with the vibrant vegetables and sauce, creates a delightful combination of flavors and textures.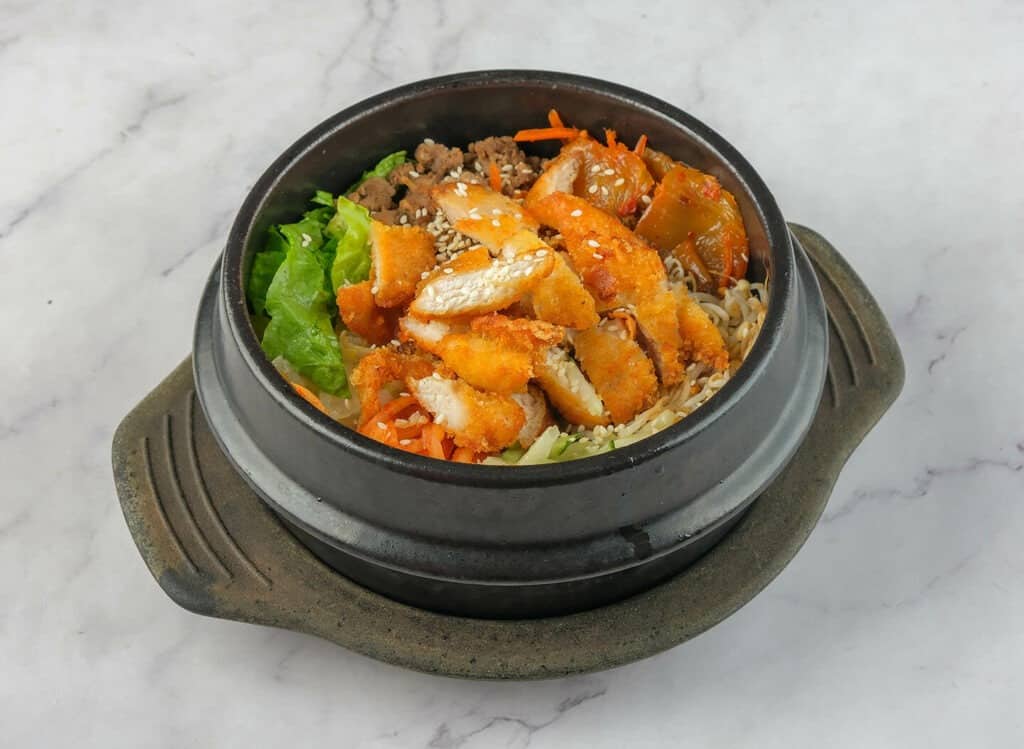 Giant Katsu – This dish consists of a large piece of breaded pork or chicken, served with rice, salad, and a savory sauce. The dish offers a satisfying and filling experience, with the crispy exterior of the meat complemented by the tender and juicy interior.
Noodle
This menu presents a yummy and pocket-friendly assortment of Korean noodle delicacies that are destined to appease your appetite. Each noodle menu at Nara Kimbob is meticulously made with top-notch ingredients, embracing the genuine flavors of Korea. This Noodle menu is sure to fill your stomach without emptying your wallet!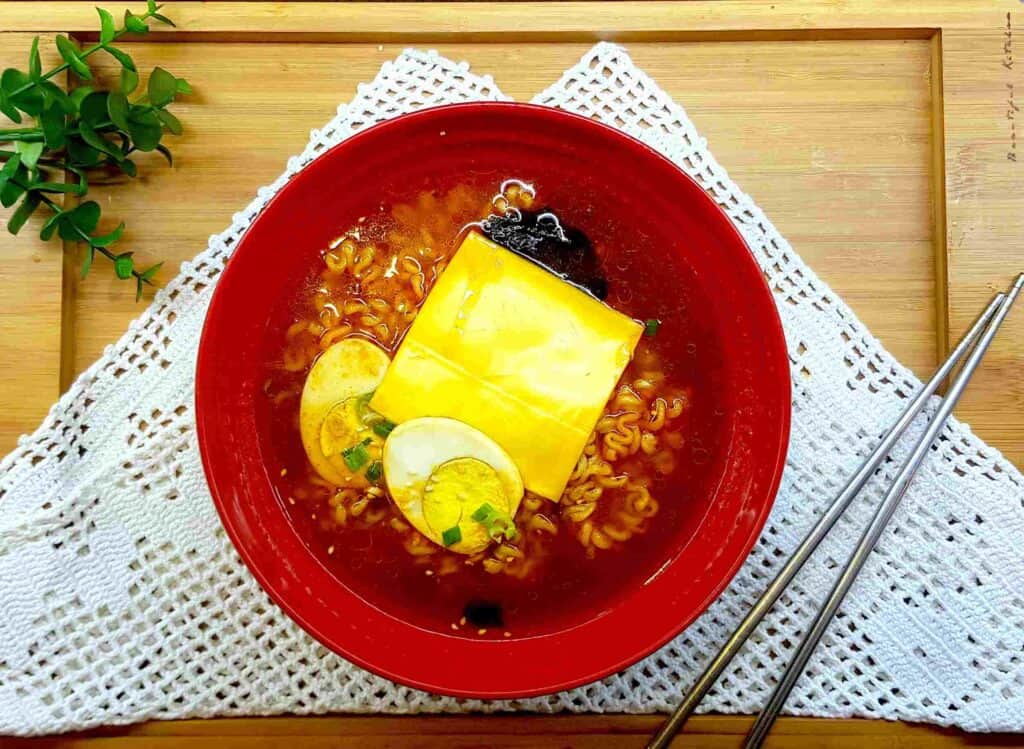 Add-ons
This menu offers a variety of delicious extras to complement your meal and enhance your dining experience. These additional items that Nara Kimbob offers allow customers to customize their dishes and add extra levels in terms of flavors and textures that fit their tastes.
Nara Kimbob Menu Delivery
Nara Kimbob's menu delivery provides customers with a more convenient option when trying to order one of their food offerings. Customers can easily access Nara Kimbob's menu list with the help of third-party services like FoodPanda and order the food from there.
Social Media Pages
Discover the art of rolling and savoring these delectable Korean rice rolls, filled with fresh and flavorful ingredients. Stay updated with their social media posts to be the first to know about new menu items, promotions, and special events. Share your love for Nara Kimbob with friends and family, and let's embark on a delicious journey together.
Facebook: https://www.facebook.com/narakimofficial
FAQs
Where can I find Nara Kimbob branches in the Philippines?
You can visit Nara Kimbob at J394+PVW, Cubao, Quezon City, Metro Manila in Philippines.
What makes Nara Kimbob unique compared to other Korean food establishments?
Nara Kimbob stands out for its specialty in kimbap, commitment to quality, and the variety of flavors they offer, making it a unique and popular choice among Korean food enthusiasts.
What are the popular menu items at Nara Kimbob?
Some of the popular menu items at Nara Kimbob include signature kimbob, spicy pork kimbob, tuna kimbob, and kimchi kimbob.
Does Nara Kimbob offer vegetarian or vegan options?
Yes, Nara Kimbob provides their customers who prefer light and healthy meal with a wide range of vegetable options.
Is Nara Kimbob halal?
Nara Kimbob is not a halal-certified korean restaurant.
Conclusion
Nara Kimbob is a must-visit destination for Korean food lovers in the Philippines due to its extensive menu that features delicious and authentic Korean dishes. They have a wide range of options for anyone, that ranges from their crispy Korean fried chicken to their comforting noodle offerings. Their commitment to using quality ingredients and delivering traditional flavors shines through in every dish they serve and their establishment's comforting atmosphere adds to the overall dining experience, making Nara Kimbob a go-to spot for enjoying the best of Korean cuisine.