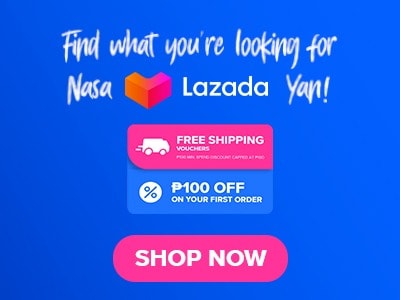 A Japanese-inspired restaurant located in the Philippines that offers a variety of authentic Japanese delicacies, including grilled meat meals like yakiniku. They offer a variety of meat cuts, including beef, pork, and chicken, that are grilled to perfection and served with a side of rice and vegetables.  Along with their main dishes, they also provide a variety of soups, salads, and appetizers. The Sumo Niku menu is an excellent choice for those who enjoy Japanese-style grilled meat dishes. The side dishes complement and greatly enhance the flavors of the perfectly grilled meats. The restaurant has a cozy and welcoming atmosphere, making it an excellent choice for a meal with family and friends.
Below, you'll find the updated list of Sumo Niku menu prices.
Menu Items
Price (PHP)

Unlimited Yakiniku

Pork + Chicken Lunch/Dinner
399/499
Pork + Beef + Chicken Lunch/Dinner
449/499
Kids Rate
199/249
About Niku
Sumo Niku is a Japanese-style shabu-shabu and yakiniku restaurant in the Philippines, located at Alabang-Zapote Rd, SM Southmall, Almanza Uno, Las Piñas, Metro Manila. They provide a casual dining experience for the limited selection of their authentic Japanese dishes. They may have a limited menu, but the authenticity of not only their ingredients but also the way they prepare, cook, and present their Japanese dishes is excellent.
The restaurant is well known for its high-quality meats and fresh ingredients, as well as for its casual dining experience, in which customers can prepare their own meals at their table. Sumo Niku also serves sushi rolls, gyoza, and tempura as side dishes, as well as drinks and desserts to round out the meal. Because of its modern and comfortable atmosphere, the restaurant is a popular choice for both casual and special occasions.
Sumo Niku Unlimited Yakiniku Menu
Sumo Niku offers an unlimited yakiniku where customers can choose from a variety of meat cuts such as beef, pork, and chicken, as well as a selection of side dishes and desserts. The meat cuts are of good quality and are served fresh, ensuring a great dining experience. The side dishes are also delicious and complement the meats well.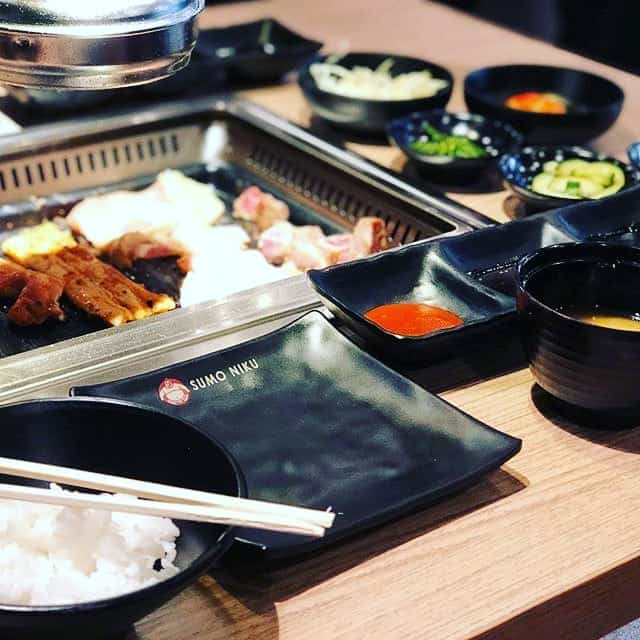 Sumo Niku's unlimited yakiniku menu is great value for money, offering a wide variety of high-quality meats and other dishes at an affordable price. The unlimited yakiniku menu provides customers with the opportunity to grill and eat as much meat as they want within the allotted time. The meats are served in thinly sliced portions and marinated in different flavors, such as teriyaki, garlic, and spicy.
Pork and Chicken
In this unlimited yakiniku option of Sumo Niku menu, customers can dig into two different types of meat: pork and chicken.
The pork options on this menu include a variety of high-quality parts such as tenderloin, pork belly, and already flavored parts with different kinds of spices. On the chicken menu, customers can choose from Teriyaki Chicken or Spicy Chicken. In addition to unlimited yakiniku, this meal also includes unlimited Japanese rice, sides, soup, salads, and tea.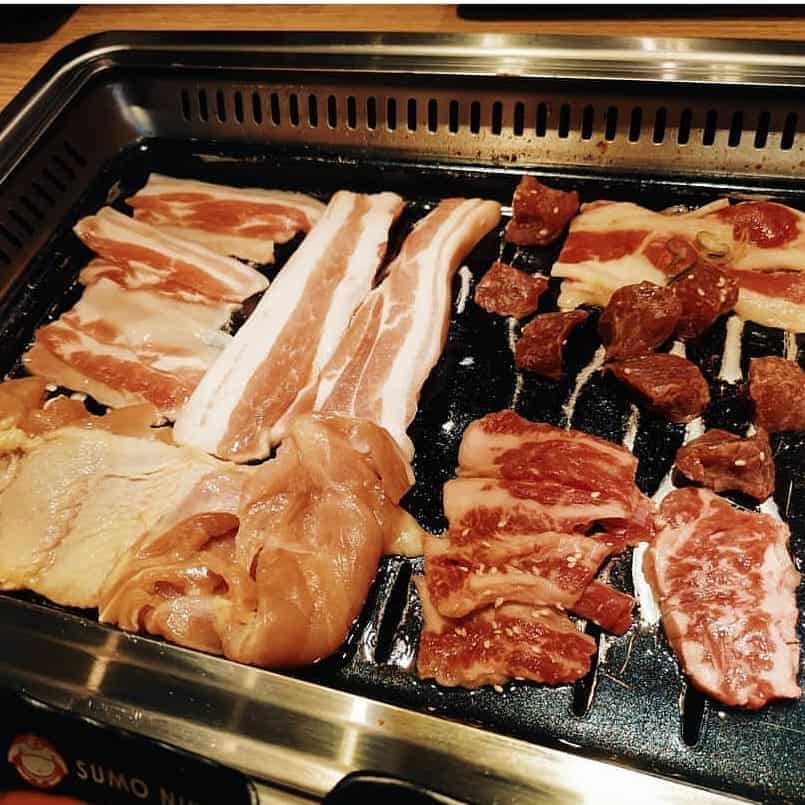 This unlimited yakiniku menu is ideal for those looking for a casual grill experience. It is not over the top; it's only made up of pork and chicken, which are the basic grill ingredients, and the additional side dishes complement the two main ingredients nicely.
Sumo Niku Menu Pork, Beef, and Chicken
This unlimited yakiniku option comes with three ingredients to choose from pork, beef, and chicken.
This unlimited yakiniku's pork options include a variety of high-quality parts such as tenderloin, pork belly, and already seasoned parts with various spices. The beef menu features U.S. Premium Beef, U.S. Premium Beef with Teriyaki Sauce, Wagyu Beef, and U.S. Marinated Beef, and finishing the main components of this unlimited yakiniku option is the chicken menu, which has Teriyaki Chicken and Spicy Chicken. This unlimited yakiniku option is then concluded with the addition of unlimited Japanese rice, side dishes, soup, salads, and tea.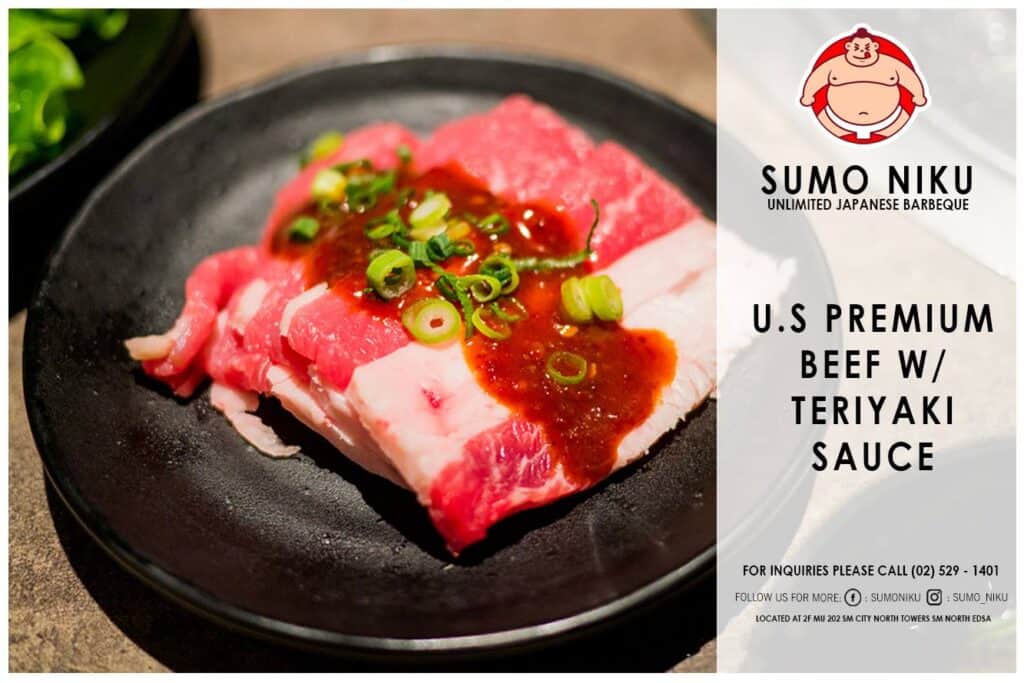 The unlimited beef option added to this menu enhances the overall flavor and texture of your dining experience. The added value of the meat is not reflected in the price increase. Hence, this option is likely better than the first one.
Kids Rate
This isn't exactly another type of menu, but a rate for the kids that guests bring into the Sumo Niku restaurant. Children who are under 4 feet tall receive a 50% discount, whereas children taller than 4 feet receive the same price as an adult.
Children that are below 4 feet tall can get half price on either the first or second unlimited yakiniku options from Sumo Niku, and the portions of unlimited yakiniku they order are still the same as those ordered by adults.
This option proves Sumo Niku's consideration for their customers, as we all know that children consume much less food than adults.
Sumo Niku Menu Delivery
There are many ways how you can order Sumo Niku's menu online. The easiest way is to go directly to their website and order from there. However, you can also download any of their affiliate delivery apps on your mobile phone, such as Grab Food and Food Panda.
You can learn more about Sumo Niku's delivery services by visiting their social media pages, such as Facebook or Instagram. Subscribing to or following their social media pages will also keep you up to date on future promotions and discounts.
Social Media Pages
Stay up-to-date on the latest Japanese cuisine offerings, promotions, and events at Sumo Niku by following their social media pages. As a follower, you'll receive exclusive access to special deals and offers while connecting with other Japanese food enthusiasts. Whether you're a long-time fan of Japanese cuisine or just discovering it for the first time, Sumo Niku's social media pages are the perfect place to explore and connect with other food lovers. So why wait? Follow their social media pages today and treat yourself to the flavors of Japan!
Facebook: https://www.facebook.com/sumoniku
Instagram: https://www.instagram.com/sumo_niku/
Conclusion
The Sumo Niku menu is excellent for individuals that were looking for Japanese-style grilled meat dishes. The side dishes nicely balance out the flavors of the meat that was cooked to perfection. The restaurant has a cozy and welcoming atmosphere, making it a great place to enjoy a meal with loved ones. The restaurant also offers side dishes such as rice, vegetables, and appetizers.
The meat is of good quality, and the staff is accommodating in helping customers not only with their grilling needs but also constantly giving advice on how to grill the meat properly and what the best combinations are for a much more delicious and filling dining experience. There are many reasons as to why it is the best place to recommend for friends and family members who love meat and those who want to experience authentic Japanese yakiniku without breaking the bank.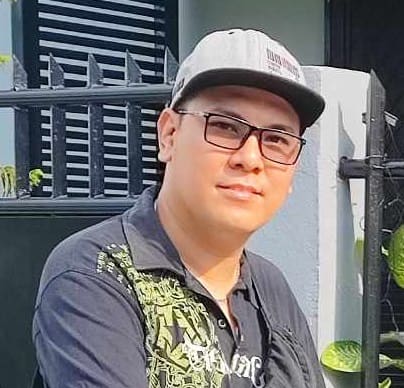 Hi! I'm Nivek Strife, the person who made MenuPH. I'm the one who added most of the popular menus you see on this website, and I really hope you enjoy them! Feel free to check them all out.
Growing up, I was surrounded by lots of tasty foods, like the classic Adobo and the sweet Leche Flan. That love for the many flavors of the Philippines is what got me excited about adding to MenuPH. When I learned how to make websites, I saw the need for a place to show off all the amazing Filipino dishes, and that's how MenuPH started.
MenuPH isn't just a website; it's like a fun journey into food. I've teamed up with famous chefs and found great places all over the Philippines to bring you a bunch of menus that show off the best of Filipino cuisine. Whether you're into the usual dishes or new twists, MenuPH is here to guide you through the rich world of Filipino flavors.
With MenuPH, my aim is to help local businesses, talk about good food choices, and make a group of friends who love food. No matter if you like fancy restaurants or street food, MenuPH has something for you. Come join me on this food adventure as we find great places, taste real flavors, and enjoy the unique food traditions that make the Philippines awesome.