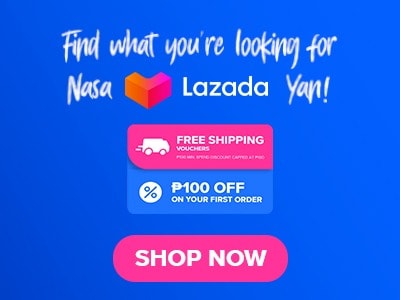 German food is a bit new to some in our country though there are restaurants that offer German cuisine already, some of you especially those who consider the price of the food first are a bit hesitant to try this cuisine because of think that it is expensive so instead of trying it for the first time they'll just go to other restaurants to save. In this article, I am pleased to introduce you to a restaurant that offers German cuisine at a mid-range price so you can expect that their food isn't too expensive. Have you heard about Brotzeit? The Brotzeit menu has a lot of delicious foods to offer so if you're already interested in our topic for this article then please stay with me and let's explore the menu that they offer, the price of their foods, and something about this restaurant. Let's go! 
Menu Items
Price (PHP)

Soups

Goulash soup
190
Onion soup
160
Soup of the day
140

Appetizers

Mixed board
720
Cheese board
790
Cold cuts board
650
Best of botzeit
480
German breads
90
Typical Bavarian pretzels
90
Selection of sausages
390
Dried pork sausage
320
Beaded chicken fillet or fish fillet
240
Breaded Camembert
560
Breaded prawns
270
BBQ chicken fingers
230
Fried mozzarella
230
Meat balls
230
Loaded fries spicy chicken
290

Rosti and pizza

Rosti
370
Spinach fladen
310
Fladen with smoked salmon
310
Black forest ham fladen
310
Bacon fladen
310
Bavarian fladen
310

Salad

Warm spinach salad
390
Crispy chicken salad
295
Mozzarella salad
390
Feta salad
290
Seafood salad
390

All day brunch

All day breakfast
390
Classic berner sausage
390
Brunch steak
390
Deutscher risotto
350
Pork and beans
250
Hunter pork cutlet
390
Shrimp termidore
450
Black forest ham with flat noodles
295
Broiled beef patty
380

Breadtime

Reuben sandwich
520
Brotzeit burger
320
Schnitzel burger
250
Doner kebab
290
Angela
490
Dirk
450
The hoff
450
Von trapp
450
Beethoven
450
Helmut
450

Platten platters

Wonder platter (for 6 persons)
3700
Brotzeit platter (for 4 persons)
2650
Brotzeit platter with ribs (for 4-5 persons)
3200
Sausage platter (for 2 persons)
1050
Fried platter (for 2 persons)
720

Sausages

Grilled pork sausages
520
Spicy chicken sausages
485
Pork cheese sausages
520
Garlic pork sausages
410
Pork curry sausages
530
Pork and veal sausages
410

Main courses

Crispy oven roasted pork knuckle
1350
Honey Bavarian ribs
1100
Pork medallions
580
Meat patties
470
Breaded veal escalope (veal)
900
Breaded veal escalope (chicken)
480
Breaded veal escalope (pork)
480
Pork chop
680
Cheese spatzie
390
Veal goulash
580
Grilled flank steak
1300
Premium grilled tenderloin
1050
Roast chicken
690
Grilled salmon fillet
680
Beer battered fish fillet
450
Chicken breast
550

Side dishes

Homemade buttered egg noodles
90
Braised white german cabbage
90
Steamed herb rice
90
Homemade spinach spatzle
130
Braised red cabbage
150
Napkin dumplings
120
Sauteed mixed vegetables
190
Mashed potatoes
140
Spicy potato wedges
190
Roasted potatoes
90
Potato salad
170
French fries
190

desserts

Dessert platter
580
Creame brûlée
190
Warm chocolate cake
190
Bavarian cream
190
Apple strudel
280
Mixed ice cream topped with almonds
190
Bavarian iced coffee served with almonds
160
Blitz torte
190
Emperor's cake
250
Schwarzwalder kirschtorte
240
Hot chocolate
180

Potluck (for take out only)

Goulash soup
800
Sausage platter
1050
Grazing board
900
Meatballs and mushrooms
850
Salmon platter
2300
Fried platter
720
Honey Bavarian ribs
1100

Ready to cook

Curry sausages (6pcs)
700
Pork sausages (10pcs)
600
Pork and veal sausages (10pcs)
600
Spicy chicken sausages (10pcs)
600
Garlic sausages (10pcs)
600
Frozen veal goulash (2 servings)
790
Feozen honey Bavarian ribs (2 servings)
940
Frozen pork chops (2 pcs)
370
Frozen goulash soup (2 servings)
360
Curry sauce|hot mustard|sweet mustard|chili sauce
250
About Brotzeit
Brotzeit is owned by Marvin Ang. This restaurant originated in Singapore they started here in our country in the year 2013 and their first branch is in Shangrila after the success they opened another branch in BGC after two years. This restaurant offers Bavarian cuisine and also those German beers that are world-famous.
They aim to introduce German cuisine in our country and also to promote their famous beer. Wherever branch you go you can expect the same dishes and taste so there's no better branch since they are saving their local flavor and quality for their customers. Brotzeit not only served German dishes but, also serve Swiss and Austrian food, they make sure that you will enjoy the dishes just like how they enjoy them in the country where they came from.
Most dishes in Brotzeit are meat dishes so this is heaven for meat lovers but they also serve pizzas and mouthwatering salads. The prices of dishes in this restaurant are not too expensive and when it comes to quality they only use the best ingredients to ensure the quality of the food that they will serve. 
Brotzeit Menu Best Seller
We have conducted research and also visited one of their branches to gather information about their best-selling products. Here is the list.
Honey Baked Ham – This is a must try especially if you are a fan of meat. This dish comes with cabbage that is flavored with red wine and orange, it also has baked apples with raisins stuffed into it and apricot jam, the flavor is fantastic. The ham itself is very tender and already delicious though it's more marvelous to eat it with the apricot jam. When it comes to the flavor it's on a different level, there's sweetness and the savory ham is just outstanding. something to look forward to in this dish is the baked apple which I mentioned earlier, It complements the taste of the whole dish.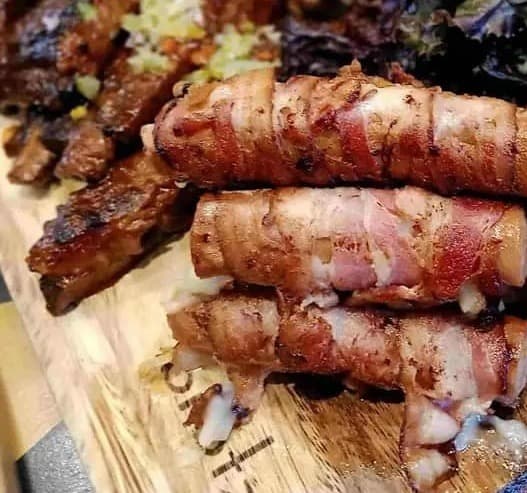 Duck Confit with Cranberry Sauce – Brotzeit's duck confit has tender and juicy duck breast, served with red wine sauce and orange-flavored cabbage just like their honey-baked ham. They also serve it with crunchy almond dumplings as sides. This dish has a piquant taste and is perfect to be eaten with the sauce. The almond dumplings as a side are also delicious and provide contrast to the tenderness of the duck meat.
Crispy Chicken Salad – This Brotzeit menu consists of a crispy chicken salad that has sweet corn, sliced cucumber, and semi-dried tomatoes with fresh greens. They tossed this salad in their house dressing and pumpkin seed oil then topped it with crispy chicken fillet for the salad meat. This is perfect especially if you want to eat healthier while enjoying the goodness of the food. 
Veal goulash – Veal goulash has this melt-in-your-mouth feel since this is braised veal shank cooked until tender. It also has a thick sauce where I could taste paprika. They serve their veal goulash with buttered spaetzle as sides.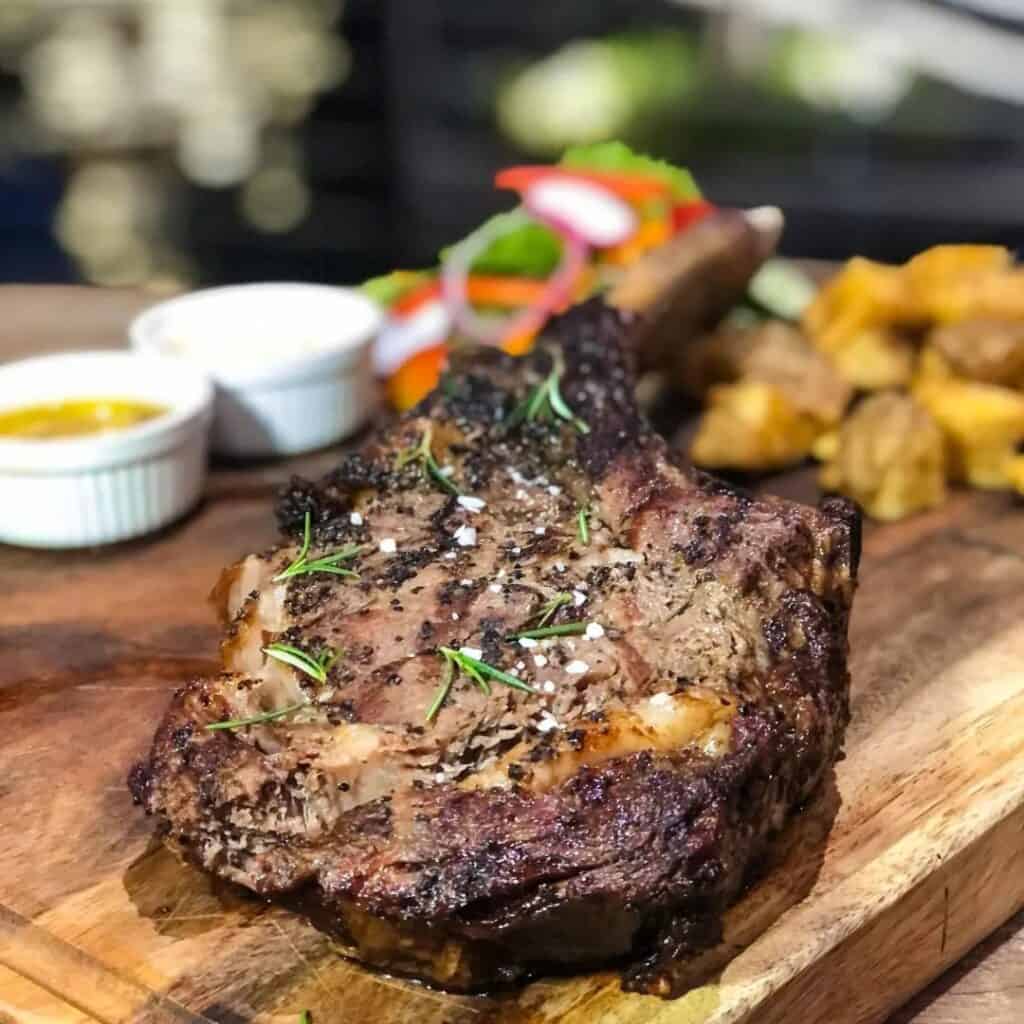 Sausage platter – This is a great choice if you're a sausage fan. Their sausage platter includes pork cheese sausages, Nurnberger sausages, spicy chicken sausages, Weisswurst, and garlic pork sausages. It also comes with a side of sour dill pickles and sauerkraut. The distinctive taste of every sausage on the platter is something that you will always remember Brotzeit.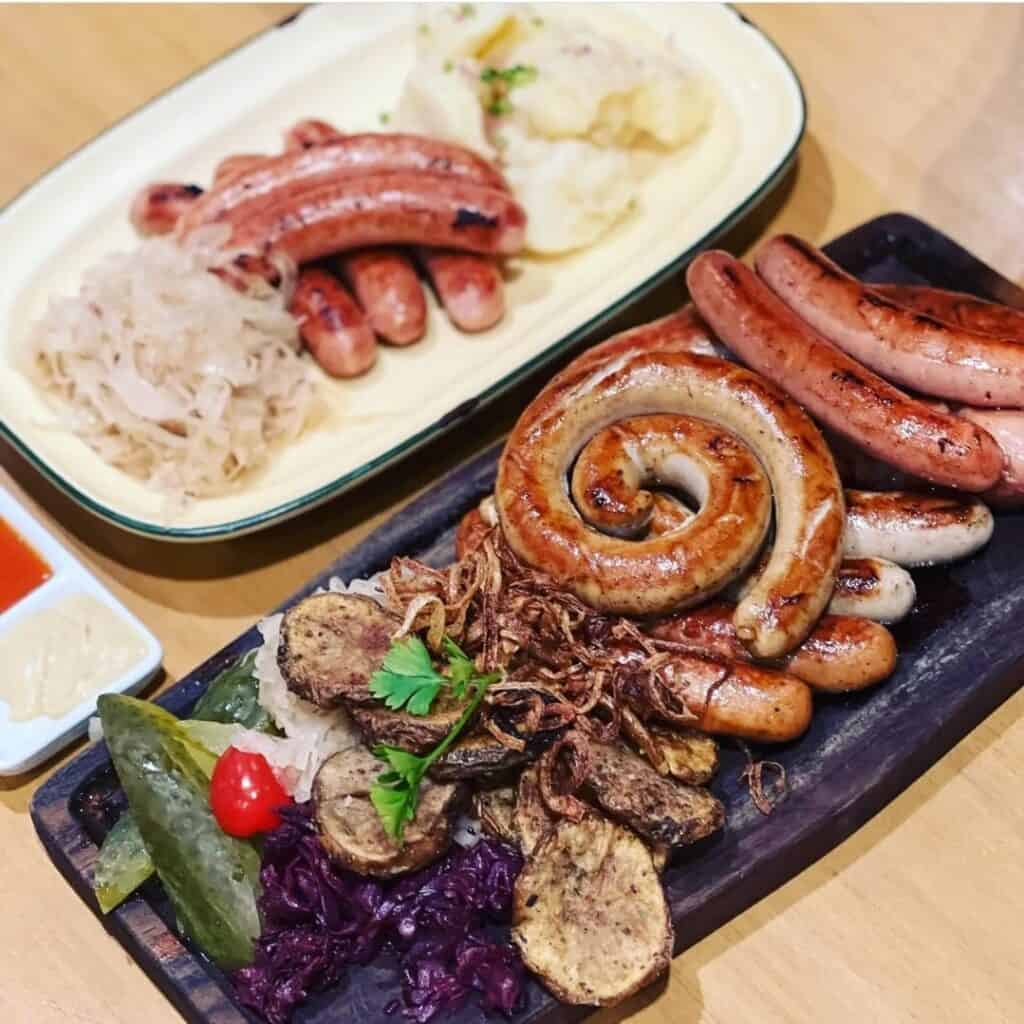 Grilled flank steak – this mouthwatering flank steak with rosemary is grilled and served medium. The meat is juicy and it has a pink center. They serve their grilled flank steak with vegetables and roasted potatoes. It also has peppered egg and fried onions on top.
Brotzeit All-day Brunch Menu
There are 9 choices of dishes for Brotzeit's all-day brunch menu. First, is their all-day breakfast which is grilled garlic sausage, with Bavarian beans that they stewed, crispy bacon, toasted bread, and fried eggs. Next on the list is their classic berner sausage, which is pork sausage stuffed with cheese and then wrapped with smoked bacon they also serve this with pommes or fries.
Third on the list is their brunch steak, which is stir-fried flank steak in rice then topped with fried eggs and leaks. Next is their Deutscher risotto which is a breaded pork cutlet with risotto and spinach. They also have pork and beans which is grilled smoked sausage with bavarian beans over steamed rice pilav. For the next dish, they have a hunter pork cutlet which is breaded pork cutlet with mushroom sauce.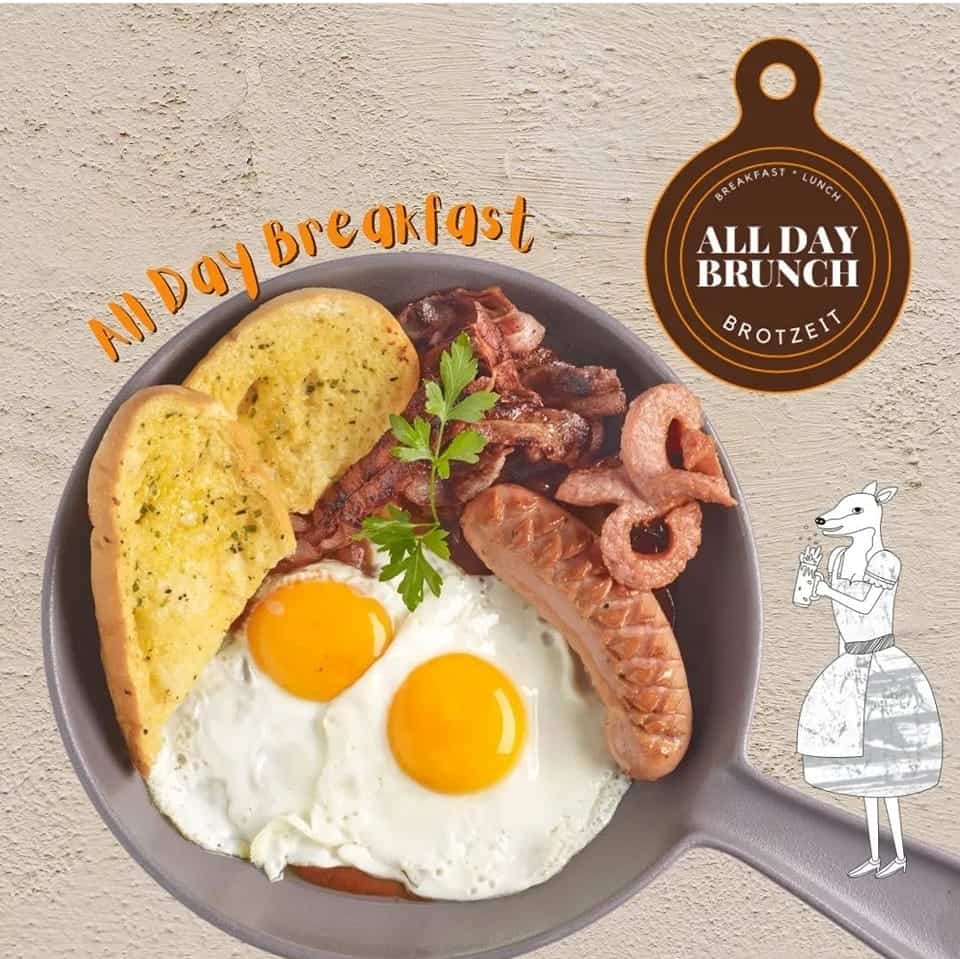 If you love seafood They also have shrimp thermistor in a cheese sauce and serve with garlic bread. If you love noodle dishes maybe you should also try their black forest ham with flat noodles, it has creamy sauce and bacon and is topped with a poached egg. Last but not least is their rolled beef patty, they serve this with roasted vegetables and potatoes. 
Breadtime
If you're looking for sandwiches then maybe you should order on their bread time menu. They have a lot of delicious sandwiches included on this menu like the Reuben sandwich, Brotzeit burger, and schnitzel burger. They also have a doner kebab if you're into it. Other than that they also have options like angela, the half, dirk, Beethoven, von Trapp, and Helmut.
Sausages
If you're a sausage lover searching for your next savory fix, you need to check out Brotzeit's menu. They don't just serve your average sausage; they offer a variety of delicious options to satisfy your cravings. Sink your teeth into their juicy grilled pork sausage or spice things up with their flavorful chicken sausage with just the right amount of kick. For a cheesy twist, indulge in their pork cheese sausage, bursting with savory goodness. Or, if you're feeling adventurous, try their garlic pork sausage, curry sausage, or pork and veal sausage for a unique and mouth-watering experience. With so many options to choose from, you're sure to find your new favorite sausage at Brotzeit.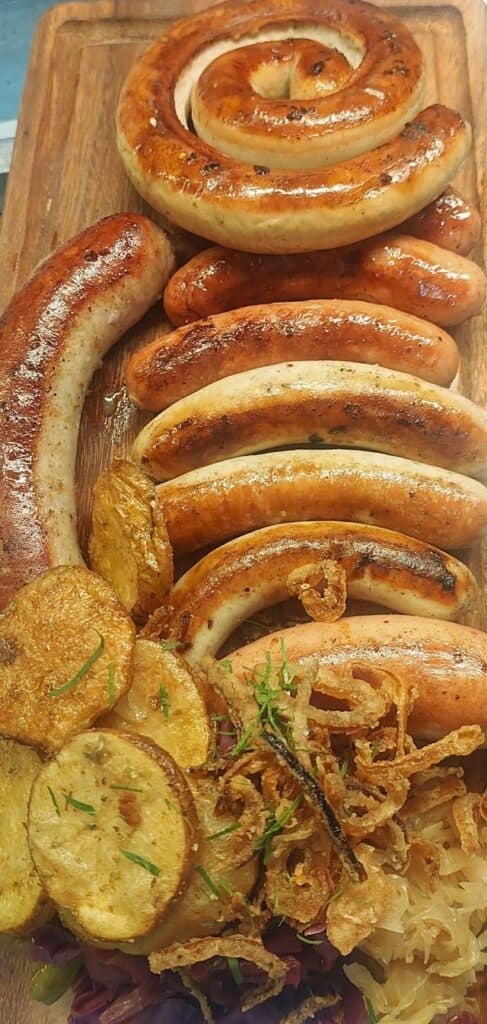 Brotzeit Menu Delivery
Brotzeit is open for deliveries, all you have to do is to visit https://www.brotzeitdelivers.com/ for your online orders. You can also contact +632 8 631-1489 for their Shangrila plaza mall branch. +632 8 815-9338 for their BGC branch and +632 8 535-1155 for their Alabang Branch.
Social Media Pages
If you want to learn more about Brotzeit, you can check out their social media pages. You'll be able to find out about their latest menu items there too. By following at least one of their social media accounts, you can show your support and stay informed about any special deals they might be offering.
Facebook: https://facebook.com/brotzeitph/
Instagram: https://instagram.com/brotzeitph/
Twitter: https://twitter.com/brotzeitph
Conclusion
If you're looking for a delicious meal in a cozy place I can highly recommend this restaurant. The Brotzeit has an amazing food menu and is a great place. They have a lot of delicious food to offer plus their place is nice, their crews are all okay to be fair though I know they are all busy they cater our orders fast, can tell that the crews are friendly since I barely see them smile but it's fine maybe they are just tired or something. Pet-friendly restaurants as well and that is a plus for them. I love their sausages and the sauerkraut. Highly recommended for everyone who loves to try German food.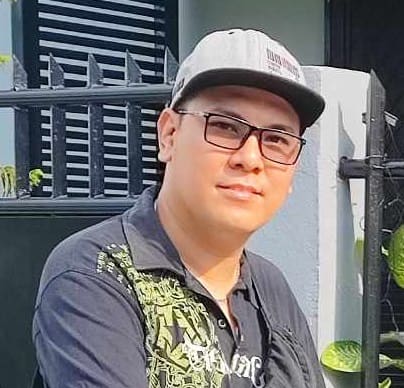 Hi! I'm Nivek Strife, the person who made MenuPH. I'm the one who added most of the popular menus you see on this website, and I really hope you enjoy them! Feel free to check them all out.
Growing up, I was surrounded by lots of tasty foods, like the classic Adobo and the sweet Leche Flan. That love for the many flavors of the Philippines is what got me excited about adding to MenuPH. When I learned how to make websites, I saw the need for a place to show off all the amazing Filipino dishes, and that's how MenuPH started.
MenuPH isn't just a website; it's like a fun journey into food. I've teamed up with famous chefs and found great places all over the Philippines to bring you a bunch of menus that show off the best of Filipino cuisine. Whether you're into the usual dishes or new twists, MenuPH is here to guide you through the rich world of Filipino flavors.
With MenuPH, my aim is to help local businesses, talk about good food choices, and make a group of friends who love food. No matter if you like fancy restaurants or street food, MenuPH has something for you. Come join me on this food adventure as we find great places, taste real flavors, and enjoy the unique food traditions that make the Philippines awesome.