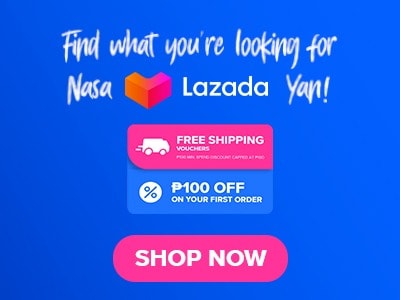 Since there are a lot of restaurants that offer different cuisines that are now mushrooming in our country it's not surprising that we will eventually find Thai restaurants these days. A lot of people are curious about their cuisine especially if you haven't visited their country yet following the popularity of Thai series nowadays and of course as a viewer you're wondering what their food tastes like. Problem solved for those of you who are wondering, I found a Thai restaurant that you should try to enjoy the taste of their cuisine. Ever heard about a restaurant named Same Same? Same Same is a place where you could get the most affordable and delicious Thai menu these days. Are you interested already? If yes then stay with me in this article and let's start! 
Menu Items
Price (PHP)

Satay

Pork satay
125
Chicken satay
125
Pork isaw satay
115
Shrimp satay
260
Satay sampler
215
Satay sampler supreme
375

Khao pad (fried rice)

Pork khao pad
175
Chicken khao pad
175
Shrimp khao pad
215
Crab khao pad
225
Pork green curry khao pad
185
Chicken green curry khao pad
185
Shrimp green curry khao pad
225
Crab green curry khao pad
235

Noodles

Pork pad thai
215
Chicken pad thai
215
Shrimp pad thai
245
Pork pad see ew
195
Chicken pad see ew
195
Shrimp pad see ew
225
Pork pad kee mao
195
Chicken pad kee mao
195
Shrimp pad kee mao
225

Pad kra pao (with rice and fried egg)

Chicken pad kra pao
225
Pork pad kra pao
225

Street food bites

Fried tofu
125
Fish tofu
125
Fish cake
125

Salad

Som Tum (green papaya salad)
160
Yum kai dao (fried egg salad)
190

Soup

Mama tom yum
245

Add ons

Thai omelette
50
Fried egg
25
Plain rice
25
Garlic rice
50
Peanut rice
10
Cucumber relish
5

Cha yen (Thai iced teas)

Milk tea 12oz
85
Milk tea 16oz
105
Milk tea 22oz
125
Milk tea 1L
155
Milk green tea 12oz
85
Milk green tea 16oz
105
Milk green tea 22oz
125
Milk green tea 1L
155
Lime iced tea 12oz
65
Lime iced tea 16oz
85
Lime iced tea 22oz
105
Lime iced tea 1L
135

Non alcoholic

Coke
60
Coke zero
60
Sprite
60
Royal
60
Pineapple juice
60
Bottled water
40
About Same Same
SAME SAME restaurant first opened its doors for customers in 2019, and this restaurant since then finds a lot of repeat customers, it's a common sight to spot queues to dine on Tuesday nights in their place, and that for me is a big achievement since their restaurant is just new to the business. The individuals who are behind the success of Same Same are Tyrone Simon and Bianca Marchi with the help of their team of chefs, crews, and great advisors.
Longtime is also their business and Same Same is just like Longtime they just improve the location, booking, and parking that's why it became instantly famous. During the pandemic period that happened in 2020, Same Same adapted to serve takeaways for the convenience of the customers and for their staff that are all hardworking, that's the reason why they did not close their business during the pandemic but instead gave an easier approach for the customers to still enjoy the foods that they offering and for their crews to continue working amid the crisis. 
Same Same Cha Yen Menu
Cha yen is their menu which means Thai iced teas. On this menu, they have 4 sizes of drinks which are Lek 12oz, Krang 16oz, Yay 22oz and lastly Lit means one liter of Thai iced tea to be served. The Thai iced tea flavor options are classic and very famous among millennials and genx milk tea, milk green tea, and lastly their version of lime iced tea.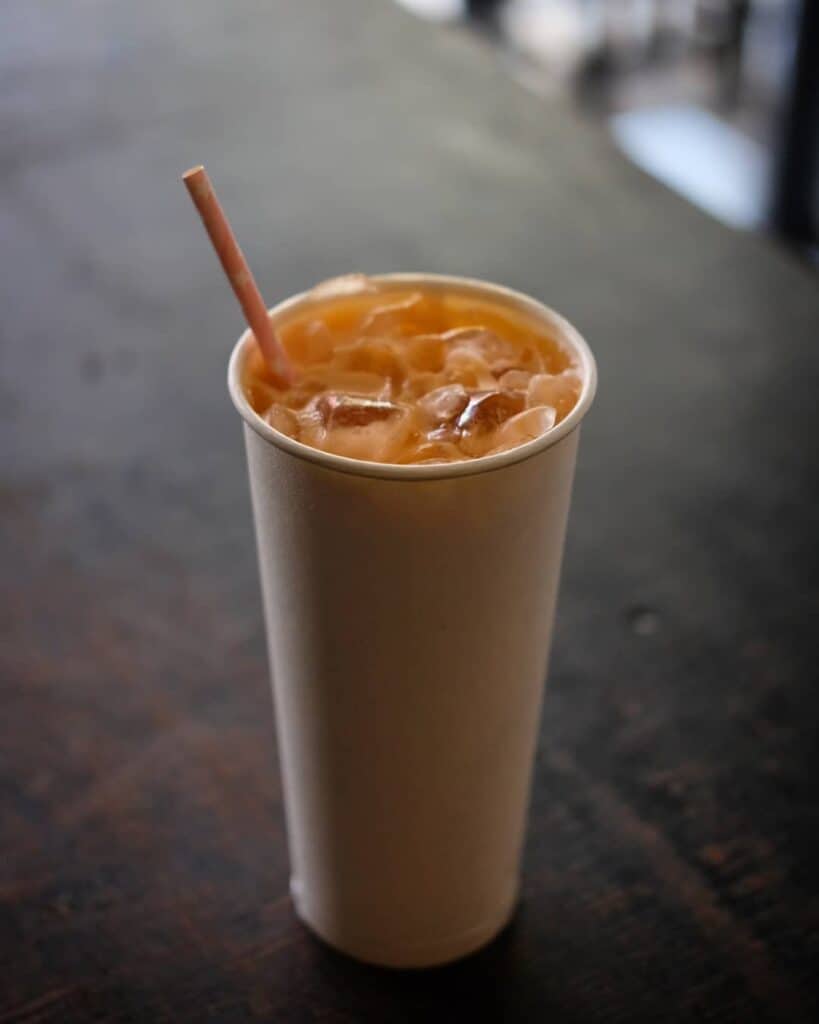 Satay Menu
Satay is a popular dish in Thailand which means grilled Meat dish. And we all know that once the meat is grilled it is surely delicious. This is popular among southeast Asia like Thailand, Singapore, Malaysia, and our own country the Philippines. The most popular satay is chicken or pork satay but Same Same also offers shrimp satay. The options on their satay menu are pork or chicken satay, pork isaw stay if you're adventurous, shrimp satay for something different, satay sampler which means a serving of every satay flavor, and satay sampler supreme which is great for sharing.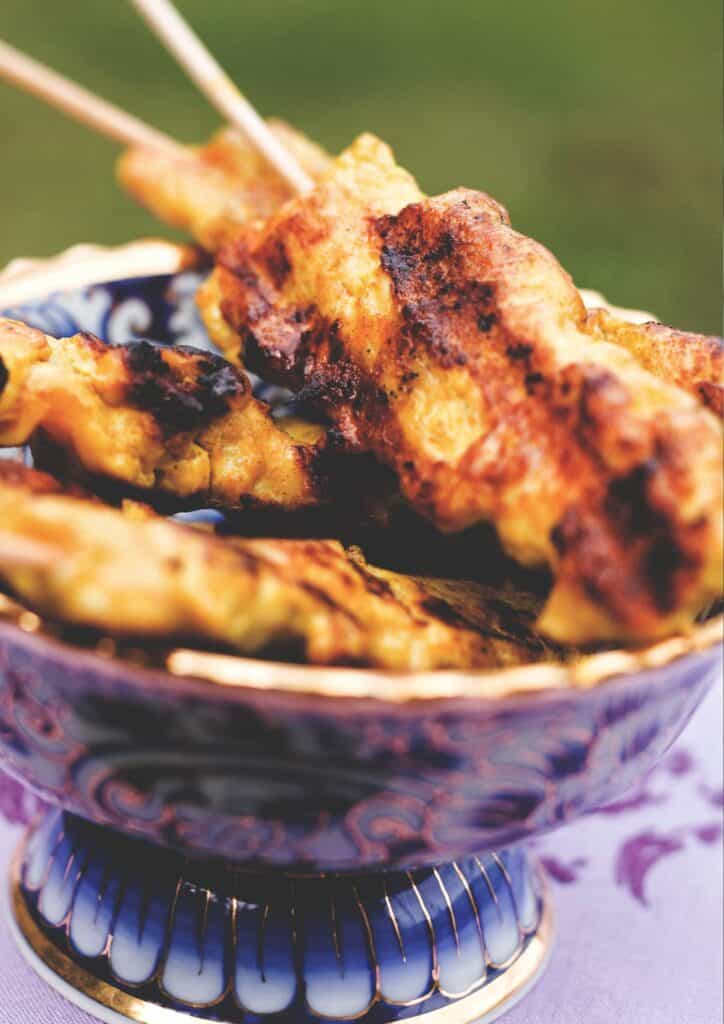 Same Same Pad Thai Menu
Pad thai is made with a stir-fried dish made with noodles and chicken, pork, or shrimp and commonly serve as street food in Thailand. Thai cuisine Is never complete without Pad Thai and this is popular. Same Same offers 3 options for the pad thai that they offer. First is pork pad thai, next is a chicken pad that, and lastly their shrimp pad Thai.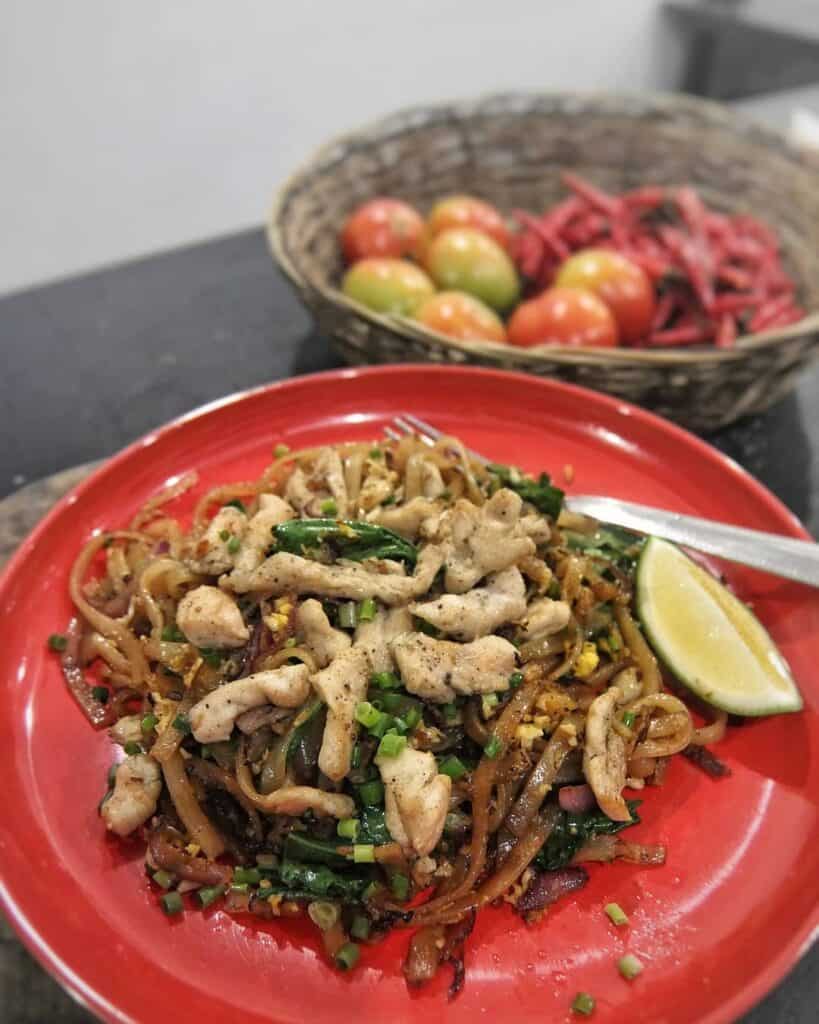 Khao Pad
Khao pad is also one of the most popular foods in Thailand. Khao pad means fried rice. Same Same offers 2 khao pad menu specialties. First is the traditional khao pad which includes the choices of pork khao pad, chicken khao pad, shrimp khao pad, and crab khao pad. Second is their Green curry khao pad which includes pork green curry khao pad, chicken green curry khao pad, shrimp green curry khao pad, and crab green curry khao pad as an option.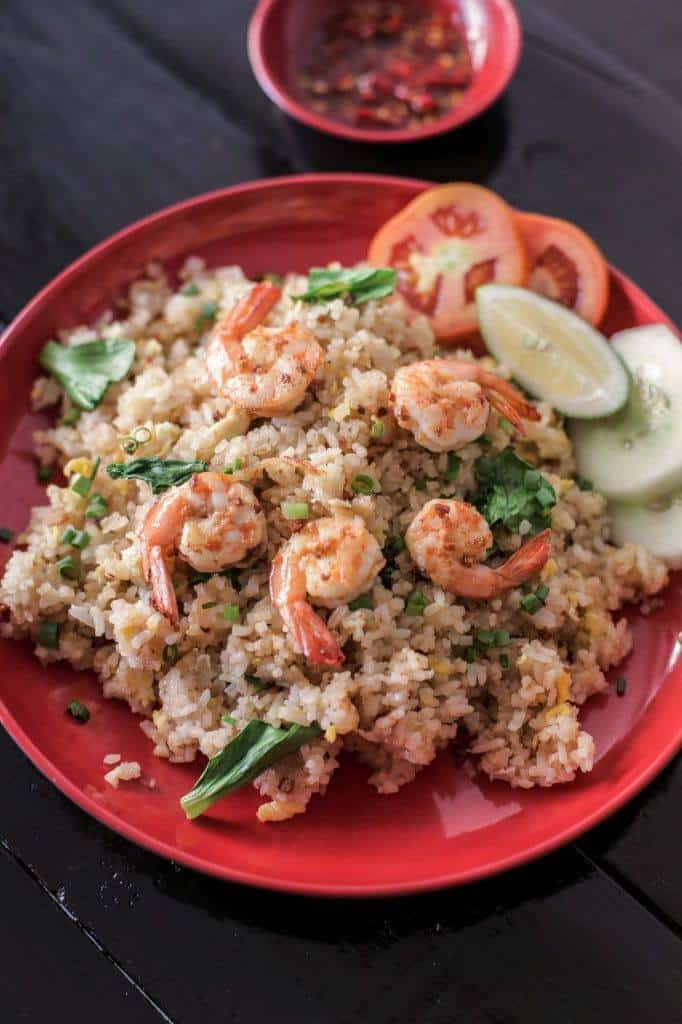 Pad Kee Mao
Pad kee mao is a drunken noodle stir-fried with a little kick of spiciness. Same Same has 3 choices on their pad kee mao menu, those are pork pad kee mao which I preferred over the chicken and shrimp options but whatever you chose from their pad kee mao menu is for sure delicious. 
Street Food Bites
Street food bites are on the Same Same menu for you if you want to try Thai street food. However, they only have 3 choices on this menu. These are fried tofu, fish tofu, and lastly fish cakes.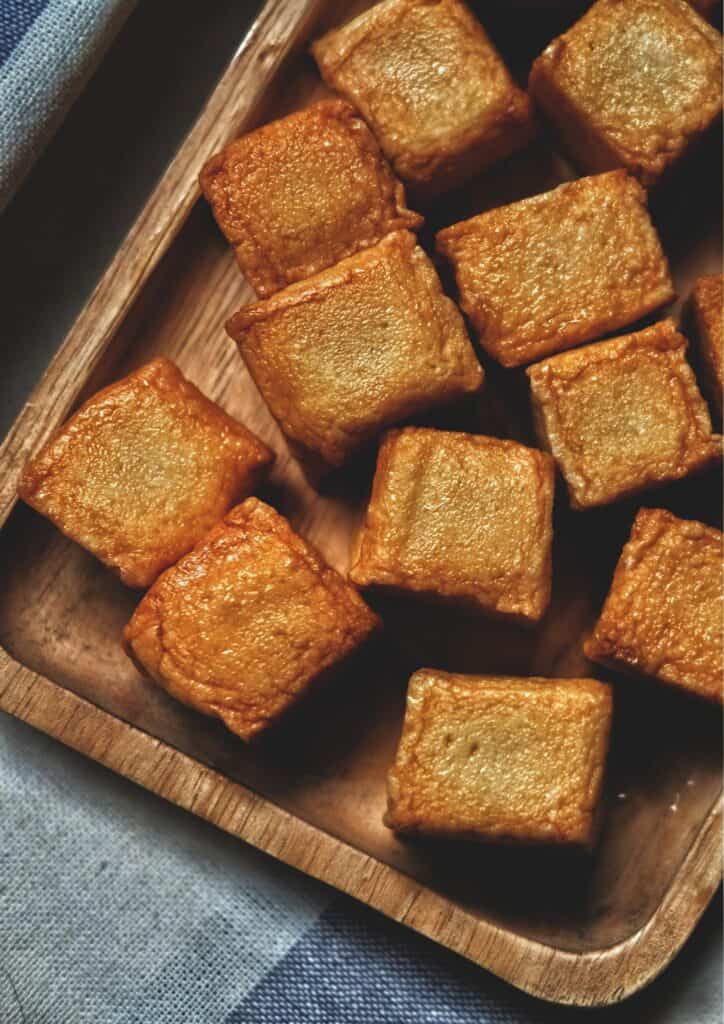 Salad
Same Same offers Two varieties of salad. Those are their version of som yum or green papaya salad and yum kai dao which is also known as fried egg salad. 
Same Same Menu Delivery
You can order your favorite sane same foods in 3 options. First is their direct order, all you have to do is to message them on their Facebook account at https://www.facebook.com/SameSamePH?mibextid=LQQJ4d pay your order thru cash or bank transfer then provide your details and book a delivery option that you desire. The second option is to visit SAMESAME.PICKUP.PH then place your order. Food delivery via this second option could be possible as long as Lalamove is serviceable at your location. The third option is to download the food panda application then search for SAME SAME and place your order. 
Social Media Pages
Support Same Same by going to their social media pages and following or subscribing to them. This will also allow you to stay up-to-date with their latest menu items and promotions because the first place they will update their menu items is on their social media pages.
Facebook: https://facebook.com/SameSamePH/
Instagram: https://instagram.com/samesameph
Twitter: https://twitter.com/samesameph/
Conclusion
If your looking for something different or you want to try Thai food this is the best place to go. Aside from the delicious Thai foods that they offer their prices are affordable as well so if you're the type that always considers the price you'll never have to worry. Same Same has a lot of delicious foods to offer so on every visit you can try different options on their menu. Their place is comfortable and that's what I love about dining in their restaurant, the ambiance is very cozy clean, and customer friendly. Their service people are very accommodating and friendly, they are all polite from the moment you enter their restaurant until you go, they give one of the best customer services to be fair and  I want to recommend this place to my co-foodies out there to try because it's not just the food that is awesome but also the people and the service that they provide.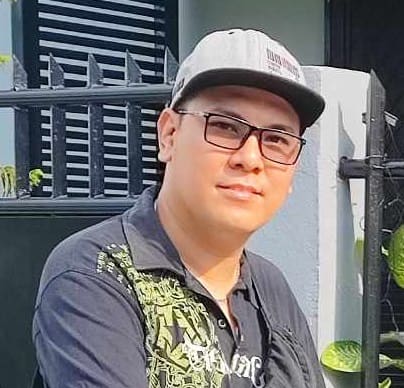 Hi! I'm Nivek Strife, the person who made MenuPH. I'm the one who added most of the popular menus you see on this website, and I really hope you enjoy them! Feel free to check them all out.
Growing up, I was surrounded by lots of tasty foods, like the classic Adobo and the sweet Leche Flan. That love for the many flavors of the Philippines is what got me excited about adding to MenuPH. When I learned how to make websites, I saw the need for a place to show off all the amazing Filipino dishes, and that's how MenuPH started.
MenuPH isn't just a website; it's like a fun journey into food. I've teamed up with famous chefs and found great places all over the Philippines to bring you a bunch of menus that show off the best of Filipino cuisine. Whether you're into the usual dishes or new twists, MenuPH is here to guide you through the rich world of Filipino flavors.
With MenuPH, my aim is to help local businesses, talk about good food choices, and make a group of friends who love food. No matter if you like fancy restaurants or street food, MenuPH has something for you. Come join me on this food adventure as we find great places, taste real flavors, and enjoy the unique food traditions that make the Philippines awesome.