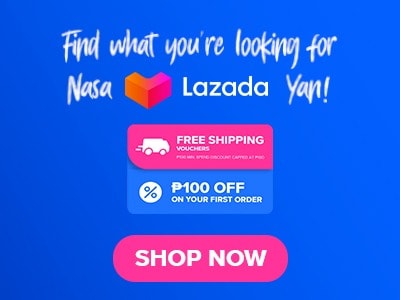 Welcome to Yamato Bakery! Here, you can find an assortment of freshly baked bread from the Yamato Bakery menu, including popular choices like savory bread, pandesal, croissanwich, cake foil, and sweets. Each of Yamato Bakery's breads is known to be soft and fluffy which makes them perfect both on their own or make them a base for delicious sandwiches or toasts. In addition to bread, the Yamato Bakery offers an array of Japanese-style pastries and cakes. From delicate cream puffs filled with rich custard or fresh fruit to beautifully decorated cakes for special occasions, there is a wide selection of sweet treats that customers can choose from. So, come on over and explore the delightful offerings on their menu that are sure to satisfy your cravings for freshly baked goodness!
Below, you'll find the updated list of Yamato Bakery menu prices.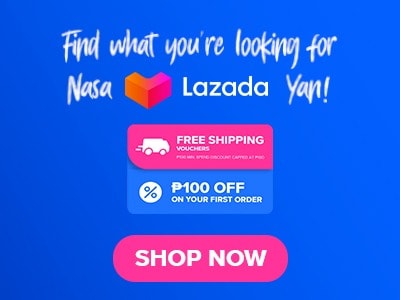 Menu Items
Price (PHP)

Savory

Ham and Egg
121
Steak and Gravy
198
Sausage Mozzarella
132
Salad Roll
121
Bacon and Egg
132
Bacon and Egg
143
Chicken Pie
143
Nori Sushi
143
Okonomiyaki
132
Wafu Hamburger
132
Tuna Pie
143
Tuna Onigiri
121
Sausage Roll
132
Sausage Roll
132
Chicken Floss
132
Spicy Chicken Floss
176
Truffle Mushroom
143
Bacon and Sausage Pizza
132
Spam Musubi
132

Pandesal

Ube Pandesal
165
Wheat Pandesal
143
Classic Pandesal
132
Cream Cheese Pandesal
154

Loaf Breads

Dinner Roll
187
English Bread
154
Wheat English Bread
154
Japanese Milky Bread - Coffee Chocolate
352
Japanese Milky Bread - Salted Caramel
407
Japanese Milky Bread - Bacon and Cheese
352
Rye Bread
198
Japanese Milky Bread - Cheese
286
Japanese Milky Bread - Plain
203
Chocolate Loaf
209
Choco Cream Cheese Loaf
308
Bacon & Cheese
297
Purple Yam Loaf
308
Thick Bread
154
Buttertoast Bread
165
Croissanwich
203
Butter Roll
121
Honey Wheat Loaf
176
Garlic Butter Roll
220
Japanese Milky Bread - Blueberry
352
Hokkaido
165
Loaf Bread (Thin Slice)
176

Mini Croissanwich

Mini Croissant
111
Mini Croissant Chocolate
22

Cake Foil

Auro Dark Chocolate Dream Cake
528
Tres Leches Cereal Milk Cake
418
Bread Pudding
385

Sweet

Fruit Danish
143
Blueberry Danish
132
Cinnamon Roll
121
Sweet Potato Cake
132
Peach Danish
132
Cream Cheese Bun
121
Queso Ensaymada
143
Ube Pan
198
Ube Ensaymada
176
Kouign Aman
121
Butter Croissant
121
Mini Croissant Maple
22
Chocolate Bun
143

Cakes and Éclair

Choux Cream
143
Sliced Strawberry Short Cake
209
Sliced Mango Short Cake
198
Mini Nippon Cake
275
Strawberry Eclair
143
Chocolate Eclair
143

Cake Cup and Mousse

Chocolate Mousse
154
Blueberry Cheesecake Mousse
154

Cookies

Mejie Milk Chocolate Cookie
299
Mejie Strawberry Cookie
299

Hot Coffee

Hot: House Blend (8 oz)
77
Hot: Cafe Aulait (8 oz)
99
Hot: Cafe Aulait (12 oz)
110
Hot: Cafe Mocha (8 oz)
132
Hot: Cafe Mocha (12 oz)
110

Sandwich

Kani Mayo Sandwich
264
Tuna Sandwich
264
Ham and Egg Sandwich
264

Iced Coffee

Iced: Coffee Black (16 oz)
110
Iced: Coffee Black (22 oz)
132
Iced: Cafe Aulait (16 oz)
132
Iced: Cafe Aulait (22 oz)
154
Iced: Cafe Mocha (16 oz)
132
Iced: Cafe Mocha (22 oz)
154

Ready To Drink

Bottled Water
44
UCC Beans and Roaster Caramel Latte
165
Sola Lemon
99
Stellina Lemon
99
Kombucha - Ginger
99
Kombucha - Ginger
121
Kombucha - Lime
121
Kombucha - Raspberry
121
The Blend - Rwanda & Brazil
121
The Blend - Sumogochi
121
The Blend - Café Latte
121
Cold Brew Black
165
Cold Brew - Latte
165
UCC Milk Coffee
86.9
Kombucha - Peach
121
About Yamato Bakery
Yamato Bakery is a bakery located in the Philippines that specializes in Japanese-style baked goods and pastries. This bakery is known to focus on quality and authenticity to bring the flavors and techniques of Japanese baking to the local market. Their menu features a variety of traditional Japanese bread, cakes, pastries, and other sweet treats that have started to grow popular with locals and tourists alike. Yamato Bakery continues to strive in providing locals and tourists with a taste of Japan through its authentic flavors and traditional baking techniques.
Yamato Bakery Menu Best Seller
This menu is composed of the most popular and most ordered items from both Yamato Bakery's physical and online stores.
Chicken Pie – Yamato Bakery's Chicken Pie is a delicious and savory pastry filled with tender and flavorful chicken, mixed with vegetables and a savory sauce. The buttery and flaky crust perfectly complements the rich and hearty filling, creating a satisfying and comforting snack or meal option.
Wafu Hamburger – It features a juicy and flavorful Japanese-style patty, seasoned with a blend of traditional Japanese spices and sauces that are served on a soft bun and accompanied by fresh lettuce, tomatoes, and other toppings to provide customers with a delightful fusion of Japanese and Western flavors.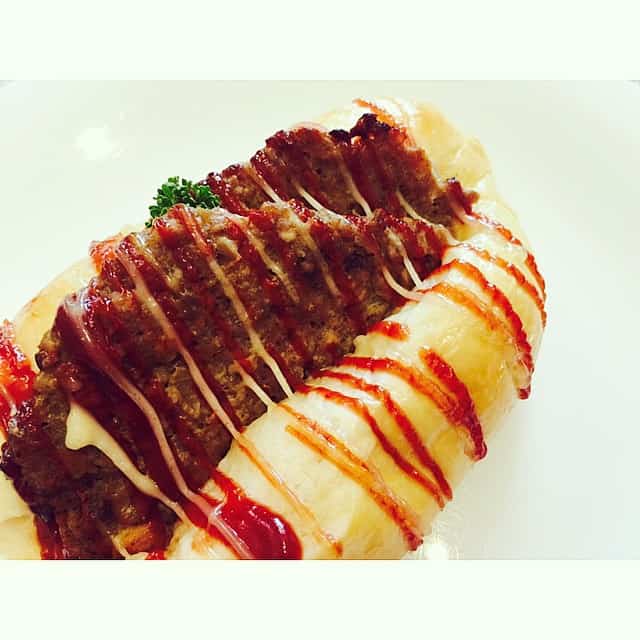 English Bread – Yamato Bakery's English Bread is a popular choice for those seeking a simple and delicious snack or breakfast option. This is the perfect bread for toasting and enjoying any spread like butter, jam, or Nutella due to its soft and fluffy texture.
Croissanwich – This sandwich highlights the use of buttery and flaky croissant that is filled with all kinds of delicious ingredients such as ham, cheese, eggs, and vegetables. The contrasting textures and flavors make the Croissanwich a tasty and convenient choice for breakfast or a quick meal on the go.
Cinnamon Roll – The soft and pillowy dough of this roll is swirled with a generous amount of cinnamon and sugar, creating a fragrant and flavorful pastry. Topped with a luscious cream cheese frosting, this roll provides the best combination of warmth, sweetness, and richness with each bite.
Yamato Bakery Menu Savory
This menu from Yamato Bakery is made up of savory combinations of different ingredients that would make for a satisfying and filling meal.
Ham and Egg – Yamato Bakery's Ham and Egg is a combination of savory ham and a perfectly cooked egg nestled within a soft and fluffy bread. The ham adds a smoky and salty flavor, while the egg provides a creamy and rich texture making this classic sandwich a satisfying and comforting breakfast item or anytime snack.
Steak and Gravy – This features tender slices of flavorful steak smothered in a savory gravy, all enclosed within a soft bread. The combination of the steak and savory gravy creates a hearty and satisfying meal option that could offer a delicious blend of flavors and textures which will surely please steak lovers.
Sausage Mozzarella – This item combines juicy and savory sausage with melted mozzarella cheese, all wrapped in soft and fluffy bread. The sausage provides a flavorful punch, while the gooey melted mozzarella adds a creamy and cheesy element. This combination makes for a tasty and satisfying treat, perfect for a quick snack or meal.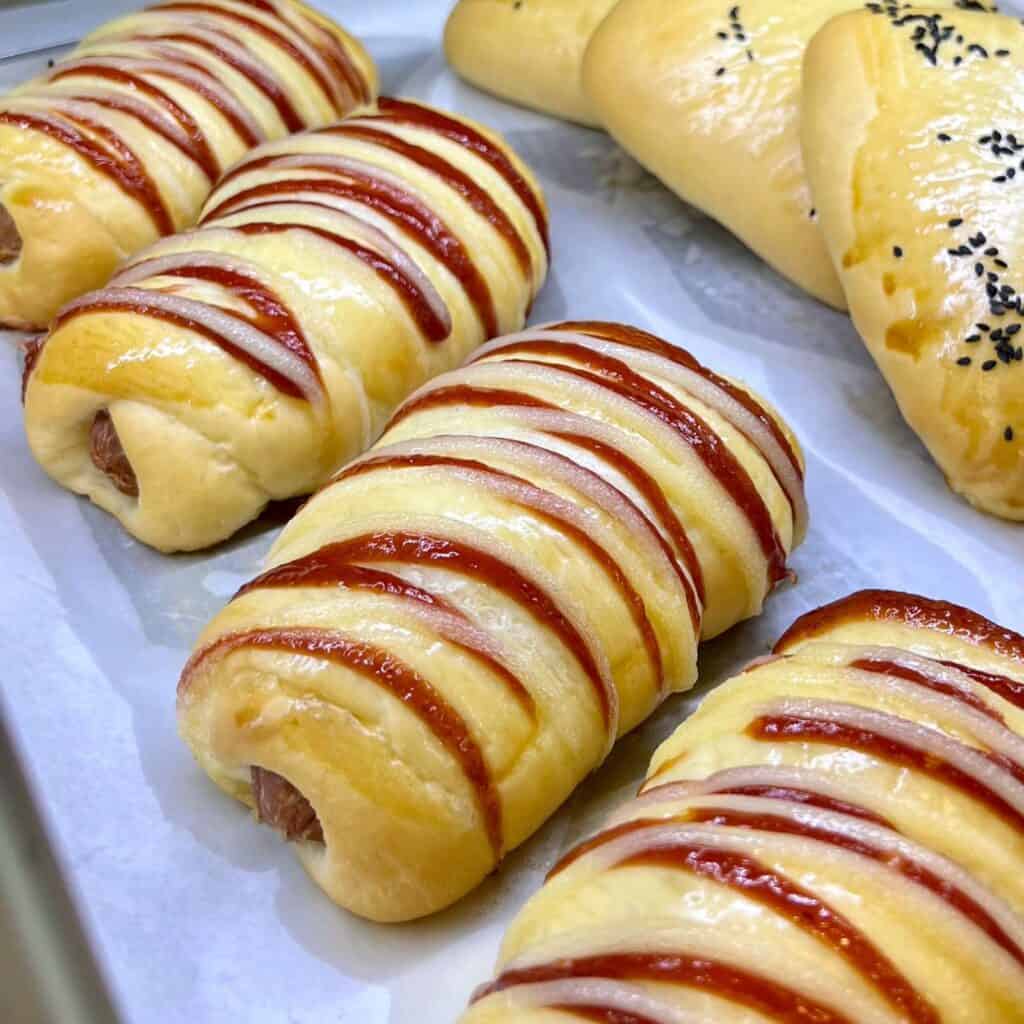 Pandesal
This menu is made up of Filipino traditional pandesal bread with a slight twist to make each one of them special.
Ube Pandesal – Made with vibrant purple yam or ube, this bread menu of Yamato Bakery offers a delightful combination of a slightly sweet and earthy flavor. The exterior of this pandesal is soft and coated with bread crumbs, while the interior is fluffy and infused with the distinct taste of ube making it a popular choice for those looking for a colorful and delicious bread option.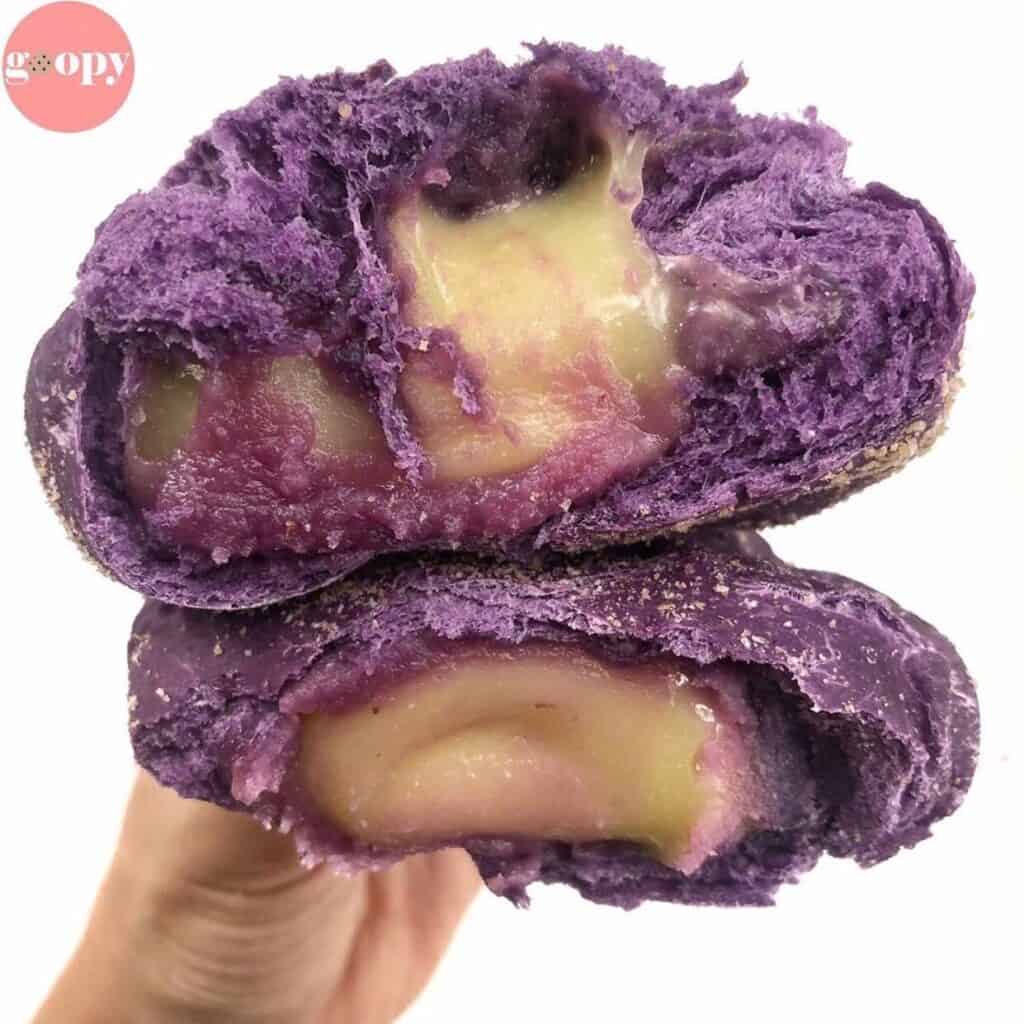 Wheat Pandesal – This bread is made with whole wheat flour, offering a heartier texture and a slightly nutty flavor. This bread is one of the nutritious choices in Yamato Bakery as it is packed with fiber and essential nutrients which also makes it a satisfying and wholesome option for those who prefer wheat-based bread.
Classic Pandesal – This soft and fluffy bread is characterized by its slightly sweet taste and light, golden exterior dusted with bread crumbs. It can be enjoyed plain or with your favorite spreads like butter, cheese, or jam to offer a comforting and familiar flavor that is loved by many.
Loaf Breads
This Yamato Bakery menu offers customers a wide variety of freshly baked bread options. These breads are perfect for making delicious sandwiches, toasting to make them warm and crispy, or simply enjoying them on their own. The bakery takes great care in preparing these breads, making sure they are soft and fluffy to give you the best taste and texture. With so many choices available, you can pick your favorite type of bread and enjoy it just the way you like it. Truly, Yamato Bakery is the place to go if you want to try some tasty and freshly baked bread.
Cakes and Eclair
Yamato Bakery's Cakes and Eclair menu offers a delightful selection of sweet treats that can cater to different tastes and preferences and will surely satisfy customers' dessert cravings.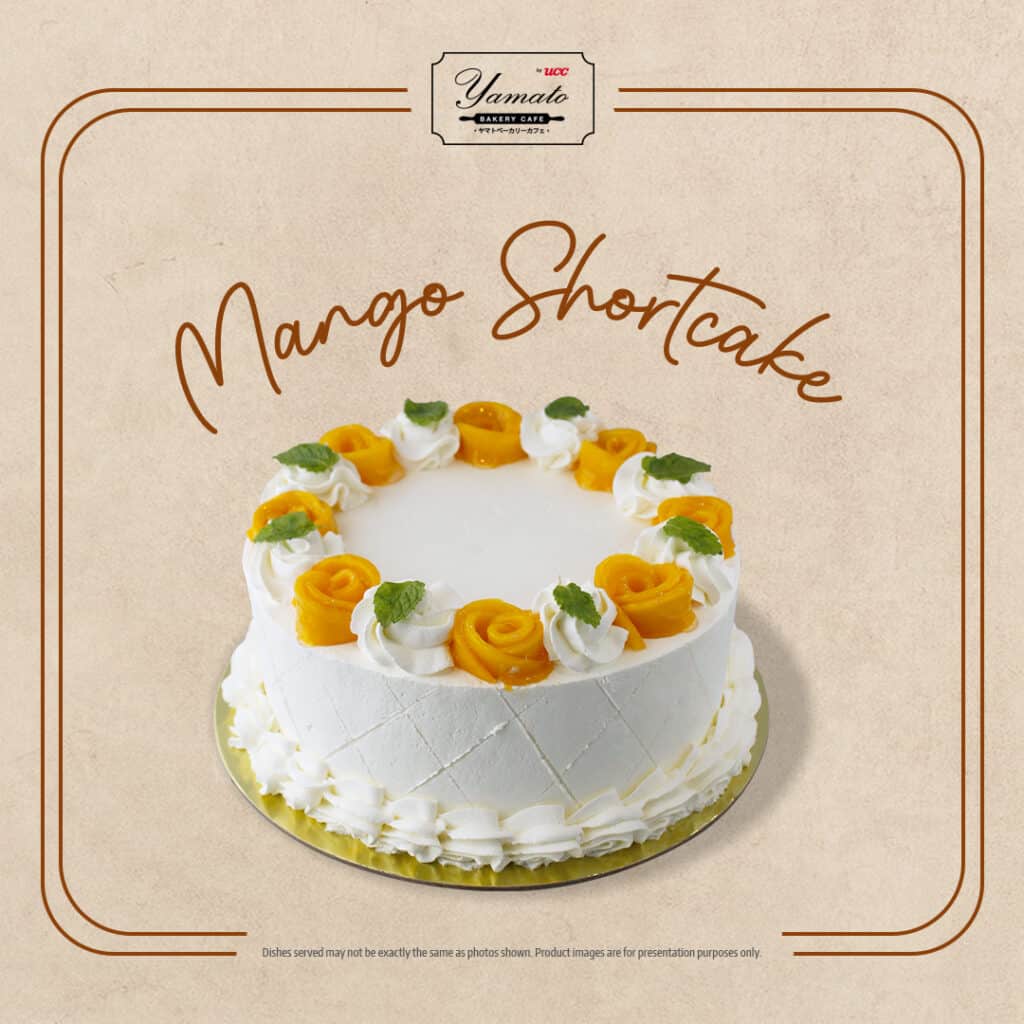 Cakes Foil
This menu is made up of delicious cake ad dessert options which include Auro Dark Chocolate Dream Cake, Tres Leches Cereal Milk Cake, and Bread Pudding.
Yamato Bakery Menu Delivery
Yamato Bakery provides customers with menu delivery to make ordering more convenient and to make their offerings more accessible to a wider range of people. This will allow their customers to order their favorite baked goods through third-party delivery services like FoodPanda and GrabFood.
Social Media Pages
Rise and shine, bakery enthusiasts! Welcome to Yamato Bakery, where each day begins with a burst of heavenly aromas and a symphony of fresh-baked delights! Join their growing community by following their social media pages, where they serve up more than just bread – they create moments that warm your heart and tantalize your taste buds!
Facebook: https://www.facebook.com/YamatoPH/
Instagram: https://www.instagram.com/yamatoph/
Website: https://yamatobakerycafe.mugengroup.ph/#contact-us
FAQs
Where is Yamato Bakery Cafe located?
You can visit Yamato Bakery in Bluebay Walk, Makati, Philippines.
What types of baked goods does Yamato Bakery Cafe offer?
Yamato Bakery Cafe offers a variety of baked goods inspired by Japanese cuisine.
Do they have gluten-free or vegan options?
Yamato Bakery Cafe does offer some gluten-free or vegan options to cater to individuals with dietary restrictions or preferences.
Does Yamato Bakery Cafe have seating for dine-in customers?
Yes, this bakery cafe typically provides seating for dine-in customers.
Does Yamato Bakery Cafe have a rewards program?
Yamato Bakery often provides customers with reward programs like discounts. You can also visit Yamato Bakery's website or follow their social media platforms to stay up-to-date with this kind of information,
Conclusion
This bakery is a go-to destination for both locals and tourists that are looking for authentic Japanese-style baked goods in the Philippines. The Yamato Bakery menu showcases a wide range of Japanese bread, pastries, cakes, and sweet treats that are crafted with attention to detail and a commitment to quality. Yamato Bakery brings the essence of Japanese baking to the local market with a focus on traditional flavors and techniques. So whether you're looking for soft and fluffy bread, delicate cream puffs, or beautifully decorated cakes, Yamato Bakery offers everything that will satisfy your cravings.