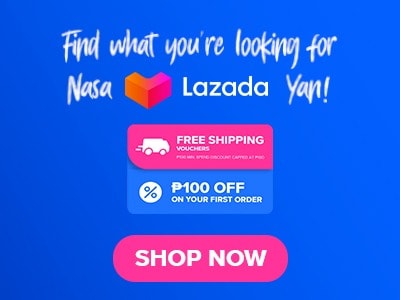 Renowned for its use of the firebrick oven, Bianca's Firebrick Chicken takes the art of grilling to new heights by presenting a blend of flavors and textures that redefine your perception of tender, juicy chicken. You can begin your dining experience with their appetizers and prepare yourself to be captivated by the stars of the menu, the Firebrick Chicken dishes, where every bite is filled with taste and tenderness. You can also experience the richness of Crispy Beef Ribs, a tender beef slow-cooked to perfection, then crisped for a satisfying contrast, while for a balanced meal, go for the Quarter Firebrick Chicken with Rice that pairs mouthwatering chicken with perfectly cooked rice.
Below, you'll find the updated list of Bianca's Firebrick Chicken menu prices.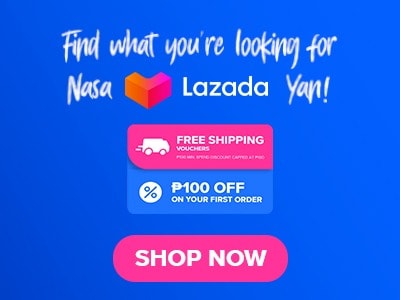 Menu Items
Price (PHP)
Firebrick Chicken
Whole Firebrick Chicken
525
Half Firebrick Chicken
290
Quarter Firebrick Chicken with Rice
183
Quarter Firebrick Chicken with Mashed Potato
183
Sauces
Garlic Mayo
22
Peri
27
Gravy
22

Sides

Garlic Bread
55
Rice
32
Mexican Rice
41
Mac & Cheese
38
Mashed Potato
38

Combo Plates

Combo Plate 1
235
Combo Plate 2
235
Super Combo
525

All Time Favorites

Crispy Beef Ribs Solo
165
Crispy Beef Ribs to Share
415
Tuna Salpicao - Solo
165
Tuna Salpicao - To Share
415

Appetizers

Salted Egg Wings
241
Sydney's Greens
131
Potato Platter
120
Chili Wings
241

Pasta

Chicken Alfredo Solo
145

Burgers

#colspan#188
Classic Beef Burger
136

Beverages

Cucumber Lemonade
61
Iced Tea
61

Samgyup Bento Meals

Samgyup Beef Bento
250
Samgyup Pork Bento
250

Banchan

Chili Tofu
60
Glazed Potato
60
Glazed Potato Seasoned Cucumber
60
About Bianca's Firebrick Chicken
Bianca's Firebrick Chicken is a restaurant that promises an enjoyable experience for chicken lovers. The star of its menu is undoubtedly the Firebrick Chicken, but its menu doesn't end with it. Its menu boasts a range of delicious and tender chicken dishes that are cooked to perfection in their signature firebrick oven with each piece of chicken being tender on the inside with a mouthwatering, slightly crispy exterior that is packed with flavor. Aside from its renowned chicken dishes, the restaurant also offers a selection of grilled dishes that perfectly complement its signature firebrick chicken.
Bianca's Firebrick Chicken Menu Best Seller
Bianca's Firebrick Chicken believes that culinary inspiration knows no boundaries, so their Best Seller menu is a testament to the fusion of flavors drawn from diverse international cuisines, giving customers a chance to explore an array of mouthwatering dishes.
Crispy Beef Ribs – These tender beef ribs are carefully slow-cooked until the meat is fall-off-the-bone tender, and then perfectly crisped to create a nice contrast of textures. The dish boasts a perfect blend of savory and smoky flavors that will leave anyone craving more.
Tuna Salpicao – The tuna salpicao from Bianca's Firebrick Chicken dish offers a fusion of flavors highlighting the chunks of tuna that are seared to perfection, then tossed with garlic, olive oil, and spices. This dish offers a unique twist on the classic salpicao, bringing a unique seafood richness that is complemented by the aromatic blend of seasonings.
Chicken Alfredo Solo – Bianca's Firebrick Chicken's chicken alfredo is made up of tender pieces of grilled chicken that are placed atop a bed of al dente fettuccine pasta, all smothered in a creamy Alfredo sauce. This dish is a blend of flavors and textures that offers a satisfying combination of protein, pasta, and velvety sauce that is sure to warm your heart.
Classic Beef Burger – The classic beef burger has a juicy and flavorful beef patty, cooked to your preference, topped with crisp lettuce, ripe tomato slices, and melted cheese all sandwiched in a pair of buns.
Firebrick Chicken
The menu is where flavors are seen to new levels heights and where culinary meets the art of firebrick cooking. Bianca's Firebrick Chicken proudly presents its signature Firebrick Chicken menu, a fusion of taste and texture that promises to delight and satisfy.
Whole Firebrick Chicken – The dish offers customers a tender and generously portioned whole chicken that has been expertly marinated and cooked in the firebrick oven resulting in a tender, smoky, and flavorful meat with a crispy skin that is sure to satisfy and fill anyone.
Half Firebrick Chicken – It features half of a firebrick-grilled chicken, prepared with the same care and attention to detail. This option is ideal for those who desire Bianca's Firebrick Chicken's signature dish without going for the full portion.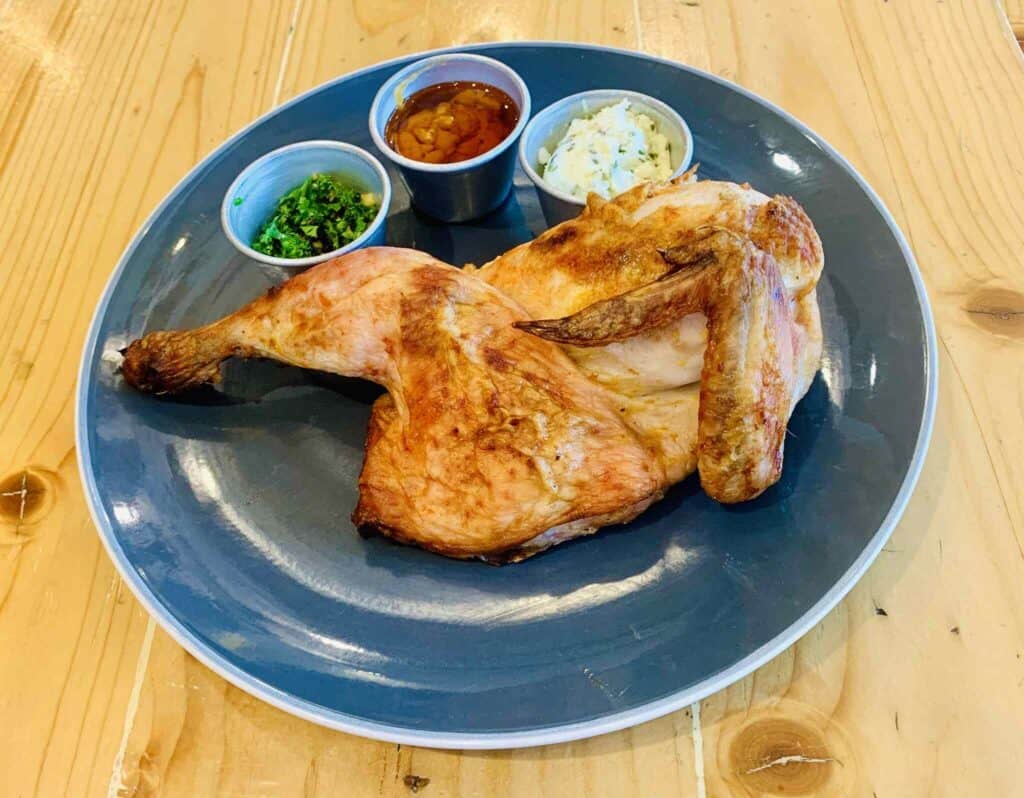 Quarter Firebrick Chicken with Rice – This meal item consists of a quarter portion of firebrick-grilled chicken paired with a serving of perfectly cooked rice. This option offers a satisfying combination of protein and carbohydrates, making it a popular choice for those looking for a filling and flavorful meal.
Appetizers
Try to have a dining experience that begins with the mouthwatering flavors of Bianca's Firebrick Chicken Appetizers menu. These appetizing creations are designed to awaken your palate, setting the stage for an unforgettable dining experience at Bianca's Firebrick Chicken.
Salted Egg Wings – It is made up of crispy and tender chicken wings that are coated in a salted egg yolk sauce, creating an excellent balance between its flavor and texture and offering a playful twist on traditional wings.
Sydney's Greens – A dish that showcases a medley of crisp, locally-sourced greens, paired with a variety of toppings that might include grilled chicken, colorful vegetables, nuts, seeds, and a tantalizing dressing making it a delicious option for those looking for a lighter yet satisfying meal.
Potato Platter – The potato platter from features an assortment of potato-based creations, from crispy fries to tender wedges, accompanied by a selection of dipping sauces that elevate the potato experience. It is a versatile choice that caters to both potato lovers and those that are looking for a satisfying accompaniment to their main course.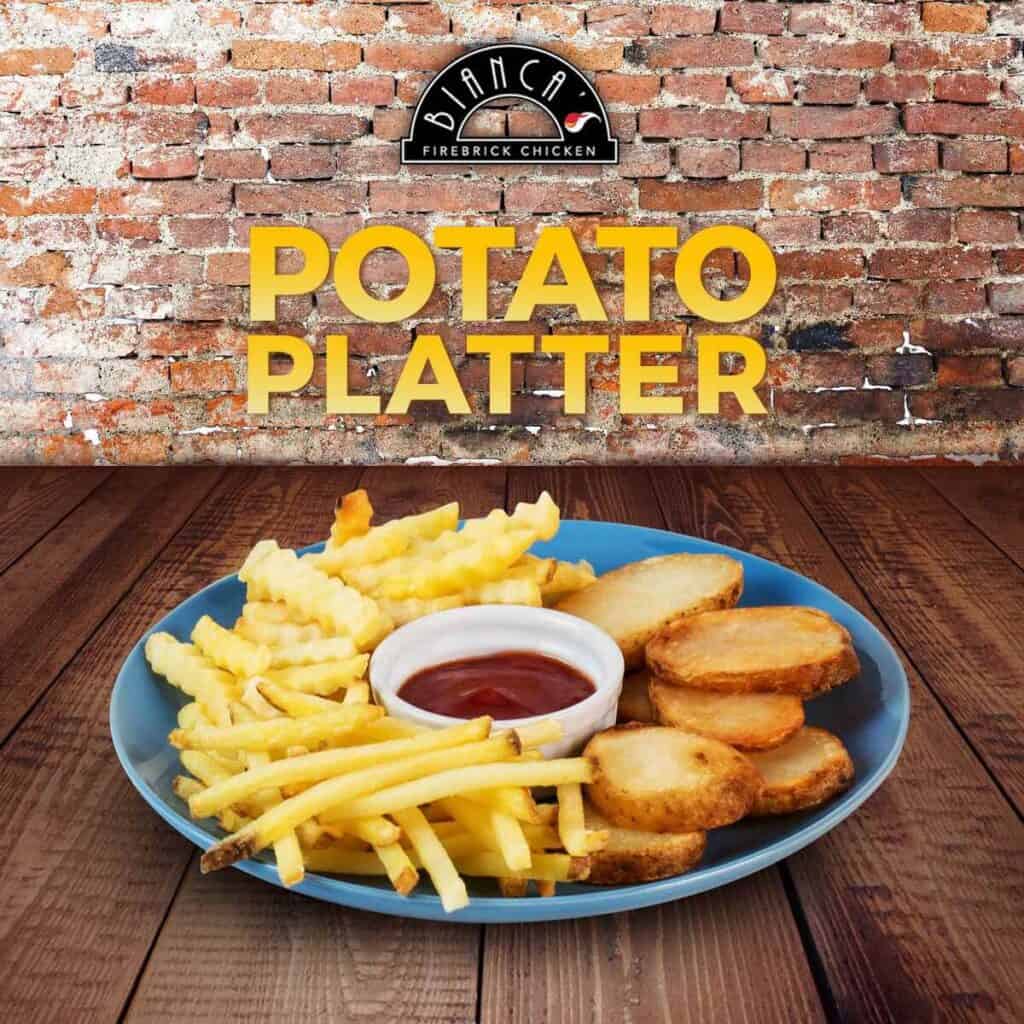 All Time Favorites
Bianca's Firebrick Chicken's All Time Favorites menu is made up of the most popular items from the said restaurant since it was first founded. The Whole Firebrick Chicken is the highlight of this menu, a perfectly roasted masterpiece that boasts tender, smoky meat, and a satisfyingly crispy skin.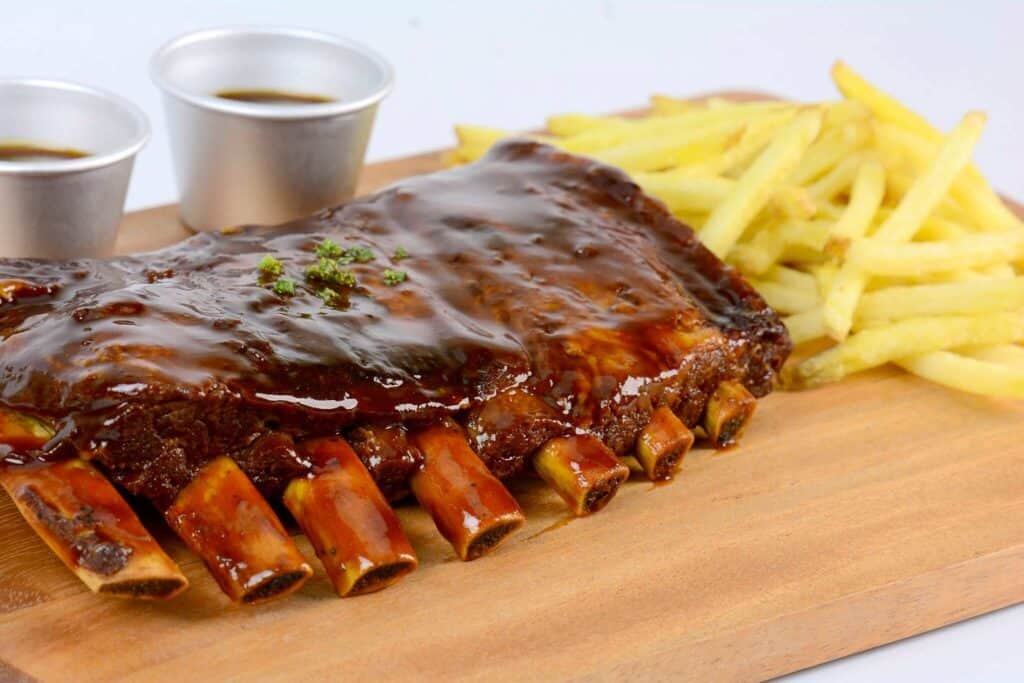 Sides
The menu at this place has some real stars, and one of the shining favorites is the Potato Platter. Imagine a plate full of potato goodness – crispy golden fries, tasty seasoned wedges, and even a rice option to complete your meal. It's the ideal partner to make your dining experience absolutely satisfying!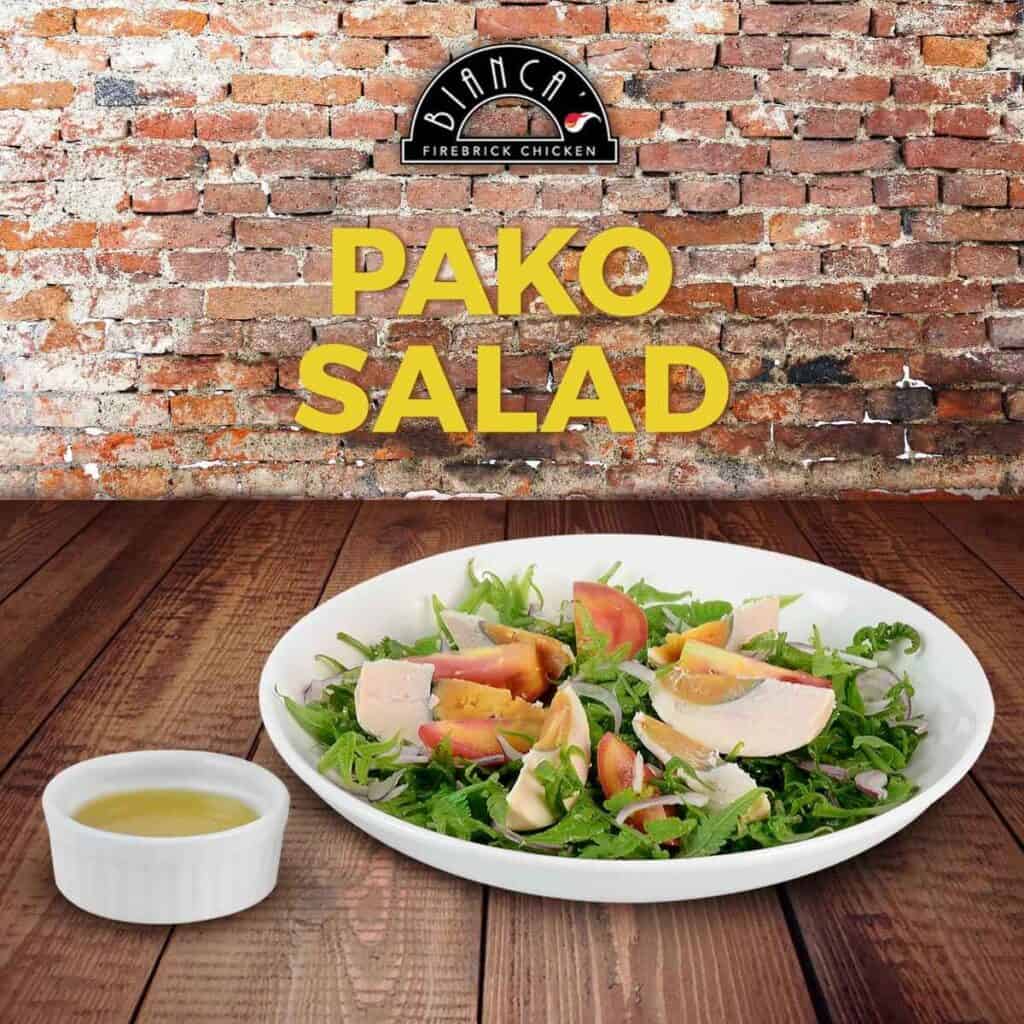 Bianca's Firebrick Chicken Menu Delivery
Bianca's Firebrick Chicken is making things super convenient by bringing their tastiest and most loved dishes right to your doorstep through menu delivery. All you need to do is open the FoodPanda app, give a few clicks, and you're all set to savor the amazing flavors of their special chicken dishes. It's like having a delightful dining experience from Bianca's Firebrick Chicken, right in the comfort of your own home!
Social Media Pages
From the crackling exterior to the juicy tenderness within, each bite is a testament to our commitment to perfection. Join them on social media pages as they invite you to savor the symphony of flavors that dance through their dishes, celebrating the craft of firebrick cooking like no other.
Facebook: https://www.facebook.com/BiancasFireBrickChicken
Twitter: https://twitter.com/Biancas_FBC
TikTok: https://www.tiktok.com/@biancasfirebrickdasma
YouTube: https://www.youtube.com/@biancasfirebrick
FAQs
What is Bianca's Firebrick Chicken, and what type of cuisine does it offer?
Bianca's Firebrick Chicken is a restaurant that specializes in firebrick-grilled chicken and other dishes that is a blend of traditional and contemporary flavors, often associated with grilled or roasted dishes.
Does Bianca's Firebrick Chicken have a delivery service for its food orders?
Yes, Bianca's Firebrick Chicken has a delivery service where customers can order from the comfort of their homes.
What are some of the most popular dishes on Bianca's Firebrick Chicken menu?
Some of the most popular items at Bianca's Firebrick Chicken are the firebrick chicken itself, crispy beef ribs, tuna dishes, burger items, and more.
Can I make reservations for dining at Bianca's Firebrick Chicken in advance?
Bianca's Firebrick Chicken operates on a walk-in basis but also accepts reservations.
Is Bianca's Firebrick Chicken family-friendly and suitable for large groups?
Bianca's Firebrick Chicken is the perfect place for families that are looking for a nice and comfortable place with unique and delicious dishes.
Conclusion
Bianca's Firebrick Chicken is truly a unique restaurant that skillfully embraces the art of firebrick cooking in order to deliver an exceptional dining experience for its customers. With this restaurant's diverse menu that revolves around expertly grilled and marinated chicken, they are able to cater to the different preferences and tastes of each customer. So whether you are looking for familiar comfort foods or are trying to explore bold new flavors, Bianca's Firebrick Chicken has it all and promises you a memorable and satisfying dining experience.