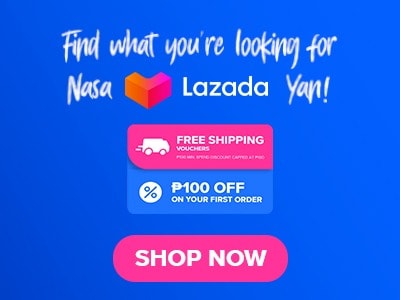 House of Lechon's menu offers a wide variety of Filipino dishes that mainly feature lechon, a roasted pig, as a specialty. The lechon dishes they serve are available in different sizes, from a solo plate to a platter that can satisfy 12 to 15 people. Aside from their specialty lechon, House of Lechon also offers a variety of appetizers, side dishes, and desserts to complement their main dishes. Overall, House of Lechon's offers a great selection of Filipino cuisine with a focus on their specialty, the lechon.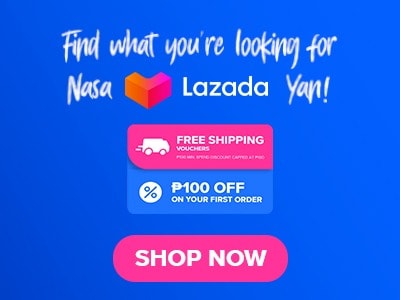 Menu Items
Price (PHP)

Menu

Bam-i Bisaya
180
Mixed Vegetables in Oyster Sauce
180
Pinakbet
130
Gising Gising Kangkong
150
Bicol Express
140
Canton Guisado
190
Hinumba na Lechon
200
Dinuguan
150
Calderitang Kanding
260
Lechon Sisig
200
Lechon Paksiw
250
Monggo
150
Sabaw ng Mais og Kinhason
165
Utan Bisaya na may Pasayan
120
Sinigang na Tangigue
230
Crispy Chicken Skin
135
Ngohong
100
Garlic Squid Ball
140
Chili Cheese Sticks
110
Cheese Sticks
99
Grilled Tangigue or Tuna Belly
240
Baked Scallops
220
Kinilaw na Tangigue
180
Kinilaw Fiesta Cebuana
220
Oyster Sisig
180
Pinaulbo na Pasayan
180
Sweet and Sour Fish
210

Lechon

Carcar Special
200/330/470/620
Classic Spicy
230/370/530/685

Rice

Plain Rice
110
Garlic Rice
120

Dessert

Pandan Tapioca
110
Oreo Mango Float
125
Broken Glass
125
Cassava Turon
110

Shakes

Mango Shake
70
Buko Shake
70
Watermelon Shake
70
Buko Pandan Shake
70
Halo-Halo Shake
98
Iced Tea
120
Calamansi Juice
70
Americano
70
Brewed Coffee
35
Cappuccino
80
Latte
80
Hot Mocha
80
Regular
90
Coke
60
Royal
60
Bottled Water
45
About House of Lechon
House of Lechon is a popular restaurant in Cebu City, Philippines, that specializes in the lechon dish, which is a whole pig roasted on top of charcoal and is considered the national dish of the Philippines. House of Lechon is owned by a Cebuano family that has been in the lechon business for over 30 years. The restaurant was established in 2015 and has been one of the most popular go-to lechon places for both locals and tourists ever since. Additionally, House of Lechon offers catering services for any occasion as well as delivery services.
House of Lechon Menu Best Seller
This menu is made up of different variations on their specialty, the lechon, which are also the most ordered item at House of Lechon.
Hinumba na Lechon – This variety of lechon dishes is made up of roasted pork belly that was slow-cooked in vinegar and soy sauce until it became tender. As a restaurant famous for its lechon, House of Lechon's version of the dish is no less than excellent. These chunks of soft pork belly are served with a sweet and savory sauce, enhancing the flavor of the already flavorful pork belly dish.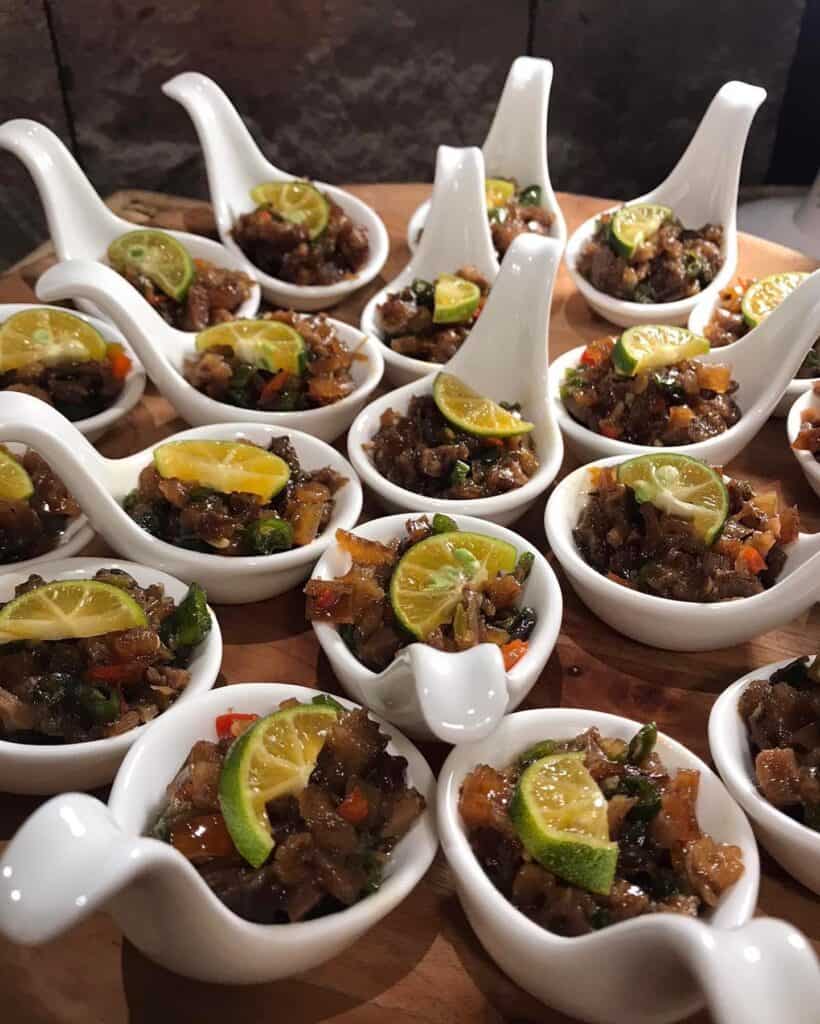 Lechon Sisig – This dish is a spin-off of the classic lechon. Made with a savory and spicy combination of crispy Lechon meat, onions, and chili peppers, the version of House of Lechon's lechon sisig makes for a delicious and satisfying meal that will not disappoint anyone who tries.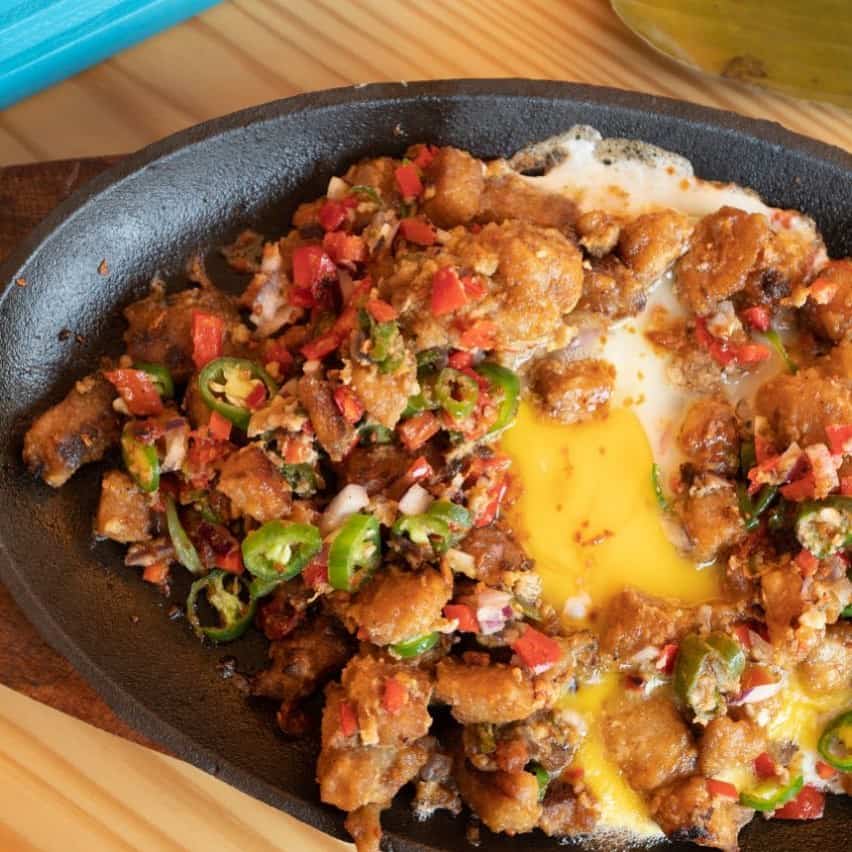 Lechon Paksiw – This is a stew dish made from leftover lechon meat that is cooked in a sweet and sour sauce that is made with vinegar, brown sugar, and a variety of spices. This version is delicious and flavorful because the lechon from which it was made was nothing less than the best. Not only that, but it is a good way to use up leftover lechon, the dish made from it is just delicious, and the flavor is pretty much perfect!
Food Menus
This menu is made up of a wide range of traditional dishes from appetizers, to side dishes, and main dishes.
Bam-i Bisaya – This traditional noodle dish from the House of Lechon menu originated from the Visayas region and is made by combining egg noodles and vermicelli, which are then mixed with vegetables, pork, and shrimp. The result of the mixture of these ingredients is a perfectly cooked noodle dish that is well-balanced and would make for a satisfying meal.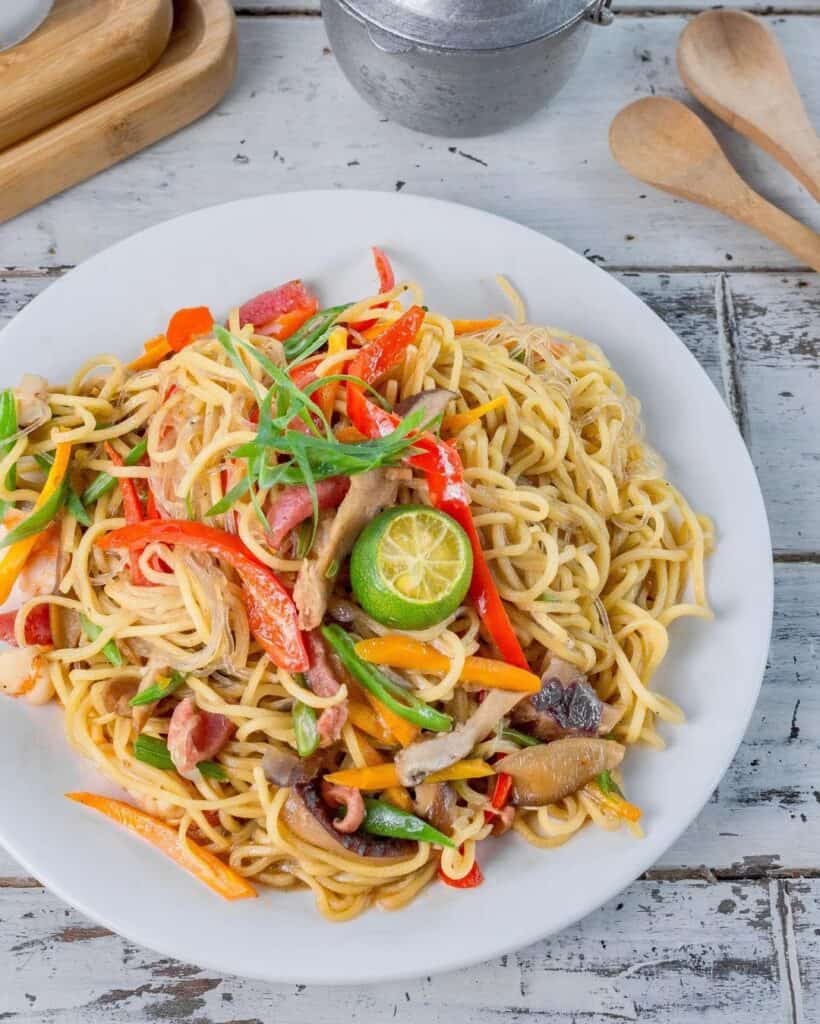 Mixed Vegetables in Oyster Sauce – This vegetable dish is a tasty and healthy side dish that would be a great addition to any meal at House of Lechon. This dish consists of a different variety of vegetables, including broccoli, cauliflower, and carrots, that are stir-fried in an oyster sauce.
Pinakbet – It is a popular Filipino vegetable stew that is made by mixing different varieties of vegetables, such as bitter melon, eggplant, and okra. The ingredients are cooked in a sauce that is made with fermented shrimp paste, resulting in a delicious and flavorful dish with just the right amount of saltiness and bitterness from the vegetables.
Bicol Express – This is a spicy pork stew dish that originated from the Bicol region and is perfect for those who want to try a unique dish with bold and spicy flavors. This version of Bicol Express has a good balance of spiciness and creaminess from the coconut milk.
Dinuguan – This menu of House of Lechon is a classic Filipino stew made with pork offals and meat and cooked in pig's blood. While this dish is not for everyone, the House of Lechon's version of this classic dish is delicious with just the right amount of spiciness, resulting in a flavorful, hearty, and satisfying stew.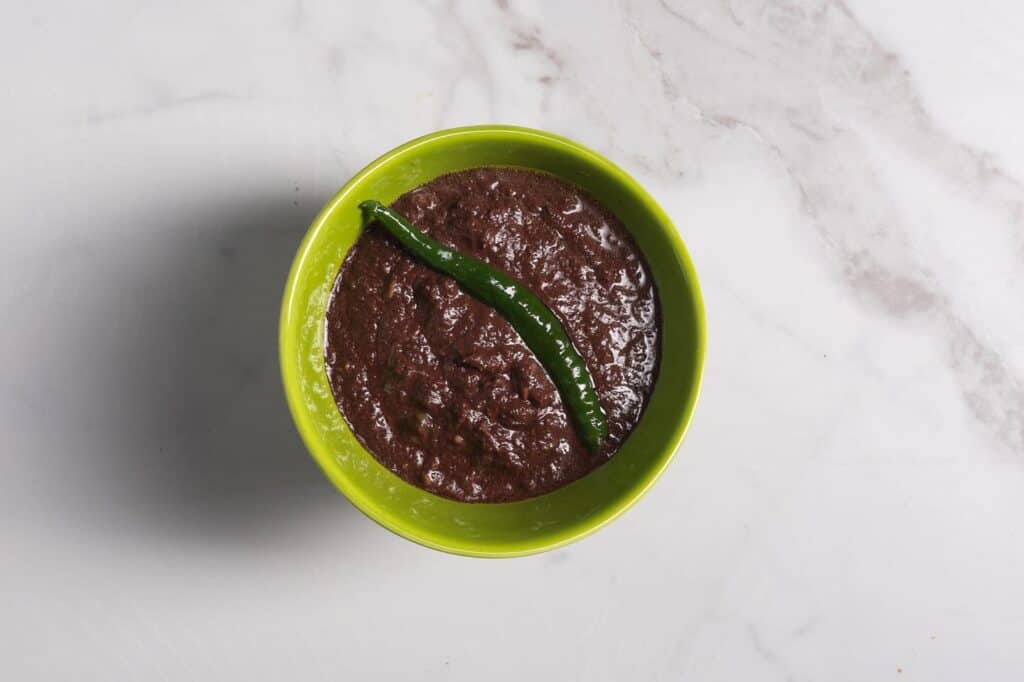 Calderitang Kanding – This dish is a hearty stew that uses goat meat as its main ingredient flavored with tomato sauce, potatoes, and carrots. This is a well-balanced dish, and the tender and flavorful goat meat complements the rich sauce perfectly making this dish one of the most ordered dishes at House of Lechon.
Lechon
House of Lechon is known for its none other than "lechon" menu, and not only does it lives up to the hype, but they are also practically perfect as well! House of Lechon doesn't serve a lechon that is less than perfect, each of them must be perfectly crisp on the outside while tender and juicy on the inside. While they are known for their traditional lechon offering, they also offer different variations of this dish, such as Hinumba na Lechon, Lechon Sisig, and Lechon Paksiw.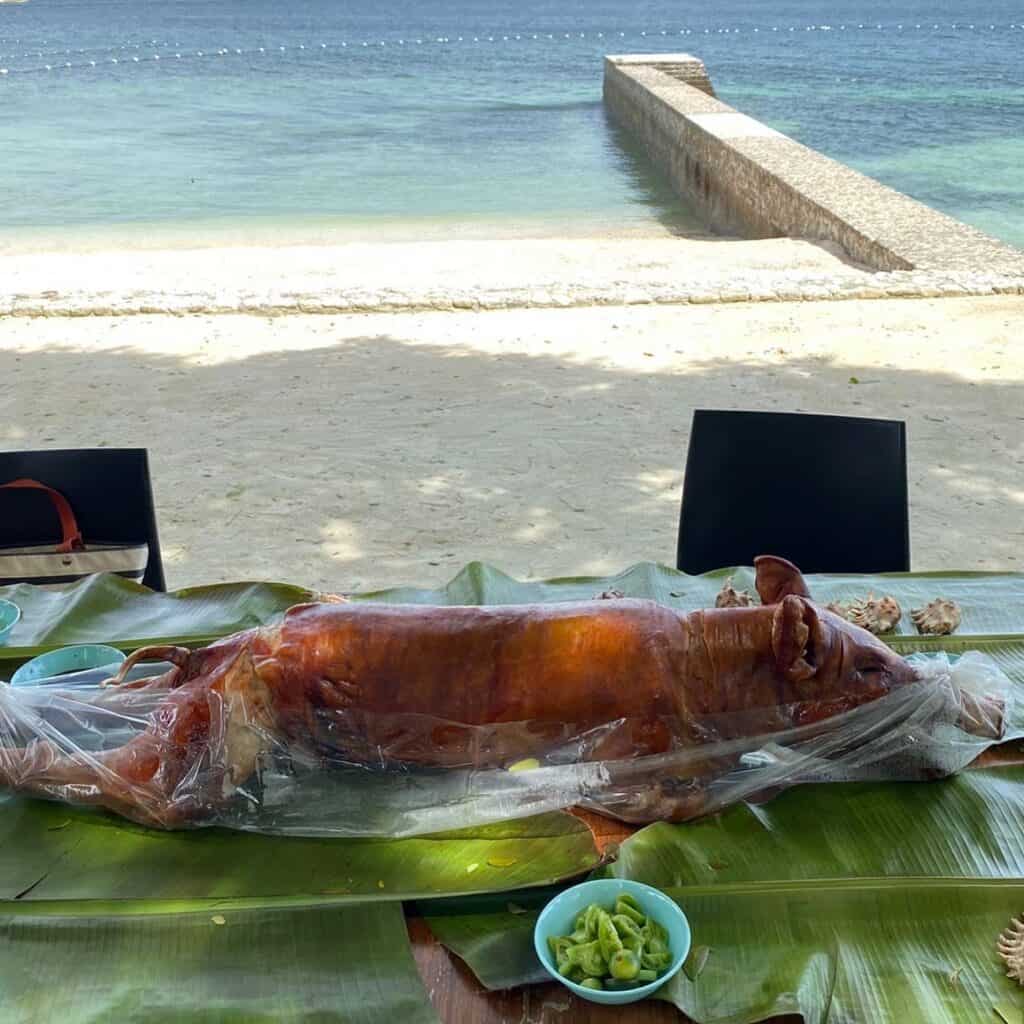 Rice
This House of Lechon menu is made up of different varieties of rice dishes, including steamed and garlic rice, that are served in different sizes. The size goes from a solo to a family platter. They use fresh, high-quality rice to complement the main dishes, especially the lechon, that they offer.
Dessert
This menu consists of a wide selection of desserts that ranges from traditional desserts like cassava turon to a more modern desserts like the Oreo mango float. The desserts that the House of Lechon offers provide a relaxing and calming vibe after a satisfying and filling meal.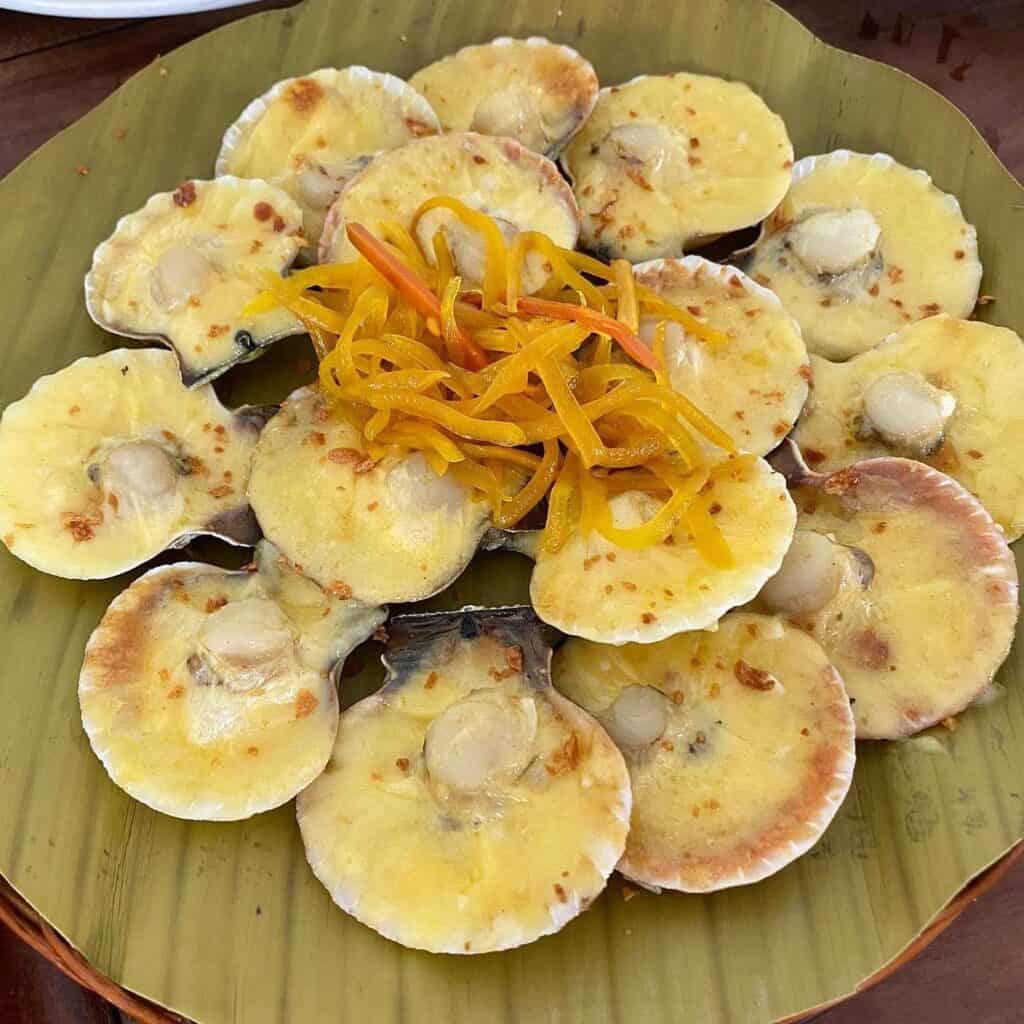 House of Lechon Menu Delivery
For busy customers who can't visit House of Lechon, there's no need to worry! The restaurant offers a menu delivery service, making it more convenient to order their favorite lechon and other dishes. Ordering is easy – just visit their website, call their hotlines, or use third-party delivery services like GrabFood or FoodPanda apps. With a range of options available, customers can enjoy the delectable flavors of House of Lechon in the comfort of their own home or office. Say goodbye to the hassle of dining out and enjoy a hassle-free culinary experience with House of Lechon's menu delivery service.
Social Media Pages
If you're a fan of mouth-watering lechon, then you won't want to miss the House of Lechon's social media pages. Follow them on Facebook and Instagram to stay updated on their latest menu offerings, promotions, and events. You'll also get a sneak peek at their delicious lechon, sisig, and other Filipino favorites that will surely satisfy your cravings. Don't miss out on the chance to discover their exciting updates and exclusive deals.
Facebook: https://facebook.com/HouseOfLechonCebu/
Instagram: https://instagram.com/houseoflechon/
Conclusion
House of Lechon features their specialty, the lechon, and other varieties of Filipino dishes that are sure to satisfy anyone who is looking for delicious and affordable Filipino comfort food. The restaurant itself has a cozy and casual atmosphere which makes the dining experience more comfortable and enjoyable. Overall, House of Lechon is a great place to enjoy satisfying Filipino comfort meals with friends and family.