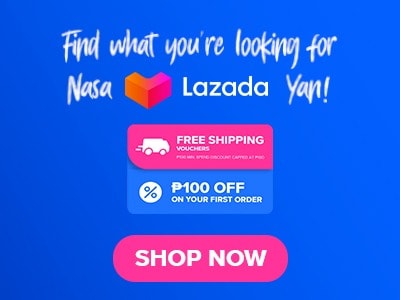 Traditional Filipino dishes like Adobo, Sinigang, and Kare Kare, as well as regional specialties like Bulalo, Bicol Express, and Sisig, are all available on the menu at Pamana Restaurant. One of the dishes that stand out on their menu is the Crispy Pata, a pork knuckle that is deep fried until it is crispy on the outside but still soft on the inside. And desserts from the restaurant, including the popular Halo-Halo are also worth trying whenever you visit a Panama restaurant.
Below, you'll find the updated list of Pamana menu prices.
Menu Items
Price (PHP)

Hot old fashioned soup

Nilagang Bulalo
490
Nilagang Bulalo Large
955
Chicken Binakol
400
Tinanglaranag Manok
355
Kansi
490
Kansi Large
955
Tunabelly sa Manggang Hilaw
460
Sinigang na Hipon sa Kamias
555
Bangus Belly sa Kamias
545
Tadyang ng Baka sa Sampalok
480
Buto-buto na Pinalapot sa Gabi
575
Sinigang na Gulay sa Tanglad
310
Salmon Belly sa Miso
520

Starters

Baked Bone Marrow with Adobo Pate and Toast
270
Balut ala Pobresita
250
Pampanga's Sizzling Sisig at Aligue
320
Crispy Adobong Pusit Calamares
325
Bangus at Tofu Sisig
305
Tuna Gising-gising
325
Baked Tahong sampler
280
Spicy Sizzling Litid
300

Noodles

Sizzling Pancit Ivatan
370
Birthday Noodles Misun
325
Pancit Canton
320
Pancit Luchan
410
Sotanghon Aligue
420
Our Heritage
Lechon Manok Tinupig sa Gata
295
Cebu Lechon Belly Roll
450
Nilechong Bangus Ilocos Style
295
Bagnet
369
Leyte's Humba
355
Crispy chicken ala Pobre
295
3 Way Adobos
395
Original Kare Kare
435
Seafood Kare Kare
520
Kare Kare Boneless Pata at Crispy Tadyang
680

Inasal, inihaw, prito o, pinaputok sa dahon ng saging

Chicken Inasal
225
Liempo Inasal
285

Inihaw

Inihaw na manok
235
Bacon Liempo
290
Tadyang ng baka
445
Bangus
305
Lapu Lapu
570
Tilapia
325
Pusit
295
Sugpo
525

Inihaw at Binalot sa Dahon

Lapu Lapu
570
Tilapia
300
Pusit
325
Sugpo
525
pinaputok sa dahon ng saging
Tuna Belly
290
Tilapia
320
Bangus
315
sugpo
510
Sinugba
830

Seafood

Seafood Medley
400
Pinaangat na Isda sa Manggang Hilaw
295
Crispy Lapu Lapu with Sweet Green Mango Sauce
600
Marinduque's Sinanglay
315
Bistek Salmon
300

Lamang Dagat

Tinuktok
325
Isda-Best Sizzling Bangus
290
Davao's Baked Sugpo sa Taba ng Talangka
525
Seaside Paluto's Famous Sweet Shrimp
490
Adobong Pusit at Calamares
325
About Pamana
Pamana is a popular restaurant located in the Philippines that specializes in serving traditional Filipino dishes. The restaurant, which is in Tagaytay, is a popular spot for both locals and tourists due to its breathtaking views of the Taal Volcano and the lake that surrounds it. The restaurant's interior is styled in a rustic and cozy manner, with wooden furniture, antiques, and wall art with Filipino influences.
Pamana Menu Best Seller
This menu is composed of the most popular dishes among the many different varieties of dishes that Pamana Restaurant serves.
Chicken Inasal – The chicken is given a tangy and subtly sweet flavor by being marinated in a mixture of vinegar, calamansi juice, and other spices. It is then grilled over hot coals until it is cooked through and has a slightly charred and smoky flavor.
Pinaputok na Bangus – In this dish, the bangus is wrapped in banana leaves, stuffed with a mixture of onions, tomatoes, and other spices, and then grilled until it is thoroughly cooked. Typically, pinaputok na bangus is served with rice and vinegar, soy sauce, and chili pepper as its dipping sauce.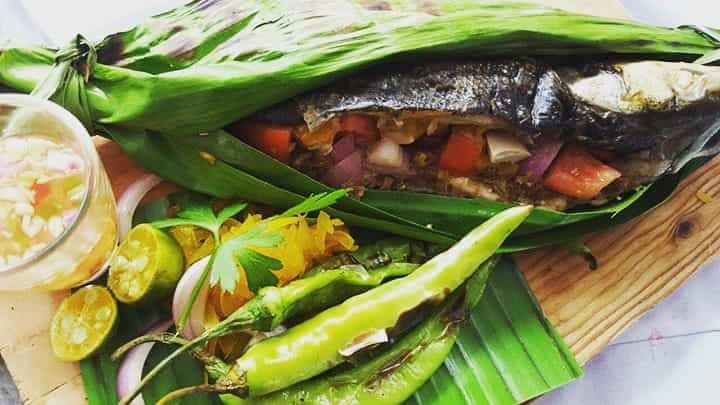 Sinugbang Baboy – This dish is a grilled pork dish that has been marinated in a mixture of soy sauce, calamansi juice, and different spices. The pork is then grilled over hot coals until it is fully cooked and has a slight char on the surface.
Our Heritage
This menu is composed of popular Filipino dishes, each with its own unique flavor and style of preparation.
Cebu Lechon Belly Roll – This dish consists of roasted pork belly served with rice and a vinegar based dipping sauce. The pork belly is seasoned with a blend of herbs and spices before being roasted over an open flame until it is crispy on the outside and juicy and tender on the inside.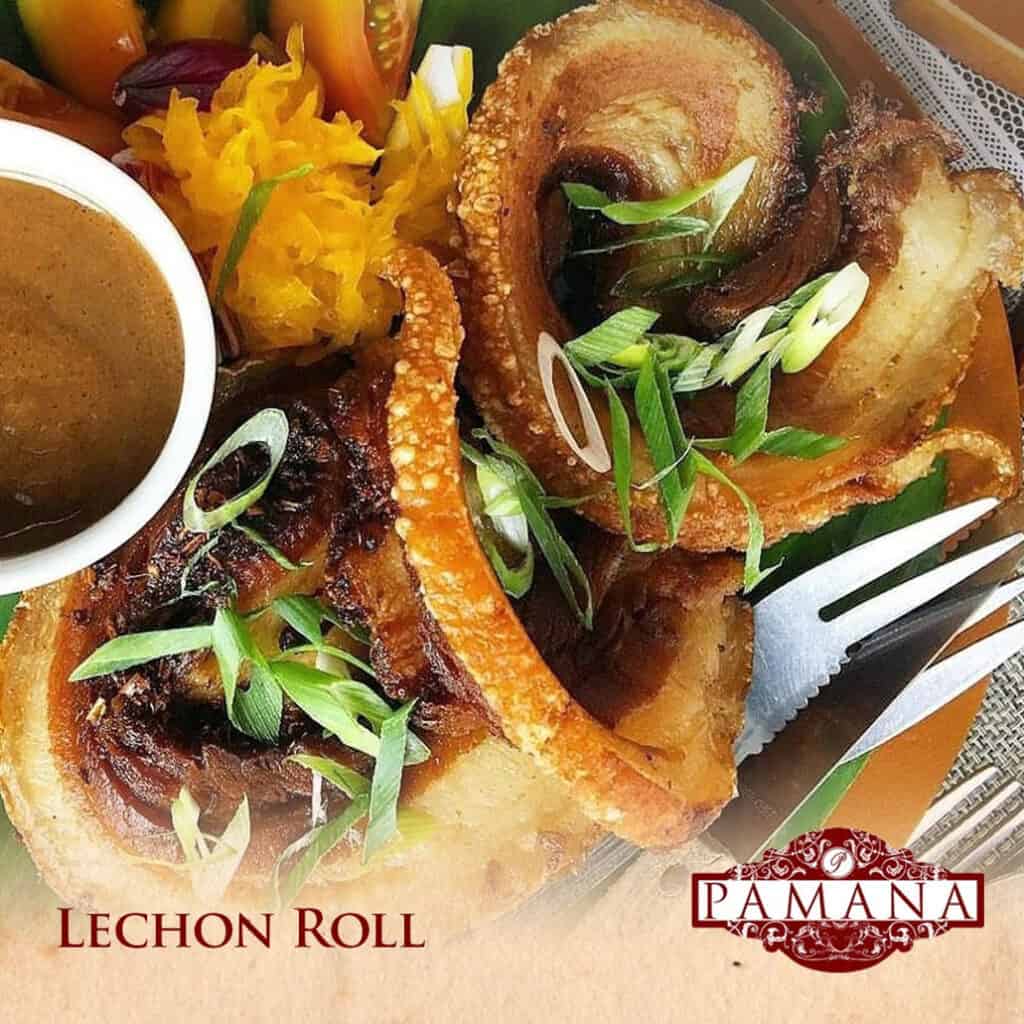 Bagnet – This dish is a deep-fried pork belly that is typically served as a crispy and flavorful meat dish that is very popular in the Ilocos region of the Philippines. The bagnet is deep-fried until the outside is crispy and golden brown after first being boiled until it is tender.
Seafood Kare Kare – This dish is a Filipino stew made with vegetables, seafood, and a peanut based sauce. The peanut sauce has a rich and savory flavor because it is made with ground peanuts, garlic, onions, and other spices.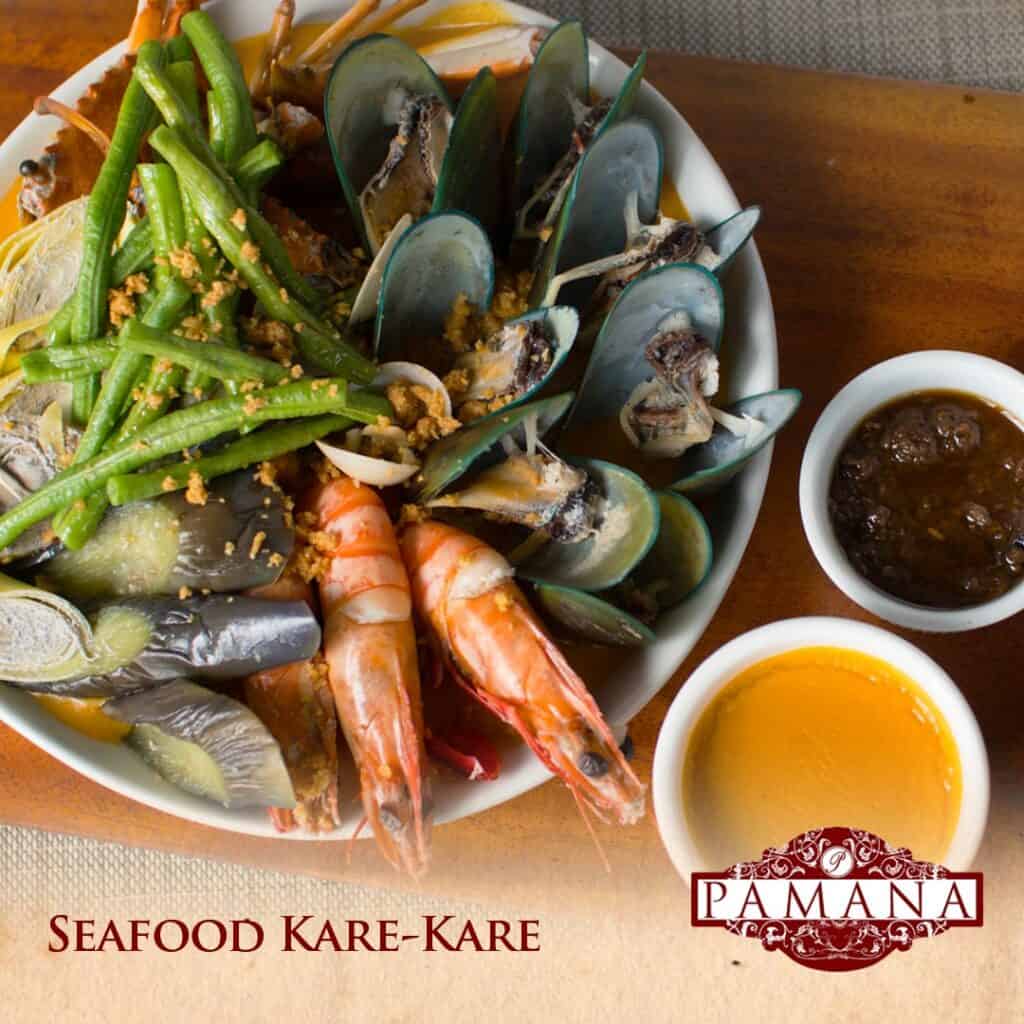 Hot Old-Fashioned Soup
This menu from Pamana features a great selection of hearty and flavorful soup dishes that are typical of Filipino cuisine.
Nilagang Bulalo – The soup is typically simmered for a number of hours, allowing the vegetables to absorb the flavorful broth and the beef to become tender and flavorful. Tice and a calamansi-based dipping sauce are frequently served with nilagang bulalo.
Chicken Binakol – The soup has a tangy and slightly sweet flavor because of the ingredients that are mixed in this recipe, such as coconut water, ginger, lemongrass, and other herbs and spices.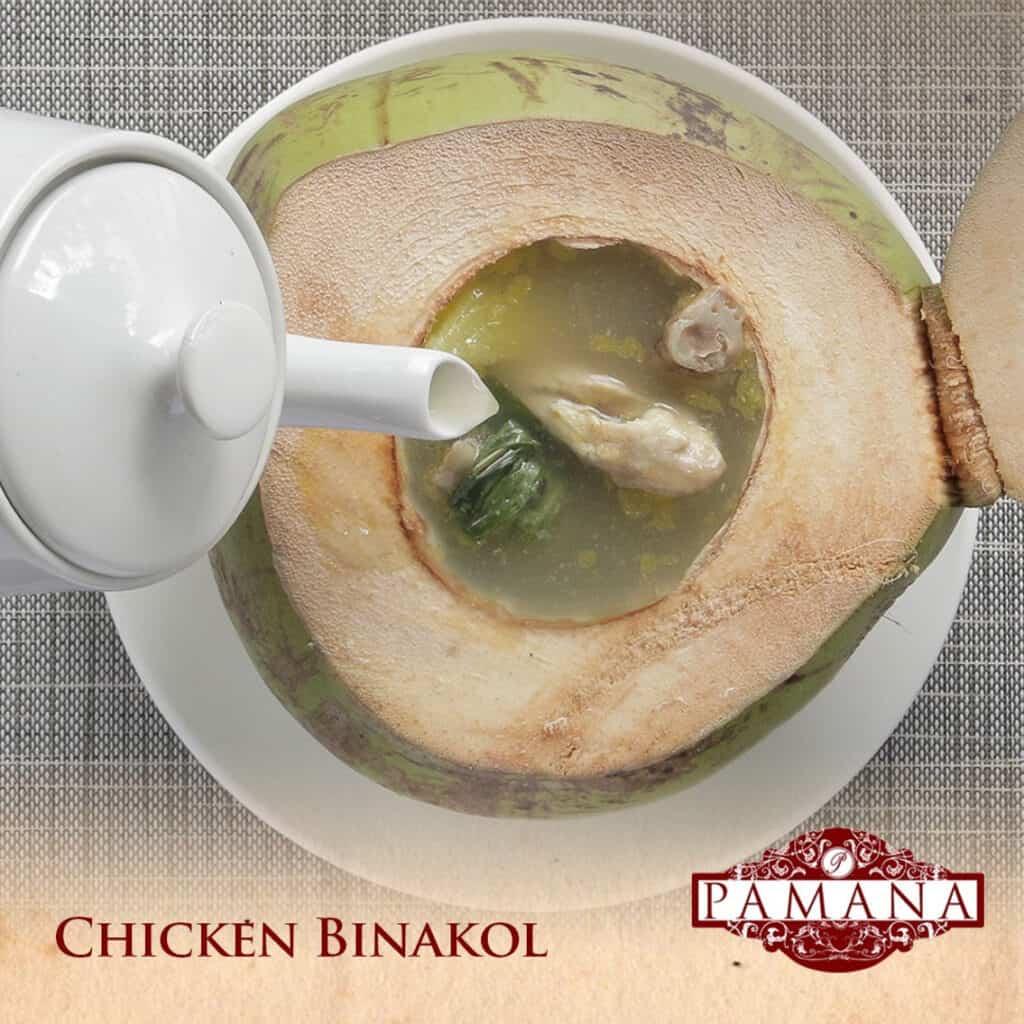 Tinanglarang Manok – Usually, the soup is simmered until the vegetables are fully cooked and the chicken is tender. A dipping sauce made of calamansi, soy sauce, and chili peppers is frequently served with tinolang manok along with rice.
Pamana Starters Menu
These are all delectable menu and one-of-a-kind Filipino dish that highlights the rich and diverse flavors of Filipino cuisine.
Baked Bone Marrow with Adobo Paste and Toast – Bone marrow is used in this dish, and it is baked until it is flavorful and tender. Adobo paste, a hearty and flavorful sauce made with soy sauce, vinegar, and garlic, is served with the dish itself.
Pampanga's Sizzling Sisig at Aligue – This traditional Filipino dish is from the province of Pampanga in the province of central Luzon. The dish is rich and flavorful with a perfect balance of crispy and juicy textures.
Crispy Adobong Pusit Calamares – It is a traditional adobo dish that uses squid as its main ingredients and the result is a flavorful and crispy squid dish that is ideal as an appetizer or as a main course.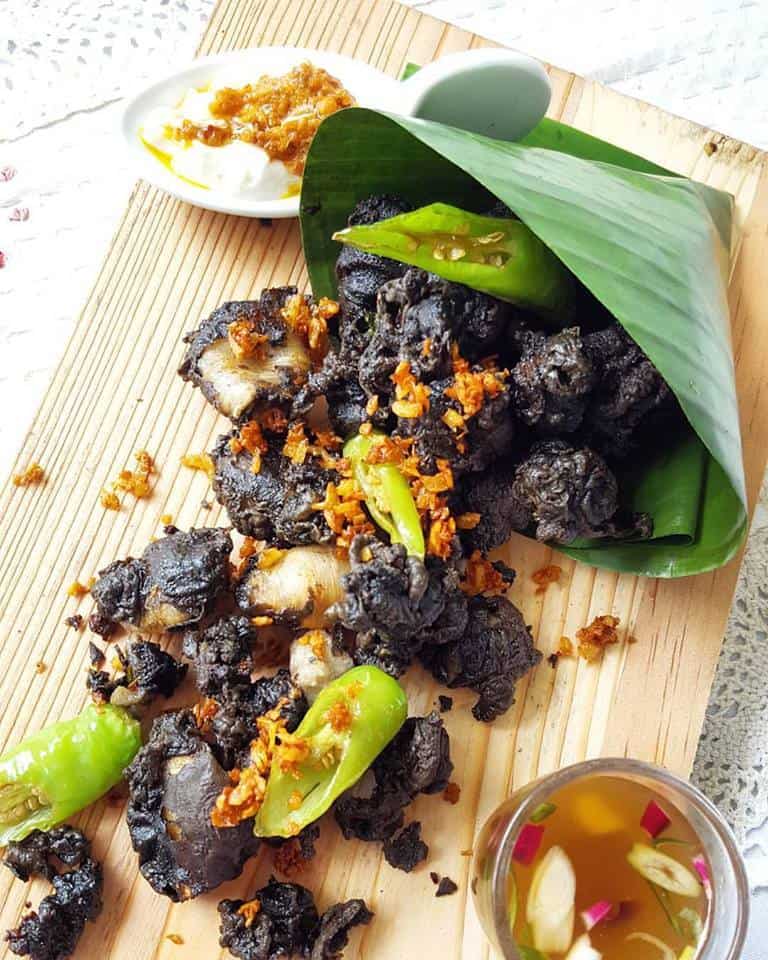 Pamana Noodles Menu
This menu features a delightful array of pancit dishes, which are among the most beloved and iconic foods in the Philippines. Pancit dishes typically consist of stir-fried noodles, vegetables, and meats, and they are known for their savory flavors and hearty textures.
The menu offers an impressive selection of pancit dishes, each with its own distinct flavor profile and texture. From the classic pancit bihon, made with thin rice noodles and mixed vegetables, to the rich and flavorful pancit malabon, made with thick rice noodles and a delicious seafood sauce, there is something to suit every taste preference.
For those who love a bit of spice, the menu also features pancit palabok, a spicy noodle dish topped with shrimp, pork cracklings, and a savory orange sauce. And for those who prefer a milder taste, the pancit canton, made with thick egg noodles and a medley of vegetables and meats, is a great option.
Overall, this menu is a must-try for anyone who loves Filipino cuisine or simply wants to experience the delicious and comforting flavors of pancit.
Mga Lamang Dagat
The menu features several seafood dishes that are well-known in Filipino cuisine. Overall, the menu has a wide selection of seafood dishes, each with a distinct flavor that makes it a great choice for seafood lovers. The meals can be enjoyed as a main course or as part of a shared meal with family and friends. Every dish that is part of this menu is served with rice.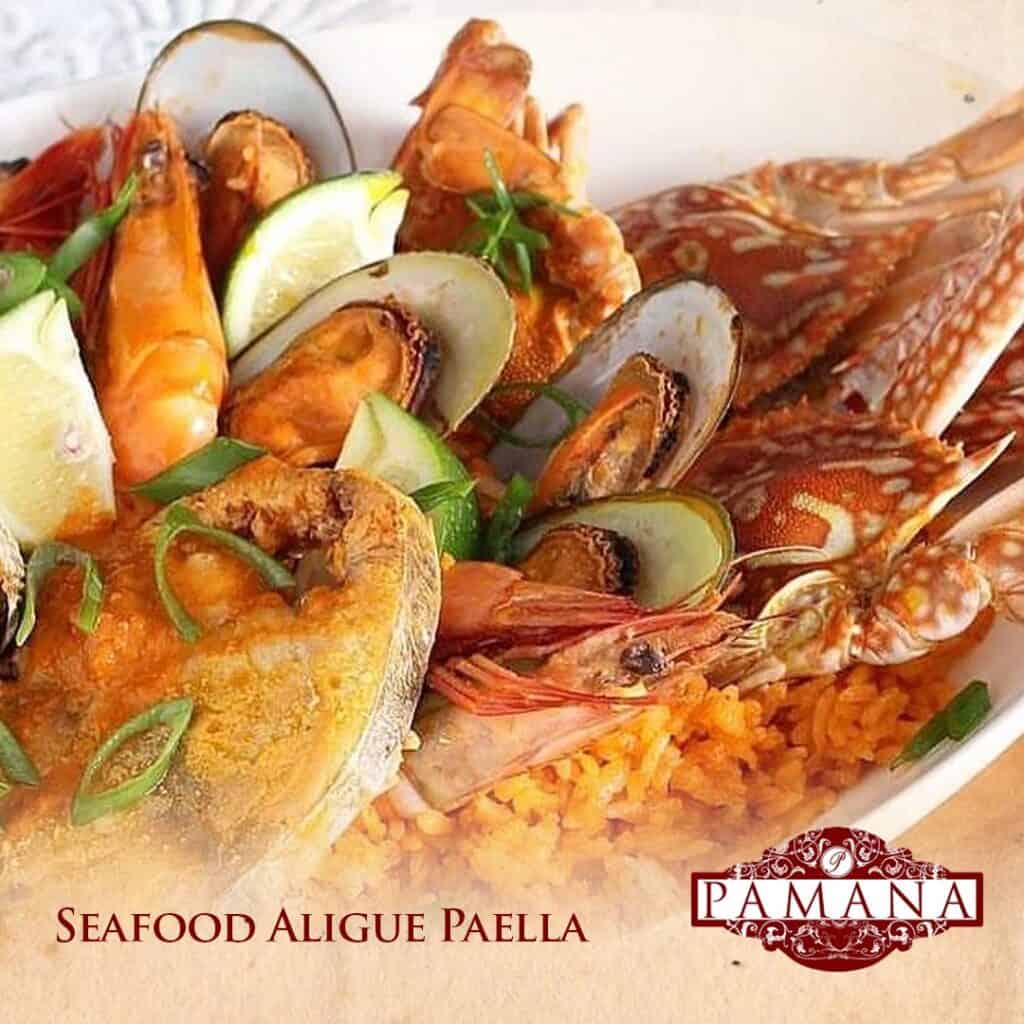 Inasal, Inihaw, Prito o, Pinaputok sa Dahon ng Saging
The various meat and seafood dishes on this menu are favorites in Filipino cuisine. For those who like Filipino food, the menu features a variety of meat and seafood dishes with distinctive and flavorful tastes. The dishes can be enjoyed as a main course or as part of a shared meal with family and friends. They are frequently served with rice and a variety of dipping sauces.
Pamana Menu Delivery
Pamana Restaurant now offers delivery services to its customers. Customers can check their website or any affiliated delivery partners for their current delivery menu. You can also visit their social media pages to directly inquire about their delivery menu and options.
Social Media Pages
Stay updated on the latest menu and promotions from Pamana by subscribing to their social media pages. You can also ask them any questions by sending a message. Here are the links to their official social media pages:
Facebook: https://www.facebook.com/people/Pamana-Restaurant
Instagram: https://www.instagram.com/pamanarestaurant
Website: https://happyconceptgroup.com/index.html#achievements
Conclusion
The dishes served on Pamana Restaurant's menu are authentic and flavorful because they are made with locally sourced ingredients and traditional cooking methods. The staff is attentive and friendly and goes above and beyond to make diners feel at home in the warm and welcoming environment. Overall, it is a great place to experience delicious Filipino cuisine in a cozy and inviting atmosphere with friendly staff, reasonable prices, and a great selection of dishes!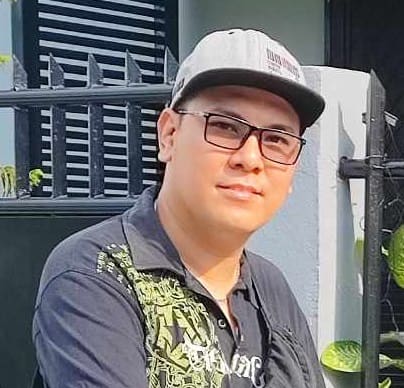 Hi! I'm Nivek Strife, the person who made MenuPH. I'm the one who added most of the popular menus you see on this website, and I really hope you enjoy them! Feel free to check them all out.
Growing up, I was surrounded by lots of tasty foods, like the classic Adobo and the sweet Leche Flan. That love for the many flavors of the Philippines is what got me excited about adding to MenuPH. When I learned how to make websites, I saw the need for a place to show off all the amazing Filipino dishes, and that's how MenuPH started.
MenuPH isn't just a website; it's like a fun journey into food. I've teamed up with famous chefs and found great places all over the Philippines to bring you a bunch of menus that show off the best of Filipino cuisine. Whether you're into the usual dishes or new twists, MenuPH is here to guide you through the rich world of Filipino flavors.
With MenuPH, my aim is to help local businesses, talk about good food choices, and make a group of friends who love food. No matter if you like fancy restaurants or street food, MenuPH has something for you. Come join me on this food adventure as we find great places, taste real flavors, and enjoy the unique food traditions that make the Philippines awesome.