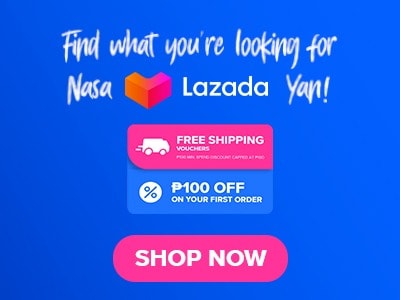 The Taste of Joy menu is made up of classic Filipino dishes that make for a delicious and filling meal. And because they serve Filipino dishes like Pork BBQ, Chicken Inasal, Lumpiang, Shanghai, and more, these dishes give diners a sense of familiarity and nostalgia while they are dining at Taste of Joy's restaurant. Their menu is divided into three sections which are all-time favorites, super saya meals, and favorite joys.
Below, you'll find the updated list of Taste of Joy menu prices.
Menu Items
Price (PHP)

All-Time Favorties

Pork BBR
156
Chicken Inasal
196
Lumpiang Shanghai
60
Lumpiang Hanoi
120
Pork Siomai
60
Fried Chicken w Gravy
312
Lomi
165
Chopsuey
165
Chami
155
inihaw na Liempo
220
Crispy Pata Large
698
Lechon Kawali
319
Pichi-pichi
144
Puto with Cheese
156
Coke
95
Selecta Ice Cream
285
Halo Halo with Ice Cream
89
Banana con yelo
59
Mais con yelo
65

Super Saya Meals

Spaghetti + 1BBQ
119
1 BBQ + 2 Lumpia + Bihon
139
1 BBQ + 2 Lumpia + Rice + Chopsuey
145
1 Fried Chicken + Rice + Chopsuey
153
Lechon Paksiw + Chopsuey + Rice + Pichi
189
Inihaw na Liempo + Chopsuey + Rice + Pichi
189
1 BBQ + 1 Fried Chicken + Chopsuey + Rice + Pichi pichi cheese
199

Taste of Joy

Bihon
145
Bihon-Canton
155
Miki-Bihon
155
Canton
155
Palabok
155
Miki-Sotanghon
160
Spaghetti + 1BBQ
170
Sotanghon
190
Pancit Puti
190
Chap Chae
205
About Taste of Joy
Taste of Joy has multiple branches scattered across Metro Manila that offer delectable dishes that provide nourishment for both the body and soul. The restaurant has a nice ambiance that makes diners relaxed and comfortable while they are waiting for their meal. Aside from their delicious food and comfortable place, they also have a friendly and attentive staff that will complete your dining experience at Taste of Joy.
Taste of Joy Menu Best Seller
This menu is made up of the most popular dishes at Taste of Joy and is the most ordered by guests that visit the place or by their delivery service.
Fried Chicken w Gravy – This is a classic comfort dish for many Filipinos on any occasion. The chicken is marinated in a flour mix and then deep-fried until it becomes crispy on the outside and tender on the inside. Overall, this is a very satisfying dish and is on the radar of many guests that visit Taste of Joy, especially the children.
Pork BBQ – This dish is a classic Filipino dish made from marinated pork that is skewered on a bamboo stick and grilled over hot charcoal. It is served with a sweet and savory BBQ sauce, making it perfect as a main dish or a side dish, depending on the occasion.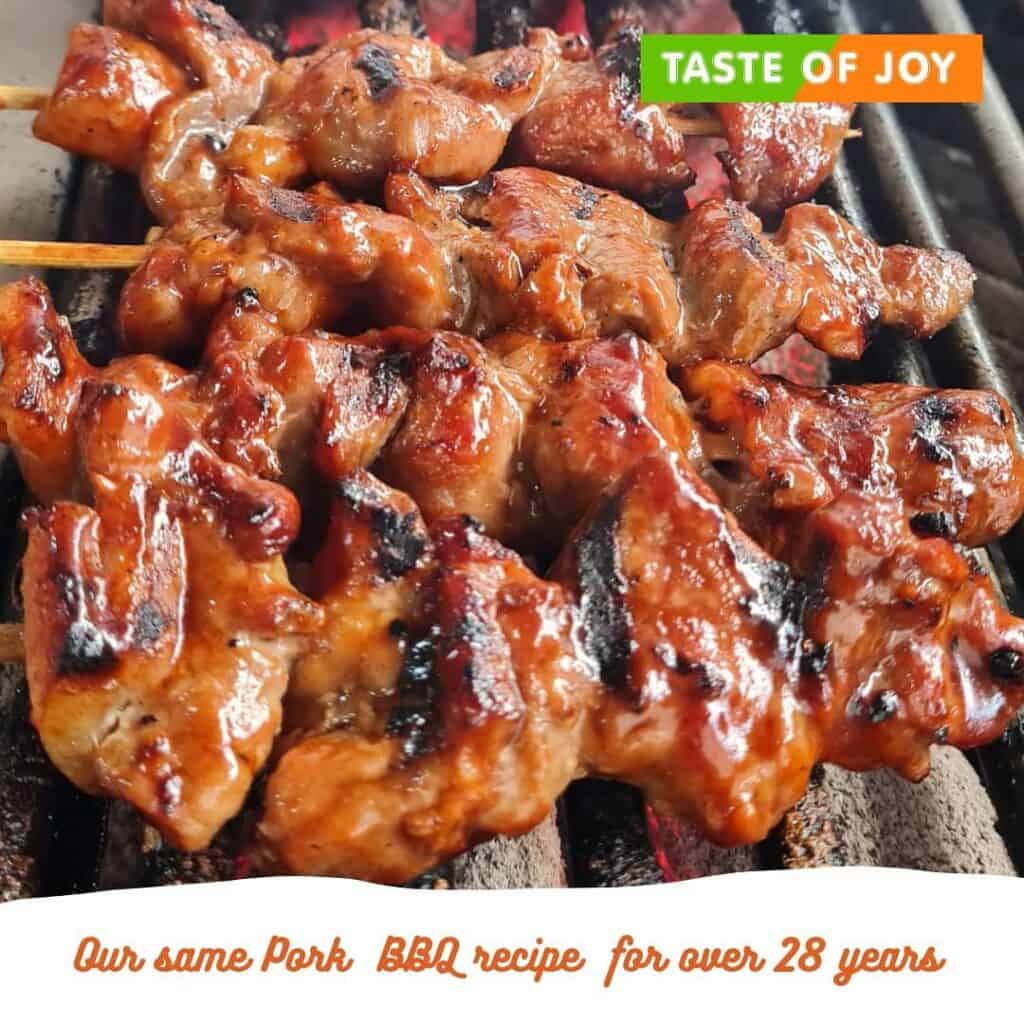 Canton – It is a type of egg noodle dish that is stir-fried with a variety of vegetables and meat tossed with it in a wok. It is made with a variety of ingredients resulting in a delicious taste because of the combination of flavors. One bilao of Canton is proven to be able to hold a large number of people.
Lumpiang Shanghai – This is a type of spring roll that is very famous in the Philippines. The Lumpiang Shanghai is made from ground pork and mixed vegetables that are diced, then rolled in a thin wrapper. The spring rolls are then deep-fried until they are perfectly crisp and golden brown in color.
Taste of Joy All-time Favorites Menu
This menu is made up of a diverse range of Filipino and Asian dishes that are sure to satisfy any guest's palate and cravings.
Chicken Inasal – Similar to Pork BBQ, this is a popular Filipino grilled dish that is made from a whole chicken. The chicken is first marinated in a blend of vinegar, soy sauce, calamansi juice, and a variety of species. The whole chicken is grilled until it becomes tender and juicy and then served with rice for a complete, filling, and satisfying meal!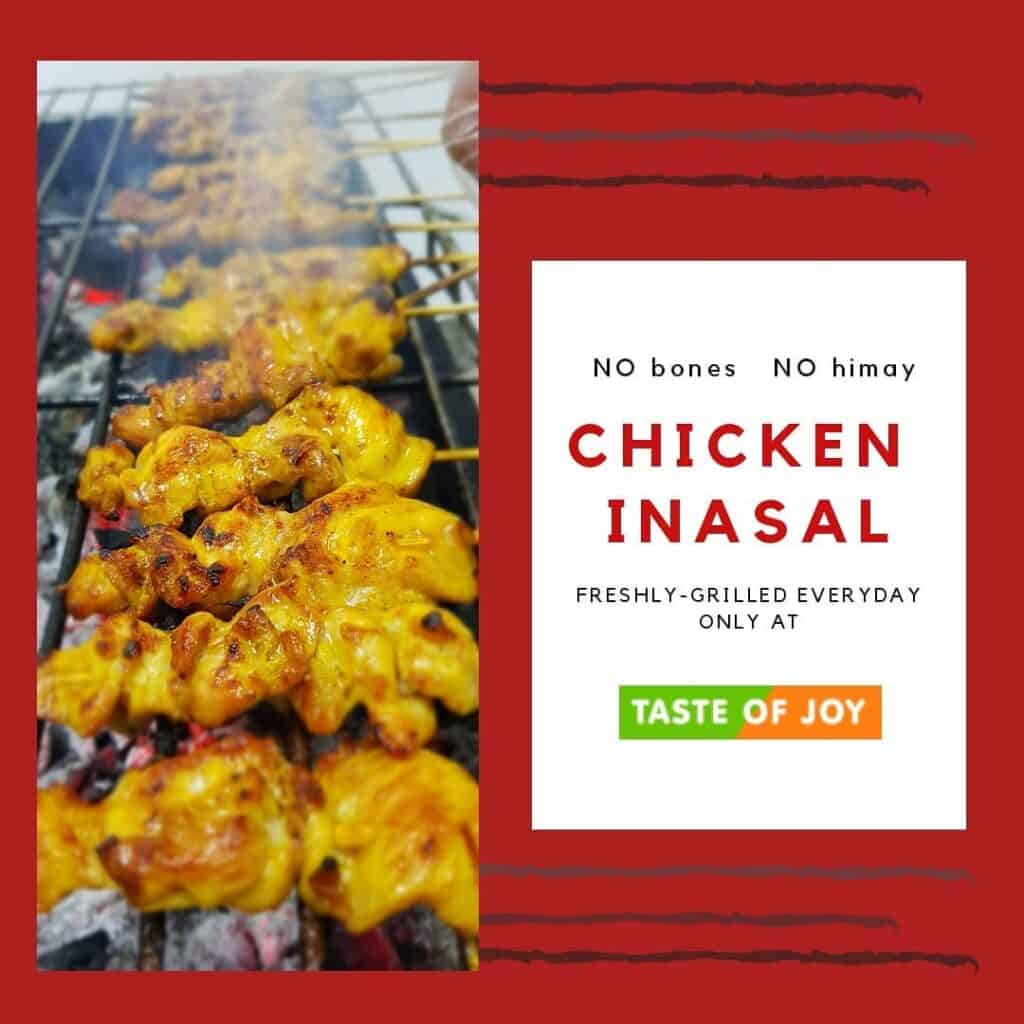 Lumpiang Hanoi – This is a unique variety of spring rolls that originated in Hanoi, Vietnam. It is made with rice paper that is filled with vegetables, vermicelli noodles, and oftentimes pork or shrimp. It is a very healthy and satisfying dish that is perfect for those who are watching their diet.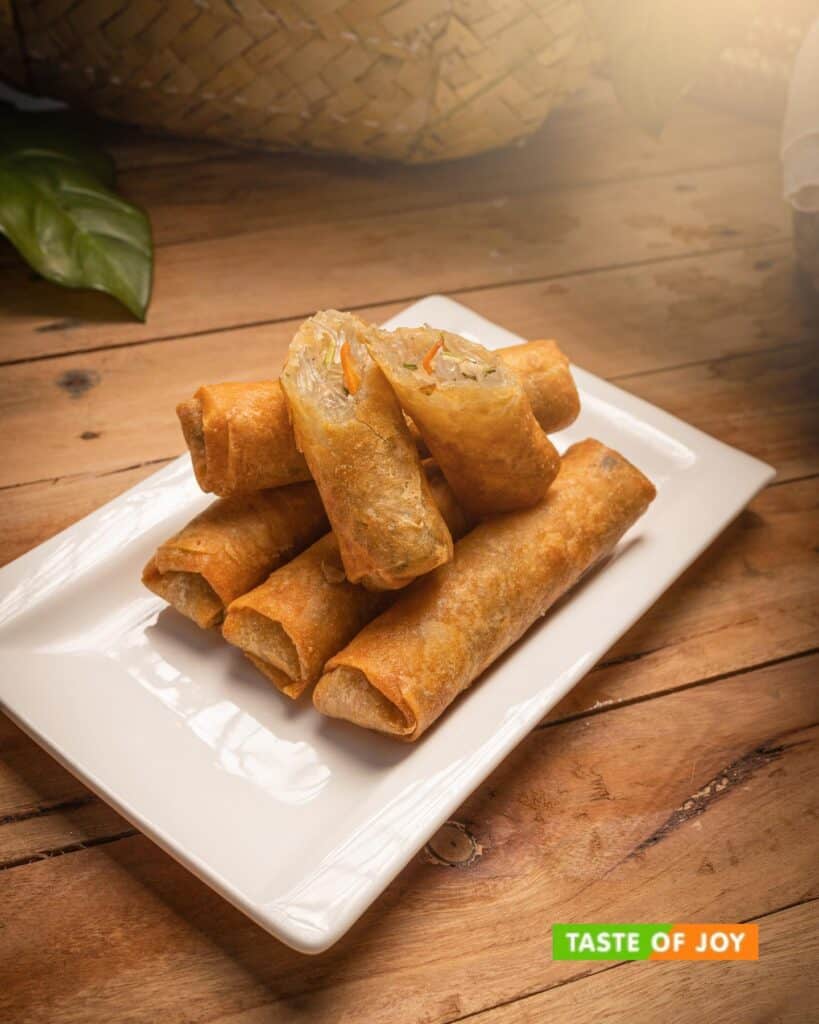 Pork Siomai – This is a type of dim sum dish, which is a steamed dumpling made from ground pork, water chestnuts, and other seasonings. This has a soft and fluffy texture that makes it even more mouthwatering and tempting to taste.
Super Saya meals
This Taste of Joy menu offers a variety of Filipino combo meals that are very popular with guests of all ages.
Spaghetti + 1 BBQ – This meal is made up of a serving of spaghetti, which is a pasta dish made with tomato sauce, and one BBQ skewer. The BBQ skewer is made from marinated pork that is grilled over an open flame that perfectly complements the spaghetti, making this item a complete and filling meal.
1 BBQ + 2 Lumpia + Bihon – This meal is made up of one BBQ skewer and two Lumpiang Shanghai. This combo meal is perfect for those who are looking for a light but satisfying meal at Tears of Joy. Of course, the taste of this meal is not any less than that of the other items that the restaurant offers.
1 BBQ + 2 Lumpia + Rice + Chopsuey – This is a very filling meal that is made up of 1 BBQ skewer, 2 lumpia of your choice, a bowl of rice, and chop suey on the side. This meal is perfect for those who are looking to have a
Favorite Joys
This menu of Taste of Joy offers a variety of noodle dishes that are considered a staple in Filipino cuisine.
Bihon-Canton – This is a classic Filipino noodle dish that combines two types of noodles, a bihon, which is a thin rice noodle, and a canton, which is a slightly thicker egg noodle. Both of these noodles are stir-fried in a wok with a variety of vegetables and meat tossed in it.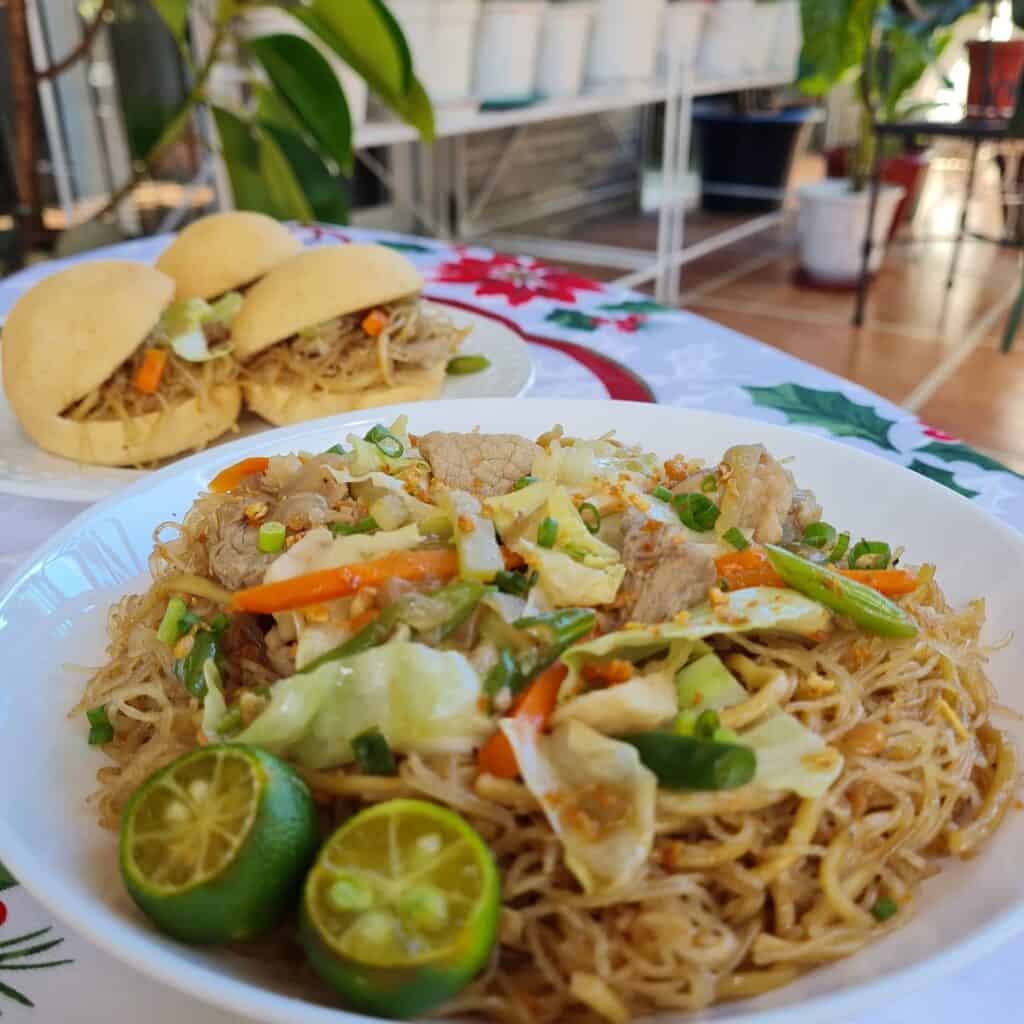 Miki-Bihon – This is another classic Filipino noodle dish that also combines two different noodles, miki and bihon. Miki is a noodle that is slightly thicker than bihon bihon and is typically made with wheat flour. This noodle dish, like the first one, is also stir-fried with vegetables and meat tossed in the wok.
Palabok – This is a very popular Filipino noodle dish that is bursting with flavor! It is made with rice noodles, shrimp sauce, pork, and a variety of toppings, such as boiled eggs, and crushed chicharon.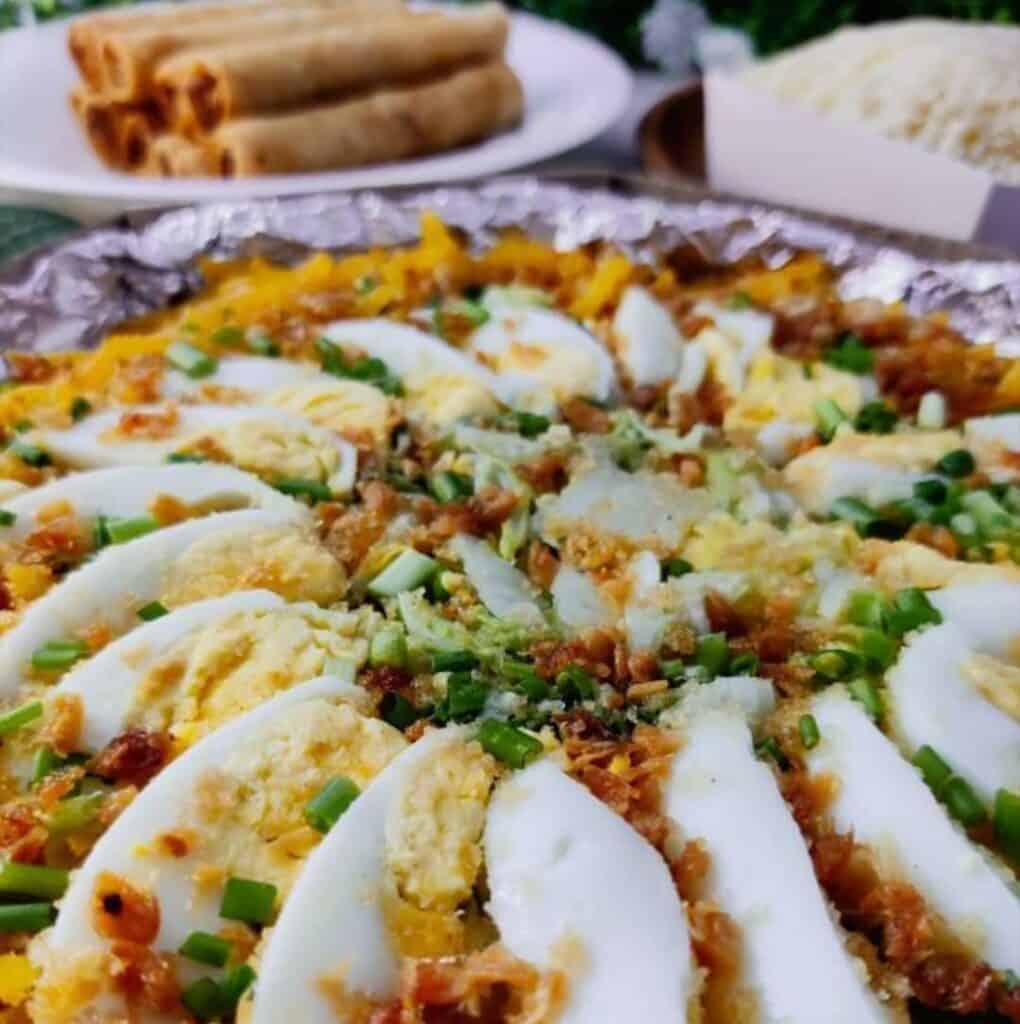 Taste of Joy Menu Delivery
Taste of Joy has recently introduced menu delivery to provide its valued customers with a hassle-free dining experience. Customers can now conveniently order their favorite dishes from Taste of Joy at any time and from anywhere they choose, thanks to the availability of third-party delivery services such as FoodPanda and GrabFood.
The addition of menu delivery services not only offers customers greater accessibility and convenience but also provides a safe and efficient way to enjoy the delicious delicacies of Taste of Joy. Whether it's a quick lunch at the office or a cozy dinner at home, customers can indulge in the delectable flavors of Taste of Joy without having to leave their premises. So, why wait? Order your favorite dishes from Taste of Joy today and savor the goodness in the comfort of your own space.
Social Media Pages
To stay up-to-date on their latest offerings and promotions, make sure to follow their social media pages. Don't miss out on the chance to get your fill of delicious and affordable Filipino cuisine—follow Taste of Joy today.
Facebook: https://facebook.com/tasteofjoy.ph/
Instagram: https://instagram.com/tasteofjoy.ph/
Conclusion
Taste of Joy's menu is made up of a mix of Filipino and other Asian countries cuisines. The dishes that they serve are not only of high quality, but the taste is nothing less than superb! The delectable dishes, paired with a cozy and comfortable dining environment, make for the perfect dining experience. Hence, the reason for their popularity and the high number of people that frequent Taste of Joy.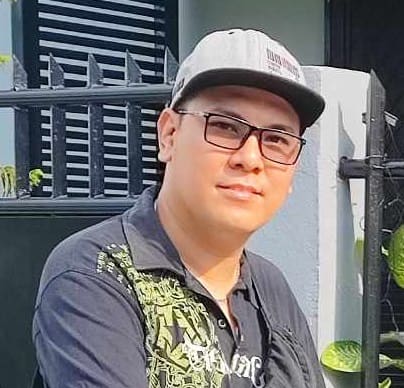 Hi! I'm Nivek Strife, the person who made MenuPH. I'm the one who added most of the popular menus you see on this website, and I really hope you enjoy them! Feel free to check them all out.
Growing up, I was surrounded by lots of tasty foods, like the classic Adobo and the sweet Leche Flan. That love for the many flavors of the Philippines is what got me excited about adding to MenuPH. When I learned how to make websites, I saw the need for a place to show off all the amazing Filipino dishes, and that's how MenuPH started.
MenuPH isn't just a website; it's like a fun journey into food. I've teamed up with famous chefs and found great places all over the Philippines to bring you a bunch of menus that show off the best of Filipino cuisine. Whether you're into the usual dishes or new twists, MenuPH is here to guide you through the rich world of Filipino flavors.
With MenuPH, my aim is to help local businesses, talk about good food choices, and make a group of friends who love food. No matter if you like fancy restaurants or street food, MenuPH has something for you. Come join me on this food adventure as we find great places, taste real flavors, and enjoy the unique food traditions that make the Philippines awesome.