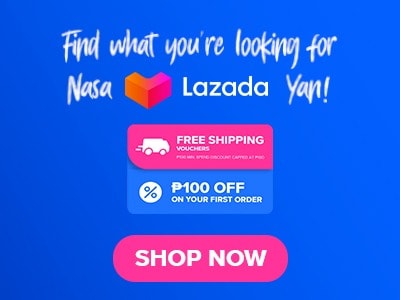 The Lola Idang's menu consists of traditional Filipino cuisines such as noodles, soups, fried dishes, and rice meals. Pancit Malabon is the most popular item on its menu as it has a unique and satisfying taste. These cuisines are commonly served in Filipino homes and at different events or gatherings. The special cooking method of these dishes gives them a distinctive flavor that always satisfies their patrons.
Below, you'll find the updated list of Lola Idang's menu prices.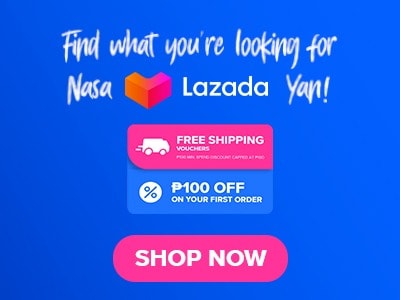 Menu Items
Price (PHP)

Recommended

Crispy Binagoongan (Good for 3)
270
Crispy Pata (Good for 3)
610
Kare-Kare (Good for 3)
370
Lumpiang Shanghai (Good for 2)
195
Pancit Malabon
145
Pinakbet (Good for 2)
195
Sinigang na Baboy (Good for 3)
270

All Time Favorites

Chopsuey (Good for 2)
195
Garlic Tapa (Good for 3)
265
Pinakbet (Good for 2)
195
Pork Teriyaki (Good for 3)
265
Pork Tocino (Good for 3)
265
Rellenong Bangus (Good for 3)
270

Mga Pinirito

Crispy Half Chicken (Good for 2)
245
Crispy Whole Chicken (Good for 4)
470
Daing na Bangus
155
Lechon Kawali (Good for 2)
250

Specialty Plates

Daing na Bangus with Rice
195
Garlic Tapa with Rice
195
Lechon Kawali with Rice
200
Pork Teriyaki with Rice
195
Pork Tocino with Rice
195

Pancit Short Orders

Pancit Bihon
135
Pancit Bihon con Canton
135
Pancit Canton
135
Pancit Lomi
135
Pancit Miki Bihon
135

Beverages & Desserts

Sago't Gulaman
70
Softdrinks
65

Pancit Bilao Orders

Pancit Bihon
475
Pancit Bihon con Canton
475
Pancit Canton
475
Pancit Malabon
475
Pancit Miki Bihon
475

Extras

Egg
30
Extra Bagoong
20
Garlic Rice
45
Pata Sauce
10
Plain Rice
35
Shanghai Sauce
10

Mga Sinabawan

Sinigang na Salmon Belly
235
Sinigang na Ulo ng Maya-Maya
225
About Lola Idang's
Lola Idang's has been a popular restaurant serving Filipino cuisines, such as Pancit Malabon, since 1986. It has a simple yet relaxing atmosphere that complements well with the flavorful cuisines it serves. Its branches in Metro Manila and Cavite are located in accessible areas, making it easy to visit, and it also offers delivery and takeaway services to serve more customers.
Lola Idang's Menu Best Seller
Lola Idang's is known for its pancit or noodle dishes and other Filipino cuisines. These are some of the best sellers of Lola Idang's, loved for their distinctive taste and appetizing goodness.
Pancit Malabon – Pancit Malabon is the restaurant's all-time best seller as it is one of their specialties. It is made with noodles cooked with vegetables, spices, and seasonings and topped with boiled eggs, shrimp, and other ingredients. This pancit Malabon is also available in a porkless variant, so those who do not eat pork can enjoy it.
Kare-Kare – The Kare-Kare served by Lola Idang's has a thick savory peanut sauce that is rich and flavorsome. It consists of choice meat cooked for a few hours until it becomes tender. The fresh vegetables added to it enhance its taste and give a refreshing presentation. Personally, I love this Lola Idang's menu and I highly recommend this one.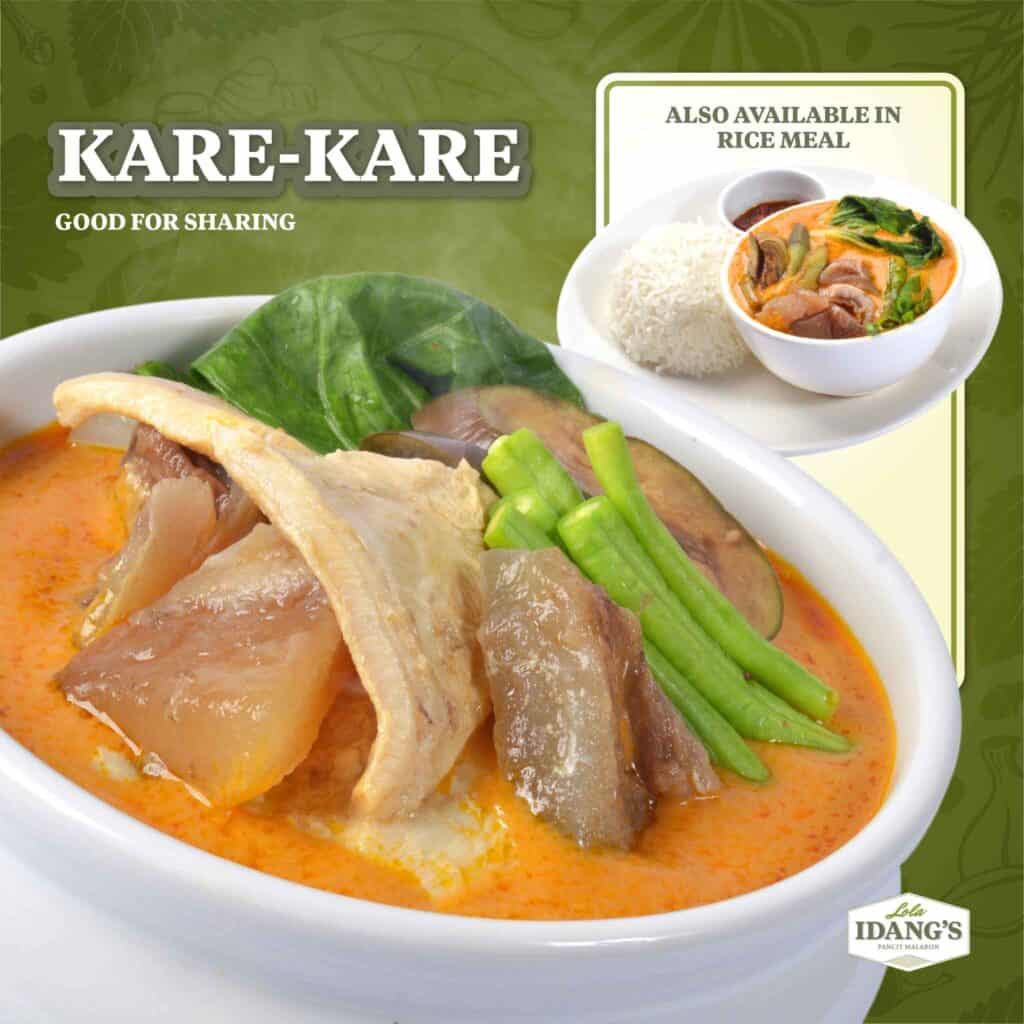 Crispy Pata – A Filipino dish made with pig trotters or knuckles deep-fried expertly to desired crispiness. This is well-loved for its crispiness and phenomenal taste, making it irresistible.
Lechon Kawali – This popular Filipino viand or appetizer has a flavorsome taste and crunchy texture. It is one of the traditional cuisines made with pork belly that is boiled, seasoned with salt, cut into slices, and fried expertly.
Lumpiang Shanghai – It is one of the popular cuisines prepared on different occasions as it is well-loved by the crowd. This Lumpiang Shanghai is made with various vegetables and meat. The restaurant serves it crisp and steaming from the pan to ensure that customers will enjoy its crispiness, freshness, and delicious taste.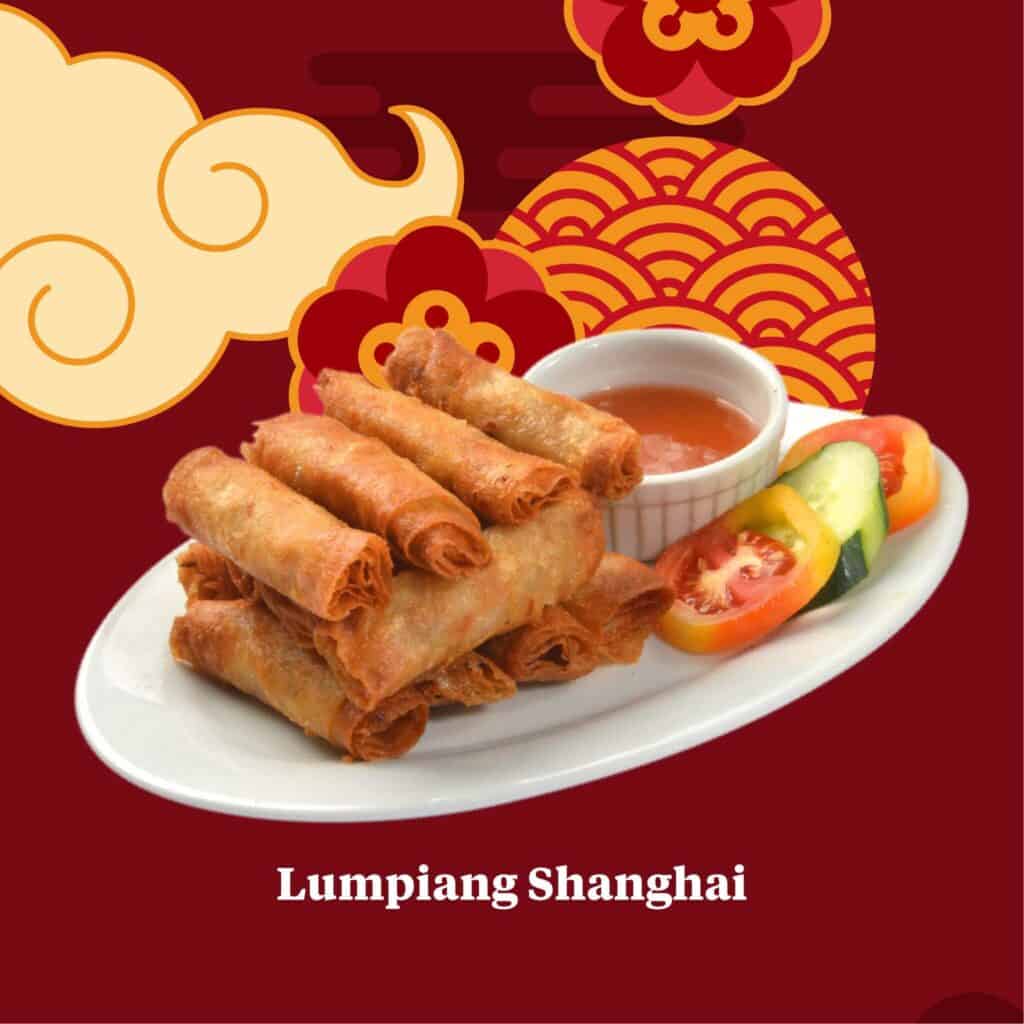 Lola Idang's Menu All Time Favorites 
Lola Idang's serves all-time Filipino favorites such as rellenong bangus, pinakbet, chopsuey, pork teriyaki, garlic tapa, and pork tocino. These popular and tasty dishes are commonly served as main meals in Filipino homes.
Garlic Tapa – A good for sharing meal suitable for three people. This Garlic Tapa is a popular breakfast dish commonly eaten with fried rice and eggs. It is made with pork meat marinated in soy sauce, garlic, peppers, and other special ingredients. The meat is well-marinated to make it tender and delicious.
Chopsuey – It is a nutritious dish consisting of sayote, carrots, cabbage, meat, and other ingredients. The sauce of this Filipino version of chopsuey has a thick texture and rich, creamy taste.
Rellenong Bangus – Make your meal more satisfying with this rellenong bangus, commonly served on special occasions. It is deboned and stuffed with the restaurant's choice of ingredients.
Lola Idang's Menu Specialty Plates 
The specialty plates of Lola Idang's consists of classic Filipino dishes commonly served during breakfast but can also be enjoyed at any time of the day. These special cuisines are served with aromatic garlic rice and a sunny-side-up egg.
Daing na Bangus with Rice – Daing na Bangus is a cuisine made with milkfish marinated in vinegar, salt, and pepper and deep-fried expertly. The aroma, taste, and crispiness of this cuisine are the features making it popular.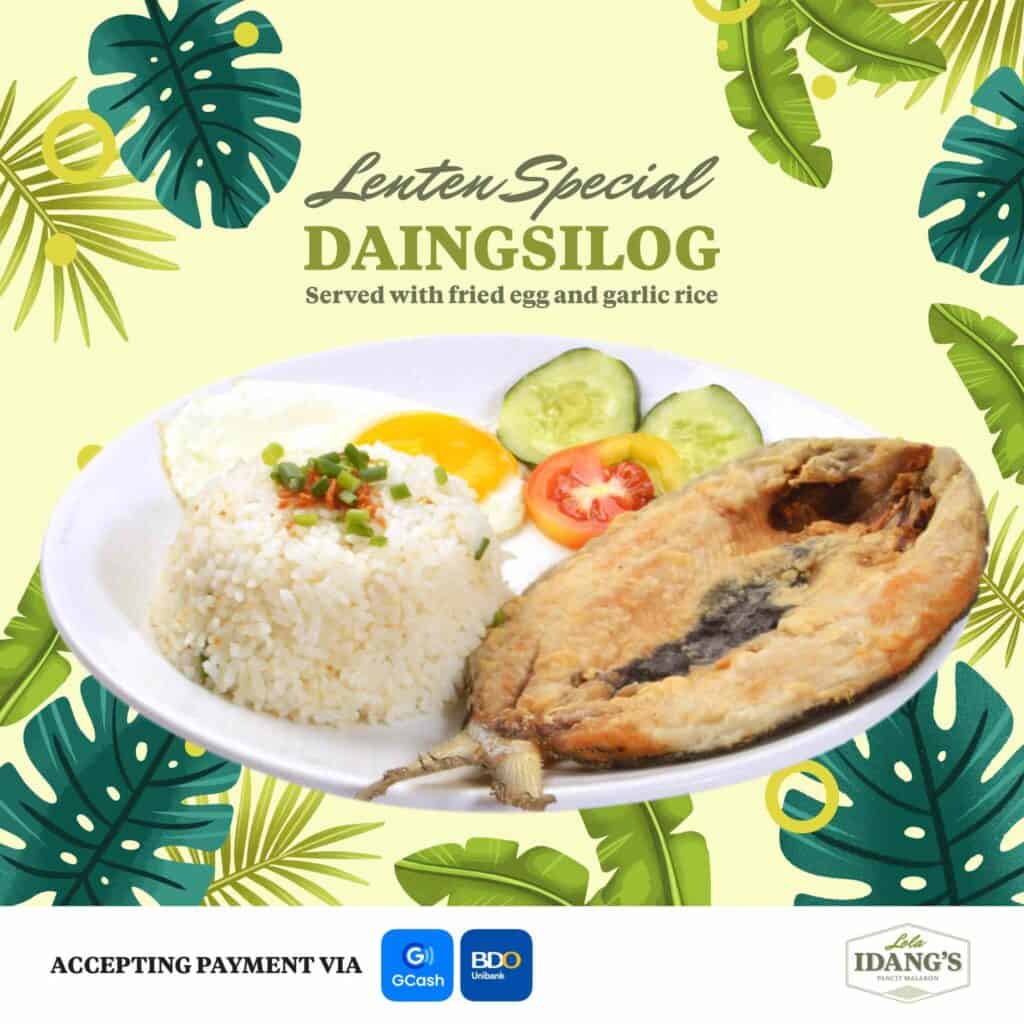 Pork Teriyaki with Rice – This dish features small pieces of pork cooked in homemade teriyaki sauce. The meat absorbs well the flavor of the sauce and other spices. It has an umami flavor profile that will give you an exciting meal.
Pork Tocino with Rice – Pork Tocino is a sweet, cured pork with a tender texture and sweet taste. This meal is locally known as "tosilog" as it consists of tocino, fried rice, and egg.
Pancit Short Orders
The Pancit Short Orders of Lola Idang's consist of Bihon, Canton, Lomi, Bihon con Canton, and Miki Bihon. These noodles are delicious and filling, making them a perfect afternoon snack.
Pancit Bihon – Pancit Bihon is a popular traditional dish in the Philippines where noodles and vegetables are stir-fried in soy sauce and other aromatics. The fresh vegetables give a festive presentation, making it enticing.
Pancit Lomi – This heartwarming noodle menu from Lola Idang's is known for its savory, thick, fragrant soup. It is made with thick egg noodles cooked with meat, vegetables, and special ingredients. 
Pancit Bihon con Canton – It combines Bihon and Canton noodles cooked with fresh vegetables and spices. This noodle dish is topped with fresh vegetables such as carrots, beans, cabbage, and meat.
Pancit Bilao Orders
Lola Idang's restaurant offers pancit bilao orders suitable for various celebrations. It offers pancit bihon, pancit miki bihon, pancit canton, pancit bihon con canton, and pancit Malabon. These noodles are packed with flavors as they are cooked expertly using fresh and choice ingredients. The toppings of these traditional Filipino dishes give an appealing and festive presentation.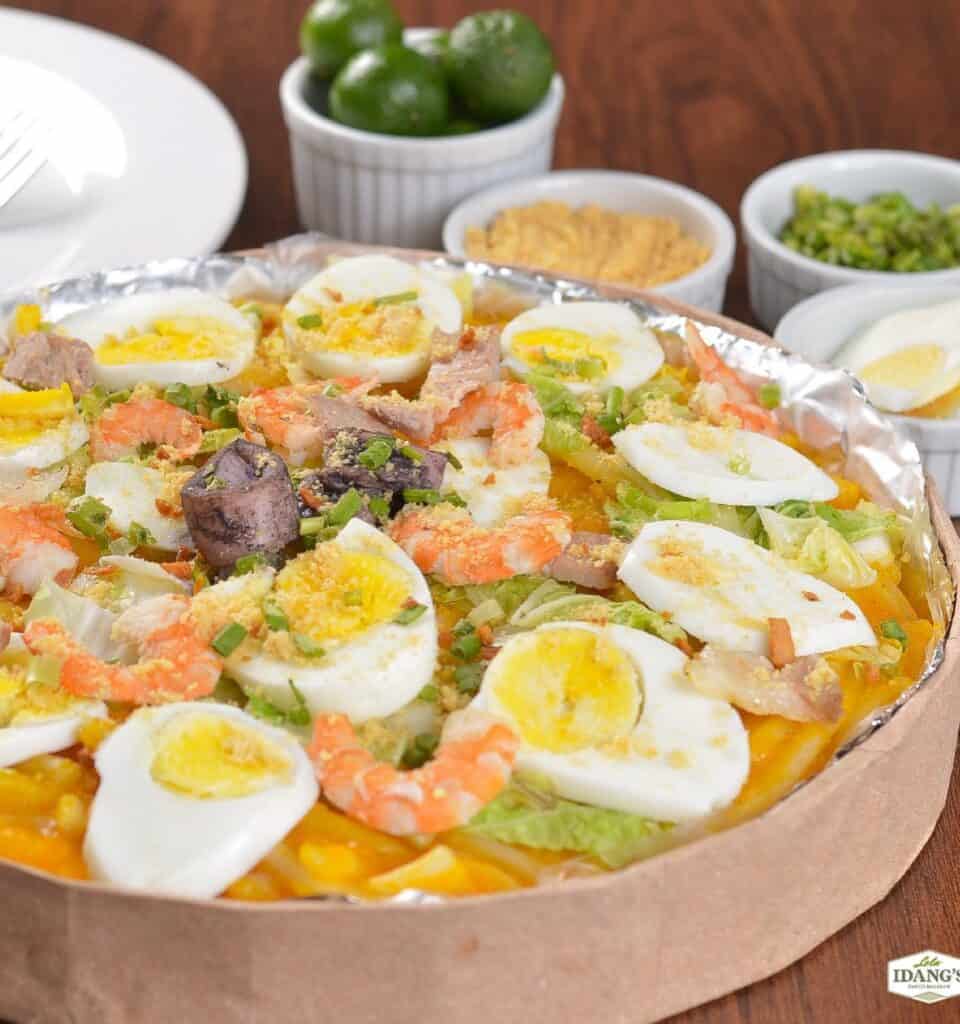 Mga Sinabawan
The sinabawan or soups offered by Lola Idang's restaurant consists of Sinigang na Ulo ng Maya-Maya and Sinigang na Salmon Belly. These seafood soup dishes are suitable for three people. The savory flavor of these soups will make your meals more gratifying. Its heartwarming goodness makes it a perfect pair to your meal, especially in cold weather.
Lola Idangs Menu Delivery
The menu of Lola Idang's is available for delivery. Customers can order through their partnered delivery platforms, such as GrabFood, or call the nearest branch to their location for deliveries and inquiries.
Social Media Pages
Stay connected with them on social media to stay updated on our latest menu offerings, promotions, and events. Engage with their content, share your love for Filipino cuisine, and join the community of food enthusiasts who appreciate the warmth and nostalgia of Lola Idang's dishes.
Facebook: https://www.facebook.com/lolaidangspancitmalabonofficial
Instagram: https://www.instagram.com/lolaidangspancitmalabon/
Email: [email protected]
FAQs
What type of cuisine does Lola Idang's offer?
Filipino is the type of cuisine offered by Lola Idang's restaurant.
Where is Lola Idangs located?
Lola Idang's has branches in Las Pinas City; BF Homes Paranaque; Sandoval Pasig; three branches in Quezon City, including Visayas Avenue, White Plains, and Kamuning; and two branches in Cavite, including Daang Hari and Molino.
What are some must-try dishes at Lola Idang's Philippines?
Pancit Malabon, Crispy Pata, and Kare-Kare are some of the must-try dishes at Lola Idang's Philippines.
Can I make reservations at Lola Idang's Philippines?
Yes, you can make reservations at Lola Idang's Philippines, but it is not required.
Conclusion
The Lola Idang's menu is known for its special and delicious noodle dishes. Its Pancit Malabon is the most recommended by its patrons, who described these dishes as one of the best noodles they tried. Customers also loved the other Filipino cuisines, making it their go-to place when they are craving comfort foods.