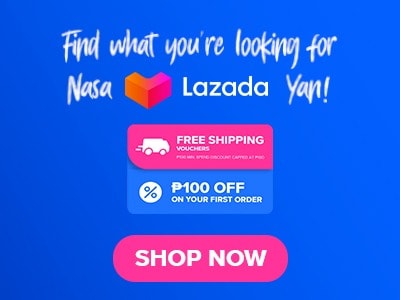 Filipino food is one of the most delicious cuisines in the world for me and, of course, for us Filipinos that grew up with our cuisine. Our food is slowly getting recognized all over the world because of how delicious and unique it is prepared. In our article today, we are going to get to know a restaurant that offers delicious and authentic Filipino cuisine. The Cafe Laguna menu has a wide variety of dishes that are truly delicious, so for sure you'll find what you love on their menu. Have you heard about this restaurant? If not, and if you're already interested, stay with me in this one, and together we are going to get to know something about them, their delicious food items, and of course their prices. Let's start!
Below, you'll find the updated list of Cafe Laguna menu prices.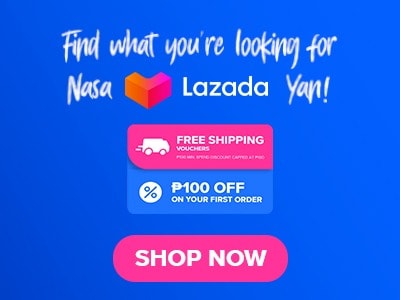 Menu Items
Price (PHP)

Pampagana

Chicharon bulaklak
320
Hilaw na manga with bagoong
195
Lumpiang sariwa
165
Kinilaw na tanigue
320
Crispy crablets
275
Crispy kangkong
275
Calamares
295
Baked scallops
295

Ensalada

Cucumber
195
Green mango salad
195
Guso salad
195
Talong salad
195
Ampalaya salad
195

Sabaw

Bouillabaisse soup
445
Bulalo soup
545
Homemade corned beef tadyang soup
495
Halaan soup
285
Sinigang seafood( shimp or fish)
395
Sinigang bangus
365
Sinigang hipon
375
Sinigang tanigue
375
Sinigang baboy
395
Tinolang manok
365
Beef kansi
545
Tinolang isda
395

Pagkaing dagat

Adobong pusit
355
Grilled squid
295
Alimasag with chili sauce
395
Alimasag with coco cream
395
Hipon halabos
375
Hipon camaron rebusado
375
Hipon with coco cream
375
Hipon with chili sauce
375
Tanigue grilled or sizzling
365
Bangus grilled/daing/sizzling in coco cream
365
Bangus sizzling sisig
365
Relienong bangus
395
Sweet and sour fish fillet
375
Molmol fillet with ouster sauce
375
Molmol fillet with tausi
375
Pompano grilled/tinola/sinigang/fried with sweet &sour sauce
375
Seafood kare kare
545
Seafood platter
990

Baboy

Binagoongan baboy
375
Lechon kawai
350
Pork adobo
350
Crispy pata
675
Inihaw na liempo
365
Embotido
350
Grilled spare ribs
375

Baka

Beef kaldereta
396
Filipino steak
399
Lengua estofado
395
Kare kare with bagoong
545
Bulalo steak
545
Beef cocido
545
Sizzling tenderloin tips
450
Crispy tadyang
395

Manok

Adobong manok
350
Battered chicken
350
Laguna fried chicken
350
Pandan chicken
375
Rellenong manok
350
Chicken pork adobo
350

Gulay

Adobong kangkong
275
Chopsuey a la laguna
350
Ginataang kangkong
285
Ginataang kalabasa
285
Laguna express
295
Laksa
295
Lumpiang sariwa
165
Pinakbet
350
Pinasingawang gulay
296
Ampalaya with beef
350
Lumpiang gulay na prito
250
Laing
350
Relienong talong
350

Merienda

Bibingka
175
Chicken arroz caldo
185
Dinuguang baboy at puto
275
Lugaw tokwa at baboy
275
Lumpiang sariwa
165
Pansit palabok with puto
195
Lumpiang gulay na prito
250
Filipino high tea
495
Puto bumbong
165
Palitaw
175
Suman manga at tsokolate
250
Turon (banana with langka)
150

Pansit

Bam-i
350
Pansit bihon
350
Pansit canton
350

Kanin

Plain rice
65
Garlic rice
75
Paella (small)
475

Platted meals

Set 1
395
Set 2
375
Set 3
399
Set 4
375
Set 5
350

Panghimagas

Buko fruit salad
140
Buko pandan
140
Mango pandan
140
Fresh mango slice
150
Fresh pineapple slice
130
Fresh watermelon slice
130
Leche flan
140
Maja mais
140
Halo-halo
185
Mini halo-halo
135
Coffee jelly
165
Ice cream sundae
150
Ice cream (2scoops) ube/vanilla
150

Inumin

Kape amerikano
120
Cafe latte
120
Cafe mocha
120
Hot chocolate
120
Fresh fruit shake
130
Fresh fruit juice
130
Coolers (for sharing)
375
Calamansi
120
Iced tea
100
Hot tea
100
Sago't gulaman
120
Guinomis
125
Soft drinks in can
95
Fruit juice in can
95
San Miguel beer
95
Mineral water
75

kakanin (preorder)

Sapin-sapin
850
Biko
850
Palitaw
850
About Cafe Laguna
Lita Urbina, the founder of Cafe Laguna, started her restaurant in 1991. Lita, the owner, comes from a family of food and culinary enthusiasts, and by opening her restaurant, she'll get to share her authentic and delicious Filipino food with everyone. Of course, with the help of her family and loved ones, Lita started to serve home-cooked meals with love and expertise that will surely bring back memories of your childhood.
When she first opened her first restaurant, it became an overnight success through hearsay since a lot of customers tried their dishes and were really satisfied, so it's not surprising that they would recommend the restaurant. After years, Cafe Laguna is now a household name that you will remember, especially if you have celebrations like birthdays or are just catching up with friends.
For over 30 years, they have provided hearty dishes through catering, to-go meals, ready-to-cook meals, and, of course, their restaurant. This place simply proves that Filipinos really can't get enough of good food and are still continuing to impress their patrons.
Cafe Laguna Menu Best Seller
Based on our research, we have gathered Cafe Laguna's best-selling food items to give you a list of their top sellers. Here it is.
Kare-kare with Bagoong – one of the most famous Filipino dishes, is included on their menu. Cafe Laguna's version of kare kare is made with soft meat and oxtail that you can actually cut with just your spoon and vegetables like eggplant, string beans, bokchoy or Chinese cabbage, and banana hearts. It also comes with a thick soup base made with peanut butter and spices. They also serve their kare kare with bagoong, and if you're going to ask about how it tastes, this one is absolutely delicious.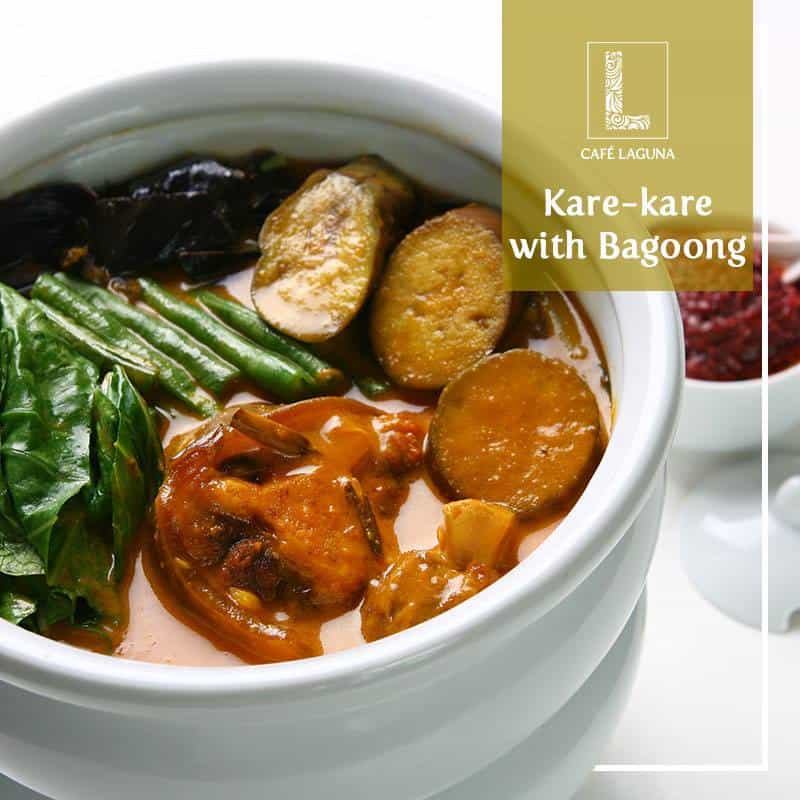 Crispy Pata – another famous dish in Philippine cuisine, is included in their best-selling items. The crispy pata of Cafe Laguna is first boiled with spices until it reaches the right amount of tenderness, then set aside for a moment for a salt scrub before deep frying the pork leg until golden in colour. The skin after the frying becomes very crispy; it's almost like chicharon. The taste of their crispy pata is very light, just like how they prepare it. They also serve this with a dipping sauce to add deliciousness to the dish.
Lumpiang Sariwa – Another Filipino favourite dish can be found on their menu, and it's not surprising that this one is also included in their best-selling food items. Unlike the also famous lumpiang Shanghai, this version of lumpia, which is called lumpiang sariwa or fresh spring roll, is made fresh and not fried. Though the inside is cooked. Made with varieties of vegetables like sweet potato cubes, cabbage, onions, and many more. It also has some meat, which is usually ground. Since this lumpia version is not fried, it comes with a thick and peanutty sauce that is sweet and slightly salty.
Crispy Tadyang – This Cafe Laguna menu is made with beef ribs that are boiled until very tender and then seasoning very well before deep frying. Unlike their crispy pata, their crispy tadyang doesn't have a lot of skin since it is made from a cow's rib cage. This could be the counterpart of crispy pata for beef lovers. They also serve their crispy tadyang with dipping sauce for a more satisfying experience.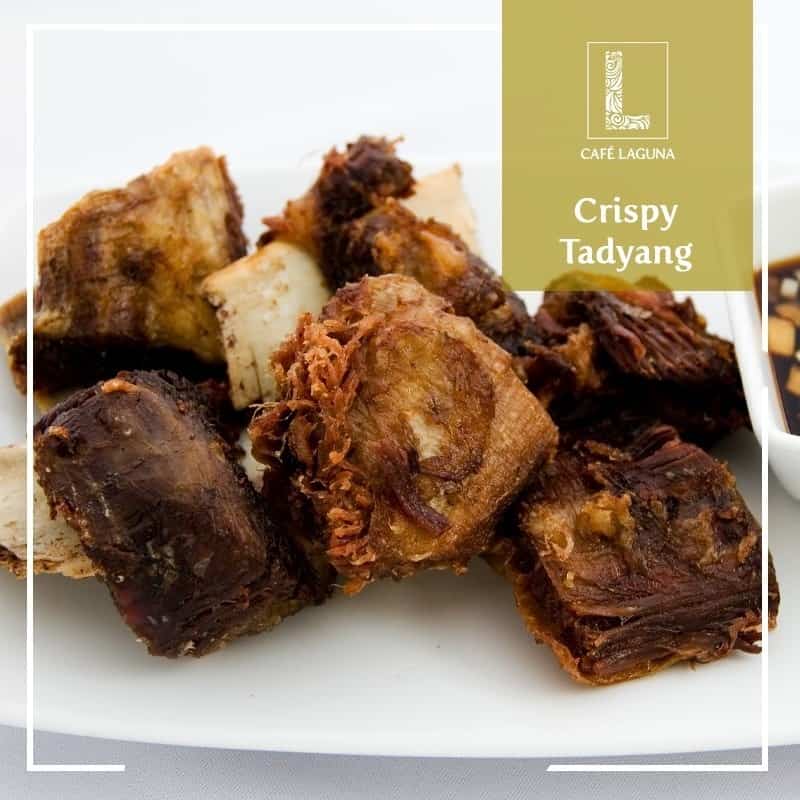 Pandan Chicken – Cafe Laguna's Pandan Chicken is also included on their list of best-selling items. The meat of this pandan chicken is very juicy and, surprisingly, not dry. It is wrapped in pandan leaves before frying, which adds more flavour to the seasoned chicken. Also, the skin has a bit of crunchiness. Their panda chicken is also a must-try. They also serve this with dipping sauce for a much better experience.
Seafood
A lot of seafood dishes can be found on the Cafe Laguna menu; they have an adobo or grilled option for squid, and they also have alimasag and hipon dishes. Aside from those, they also serve fish like tanigue, bangus, molmol, and pompano. If you're going with the company, they also have seafood platters.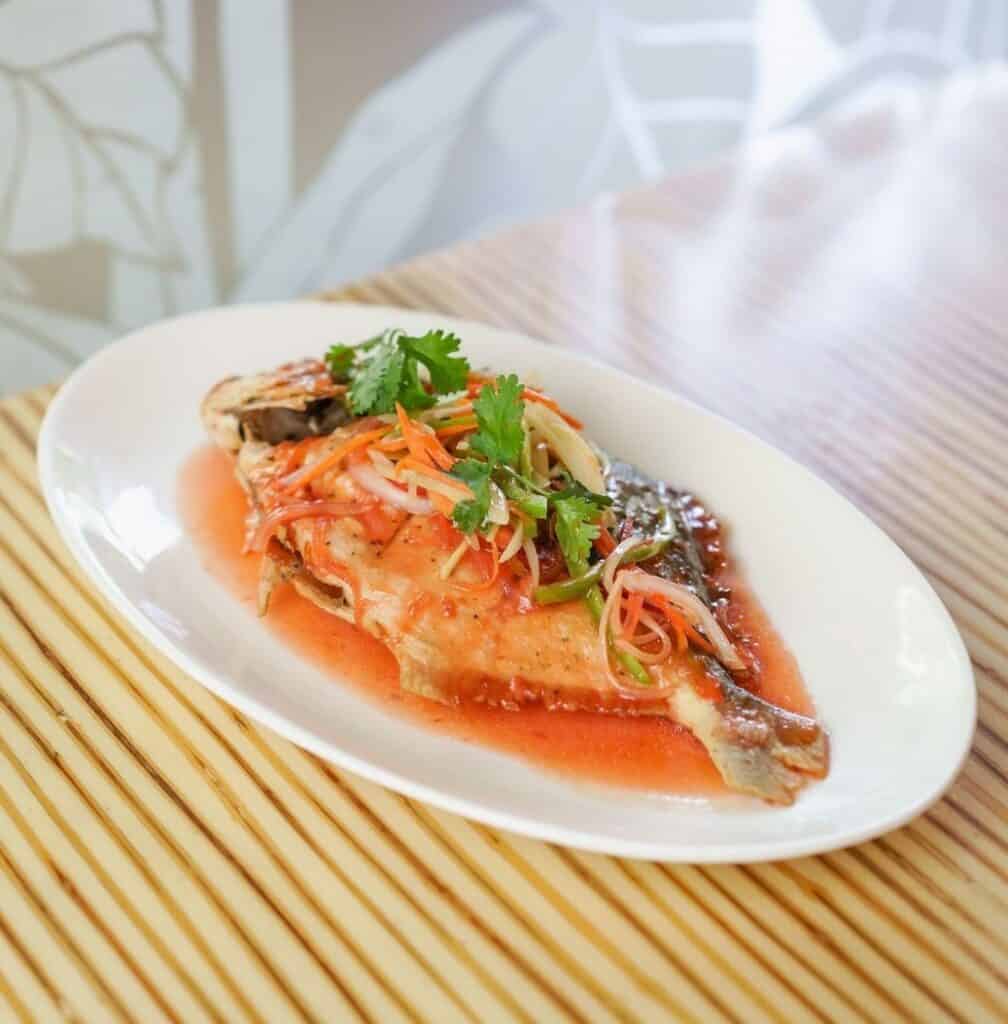 Pork
On their pork menu, we can find binagoongan baboy, our Philippine national dish Adobo, and their hearty lechon kawali and crispy pata. If you're looking for something new, they also have embotido, and for a healthier option, they also serve inihaw na liempo and grilled spare ribs.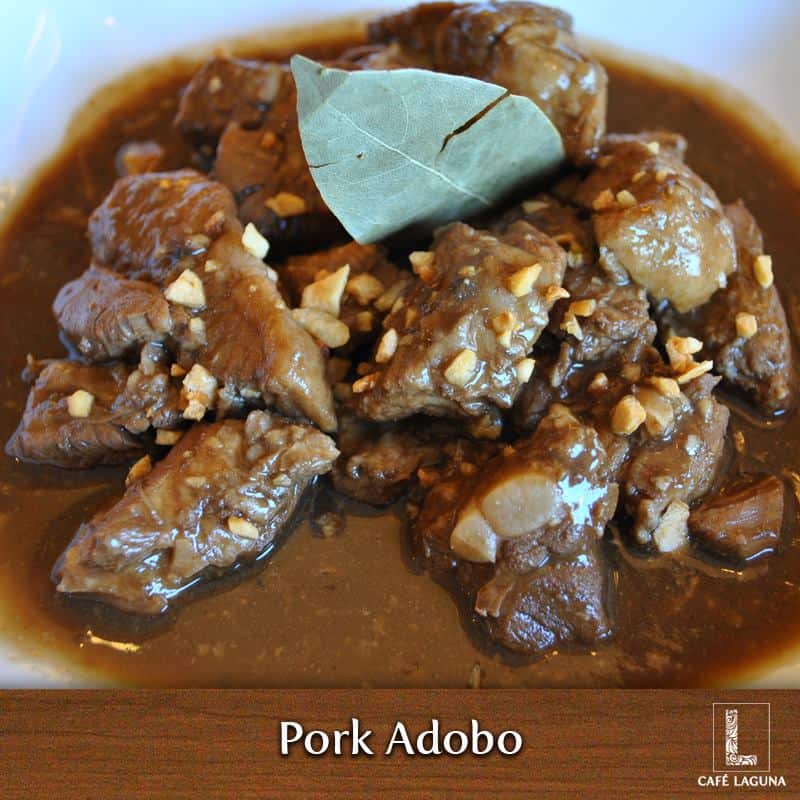 Chicken
Cafe Laguna's chicken menu has six delicious options. First is their adobong manok, which is famous worldwide and actually the national dish of our country. Next is their battered chicken. I'm not sure if this is buttered or battered; I just based it on what's written on their menu. The next dish is their version of relienong manok, and this one is really good as well. They also have another version of adobo, which is their chicken-pork adobo, so if you like your adobo to be meaty, then this is the perfect choice for you. Cafe Laguna fried chicken and Pandan chicken are also included on their chicken menu.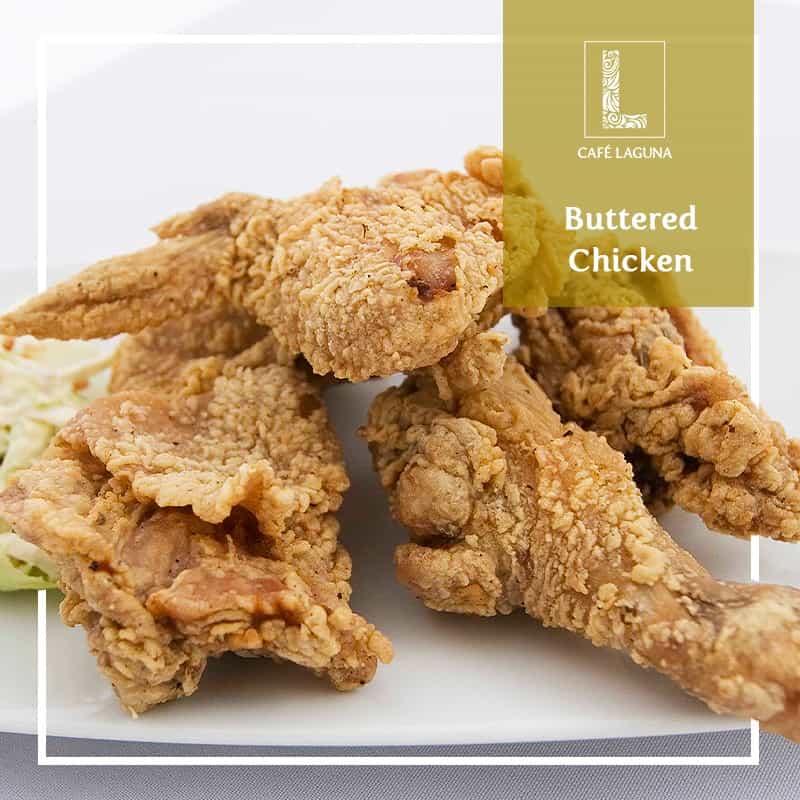 Plated Meals
Plated meals are also included on their menu, and this is the best option if you want a combination of dishes. On their plated menu, they have sets 1 to 5. Set 1 consists of lechon kawali and pinakbet; set 2 is daing na bangus and adobong kangkong; and Set 3 is homemade corned beef tadyang soup. Set 4 is Laguna Fried Chicken and Pinakbet, and lastly, Set 5 is Vegetable Kare-Kare. All set meals are served with rice.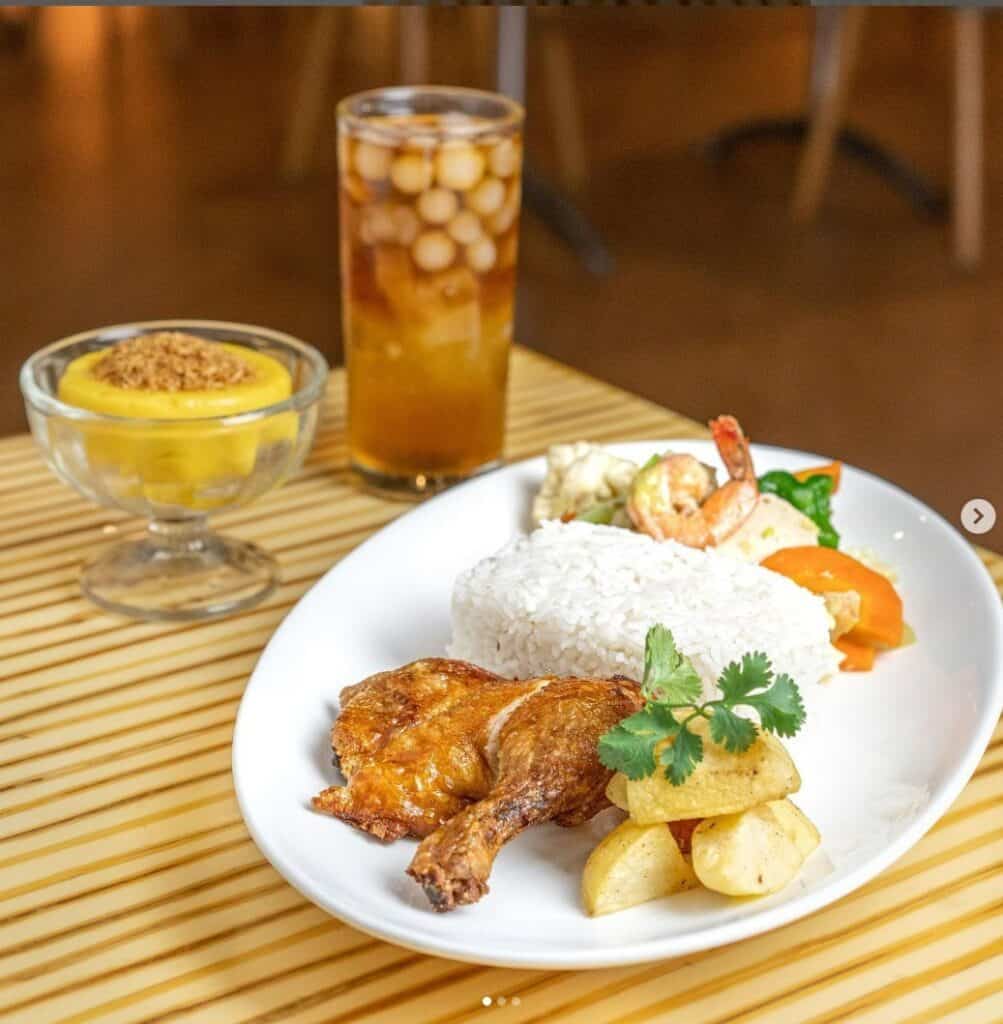 Cafe Laguna Menu Delivery
Want to order your favorite Cafe Laguna food items? Ordering is made easy simply by calling the numbers on the list that I will provide below.

Here are Cafe Laguna's phone numbers:
Cebu | Laguna Garden, Ayala Terraces
(032) 233 8602 or 0908 880 9448
Dumaguete | Hotel Nicanor
(035) 421-0808 or 0919 066 4381
General Santos | Veranza Mall
(083) 302 5356 or 0917 511 3244
Aside from those, you can also book your favorite food courier for your online order.
Social Media Pages
From mouth-watering appetizers to satisfying main courses and delectable desserts you can check out Cafe Laguna's social media pages to stay up to date on their latest offerings and promotions.

Facebook: https://facebook.com/CafeLagunaPH/
Instagram: https://instagram.com/cafelagunaph/
Conclusion
One of the most awesome restaurants I've ever been to. Too bad they don't have a branch in Metro Manila. The Cafe Laguna menu has a wide variety of Filipino dishes to choose from, and not to be biased, but everything on their menu is delicious. Their place is also one to notice since it has that cozy atmosphere that I think is very customer-friendly. Very comfortable and spotless clean tables. The interior of the restaurant is something we cannot ignore; it's great to be in this restaurant, honestly. Their service crews are very accommodating, and I love how fast and efficient their service is. I highly recommend this restaurant to everyone who hasn't tried Cafe Laguna. It's worth every penny.