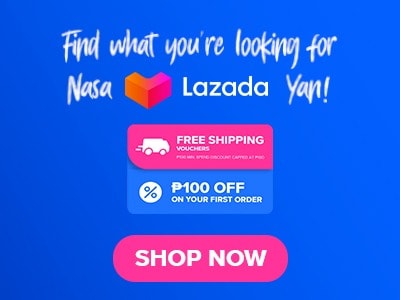 Nono's menu is inspired by American and Filipino comfort food. The Chocolate Oblivion cake is the confection that set the foundation of the restaurant's success. Its menu is categorized into All-Day Breakfast, Starters, Salads & Soups, Mains, Pastas, Sandwiches and Burgers, Desserts, Cakes, Kid's Menu, and Beverages. The dishes that it offers are described as nourishing, heartwarming, and simple. 
Menu
Prices (PHP)

All Day Breakfast

Waffles Benedict
365
Bacon and Eggs
375
Bacon, Egg, and Cheese Sandwich
425
Bacon & Cheese Omelette
295
Vegetarian Omelette
295
Beef Tapa
575
Pepito Steak and Eggs
585
Longganisa Recado
375
Tinapa Rice
375
Avocado & Egg Toast
355
Parmesan Ensaymada with Hot Chocolate
195
Nono's Homestyle Waffles (2pcs)
265
*Add strawberries
100
*Add blueberries
130
*Add waffle
95
*Add bacon
125

Starters

Parmesan Truffle Fries
295
Fried Truffle Cheese Wontons
195
Chicken Lettuce Wrap
295
Grilled Cheese Panini with Sour Cream Dip
325
Vegetarian Lettuce Wrap
355

Salads&Soups

Nono's Salad
395
*As a side
195
Caesar Salad
345
Oriental Shrimp Salad
425
*Add shrimp
145
*Add grilled chicken breast
95
Roasted Squash Soup
295
Farmers Corn Chowder Soup
295
French Onion Soup
385

Mains

Roasted Beef Belly (Solo)
675
Roasted Beef Belly (Big Plate)
1345
Grilled Pork Chop (Solo)
495
Grilled Pork Chop (Big Plate)
945
Nono's Homestyle Fried Chicken (Solo)
375
Nono's Homestyle Fried Chicken (Big Plate)
695
Pinoy-style Beef Steak
585
Parmesan-Crusted Sole with Tomato & Basil Spaghettini (Solo)
595
Parmesan-Crusted Sole with Tomato & Basil Spaghettini (Big Plate)
1155
Miso-glazed Salmon with Red Rice (Solo)
555
Miso-glazed Salmon with Red Rice (Big Plate)
1095
Pan-roasted Sole with Spaghettini Aglio e Olio (Solo)
595
Pan-roasted Sole with Spaghettini Aglio e Olio (Big Plate)
1155
Nono's Sisig
395
Pork Belly Balsamic Adobo (Solo)
495
Pork Belly Balsamic Adobo (Big Plate)
985
Chicken and Waffles (Solo)
375
Chicken and Waffles (Big Plate)
695
Garlic Steak with Mushrooms (Solo)
795
Garlic Steak with Mushrooms (Big Plate)
1585

Pastas

Classic Bolognese (Solo)
325
Classic Bolognese (Big Plate)
595
*Add bacon
125
Mac 'n Cheese
425
*Add bacon
125
Vegetable Mac 'n Cheese
395
Pesto Cream with Grilled Chicken (Solo)
455
Pesto Cream with Grilled Chicken (Big Plate)
895
Truffle Cream (Solo)
365
Truffle Cream (Big Plate)
685
Tomato & Basil Spaghettini (Solo)
355
Tomato & Basil Spaghettini (Big Plate)
595
Penne Pasta with Mixed Vegetables (Solo)
365
Penne Pasta with Mixed Vegetables (Big Plate)
695
Shrimp El Diablo (Solo)
465
Shrimp El Diablo (Big Plate)
895
Salmon and Lemon Cream (Solo)
485
Salmon and Lemon Cream (Big Plate)
785

Sandwiches

Pepito Steak Sliders
465
Nono's Homestyle Fried Chicken Sliders
345
Bacon, Egg, and Cheese Sandwich
425
Nono's Crispy Chicken Sandwich
345
*Add Bacon
125

Burger

Nono's Burger
395
*Extra Patty
155
*Extra Cheese
50
*Extra Sauce
20
*Extra Chopped Bacon
125

Kid's Menu

Classic Bolognese
195
Butter & Parmesan Pasta
175
Mac 'n Cheese
295
Fried Chicken Nibblers
295

Add Ons

Fries
115
Plain Rice
45
Garlic Rice
65
Red Rice
65
Steak Rice
65
Mashed Potato
125
Eggs Your Way
45
Bacon (2 pieces)
125
Classic Sourdough (2 slices)
35
Dinner Rolls (3 pieces)
55
Mango, Tomato, and Salted Egg Salsa
75

Desserts

Waffle with Ice Cream
195
Almond Crunch Sundae
225
Banana Cream Pie Mini
355
Cookie Ice Cream Sandwich
245
Cookie Skillet
225

New Offerings

Calamansi Pie (Slice)
235
Burnt Basque Cheesecake (Slice)
285
Chocolate Sansrival (Slice)
235
Triple Chocolate Mousse (Slice)
275
Calamansi Pie (Whole)
2115
Burnt Basque Cheesecake (Whole)
2610
Chocolate Sansrival (Whole)
2335
Triple Chocolate Mousse (Whole)
2335
Seafood Chowder
430
Salmon Croquettes
355
Shrimp and Candied Walnuts
430

Party Platters

Oriental Shrimp Salad
1185
Nono's Salad
1095
Caesar Salad
925
Classic Bolognese
1385
Tomato and Basil
1385
Chorizo & Shrimp Marinara
1755
Pork Belly Balsamic Adobo
1985
Roasted Beef Belly
3950
Nono's Homestyle Fried Chicken
2685
Pesto Cream with Grilled Chicken
1855
Miso-Glazed Salmon
2355
Parmesan Crusted Sole with Tomato & Basil Spaghettini
2355

Cake Slices

Nono's Chcolate Oblivion
295
Lemon Torte
275
Apple Pie
275

Cakes

Nono's Chcolate Oblivion 9''
1995
Sylvia's Strawberry Shortcake 8''
1795
Banana Cream Pie 8''
985
Lemon Torte 8''
1795
Mocha Sans Rival 8''
1295
Dulce de Leche 8''
995
Vitto's Moist Chocolate Cake
595
Apple Pie 8''
1795
Opera Torte 8''
1395
Berry Chocolate Mousse
1695
S'mores Tart
1155
Honey Crunch Cake 8''
1795

Breads, Pastries, Sweet Treats

Light Country Sourdough
225
Dinner Rolls (6 pieces)
95
Parmesan Ensaymada
115
Cheese Rolls
105
Chocolate Chip Scone
165
Cheese Rolls (Box of 8)
650
Parmesan Ensaymada (Box of 6)
555
Almond Crunch (130g)
195
Almond Crunch (250g)
395
Almond Crunch (350g)
595
Chocolate Chip Cookie
95
Brownie Cookie
135
Double Chocolate Chip Cookie
95
Oatmeal Chocolate Chip Cookie
95
Chocolate Crinkle
95
Chocolate Chip Scone
135
Blueberry Scone
135
Chocolate Peanut Brittle (130g)
195
Chocolate Peanut Brittle (250g)
395
Gingerbread Cookies
375
Sugar Cookie (Medium)
115
Russian Tea Cookies
395
Mini Sugar Cookies
295
Chocolate Cornflakes
335
Chocolate Crunch Bites
355
Chcolate Chip Shortbread Cookies
395

Specialty Coffee

Espresso
135
Long Black
135
Cappuccino
165
Vienna
135
Flat White
155
Gibraltar
135
Salted Caramel Macchiato (Hot/Iced)
185

Tea

Nono's Iced Tea
115
English Breakfast Tea
155
Lemon Chamomile Tea
155
Ginseng Peppermint Tea
155
Lemongrass Ginger Tea (Hot/Iced)
185

Wine & Beer

White Wine (Bottle)
1495
Red Wine (Bottle)
1495
Sparkling Wine (Bottle)
1495
San Miguel Beer Pale Pilsen
125
San Miguel Beer Light
125
Heineken
165

Fruit Shakes and Juices

Lemon Mint Cucumber Shake
175
Mango and Strawberry Shake
175
Mango Shake
175
Watermelon Shake
175
Strawberry Shake
175
Lemonade
165

Other Beverages

Hot Chocolate
155
Sparkling Water
145
Hope in a Box
55
Soda (Coke/Coke Zero/Sprite)
125

Gift Sets

Holiday Gift Bag
795
Deluxe Gift Set
1195
Premium Gift Set
1795

Nono's To-Go (Available in Nuvali and The Blue Kitchen Rockwell

Cheese Pimento Spread (chilled/frozen)
295
Spinach Dip (chilled/frozen)
295
Farmer's Corn Chowder Soup (chilled/frozen)
275
Squash Soup (chilled/frozen)
275
Pork Belly Balsamic Adobo (chilled/frozen)
495
Beef Tapa (chilled/frozen)
795
Garlic Steak (chilled/frozen)
845
El Diablo Pasta Sauce (chilled/frozen)
395
Pesto Cream Pasta Sauce (chilled/frozen)
395
Crostini (chilled/frozen)
95
About Nono's Restaurant
Nono's restaurant is founded by Chef Baba Ibazeta Benedicto to share her favorite comfort foods that have a big part in her childhood. This restaurant is named after Chef Baba's father. She is committed to serving diners classic cuisines and confections that are unique, delicious, and prepared expertly to make diners come back for more. 
Nono's All-Day Breakfast Menu
The all-day breakfast combination served by Nono's consists of cuisines that are influenced by Western and local culture. 
Waffles Benedict – Smoked ham, poached egg, and hollandaise sauce are topped on the signature crispy waffle of the restaurant. The soft and tender yolk of poached egg and the creamy hollandaise sauce creates a velvety feel in the mouth making every bite satisfying. Green vegetables are added to their side to make them more delicious and luxurious.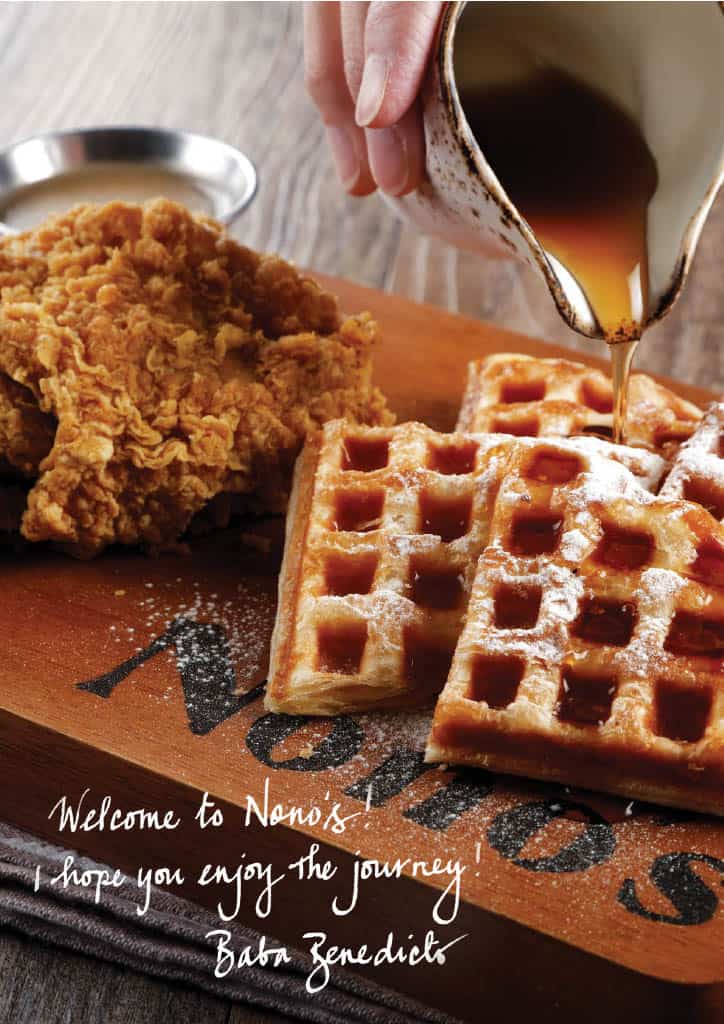 Pepito Steak and Eggs – One of Nano's favorite breakfast combinations. This gluten-free dish is composed of USDA Beef roasted in a pan. Fried rice, sunny side up egg, garlic, and olive oil also comes with it. The dishes that are served in this meal will give you the energy that you need to be productive and active throughout the day.
Nono's Homestyle Waffles with Blueberries – The two pieces of crispy waffles that are served on this Nono's menu are a special creation of this restaurant. Butter, whipped cream, and maple syrup come with it to make it more delicious. The restaurant also offers add-ons or extras such as strawberries, blueberries, waffle, and bacon that allows diners to create their preferred waffle combination.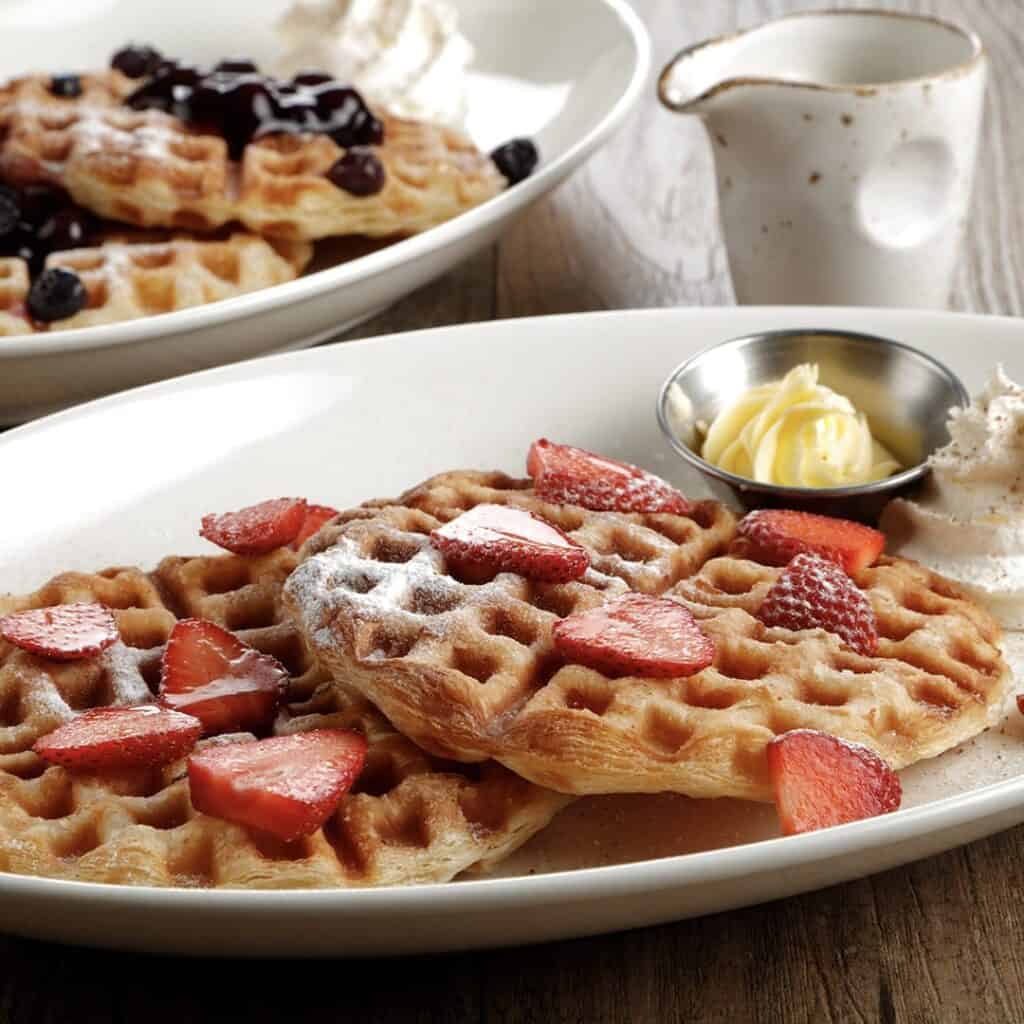 Tinapa Rice – Garlic fried rice is topped with slices of smoked boneless bangus. A special salsa that is made up of chopped mango, tomato, and salted egg adds color to this dish making it enticing. These dishes are served in one bowl making it more convenient to enjoy.
Avocado and Egg Toast – Avocado is one of the best toppings on a toast that is loved by the crowd. In this Nono's menu, the healthy and delicious avocado is mashed and spread on top of toasted sourdough bread. It is then garnished with olive oil and poached egg that adds texture and flavor making it mouthwatering.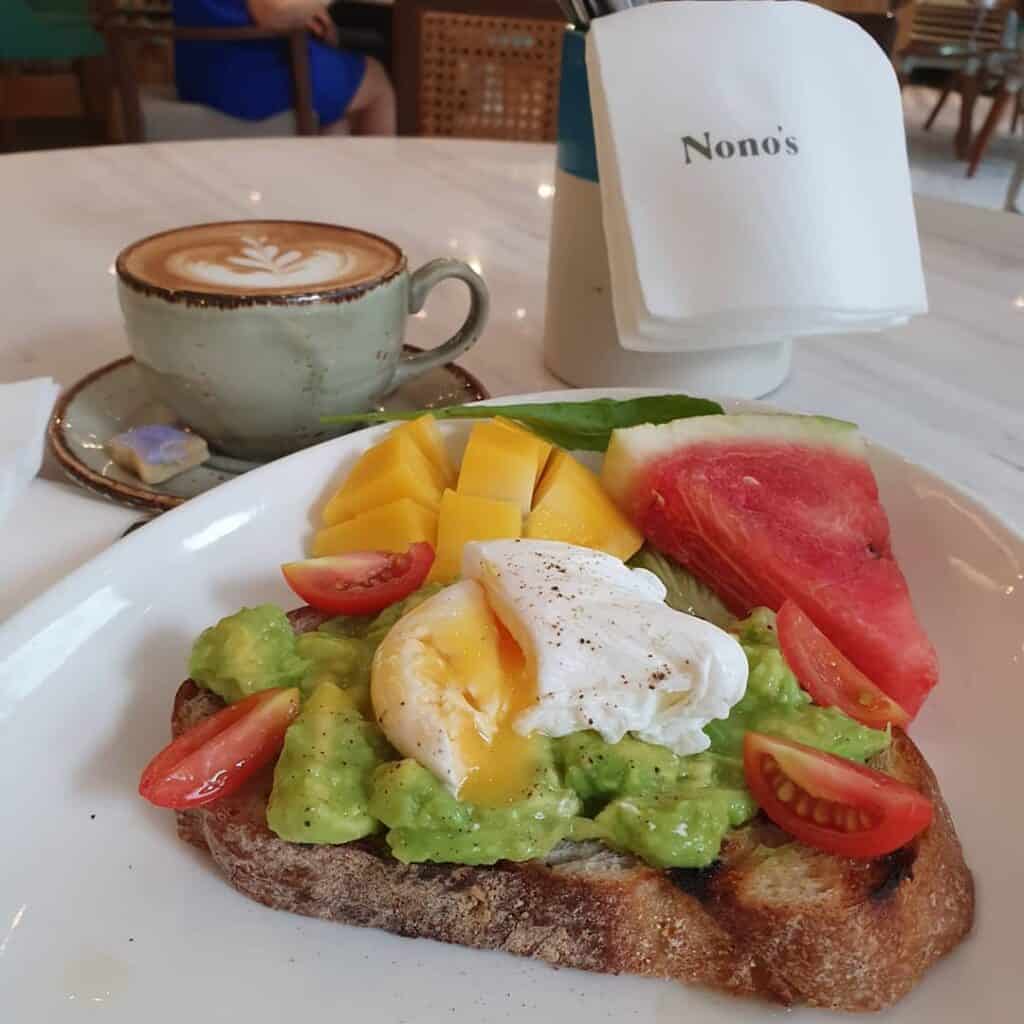 Nono's Starters Menu
Warm up your sense of taste and stomach with these starters served Nono to boost your appetite. The Nano's Favorite is Fried Truffle Cheese Wantons where wantons are filled with cheddar and mozzarella cheese and garnished with honey and truffle oil. The rich flavor of the two kinds of cheese, the savory goodness added by truffle oil, and the sweet taste of honey make this the best-selling appetizer of Nono.
Fries are one of the crowd's most-sought starters, which is why it is one of the common dishes offered by restaurants. Here at Nono's, you can satisfy your craving for fries as these extraordinary fries are coated with truffle oil and grated parmesan and served with a paprika aioli dip.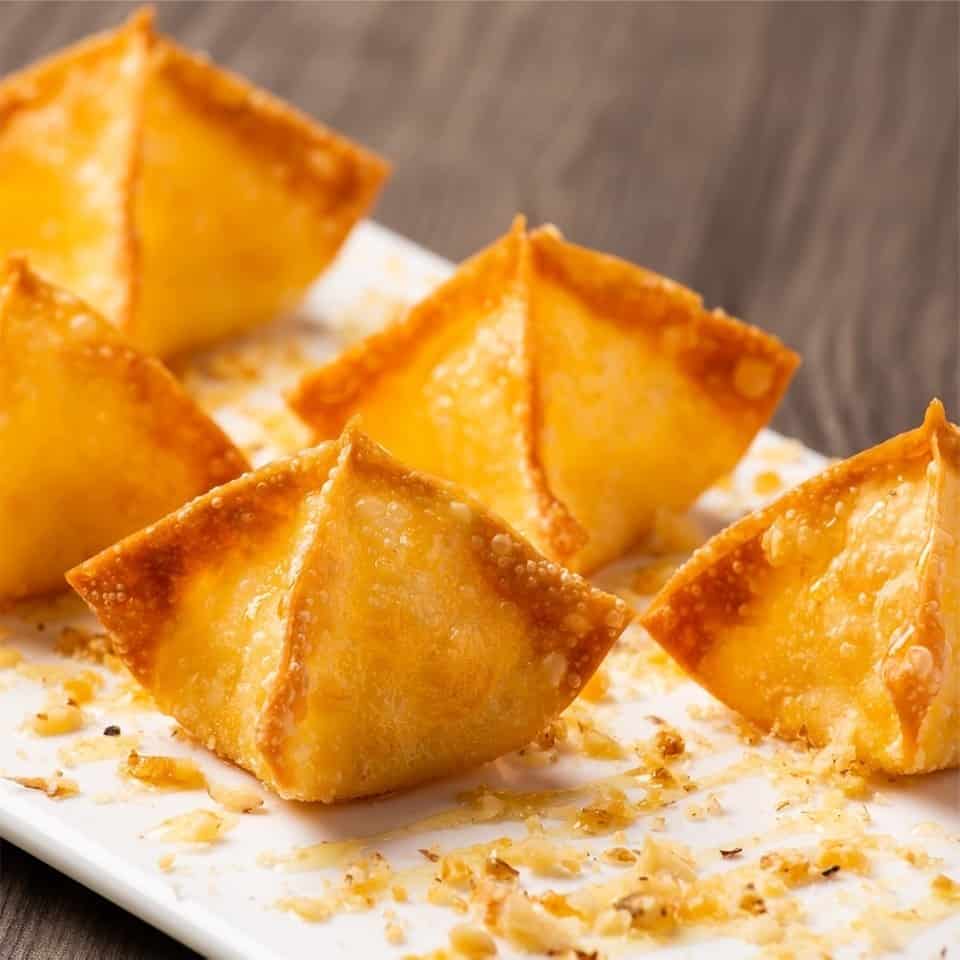 For those who want to start their meal with bread, Nono offers Grilled Cheese Panini with Sour Cream Dip. It is stuffed with melted cheddar and mozzarella cheese. The sour cream dip that is served with it is made up of onion and sour cream. For those diners who follow a healthy diet, there is a Chicken Lettuce Wrap, where romaine lettuce is stuffed with chicken, water chestnuts, tofu, and shiitake mushrooms. After wrapping them together, dip them in a special oriental sauce to enhance their flavor and make them extra delicious.
Salads & Soups
Salads and soups are also great choices for appetizers as they are light making them easy to digest. The salads that it offers consist of Oriental Shrimp, Caesar, and Nono's Salad. If you are trying this restaurant for the first time, it is best to try their Oriental Shrimp Salad as it is the favorite of its customers. The Nono's Salad menu is the signature dish of this restaurant that is gluten-free. Shrimps and grilled chicken breast are the extras that you can on these dishes to make them more fulfilling. 
Roasted Squash, Farmer's Corn Chowder, and French Onion soup are the soup served in this restaurant. The popular French Onion Soup is regarded as Nano's favorite because it provides a warm feeling that wakes up the senses. It is made of caramelized onions that are slowly cooked in a broth with sourdough and melted mozzarella cheese toppings.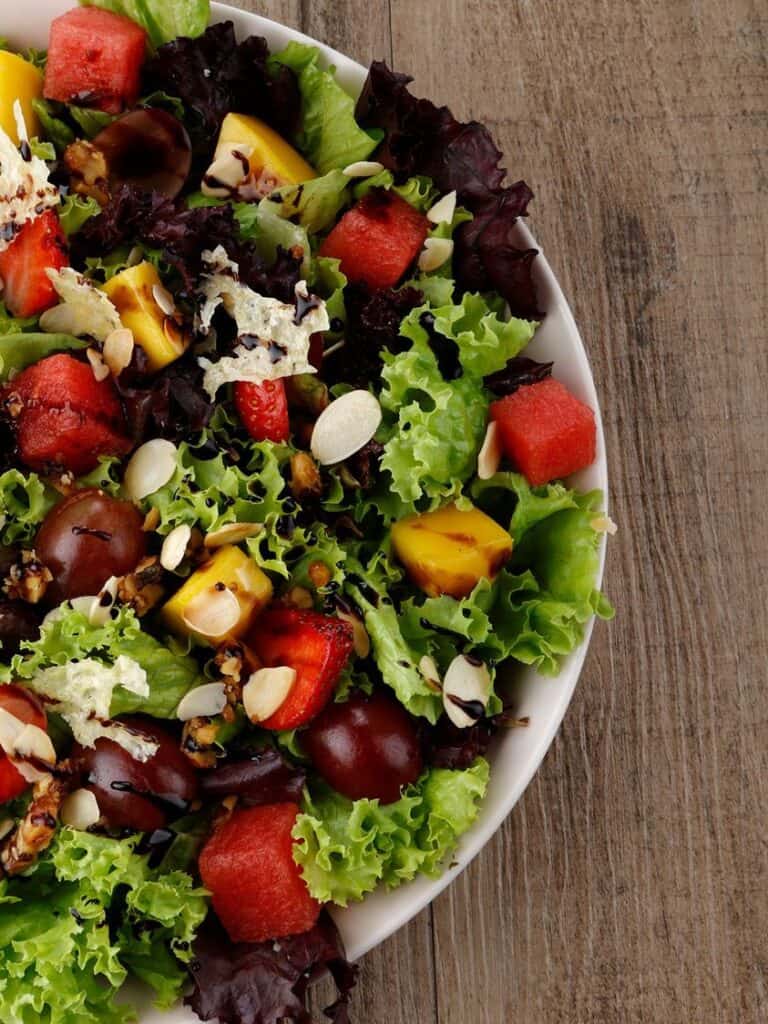 Mains
The main dishes consist of Roasted Beef Belly, Grilled Pork Chop, Nono's Homestyle Fried Chicken, Pinoy-style Beef Steak, Parmesan-Crusted Sole with Tomato & Basil Spaghettini, Miso-glazed Salmon with Red Rice, Pan-roasted Sole, Nono's Sisig, Pork Belly Balsamic Adobo, Chicken and Waffles, and Garlic Steak with Mushrooms.
These main dishes are available on solo and big plates. The big plate is good for 2-3 people, so it is the best option if you are dining in groups as you can save on it. Its Nono's Sisig and Pinoy-style Beef Steak are the entrees available in solo servings.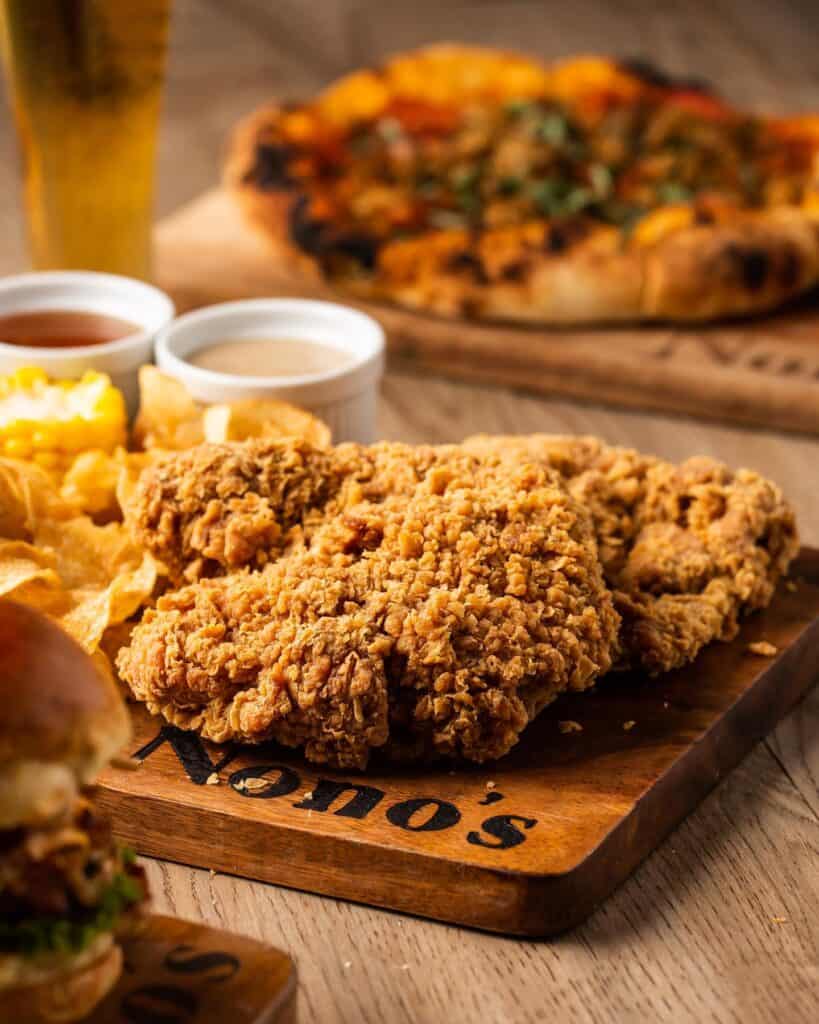 Pasta
Pasta lovers will satisfy their cravings with the pasta dishes of Nono's as they are prepared expertly making them delicious. It offers Classic Bolognese, Mack 'n Cheese, Vegetable Mac 'n Cheese, Pesto Cream with Grilled Cheese, Truffle Cream, Shrimp El Diablo, and Salmon and Lemon Cream. There is also Tomato & Basil Spaghettini and Penne Pasta with Mixed Vegetables that are created for those who want light and healthy pasta.
Nono's Burger Menu
It is a special version of a classic burger that is prepared extraordinarily. This burger consists of everything you want making it enjoyable and fulfilling. It is a perfect snack that will fill up your energy as a special all-beef patty, chopped bacon, burger sauce, cheddar cheese, battered fried onion strings, lettuce, and tomato slices are stuffed in a toasted homemade brioche bun. It also comes with fries or chips that go well with it.
FAQs
Who owns Nono's?
Chef and restaurateur Baba Ibazeta-Benedicto is the owner of Nono's, which is known for offering comfort foods.
What kind of restaurant is Nono's? 
Nono's is a restaurant that offers comfort food that consists of Chef Baba's favorite dishes from the Philippines and the United States where she grew up.
What is the best seller cake of Nono's? 
Chocolate Oblivion is the best-selling cake of Nono's which is made up of moist chocolate cake and whipped chocolate cream that is topped with bits of walnut pralines.
Nono's Menu Delivery
The delivery partners of Nono's restaurant are GrabFood, FoodPanda, and Pickaroo. It also offers a pre-order service so you can order your favorite dishes in advance. Just visit its website at nonos.ph and fill up the pre-order form.
Social Media Pages
To keep yourself informed about Nono's latest discounts and promotions, make sure to check out their social media pages. They regularly post updates about new dishes and upcoming events, and you can access all of this information by following the links below. Additionally, by clicking the "Like" and "Follow" buttons, you can show your support and never miss out on any exciting deals or offers from Nono.
Facebook: https://facebook.com/nonos.ph/
Instagram: https://www.instagram.com/nonos.ph/
Conclusion
Nono's menu is well-crafted making it perfect for the whole family and different kinds of celebrations. It is one of the go-to restaurants of its diners as it offers delicious comfort food. This restaurant provides top-notch service and high-quality food that makes people look forward to their next visit to try their other dishes.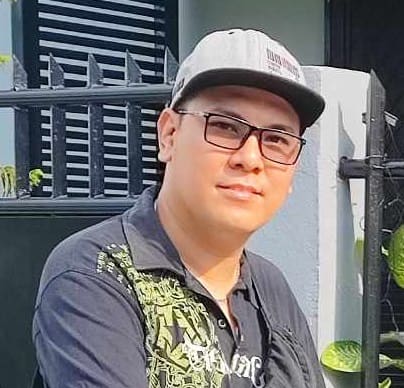 Hi! I'm Nivek Strife, the person who made MenuPH. I'm the one who added most of the popular menus you see on this website, and I really hope you enjoy them! Feel free to check them all out.
Growing up, I was surrounded by lots of tasty foods, like the classic Adobo and the sweet Leche Flan. That love for the many flavors of the Philippines is what got me excited about adding to MenuPH. When I learned how to make websites, I saw the need for a place to show off all the amazing Filipino dishes, and that's how MenuPH started.
MenuPH isn't just a website; it's like a fun journey into food. I've teamed up with famous chefs and found great places all over the Philippines to bring you a bunch of menus that show off the best of Filipino cuisine. Whether you're into the usual dishes or new twists, MenuPH is here to guide you through the rich world of Filipino flavors.
With MenuPH, my aim is to help local businesses, talk about good food choices, and make a group of friends who love food. No matter if you like fancy restaurants or street food, MenuPH has something for you. Come join me on this food adventure as we find great places, taste real flavors, and enjoy the unique food traditions that make the Philippines awesome.