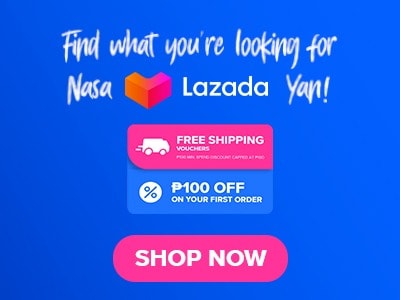 Waffles have blossomed into a beloved snack in the Philippines over recent years. As a result, numerous waffle shops have sprung up to meet this demand. Among them is the Famous Belgian Waffles. This waffle haven, highlighted in the Famous Belgian Waffles menu, allows customers to relish waffles adorned with toppings like Nutella, strawberries, whipped cream, and a variety of syrups. Alternatively, they can choose specialty waffles bursting with flavors like chocolate, matcha, or red velvet. Their menu also boasts mouthwatering and satisfying choices like ham and cheese or bacon and cheese waffles for those with a craving for something more savory.
Below, you'll find the updated list of Famous Belgian Waffles menu prices.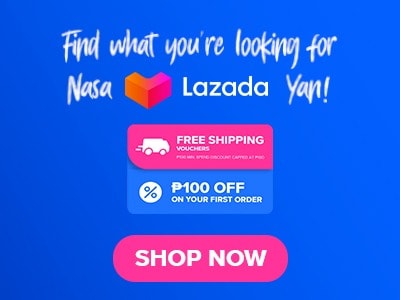 Menu Items
Price (PHP)

White Chocolate Series

White Chocolate Corn Flakes
80
White Chocolate Waffle
68
White Chocolate Oreo
80

Featured Products

Smores Waffle
97
Take Home Pack Selection
239
Brownie Fudge Mallows Waffle
86

Bestsellers

Blueberry Cream Cheese Waffle
86
Mango Peach Cream Cheese Waffle
86
Cookies n Cream Waffle
80
Smores Waffle
97
Scrambled Egg Cheddar Waffle
80
Tuna Garlic Cream Cheese Waffle
86
Banana Chocolate Waffle
74
Blueberry Banana Custard Waffle
103
Choco Hazelnut Waffle
91
Choco Custard Waffle
80

Savory Selection

Chicken Ham with Cheese Spread or Cream Cheese
91
Tuna Garlic
68
Ham with Cheese Spread or Cream Cheese
91
Hawaiian with Ham
86
Hawaiian with Chicken Ham
86
Corned Beef with Cream Cheese
108
Corned Beef with Cheese Spread
108
Scrambled Egg Cheese Spread
80
Scrambled Egg Cream Cheese
86

Perfect Combination

Cookies and Cream Waffle
80
Strawberry Custard Waffle
80
Blueberry Custard Waffle
80
Chocolate Caramel Waffle
80
Blueberry Cream Cheese Waffle
86
Strawberry Cream Cheese Waffle
86
Mango Peach Cream Cheese Waffle
86
Chocolate Hazelnut Waffle
91
Chocolate Creamcheese Waffle
91
Smores Waffle
97
Smores Peanut Butter Waffle
103
Smores Caramel Waffle
103
French Butter Maple Waffle
68
French Butter Caramel Waffle
74
Banana Chocolate Waffle
74
Banana Caramel Waffle
74
Banana Peanut Butter Waffle
74
Chocolate Peanut Butter Waffle
80
Chocolate Custard Waffle
80
Blueberry Banana Waffle
80
Straweberry Banana Waffle
80
Banana Custard Waffle
80
Banana Hazelnut Waffle
86
Chocolate Banana Peanut Butter Waffle
103
Chocolate Banana Caramel Waffle
103
Chocolate Banana Hazelnut Waffle
103

Simply Perfect

Plain Waffle
46
Peanut Butter Waffle
63
Caramel Waffle
63
Hazelnut Waffle
74
Strawberry Waffle
68
Blueberry Waffle
68
Cream Cheese Waffle
74
Cheese Spread Waffle
63
Custard Waffle
68
Mango Peach Waffle
63
Chocolate Waffle
63

Famous Blends Beverages

Hot Coffee
74
Hot Choco
74
Iced Coffee
86
Iced Choco
86
Famous Blends Iced Tea
68
Iced Coffee Jelly
74

All Day Breakfast Waffles Meal

Corned Beef with Beverage
165
Chicken Ham/Ham with Scrambled Egg and Cheese Spread with Drink
171
Tuna Garlic Ranch with Scrambled Egg and Cream Cheese with Drink
160

Brownie Fudge Collection

Brownie Fudge Cream Cheese Waffle
97
Brownie Fudge Mallows Waffle
86
Brownie Fudge Banana Waffle
80
Brownie Cream Cheese Waffle
80
Brownie Fudge Waffle
68
Brownie Waffle
57
Brownie Fudge Mallows Custard Waffle
97
Brownie Fudge Mallows Cream Cheese Waffle
103
About Famous Belgian Waffles
Famous Belgian Waffles is a popular food establishment in the Philippines known for its delectable and freshly made Belgian-style waffles. The brand originated in the Philippines and has gained a strong following for its high-quality waffle creations. At Famous Belgian Waffles, you can expect a wide range of waffle options, each prepared with care and precision. The waffles are made using a special batter recipe that yields a crisp exterior and a fluffy, light interior. The restaurant has a warm and welcoming ambiance, attentive service, and flavorful dishes to provide an exciting dining experience for both locals and tourists alike.
Famous Belgian Waffles Menu Best Seller
This is made up of the most popular waffle items that can be found on Famous Belgian Waffles' menu.
Blueberry Cream Cheese Waffle – This is a delicious combination of sweet and tangy flavors topped with a generous serving of blueberry sauce and a dollop of creamy cream cheese, creating a harmonious balance of textures and tastes.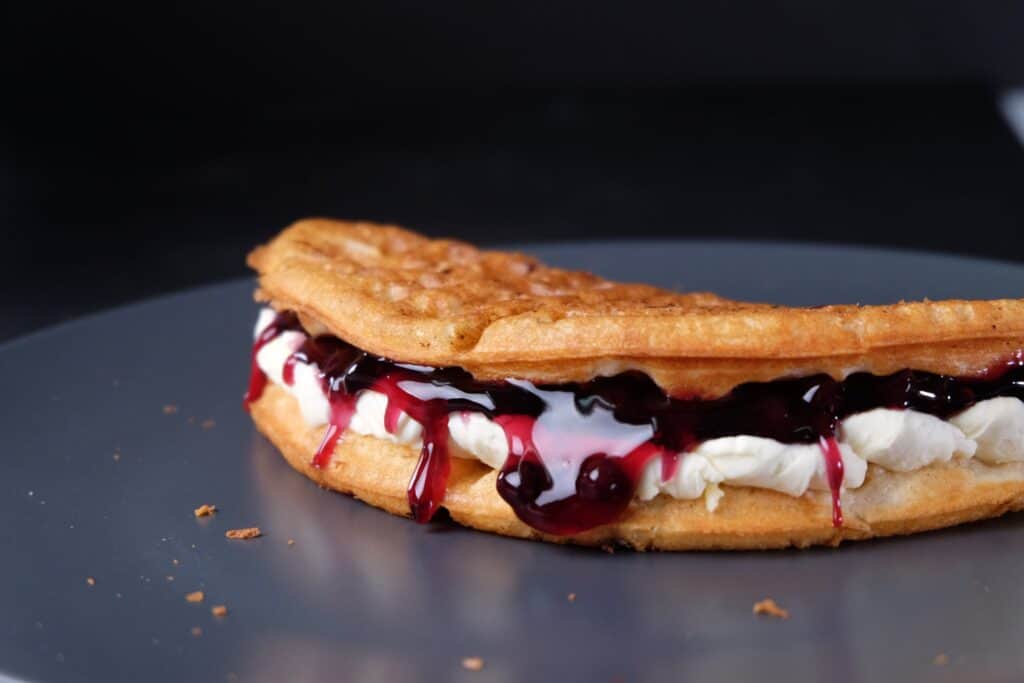 Mango Peach Cream Cheese Waffle – This waffle features luscious slices of ripe mango and juicy peaches, along with a creamy cream cheese topping. The combination of unique flavors from this waffle creates a burst of refreshing flavors that will make you feel tropical flavors.
Cookies n Cream Waffle – This popular waffle menu of Famous Belgian Waffles features crushed cookies mixed into the waffle batter, giving it an enjoyable crunch then topped with a generous drizzle of chocolate sauce and sprinkled with more crushed cookies resulting in a heavenly combination of rich chocolate and the classic flavors of cookies and cream.
Scrambled Egg Cheddar Waffle – For those who prefer a savory option, the Scrambled Egg Cheddar Waffle is a satisfying choice. The waffle is topped with fluffy scrambled eggs and melted cheddar cheese, creating a hearty and flavorful combination.
Tuna Garlic Cream Cheese Waffle – It features chunks of savory tuna mixed with garlic and cream cheese, creating a creamy and aromatic topping for the waffle. The combination of the ingredients of this waffle gives it bold and savory flavors that will satisfy every seafood lovers that visit.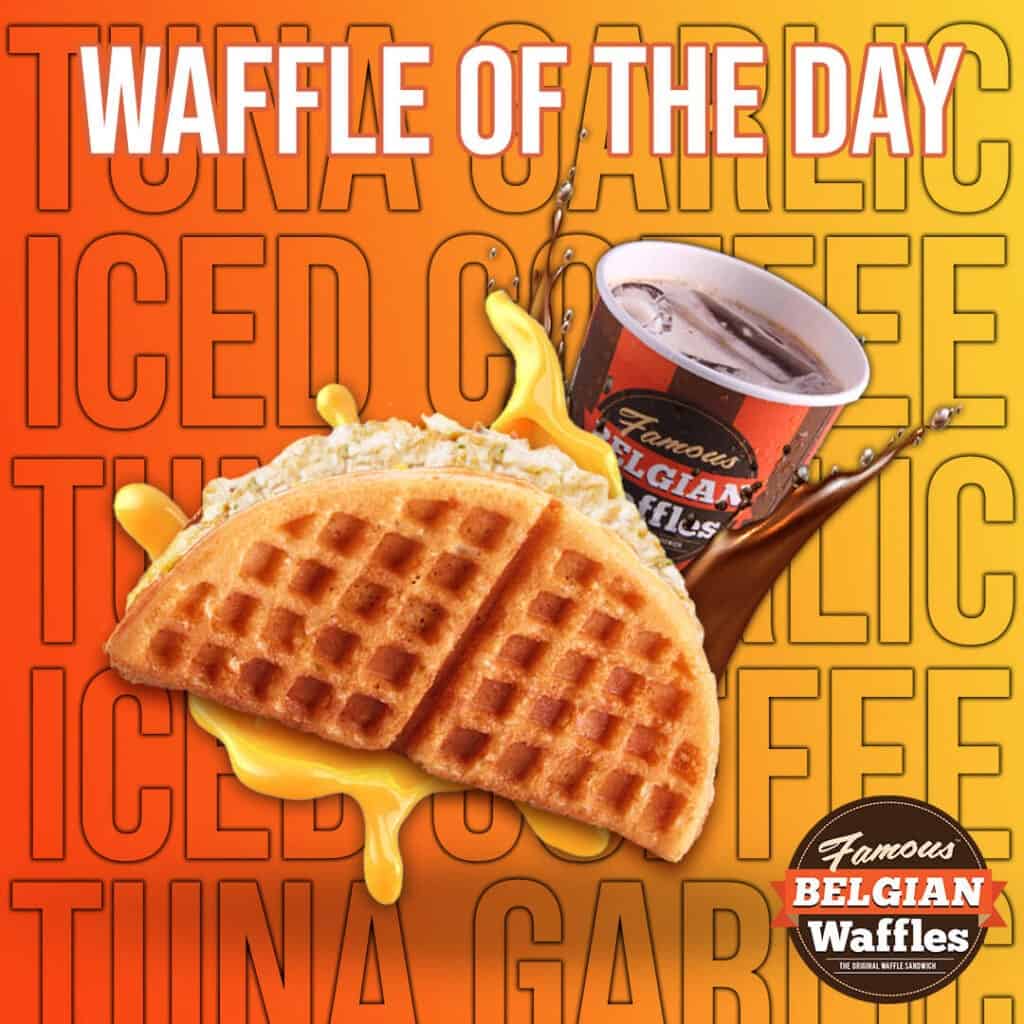 Famous Belgian Waffles Menu White Chocolate Series
This menu is made up of a wide selection of dishes that uses white chocolate as its main selling point.
White Chocolate Corn Flakes – This tasty treat combines the crunch of cornflakes with the sweetness of white chocolate. The cornflakes are generously coated in smooth and creamy white chocolate, creating a harmonious blend of textures.
White Chocolate Waffle – This waffle is made with a special batter infused with white chocolate, resulting in a fluffy and moist texture, and is then topped with a drizzle of white chocolate sauce, adding an extra layer of sweetness.
White Chocolate Oreo – This waffle features crushed Oreo cookies mixed into the waffle batter, adding a delightful crunch and rich chocolate flavor. The combination of the chocolatey Oreo bits and the smooth white chocolate creates a heavenly dessert that will satisfy any Oreo lover.
Savory Selection Menu
This well-known menu from Famous Belgian Waffles is brimming with a range of mouthwatering waffle options. Each dish offers a unique and delightful taste that you can order when visiting Famous Belgian Waffles.
Chicken Ham with Cheese Spread or Cream Cheese – The chicken ham that is stuffed in this waffle provides a deliciously savory flavor to it, while the cheese spread or cream cheese adds a creamy and tangy element.
Ham with Cheese Spread or Cream Cheese – This ham has a classic combination of ham and cheese spread or cream cheese that customers can indulge in. The savory ham pairs perfectly with the creamy and tangy cheese spread or cream cheese, creating a mouthwatering flavor combination.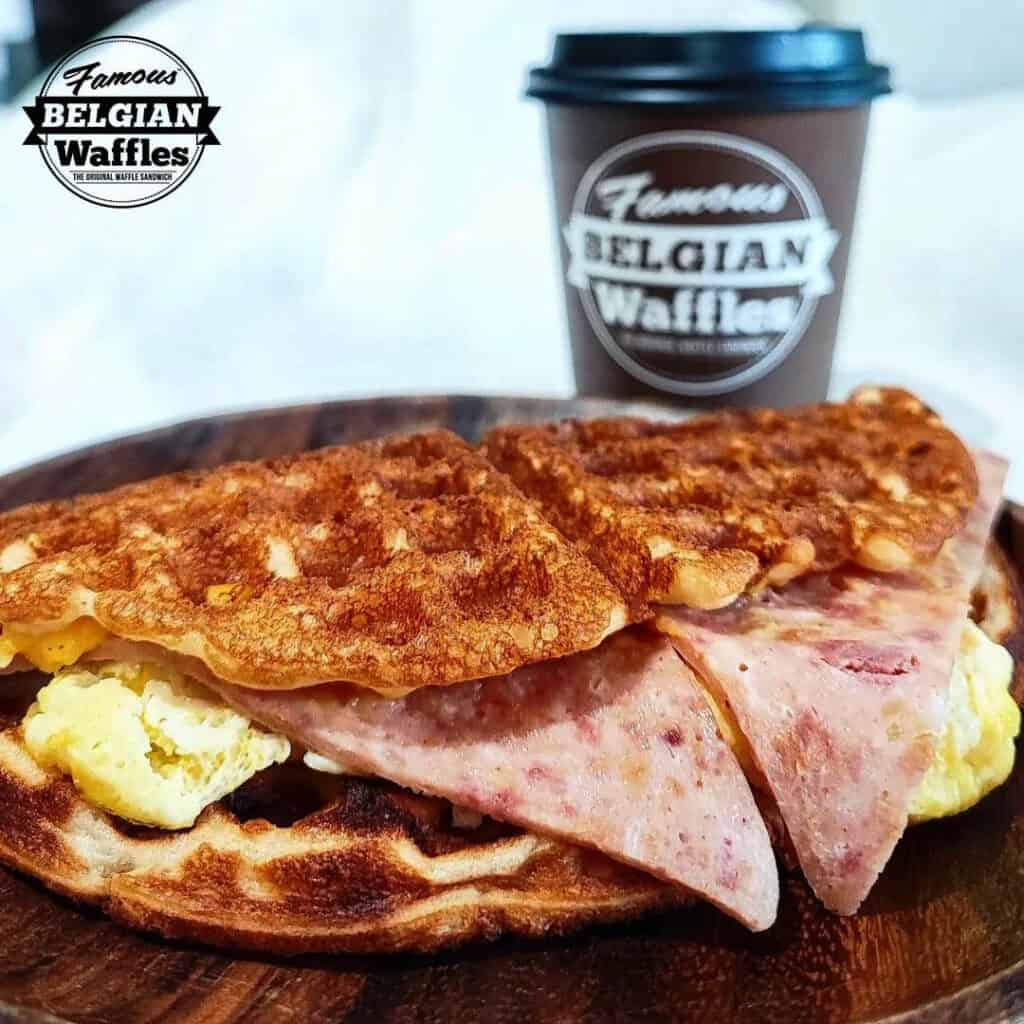 Tuna Garlic – This menu item features flavorful tuna mixed with garlic, creating a deliciously savory and aromatic filling. The combination of tuna and garlic brings a delightful burst of flavors to satisfy your cravings.
Perfect Combination
This thrilling Famous Belgian Waffles menu brings forth a rich assortment of masterfully crafted waffle masterpieces. These aren't just simple dishes, but edible art that skillfully meshes together diverse taste elements, turning every bite into a joyous experience. Each savory offering on the Famous Belgian Waffle menu demonstrates a remarkable blend of unique flavors, making your gastronomic adventure a pleasing one. It doesn't matter if you're a fervent food enthusiast or a casual diner, the perfect interplay of flavors is bound to enchant your taste buds, leaving a lasting, memorable culinary mark that will undoubtedly draw you back for more.
Simply Perfect
This Famous Belgian Waffles menu consists of an assortment of waffle dishes that truly capture the essence of simplicity and perfection. Every waffle offering within this menu emphasizes on accentuating the charm and straightforwardness of their signature waffles.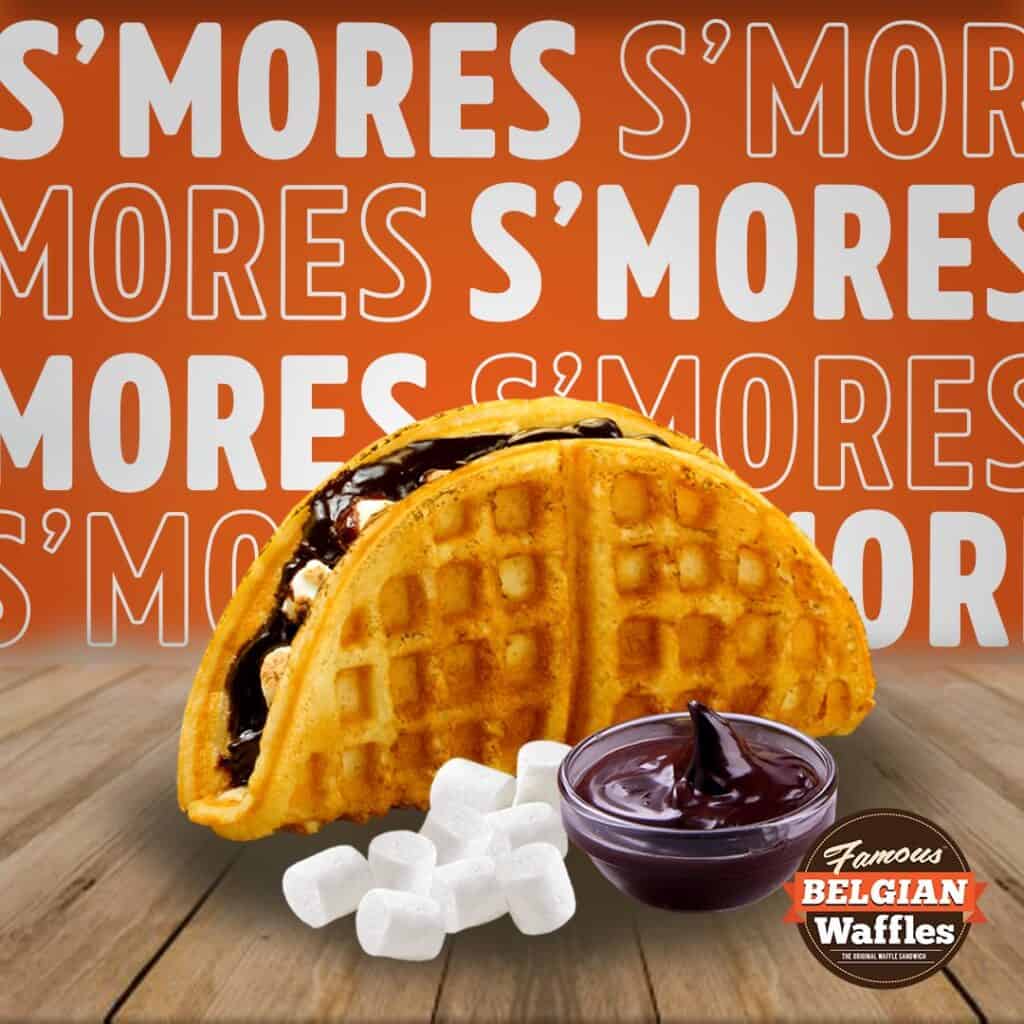 All Day Breakfast Waffles Meal Menu
This menu offers a delightful combination of sweet and savory flavors to kickstart your day or enjoy a delicious breakfast any time. This menu provides a range of mouthwatering options that combine their signature waffles with savory ingredients and classic breakfast items. 
Famous Belgian Waffles Menu Delivery
Famous Belgian Waffles has now introduced a delivery service, enabling customers to indulge in their delectable and fulfilling waffles without stepping out of their cozy homes. To make this process more streamlined, Famous Belgian Waffles has teamed up with third-party delivery platforms such as FoodPanda and GrabFoods.
Social Media Pages
Satisfy your sweet tooth cravings with the delectable delights of Famous Belgian Waffle. Follow their social media pages to stay updated on the irresistible waffle creations, promotions, and special offers. Step into their store and experience the heavenly aroma of freshly baked waffles, golden and crispy on the outside, fluffy and tender on the inside.
Facebook: https://www.facebook.com/FamousBelgianWafflesOFFICIAL
Instagram: https://www.instagram.com/famousbelgianwafflesofficial/
Twitter: https://twitter.com/FamousBelgianPH
TikTok: https://www.tiktok.com/@famousbelgianwaffles
Website: https://famousbelgianwaffles.com/about/
YouTube: https://www.youtube.com/@famousbelgianwaffles
FAQs
What are the signature dishes at Famous Belgian Waffle Philippines?
All of the waffles at Famous Belgian Waffles are considered to be their signature items.
Where are the Famous Belgian Waffle outlets located in the Philippines?
You can visit Famous Belgian Waffles in SM Center Point Sta. Mesa and other places in Metro Manila.
Can I order from Famous Belgian Waffle Philippines online or through any mobile app?
Definitely! You can order the delicious waffles that Famous Belgian Waffles offers through FoodPanda mobile application.
What kind of beverages does Famous Belgian Waffle Philippines offer to pair with their waffles?
Famous Belgian Waffles offers local beverages and some original ones as well.
Are there any ongoing promotions, loyalty programs, or discounts at Famous Belgian Waffle Philippines?
You can stay up to date with Famous Belgian Waffles' promotions, loyalty programs, and discounts by following their social pages.
Conclusion
Famous Belgian Waffles is a popular destination for waffle lovers in the Philippines due to its wide range of delicious waffle menus. The combination of crispy edges and soft, fluffy centers make their waffles a delight to indulge in. But aside from their delicious waffle offerings, Famous Belgian Waffles provides a warm and inviting atmosphere, making it a great place to enjoy a tasty treat with friends, family, or even yourself. So, if you're in the mood for mouthwatering waffles and a place to relax, Famous Belgian Waffles is definitely worth a visit.