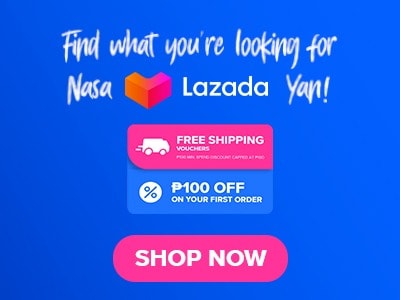 Are you looking for a good place to go for an eat out with your family and friends especially if you're in the Los Baños area? Look no more, I got you on this one. Have you heard about Stable Wagyu & Wings? If not and you're interested in knowing them then this is just right on time. We are going to talk about them since this article is all about this interesting restaurant. Stable Wagyu & Wings menu offers a wide variety of delicious food choices that will surely water your mouth and kick your cravings the moment that you laid your eyes on their menu. Let's get to know them more let's talk about something about them like the food that they offer, their prices and best sellers and such. If you're down about our topic we're not going to delay things anymore and let's start!
Below, you'll find the updated list of Stable Wagyu & Wings menu prices.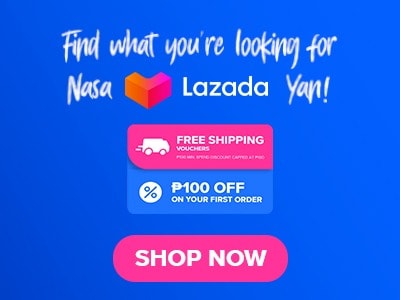 Menu Items
Price (PHP)

Popular

Wings & Rice
140
Pasta & Wings Combo
250
One-Pound Wings
395
Half-Pound Wings
235
Cheese Fries
135
Wings & Fries
170

Shareable sides

Cheese Fries
135
Bacon Cheese Fries
160
Burger Fries
200
Garlic Parmesan Fries
160
Wachos
200

Wings

Wings & Rice
140
Wings & Fries
170
Half-Pound Wings
235
One-Pound Wings
395
Wings Platter
700
Wings, Rice & Sides
180

Wagyu burgers

Wagyu Cheeseburger
240
Wagyu Baconcheese Burger
250
Wagyu Mushroom Melt
245
Wagyu Burger Sliders
395

Wagyu rice meals

Wagyu Burger Steak
220
Wagyu Teriyaki
220
Wagyu Pepper Rice
220
Wagyu Salpicao
220

Big combo solo plates

Wings, Rice & Fries Combo
215
Pasta & Wings Combo
250
Wagyu Sliders Combo
350
Stable Solo Combo
395

Sausage

Sausage Breakfast Rice Plate
215
Classic Dawg
160
Cowboy Sausage
175
3 Cheese Sausage
175

Pasta

Mac & 3 Cheese
220
Sausage Alfredo
210
Chicken & Bacon Alfredo
220
Penne Bolognese
210

Stable gift box

Wing Box
720
Wagyu & Wing Box
795
Pasta & Wing Box
750
Wagyu, Wings & Pasta-1
795
Wagyu, Wings & Pasta - 2
895

Milkshakes

Vanilla Milkshake
195
Strawberry Milkshake
195
Chocolate Milkshake
195
Matcha Milkshake
215
Nutella-Oreo Milkshake
215
Nutella Milkshake
215
Salted Caramel Milkshake
215
Oreo Milkshake
215

Beverages

Sola Iced Tea - Lemon
99
Stellinas Old Fashioned Lemonade
99
Coke
70
Sprite
70
Dr Pepper
85
A & W Rootbeer
90
Sola Iced Tea - Peach
99
Sola Iced Tea - Raspberry
99
Bundaberg Ginger
140
Canada Dry
90
Bottled water
30
Coke 1.5liter
120
Sprite 1.5liter
120

Alcoholic Beverages

San Mig Light
99
San Mig Apple
99
San Mig Pale Pilsen
99

Extras & Add Ons

Chipotle Rice
40
Plain Rice
28
Vegetable Sticks
75
About Stable Wagyu & Wings
Stable Wagyu & Wings is an American-themed restaurant that is located in Los Baños Laguna, somewhere in the Southern Tagalog region near Manila. This place serves hamburgers, chicken wings, pasta, and many more. The foods that they serve are really delicious and in fact, the reviews that their restaurant currently receives are always on the positive side also Stable Wagyu & Wings is the 16th top-rated restaurant in their area. They offer dine-in, take-out, and delivery as well.
If you're looking for good chicken wings, garlic parmesan and wagyu burgers Stable Wagyu & Wings is the place to be, plus the lovely atmosphere inside their restaurant made their customers back for more. Stable Wagyu & Wings has been serving comfort food since 2015 and over the years they established a good reputation for the service that they provide to their customers these days they are still trying to improve the quality of their products through constant learning of new techniques and items for the best.
Stable Wagyu & Wings Menu Best Sellers
Here are some samples of Stable Wagyu & Wings' best sellers.
Parmesan Fries – Stable Wagyu & Wings' version of Parmesan fries is a bomb. Well to be honest I'm a big fan of Parmesan cheese and fries so the moment that they serve their Parmesan fries on our table I dig in immediately. The fries and Parmesan are a perfect combination, this is really good not too salty, and really flavorful. Great appetizer before digging in for a heavier meal. Plus the serving size of their Parmesan fries is big enough for sharing.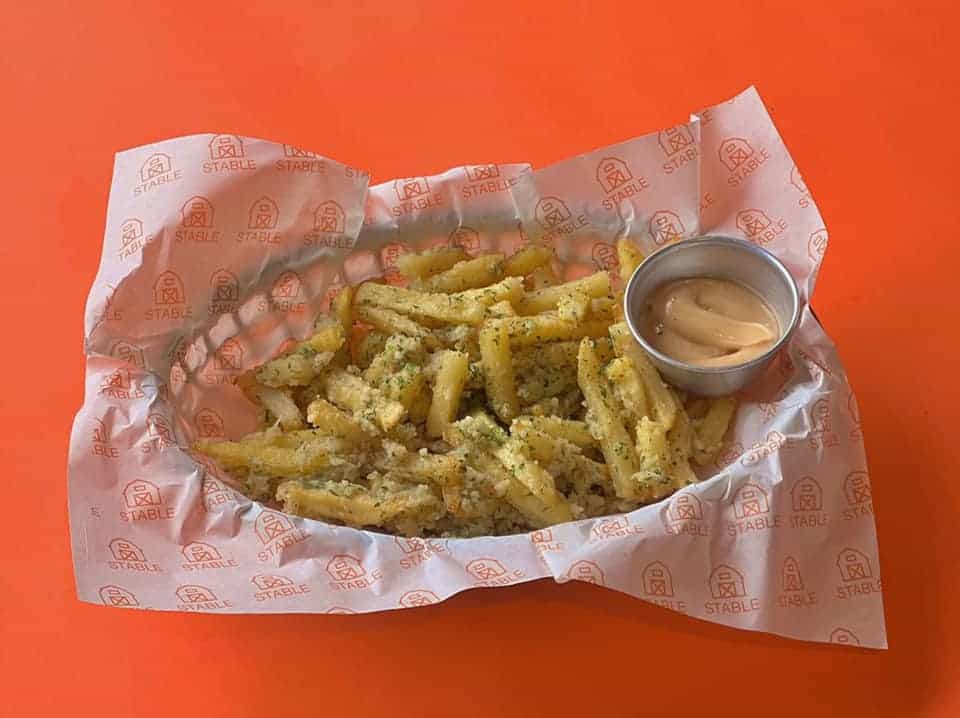 Wagyu Nachos – Another appetizer and their version of wagyu nachos is something that you will remember about their place. Their nachos were topped with ground wagyu meat, they served it warm and very crunchy one of the best things that I tried at their place. You can taste the good beefy flavor on their wagyu nachos the ingredients that they used on this one really give the best flavors to the beef. It also has cheese on it which made their wagyu nachos even more delicious and mouthwatering. The texture is just perfect I really enjoyed this one with their san mig apple. Great for sharing as well. 
Buffalo Wings – The buffalo Wings menu of Stable Wagyu & Wings which we ordered consists of 12 to 14 pieces of buffalo wings with a choice of up to 3 flavors for a more satisfying experience and served with vegetable sticks.  We got the chance to pick garlic Parmesan, spicy, and lemon pepper, and believe me everything is so good. Each flavor has an amazing taste but my favorite is spicy since I love spicy foods.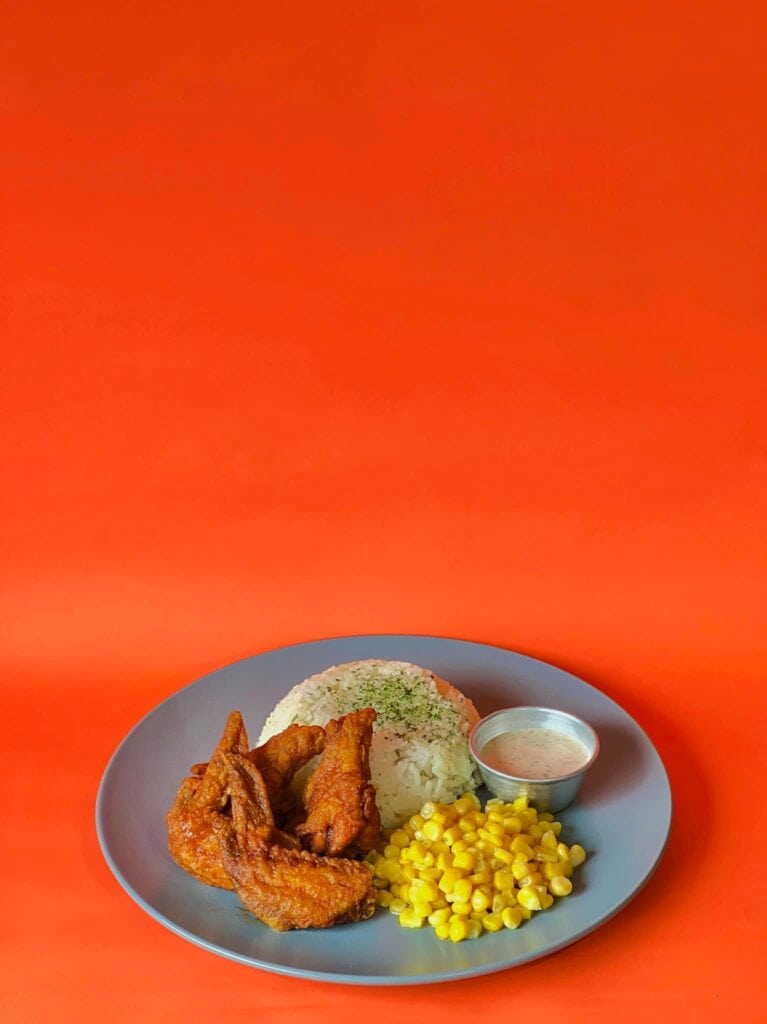 I can still taste the tabasco on the Spicy flavor wings and I love it. There is so much flavor going on with their buffalo wings and to be fair I never have anything this good. They also provide disposable gloves when you order their buffalo wings for you to be able to use your hands and not get too messy. This one is also great with rice so you can just, use your hands, get messy and enjoy your meal. It's best paired with plain rice or Chipotle rice.
Wagyu Burger – I am really excited about this one so I ordered their wagyu burger to try this since I love burgers. The Wagyu burger is called holy cow and I know exactly why they named it like that. Because it's Holy delicious! Their wagyu burger is made with a one-third wagyu patty, some onions, crispy bacon, and other vegetables. This one taste insanely delicious. The burger patty is really juicy and flavorful plus the bacon only adds to the goodness of this burger. Plus the special sauce that they put in this burger really made their Wagyu burger the bomb. Must try.
Nutella Oreo Shake – Stable Wagyu & Wings Nutella Oreo shake menu is loaded the consistency is really thick and they really use Oreo and Nutella for this which is great. Unlike other Nutella Oreo shakes we never felt cheated on their version. This one is a good dessert and so good. Sweet so I highly recommend this for sweet tooths. Though you'll be needing water afterward overall a delicious treat.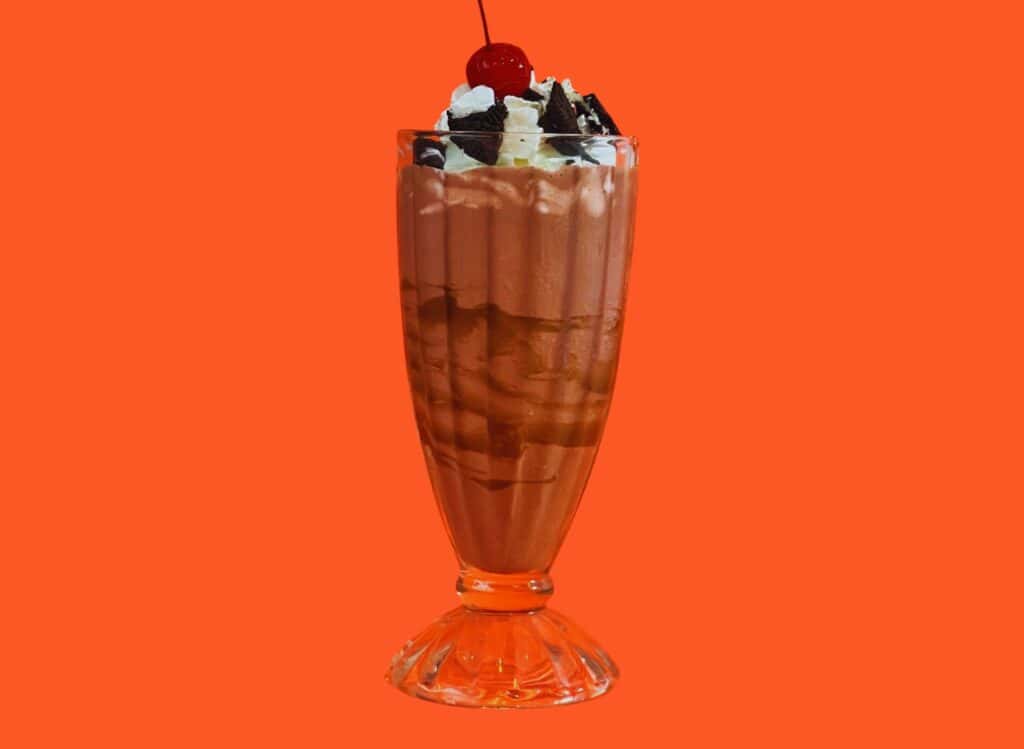 Shareable Sides
On their shareable sides menu, they have 5 items to choose from. Cheese Fries are the first thing on this menu which is actually Shoestring fries with their house-made cheese sauce. They also have Bacon Cheese Fries which is also a Shoestring fries with house-made cheese sauce but with bacon bits. They also have Burger Fries, this one is a Must try. Garlic Parmesan Fries and Wachos are other options on this menu.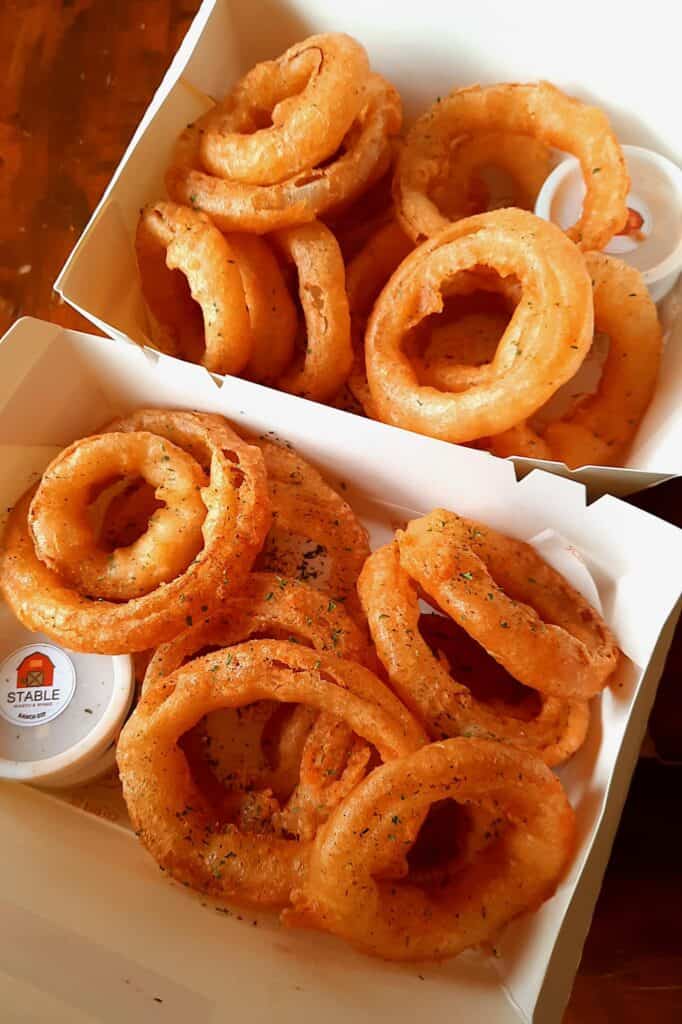 Wagyu Burgers 
The Stable Wagyu & Wings have 4 menu options to choose from. The first one is their Wagyu Cheeseburger, this is actually your classic cheeseburger made of pure 100 grams of Wagyu beef patty with cheese, lettuce, and sliced tomatoes. They also have Wagyu Baconcheese Burger this one is made with Wagyu Cheeseburger but with a lot of bacon. Wagyu Mushroom Melt is also present on this menu. Lastly, they have Wagyu Burger Sliders. These are 3pcs of mini Wagyu cheeseburgers that are great for sharing.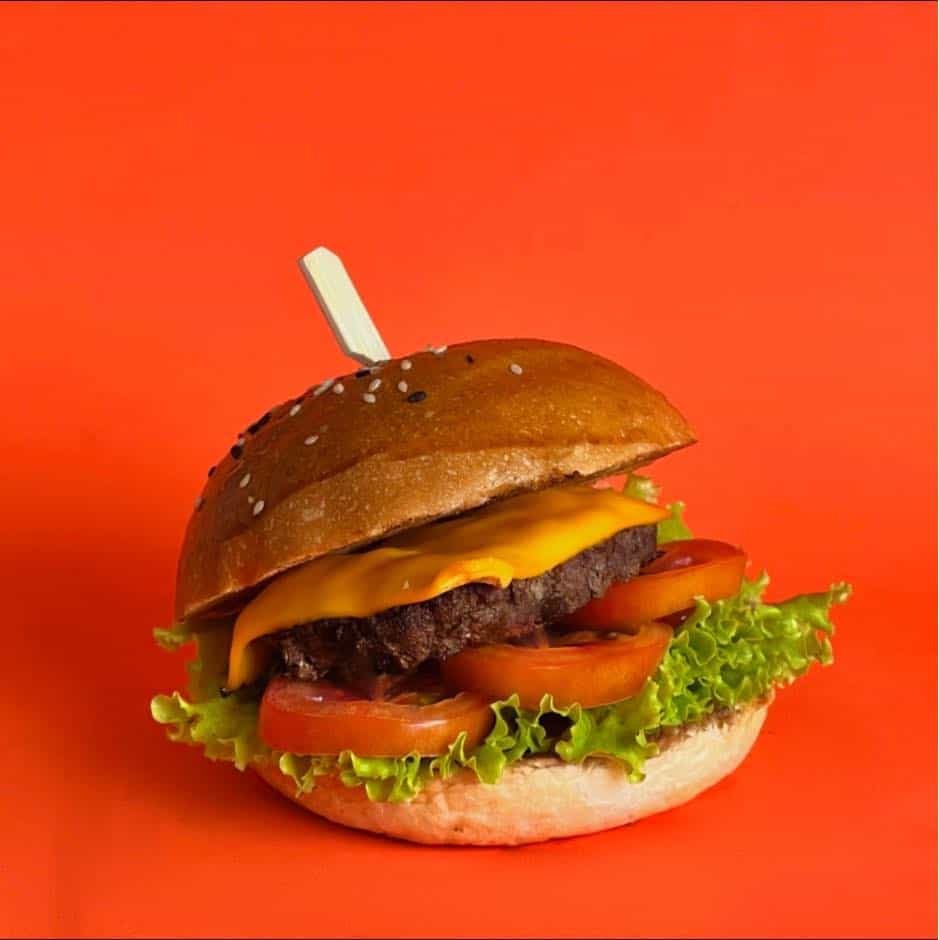 Stable Wagyu & Wings Menu Delivery
Ordering your favorite Stable Wagyu & Wings food items is made easier simply by calling them on their hotline number at 09054227825 from Monday to Sunday from 11 in the morning until 7 in the evening. Aside from that you can also use your favorite food delivery service like Foodpanda or any available platform.
Social Media Pages
Join them through social media channels as they whip up a storm of flavor, offering you an insider's view of their kitchen mastery and a peek into the artistry behind their dishes. Be ready to be enticed, tempted, and ultimately captivated by the irresistible offerings at Stable Wagyu & Wings.
Facebook: https://www.facebook.com/stablewagyuwings
Instagram: https://www.instagram.com/stable.lb
FAQs
Stable Wagyu & Wings. Are they halal-certified?
No. Unfortunately, Stable Wagyu & Wings is not halal certified since they are serving alcoholic beverages and pork items on their menu.
Where is Stable Wagyu & Wings located?
They are located at LB Square Parkway. Los Baños Laguna.
Does Stable Wagyu & Wings offer alcoholic beverages?
Yes. They have San Mig Light, San Mig Apple, and San Miguel Pale pilsen on their menu. 
Conclusion
The food here at Stable Wagyu & Wings is really good! budget-friendly and great for sharing as well since they have a generous amount of servings on their food items. The Stable Wagyu & Wings menu has a lot to offer to satisfy your cravings. Their staff are also nice and helpful. The place has a homey vibe the design of the place is okay as well. Clean and properly maintained restaurant with comfortable seats and space. Highly recommended for everyone who's looking for a great place to go and get their cravings, overall a good experience.