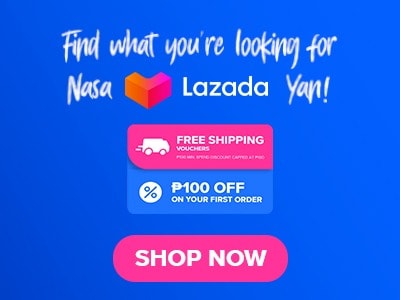 Asian food is mainstream when it comes to delicious food, asian cuisine has all the right flavors that's why Asian cuisine is one of the best cuisine in the world. I have a great recommendation for all of you who are looking for a good place to go when eating out. Nanyang is a place that serves delicious Asian favorites to satisfy your hunger and Asian food cravings. The Nanyang menu has loads of dishes to choose from that's why they are the perfect spot to go, they bring Kopi Tiam experience into the country and that sounds interesting, right? Our topic will be about Nanyang. We must know their best sellers, the foods that they offer, the price and something about them so let's go.
Below, you'll find the updated list of Nanyang menu prices.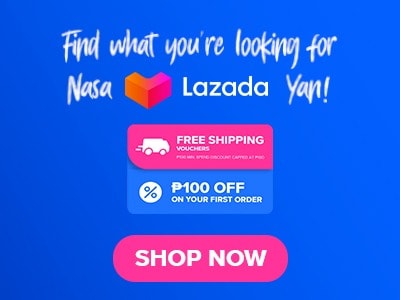 Menu Items
Price (PHP)

Asian Delights

Hainanese Chicken Rice
268
Hainanese Fried Chicken Rice
268
Laksa (Fish Ball Or Prawn)
268
Curry Chicken With Rice/Toast
248
Prawn Noodle Soup
268
Homemade Nasi Lemak
248
Cheesy Chicken Chop Noodle
248
Fish Ball Noodle Soup
198
Fish Ball Noodle (Dry)
198
Hainanese Chicken (Medium)
599
Hainanese Chicken (Large)
1199

Kopi Teh (Hot/Cold)

Kopi
100/110
Kopi O
90/100
Kopi C
100/110
Teh
100/110
Teh 0
90/100
Teh C
100/110
Yuan Yang
100/110

Traditional Toast

Hainanese Kaya With Honey Traditional Toast
70
Nonya Kaya Traditional Toast
70
Butter
50
Butter Sugar
50
Peanut Butter
60

Thick Toast

Hainanese Kaya With Honey Thick Toast
70
Nonya Kaya Thick Toast
70
Butter
50
Butter Sugar
50
Peanut Butter
60

Beverages

Milo (Hot/Cold)
110/120
Lemon Tea (Hot/Cold)
110/120
Honey Lemon (Hot/Cold)
110/120
Horlics (Hot/Cold)
120/130
Homemade Barley
120
Milo Dinosaur
130
Iced Kopi Melaka
120
Iced Teh Melaka
120
Kopi Jelly Milk Tea
130
Sparkling Soda
130
Softdrinks In Can
80
Bottled Water
50

Dessert

Mango Sago Pomelo
120

Spread

Hainanese Kaya With Honey
230
Nonya Kaya
230
Kayamila® Original
230
Kayamila® Sea Salt Caramel
230
Kayamila® Vanilla Pandan
230
Kayamila® Calamansi Citrus
230
About Nanyang
Nanyang is a Singaporean-inspired coffee shop in Manila, they bring kopi tiam experience here in the country for us to try. They proudly offer Singaporean favorites and be amazed by their products like Hainanese Kaya with Honey Thick Toast, kopi teh, and many more. Nanyang is the perfect example of a mixed nostalgic and contemporary experience. Their product kopi teh comes all way back to 60's to 70's. They recreate great choices of breakfast by serving combinations of toasted bread and kopi with a brand new twist. Nanyang wants to serve and satisfy everybody with their products whether customers from old generations to the younger generations these days.
Nanyang is known as the "southern ocean" which refers to the region of southern China part and kopi tiam their product refers to "coffee shop" Nanyang becomes popular all over their customers by serving a variety of simple but delicious foods. Nanyang takes pride in its authentic and delicious Singaporean food items to satisfy every craving you may enjoy their delectable and appetizing dishes and of course their flavorful drinks.
Nanyang Menu Best Seller
We have listed some samples of Nanyang best selling items.
Hainanese Chicken Rice – Nanyang's version of Hainanese chicken rice is a must-try and this is actually their top-selling item on their menu, their Hainanese chicken rice comes with fragrant rice that is flavored with coconut, it also has bok choi and served with soup and assorted sauces. Their hainanese chicken whether you like it steamed or fried is fresh and cooked properly Singaporean style. It is very tasty and savory the flavors of the chicken partnered with some greens and soup plus their delicious dipping sauces made this dish really good. Also, Hainanese chicken rice is a healthier option to enjoy.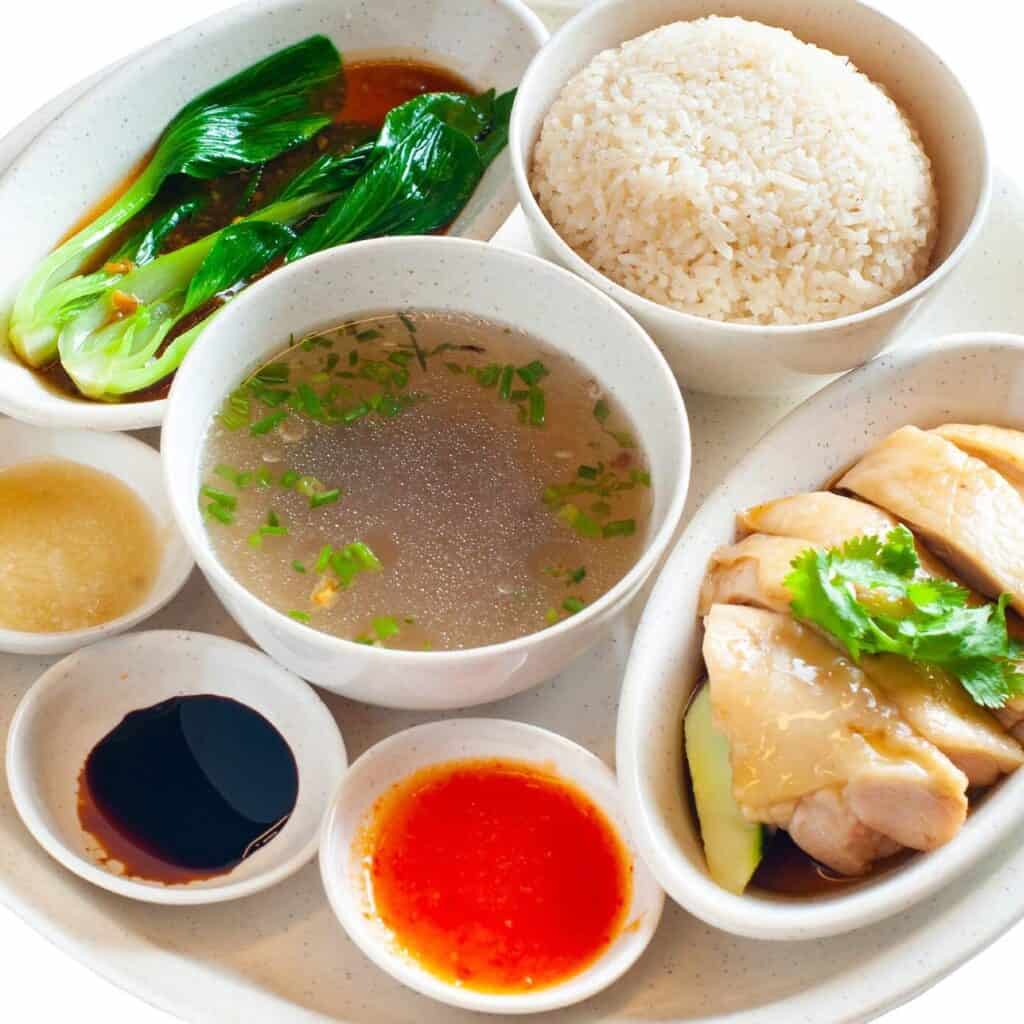 Homemade Nasi Lemak – Homemade Nasi Lemak menu of Nanyang is served and plated with a golden color and crispy chicken chop, the inside is not dry, and that's another point of this dish. It also has sambal sauce which for me is so addictive and also comes with sauteed anchovies with peanuts. sliced cucumber on the side to contrast the strong flavor plus rice and egg and you have a completely healthy and delicious meal. Homemade nasi lemak is also their customer's top choice aside from the Hainanese chicken rice, this one is equally good and also a must-try. 
Laksa (Fish Ball or Prawn) – Nanyang's version of laksa is made with thick noodles then served with rich coconut-flavored broth with spices then served with shrimp or fish balls, some boiled egg, bean sprouts, and tofu. The broth of their laksa is amazingly flavorful and delicious. I enjoyed more the shrimp version since for me it's more flavorful than the other one but overall both versions of Laksa are pretty good. This is Perfect for rainy days.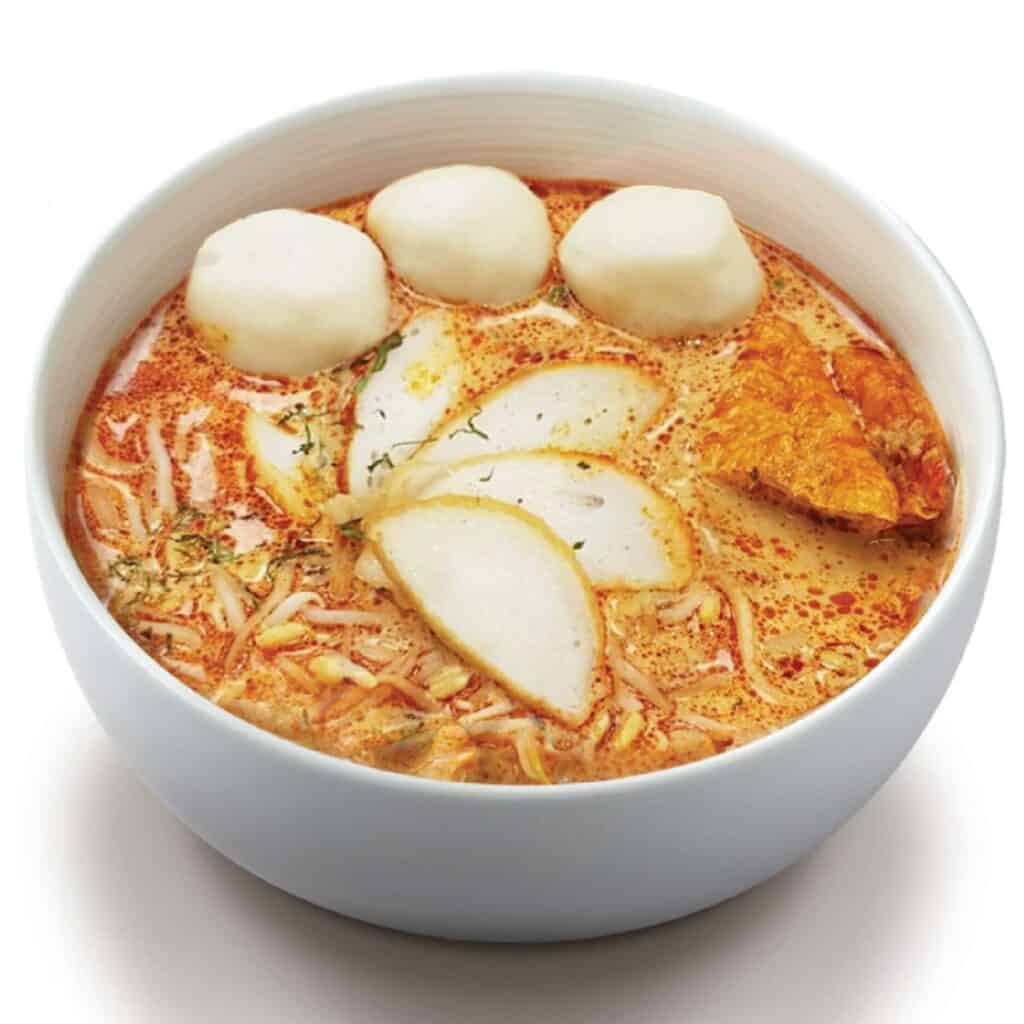 Cheesy Chicken Chop Noodle – Cheesy chicken chop noodle of Nanyang is not just good on presentation but also when it comes to taste this one is fabulous. Serves with dried noodles but saucy at the same time topped with a huge boneless golden fried chicken that is really crispy then drizzled with cheese on top. It also has bok choi on the side. The chicken taste really nice plus it's boneless so it's easier to enjoy, the cheese adds more flavor to this dish and the noodle is very savory and amazing. This is something that you must try if you're planning on going to their place, this is delish!
Nanyang Menu Asian Delights 
The Asian delights menu of Nanyang has 11 different Choices. The Hainanese Chicken Rice is one of the most famous items on this menu along with their Hainanese Fried Chicken Rice. Laksa (Fish Ball or Prawn) is great if you're looking for something soupy it has a very rich broth or you can try their Prawn Noodle Soup. They also have Curry Chicken with Rice/Toast and Homemade Nasi Lemak. For cheese lovers, you can try their Cheesy Chicken Chop Noodle. Fish Ball Noodle Soup and Fish Ball Noodle (Dry) is also a great choice. Aside from those they also have Hainanese Chicken that you can order medium or large.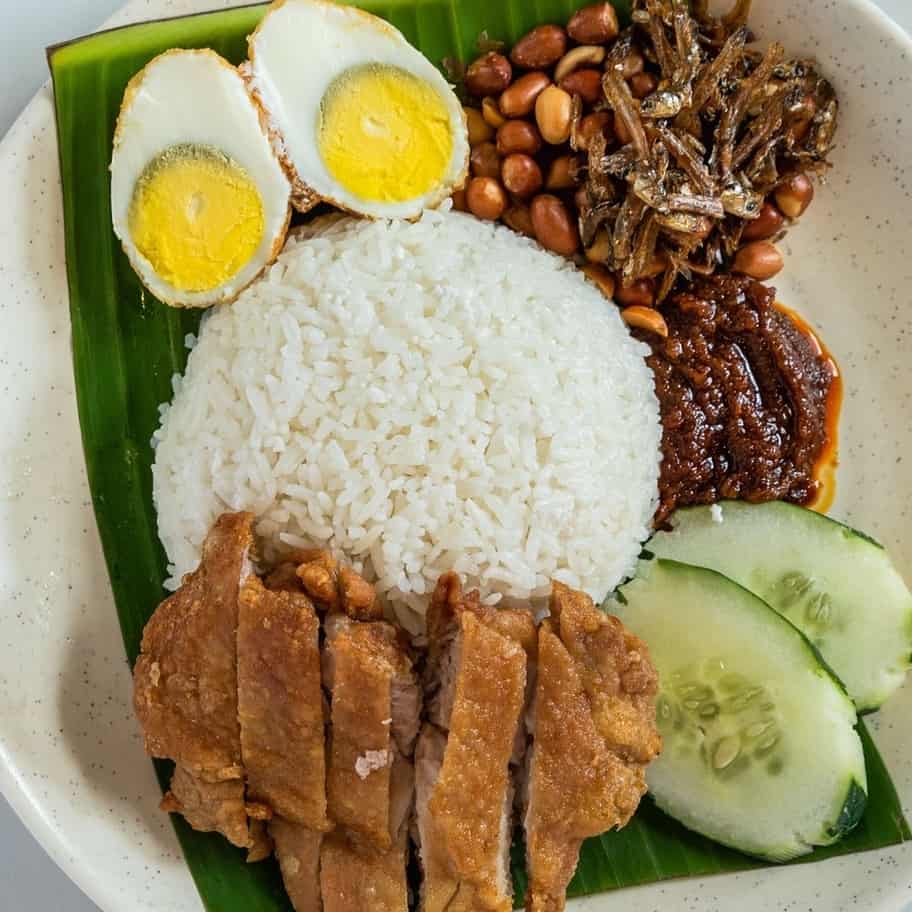 Traditional Toast
The Nanyang menu offers a variety of tasty toast choices. One popular option is the Hainanese Kaya with Honey Traditional toast, which many people love to order with their kopi (coffee). Another delicious choice is the Nonya Kaya Traditional Toast. But that's not all, they also have other options like butter toast, butter sugar toast, and Peanut Butter toast. So, if you're in the mood for some scrumptious toast, the Nanyang has just what you need. Enjoy the delicious flavors of their traditional toast!
Beverages
Nanyang offers delicious beverages that are perfect with their toast. They have Milo, Lemon tea, Honey Lemon, and Horlicks that you can order whether you like it hot or cold. On the cold option, they have Homemade Barley, Milo dinosaur, Iced Kopi Melaka, Iced Teh Melaka, and Kopi jelly milk tea. They also have sparkling soda with lychee or peach flavor. They also offer soft drinks in cans and bottled water.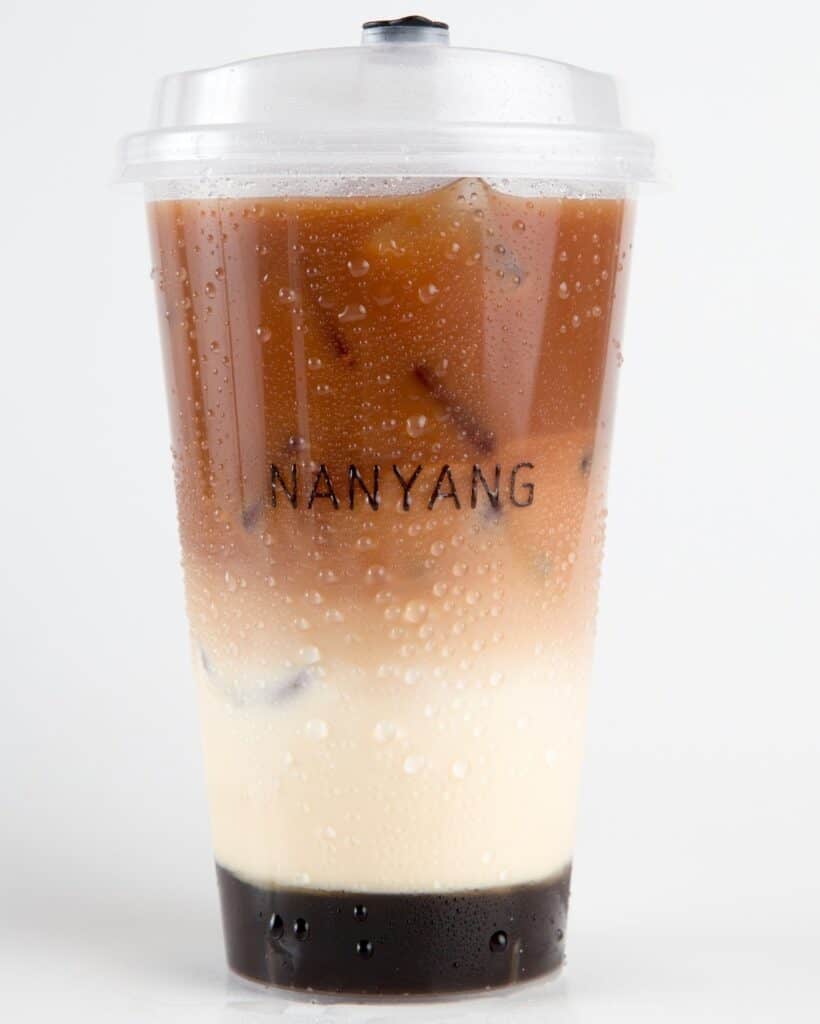 Nanyang Menu Delivery
Ordering your favorite food items from Nanyang is made easier simply by going through their website. Aside from that you can also use other platforms like delivery services that are available in your area. 
Nanyang Social Media Pages
Stay connected and in the know about all their exciting events, workshops, and coffee activities. It's a great way to meet and connect with other coffee lovers just like you. Let's explore the wonderful world of taste, culture, and community together. Join us on social media and become a part of the Nanyang family!
Facebook: https://www.facebook.com/nanyangph/
Instagram: https://www.instagram.com/nanyangph
Email: [email protected]
FAQs
Where is Nanyang located in the Philippines?
Nanyang has branches all over the Metro. They are located in Pasig, Makati, Taguig, Parañaque and Manila.
What types of cuisine does Nanyang specialize in?
Nanyang offers Singaporean cuisine. They specialize in coffee called Nanyang coffee.
What are the signature dishes of Nanyang?
Signature dishes of Nanyang are their Hainanese chicken rice, aside from that they also have laksa and nasi lemak.
Does Nanyang provide delivery services?
Yes, actually they have an online website where you can order their products easier and hassle-free.
Conclusion
Nanyang is a great place especially if you're looking for something Asian, Singaporean to be exact. This place has a variety of choices that you will surely love. The Nanyang menu is loaded with delicious dishes. This place also has great customer service since their service personnel are nice and respectful, and very fast serving I may add. The place is great, the atmosphere inside is customer friendly and the place itself is comfortable. Best place to go if you're looking for something healthier than the norm.