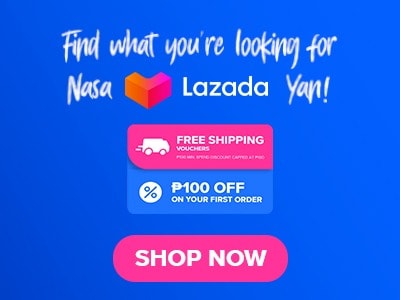 Tired of eating the same burger items from your regular burger chains? Well, this may be the time to have a taste of unique and delicious handmade burgers from Brothers Burger. Brothers Burger's menu is all about serving delicious and handcrafted burgers made with high-quality ingredients, with a wide variety of options to choose from, ranging from classic beef burgers to veggie burgers. Their menu also includes a selection of sides, beverages, and desserts to complement your burger choice.
Below, you'll find the updated list of Brothers Burger menu prices.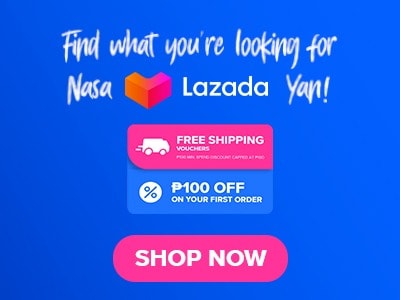 Menu Items
Price (PHP)

Veggie Burgers And Lettuce Wraps

Brothers Veggie Burger
316
Double Brothers Veggie Burger
518
Ranchero Veggie Burger
374
Blues Brothers Veggie Burger
374
Onion Mushroom Melt Veggie Burger
374

Veggie Burger And Lettuce Wrap Duo Meals

Double Brothers Veggie Burger Duo Meal
407
Ranchero Veggie Burger Duo Meal
605
Blues Brothers Veggie Burger Duo Meal
440
Onion Mushroom Melt Veggie Burger Duo Meal
440

Brothers Franks

Brothers Franks
203
Brothers Chili Franks
236
Brothers Franks Duo Meal
330

Duo Meals

Smash Brothers Duo Meal
385
Super Smash Brothers Duo Meal
518
Brothers Burger Duo Meal
357
Double Brothers Burger Duo Meal
483
Ranchero Burger Duo Meal
437
Blues Brothers Burger Duo Meal
403
Extreme Bacon Burger Duo Meal
403
Cheesesteak Duo Meal
357
Chori Burger Duo Meal
357
Crispy Fish Sandwich Duo Meal
357
Grilled Chicken Sandwich Duo Meal
339
Zumo Chicken Sandwich Duo Meal
426
Buffalo Chicken Sandwich Duo Meal
431
Fried Chicken Sandwich Duo Meal
368

Gourmet Burgers

Smash Brothers
276
Super Smash Brothers
385
Brothers Burger
270
Double Brothers Burger
391
Boss Burger
518
Blues Brothers Burger
288
Extreme Bacon Burger
311
Ranchero Burger
316

Gourmet Sandwiches

Cheesesteak
270
Grilled Chicken
270
Buffalo Chicken
305
Zumo Chicken Sandwich
305
Fried Chicken Sandwich
270

Hotdogs

Snapdog
184
Chilidog
230

Sides

Fish & Chips
399
OH Truffle Fries
190
French Fries
132
BBQ Flavored Fries
144
Cheese Flavored Fries
144
Sour Flavored Fries
144
Chili Fries
270

Quesadillas

Cheese Quesadilla
184
Chicken Quesadilla
288
Steak Quesadilla
288

Chicken Wings

BBQ Jalapeno Wings
316
Buffalo Wings
316
Garlic Parmesan Wings
316
Sriracha Honey Wings
316
Korean BBQ Wings
316
Salt & Pepper Wings
288

Desserts

Salted Caramel Churros
132
Dark Choco Churros
132

Beverages

Coke Zero
86
Mineral Water
58
Coke
86
Sarsi
86
Royal
86

Brothers Deli

Chorizo Patties
633
Premium Beef Tapa (500g)
460
Brothers Franks
604
Classic Patties
978
About Brothers Burger
Brothers Burger is a popular burger chain in the Philippines known for its delicious and high-quality burgers. Brothers Burger offers a variety of mouthwatering burgers made from fresh ingredients that are then cooked to perfection. This restaurant takes pride in serving handcrafted burgers with a wide range of options to suit different tastes and preferences. Brothers Burger has an inviting ambiance and provides a friendly service which made them the go-to spot for burger lovers looking for a satisfying, delicious, and convenient meal.
Brothers Burger Menu Best Seller
This menu is filled with the most popular and best-selling items from both Brothers Burger's physical and online stores.
Brothers Chili Franks – This dish offers a tasty twist on the classic hot dog, with the franks grilled to perfection and topped with a flavorful chili sauce that adds an enjoyable kick to it. The combination of the juicy franks and the rich, savory chili sauce makes for a satisfying and comforting meal.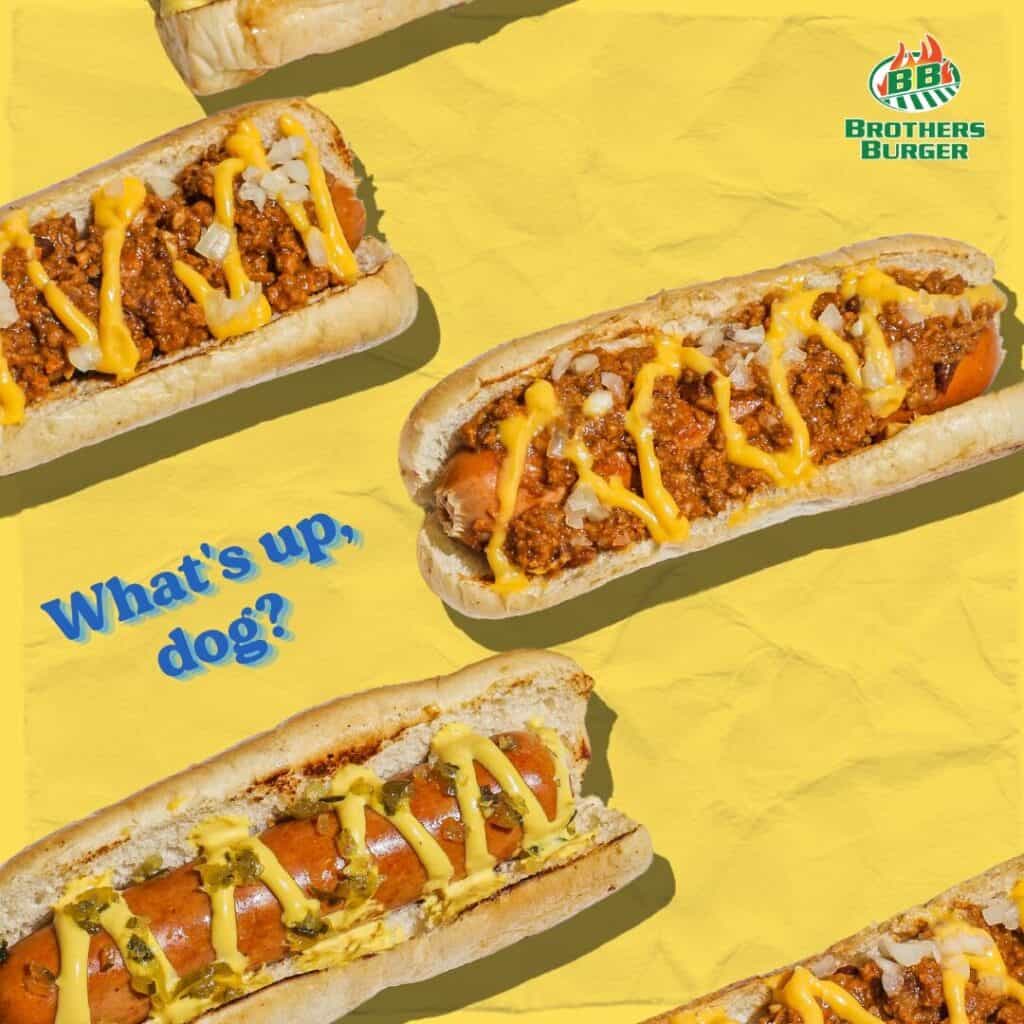 Cheesesteak – The Cheesesteak menu of Brothers Burger is a mouthwatering treat for many cheese and meat lovers with thinly sliced tender beef cooked to perfection and piled onto a soft, toasted roll. The sandwich is then generously smothered with melted cheese, creating a flavorful combination that is sure to satisfy the customers' cravings.
Grilled Chicken – This dish offers a delicious and healthier choice for those that are looking for a lighter option at Brothers Burger. The chicken is marinated to infuse it with flavor, then grilled to perfection, resulting in a tender and juicy dish that is both flavorful and nutritious.
Buffalo Wings – These tender and juicy chicken wings are coated in a tangy and spicy Buffalo sauce, offering a flavorful kick that will leave you wanting more. It is then served with a different variety of sauces that you can choose from to give you a satisfying and enjoyable dining experience.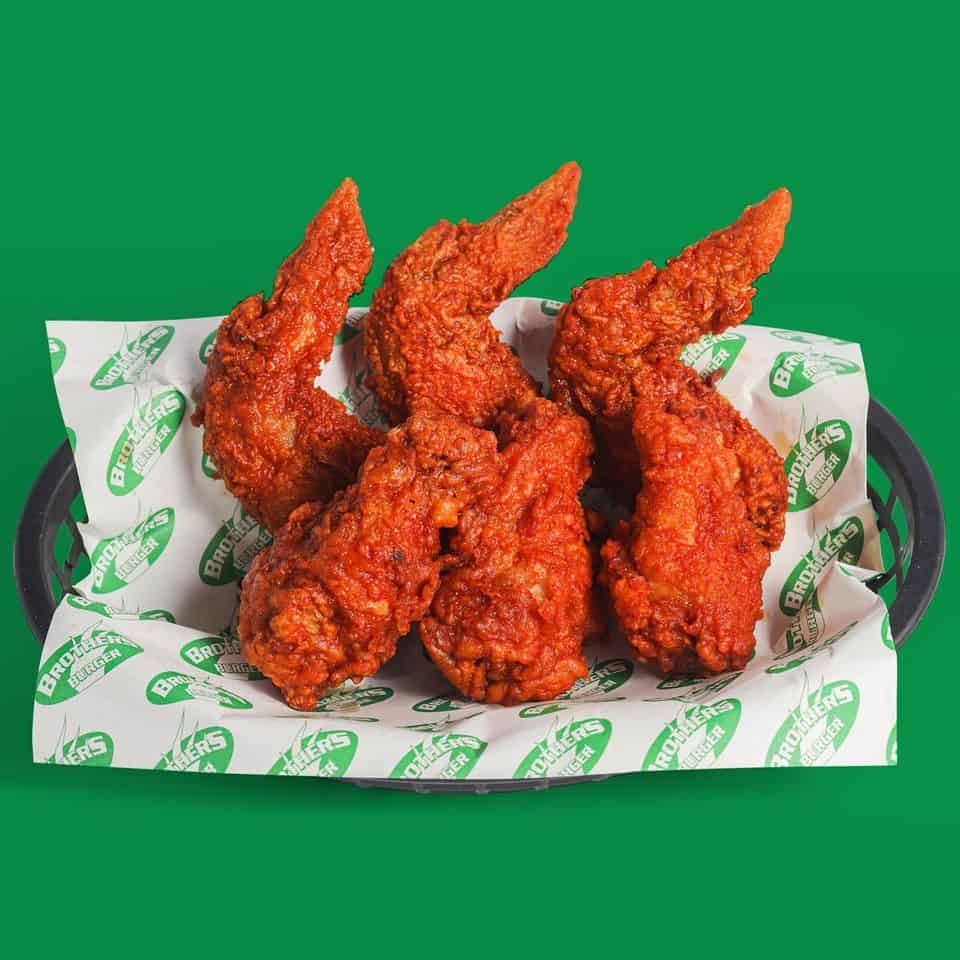 Korean BBQ Wings – These Korean BBQ wings are an excellent choice for those who enjoy sweet and savory flavors with chicken wings that are marinated in a special Korean barbecue sauce that infuses them with a rich and delicious taste.
Gourmet Burgers
This menu is made up of a wide variety of burger items that are considered to be Brothers Burger's signature items.
Brothers Burger – The signature Brothers Burger is a true delight for burger many burger lovers that visit. It is made with a juicy and perfectly seasoned beef patty, and topped with fresh lettuce, tomatoes, onions, and a special sauce. This classic burger is a satisfying and flavorful option with a soft and toasted bun that complements the ingredients, creating a well-balanced and tasty burger experience.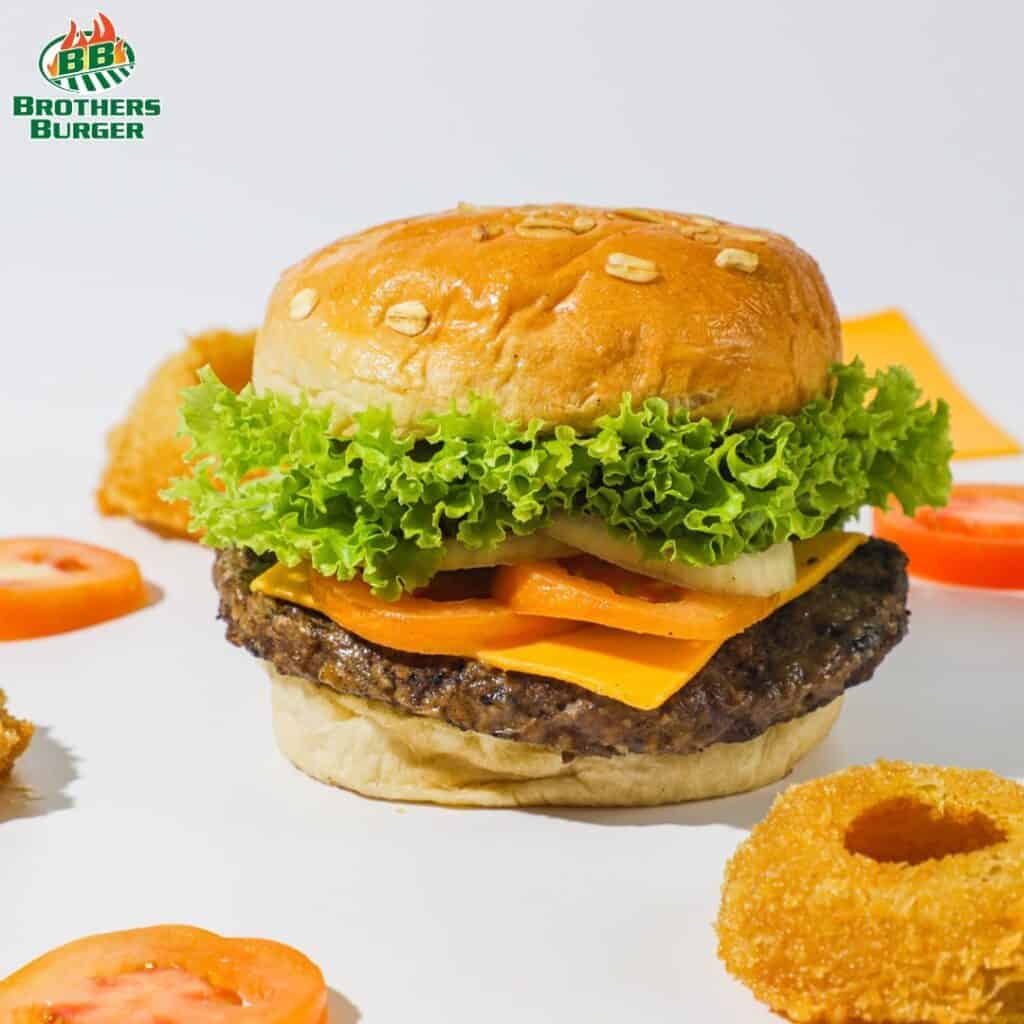 Extreme Bacon Burger – Extreme Bacon Burger is a must-try for those who are craving a burger that is sure to satisfy. This burger is loaded with crispy bacon strips, adding smoky and savory flavors to the already delicious beef patty. The combination of juicy beef, crunchy bacon, and fresh vegetables creates a mouthwatering experience that will leave you wanting more.
Ranchero Burger – This burger features a perfectly grilled beef patty topped with zesty and tangy ranch dressing, adding a unique twist to the traditional burger. The fresh lettuce, tomatoes, and onions enhance the overall taste, making it a refreshing and satisfying option. As a burger lover, I really like this menu of Brothers Burger and I recommend that you also try this one.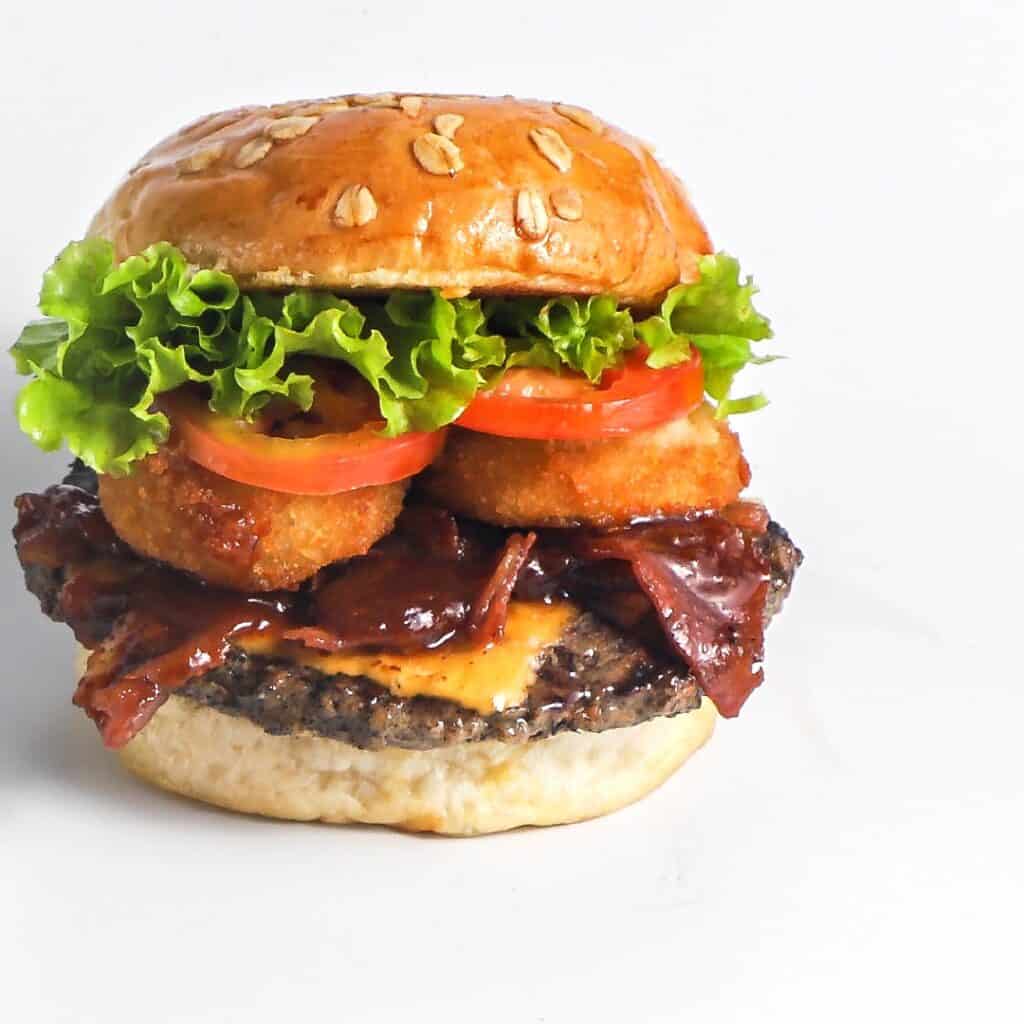 Duo Meals
This menu is filled with a variety of meal items that are good for two persons, each of which can provide them with a satisfying and filling meal.
Extreme Bacon Burger Duo Meal – This burger menu includes the mouthwatering Extreme Bacon Burger, which features a juicy beef patty topped with crispy bacon strips, fresh lettuce, tomatoes, onions, and a special sauce. It is then paired with perfectly seasoned fries and a refreshing drink which makes it a hearty and complete meal.
Cheesesteak Duo Meal – This meal includes the Cheesesteak Sandwich, made with tender and thinly sliced beef, grilled onions, and melted cheese, all served on a soft roll. It is accompanied by a side of seasoned fries and a refreshing drink making it a savory and satisfying option for a quick meal.
Crispy Fish Sandwich Duo Meal – This Brothers Burger menu features a crispy and flavorful fish fillet topped with fresh lettuce and tartar sauce, served on a soft bun. It is combined with a side of perfectly seasoned fries and a refreshing drink to give customers a tasty and filling seafood experience.
Brothers Deli
This is where you'll find a bunch of delicious hotdog sandwiches menu with all sorts of yummy flavors and spices. You can pick between regular franks or chili franks – it's like choosing your favorite taste to make your tummy really happy. And guess what? They've got more mouthwatering options, too, like chorizo patties, classic patties, and even premium beef tapa. So, get ready to enjoy a totally satisfying meal that's full of flavor and fun!
Veggie Burgers and Lettuce Wraps
The Veggie Burgers and Lettuce Wraps menu of Brothers Burger consists of an enticing medley of options that cater to different tastes and dietary preferences. In this menu, you'll find a diverse selection of veggie burgers crafted with thoughtfully chosen ingredients to deliver satisfying flavors. If you're inclined towards a classic choice, the original veggie burger offers a timeless and hearty experience. For those who crave a touch of spice, the spicy southwest veggie burger brings a zesty kick. The mushroom lover in you might be drawn to the savory goodness of the portobello mushroom veggie burger. And if you're looking for a double dose of deliciousness, the double veggie burger is sure to please. Additionally, lettuce wraps provide a fresh and crisp alternative, with options like the teriyaki tofu lettuce wrap and the garden greens lettuce wrap, each delivering a burst of taste and healthiness.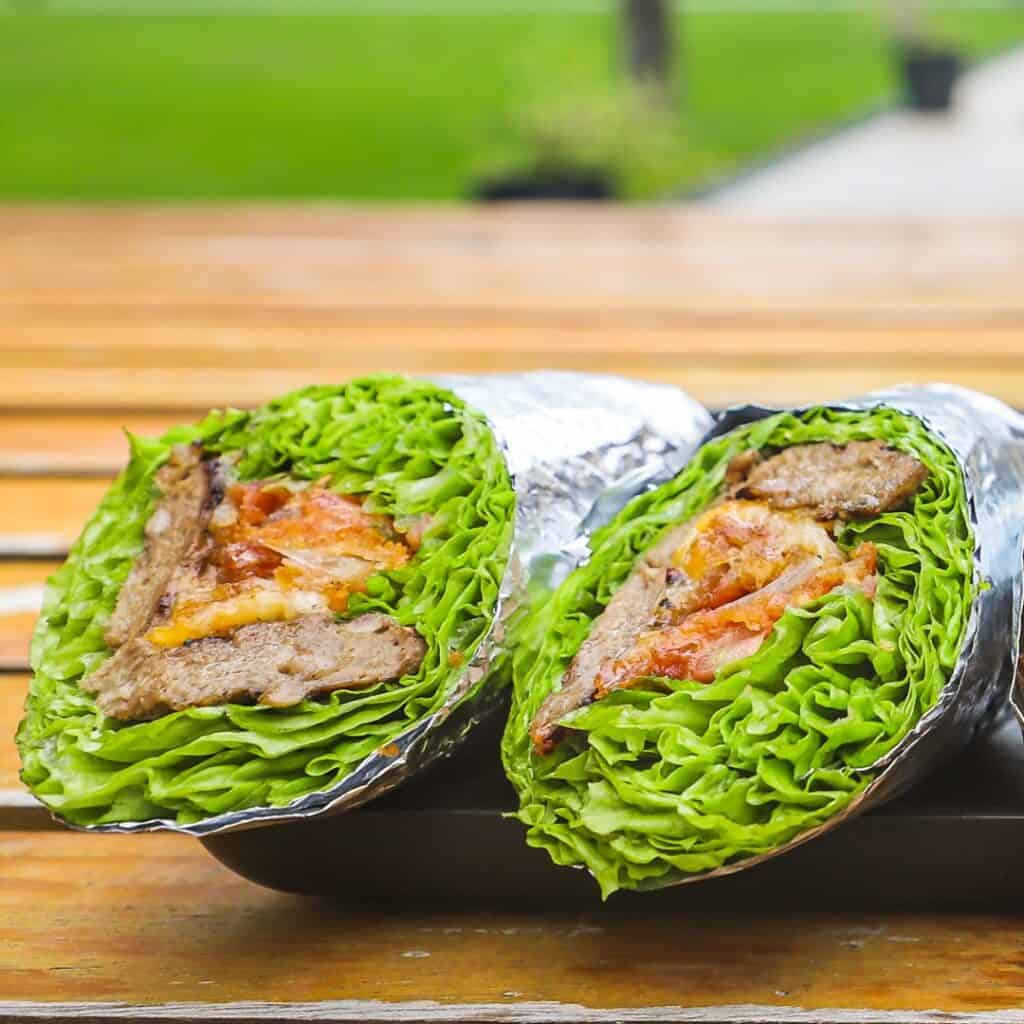 Brothers Burger Menu Delivery
Brothers Burger menu delivery is a great option for those who cannot go outside and order from their stores personally. It is a convenient option where customers can order from the comfort of their homes through delivery services like FoodPanda or GrabFood.
Social Media Pages
Get ready to feast your eyes and tantalize your cravings by following their social media pages. Stay tuned for sizzlin' promotions, secret sauce reveals, and exclusive giveaways that'll make you flip! Follow, like, and indulge in their burger universe—it's a mouthwatering journey that you won't want to miss!
Facebook: https://www.facebook.com/OfficialBrothersBurger/
Instagram: https://www.instagram.com/brothersburger
Twitter: https://twitter.com/brothersburger
Website: https://www.brothersburger.com.ph/pages/contact-us
YouTube: https://www.youtube.com/@brothersburger
FAQs
Where can I find Brothers Burger outlets?
Most Brothers Burger outlets can be found all around Metro Manila, but they also have outlets in places like Cebu.
What types of burgers does Brothers Burger offer?
Brothers Burger offers a variety of burgers on their menu such as Chori Burger Duo Meal, Extreme Bacon Burger, and Ranchero Burger.
Can I customize my burger at Brothers Burger?
Customers at Brothers Burger have the freedom to customize their burgers.
Does Brothers Burger offer combo meals or value deals?
Yes, Brothers Burger offers combo meals and value deals for those that are on a tight budget.
Can I order Brothers Burger for a large group or party?
Brothers Burger make sure that they can cater to customers who place order for large gatherings.
Conclusion
Brothers Burger is a popular burger joint in the Philippines known for its handcrafted and delicious burgers that are made with high-quality ingredients. The restaurant strives to provide their customers with a satisfying experience for all burger lovers with a diverse menu that caters to various preferences which range from beef to chicken and vegetarian options. Brothers Burger at present is still considered to be a go-to spot for those who are looking for delicious and well-made burgers.