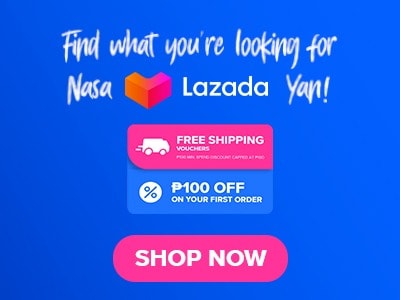 Looking for a tasty and exciting dining experience? Check out iVegan Restaurant! They specialize in delicious vegan menu like starters, salads, soups, wraps, pizza, sandwiches, burgers, pasta, and dessert. You can also enjoy all-day breakfast and vegan drinks like fresh juices, smoothies, coffees, hot chocolate, and spiced golden milk. The way they present the food is creative and the flavors are amazing, making the whole experience delightful.
Below, you'll find the updated list of iVegan Restaurant menu prices.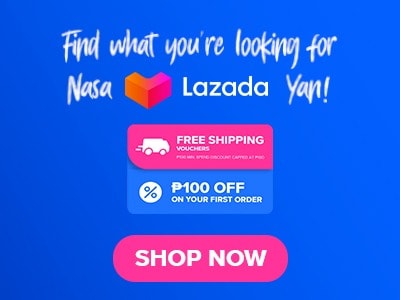 Menu Items
Price (PHP)

All Day Breakfast

Adobo & Egg
440
Breakfast Steak & Scrambled Egg
480
Fruit Bowl
290
Tapa
470

Starters

Crudites
350
Gyoza
290
Hummus & Pita
290
Mango Maki
280
Quesadilla
290
Quinoa Sushi
260
Scallop
280
Summer Spring Roll
240

Salads

Asian Quinoa Salad
330
Beetroot Salad
420
Caesar Salad
250
Mixed Green & Fruit Salad
320
Warm Kale Salad
390

Soup

Shiitake
130

Vegan Wraps

Beetroot Chorizo Burrito
450
Breakfast Burrito
410
Shimeji & Vegatable
360

Vegan Bowls

Bibimbap
420
Falafel Bowl
450
Kare-Kare
350
Stir Fried Mushroom Rice Bowl
290
Wholesome Sisig
450

Classics

Banh Mi
460
Black Bean Burger
360
Falafel Subwich
420
Hawaiian Bacon Pizza
450
Mediterranean Burger
390
Portobello Steak
490
Pulled Shrooms Sandwich
320
Tempeh Bahn Mi
460
Vegan Pesto Pizza
450
Vegan Primavera Pizza
450

Pasta

Fusili Pesto
450
Herb Tomato
450
Lemon Butter Pasta
320
Pumpkin Alfredo
460

Ala Carte

Kare-Kare
490
Mushroom Tempeh Sisig
590
Roasted Mixed Nuts
240
Roasted Sweet Potato
210
Sizzling Tofu
390
Stir Fried Mushroom & Vegetable
420

Extras

Black Rice
75
Brown
75
Gluten Free Bread
30
Quinoa Sushi
130
Tofu Scrambled Egg
100

Dessert

Apple Mango Pudding
220
Blueberry Spirulina
220
Mango Goji Berry
230
Pitaya Acai Bowl
220

Fresh Juice

Buko Juice
120
Golden Juice
370
Green Detox Juice
370
Red Energy Booster
390

Smoothies

Banana Oats
320
Immune Booster
360
Pinacolada
310
Tropical Green
350
Very Berry
390

Non-Coffee

Hot Chocolate
195
Matcha Latte
230
Spiced Golden Milk
210

Coffee

Americano
120
Cappuccino
195
Double Espresso
120
Iced Americano
150
Iced Latte
200
Iced Mocha
200
Latte
195
Mochaccino
195
Single Espresso
100

Teas

Twinninga
80
TWG
190

Bottled Beers

Becks
190
Budweiser
150
Corana Extra
250
Hoegaarden
220
Hoegarden Rosee
230
Murphy's Stout
260
Paulaner (Alcohol-Free)
280
Paulaner Hafe-Weisbier
270
Paulaner Muncher- hell
270
San Miguel Light
120
San Miguel Pale Pilsen
120
Sapporo
190
Tsingtao Draft
150
Tsingtao Lager
150

Others

Evian Mineral Water
130

Half Bottles

Angus the Bull (Cab Sauv)
880
Rustenberg (John x Merriman)
1380
Spy Valley (Sauv Blanc)
990
Spy Valley Pinot Noir
1250

Red Wine

Alkoomi (Shiraz)
1350
Andeluna 1660 (Malbec)
1630
Angove Hopes End
1150
Angove Hopes End (Brandy Barrel Aged Cab. Sauv)
1150
Chain of Ponds Pilot Block (Shiraz)
1250
Deakin (Shiraz)
980
Foppiano Lot 96 Petite (Syrah)
2380
Heart land
1390
Kanonkop (Kadette Cape Blend)
1580
Montes Alpha Special Cuvee (Cab Sauv)
3670
Montes Folly (Syrah)
9500
Montes Limited Selection
1880
Santa Luz (Merlot)
850
Tavernello Organiv (Sngiovese Rubicone)
1050
Three hens Red (Tempranillo)
650
Vina Lanzar (Dry Red)
590
Wente Vineyards Sandstone (Merlot)
2150
Woodstock (Cab Sauv)
1850
Yalumba Y Series Vlogner (Shiraz)
1290

White Wine

Gancia (Pinot Brut)
1390
Golden Roots (Pink Moscato)
860
Kanu (Chenin Blanc)
1290
L Guntrum Royal Blue (Reisling)
1480
Mount Brown (Reisling)
1560
Saint Clair Vicar's Choice (Sauv Blanc)
1750
Santa Luz (Chardonnay)
850
Spy Valley (Pinot Grls)
1680
Tavernello Organic (Trebbiano Chardonnay Rubicone)
980
Trinity Hill (Chardonnay)
1660
Vivo (Sauv Blanc)
750

Rosee

Mulderbosch (Cabernet Rose)
990
Skuttlevutt
1560
About iVegan Restaurant
iVegan Restaurant aims to promote better life by offering quality and nutritious cuisines as well as good and caring service. It ensures that each dish it offers is made with natural, fresh, and healthy ingredients to inspire customers to live a better lifestyle. The core values of this restaurant are care, fairness, teamwork, integrity, and a growth mindset to ensure that its patrons will have a great experience.
iVegan Restaurant Menu Best Seller
The best sellers of this restaurant, such as Pitaya Acai, Fusili Pesto, Black Bean Burger, Gyoza, and Adobo & Egg, are known and loved for their tasty and distinctive taste and the health benefit they provide.
Pitaya Acai – A refined sugar-free dessert comprising cacao nibs, roasted almond nuts, mango, acai berry, red dragon fruit, mint leaves, and chia seeds that are artistically arranged. The mango, acai berry, and red dragon fruits impart a pleasing juiciness and freshness, while the chia, cacao, and almond add an appetizing crunch.
Fusili Pesto – The homemade pesto sauce cooked with wheat fusilli gives herby, rich, and salty flavors. Cherry tomatoes, zucchini, and vegan parmesan are the other ingredients added to this pasta that make it flavorful.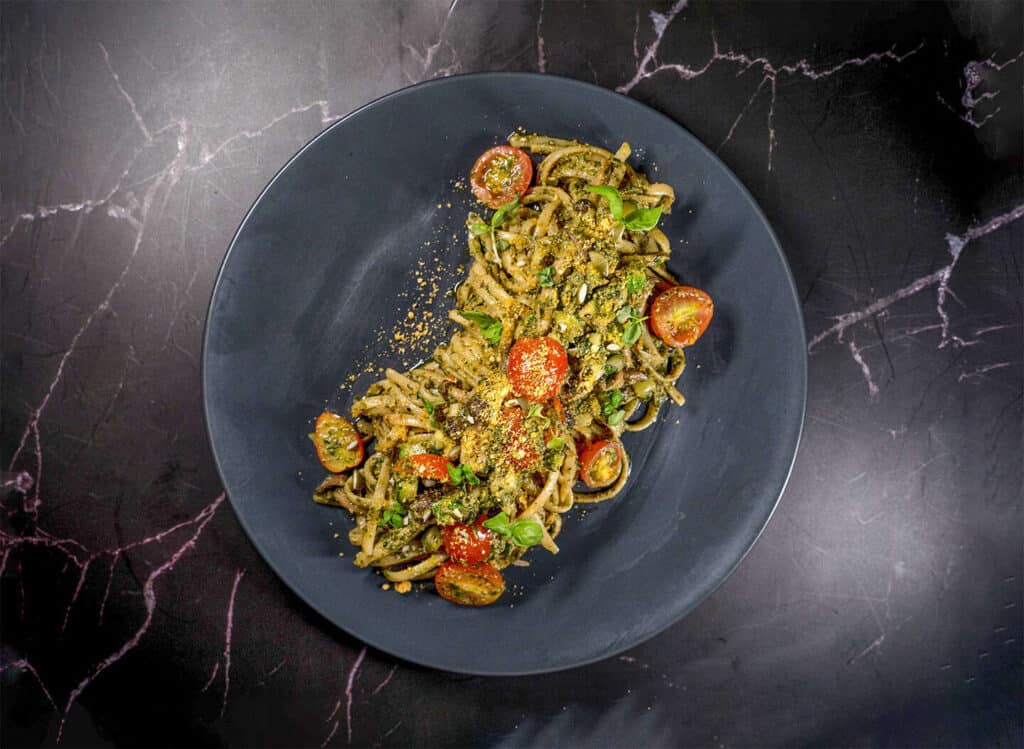 Black Bean Burger – Black bean patty is the special ingredient of this vegan burger, loved for its tenderness, delicious taste, and the essential nutrients it contains. This burger is also stuffed with Baguio tomato, iceberg lettuce, and caramelized onions. The regular serving of this burger comes with fresh salad and roasted sweet potatoes.
Gyoza – Filled with tofu, cabbage, cilantro, and shiitake mushroom, this appetizer will increase your appetite as it is packed with delicious flavors. It is decorated with greens to make it more enticing and paired with the restaurant's special homemade dipping sauce that enhances its flavor.
Adobo & Egg – It comes with tofu scrambled egg, garlic fried rice, mixed vegetable salsa, adobo flakes, and homemade adobo sauce. Quinoa, black, and brown are the rice selections offered by iVegan in this adobo and egg meal.
iVegan Restaurant Starters Menu
The iVegan Restaurant offers delicious starters like Gyoza, Crudites, Mango Maki, Hummus & Pita, Quesadilla, Scallop, Summer Spring Roll, and Quinoa Sushi. These starters are well-crafted to ensure that they will boost your appetite, so you will have an enjoyable meal.
Mango Maki – Taste the goodness of this mango maki, where ripe mango, red bell pepper, and cucumber are stuffed in Japanese rice. The black and white sesame seeds and the mango teriyaki sauce sprinkled and drizzled on its top make it aesthetically pleasing.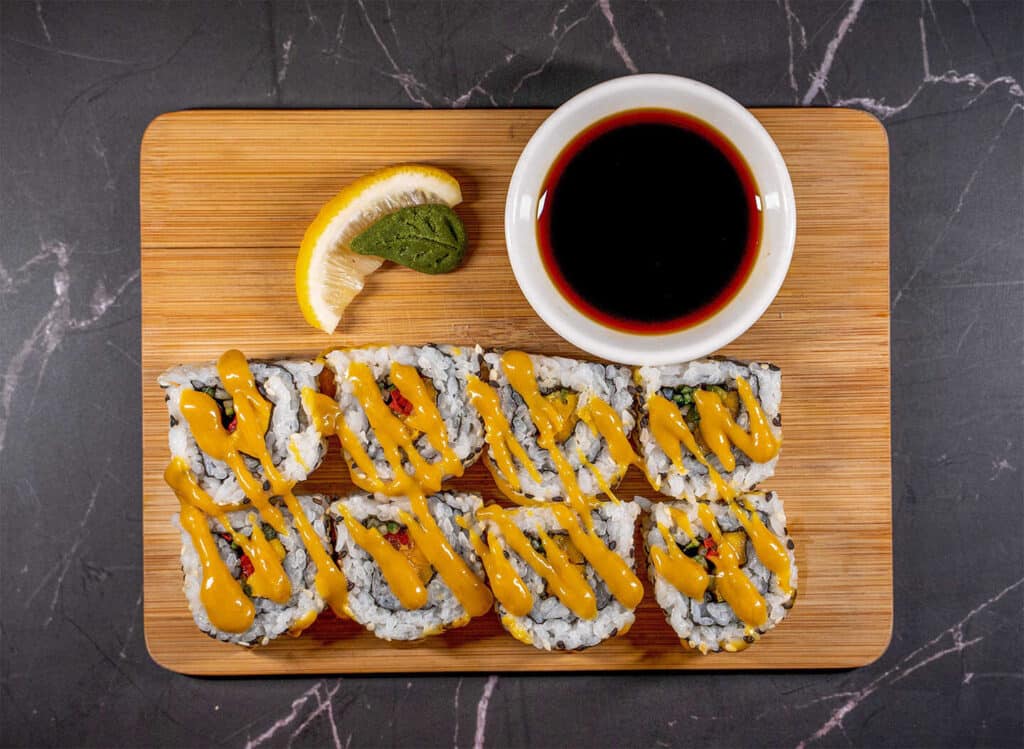 Quesadilla – Quesadilla is a classic Mexican dish with plant-based ground beef, corn, black bean, jalapeno, and homemade nacho cheese. The crispiness of the tortilla complements well with its delicious fillings and special salsa served with it.
Summer Spring Roll – Feel the radiance of summer with this refreshing and flavorsome spring roll consisting of cucumber, red bell pepper, carrot, fresh herbs, and Vietnamese sauce.
Salads
Salad is a wholesome dish and one of the go-to meals of health-conscious and vegan customers. The salad varieties of iVegan Restaurant are Caesar, Warm Kale, Mixed Green & Fruit, Beetroot, and Asian Quinoa.
Mixed Green and Fruit Salad – Enjoy this healthy, refreshing, and fruity salad menu of iVegan Restaurant that is made with various greens and fruits, such as cucumber, carrot, apple, grapes, oranges, and balsamic vinaigrette.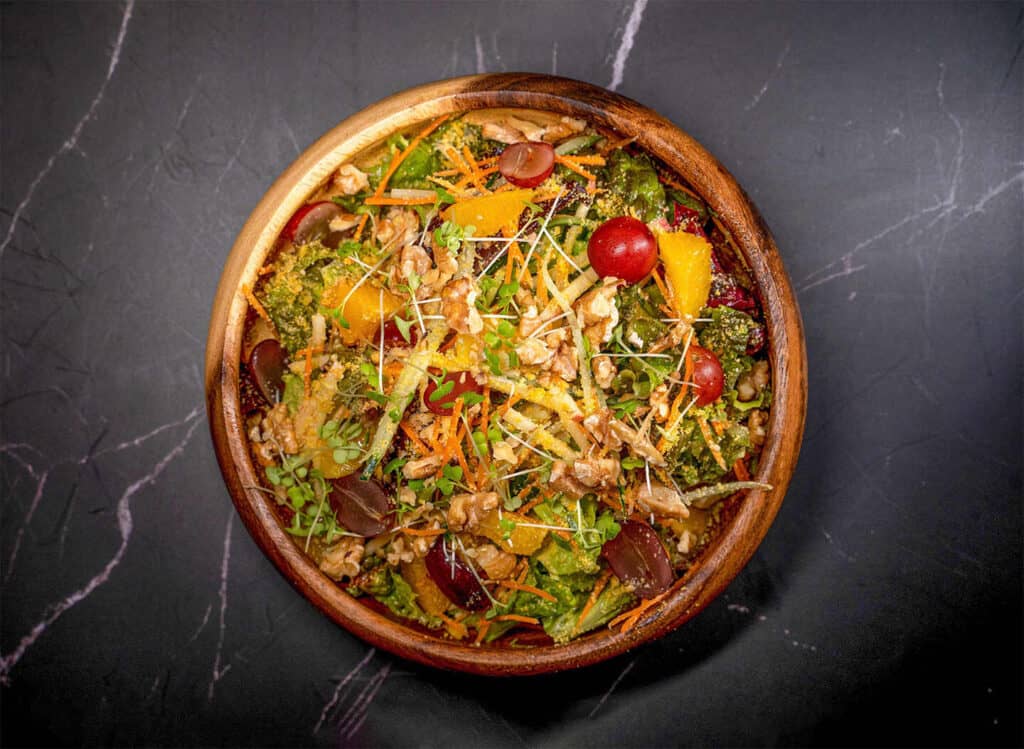 Asian Quinoa Salad – Asian Quinoa is a vegan and gluten-free salad comprising cherry tomato, carrot, cucumber, purple and green cabbage, and black beans. The great-tasting Japanese vinaigrette dressed on this salad enriches its flavor.
Warm Kale Salad – Kale is this salad's main ingredient, known for its essential nutrients, such as antioxidants, fiber, and vitamins. The other healthy foods mixed with it are fuji apple, roasted almond, stir-fried mushroom, vegan parmesan, and lemon vinaigrette.
Vegan Wraps
The Vegan Wraps of this restaurant are filling, convenient, and can be enjoyed at any time of the day. Each bite of these menus is pleasing to the senses as the ingredients are artistically layered and full of flavors. 
Breakfast Burrito – A healthy burrito where the tortilla is stuffed with tofu, scrambled egg, spinach, button mushrooms, grilled tomato, and vegan parmesan. The eggless hollandaise sauce served with it adds a layer of exciting flavor and texture.
Beetroot Chorizo Burrito – Filled with red beet chorizo mix, purple & green cabbage, tomato salsa, black beans, brown rice, and cilantro, this burrito is a nutritious and delicious wrap that will give you a satisfying meal.
Shimeji & Vegetable – It is a flavorful vegan and refined sugar-free wrap which includes red and green bell pepper, sweet corn, iceberg, and tomato salsa. The two kinds of special sauces are served with it, making it more appealing.
All Day Breakfast
The All-Day Breakfast menu of iVegan consists of filling and flavorsome cuisines packed with delicious flavors and nutrients. It serves Breakfast Steak & Scrambled Eggs, where kimchi fried rice is topped with organic portabella mushroom, tofu, scrambled egg, and sesame seeds. For fruit lovers, it provides a refreshing dish that consists of seasonal fruits and mint. 
It also offers traditional Filipino breakfast dishes with a vegan twist, such as Tapa Adobo & Egg. You can choose your desired rice and spice level in these meals to satisfy your cravings. These meals will energize you and power up your day, as they are nutritious and pleasing to the senses.
Vegan Bowls
iVegan Restaurant serves a Vegan Bowls menu loved for their delicious taste and surprising goodness. It offers a Stir-Fried Mushroom Rice Bowl and a Falafel Bowl consisting of fresh fruits and vegetables. This restaurant serves Filipino cuisines, such as Kare-Kare and Wholesome Sisig. It also offers Bibimbap, perfect for those who love healthy Korean cuisine.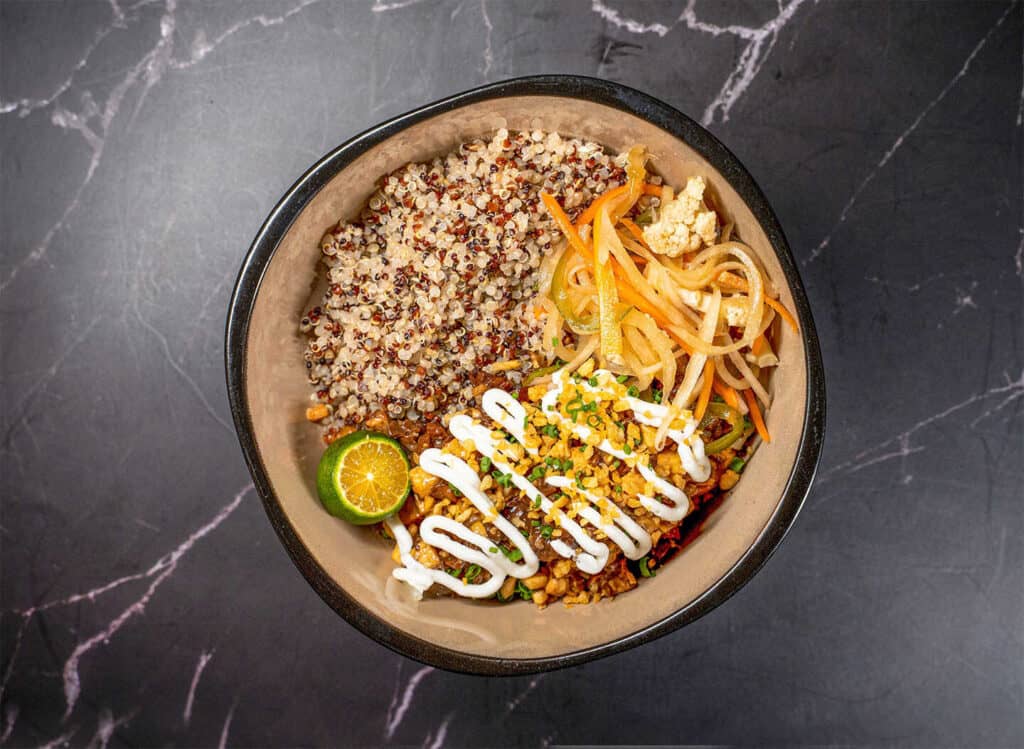 iVegan Restaurant Menu Delivery
Place your desired dishes at your fingertips through Foodpanda or by simply navigating to the official iVegan Restaurant website at https://www.iveganrestaurant.com. This seamless approach allows you to relish in the flavors of your preferred vegan and nutritious meals, all from the comfort of your home. With just a few clicks, you can ensure that the delectable offerings from iVegan Restaurant are on their way to your doorstep, ready to nourish your body.
Social Media Pages
Follow iVegan Restaurant and dive into a world where flavors bloom, creativity thrives, and community flourishes. Get ready to ignite your passion for plant-based eating and become part of a movement that celebrates health, sustainability, and exquisite taste.
Facebook: https://www.facebook.com/iVeganrestaurantinc/
Instagram: https://www.instagram.com/iveganrestaurant/
FAQs
Where is iVegan Restaurant Philippines located?
iVegan Restaurant Philippines is located at 112 Legaspi St., Makati 1229, Metro Manila, Philippines.
Are all iVegan Restaurant products 100% vegan?
Yes, all products of iVegan Restaurant are 100% vegan, except for alcoholic beverages.
Can I order iVegan Restaurant products online?
Yes, you can order vegan products through its official website and partnered delivery platform.
Are iVegan Restaurant products suitable for vegans and non-vegans alike?
Yes, the products of iVegan Restaurantare suitable for vegans and non-vegans.
Conclusion
The iVegan Restaurant menu consists of wholesome dishes, perfect for vegans, the Muslim community, and those following a healthy diet or lifestyle. One of the amenities that customers like is that it offers a free wifi connection so you can still communicate with your loved ones or colleagues while dining. The yummy and nutritious foods it serves and its amazing service is highly praised by its customers, making them look forward to their next visit.