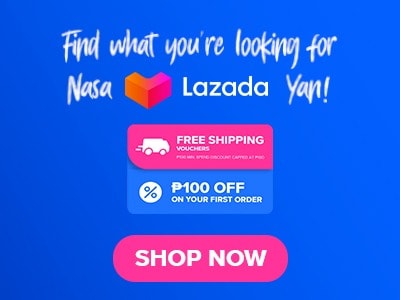 Let us create memories filled with pure indulgence and flavor as we explore the heart of FRNK Milk Bar. Their menu features playful fusion where classic meets innovation giving you a fun and adventurous experience while immersing yourself in the world of milk drinks. Come on and add this to the next list of your hopping adventure with your friends because I guarantee that this recommended restaurant will never disappoint. Here is their menu collection that you don't want to miss.
Below, you'll find the updated list of FRNK Milk Bar menu prices.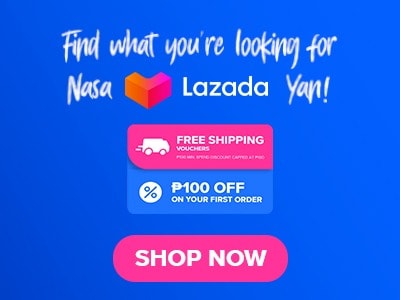 Menu Items
Price (PHP)

Signature Craft Milk - Milky

Frozen Cereal Miruku
150
Cinnamon Miruku
110
Blue Lava Miruku
85

Signature Craft Milk - Tropical

Baked Purple Chizu
115
Mango Chizu
120

Signature Craft Milk - Hot

Kokoa Spiced Popsicle
140
Houjicha Chizu
110

Signature Craft Milk - Kyoto

Maccha Kukki
115
Houjicha Chizu
110
Maccha Lava Chizu
115
Houjicha Lava Chizu
115

Signature Craft Milk - Berry

Mochi Beri Chizu
115
Midnight Ichigo
100
Ichigo
115
Pinku Kokoa Chizu
110

Customize Your Drink- Berry

Almond Milk
15
Brown Rice Milk
15
Blue Tea Pearls
10
Blue Tea Mochi
10
Basil Drops
10
About FRNK Milk Bar
Dive into the dreamy collection of FRNK Milk Bar that offers you the finest indulgence of drinks from their Signature Craft Milk which is categorized into Milky, Tropical, Hot, Kyoto, and Berry, and their innovative way of letting you customize your drinks in your own liking and preference. There is so much to love at FRNK Milk Bar and they have so much to offer to make your day extra delightful.
FRNK Milk Bar Menu Best Seller
Let us indulge in the all-stars at FRNK Milk Bar that provide you the delightful bliss of heavenly fusion featuring their menu best sellers.
Cinnamon Miruku – a dynamic fusion that features black tea on an iced shaken cinnamon with a touch of dark sugar and basil drop and of course the fresh milk that adds a different symphony of flavor to the drink.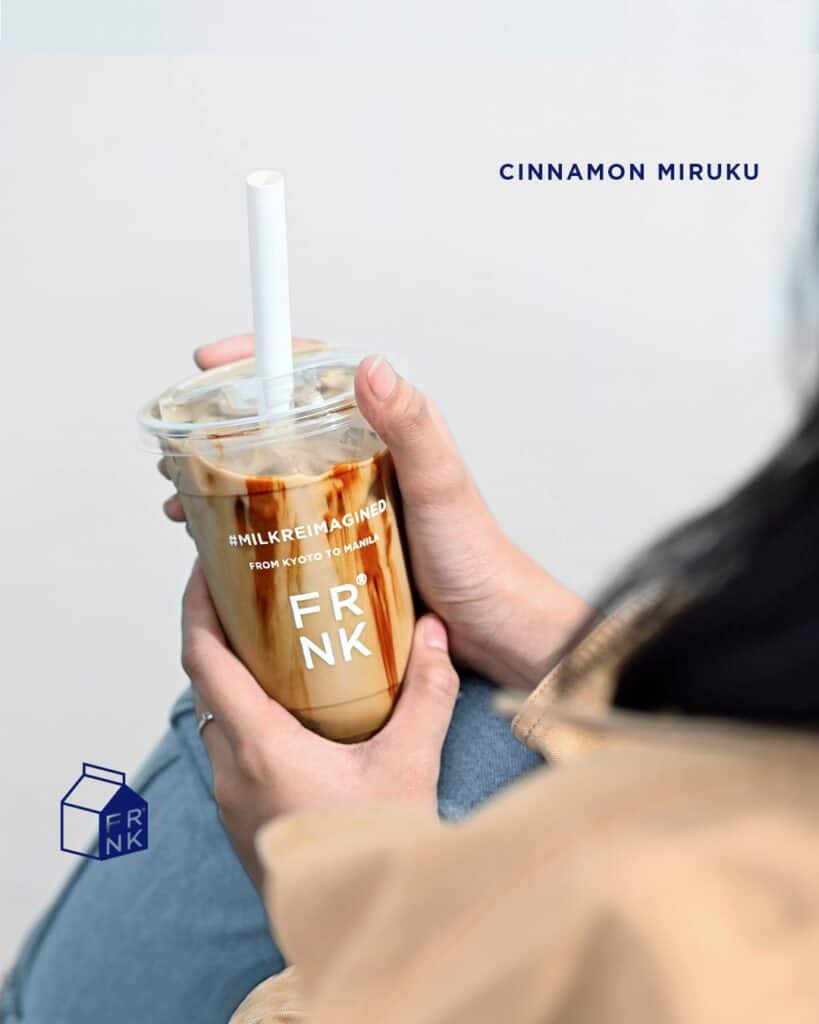 Maccha Lava Chizu – An intricate process of hand-whisked ingredients that features the Uji Kyoto Macca with Dark Sugar and Cheese Cap will meet you in this refreshing drink. It has Blue tea pearls as well as Blue tea mochi with fresh milk as the final touch.
Blue Lava Miruku– This Iced shaken Blue tea-based drink is another way to freshen up your head with the dark sugar and basil drops on this drink that also includes blue tea pearl and fresh milk.
Houjicha Lava Chizu – A perfectly hand-whisked drink menu of FRNK Milk Bar that features Uji Kyoto Green Tea on a fusion of Cheese Cap with a touch of Dark Sugar and Blue Tea pearls with Blue Tea mochi and fresh milk.
Pinku Kokoa Chizu – For strawberry lovers! This drink is an iced shaken drink that offers you the delicious flavor of strawberry jam with kokoa, and cheese cap. It is also infused with blue tea mochi and fresh milk.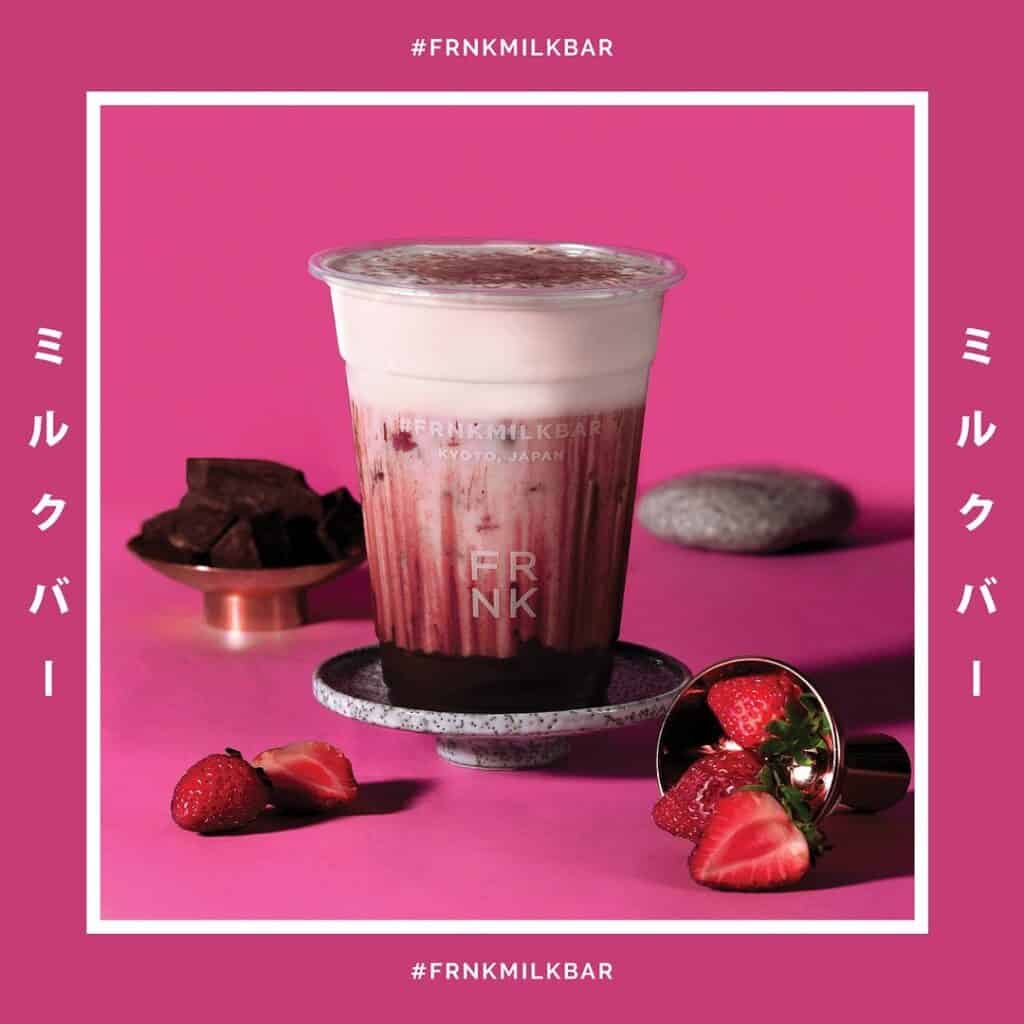 Other Menu
Make some way for this other menu collection that offers the finest refreshments you need for your day.
Frozen Cereal Miruku – One of the first things that will greet you in their menu collection that offers you the goodness of Homemade corn cereal and cornflake cookies with secret milk slush. It is found in their Signature Craft Milk – Milky collection.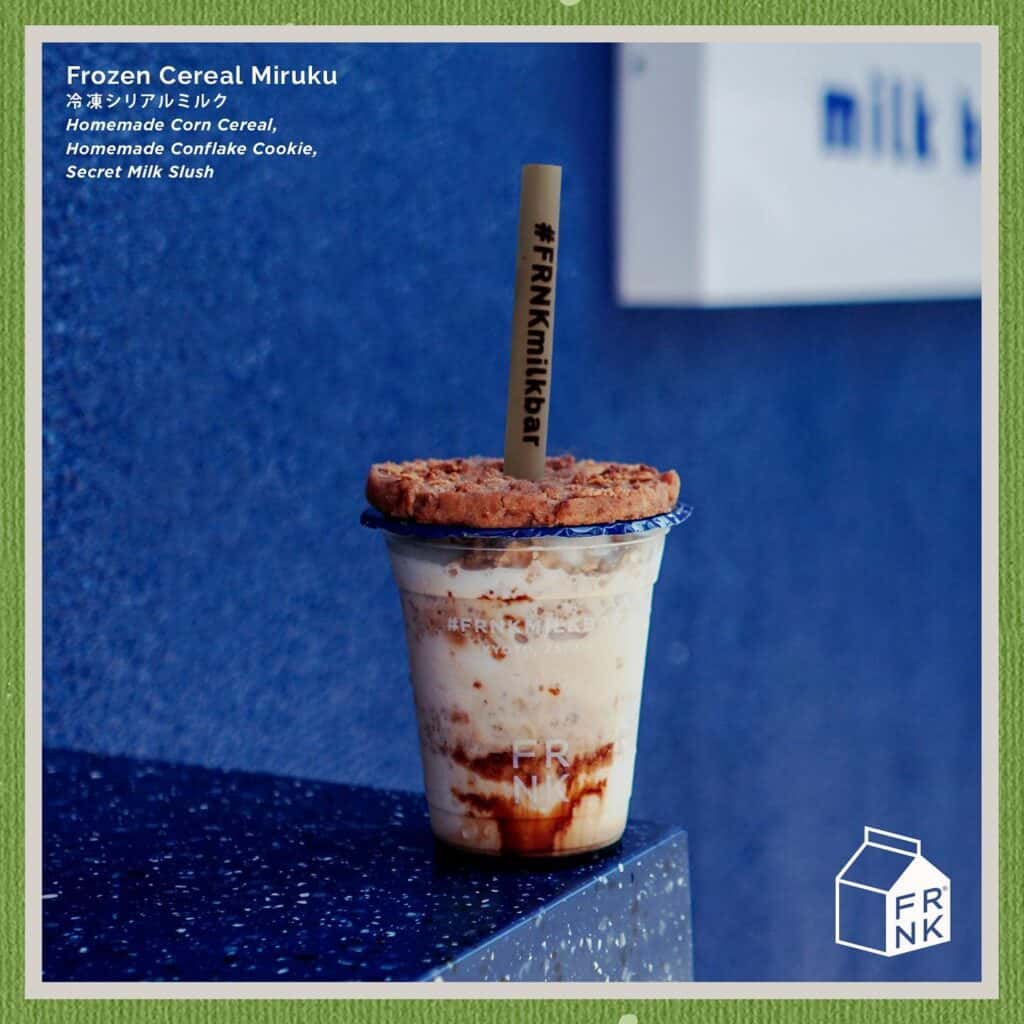 Mango Chizu – This signature drink is found in their tropical collection and highlights the flavorful goodness of fresh mangoes that is ultimately enhanced with a cheese cap and coconut milk added to this drink.
Kokoa Spiced Popsicle – Another adventurous heart will be satisfied with this drink that features cinnamon black on a combination of dark Kokoa popsicle sticks with fresh milk that elevates the dish to a higher level.
Houjicha Chizu – Yet another reason to love FRNK Milk Bar with this hand-whisked roasted drink straight from our menu, offering you the taste of Uji Kyoto. It is infused with a cheese cap and fresh milk that creates a harmonious blend of flavors while giving you a sip of pure indulgence.
Midnight Ichigo – This drink is found in their berry collection and features a hand-whisked roasted drink of Uji Kyoto green tea with strawberry jam and fresh milk added to the drink.
Baked Purple Chizu – another indulging drink that offers you the flavor of homemade purple yam and a purple yam jam with blue tea pearl and coconut milk served in this drink.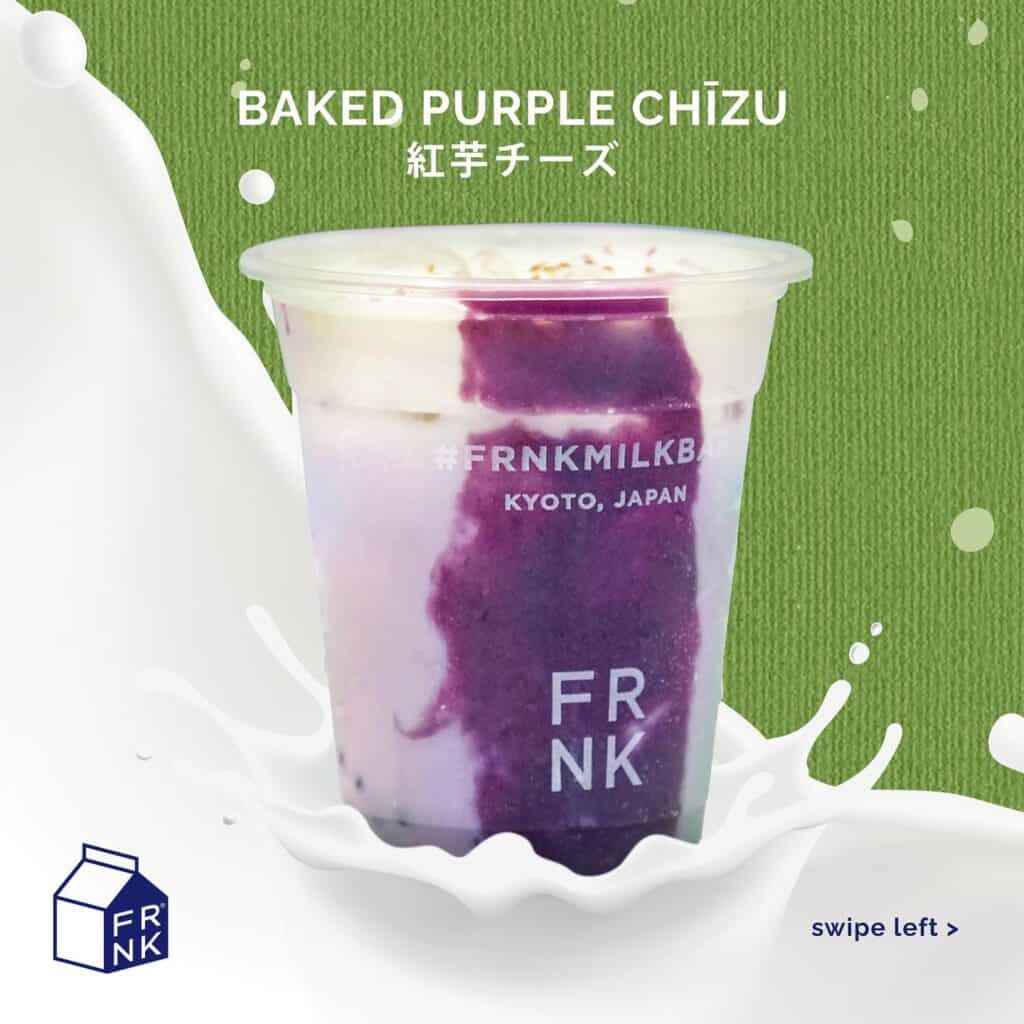 Customize Your Drink
Another way to enjoy your experience here at FRNK Bar is to satisfy yourself with the option to customize your drink based on your liking. In this section, they offer Dairy Milk, Plant-Based Milk, sinkers, Fruit Honey, and Ice Level that comes with various servings and choices to create a satisfying heavenly bliss of sip with your customized drink.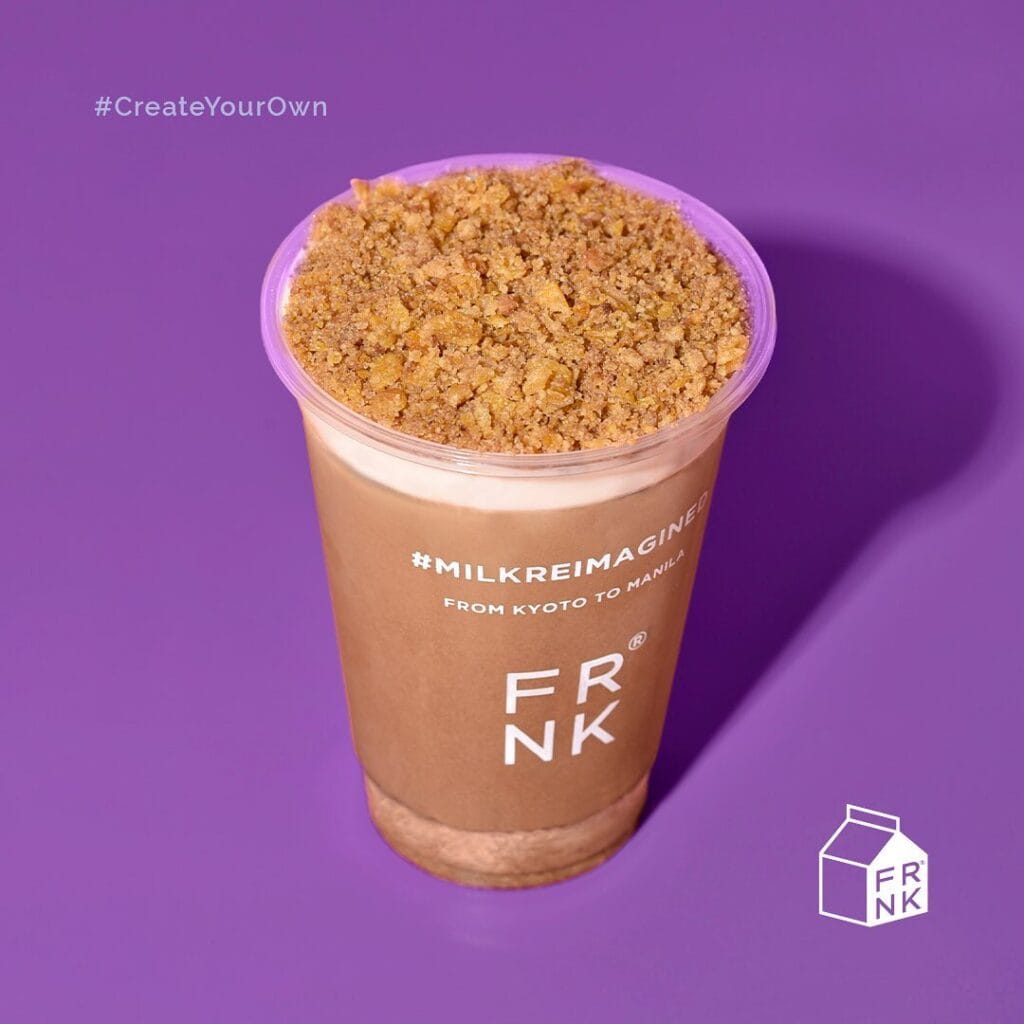 Social Media Pages
Follow their social media pages to savor the creamy wonders of our menu and unlock a treasure trove of sweet surprises. Your feed will turn into a gallery of sugary inspiration, and you'll relish the sweet deals you'll find.
Facebook: https://www.facebook.com/drinkfrnk
Instagram: https://www.instagram.com/frnkph
TikTok: https://www.tiktok.com/@frnkmilk
FRNK Milk Bar Menu Delivery
Ready to have another flavorful adventure at FRNK Milk Bar? Well, Good news because they are available for food delivery service through third-party delivery channels via GrabFood Philippines which is a perfect choice for Long Distance Delivery. You can also check if FoodPanda PH is available in your selected areas.
Frequently Asked Questions in FRNK Milk Bar
What type of cuisine does FRNK Milk Bar offer?
FRNK Milk Bar offers a delightful fusion of drinks that are perfect for your extra adventurous heart. They offer various and odd fusion that surprisingly comes with very commendable taste and perfectly blended drinks.
What is FRNK Milk Bar known for?
FRNK Milk Bar is known for their famous blended drinks such as Frozen Kokoa, Cinnamon Miruku, and Baked Purple Chizu. You can also check out the menu best sellers that I reviewed earlier in this article that are worth trying out.
What are the operating hours of FRNK Milk Bar?
FRNK Milk Bar is serving their pure indulgence of refreshing collections of drinks from 10 AM until 10 PM. They operate every day of the week from Monday to Sunday.
Can I order takeout or delivery?
Yes, you can order for takeout as well as for delivery via third-party delivery partners at FRNK Milk Bar.
Conclusion
To conclude everything, FRNK Milk Bar is guaranteed to offer one of the finest collections of drinks that feature one-of-a-kind blends and ingredients. They have a well-thought-out collection but I suggest that they expand their collection to another level for a wider range of choices for the customers. They did great in the latest menu they offer and I am confident that they can aim much better if they would take a risk in expanding it even more. Aside from that they are also available in selected malls nationwide making it a very accessible place for people who want to indulge in their perfectly blended drinks. To sum it all up, FRNK Milk Bar is something that you are confident to recommend among people, and the very Instagramable vibe it offers that perfect for every millennial and Gen Z out there.