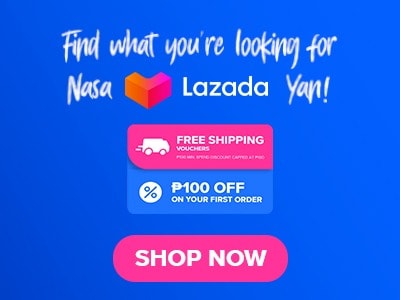 The Fish & Co. menu highlights its delectable fish and chips dishes. It also offers starters, seafood, pasta, meat, dessert, shareable platters & combos, a bistro signature bundle, and best catch boxes. These notable seafood dishes are made of fresh, wholesome, and natural ingredients that are cooked to perfection and served in a pan. The herbs, trans-fat oil, olive oil, and spices from different parts of the world are used to create mouthwatering dishes. 
Below, you'll find the updated list of Fish & Co. menu prices.
Menu Items
Price (PHP)

Asian Bowls

Seafood Curry
325
Curry Chicken
325
Braised Fish with Black Beans
295
Oystered Beef Brisket Tendon
365
Curry Pork
295
Curry Beef Brisket Tendon
375

Bistro Signature Bundle

Best Fish & Chips in Town, 3 pcs Crispy Fried Chicken, Smothered Pork Chop in Brown Gravy, Seafood Aglio Olio)
1495

Fish & Chips

New York Fish & Chips (Solo)
395
New York Fish & Chips (Sharing)
595
Philadelphia Fish & Chips (Solo)
395
Philadelphia Fish & Chips (Sharing)
595
Swiss Fish & Chips (Solo)
395
Swiss Fish & Chips (Sharing)
595
Best Fish & Chips in Town (Solo)
365
Best Fish & Chips in Town (Sharing)
575

Starters

New England Clam Chowder
220
Crispy Crablets (Solo)
280
Crispy Crablets (Regular)
395
Fried Calamari (Solo)
495
Fried Calamari (Regular)
695
Fish & Co. Starter Sampler
945
Caesar Salad (Solo)
325
Caesar Salad (Regular)
520
Garden Salad (Solo)
295
Garden Salad (Regular)
495

Seafood

Herb Custard Salmon (Solo)
525
Herb Custard Salmon (Regular)
765
Grilled Salmon (Solo)
525
Grilled Salmon (Regular)
765
Seafood Curry (Solo)
495
Seafood Curry (Regular)
695
Peri-Peri Shrimp
625
Steamed Seafood Bowl
745
Salmon Belly in Tamarind Soup (Solo)
395
Salmon Belly in Tamarind Soup (Regular)
695
Pompano In Clear Soup
765

Pasta

Prawn Fettucine (Solo)
525
Prawn Fettucine (Regular)
785
Seafood Marinara (Solo)
445
Seafood Marinara (Regular)
645
Shrimp Aglio Olio (Solo)
425
Shrimp Aglio Olio (Regular)
625
Seafood Aglio Olio (Solo)
395
Seafood Aglio Olio (Regular)
595

Shareable Platters & Combos

Fish & Crispy Chicken Platter (Good for 2-3 persons)
995
Seafood Platter (Good for 2 persons)
1495
Hefty Seafood Bundle (Good for 3-4 persons)
1895
Crispy Fish and Grilled Pork Belly
595
Crispy Fish and Grilled Pork Chop
595
Fish Strips with Crispy Chicken
645

Meat

Grilled Pork Belly (2 pcs)
575
Grilled Pork Belly (3 pcs)
695
Smothered Porkchop in Brown Gravy
495
Crispy Fried Chicken with Seafood Rice (3 pcs)
465
Crispy Fried Chicken with Seafood Rice (5 pcs)
685

Dessert

White Chocolate Coconut Cheesecake
295

The Best Catch Meal Boxes

Pork Belly Set
515
Chicken Curry Set
515
Grilled Pork Chop Set
620
Sailor's Meal Box
725
Meat Platter
1560
Feast Meal Platter (Good for 3-4 persons)
1770

Healthy Options

Citrus Herb Surprise
195
Healthy Hearty Squeeze
235
Fresh Lemonade
165
Jungle Freeze
205
Ripe Mango Shake
235

Sodas In Can

Coke Regular, Coke Zero
95

Refillable Drinks

Iced Tea
145
Lemonade
145
Arnold Palmer
145

Bottled Water

Wilkins
85
San Benedetto
155

Nespresso

Americano
95

Wine

Luccarelli Negroamaro (Glass)
355
Luccarelli Negroamaro (Bottle)
1605
Luccarelli Bianco (Glass)
305
Luccarelli Bianco (Bottle)
1605

Beer

SMB Light
120
SMB Pale
120
About Fish & Co.
Fish & Co. is one of the restaurants managed by the Bistro Group of Restaurants. It specializes in serving fresh and scrumptious seafood dishes. Its unique concept of serving its dishes in a pan is inspired by the way of dining of fishermen in the Mediterranean Sea. The nautical ambiance and rustic chic of its interior make the dining experience more memorable and fun. 
Fish & Co. Menu Best Seller 
These are the best sellers of Fish & Co. that delight the crowd with their special flavors and texture. If you are new in this eatery, I highly recommend that you try the following dishes.
Best Fish & Chips in Town – A delectable dish where fish is coated with a light and crispy batter. It is served with tartar or lemon butter sauce. This is considered the best combination of fish and chips in town as it has a classic and delectable twist.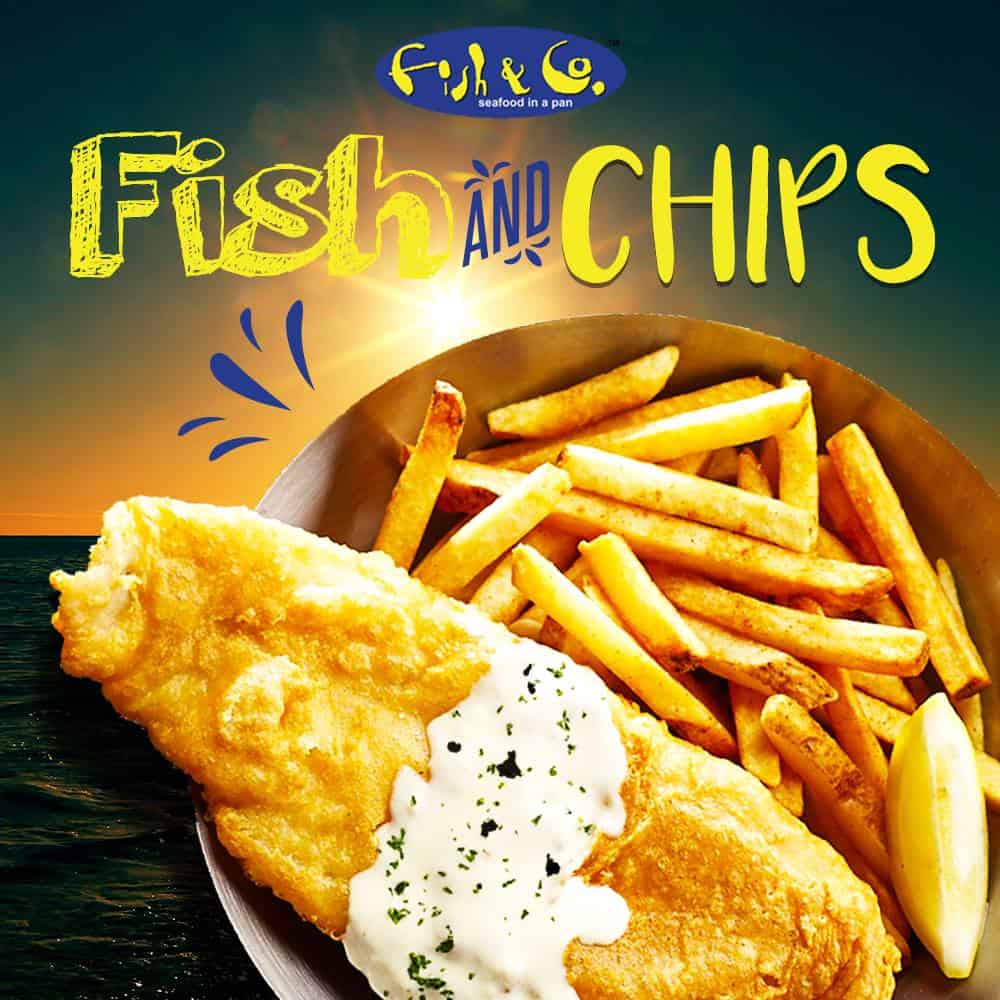 New York Fish & Chips– This Fish & Co. menu is made with fish and parmesan cheese that are breaded lightly, deep-fried until golden brown and crispy, and topped with tartar or lemon butter sauce.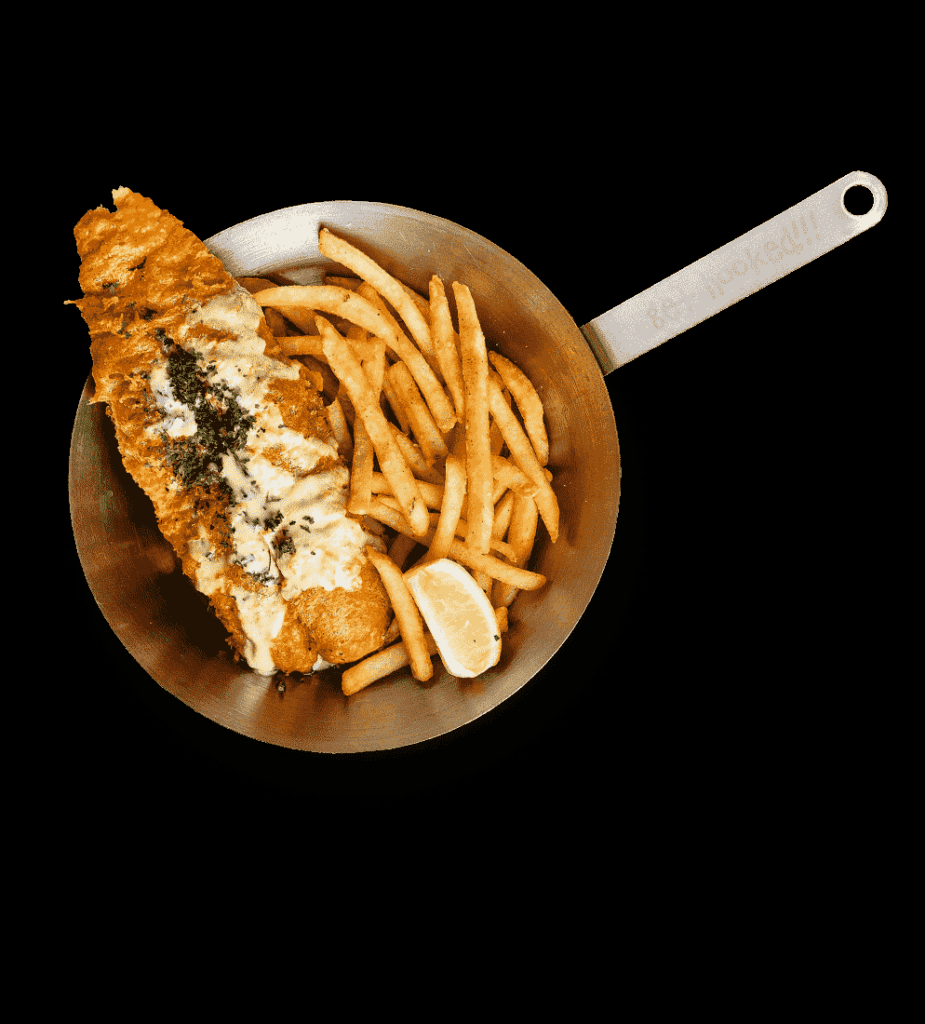 Philadelphia Fish & Chips – Taste the flavors of Philadelphia with this fish and chips that are stuffed with cream cheese. Tartar or lemon butter sauce also comes with this dish.
Crispy Crablets – A delightful starter menu of Fish & Co. where crispy crablets are deep-fried and served with a cocktail vinegar dip. Its crispy texture and delicious taste will stimulate the taste buds of seafood lovers.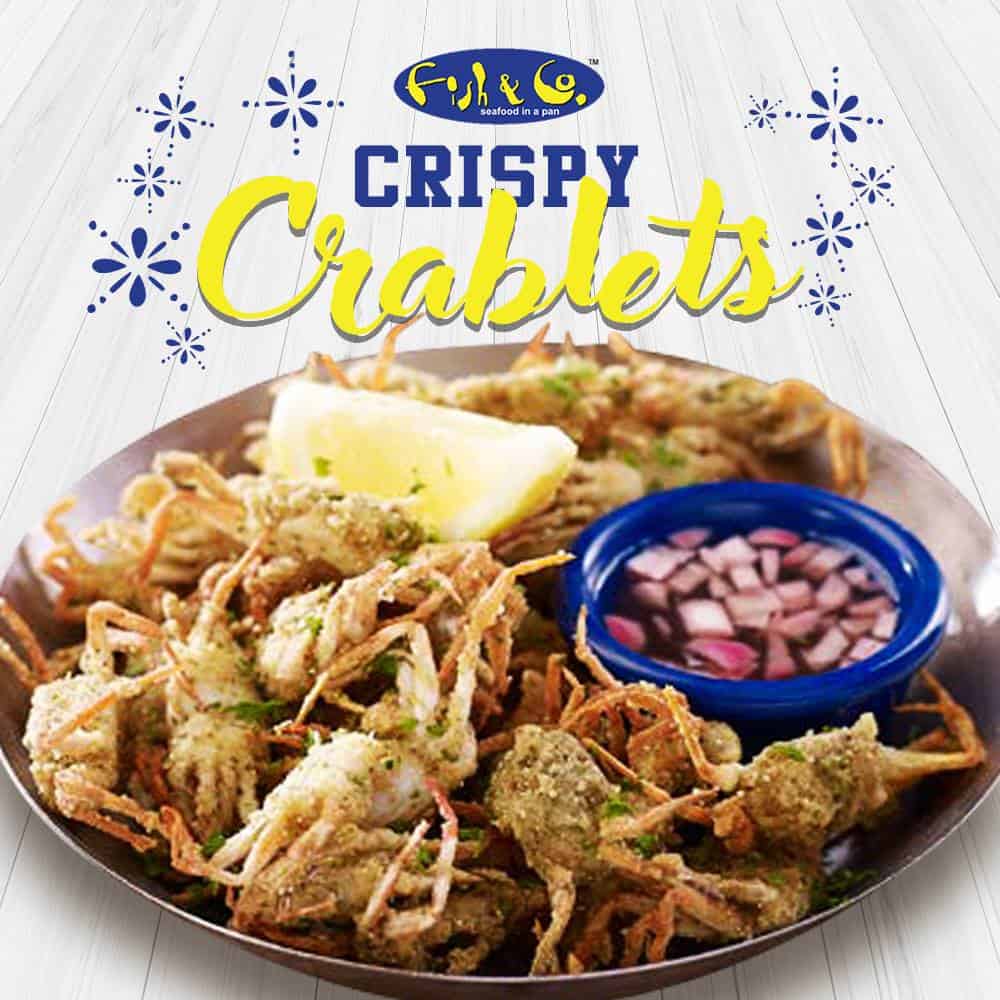 Crispy Fish and Grilled Pork Belly – This dish consists of the two of crowd's all-time favorite dishes, the crispy fish and grilled pork belly. It comes with seafood rice and vegetables.
The Best Catch Boxes
These best catch boxes consist of a delicious set of meals that goes perfectly together making your meal more satisfying.
Pork Belly Set – This meal box consists of 1 piece of pork belly, mixed vegetables, garlic rice, and soda. Pork belly is one of the most-sought dishes in restaurants as it is loved for its delectable taste, texture, and aroma.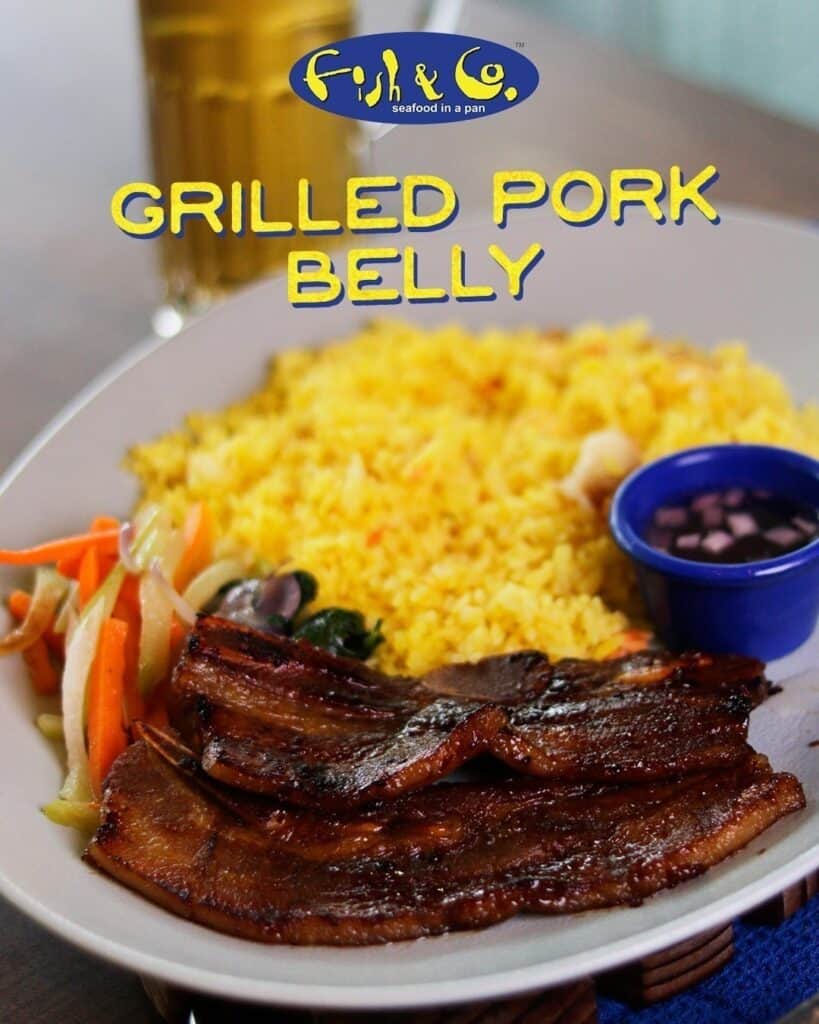 Chicken Curry Set – This Fish & Co. menu is a set of meals that includes chicken curry, mixed vegetables, steamed rice, and soda. This set is loved by people of all ages as it has a mouthwatering flavor that delights the crowd. 
Grilled Pork Chop Set – It includes 1-piece grilled pork chop, nacho chips, mixed vegetables, garlic rice, and soda. The delectable flavor and texture of grilled pork chop go well with the mixed vegetables that come with it making the garlic rice more satisfying.
Sailor's Meal Box – A fulfilling set that consists of 4 pieces of fish strips, deep-fried calamari, mixed vegetables, garlic rice, and soda.
Meat Platter – This is an ideal meal for meat lovers as it is composed of garlic rice with 2 pieces of pork chop, pork belly, and deep-fried chicken. 
Asian Wok Bowls
Taste the succulent flavors of Asia with these wok bowls that consist of rice topped with delicious dishes.
Seafood Curry – It is made with mixed seafood and vegetables that are slowly cooked in a special curry sauce. The pleasant flavor of this seafood curry makes it a remarkable dish.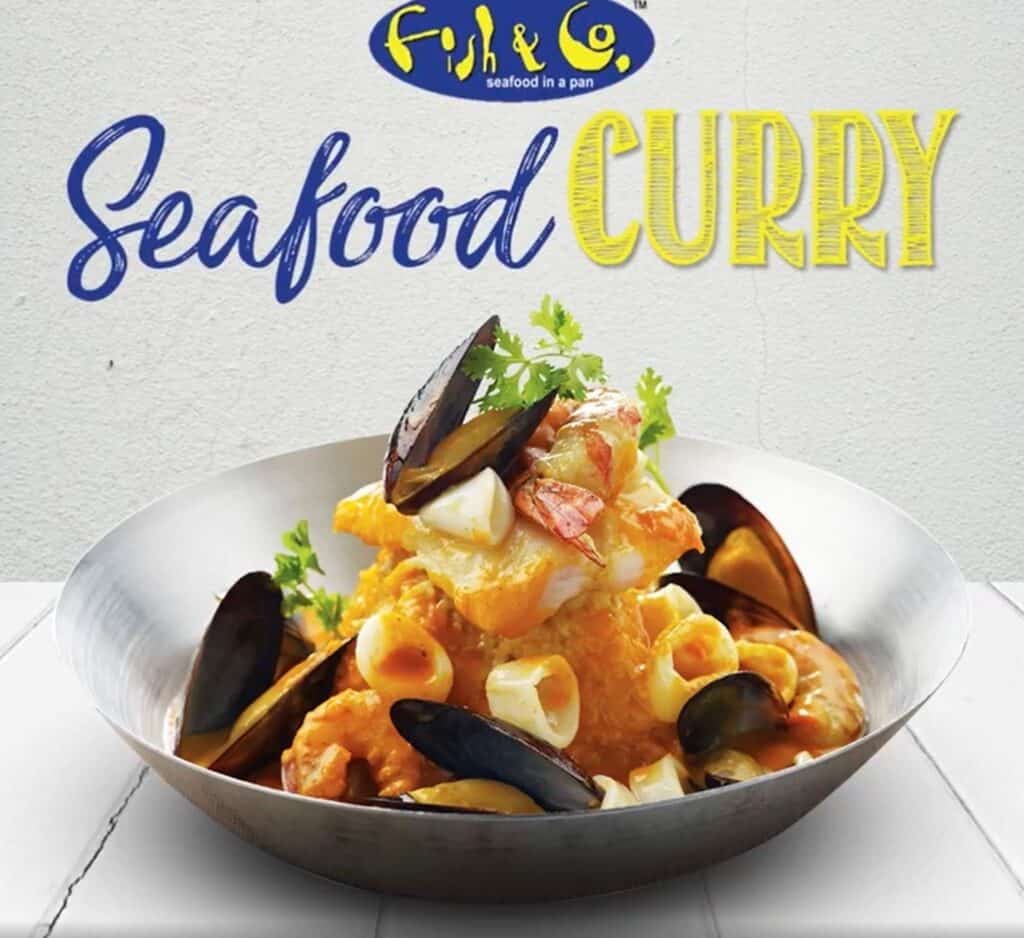 Curry Chicken – The perfect blend of various spices and ingredients in this curry chicken makes this dish mouthwatering. 
Braised Fish with Black Beans – A succulent dish made with braised fish, black beans, snow cabbage, and other ingredients. Personally, I love this menu from Fish & Co.
Oystered Beef Brisket Tendon – It is a flavorful and aromatic dish made with beef brisket tendon and snow cabbage with other special ingredients cooked in oyster sauce.
Curry Pork – This is a delicious dish made up of tender and juicy pork cuts with mixed vegetables cooked in the restaurant's special sauce.
Bistro Signature Bundle
The bistro signature bundle of Fish & Co. is good for 3-4 persons. It includes the best fish and chips in town, 3 pieces of crispy fried chicken, smothered pork chop in brown gravy, and seafood aglio olio. This bundle is ideal for groups who want to want to try some of the best dishes of this restaurant at an affordable price.
Salads
The salad dishes of Fish & Co. consist of Caesar Salad and Garden Salad. These salad dishes will stimulate your appetite as they are light, healthy, and flavorful. The Caesar Salad is composed of romaine lettuce, croutons, marinated egg, parmesan cheese, and Caesar dressing. The Garden Salad includes assorted greens, slices of garlic, balsamic vinaigrette, tomatoes, and cucumber ribbons that are dressed with Japanese mayo.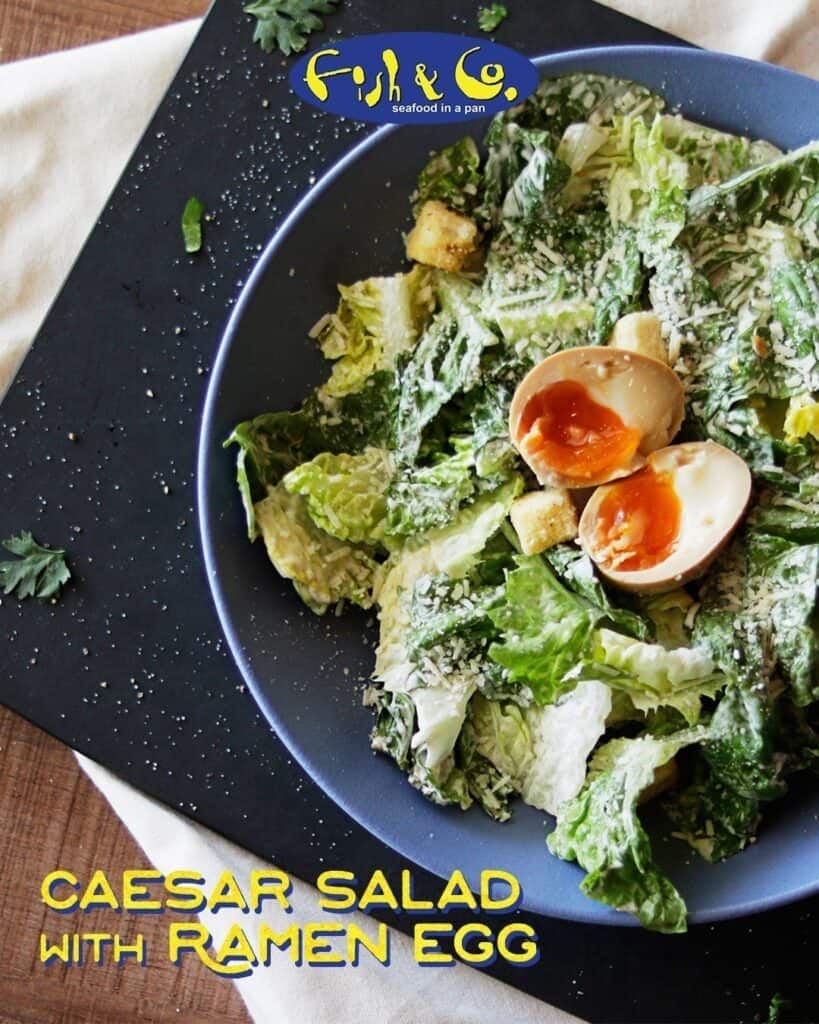 Fish & Co. Starters Menu
The starters of Fish & Co. menu consist of seafood soup and deep-fried foods. It offers New England Clam Chowder, a creamy, comforting, and delightful soup with a clam that will warm up your taste buds. The deep-fried dishes that it serves are Crispy Crablets and Fried Calamari. There is also a Fish & Co. Starter Sampler that is ideal if you are dining in groups as it consists of prawn fritters, fish tales, fried calamari, and crablets. 
Shareable Platters
Fish & Co. offers shareable platters that will make your dining experience with your loved ones more satisfying. It serves a seafood platter, which consists of grilled calamari, shrimp, fish, seafood rice, and fries that are good for 2 people. The fish and crispy chicken platter that it offers are great for two to three people as it is composed of 4 pieces of chicken, 6 pieces of fish strips, and seafood rice. There is also a hefty seafood bundle that will delight seafood fanatics as it includes grilled calamari, fish shrimp, fries, and seafood rice.
Fish & Co. Menu Delivery
You now have more options to enjoy the delicious and flavorful dishes of Fish & Co. You can order through Grabfood or Pickaroo, two popular delivery apps that offer fast and convenient delivery. If you prefer a more streamlined and user-friendly ordering experience, you can download the Bistro Delivers – Food Delivery app at https://onelink.to/25zuvt. This app is specifically designed for food delivery, making the ordering process quick and hassle-free. Whatever option you choose, you can rest assured that you'll be able to enjoy Fish & Co.'s delectable dishes in the comfort of your own home.
Social Media Pages
To stay up-to-date with the latest news and promotions from Fish & Co., we highly recommend subscribing to their social media pages. By doing so, you will be the first to know about their latest offerings and promotions, and you may even be able to take advantage of exclusive deals. Additionally, by following them on social media, you can show your support and engage with their content.
To begin following Fish & Co., simply click on the following links to access their social media pages:
Facebook: https://www.facebook.com/fishandco/
Instagram: https://www.instagram.com/fishcoph/
Conclusion
The delicious dishes on the Fish & Co. menu will surely hook you on the first bite. The simple way of cooking their delectable dishes keeps their natural flavor which makes diners crave more. It offers a wide variety of food that caters to people from different walks of life. Its cuisines are expertly prepared and the staff serves them with passion and excellence that gives diners a unique dining experience and makes them look forward to their next visit.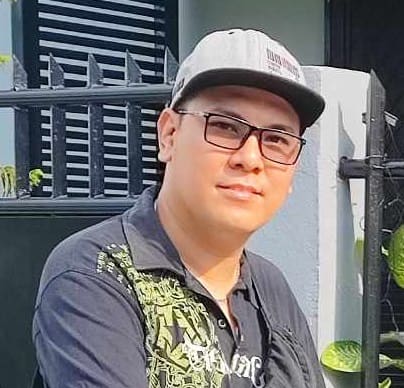 Hi! I'm Nivek Strife, the person who made MenuPH. I'm the one who added most of the popular menus you see on this website, and I really hope you enjoy them! Feel free to check them all out.
Growing up, I was surrounded by lots of tasty foods, like the classic Adobo and the sweet Leche Flan. That love for the many flavors of the Philippines is what got me excited about adding to MenuPH. When I learned how to make websites, I saw the need for a place to show off all the amazing Filipino dishes, and that's how MenuPH started.
MenuPH isn't just a website; it's like a fun journey into food. I've teamed up with famous chefs and found great places all over the Philippines to bring you a bunch of menus that show off the best of Filipino cuisine. Whether you're into the usual dishes or new twists, MenuPH is here to guide you through the rich world of Filipino flavors.
With MenuPH, my aim is to help local businesses, talk about good food choices, and make a group of friends who love food. No matter if you like fancy restaurants or street food, MenuPH has something for you. Come join me on this food adventure as we find great places, taste real flavors, and enjoy the unique food traditions that make the Philippines awesome.