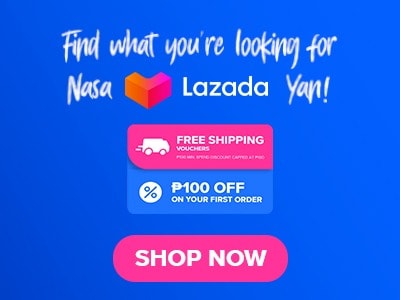 Vanilla Cafe provides a variety of menu such as beverages, like coffee drinks and milk teas, as well as pastries and desserts. Their coffee menu includes classic options like espresso, Americano, and cappuccino, as well as flavored lattes such as vanilla, caramel, mocha, hazelnut, and Irish cream. Overall, Vanilla Cafe's menu has a good selection of classic and flavored coffee drinks, as well as many different unique options to try.
Menu Items
Price (PHP)

Breakfast Filipino

Tapa, Daing na bangus, garlic rice, tomato, egg and vinegar
399
Tocino, danggit, garlic rice, tomato, egg and vinegar
399
Longganisa, tapa, garlic rice, tomato, egg and vinegar
399
Corne beef roesty
399
Crispy potato pancake, corned beef, Swiss cheese and egg.
399
Southern fried chicken and pink waffles
375
Regional Cebu and Bacolod longganisa
449

Breakfast American

Bacon, Sausage, Herbed Tomato, Bread and Egg
399
Glaze Waffle, Fried Chicken, Herbed Tomato, and Egg
399
LumberJack
499

Appetizers

Garlic Spinach
148
Mr and Mrs Wings
319
Nachos
206
Deep-fried Baby Squid Calamari
294

Soups

Mushroom Soup
149
Tomato Soup
149

Salads

Caesar Salad
374
Kale apple walnut Salad
298
Cordillera
228

Sandwich

Famous Chicken Sandwich
349
Angus Burger with Fries
499

Pasta

Salmon Pasta
419
Truffle Pasta
379
Bacon Carbonara
454
Baked Lasagna
379
Chicken Pesto
499
Fresh Vangole Pasta
409

Pizza

Pizza Prosciutto e Burota
699
Pizza Pepperoni Aglio
499
Pizza Bianca Cinque Formaggi
499
Pizza di Carne
415
Pizza Gamberi Aglio e Formaggio
499
Pizza Riccotta e Spinaci
415

Meat

2 way Japanese Grilled Wagyu Cubes
399
Honey Butter Chicken
330
Kimchi Fried Rice with savvoury Grilled chicken
399
Beef Bourguinon
1353
Crispy Kare-Kare
480
Country Fried Chicken
499
Lechon Kawali with Thai Shrimp Paste
499
Country Roasted Olive Oil Chicken
429
Chicken Diva
349
Regional Chicken Inasal
449
Authentic Ilocos Bagnet
550
Authentic Japanese Shoyu Ramen
599
Imported Premium Steak
799

Seafood

Garlic Butter Salmon
599
Sinigang na Bangus Belly
499
Salmon Steak with Fresh Mango Salsa
538
Classic Fish and Chips
714

Hot Coffee

Cafe Americano
98
Espresso
98
Double Espresso
128
Capuccino
118
Cafe Mocha
118
Cafe Latte
118

Cold Coffee

Classic Iced Coffee
118
Honey Coffee Ice Cube Latte
115
Pink Coffee
128
Iced Cold Mocha
128
Coffee Caramel Crumble
128
Pink Matcha Ombre
135
Cookies n Cream Latte
148
Java Chocolate Mousse Choco Nutella
199
About Vanilla Cafe
Vanilla Cafe is a popular café chain in the Philippines known for its specialty coffee and desserts. It was founded in 2013 by a group of friends who shared a passion for coffee and pastries. Today, Vanilla Cafe has multiple locations across the country, including in Metro Manila, Cebu, and Davao. One of the unique features of Vanilla Café is its cozy and relaxing ambiance, which makes it a popular spot for catching up with friends, studying, or simply enjoying a good cup of coffee.
Vanilla Cafe Menu Best Seller
This menu is made up of different dishes, from breakfast meals to lunch meals and snacks that are sure to satisfy anyone's cravings.
Lumberjack – This breakfast meal is perfect for those looking for a hearty and filling meal to start their day. The combination of eggs, hash browns, bacon, sausages, and beans is a classic breakfast staple that is sure to satisfy. It is a great option for those looking for a filling breakfast that will keep them energized throughout the day.
Mr and Mrs Wings – This menu from Vanilla Cafe is a great option for those looking for a tasty and flavorful appetizer or snack. The wings are served with a choice of barbeque or sweet garlic sauce and come with fries. The wings in this dish are juicy and crispy, with an added flavor from the sauce. Overall, this dish is a must-order for anyone looking for a tasty and filling appetizer or snack.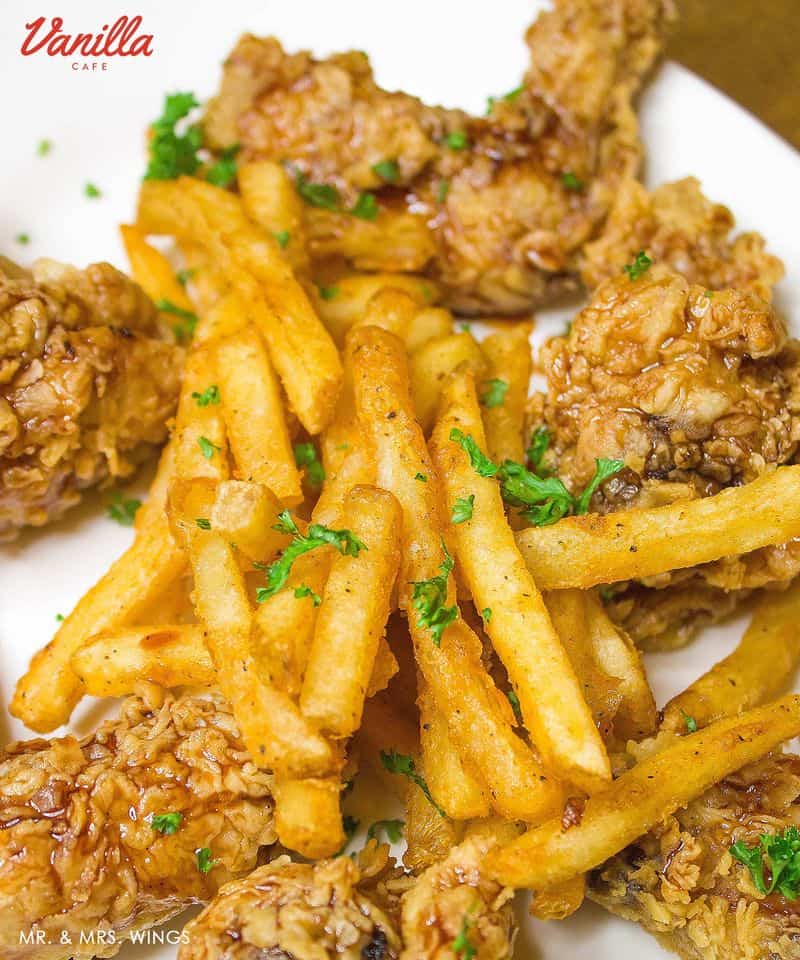 Caesar Salad – The Caesar Salad is a classic dish that is perfect for those looking for a lighter and healthier option. The salad is made with romaine lettuce, parmesan cheese, and Caesar dressing. The ingredients are fresh and the dressing is flavorful, making it a great option for those looking for a refreshing and satisfying salad.
Baked Lasagna – The Baked Lasagna is a hearty and comforting dish that is perfect for those looking for a filling meal. It is made with layers of pasta, ground beef, and other ingredients. The dish is baked to perfection, resulting in a delicious and flavorful lasagna that is sure to satisfy.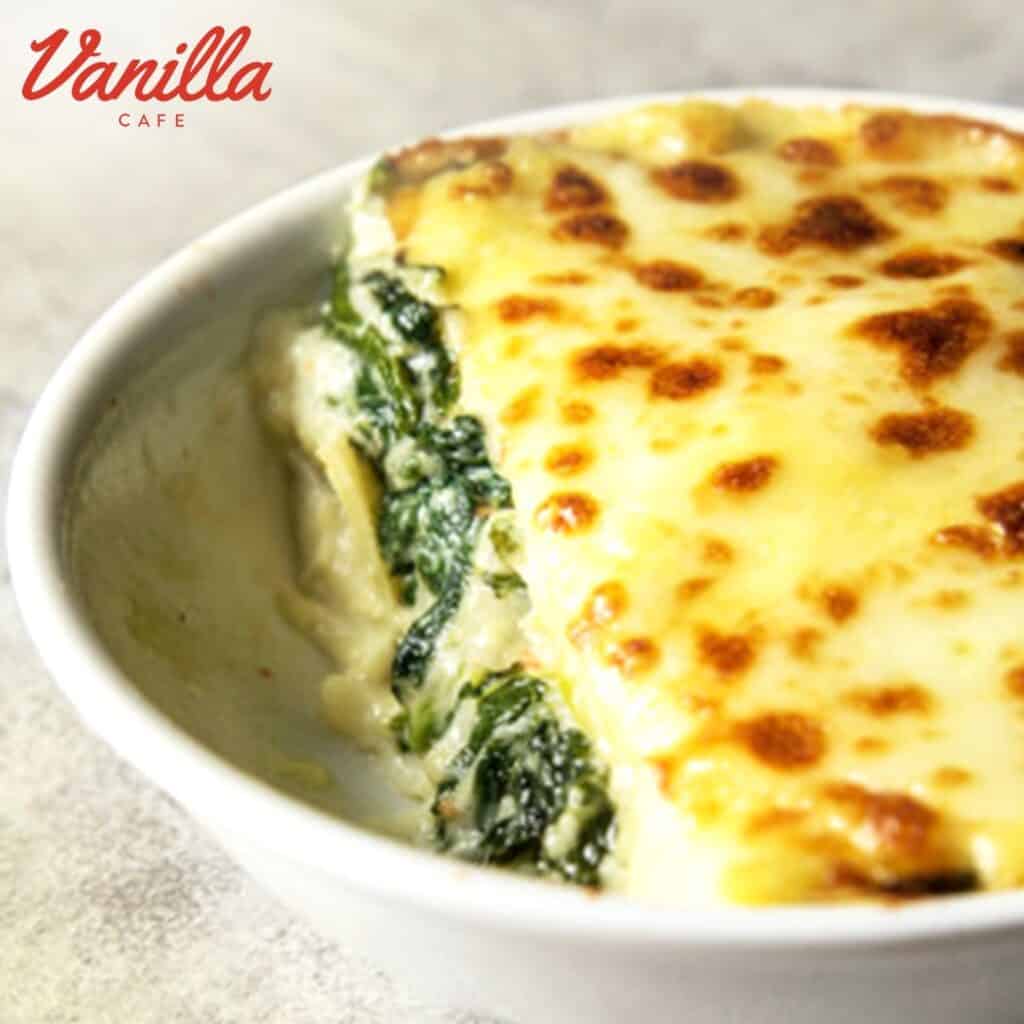 Chicken Pesto – This dish is made with chicken, pesto sauce, and pasta, resulting in a delicious and flavorful pasta dish. The chicken is cooked to perfection and the pesto sauce is flavorful and delicious, making it a must-try for those looking for a tasty and satisfying pasta dish.
Breakfast Filipino
This menu is made up of different varieties of Filipino meals, each of which has different dishes that will surely fill anyone up!
Longganisa, Tapa, Garlic Rice, Tomato, Egg, and Vinegar – The Vanilla Cafe version of this traditional Filipino breakfast menu will surely satisfy anyone. The longganisa and tapa are both flavorful and perfectly cooked, while the garlic rice adds a nice texture and flavor. The tomato and vinegar bring a tangy element to the dish that balances out the savory flavors. Overall, the dishes combined make a delicious and satisfying breakfast option.
Tocino, Danggit, Garlic Rice, Tomato, Egg, and Vinegar – The tocino in this dish is perfectly cooked, and the danggit adds a salty crunch to it. The garlic rice complements the flavors nicely, and the tomato and vinegar bring a tangy element to the dish. It's a classic Filipino breakfast that's sure to satisfy and is perfect for guests who are looking for a breakfast that's both sweet and savory.
Corned Beef Roasti – The crispy potato pancake on this dish adds a nice crunch, while the corned beef is flavorful and tender, and the Swiss cheese and egg add richness. The flavors complement each other very well. It's an excellent choice for those looking for a filling breakfast.
Southern fried chicken and pink waffles – This breakfast dish is a Southern classic with a twist. The homemade fried chicken is crispy and juicy, while the pink waffles add a fun and unique touch. The combination of sweet and savory flavors is perfect, and it's a great option for those looking for a filling and delicious breakfast.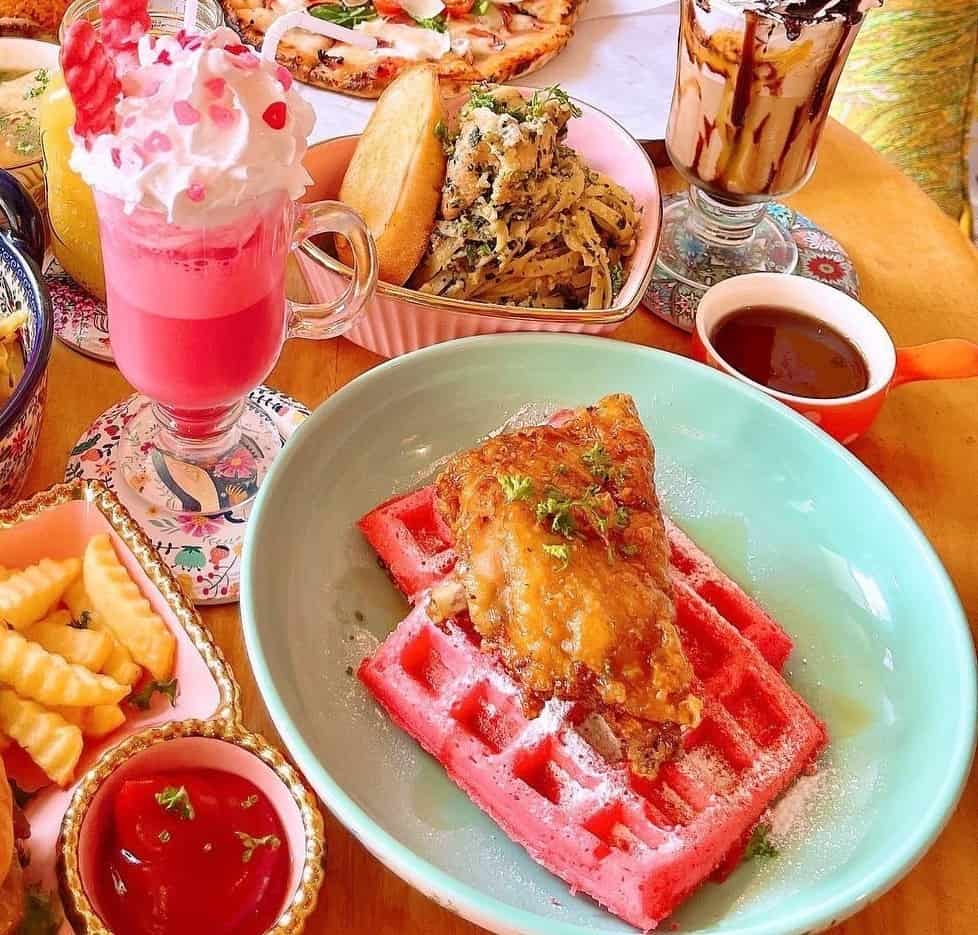 American
The breakfast menu of Vanilla Cafe has a lot of tasty choices. You can have classic breakfast foods like bacon, sausage, herbed tomato, bread and egg, and LumberJack. If you want to try something different with a Southern flavor, you can have a special combination of glazed waffle, fried chicken, herbed tomato, and egg.
Pasta
Vanilla Cafe's pasta menu features a variety of classic and unique pasta dishes. They have pasta that ranges from the ones that are light and flavorful to lasagnas that are hearty and comforting. Their pasta dishes cater to a range of tastes and are a great option for both lunch and dinner.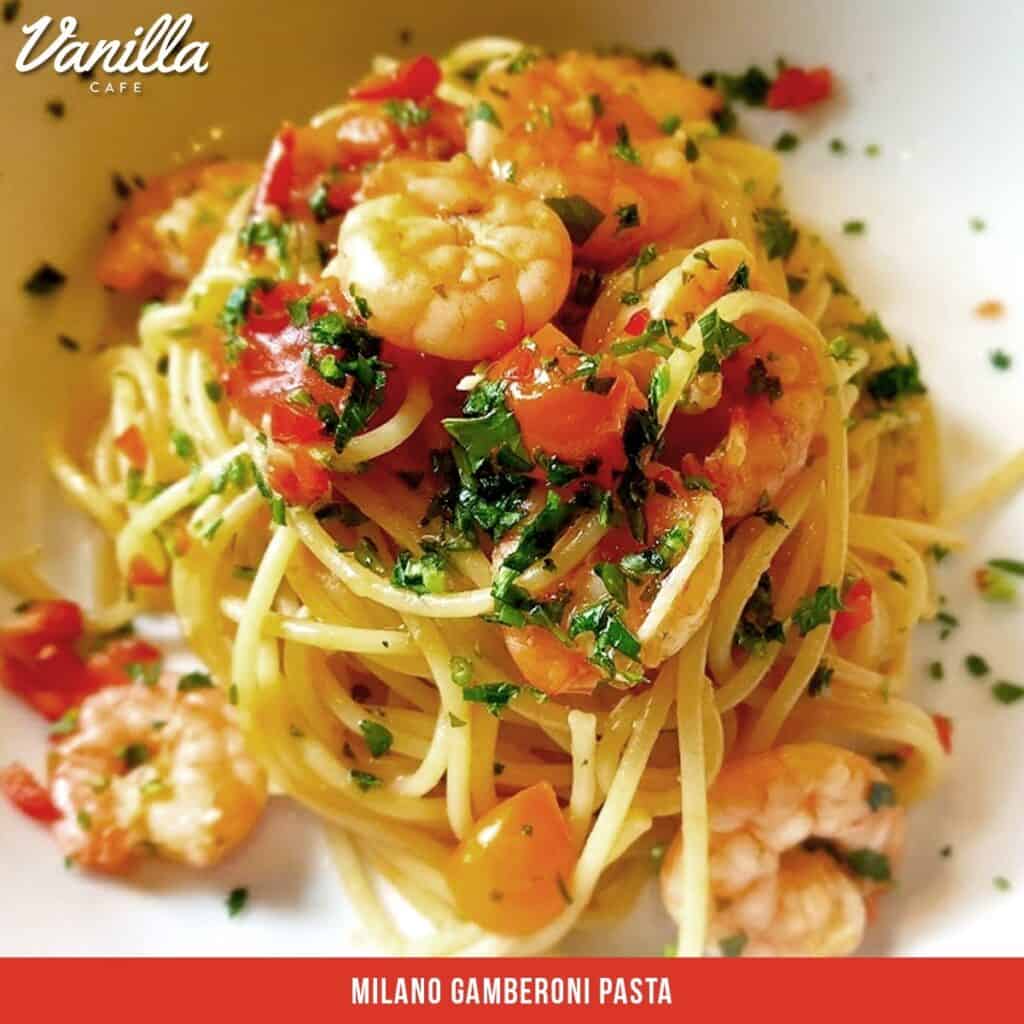 Main Course Meat
The meat dishes from the Vanilla Cafe menu are quite unique. They have multiple options such as 2-way Japanese Grilled Wagyu Cubes and Beef Bourguignon. You can also find classic favorites like Honey Butter Chicken and Crispy Kare-Kare. The seafood dishes are equally tempting, featuring Garlic Butter Salmon, Sinigang na Bangus Belly, and Classic Fish and Chips. With such a variety of options available, customers are sure to find something that suits their tastes.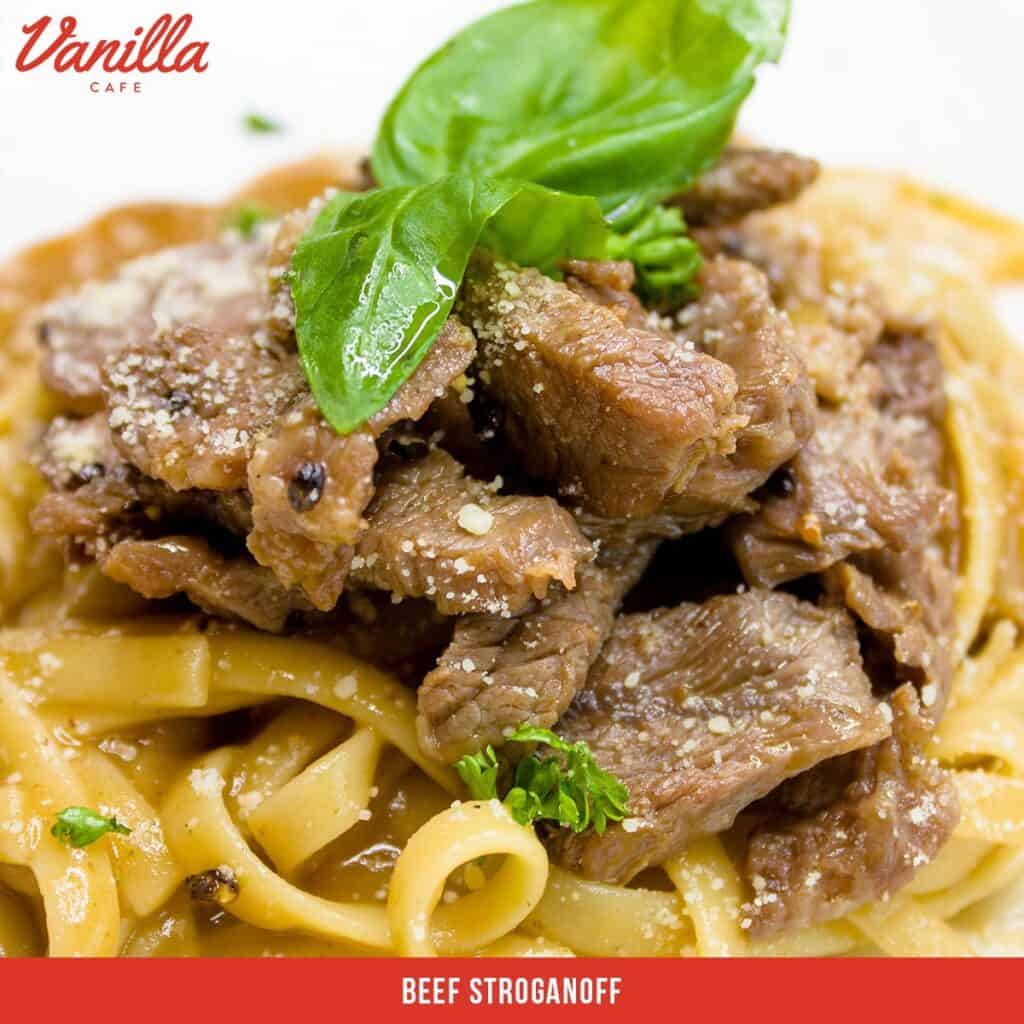 Coffees
Vanilla Cafe's coffee menu has something for everyone, with a range of classic and unique hot and cold coffee options. Some offer a unique twist on a classic latte, while others are great options for a refreshing drink. Overall, their coffee menu is well-rounded and is sure to satisfy any coffee lover that comes to visit.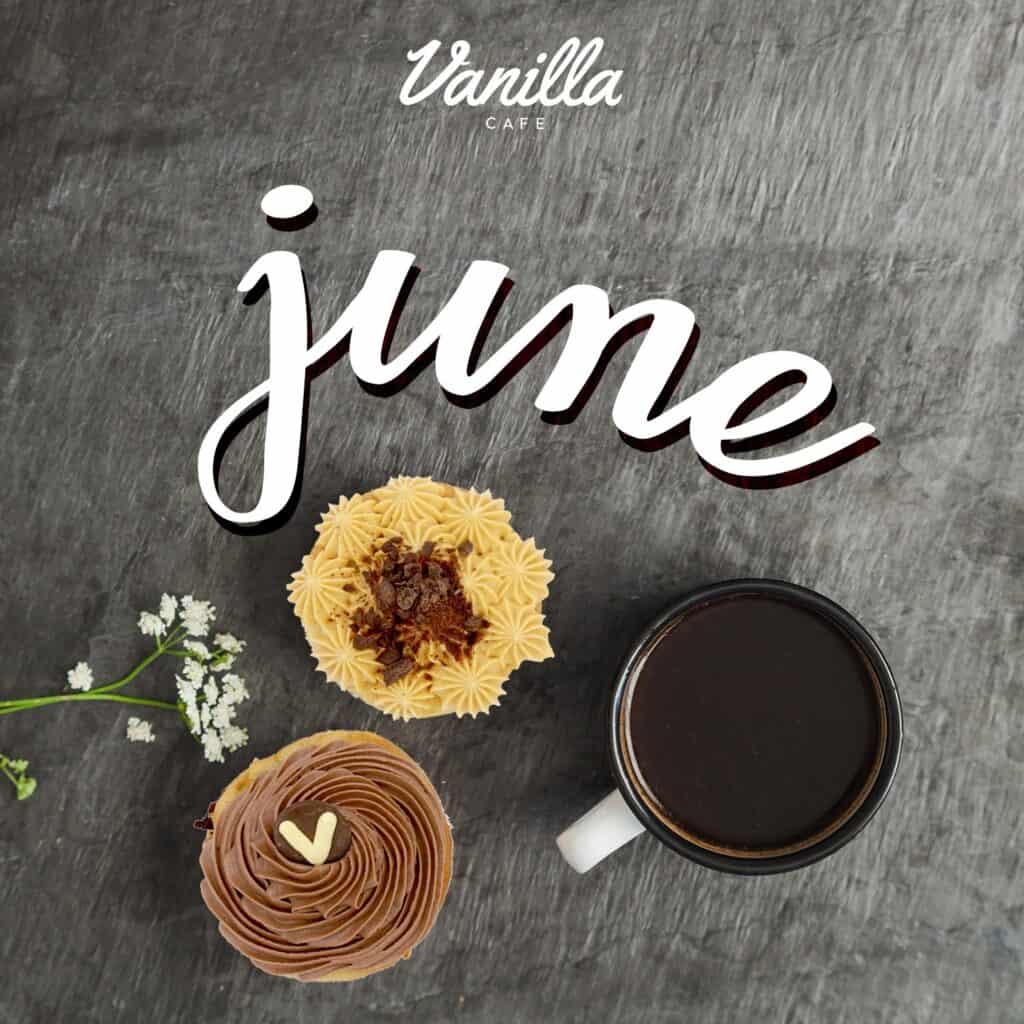 Vanilla Cafe Menu Delivery
If you're a fan of Vanilla Cafe and prefer to enjoy their food from the comfort of your own home, you're in luck! This cafe now offers delivery services through popular food delivery platforms like GrabFood, Foodpanda, and Lalafood. To place an order, simply download the app of your choice, search for Vanilla Cafe, and browse through their menu of delicious options. In a few minutes, you can place your order and have it delivered straight to your doorstep. No more waiting in line or leaving the house – now you can enjoy your favorite dishes with ease. Don't miss out on this convenient and hassle-free way to satisfy your cravings!
Social Media Pages
To get the most up-to-date information on The Wholesome Table's menu items, follow them on social media. You can also show your support by following, liking, and sharing their post. Subscribing to one of their social media pages will keep you up to date on their promotions.

Facebook: https://facebook.com/VanillaCupcakeBakery/
Instagram: https://instagram.com/vanillacafeph/
Conclusion
Vanilla Cafe's menu includes a variety of coffee drinks, teas, pastries, and desserts. It is a well-known coffee shop chain in the Philippines that offers a welcoming atmosphere. Vanilla Café has multiple locations across the country, which makes it a great place for coffee lovers to enjoy high-quality drinks and delicious treats in a cozy and soothing setting.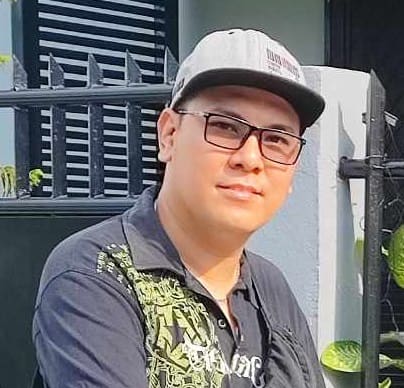 Hi! I'm Nivek Strife, the person who made MenuPH. I'm the one who added most of the popular menus you see on this website, and I really hope you enjoy them! Feel free to check them all out.
Growing up, I was surrounded by lots of tasty foods, like the classic Adobo and the sweet Leche Flan. That love for the many flavors of the Philippines is what got me excited about adding to MenuPH. When I learned how to make websites, I saw the need for a place to show off all the amazing Filipino dishes, and that's how MenuPH started.
MenuPH isn't just a website; it's like a fun journey into food. I've teamed up with famous chefs and found great places all over the Philippines to bring you a bunch of menus that show off the best of Filipino cuisine. Whether you're into the usual dishes or new twists, MenuPH is here to guide you through the rich world of Filipino flavors.
With MenuPH, my aim is to help local businesses, talk about good food choices, and make a group of friends who love food. No matter if you like fancy restaurants or street food, MenuPH has something for you. Come join me on this food adventure as we find great places, taste real flavors, and enjoy the unique food traditions that make the Philippines awesome.