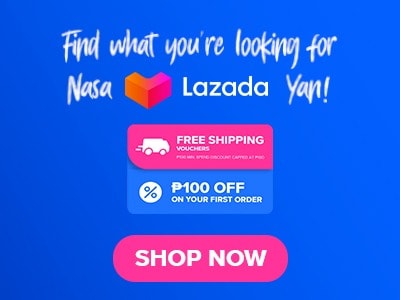 Are you looking for a place that offers steak and other sizzling goodness that will surely satisfy your cravings? If you are look no further because I have a great recommendation for you. This place offers a lot of dishes mainly Filipino favorites and of course, steaks the great part here is their products are quite affordable so you'll get to enjoy their products without spending too much. Let's Steak a Break menu has a lot to offer from appetizer to mains, burgers, pasta, and even those item that is great for sharing so obviously they have a lot of choices for you. In this article, we are going to get to know Let's Steak a Break more, and let's take a quick look at their menu and of course prices let's see if after this article you'll consider trying their products especially if you're near their locations. Too much for an introduction let's start!
Below, you'll find the updated list of Let's Steak A Break menu prices.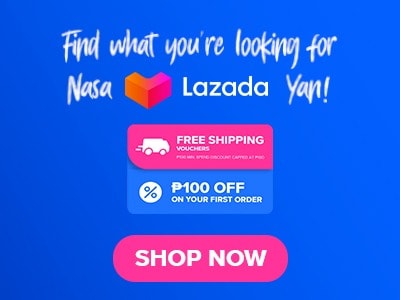 Menu Items
Price (PHP)

Popular

Burger steak
115.2
Rib eye steak
217.6
Sizzling bagnet
140.8
Tbone steak
204.8
Boss G Pares retiro style
108.8
Porter house
230.4

Appetizers

Nachos
121.6
Platter cheesy fries
121.6
Spam fries
128
Platter of majos
160

Quick meals Boss G

Beef mami
102.4
Beef pares
102.4
Lechon kawali
108.8
Boss G Pares retiro style
108.8
Chinese kikiam
76.8
Boss G Rice
19.2
Boiled egg
25.6
Chicharong bulaklak
153.6

Sharing

Sizzling Spicy Garlic Shrimp
268.8

Rice meals

TBone steak
204.8
Tenderloin bits
204.8
Porter house
230.4
Rib eye steak
217.6
Burger steak
115.2
Porkchop steak
140.8
Sizzling bagnet
140.8
Bulalo steak
268.8
Pork belly steak
166.4
Sizzling Chicken Leg Quarter
172.8
Katsudon
179.2
Sizzling sisig
134.4
Premium RIB EYE Steak
576
Sizzling Beef Pares
121.6
Beef Pares with Bone Marrow
249.6
Hungarian Sausage
140.8
Chicken Nuggets With Rice
140.8
Gyudon
179.2
Tonkatsu
179.2
Beef teriyaki
179.2

Burgers and sandwiches

Naughty Grilled Burger
102.4
Super Naughty Grilled Burger
153.6
Ultimate Naughty Grilled Burger
217.6
Hibernate Mode Burger
268.8
Cheesy Beefsteak Sandwich
121.6
Crispy Karaage Burger
121.6
Hungarian Sandwich
128

Pasta

White Creamy Carbonara
121.6
Pesto
121.6
Bacon And Egg Spaghetti
121.6

Extras

Java Rice
25.6
Garlic bread
23.2
Gravy
23.2
Fried Egg
25.6
Mixed vegetables
25.6
BBQ sauce
20.8
Garlic mayo
29.6
Burger mayo
16.8
Bacon
42.4
About Let's Steak a Break
Let's Steak a Break is a place that offers delicious and affordable steaks and other items like pasta, burgers, and more at a very affordable price. They actually have two locations the first one is located in Molino Bacoor Cavite and the other one is located in Sta. Ana Manila. They are established years ago and since they are offering great-tasting and affordable food items the customers especially those who already tried their products become regulars or repeat customers the news keeps on spreading like wildfire and here they are though not a very big business but still blooming over the years.
Let's Steak a Break opening hours are from 4:00 PM in the afternoon until 1:00 in the morning. Their best-sellers are, of course, their steaks. This place as of the moment though they already have 2 branches is still thriving to improve their products for the better and to of course satisfy their customers.
Let's Steak a Break Menu Best Sellers
Here are some samples of Let's Steak a Break's best-selling items that you should at least try if you're planning on visiting their place or ordering from them.
Burger Steak – One of their top-selling item is their burger steak. Let's Steak a Break's version of Burger steak is made with 100% ground beef that they turned into a patty it is then cooked and served on a sizzling plate with their special rice, some mixed vegetables, and then poured with their special sauce. If you're going to ask me about how it tastes like it tastes really good the beef patty has a good beefy flavor and the addition of mixed vegetables really complimented the beef patty. Not too salty and a must-try.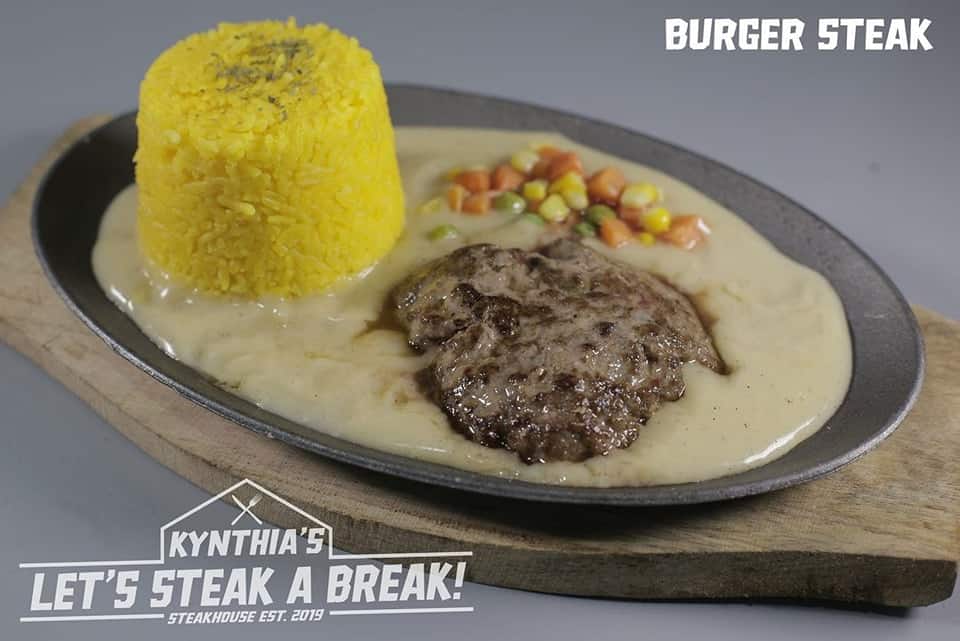 Ribeye Steak – This one is my favorite I don't know about you guys but when it comes to steaks I am a ribeye person. Let's Steak a Break's version of ribeye is made from of course ribeye steak that they cooked depending upon your preference and then served on a sizzling plate together with their special rice and mixed vegetables like carrots, green peas, and corn kernels before poured over by their special sauce which in my opinion really good with the ribeye. The ribeye tastes good and tender and also this is one of their best sellers.
Sizzling Bagnet – Imagine a crispy bagnet on a sizzling plate with special rice and a mix of veggies like corn kernels, green peas, and carrots then poured over with a special sauce that tastes peppery and savory at the same time isn't it amazing? Well, that's the sizzling bagnet of Let's Steak a Break. The bagnet is crispy and delicious at the same time it has the perfect layer of fats and meat the crispy skin is easy to enjoy as well the special sauce really compliments the already delicious bagnet, not too salty just right.
T-Bone Steak – There's a debate regarding which steak tastes better the pure meat or the cuts with bone and to test if the bone in cuts is good Let's Steak a Break also offers T-bone steak. Their Tbone steak version is cooked perfectly and then served on a sizzling plate with a bowl of yellow-colored special rice, some mixed vegetables, and a special sauce. The meat is good but in my opinion just equal to their steak without bone included but of course it depends upon your preference.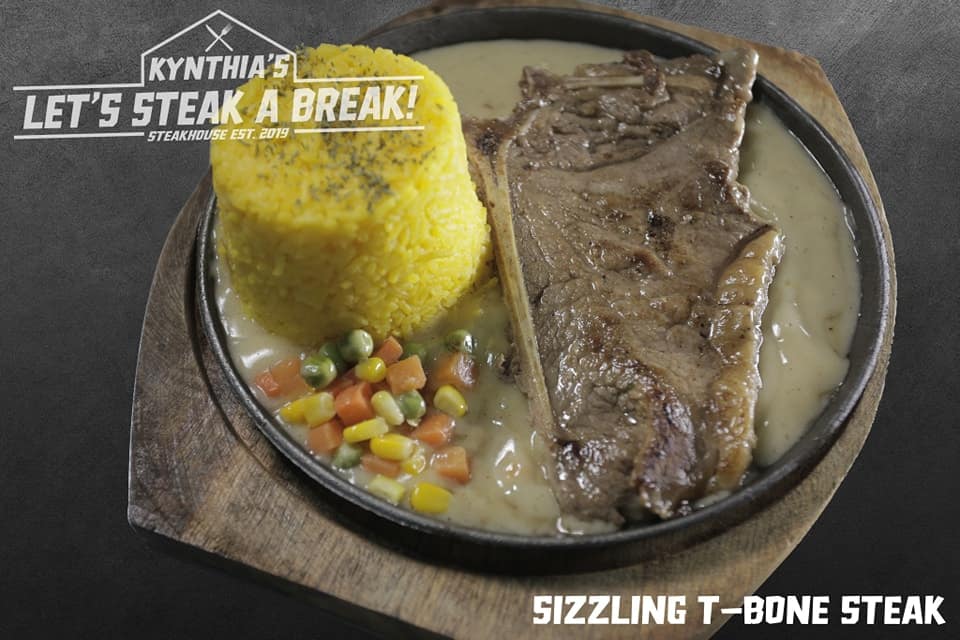 Boss G Pares Retiro Style – This pares style is a sweet version with a bit of thick sauce. Their Boss G Pares Retiro style pares are something that you would like on a rainy day to keep you warm. The meat is soft and the sauce is really flavorful the slight thickness of the sauce made their pares really good this is perfect with rice but in my case, I prefer noodles with this one. Also, one of the top-selling items on their menu and a must try.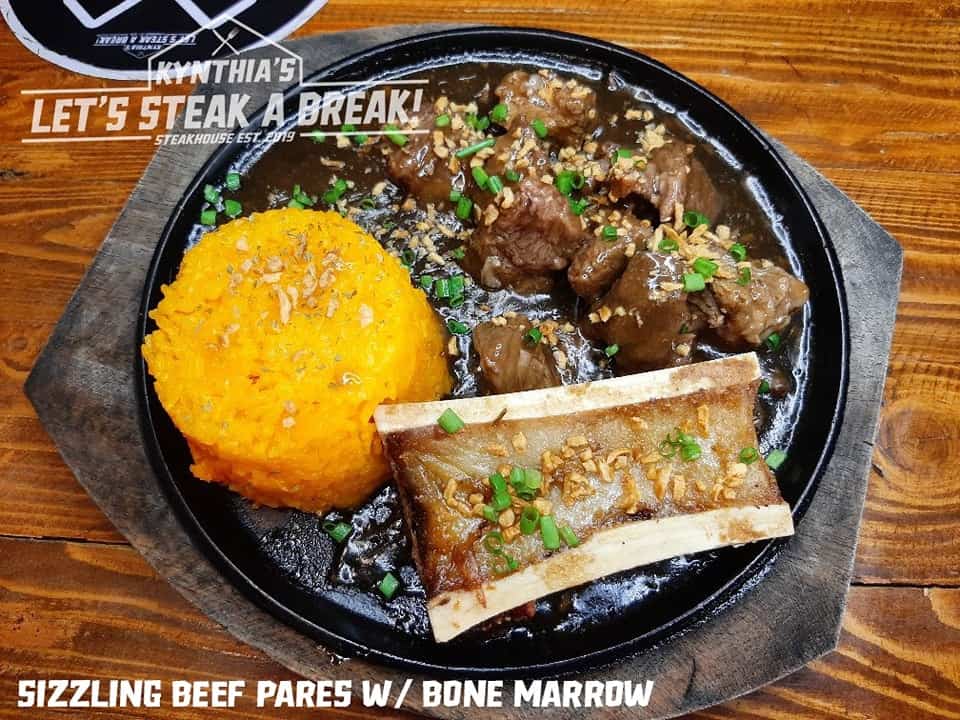 Pasta
If you're looking for pasta dishes no worries let's steak a break also offers pasta. They have 3 to choose from and every pasta comes with garlic bread. They have White Creamy Carbonara if you're a carbonara person, they also have pesto which is my favorite, and also Bacon And Egg Spaghetti.
Burgers and Sandwiches
If you're not into heavy meals no worries they have a burgers and sandwiches menu. They offer 3 kinds of grilled burgers the naughty grilled burger, Super Naughty Grilled Burger, and the Ultimate Naughty Grilled Burger. They also have Hibernate Mode Burger. Other items are Cheesy Beefsteak Sandwich which I highly suggest that you try and this is so good, their Crispy Karaage Burger, which is also delicious, and lastly their Hungarian Sandwich.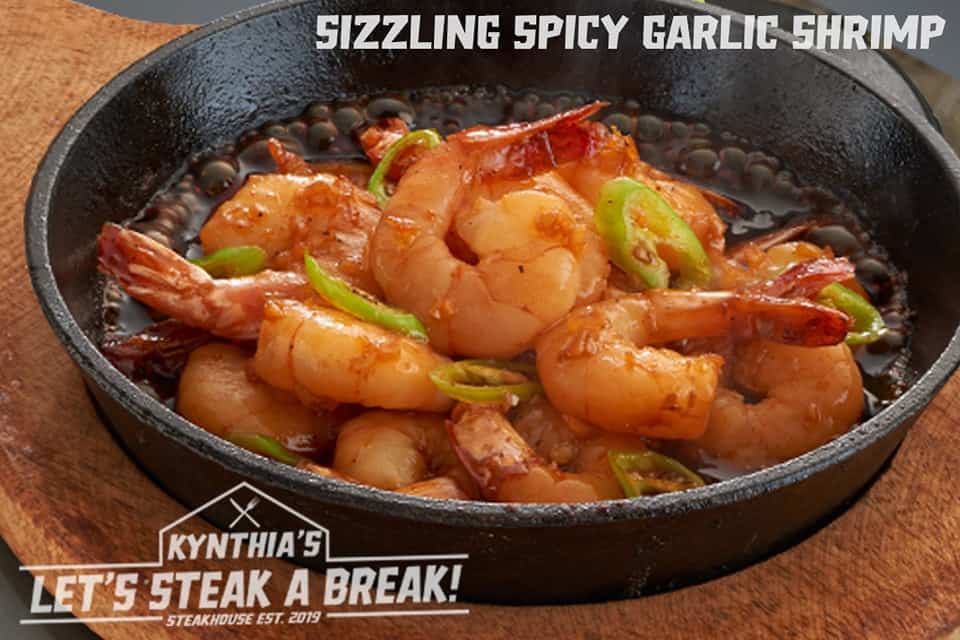 Let's Steak a Break Menu Delivery
After looking into it, it seems that they don't currently have a website for ordering deliveries. But don't worry, you can still enjoy your favorite Let's Steak a Break dishes! How? Well, you can place an order for their delicious food through platforms like Foodpanda and other similar food delivery services. So, even though they don't have their own website for deliveries, you can easily satisfy your cravings by using these convenient food delivery apps.
Social Media Pages
Come and be a part of the sizzle-fest happening on their social media platforms! Every time you scroll through their pages, you're in for a taste-bud tingling adventure that's absolutely irresistible. Get ready to dive into a digital feast that's all about steaks, where juicy, tender pieces of meat, those delightful sizzles on the grill, and oh-so-enticing smells await you with just a simple click.
Facebook: https://www.facebook.com/LetsSTEAKaBREAK
FAQs
Let's Steak a Break. Are they halal-certified?
Unfortunately, Let's Steak a Break is not halal certified since they are serving pork products like their bagnet and other items.
How many branches does Let's Steak a Break have?
let's Steak a Break has 2 branches in Sta. Ana Manila and Molino Bacoor City Cavite.
Let's Steak a Break. Are they offering other dishes or items aside from steak?
Yes, actually they also have burgers and sandwiches, some pasta, rice meals and many more.
Let's Steak a Break. Are they serving Customers 24/7?
No, they are open only from 4 PM in the afternoon until 1 AM in the morning.
Conclusion
A great place to go if you're looking for a place that offers steaks and other products that is affordable but of good quality. Let's Steak a Break menu has a lot to offer and it's impossible for you not to find what you like on their list of food that they serve. The ambiance is very customer friendly with comfortable and clean space. Their service crews are also friendly and nice so it feels like you are at your barkada's place. A place that I can highly recommend.