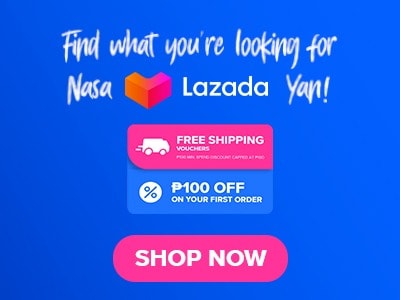 The Jatujak menu aims to provide customers in the Philippines with authentic Thai cuisine. The menu at the restaurant includes a variety of dishes such as appetizers, soups, curries, stir-fries, noodle dishes, and desserts, many of which are prepared and cooked using traditional Thai ingredients and cooking techniques. Jatujak is the best place to go for those seeking a taste of Thailand in the heart of Manila.
Below, you'll find the updated list of Jatujak menu prices.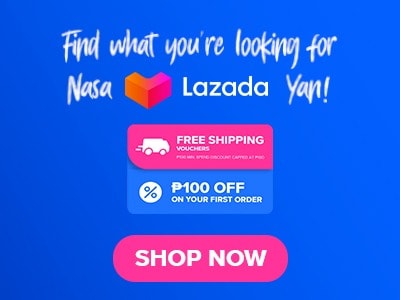 Menu Items
Price (PHP)

Starters

Thai Fried Sping Rolls
155
Fresh Veget-arian Spring rolls
150
Fried Shrimp Cake
270
Sample Appetizer
215

Famous Soups

Tom Yum Shrimp
225
Tom Yum Mixed seafood
265
Tom Yum Chicken
195
Hot and Sour Vegetable Soup
220
Chicken with Coconut Soup
200

Salads

Glass Noodle and Seafood Salad
255
Mixed Seafood Salad
245
Pomelo and Shrimp Salad
235
Crispy catfish w Mango Salad
230
Crispy Pork Salad
268
Grilled US Flank Steak Salad
305
Shredded Papaya Salad
140
Tofu Salad w/ Ground Peanut
155
Minced Chicken Salad
200
Grilled Eggplant Salad
145

Meats

Sate
195
Green Curry
245
Red Curry
245
Chicken Wrapped in Pandalan Leaves
265
Chicken w Cashew Nuts
240
Beef with Basil
255
Chicken with Thai Basil
240
Thai Deep Fried Pork Spareribs
265
Crispy Pata in Red Curry Sauce
500
Roasted Duck Curry
310
Grilled Bacon Belly Thai Style
295

Seafood

Whole Fish w Garlic Chili Sauce
295
Steamed Lapu Lapu
470
Red Burry w Fish Fillet
250
Fried Pampano w Green Mango Salad
360
Cat Fish with Fillet w String Beans and Koffirlime Leaves
235
Prawns w Garlic, Cilantro and Pepper
380
Prawns w Fried Basil and Roasted chili Sauce
380
Prawns and Pineapple Curry
290
Mixed Seafood w Baseil
255
Thai Grilled Stuffed Squid
250
Squid w Garlic, Cilantro and Pepper
260
Fish Head curry
560
Steamed Seabass w Lime
395
Softshell Crab w Basil
395
Softshell Crab w Garlic and Pepper
395
Prawns w Red Curry
295

Vegetables

Stir Fried Morning Glory w Tausi
130
Kolon Leaves w Crispy Pork
225
Vegetable and Tofu Curry
185
Noodle and Rice
210
Pad Thai
195
Stir Fried Flat Noodles w Chicken
185
Flat Noodles w Kailan Leaves in Gravy Sauce
210
Fried Rice w Beef and Spicy Basil
185
Crispy Egg Noodles w Seafood in Thai Gravy
185
Crispy Egg Noodles w Yellow Curry Sauce
185
Bagoong Rice
180
Fried Rice w Beef and Spicy Basil
198
Kao Pad Mix
185
Pineapple Rice
195
Jasmine Rice
40
Thai Steamed Sticky Rice
50
About Jatujak
Jatujak Philippines is a Thai restaurant chain with locations throughout Metro Manila, Philippines. The restaurant is named after Bangkok, Thailand's famous Chatuchak Weekend Market, and it aims to bring authentic Thai flavors to the Philippines. The restaurant's decor is colorful and vibrant, and its ambiance is casual and welcoming, making it a popular choice for both locals and tourists looking for a taste of Thailand in Manila. For customers who prefer to eat their Thai food at home, they also provide delivery and take-out services.
Jatujak Menu Best Seller
Based on their sales, this is the list of one of the many dishes that are mostly ordered by guests who visit Jatujak.
Beef with Basil – This dish consists of a stir-fry of beef, soy sauce, and spices. Customers enjoy the flavorful and tender beef as well as the fragrant aroma of basil.
Thai Grilled Stuffed Squid – It is made up of squid that is stuffed with a mixture of ground pork, herbs, and spices before being grilled to perfection. The tender and juicy squid, as well as the savory filling, are very popular among customers.
Fish Head Curry – This Jatujak menu is a spicy and tangy curry made with a head of fish, vegetables, and Thai herbs and spices.
Chicken with Cashew Nuts – A stir-fry chicken, cashew nuts, vegetables, and Thai spices served with steamed rice. Customers enjoy the cashew's crunchy textures as well as the tender juicy chicken.
Pad Thai – This classic Thai noodle dish features stir-fried noodles, bean sprouts, tofu, egg, and shrimp that are seasoned with tamarind, fish sauce, and peanuts for a much deeper flavor.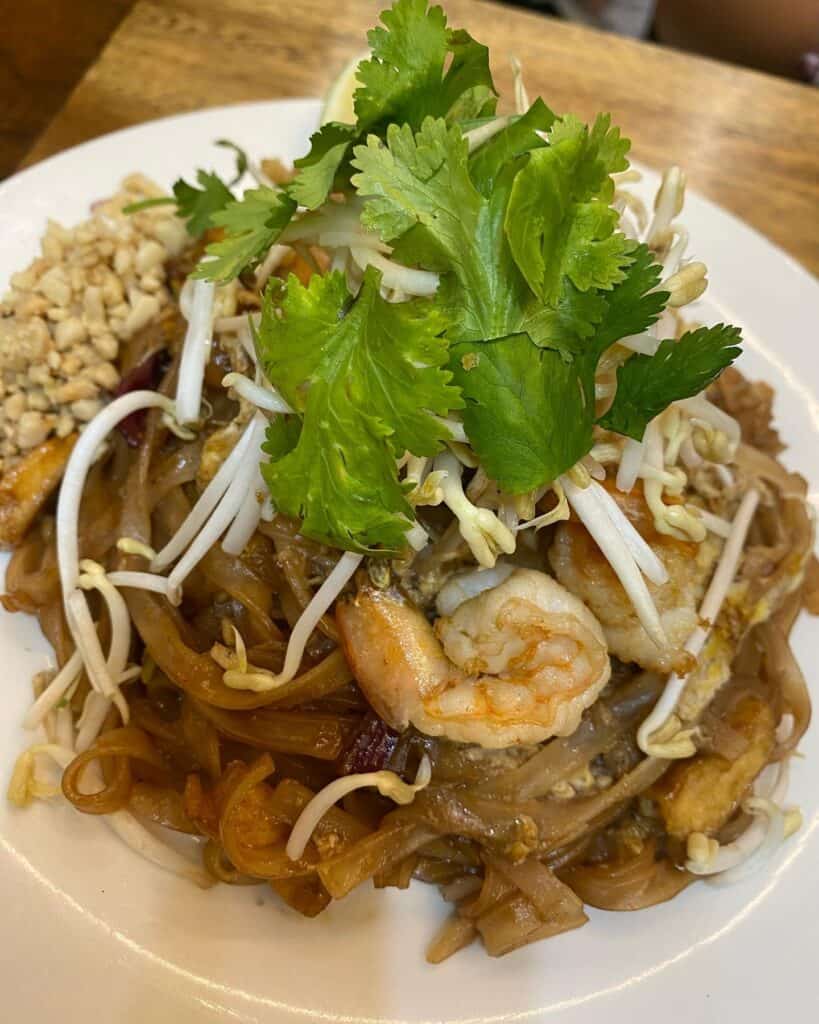 Jatujak Starters Menu
This menu's dishes offer a variety of flavors and textures to complement the main courses.
Thai Fried Spring Rolls – Served with a sweet chili dipping sauce, these crispy, savory spring rolls are filled with a mixture of vegetables or meat. Customers appreciate the crunchy texture of the rolls as well as the flavorful filling.
Fresh Vegetarian Spring Rolls – Made with rice paper wrappers filled with vegetables and/or tofu, these fresh and healthy spring rolls are served with a peanut dipping sauce. Customers appreciate the light and refreshing flavors of these rolls.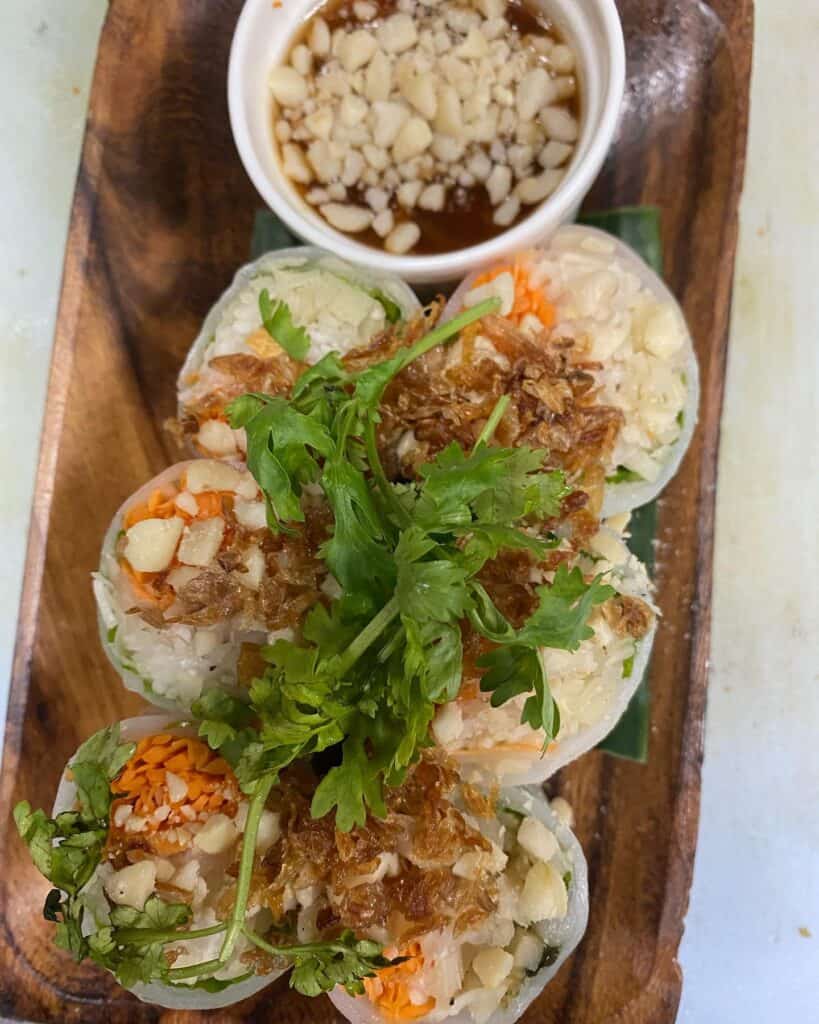 Fried Shrimp Cake – It uses minced shrimp and Thai spices, these crispy and flavorful shrimp cakes are served with a sweet chili dipping sauce. Customers enjoy the cakes' fragrant aroma as well as the tender and juicy shrimp meat.
Sample Appetizer – This is an appetizer platter with fried spring rolls, shrimp cakes, and other snacks. Customers appreciate the variety of flavors and textures on this platter, as well as the opportunity to try different dishes at once.
Jatujak Famous Soups Menu
These soups also offer a good balance of spiciness, sourness, and creaminess, making them a popular choice for those seeking a warm and comforting dish.
Tom Yum Shrimp – Tom Yum Shrimp is a spicy and sour soup made with shrimp, Thai spices, and herbs. Customers enjoy the soup's bold and complex flavors, as well as the tender and juicy shrimp.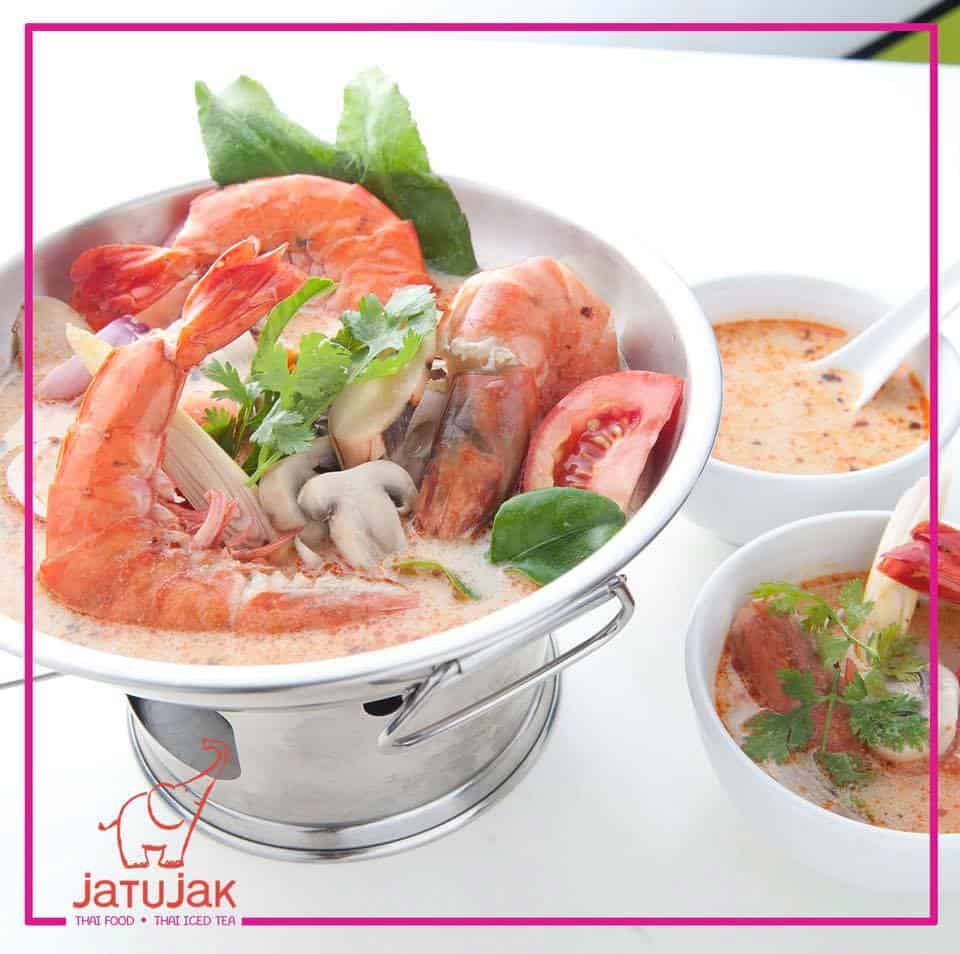 Tom Yum Chicken – Instead of shrimp, this version of Tom Yum soup uses chicken, but it retains the same bold and complex flavors of lemongrass, galangal, kaffir lime leaves, chili, and other Thai spices and herbs.
Chicken with Coconut Soup – This soup dish, known as Tom Kha Gai, is made with chicken, coconut milk, lemongrass, galangal, kaffir lime leaves, and other Thai spices and herbs.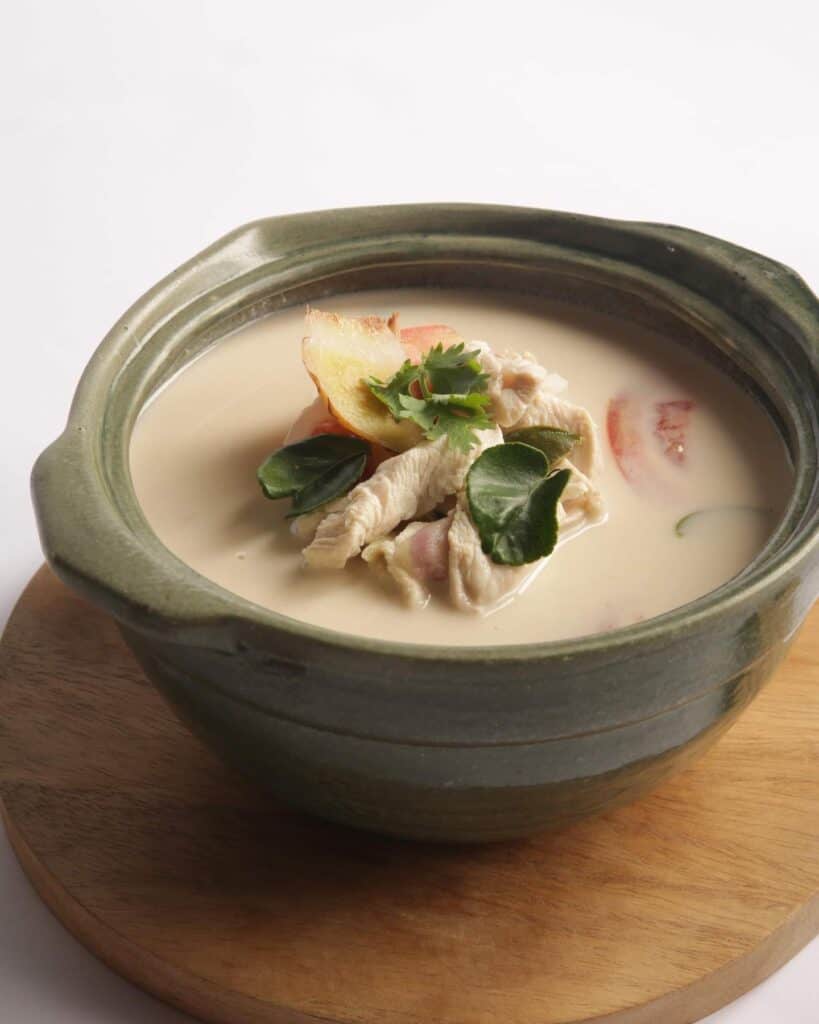 Salads
This menu includes the best dishes that will introduce guests who have never tried Thai cuisine to its flavors.
Mixed Seafood Salad – A refreshing salad with a mix of fresh seafood, including shrimp, squid, and mussels, tossed with vegetables, herbs, and a spicy and sour dressing. Customers appreciate the freshness and quality of the seafood, as well as the dressing's bold and complex flavors.
Shredded Papaya Salad – Also known as Som Tum, this salad is a classic Thai dish made with shredded green papaya, tomatoes, peanuts, and a spicy and sour dressing.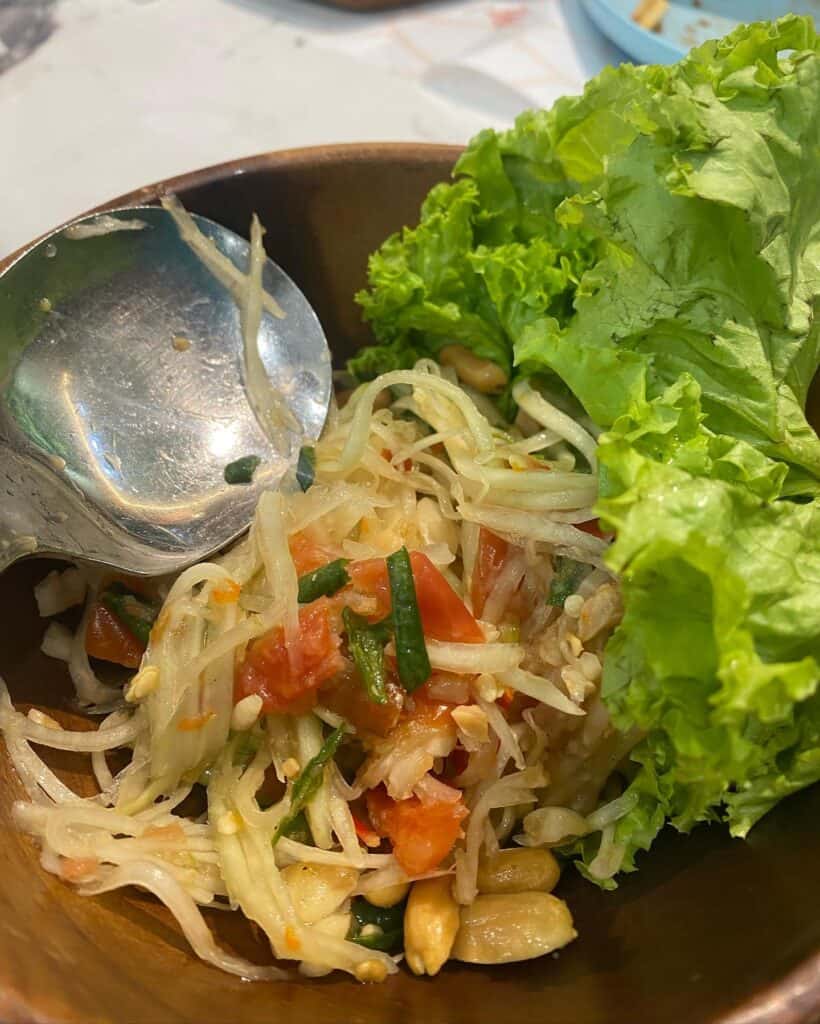 Minced Chicken Salad – This salad is a savory and spicy dish made with minced chicken, herbs, spices, and a lime dressing. It has tender and juicy chicken meat, as well as bold and complex flavors.
Meats
From spicy curries to tender and juicy grilled meats, the dishes on this menu offer a variety of flavors and cooking styles. It is a must-ordered menu for customers who want to enjoy fresh and high-quality meats that have the bold and complex flavors of Thai cuisine.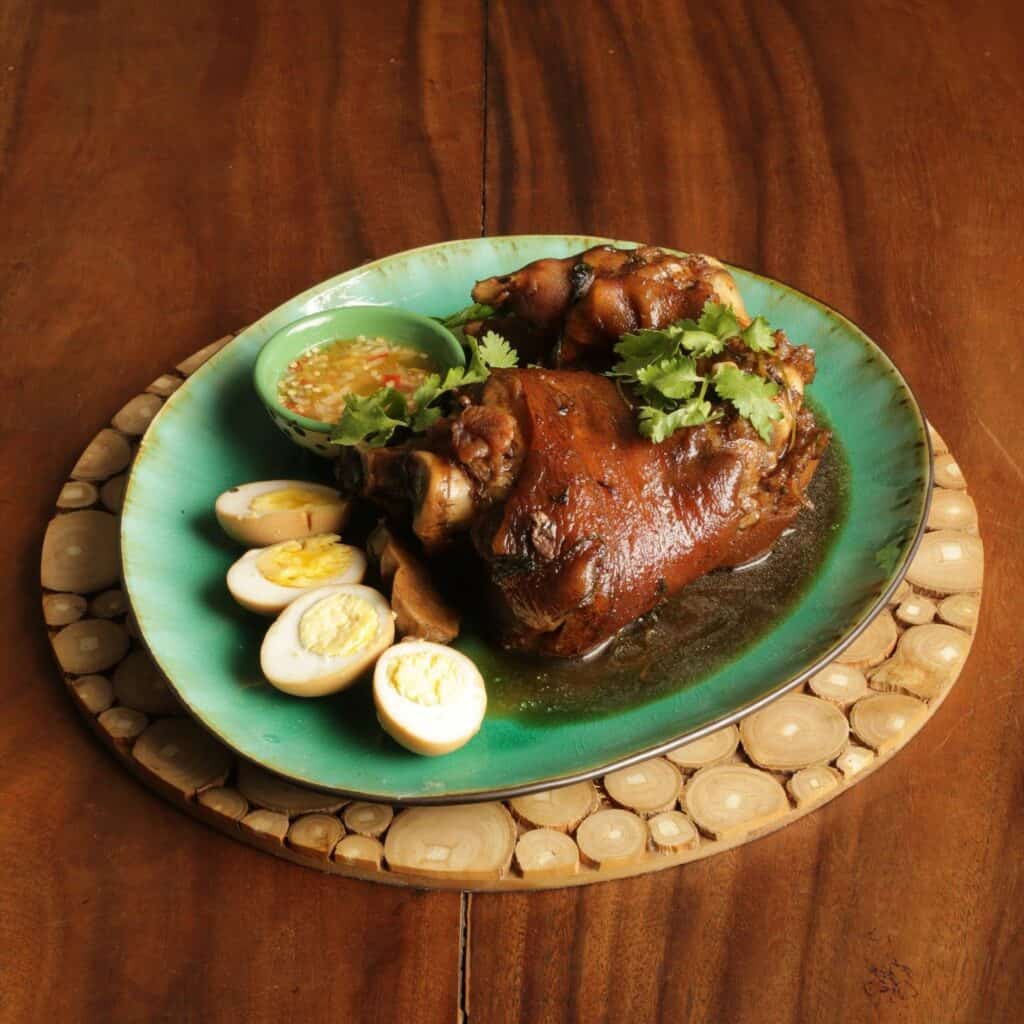 Seafoods
Jatujak's seafood menu is extensive and offers a wide range of options. The dishes are cooked with authentic Thai flavors and spices, which give each dish a unique and delicious taste. Jatujak's seafood menu offers a wide variety of flavorful and authentic Thai dishes that are well worth trying.
Vegetables
The vegetable menu at Jatujak features a variety of delicious and authentic Thai dishes that are ideal for vegetarians or those looking for healthier options. The dishes are cooked with fresh ingredients and authentic Thai spices and flavors that make each dish unique and delicious.
Noodles and Rice
The Jatujak noodles and rice menu is a treasure trove of authentic Thai flavors and ingredients, promising a feast for the senses. The menu is abundant with diverse options, catering to both the traditionalists and the adventurous foodies. From the classic Thai staples to exciting and unique creations, the menu guarantees to tantalize the taste buds and satiate the appetite.
Jatujak Menu Delivery
Jatujak food and beverages can now be ordered online via apps such as GrabFood and FoodPanda. Customers can watch TV or play sports while eating and drinking Jatujak products without having to visit their physical store.
Social Media Pages
Jatujak is available across different social media channels you can engage with their posts by liking, commenting, and sharing. This helps increase their visibility on social media and attract more potential customers. By supporting their social media platforms, you're not only helping their business grow but also keeping yourself updated and informed about what's happening with Jatujak. The links are provided below for you to get redirected to their pages.
Facebook: https://www.facebook.com/jatujakthaifood/
Instagram: https://www.instagram.com/jatujakph/
Tiktok: https://www.tiktok.com/@jatujakthaifood
Conclusion
Jatujak serves a wide range of authentic Thai dishes that are both well-prepared and flavorful. The starters, soups, salads, and meat menus were all well-received, especially the Beef with Basil, Thai Grilled Stuffed Squid, and Tom Yum Shrimp. The vegetable, noodles and rice, and dessert menus all have a good selection of dishes worth trying. Overall, Jatujak Philippines appears to be an excellent choice for those seeking delectable and authentic Thai cuisine in the Philippines.