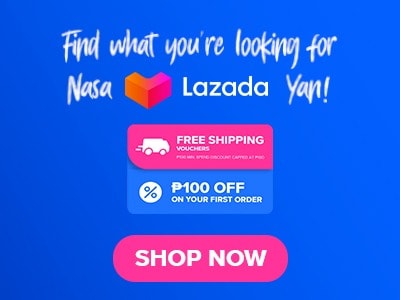 Prepare to be wowed with this next fruity adventure we are going to ride today. It is an establishment that specializes in fruity and delightful yogurt drinks that have mastered giving the finest refreshments and pure indulgence in every sip and savor. Introducing Chimmy and its finest menu and price collection of Yogurt drinks. 
Menu Items
Price (PHP)

Yogurt

Avocado Graham Yogurt
180
Avocado Yogurt
158
Banana Yogurt
125
Blueberry Yogurt
150
Bobba Yogurt
125
Choco Banana Yogurt
145
Chocolate Yogurt
140
Cookies and Cream Yogurt
125
Grape Yogurt
139
Green Apple Yogurt
125
Lychee Yogurt
135
Mango Graham Yogurt
145
Mango Yogurt
130
Melona Yogurt
140
Original Chimmy Yogurt
108
Sticky Purple Rice Yogurt
125
Strawberry Yogurt
130
Ube Yogurt
150

Premium Milk Tea

Brown Sugar Milk Tea
110
Dark Choco Milk Tea
100
Matcha Milk Tea
105
Melona Milk Tea
100
Okinawa Milk Tea
105
Original Milk Tea
90
Taro Milk Tea
105
Wintermelon Milk Tea
100

Zero Sugar Milk Tea

Dark Choco Milk Tea
125
Melona Milk Tea
130
Original Milk Tea
120
Taro Milk Tea
125

Fruit Teas

Green Apple Fruit Tea
90
Lychee Fruit Tea
90
Mango Fruit Tea
90
Passion Fruit Tea
90
Strawberry Fruit Tea
90
Wintermelon Fruit Tea
90

Cheesecakes Series

Cheesecake
110
Dark Choco Cheesecake
120
Matcha Cheesecake
125
Melona Cheesecake
130
Taro Cheesecake
125
Wintermelon Cheesecake
120

Creampuff Oreo Series

Cookies and Creampuff Oreo
115
Dark Choco Creampuff Oreo
125
Matcha Creampuff Oreo
130
Wintermelon Creampuff Oreo
125

Frappe Series

Dark Choco Frappe
120
Matcha Frappe
125
Melona Frappe
120
Okinawa Frappe
125
Taro Frappe
120
Wintermelon Frappe
120

Hot Tea

Dark Choco Hot Tea
110
Matcha Hot Tea
115
Okinawa Hot Tea
110
About Chimmy
Chimmy specializes in Original Filipino Blend Yogurt that is available in many variations. They take great pride in their yogurt which emphasizes a well-balanced flavor of sweetness and sourness. It allows you to experience Euphoria in every sip of their delightful beverage. Every yogurt-based beverage they serve offers a creamy perfection that unveils an indulgence touch and velvety textures. It has a very soothing and electable taste perfect as your next go-to drink.
Chimmy Menu Best Seller
Experience the euphoria and the finest refreshment from Chimmy in this list I curated for you that features their Must-try and best-selling drinks in their menu.
Melona Yogurt – A sure hit in their latest collection that allows you to savor a unique twist of your usual yogurt. It is delightful with the melon flavor that offers a luscious yogurt combination.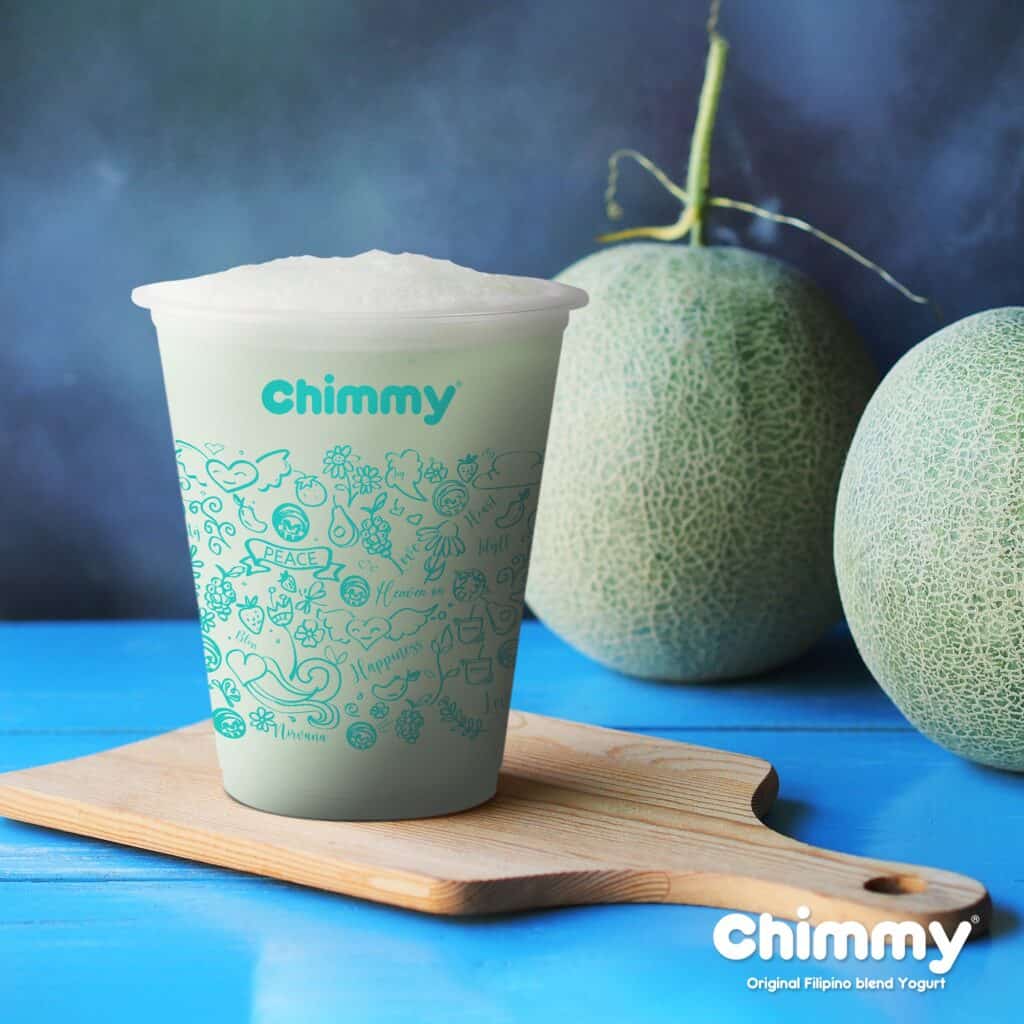 Banana Yogurt – A tropical delight from Chimmy that features a creamy goodness of yogurt that was elevated with the natural hint of banana sweetness that blends carefully giving you a well-balanced flavor.
Ube Yogurt – A drink that is close to my heart is what we have in this Ube Yogurt. It highlights your favorite ube flavor giving you a creamy blend of this creative drink. It has a purple appearance which gives an extra point to its entire visual.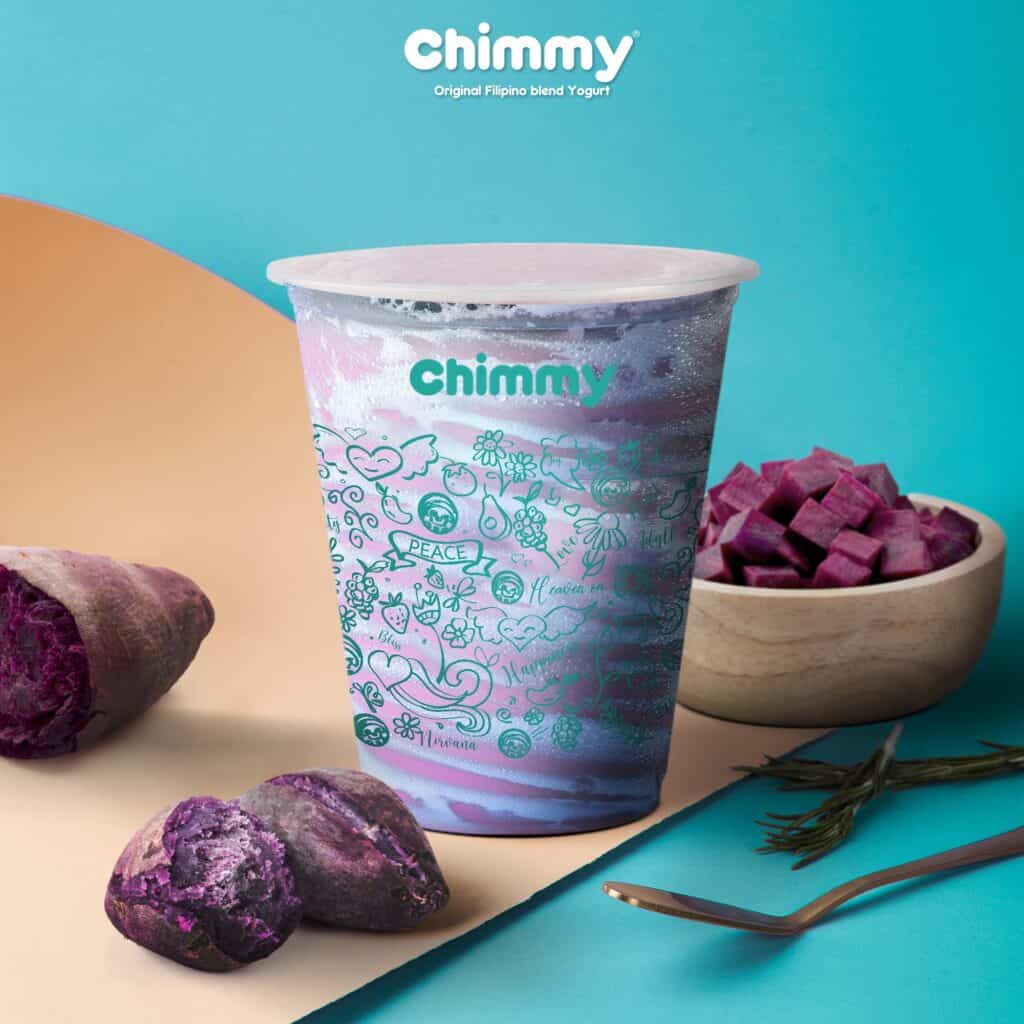 Blueberry Yogurt – This Blueberry yogurt is here to offer you a delightful blend of creamy yogurt that allows you to indulge in the sweet yet bold flavors of blueberries. It is very refreshing and a perfect drink for blueberry enthusiasts.
Mango Yogurt – A best-selling drink that will surely capture your Filipino heart. This drink features a tropical paradise in every sip highlighting the juicy goodness of sweet mangoes. It has a smooth and velvety texture that is a must-love.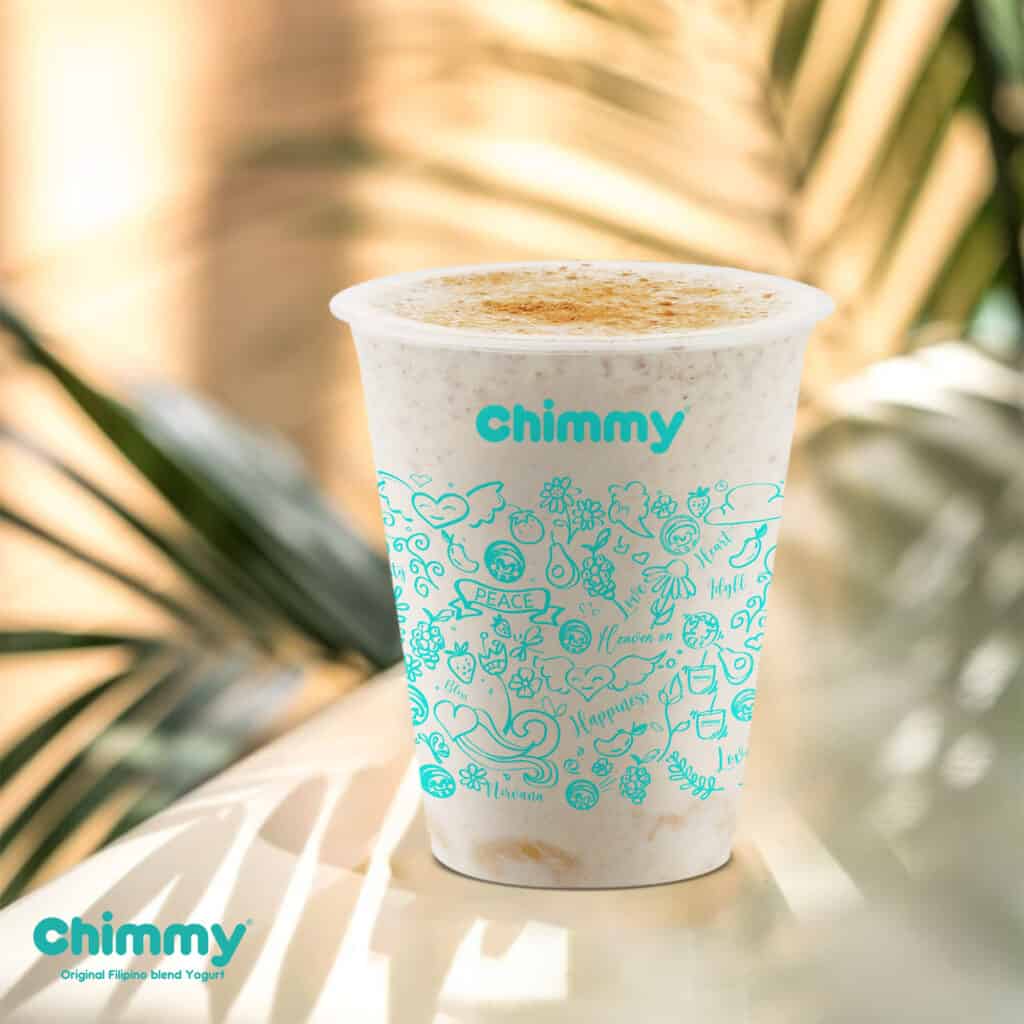 Others
Savor the finest refreshment here in this selection of their menu that features your favorite fruits that are blended in a flavorful combination of yogurt.
Green Apple Yogurt – This unique blend of fruity twists of the Green apple menu of Chimmy allows you to indulge in a zesty yogurt drink that is a perfect go-to drink for beating the heat.
Grape Yogurt – This Yogurt drink takes you to a juicy world in a fusion of grapes and creamy yogurt. This results in a delightful grape drink that is refreshing as well as satisfying.
Chocolate Yogurt – Savor the delectable fusion of creamy yogurt with velvety chocolate that is rich in flavor. It is a perfect go-to drink for people who love chocolate which is a perfect balance of sweetness and creaminess.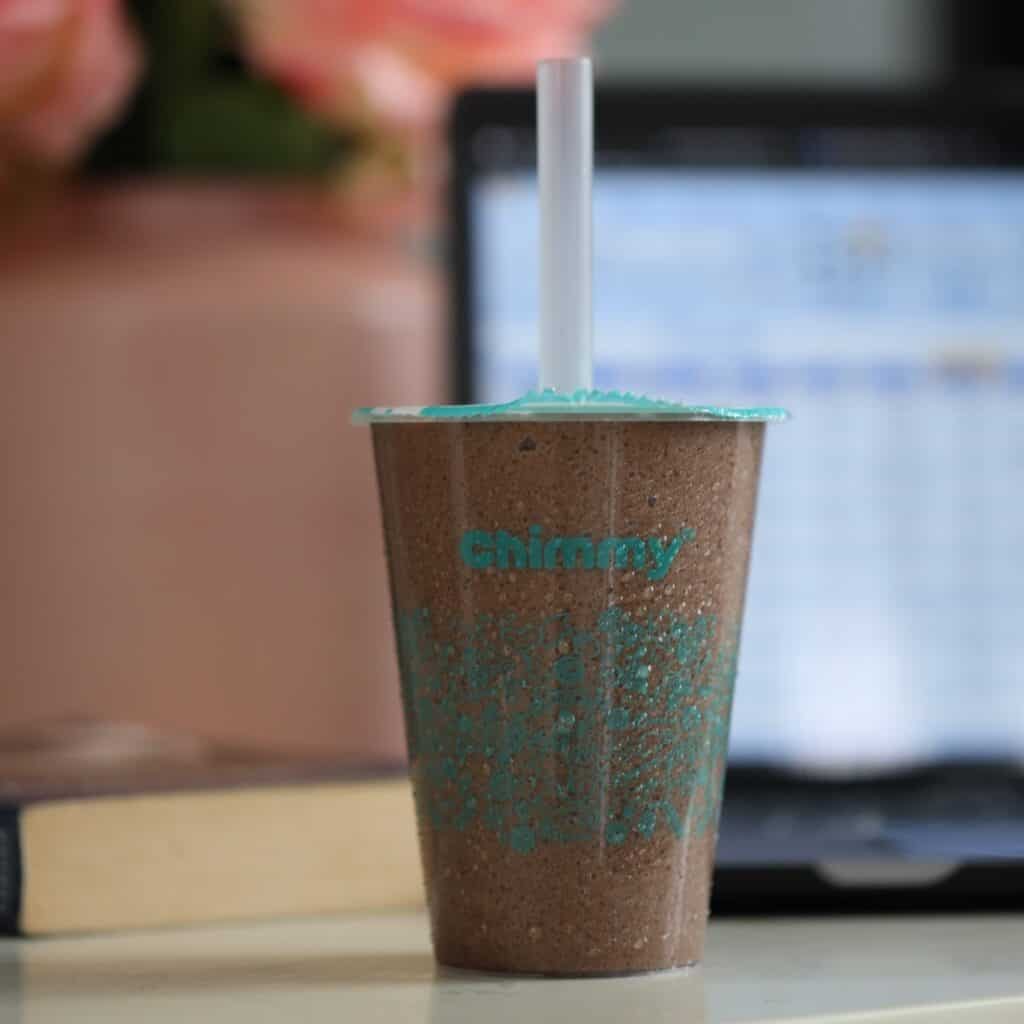 Strawberry Yogurt – Experience the citrusy flavor of these strawberries which are a delightful fusion with sweet and velvety yogurt. It has a very fruity and satisfying taste perfect for people who love to pair strawberries with various treats.
Avocado Yogurt – The creaminess and rich flavor of this yogurt drink is top-notch. It has a special kick of buttery flavor with an avocado blend that perfectly combines with the flavor of yogurt.
Lychee Yogurt – If you want to be extra adventurous today, you can order this lychee yogurt that features a fragrant fume of lychee fruit. It is blended to perfection with the yogurt which offers a fruity sensation.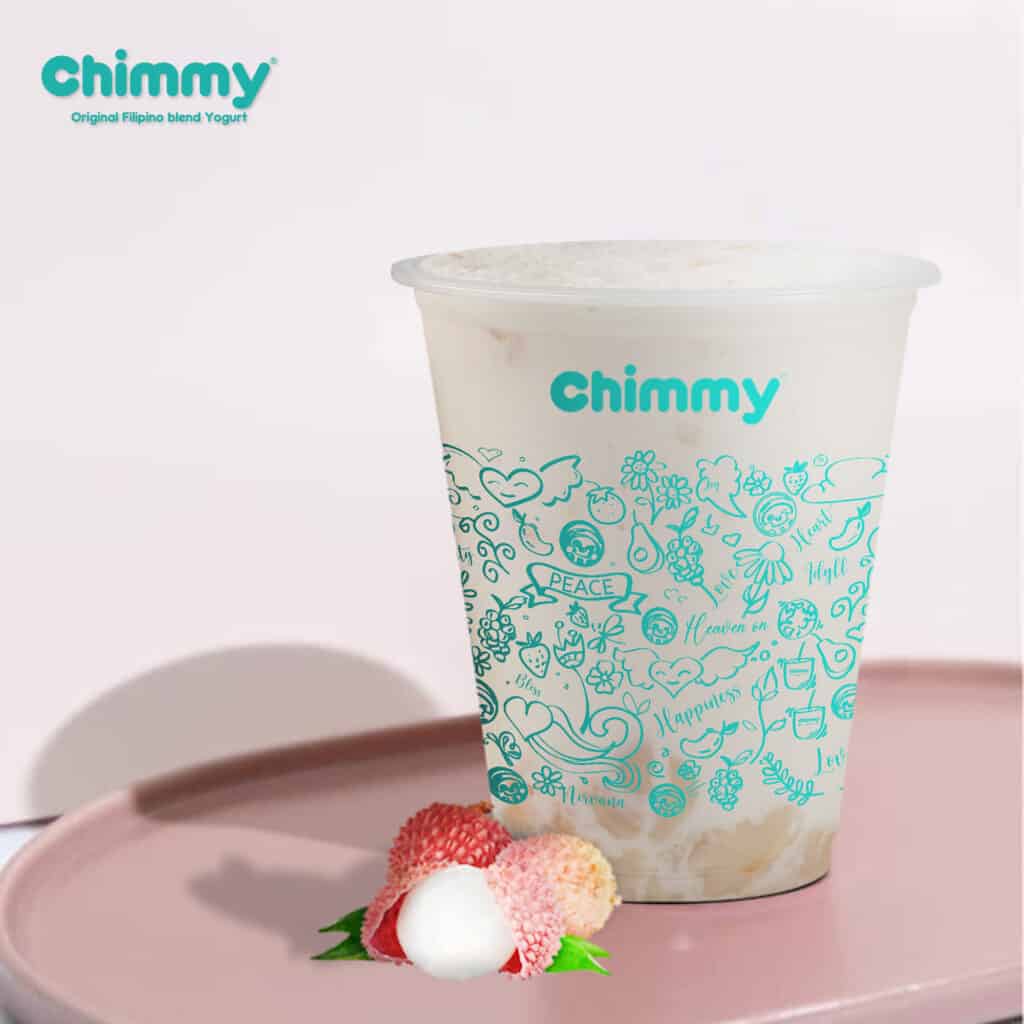 Avocado Graham Yogurt – Let us take that classic Avocado yogurt to the next level with this Avocado Graham Yogurt that features a delightful dessert combining the creamy texture of avocado and the nutty goodness of graham cracker in flavorful yogurt.
Cookies and Cream Yogurt – On the last spot is something we should not miss. This yogurt features a delightful dessert infused with the maltiness of cookies and cream that allows you to indulge in the sweetness and creaminess of this beverage.
Chimmy Menu Delivery
Experience the level of refreshment you never had before with these enticing drinks from Chimmy that offer a unique twist of your favorite delights in a cup of flavorful yogurt. You can order this delightful treat through online delivery services such as FoodPanda. You can order through their official website or download their app through Play Store or App Store and unveil the magnifying goodness these drinks can give you to your day.
Social Media Pages
Follow them on social media and join the Chimmy foodie community. It's a place where every post is a promise of an extraordinary dining experience.
Facebook: https://www.facebook.com/chimmyphilippines
Instagram: https://www.instagram.com/chimmyph
TikTok: https://www.tiktok.com/@chimmyphilippines
Website: https://chimmy.ph/contact-us
Frequently Asked Questions
What type of cuisine does the Chimmy offer?
Chimmy offers a refreshing collection of innovative delights that are served in various styles that you will be delighted to try.
What is the Chimmy known for?
Chimmy is known for its flavored blend of yogurt to different fruits and delights. Their famous drink is Blueberry yogurt and Mango Yogurt.
What are the operating hours of Chimmy?
Chimmy is operating from 10 AM until 8 PM from Mondays to Sundays.
Where is the Chimmy located in the Philippines?
There are a number of Chimmy branches available in selected areas of the Philippines. You can take a look at this link, this link entails all of the locations of Chimmy and their operating hours. 
Conclusion
In conclusion, Chimmy is definitely a safe haven for every yogurt lover out there. Their delightful take on the innovative fusion of flavors and creaminess of their delightful beverage is worthy of fame and appreciation. Their diverse range of yogurt-based drinks is evidence of how they allot so much time in curating their menu collection to surely hit every craving of your various types and moods.
From their classic favorites such as Banana Yogurt to the all-star Blueberry Yogurt, these unique creations allow you to have a playful sip while giving you the finest refreshing experience you truly deserve. Their commitment to quality and healthy ways of indulging in your favorite treats is worthy of commendation. I am delighted about my visit and it will surely be one of my next go-to yogurt shops in the future.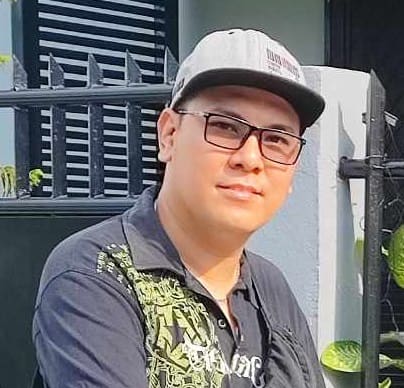 Hi! I'm Nivek Strife, the person who made MenuPH. I'm the one who added most of the popular menus you see on this website, and I really hope you enjoy them! Feel free to check them all out.
Growing up, I was surrounded by lots of tasty foods, like the classic Adobo and the sweet Leche Flan. That love for the many flavors of the Philippines is what got me excited about adding to MenuPH. When I learned how to make websites, I saw the need for a place to show off all the amazing Filipino dishes, and that's how MenuPH started.
MenuPH isn't just a website; it's like a fun journey into food. I've teamed up with famous chefs and found great places all over the Philippines to bring you a bunch of menus that show off the best of Filipino cuisine. Whether you're into the usual dishes or new twists, MenuPH is here to guide you through the rich world of Filipino flavors.
With MenuPH, my aim is to help local businesses, talk about good food choices, and make a group of friends who love food. No matter if you like fancy restaurants or street food, MenuPH has something for you. Come join me on this food adventure as we find great places, taste real flavors, and enjoy the unique food traditions that make the Philippines awesome.