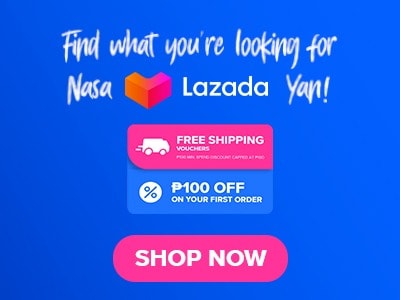 Nothing can beat the classics, especially when we talk about our childhood favorite meals that have been a great part of who we are today. The goodness of every sip of your favorite sinigang and the saucy delight with your favorite Kare-Kare as well as the perfect crispy skin of the most awaited lechon, these favorite Filipino cuisine has always a space in our heart. That's why I have this recommended restaurant that is perfectly all about that, no more long introductions because this is Belly Good, and their menu collections
Below, you'll find the updated list of Belly Good menu prices.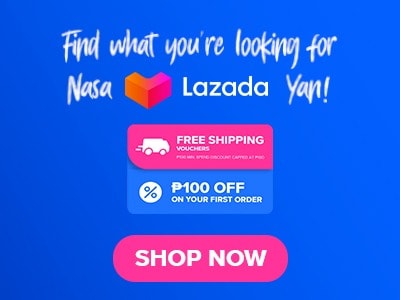 Menu Items
Price (PHP)

Belly Lechon

Duo
200
Family

400
Barkada

800
Party

1,840
Feast

2,800

Pork

Kare-Karechon

240
Sinigang na Lechon
240
Pork BBQ sticks (4 pieces)
132
Pork BBQ sticks (10 pieces)
264
Lechon Sisig

200
FULL RACK PORK RIBS
640
HALF RACK PORK RIBS
320

Seafood and Chicken

Salted-egg Shrimps
248
Sinigang na Hipon
256
Sinigang na Lechon at Hipon
256
Buttered Garlic Shrimp
240
Baked Bangus
168
Chicken Lollipop
200

Appetizers

Belly Good Pancit
224
Gising Gising
96
Ensaladang Talong
104
Fresh Lumpia
64
Sizzling Garlic Mushroom
132

Set Meals

Bellychon Set Meal
140
BBQ Sticks Meal
100
Pork Ribs Set Meal
148
Belly Good Grilled Chicken Inasal Meal
152

Group Meals

Belly Group A
1,040
Belly Group B
1,280

Drinks

1.5 Coke
96

Extras

Extra sinigang soup
40
Rice (1 Cup)
20
Rice (2 Cups)
44
Atchara
8
Lechon Sauce
8
Belly Good Rice
28
About Belly Good
Belly Good is a one-stop restaurant for all of your favorite Filipino food, their finest collection of meals serves great wonders of Taste, Quality, and Texture. They take pride in their meals that highlight a creative innovation from mixing and balancing a delightful fusion of flavors and textures such as their Kare-Karechon, Sinigang na Lechon at Hipon which became one of the most iconic meals and gained massive popularity in their menu.
Belly Good Menu Best Seller
Belly Good caters to a variety of traditional Filipino delicacies and here are the top picks that became the most popular dish in their collection.
Baked Bangus – This seafood dish has a well-deserved spot to be on the top of our list. It is a baked bangus that is flavored with cream and cheese and is topped with fresh cuts of tomato cucumber salsa.
Kare-Karechon – This innovative style of cooking a Kare-Kare is one of the well-loved dishes on their menu because of its crispy bellychon slices that are ultimately flavored with a delicious peanut sauce served with varieties of veggies.
Ensaladang Talong – This menu of Belly Good features the smokey goodness of grilled eggplant that is topped with fresh tomatoes, onions, and thin slices of cucumber. It is served with a delectable shrimp paste along with a red egg.
Sinigang na Lechon at Hipon – This dish is about the fusion of meaty bellychon and the juiciness of shrimp that are served together in a Sinigang soup. One of the most popular meals they served on the table.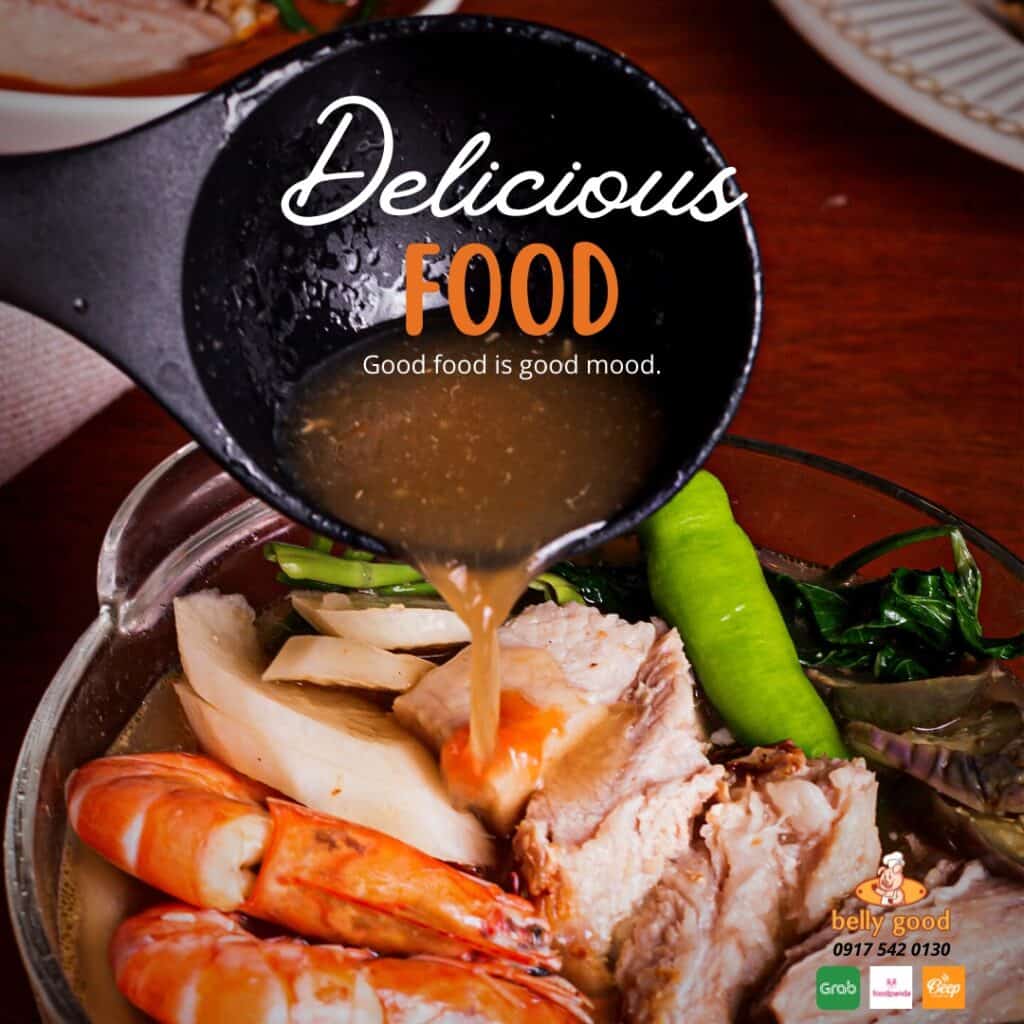 Duo – This is found in their Belly Lechon collection highlights the goodness of crispy lechon that is served and good for 5 persons.
Belly Good Menu Pork
Their Pork collection consists of a number of grilled and soup-based meals where pork is the main highlight giving various textures and forms.
Pork BBQ Sticks – This barbeque dish highlights the smokey goodness of sliced pork that is deeply marinated in a delicious sweet BBQ sauce and grilled in skewers.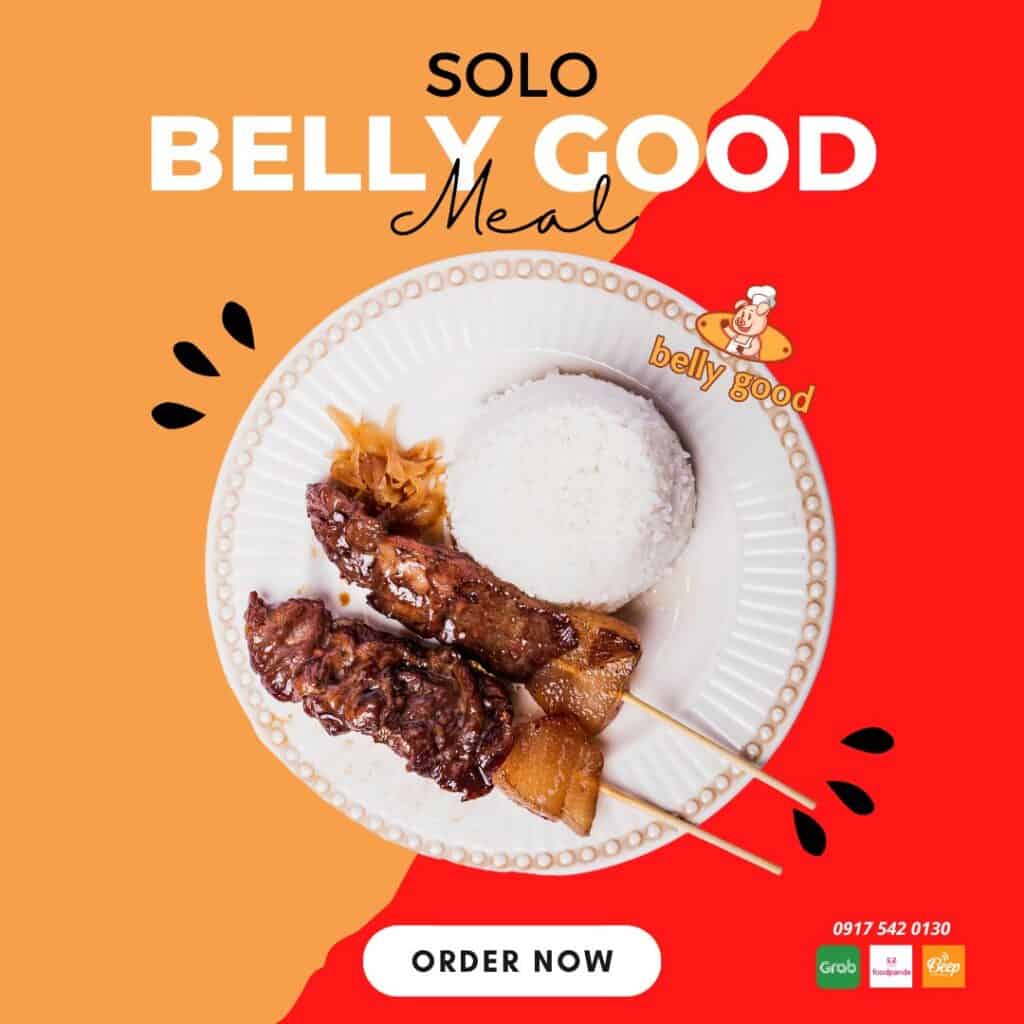 Lechon Sisig – This sisig is made out of bellychon that is perfectly diced and stir-fried on slices of chilies and onions until it reaches the desired crispiness and the right texture.
Full Rack Pork Ribs – This dish feels like an elevated style of Pork BBQ that is filled with more outstanding goodness of Smokey and aromatic flavor. It is made out of Grilled Pork Ribs and is highly recommended for family dining.
Half Rack Pork Ribs – This is just the same as the previously reviewed Full Rack Pork Ribs but a half portion of it and half-priced perfect if you are accompanied by a limited number of people only.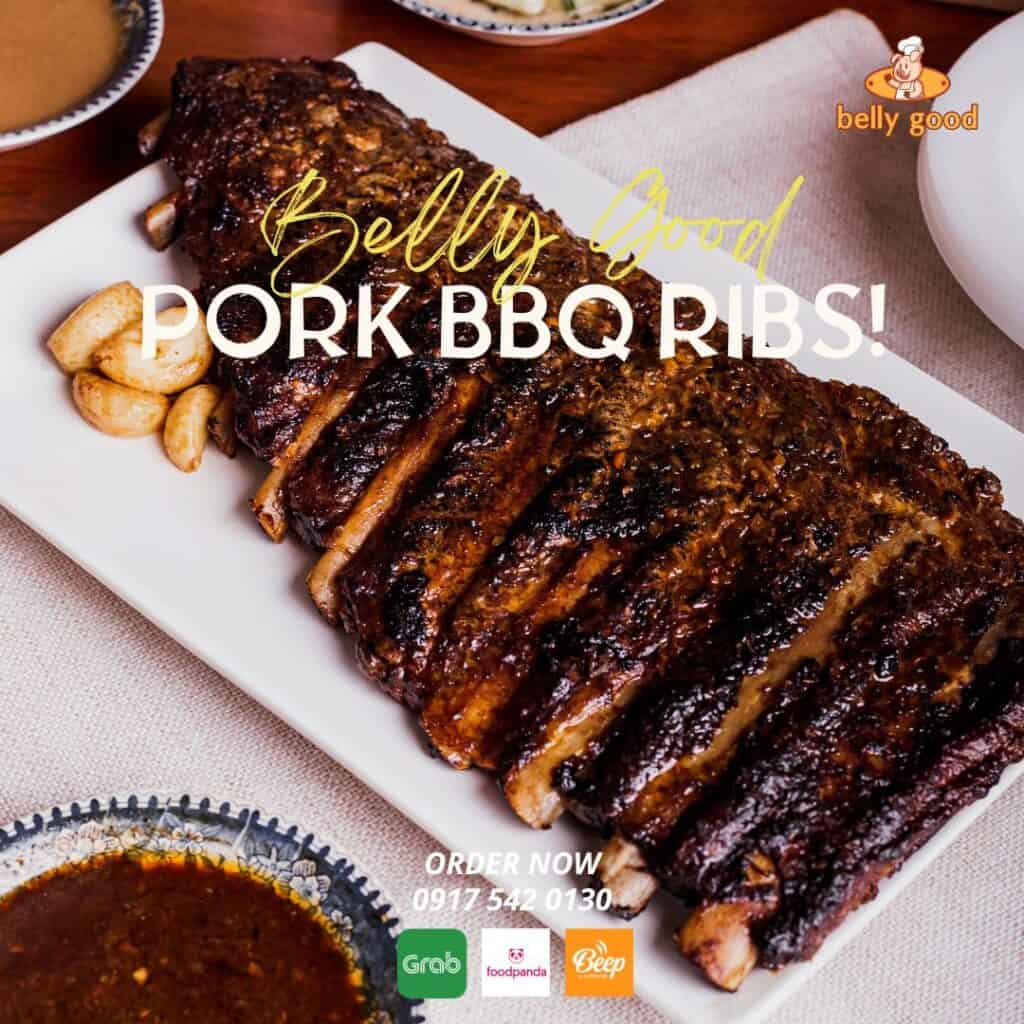 Seafood and Chicken
Belly Good does not only revolve around the delightful goodness of pork but also to various flavors of Seafood and Chicken dishes that are served in this menu collection.
Chicken Lollipop – Starting this list with this Chicken lollipop, this features perfectly deep-fried frenched chicken wings that are carefully breaded to give you a very enticing look. It has 6 pieces and is served with their house-special sauce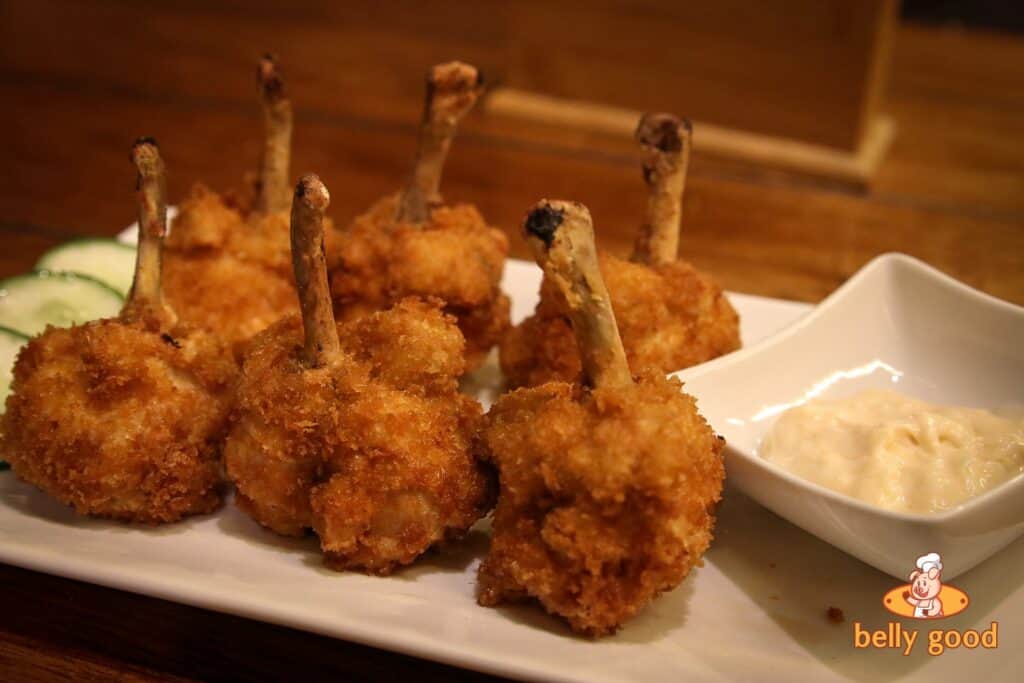 Buttered Garlic Shrimp – The buttery kick it gives is just heavenly especially when you have the juicy bite of shrimp that are carefully flavored and seasoned with their own spices.
Salted Egg Shrimp – another shrimp-based meal that features a delicious sauce that is made out of butter mixed with salted egg and milk. This is perfect if you love eating salted egg but the flavor is not strong because of the milk and butter added to it so you can really have the perfect fusion of these three delightful ingredients on it.
Belly Good Menu Delivery
You can order your favorite boneless lechon through online transactions and have it delivered right to your doorstep via FoodPanda Ph and GrabFood for faster and much more efficient transactions. You can search through their website or download their app to see if they are available in the nearest available branch located in your area. Another way is to access their Beepit page from this link.
Social Media Pages
By following their Instagram and Facebook pages, you'll be the first to know about their latest menu items, promotions, and events. So what are you waiting for? Follow Belly Good on social media today and start planning your next visit!
Facebook: https://www.facebook.com/bellygoodlechon
Instagram: https://www.instagram.com/bellygood_ph
Frequently Asked Questions in Belly Good
What type of cuisine does Belly Good offer?
Coming from its name, Belly Good offers a wide range of Filipino favorite dishes where pork is one of the main highlights. They also offer seafood and chicken collections that are worth checking out.
What is Belly Good known for?
Belly Good is known for its flavorful collection of Pork cuisines such as its BBQ sticks, Pork Ribs, and amazing collection of shrimp-based meals.
What are the operating hours of Belly Good- Dona Juliana?
Belly Good- Dona Juliana operates from 10 AM until 8 PM every day.
Are there ways I can reach them?
Yes, they have several Facebook pages for you to send your messages and check them out along with the reviews from other customers.
Conclusion
To conclude everything, it is evident that Belly Good is a great destination for your flavorful Filipino cravings. From their finest collection of savory pork menu such as Pork Sticks, Pork Ribs, Lechon Sisig, and Duo, the Belly Good is definitely a perfect place to dine in with your family and barkada. However, I can suggest that they explore more Filipino cuisines and pork-related delicacies because the Filipino culinary heritage is really rich about that. Aside from that I am truly a fan of their collection and the quality of the meals they serve on the table. This won't surely be the last time and I am looking forward to my next visit!