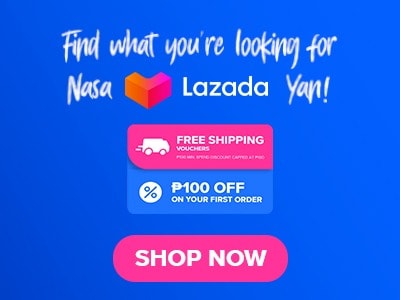 The Mango Tree Café menu consists of cuisines inspired by Thailand cuisine. It offers appetizers, salads, soup, steamed seafood, grilled dishes, fried cuisines, curry, pasta, noodles, rice meals, vegetables, desserts, and vegan dishes. Most dishes it serves have a spicy flavor and delicious twist, giving diners an enjoyable meal. The food items it serves have a creative and appealing presentation that will make you look forward to trying them.
Below, you'll find the updated list of Mango Tree Cafe menu prices.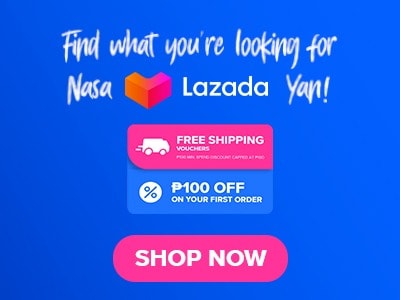 Menu Items
Price (PHP)

Appetizers

Corn Cakes
350
Snack Buns
350
Thai Vegetable Spring Rolls
320
Tom Yum Chicken Wings
350

Salad

Crispy Catfish with Green Mango Salad
520
Green Mango Salad
400
Papaya Salad
550
Papaya Salad with Shrimp and Salted Egg
550
Pomelo Salad with Shrimp
450
Spicy Lady Finger "Okra" Salad
350
U.S. Beef Salad
750

Soup

Tom Khiong Norweigan Salmon Head and Chilean Black Mussels
620
Tom Yum Seafood
580
Tom Yum Shrimp
650
Tom Yum Vegetables
520
Tom Zab Pork Ribs
650

Steamed

Steamed Chilean Black Mussels in Tom Yum
580
Steamed Sea Bass with Lime Sauce
1650
Steamed Shrimp in Tom Yum
700

Grilled

Chicken Satay
450
Grilled Chicken in Lemongrass
650
Pork Belly Satay
680
Spicy and Tangy Thai Spareribs
780
Thai Grilled Pork Belly
650
Thai Isan Spareribs
850

Stir-Fried/Fried

Chicken in Pandan
420
Chicken with Cashew Nuts
620
Deep Fried Sea Bass
1650
Shrimp Cakes
550
Siam Sisig (Pork/Chicken)
550
Soft Shell Crab with Salted Egg
950
Stir-fried Chicken with Holy Basil
600
Stir-fried Crab in Curry Sauce
1800
Stir-fried Pork with Holy Basil
650
Stir-fried Soft Shell with Holy Basil
850
Thai Omelette with Shrimp
420

Curry

Green Curry Beef Tenderloin
950
Green Curry Chicken
650
Panang Curry Beef Tenderloin
950
Panang Curry Chicken
680
Red Curry Beef Tenderloin
950
Red Curry Chicken
750
Red Curry Duck with Pineapple
950

Thai Pasta

Chicken Grapow Pasta
320
Drunken Seafood Pasta
420
Green Curry Seafood Pasta
420
Salted Egg Pasta
350
Tom Yum Pasta
320

Noodles

Phad Thai with Chicken
550
Phad Thai with Shrimp
580
Phad Thai with Soft Shell Crab
790
Phad Thai with Vegetables
550

Rice

Chicken Fried Rice (Large)
580
Chicken Fried Rice (Regular)
480
Crab Fried Rice (Large)
680
Crab Fried Rice (Regular)
580
Pineapple Fried Rice
650
Salted Egg Fried Rice
580
Shrimp Paste Rice
580
Steamed Rice
80
Sticky Rice
100
Thai Egg Fried Rice (Large)
480
Thai Egg Fried Rice (Regular)
380

Vegetables

Green Curry Vegetables
650
Panang Curry Vegetables
650
Red Curry Vegetables
650
Stir-fried Kale
420
Stir-fried Lady Finger "Okra"
380
Stir-fried Mixed Vegetables
450
Stir-Fried Morning Glory
450

Vegan

Vegan Baked Glass Noodles
380
Vegan Coconut Mushroom Soup
550
Vegan Fried Rice
480
Vegan Mixed Vegetables with Basil
450
Vegan Mushrom Spring Rolls
450
Vegan Panang Curry Tofu and Vegetables
550
Vegan Stir-fried Tofu with Basil
380
Vegan Tofu with Cashew Nuts
420

Dessert

Coconut Custard with Sweet Corn
320
Mango Sticky Rice
380
Sweet Cassava
320
Thai Coconut Cake
280

Specialty Drinks

Cooling Cucumber Lime
180
Cranpina
180
Frozen Tiger Temple
180
Minty Lemonade
200
Pineapple & Basil Slush
180
Thai Iced Coffee
150
Thai Iced Tea
150
Thai Lemon Iced Tea
150

Coffee & Tea

Café Americano (Hot)
120
Café Americano (Iced )
150
Café Latte (Hot)
150
Café Latte (Iced)
160
Cappuccino (Hot)
150
Cappuccino (Iced)
160
Espresso (Double)
150
Espresso (Single)
120
Twinnings Tea (Hot)
120

Soda & Water

Mineral Water
80
Perrier Sparkling Water
180
Soda (Coke / Coke Zero / Sprite)
90
Soda Water
100

Fresh Fruit Shakes

Green Mango
250
Pineapple
250
Ripe Mango
250
Watermelon
250

Fresh Fruit Juice

Green Mango
220
Pineapple
220
Ripe Mango
220
Watermelon
220

Beer

Chang Beer
180
San Miguel Light
150
San Miguel Pale Pilsen
150
San Miguel Premium
180

Cocktails

Chill Mojito
280
Classic Mojito
280
Green Mango Margarita
280
Maldita Margarita
280
Mango Tree Bellini
320
Mango Tree Cosmopolitan
280
Mango Tree Daiquiri
280

White Wine

Camas Chenin Blanc (Bottle)
1600
Camas Chenin Blanc (Glass)
380
Camas Sauvgnon Blanc (Bottle)
1600
Mica (Bottle)
2500
Urban Uco Chardonnay (Bottle)
2200
Urban Uco Torrontes (Bottle)
2200

Red Wine

Camas Malbec (Glass)
380
Camas Malbec (Bottle)
1600
Urban Uco Malbec
2200
Camas Cabernet Sauvgnon
1600

Rose Wine

Camas Syrah Rose (Glass)
380
Camas Syrah Rose (Bottle)
1600

Family Platters

Chicken Pandan Platter
900
Chicken Satay Platter
1050
Corn Cake Platter
650
Crispy Catfish with Green Mango Salad Platter
950
Deep Fried Sea Bass (choice of Chili, Miang Kham, or Tamarind Sauce)
1650
Egg Fried Rice Platter
1200
Green Curry Chicken and Vegetables Platter
1200
Penang Curry Chicken and Vegetables Platter
1200
Phad Thai Chicken Platter
1250
Phad Thai Shrimp Platter
1350
Phad Thai Vegetable Platter
1200
Shrimp Cake Platter
1050
Shrimp Paste Rice Platter
1100
Steamed Sea Bass with Lime Sauce
1650
Thai Grilled Pork Belly Platter
1450
Thai Vegetable Spring Rolls Platter
850
Tom Yum Chicken Wings Platter
950
About Mango Tree Café
Mango Tree Café is a casual fine dining and world-renowned restaurant with branches in different parts of the world, including the Philippines. Its first branch in the country was opened in 2019 to introduce the culinary arts of Thailand to Filipinos. The cuisines it serves are well-crafted by its talented chefs to give diners a memorable Thailand dining experience. 
Mango Tree Café Menu Best Seller
Mango Tree Café is famous for its authentic and tasty Thai cuisine. Here are some of the best sellers of this Thai restaurant recommended by its loyal patrons as these cuisines have extraordinary taste. 
Mango Sticky Rice – It is a delicious dessert where chocolate-flavored sticky rice is garnished with white coconut sauce. The fresh ripe slices of mango on the side enhance its plating presentation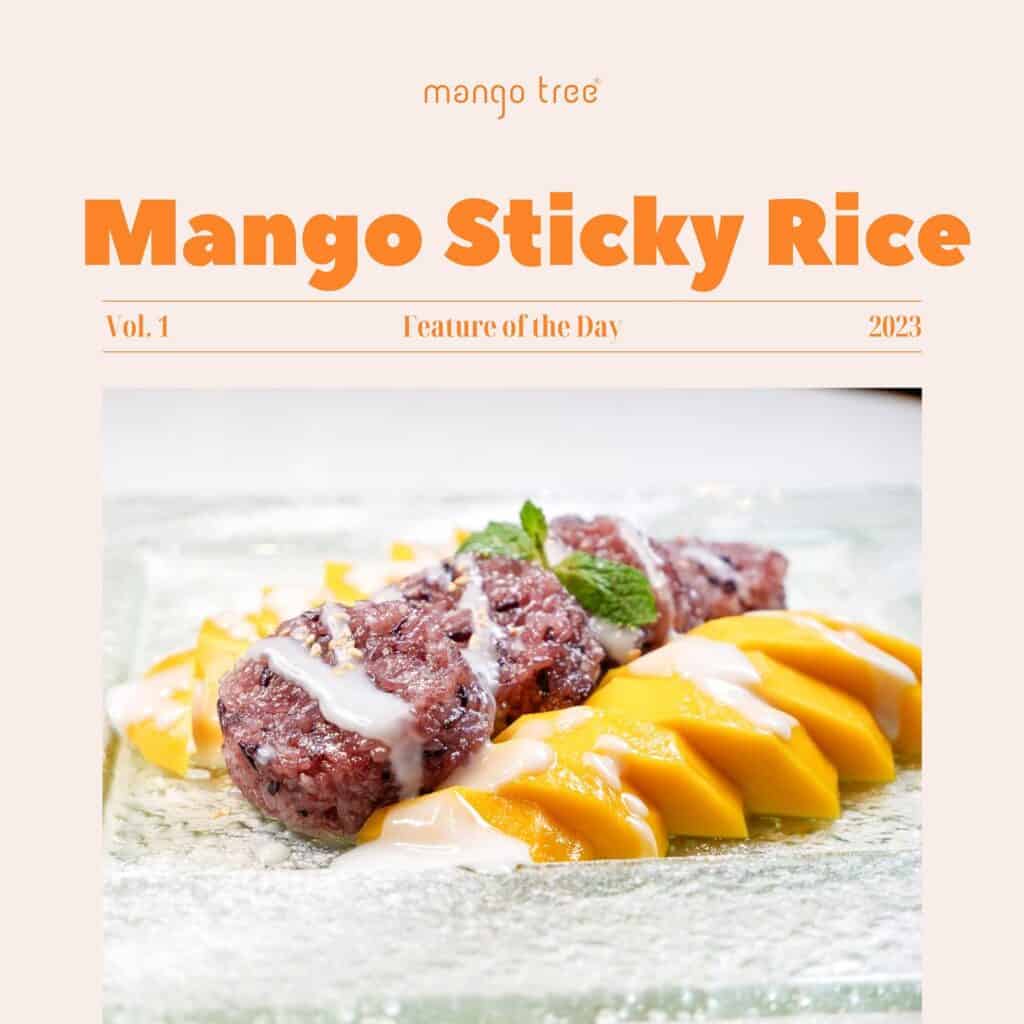 Chicken Satay – This menu of Mango Tree Café is made with tender slices of skewered chicken flavored with lime, soy, ginger, and other ingredients and grilled expertly. It comes with sweet vinegar and peanut dipping sauce that adds flavor. 
Pad Thai with Shrimp – Phad Thai is the traditional noodle dish in Thailand where stir-fried rice noodles are topped with shrimp, tofu, roasted peanuts, bean sprouts, chili flakes, lime, and egg net. It is a dish you should not miss out on as it is bursting with luscious flavors.
Tom Yum Chicken Wings – A mouthwatering appetizer made with deep-fried chicken wings flavored with tom yum powder. This cuisine's spicy and sour flavor makes it mouthwatering and satisfying in every bite.
Spicy and Tangy Thai Spareribs – Enjoy these pork spareribs of Mango Tree café served with coriander and doused with Thai barbecue sauce. Its sweet and spicy flavors are combined perfectly, resulting in a delicious meal.
Mango Tree Café Menu Appetizers 
The appetizers served by this restaurant consist of spring rolls, chicken wings, corn cakes, and snack buns. These great-tasting appetizers will stimulate your appetite as they have a distinctive taste and are also suitable for sharing.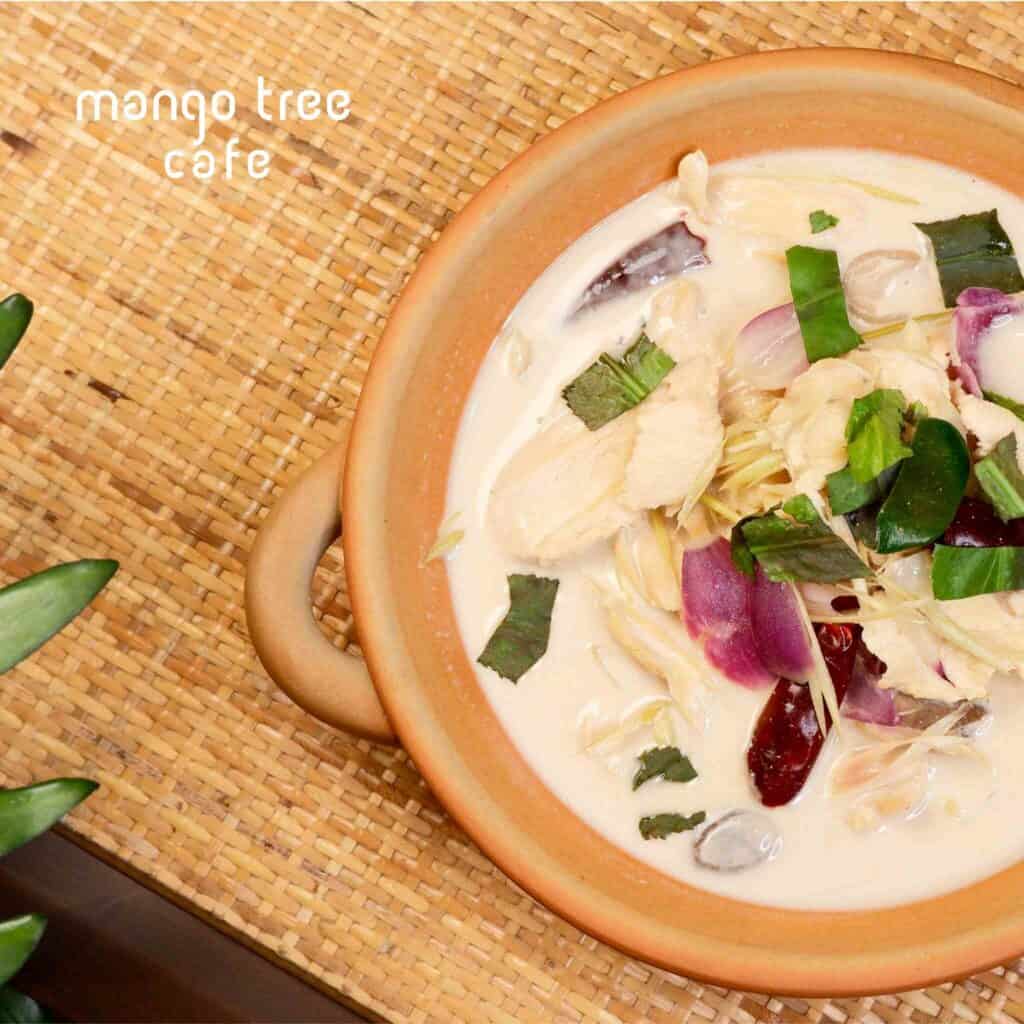 Thai Vegetable Spring Rolls – It consists of mixed vegetables and glass noodles wrapped in lumpia wrappers and deep-fried until it becomes crispy and golden brown. It is served with homemade sweet chili sauce that boosts its flavor.
Corn Cakes – This corn cake is made with corn mixed with red curry paste and kaffir lime and has a fragrant smell and savory taste. It is cooked masterfully until its outer layer becomes crispy. The sweet chili sauce is served on its side to enhance its taste.
Snack Buns – Two pieces of your preferred flavor of snack buns are served per order and paired with sweet potato fries. The snack buns Mango Tree Café offers include Sweet Pork, Red Curry Chicken, and Lemon Grass Chicken. 
Salad Menu
Mango Tree Café offers nutritious and refreshing salad menu such as U.S. Beef, Spicy Lady Finger, Green Mango, Papaya, Crispy Catfish, and Pomelo. The ingredients of these salads match perfectly, resulting in delicious dishes. 
Papaya Salad with Shrimp and Salted Egg – It is a delicious salad cuisine where fresh green papaya, cherry tomato, peanuts, shrimp, and salted egg are blended expertly. The som tum sauce of this salad gives a sweet, spicy, sour, and salty taste notable in Thai cuisine.
Spicy Lady Finger "Okra" Salad – This is a simple yet flavorful and healthy salad made with fresh lady finger, locally known as okra. The lime and chili sauce makes it delicious, giving diners a satisfying meal.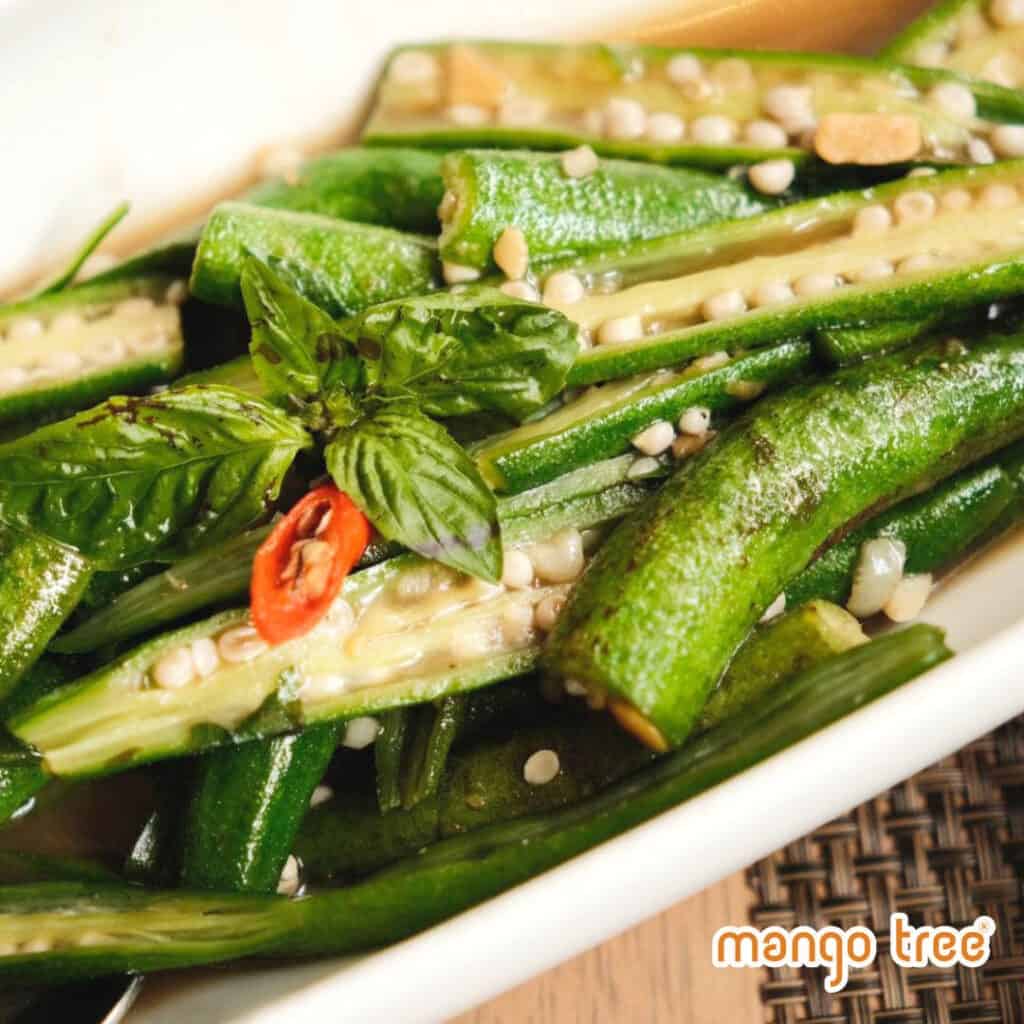 Crispy Catfish with Green Mango Salad – Traditional cuisine from Thailand made with fluffed and deep-fried catfish. The crispy catfish crunch complements the refreshing, sweet, and tangy mango salad. The mango salad has fresh green mango, roasted peanuts, toasted coconuts, and secret ingredients.
Mango Tree Café Menu Soups 
The soups offered by Mango Tree Café consist of seafood, vegetables, and pork varieties. These heartwarming soups are made with tom yum, lemongrass, galangal, kaffir lime, bird's eye chili, and special ingredients. 
Tom Yum Seafood – This soup consists of mixed seafood cooked in delicious tom yum broth. The flavors and textures of the ingredients that come in this cuisine match perfectly, resulting in a yummy soup.
Tom Yum Vegetables – If you prefer vegetable soup, this tom yum vegetable from Mango Tree Café is perfect. The clear and flavorsome broth has a spicy goodness, satisfying each sip, and the mixed vegetables' color makes it visually appealing. 
Tom Khlong Norwegian Salmon Head and Chilean Black Mussels – The salmon head and Chilean black mussels are the highlights of this spicy and hearty soup. It has a mouthwatering goodness that will satisfy your palate and give you a good dining experience.
Steam
The steamed menu served by Mango Tree Café consists of various seafood dishes. It serves Sea Bass with Lime Sauce consisting of sea bass, lemongrass, lime, chili, and basil and served with seafood sauce; Shrimp in Tom Yum which includes shrimp, shallots, galangal, sweet basil, lemongrass, and kaffir lime leaves; and Chilean Black Mussels in Tom Yum comprising of mussels, coriander, and comes with seafood sauce. The common ingredient of these cuisines is the tom yum powder that gives a sour, sweet, spicy, and salty taste, making them tastier. 
Grilled
Mango Tree Café offers chicken and pork dishes grilled expertly until they become flavorful, juicy, and tender. The grilled chicken cuisines it serves are Chicken Satay and Grilled Chicken in Lemongrass, while the pork it provides consists of Pork Belly Satay, Spicy and Tangy Thai Spareribs, Thai Grilled Pork Belly, and Thai Isan Spareribs. These dishes are served or garnished with special sauces such as peanut, barbecue, and jim jaew.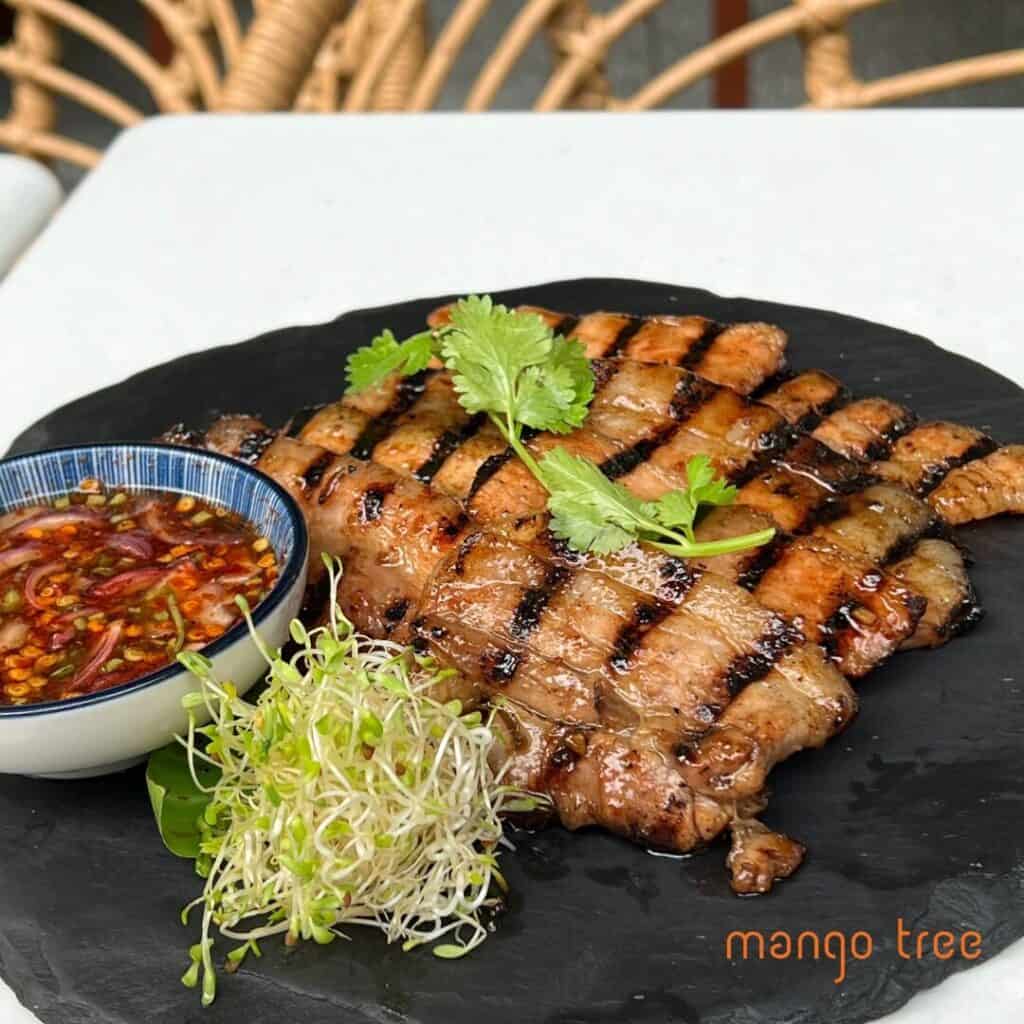 Curry
Curry is one of the popular cuisines in Thailand, loved by people from different walks of life. It serves chicken and beef tenderloin available in green, red, and panang curry variations. This restaurant also offers Red Curry Duck with Pineapple consisting of smoked duck, pineapple, basil, cherry tomatoes, and pea aubergine. These cuisines have a spicy and savory flavor.
Mango Tree Café Menu Delivery 
The authentic and flavorful Thai dishes of Mango Tree Café are available for delivery through its partnered delivery platforms. You can order through Pickaroo and GrabFood to enjoy your favorite items on its menu in the comfort of your home. 
Mango Tree Social Media Pages
Your feedback is invaluable to them, as we strive to continually enhance your dining experience. Connect with them on social media to receive updates on upcoming events, cooking classes, and other exciting activities.
Facebook: https://www.facebook.com/MangoTreeManila/
Instagram: https://www.instagram.com/mangotreemanila
FAQs
Where can I find Mango Tree Café in the Philippines? 
The stores of Mango Tree Café are located in BGC High Street Central, City of Dreams Manila, Trinoma, Greenbelt 3, Ayala Manila Bay, SM Baguio, Greenhills Promenade, SM Megamall, and SM North Edsa. 
What type of cuisine does Mango Tree Café offer? 
Thai is the type of cuisine offered by Mango Tree Café . 
What are the popular dishes at Mango Tree Café Philippines? 
Mango sticky rice, chicken satay, and pad Thai cuisines are the popular dishes at Mango Tree Café. 
Can Mango Tree Café accommodate large groups or events?
Yes, Mango Tree Café can accommodate large groups or events.  
Conclusion
The Mango Tree Café menu comprises dishes perfect for kids, adults, vegans, and vegetarians. Each item on its menu is made with the freshest and best ingredients to ensure guests are satisfied by its flavors. The warm hospitality, Thai lifestyle cooking, and stylish atmosphere of this restaurant match the flavorful and authentic cuisines it offers.