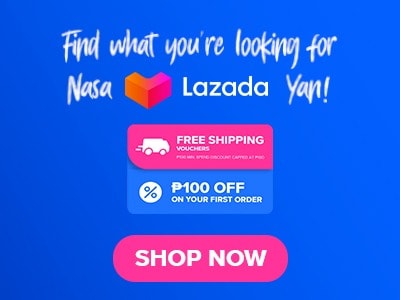 Sawasdee Khap! Welcome to ChawadiCup, The Next Level of Thai Tea! After a sunny and long ride in the hustle and bustle road of Manila, we would like to have a sip of that refreshing and natural tea right? If that is what you are looking for, then ChawadiCup can give you that refreshment! Make your mouth water with the set of ChawadiCup menu that can offer you a wide choice of milk tea selection. You can choose between Fresh Tea, Fresh Fruit Series, Milk Tea Series, and Fresh Brewed Cheesycap Tea. Amazing right? So, what are you waiting for? Get yourself a refreshment and enjoy a sip of true nature!
Below, you'll find the updated list of ChawadiCup menu prices.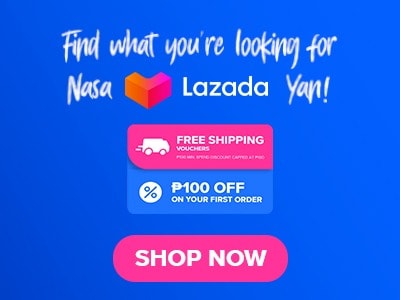 Menu Items
Price (PHP)

ChawadiCup Signature

Bora Bora
158
Cha Yen
108
ChawadiCup Green Milk Tea
108
Cheesy Watermelon
138
Coco Cha Yen
148
Peach Oolong Chinese Tea
148

ChawadiCup Milk Tea

Blue Butterfly
138
Coco Green Tea
148
Fresh Milk Taro
138
Jasmine Milk Tea
108

ChawadiCup Fresh Tea

Emerald Green Tea
78
Japanese Jasmine Tea
88
Thai Black Tea
78

ChawadiCup Fresh Fruit Series

Cha Manao (Thai Black Tea)
128
Cha Manao (Japanese Jasmine)
128
Cha Manao (Emerald Tea)
128
Cheesy Manao
148
Watermelon Tea
128

ChawadiCup Fresh Brewed Cheesycap Tea

Lychee Black Tea
148
Rose Oolong
148
The Dragon
148

ChawadiCup Sinkers

Cheesycap
38
Lychee Bobba
38
Okinawa Jelly
38
Pearls
20
About ChawadiCup
ChawadiCup was first opened in Araneta Center and was established thru the hard work of Ken and Wilson. They envisioned that they will have a couple of branches in metro manila and in the nearby provinces. As of now, they have 4 distinct branches that can be found in Metro Manila.
ChawadiCup Menu Best Seller
Milk tea, also known as "bubble tea," is a popular Taiwanese beverage made up of iced black or green tea, milk, and tapioca pearls. At ChawadiCup, their sets of drinks are inspired by the drinks that Ken and Wilson tasted when they are on their voyage to Thailand. This refreshing store also had its set of menu best sellers that I will list below.
Cha Yen – this term is known in Thailand as "milk tea", be delighted with every sip of this drink as it will only cost you about 108 pesos only!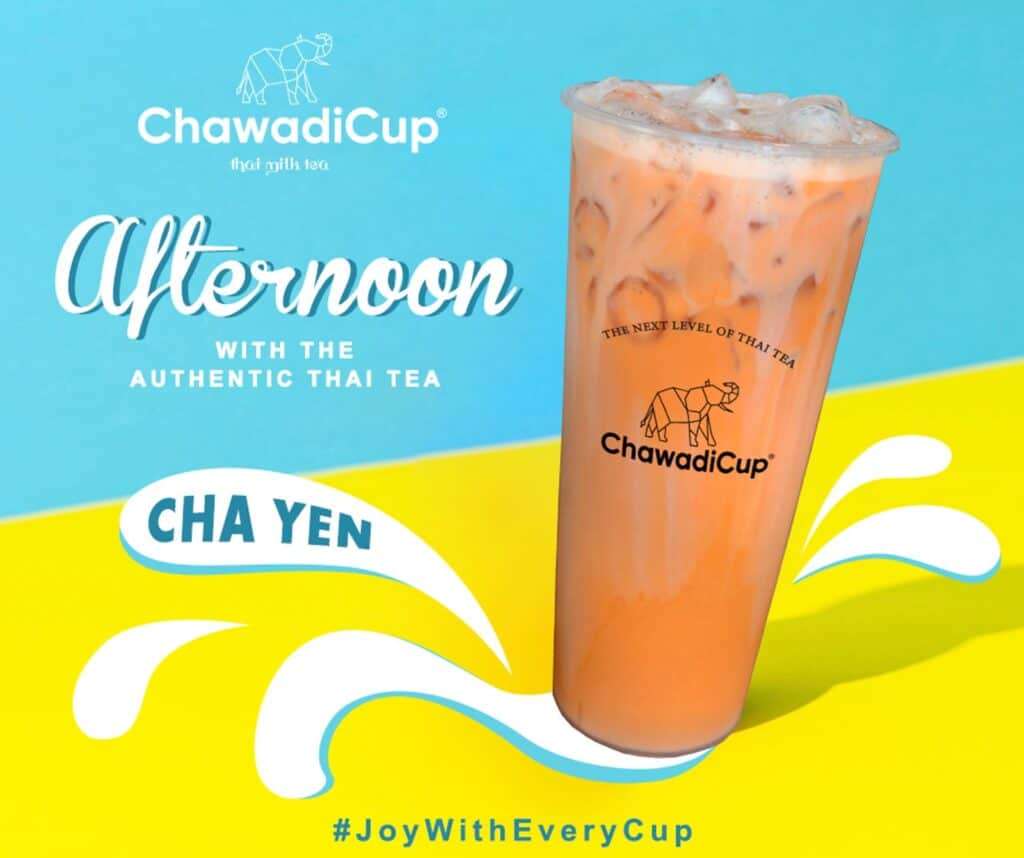 Cheesy Watermelon – This refreshing drink will only cost you as low as 138 pesos only! Have a taste of fresh watermelon with a twist of cheesy sensation.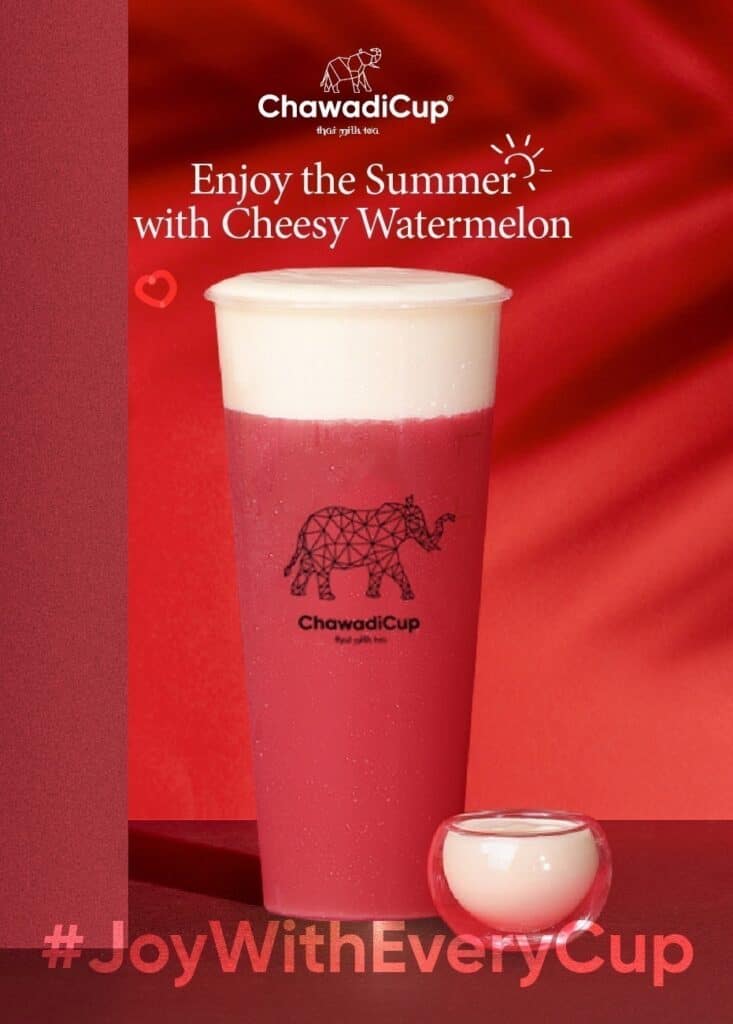 Coco Cha Yen – Most of the teens out there loved to taste that chocolate flavor on their milk tea. They usually order these kinds of milk tea due to its sweetness.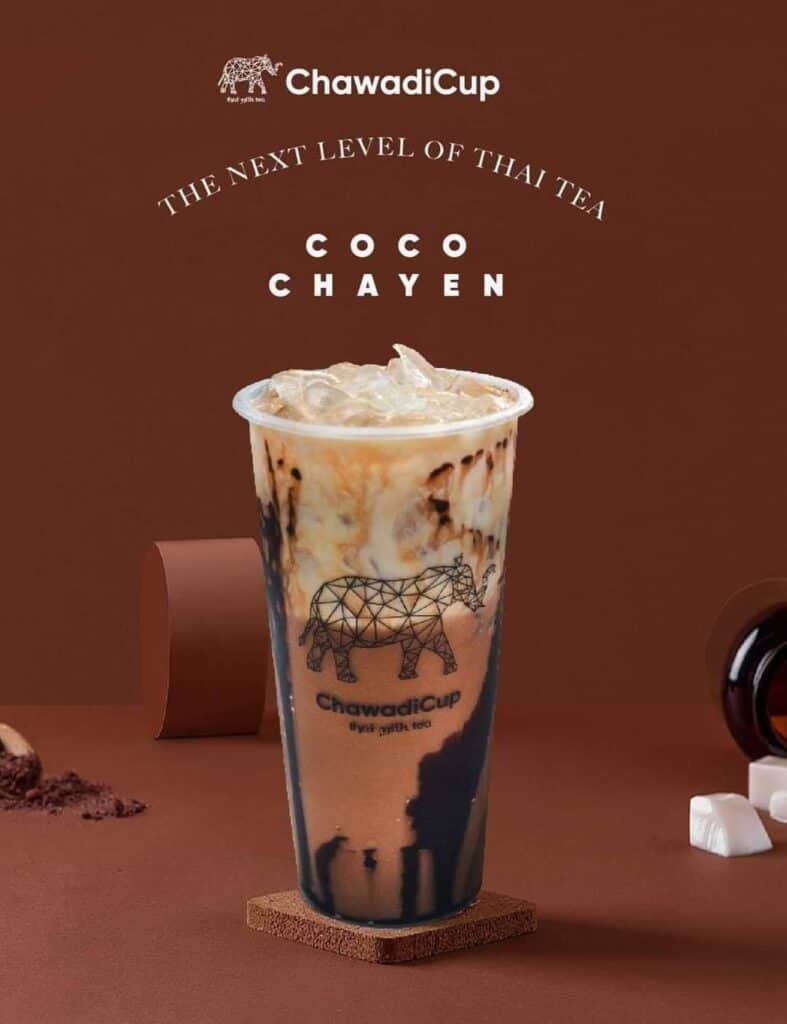 Bora Bora – Your money is really reasonable as it can literally give you the feeling of sitting in the ocean while sipping this cup of tea.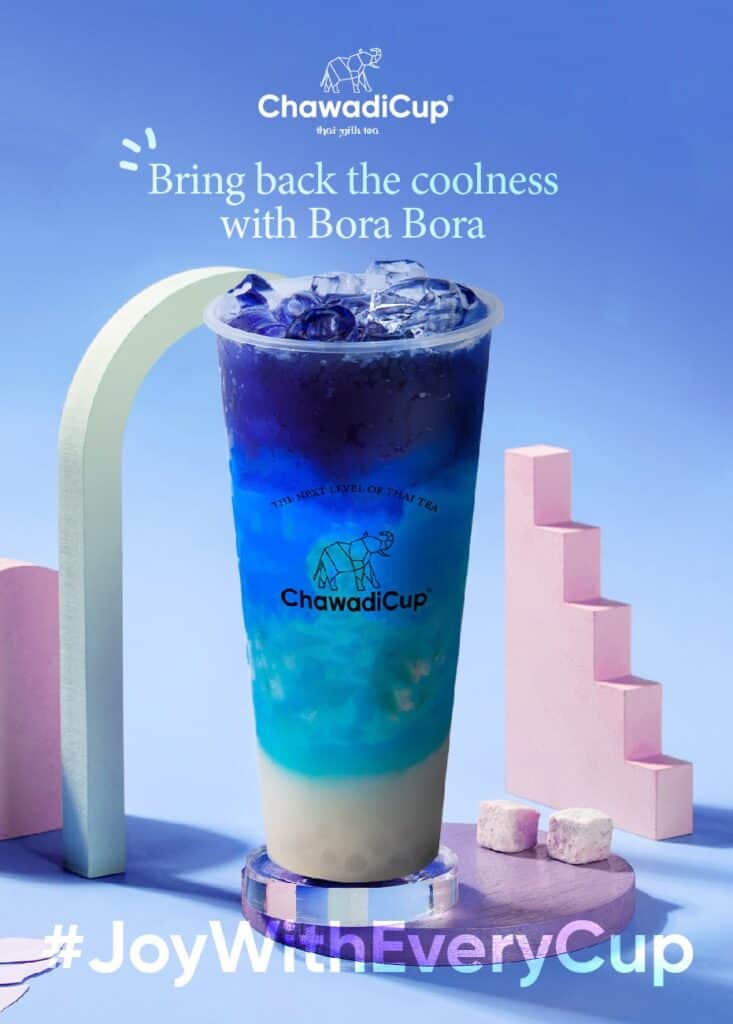 ChawadiCup Green Milk Tea – The feeling of true nature can be experienced once you have a sip of this miraculous tea.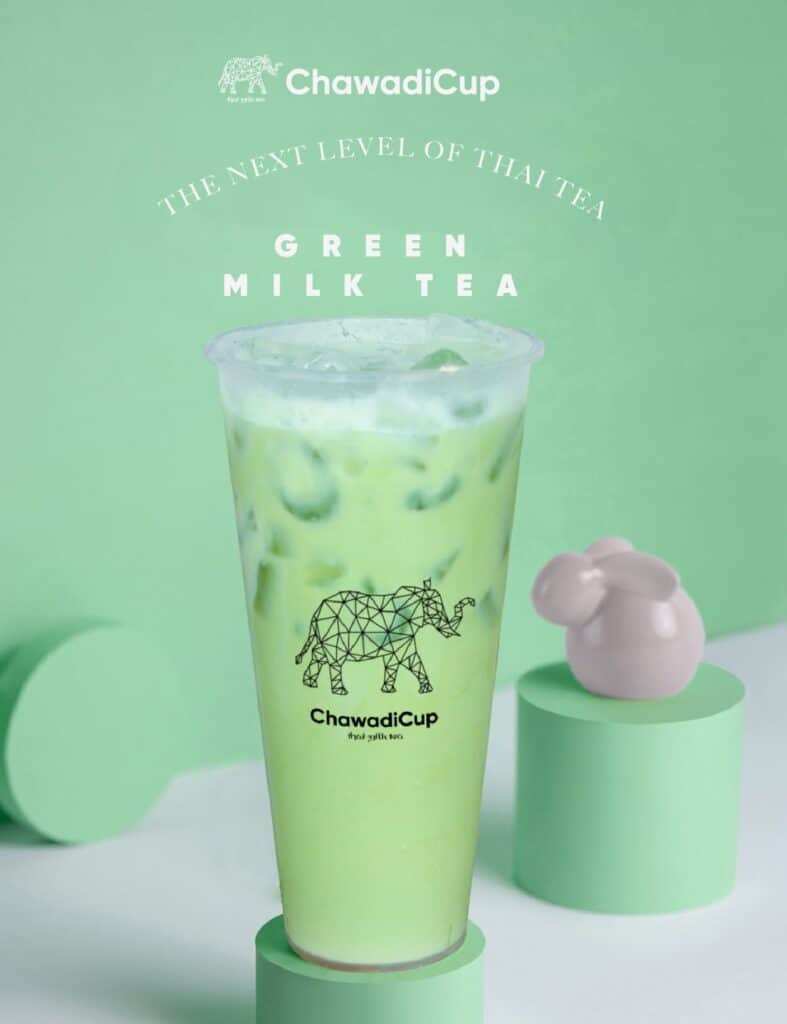 ChawadiCup Menu Milk Tea
Milk tea has become popular around the world, and can be found in many tea shops and cafes. This era is indeed way different from what we used to have in the old ages, there are truly remarkable explorations that lead to the development of everything and including our cuisine.
Jasmine Milk Tea – At ChawadiCup, this jasmine milk tea can be bought for as low as 108 pesos only. You can literally enjoy this tea because it contains jasmine which is an herb that has thousands of benefits.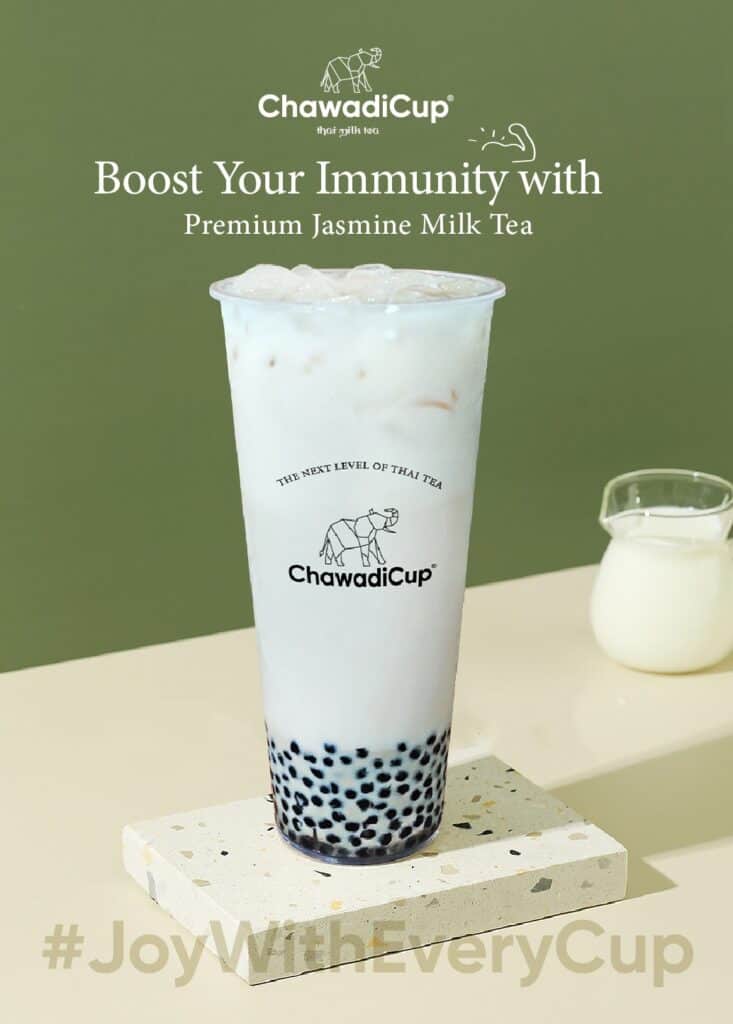 Coco Green Tea – If you are a fan of green tea, then this is your milk tea of choice. You can buy this drink at any ChawadiCup stall for 148 pesos only.
Fresh Milk Taro – Be delighted with every sip of this taro drinks that won't hurt your budget.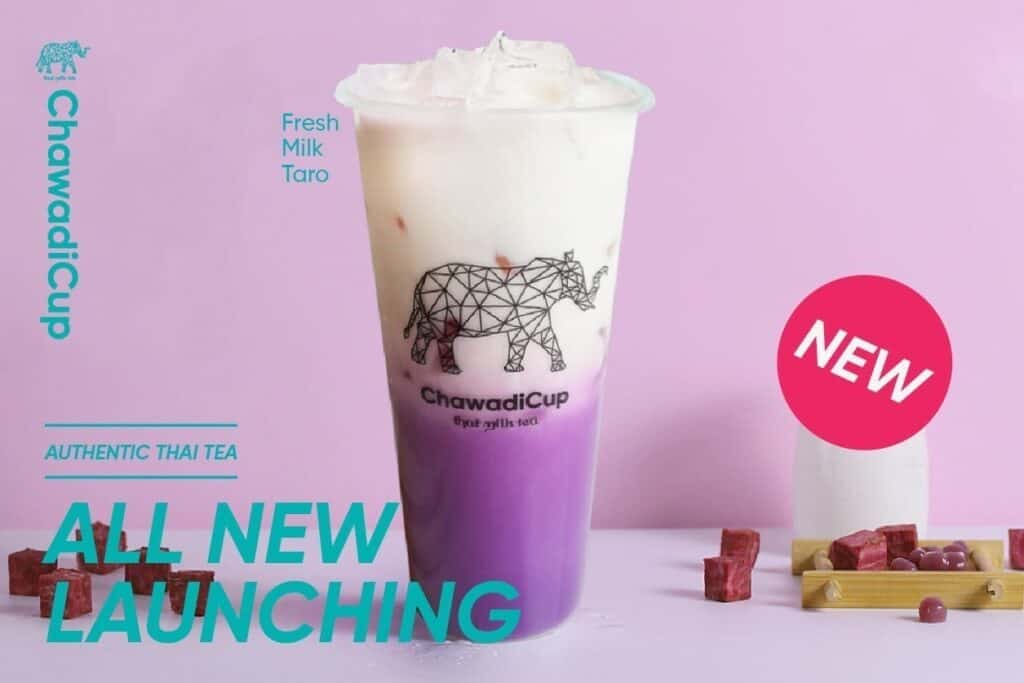 Blue Butterfly Milk – Aesthetics can really be seen in every cup at Chiwadicup, this blue-colored milk tea has this beauty that can really attract everyone.
ChawadiCup Fresh Tea Menu
If you are looking for teas that are freshly crafted from the herbs of the tropical rainforest, then this set of milk tea suits your palate.
Emerald Green Tea – This green-colored tea is packed with nourishment from green herbs. 
Thai Black Tea – Even though it was named "Thai black tea" it has a red color that can really attract your taste buds.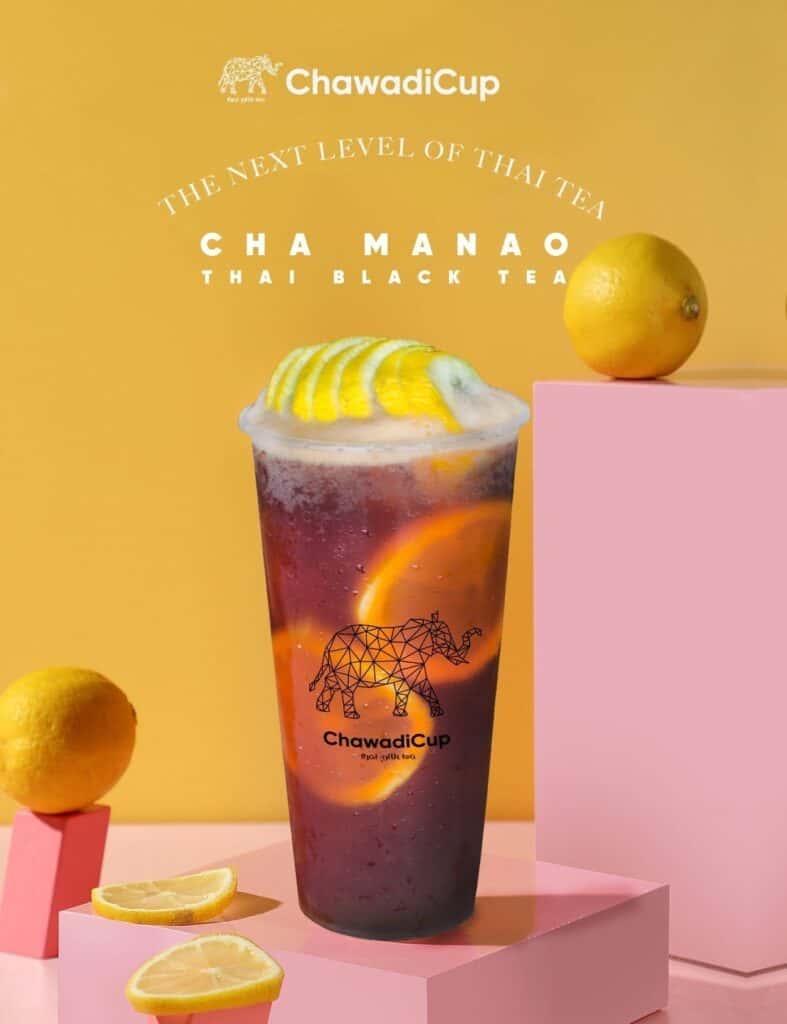 Japanese Jasmine Tea – This yellow tea has the taste of jasmine mixed with the style of Japanese tea that can give pleasure to your thirsty throat.
ChawadiCup Fresh Fruit Series
Fruits are very essential in making a natural-tasting tea. In the Philippines, we aren't actually accustomed to drinking tea, we usually sip a hot coffee during the morning and not tea. However, since there are literally numerous changes that had happened in our society, we tend to change our habits. From that morning coffee, we now prefer to take a morning fruit tea. At ChawadiCup menu, they had this five types of fresh fruit tea that can give us that chilled feeling, this includes: Cha Manao (Thai Black Tea), Cha Manao (Japanese Jasmine), Cha Manao (Emerald Tea), Cheesy Manao and Watermelon Tea.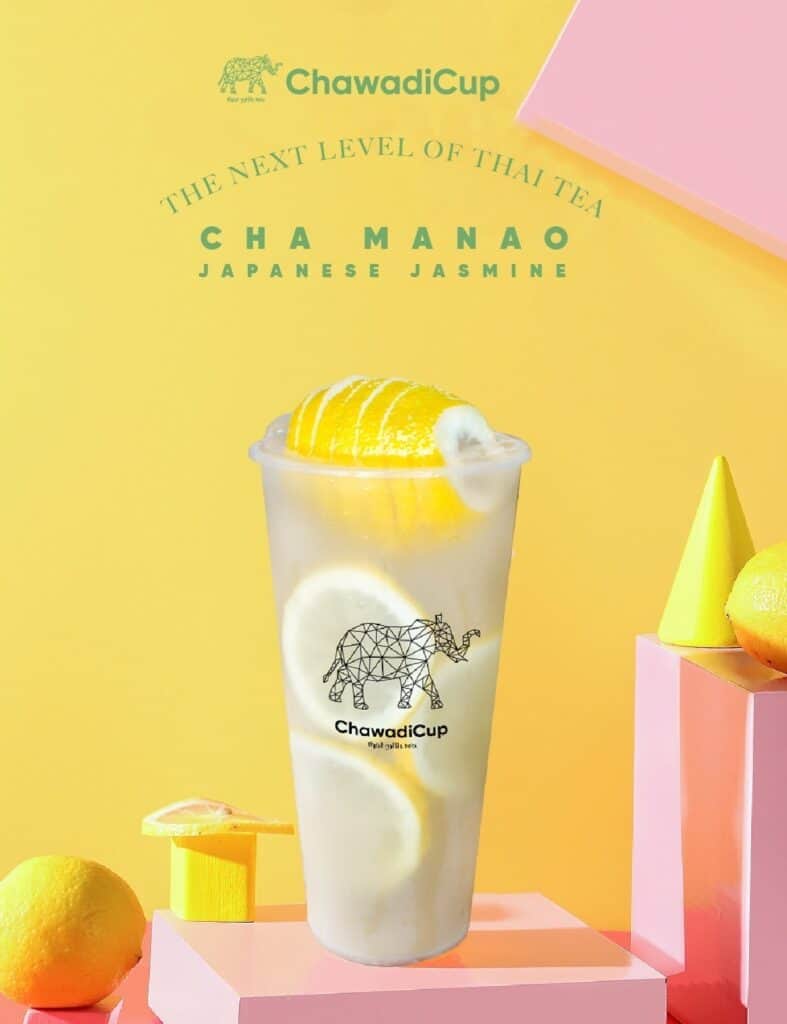 Fresh Brewed Cheesycap Tea
Cheesycap tea is a milk tea variation that has a layer of cheese foam on top. The cheese foam adds a distinct flavor and texture to the drink, making it a popular option in many milk tea shops. At ChawadiCup, they had three distinct teas that fall into this category, these include Lychee Black Tea, Rose Oolong, and The Dragon.
Sinkers
Sinkers are basically add-ons that you can add to any of your chosen tea. This sinker includes Pearls, Okinawa Jelly, Cheesycap, and Lychee Boba.
ChawadiCup Menu Delivery
As of the moment, ChawadiCup can be seen in four different distinct places around metro manila. This place includes Araneta Avenue, Valencia, Binondo, and Ayala Mall. To know more about their whereabouts and how to contact them, then below is a guide suited for your research. 
 Araneta
| | |
| --- | --- |
| Address | 440 G Araneta Ave |
| Operating Hours | Daily from 11:00 AM to 11:00 PM |
| Contact Information | (0917) 256-6669 |
Valencia
| | |
| --- | --- |
| Address | Unit 4 Tower 4, Xavier Hills Condominium, N. Domingo cor Granada St, Valencia, San Juan, Metro Manila |
| Operating Hours | Daily from 11:00 AM to 11:00 PM |
| Contact Information | NA |
Binondo
| | |
| --- | --- |
| Address | 755 Ongpin St, Binondo, Manila, Binondo, Manila, Metro Manila |
| Operating Hours | Daily from 11:45 AM to 11:00 PM |
| Contact Information | NA |
Ayala Malls
| | |
| --- | --- |
| Address | Ayala Malls The 30th, 30 Meralco Ave, Ayala Malls The 30th, Ugong, Pasig, Metro Manila |
| Operating Hours | Daily from 11:05 AM to 10:00 PM |
| Contact Information | NA |
Social Media Pages
Given that this is the age of social media and technology, ChawadiCup jumped on board and established its pages. If you want to connect with them on their social media platforms or even on their working email address the following details below will help you.
Facebook Link: https://www.facebook.com/ChawadiCup/ 
Instagram: https://www.instagram.com/chawadicup.ph 
Email: [email protected]
Conclusion
Due to the shift of economical and industrial revolution that we are currently facing, we Filipino tend to find drinks and other refreshments that are far different from what we used to drink. We are indeed an explorer in different terms but especially on food variations. With that, ChawadiCup made great innovations and clearly presented to us their ChawadiCup menu which offers different refreshments that can ultimately satisfy us. So if you are a fan of milk tea, and bored with those powdered drinks, then try to visit ChawadiCup and won't be disappointed.