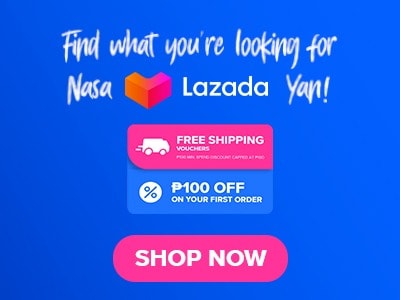 Serenitea menu contains a diversity of beverages that include festive drinks with various tastes, teas with arctic cream, teas that include brown sugar, teas produced by hand, and pure milk teas. They also provide tasty, pleasant, brewed tea and tasty matcha drink. The term milk tea may be used to describe a wide range of teas and tea-based beverages from throughout the globe. The most basic definition of milk tea is tea with milk, yet there are regional and national variations in how these delightful beverages are made. In order to lessen astringency and produce a smooth, balanced cup of tea, milk is frequently added to powerful black teas and occasionally sweetened like sugar or honey.
Any tea beverage with milk added is referred to as "milk tea." It may be as straightforward as adding a dash of milk to a steaming cup of tea, or it might involve a complicated preparation with several ingredients, like the well-known bubble tea. The tastes of tea, especially a few of the bitter elements present in black tea, are mellowed and smoothed out by the addition of milk. Both hot and cold milk tea is popular around the world. Merely said, milk is simply a flavoring for tea. As a result, the tea has a smoother flavor and is slightly sweetened. There are many countries in the globe where milk tea is the standard form of tea, and it is a popular method to serve tea in many places, and it is a simple way to spice up your typical cup of tea. This is particularly clear in some regions of India where tea is frequently used to refer to milk tea.
Below, you'll find the updated list of Serenitea menu prices.
Menu Items
Prices (PHP)

Rice Meals

Imperial Beef Rice
218.9
Yakiniku Beef Rice
218.9
Ginger Beef Rice
218.9
Black Pepper Beef Rice
218.9
Chicken Chops Rice
165
Chicken Wings Rice
198
Creamy Chicken Rice
253
Curry Chicken Rice
253
Plain Rice
44
Taiwan Sausage Rice
143

Snacks

Original Chicken Chops
121
Chicken Chops
121
Chicken Wings
231
Chicken Delight
165
Squid Balls 3 Pcs
93.5
Squid Balls 5 Pcs
143
Meat Balls 3 Pcs
82.5
Meat Balls 5 Pcs
132
Pepper Tofu
99
Fish n' Fries
218.9
Fries n' Dip
154
Hashbrown
49.5
French Beans
121
Taiwan Sausage
108.9
Fried Mantou
108.9
Mexican Chicken Wings
231
Italian Chicken Wings
231
Western Chicken Delight
187
Chicken Bao
132

Brown Sugar

Buy 1 Take 1 Brown Sugar Fresh Milk with Big Pearls
165
Buy 1 Take 1 Brown Sugar Grass Jelly with Big Pearls
165
Brown Sugar Taho
165
Brown Sugar Grass Jelly
165
Brown Sugar Fresh Regular Milk
165
Brown Sugar Frost Regular Milk
165

Arctict Cream

Taro Snow
176
Cookies & Cream Milk Tea
176
Choco Cookies Milk Tea
176
Auro Trio Chocolate
203.5
Coffee Snow
176
Midnight Matcha
192.5
Winter Snow
136.5
Auro Cacao Cookies n Cream
194.25

Milk Tea

Black Tea Latte
143
Brown Sugar Taho Milk Tea (Medium)
198
Soybean Cheese Frost Milk Tea (Medium)
159
Cookie Brulee Milk Tea (Medium)
159
Cookie Supreme Milk Tea (Medium)
192.5
Traditional Milk Tea (Medium)
115.5
Creme Brulee Milk Tea (Medium)
137.5
Okinawa Milk Tea (Medium)
121
Hokkaido Milk Tea (Medium)
121
Wintermelon Milk Tea (Medium)
121
Emperor Milk Tea (Medium)
121
Nagasaki Milk Tea (Medium)
121
Jasmine Milk Tea (Medium)
115.5
Royal Milk Tea (Medium)
115.5
Assam Milk Tea (Medium)
115.5
Black Tea Latte(Large)
165
Soybean Cheese Frost Milk Tea(Large)
176
Cookie Brulee Milk Tea(Large)
176
Cookie Supreme Milk Tea(Large)
209
Traditional Milk Tea(Large)
132
Creme Brulee Milk Tea(Large)
154
Okinawa Milk Tea(Large)
137.5
Hokkaido Milk Tea(Large)
137.5
Wintermelon Milk Tea(Large)
137.5
Emperor Milk Tea(Large)
137.5
Nagasaki Milk Tea(Large)
137.5
Jasmine Milk Tea(Large)
132
Royal Milk Tea(Large)
132
Assam Milk Tea(Large)
132
About Serenitea
Initiation of Serenitea on December 19, 2008. Customers also have the ability to customize their beverages, including the sweetness level and sinkers, in a teashop-specific environment. They were one of the very first milk tea firms to provide DIY home Kits in order to make things easier for their customers. In order to expand a market beyond the confines of their physical storefronts and allow their customers to have milk teas in the comfort of their homes, Serenitea is now offered on Shopee and Lazada, two of the largest e-commerce platforms in the Philippines.
They incorporated tea use into the coffee sector and enjoyed great success with the Filipino people. They guarantee that Serenitea produces high-quality beverages and wholesome goods that are suitable for clients' demands. Every cup of beverage we provide will provide enjoyment and renewal. In addition to producing high-quality goods. We also offer a calm setting that is conducive to relaxation and bonding.
Serenitea Menu Best Seller
Hokkaido with Nata Sinkers – This Serenitea menu has a distinct milky flavor with a butterscotch or caramel flavor.
Wintermelon Milk Tea with Black Pearls – Because of the caramelized sugar, it has a sweet flavor and is quite reviving to drink. It looks well with pearls or nata.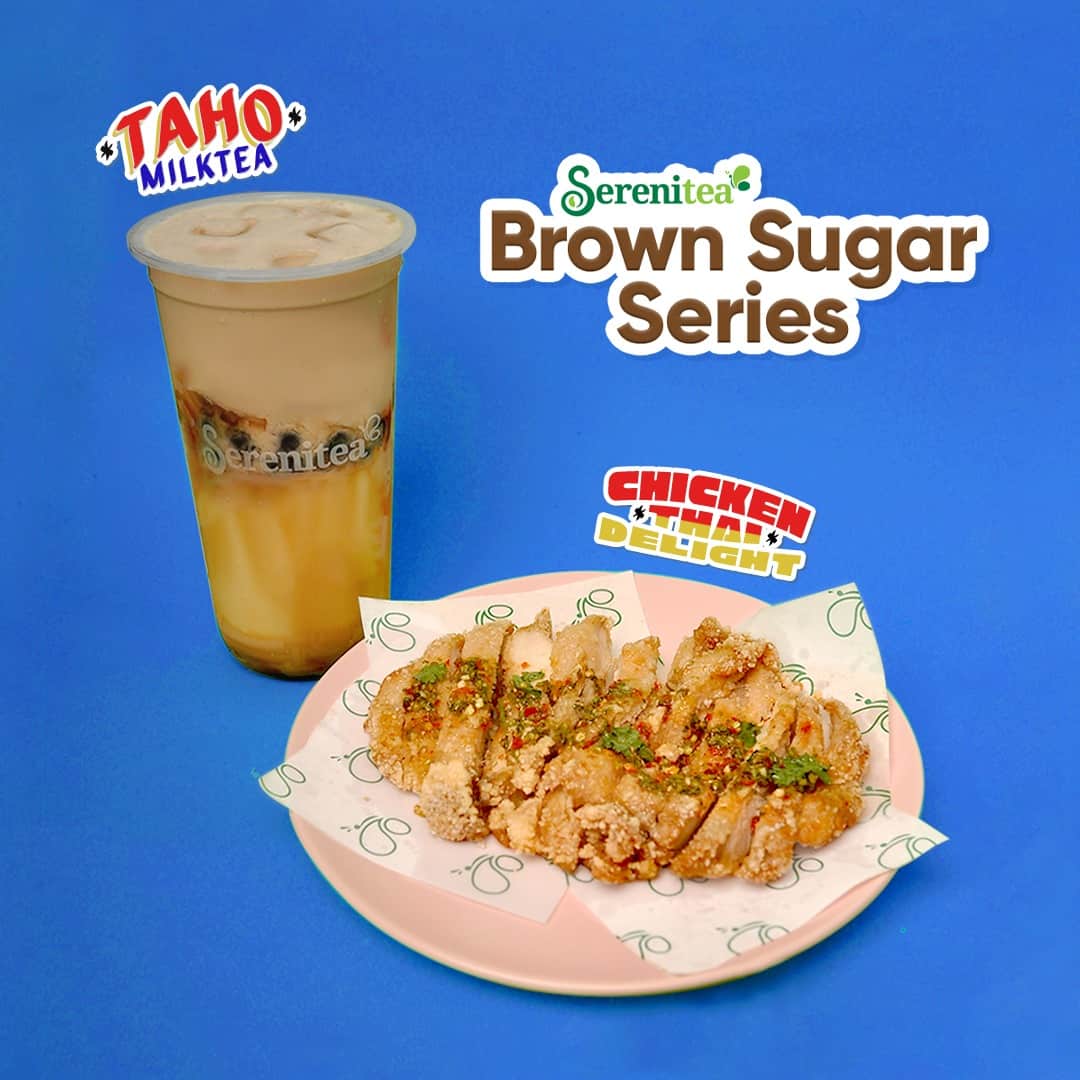 Taho Milk Tea – You may have your favorite morning and afternoon beverage in Taho by adding milk tea.
Okinawa Espresso – The ideal combination of coffee and tea. Your preferred Okinawa milk tea, flavored with just a touch of espresso.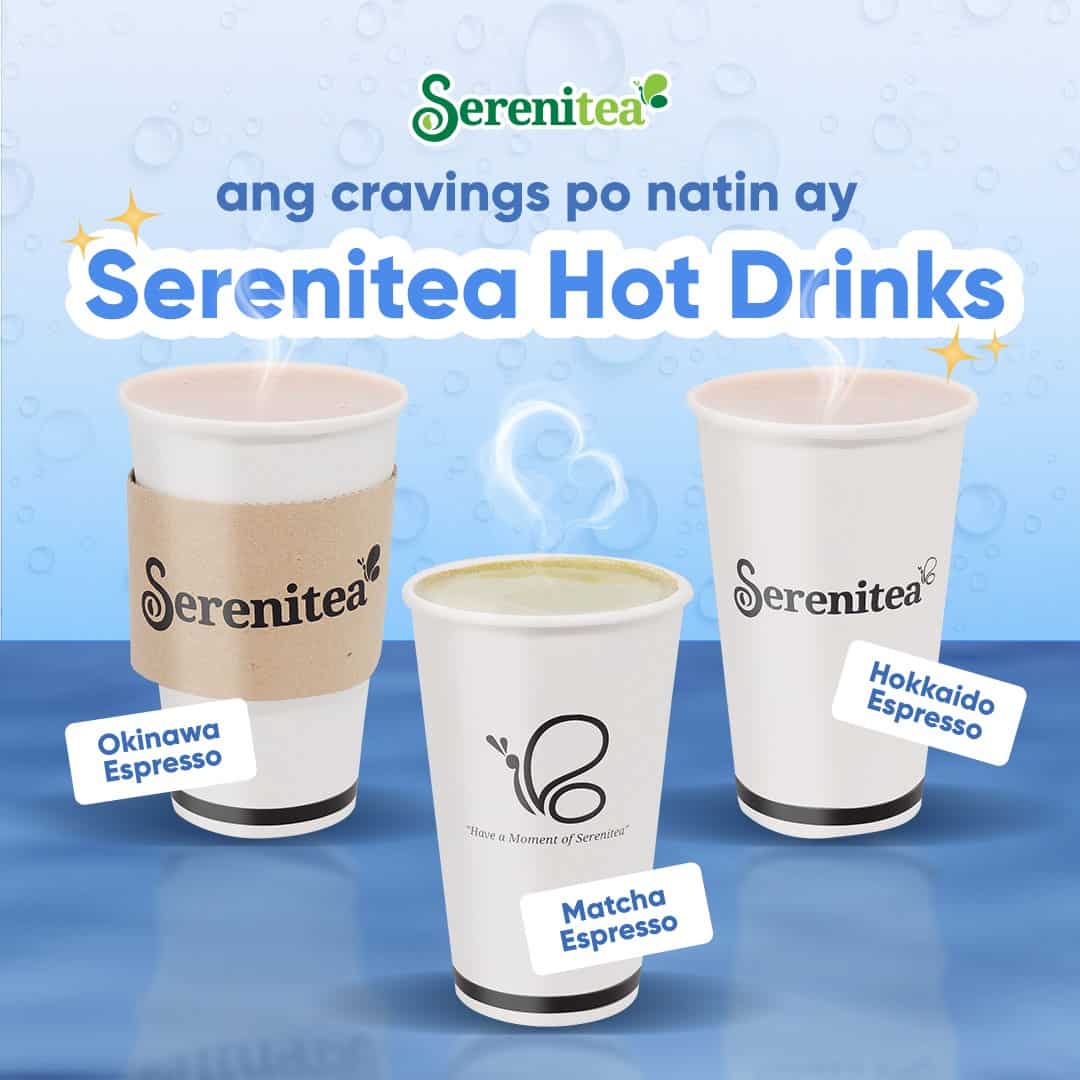 Serenitea Brown Sugar Menu Best Seller
Okinawa with Egg Pudding – Caramelized brown sugar and Assam black tea are combined in this. It is not very milky and has a rather strong taste.
Brown Sugar Taho – For those who prefer their Taho served cold, it is ideal to order this Serenitea menu.
Serenitea Promo
Spend P500, you may get Serenitea from GrabFood PH's GrabKitchen and receive a P59 delivery charge discount.
If you use GCash at Serenitea, you can get 20% OFF beverages with brown sugar to tea-ckle your tastebuds!
Serenitea Menu Delivery
You can now order the delicious beverages of Serenitea via GrabFood, Foodpanda, and Mangan. But first, you have to make sure that you have already installed any of these apps on your smartphone. You can get it by downloading it from Play Store or App Store.
FAQs
Who is the owner of Serenitea?
Peter Chen and Juliet Herrera, the power couple that runs Serenitea, in 2012. It only had twelve branches at this time. Peter and his then-girlfriend, Juliet Herrera, who is now his wife, borrowed money from their fathers with the intended intention of using it to operate a small milk tea cart in a mall.
What makes Serenitea unique?
Serenitea's distinctiveness stems from its constant innovation. We have expanded our product lines outside beverages as an illustration of this. They have begun to market our distinctive tea components and tastes in the form of jams, chocolates, and sweets.
Does Serenitea have caffeine?
The kind of tea used in milk tea which is frequently a variety of black tea determines how much caffeine is present in the beverage.
What are the social media pages and website of Serenitea?
Website: https://iloveserenitea.com/
Facebook: https://www.facebook.com/iloveserenitea/
Instagram: https://www.instagram.com/iloveserenitea/
Twitter: https://twitter.com/iloveserenitea/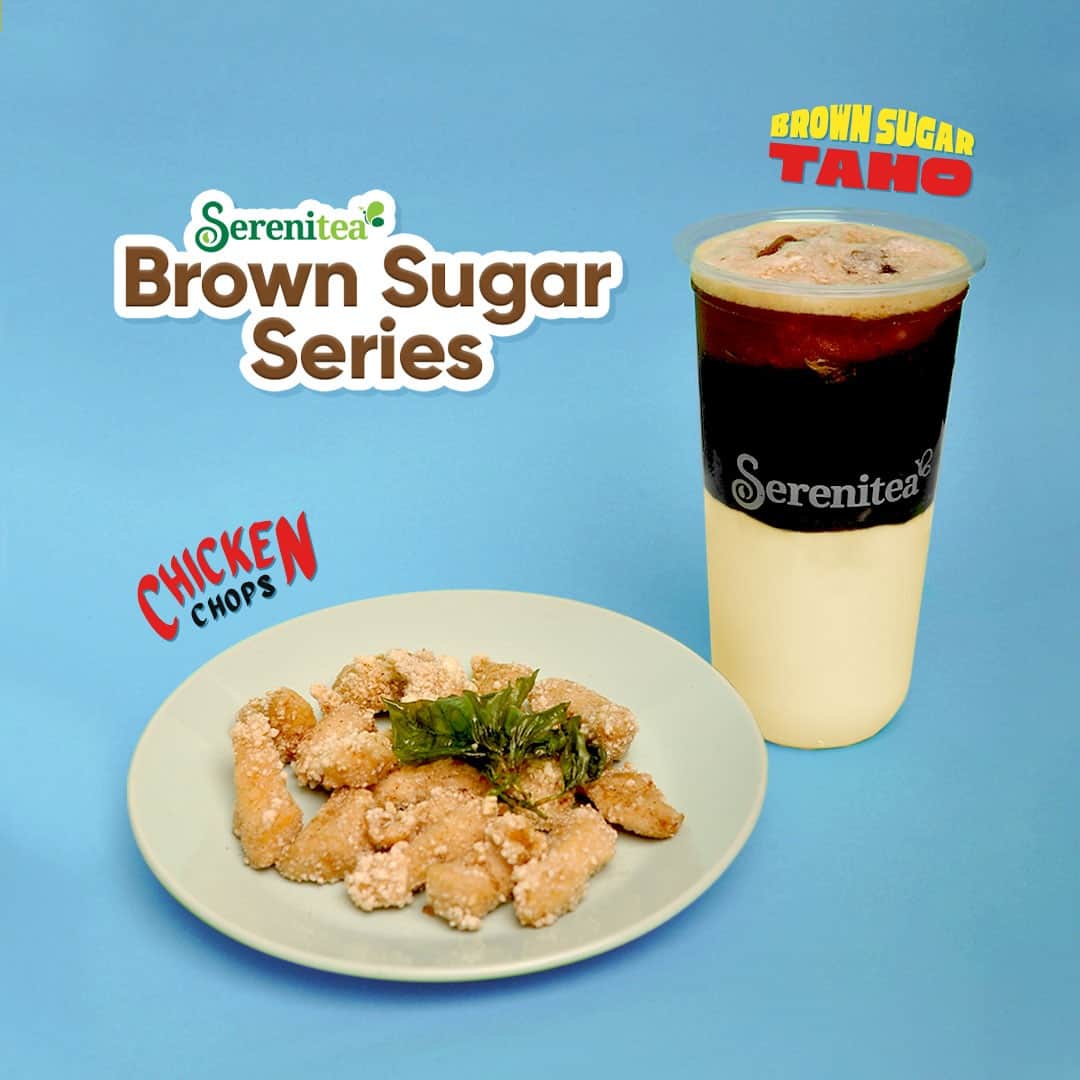 Conclusion
Serenitea offers a serene and unwinding atmosphere. They have a kind and inviting staff at their café. In their cafés, you may sip tea while listening to mellow music playing on a jukebox. Additionally, the Serenitea menu offers a cooling experience for their distinctive drinks. Filipinos often like sipping on cool beverages like samalamig and buko juice, which are perennial favorites. But a new product only lately came into the picture. From the North to the South, milk tea managed to snag the taste buds of every Filipino. Everywhere you walk, you'll find shops and cafes selling milk teas in a variety of tastes.
In Taiwan, this milk tea fad was first taken up. Taiwanese people who regularly drink tea discovered that while they had specific teas for breakfast, lunch, and supper, there isn't one available for their snack. To address the need, they created milk tea, a beverage, and snack that can both be consumed concurrently. A tasty iced beverage with tapioca balls at the bottom, milk tea is pleasant. A tea base, fruits, and flavoring syrups are combined with milk before the tapioca balls are added. Milk tea quickly gained popularity because of its delectable and unique spin on a very common beverage. It is indisputable that milk tea is quite popular in the Philippines. Milk tea has been popular across the nation for a number of reasons, including the fact that it provided tea, which has been around for a while, a delightful twist. Tea is something we are all acquainted with, but the distinctive flavors of milk tea make it stand out. On these sweltering days, milk tea is the perfect way to cool down. Not only that, either. It's also ideal for a laid-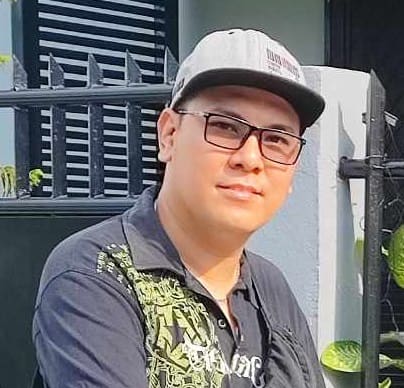 Hi! I'm Nivek Strife, the person who made MenuPH. I'm the one who added most of the popular menus you see on this website, and I really hope you enjoy them! Feel free to check them all out.
Growing up, I was surrounded by lots of tasty foods, like the classic Adobo and the sweet Leche Flan. That love for the many flavors of the Philippines is what got me excited about adding to MenuPH. When I learned how to make websites, I saw the need for a place to show off all the amazing Filipino dishes, and that's how MenuPH started.
MenuPH isn't just a website; it's like a fun journey into food. I've teamed up with famous chefs and found great places all over the Philippines to bring you a bunch of menus that show off the best of Filipino cuisine. Whether you're into the usual dishes or new twists, MenuPH is here to guide you through the rich world of Filipino flavors.
With MenuPH, my aim is to help local businesses, talk about good food choices, and make a group of friends who love food. No matter if you like fancy restaurants or street food, MenuPH has something for you. Come join me on this food adventure as we find great places, taste real flavors, and enjoy the unique food traditions that make the Philippines awesome.